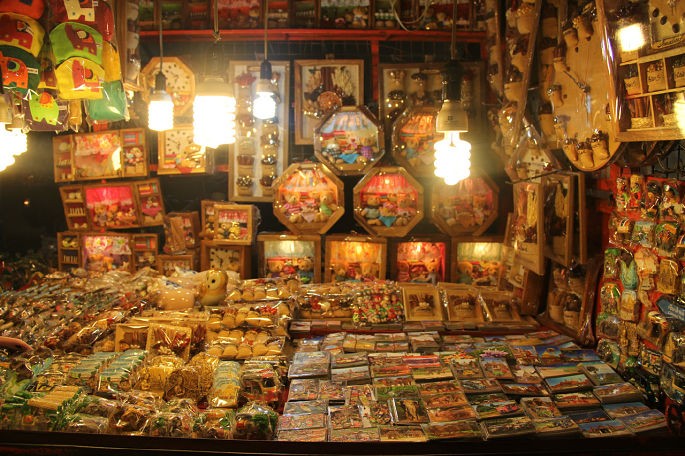 The first time to write a blog, think I am also too lazy, have been travel diary habit, but travel is too lazy to write, blame me blame me.
This trip to Thailand is a determined poor tour, because Thailand is a part of the whole trip and has been out for more than 40 days, so every part can save money. The residence is basically a home stay and a youth tour, etc. The rest should eat, drink and drink, and the part of our poor tour expenses should be pasted first.
OK: (air ticket) Kuala Lumpur-Chiang Mai RMB 517 Bangkok-Phuket Island-Bangkok RMB 762 Bangkok-Chongqing RMB 636
(bus) Chiang Mai-Bangkok £ ¤ 166 Chiang Mai-Pai District round trip £ ¤ 65 (rental) £ ¤ 150
Night: RMB 400/8 nights
D1 Chiang Mai
After sleeping in a chair at Kuala Lumpur's airport all night, I would sleep well on my suitcase-finally at 4 o'clock in the morning, I took my luggage to chick in. After everything was OK, I came to Chiang Mai.
Chiang Mai is a place that has always been in my mind. I really want to see the place where Teresa Teng is willing to sleep. I started to think about graduation. As a result, I reached my sophomore year ahead of schedule. When I arrived in Chiang Mai, I still felt very magical. There will be free cards issued at the airport, but we have another 7-day card, ¥ 399B..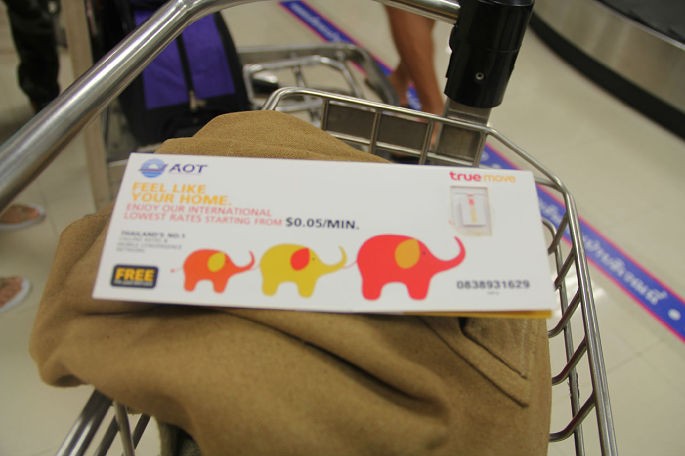 The legendary TUTU is very cute, and the driver is not as fond of killing people as the legendary one. Maybe I have met a good driver.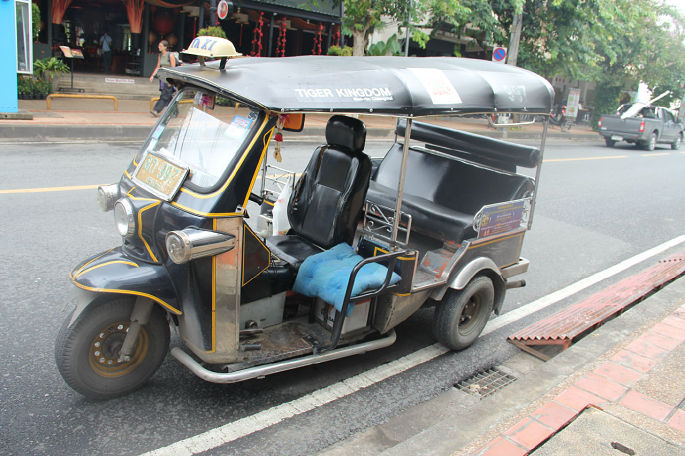 I was wandering around the ancient city of Chiang Mai. It was drizzling behind me. I felt quite emotional when walking. I met the traffic police training in Chiang Mai and so on. I don't know if there was any handsome boy like Nikon inside.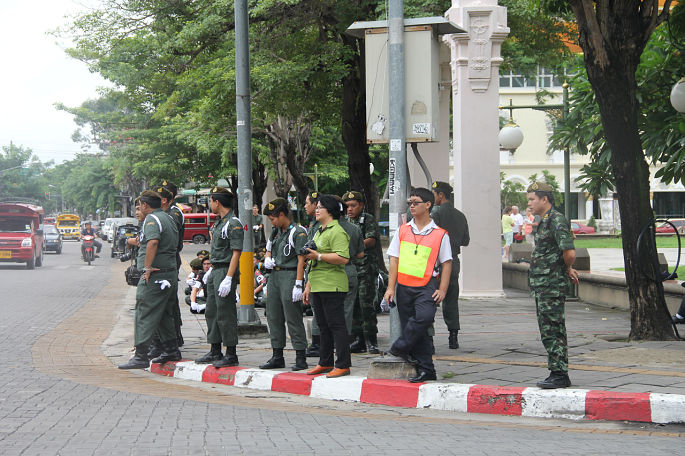 When I arrived in Chiang Mai, of course, I had to eat hot pot for 1,000 people, 199B. The people here were really deeply influenced by Teresa Teng. The lady who sang in the singing sang a song by Teresa Teng. I wonder if I have been applauding the lady who sang. She smiled kindly at me and then sang three Chinese songs in succession ~ ~ ~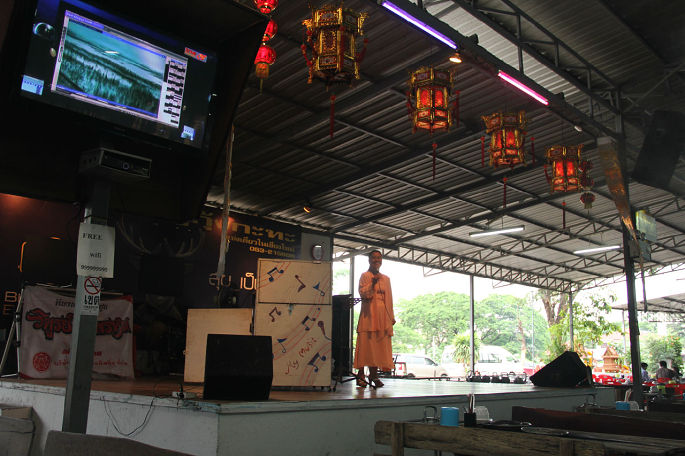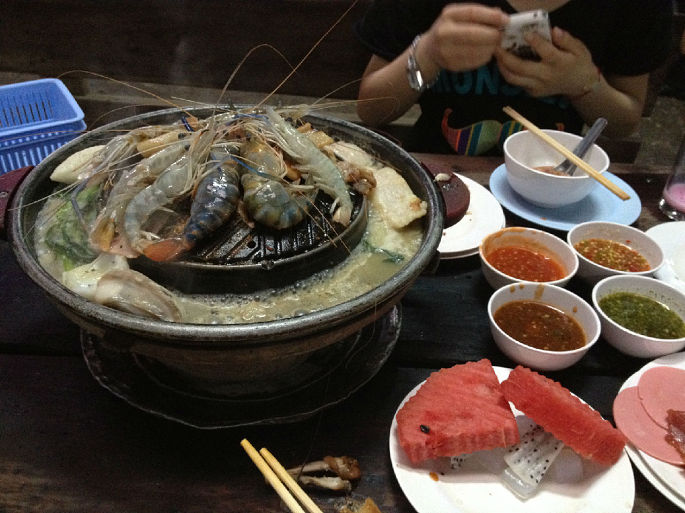 After the meal, the fighting capacity was completely zero, and I returned to the bird contentedly in the light rain. I lived for 10 people at 40 RMB a night. Because the youth tour is used to living, it will not feel inconvenient.
After chatting with foreign friends of the Youth Travel Service, I felt that my best friend and I were treated as children, which was really helpless. I was going to visit the night market, but I was really a little tired, so I decided to rest early and go to Pai District tomorrow.
D2 Pai District
I got up early and took a carsickness medicine. I bumped all the way to Pai District. My carsickness friends must take medicine.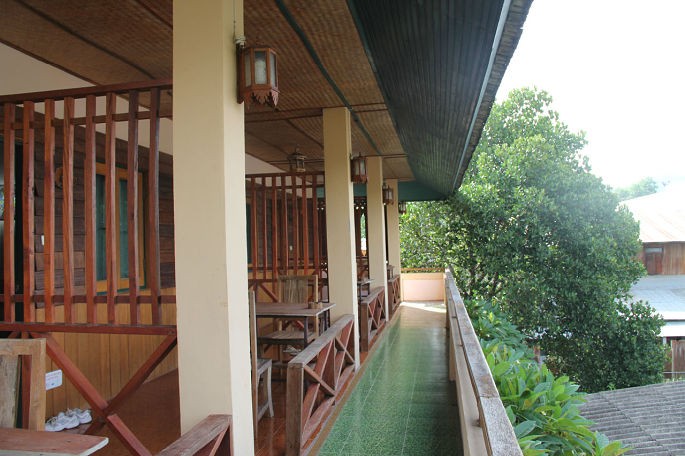 The bnb in Pai District county, the front is the restaurant and the back is the accommodation, the standard room is $400B one night, very cheap, mainly is very close to the station, the environment can also be oh ~~~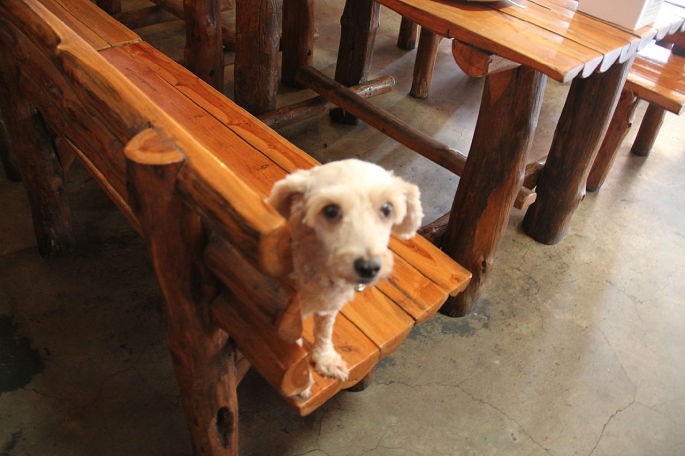 Ordering food at the boss's shop. I really can't understand the menu. What should I do? As expected, what I ordered was very bad-this is Wang Xingren.
After eating, I went out for a stroll. Pai District Town is not big. Compared with the vast area of China, it is quite easy to walk here. Then I went to find the accommodation after that. My travel habit will not kill all the trips, because I think there are some places, accommodation or food that I cannot feel on the strategy. Only by looking for them on the spot can I feel free.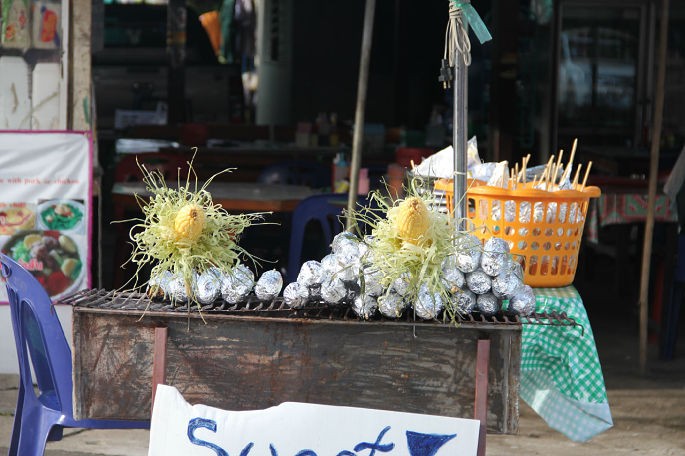 In fact, Pai District's attraction to women will be much greater than that to boys, because there are shops with petty bourgeoisie and beautiful photos can be taken everywhere ~ ~ ~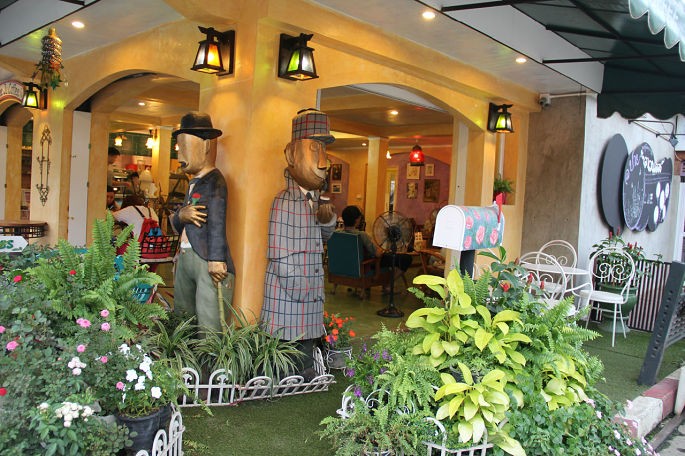 Saw pink car, as pink control I am girl heart flood flood ah flood ~~~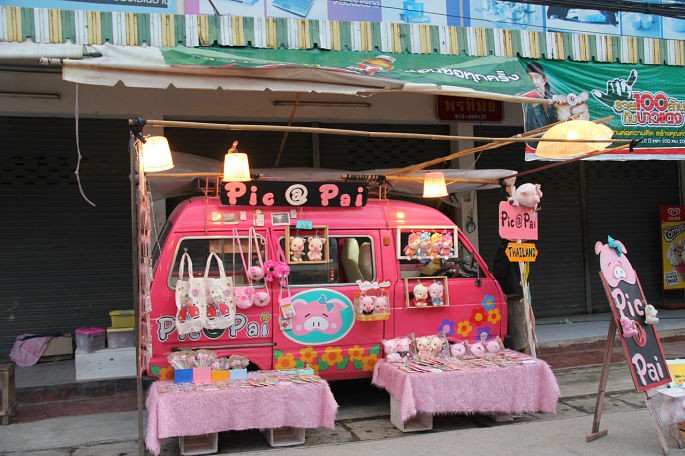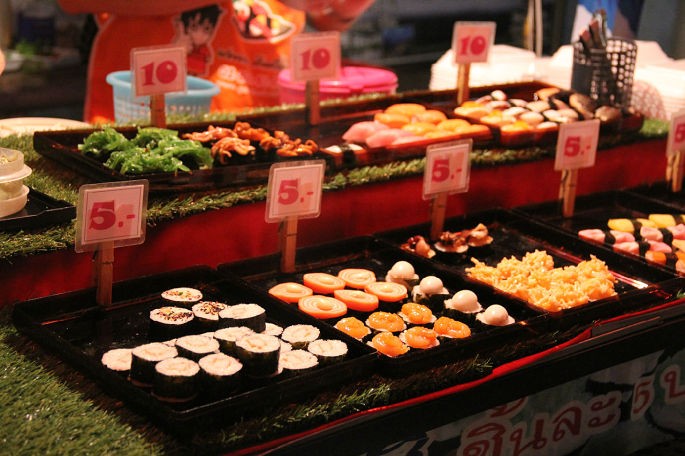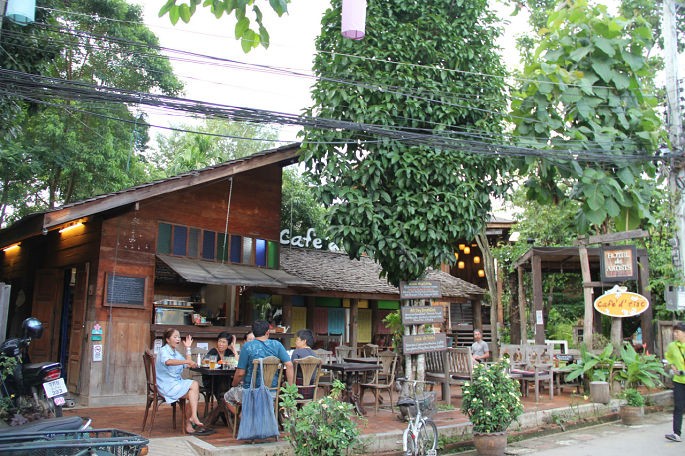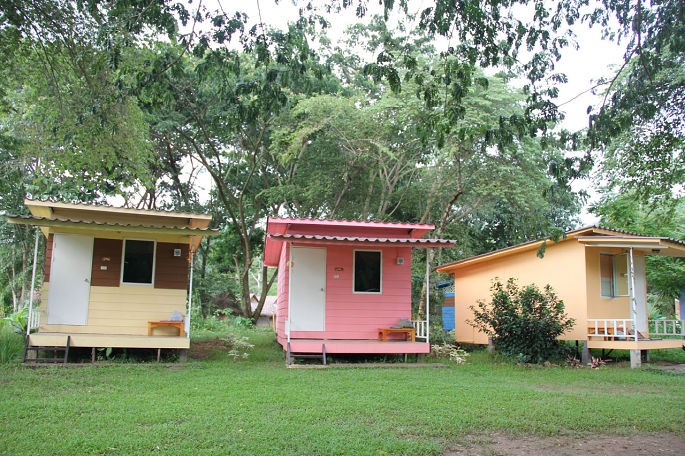 Then wandered across the river, this is the place where I lived the next night ~ ~ ~ 300B for one night. I took a fancy to the pink one. I told the boss that I liked the pink one. The boss said that there was no room.-Anyway, I didn't live tonight, so I asked him tomorrow. He explained that he was naive and had ~ ~ ~ ha ha, decided to go back.
This town is really free and likes it very much.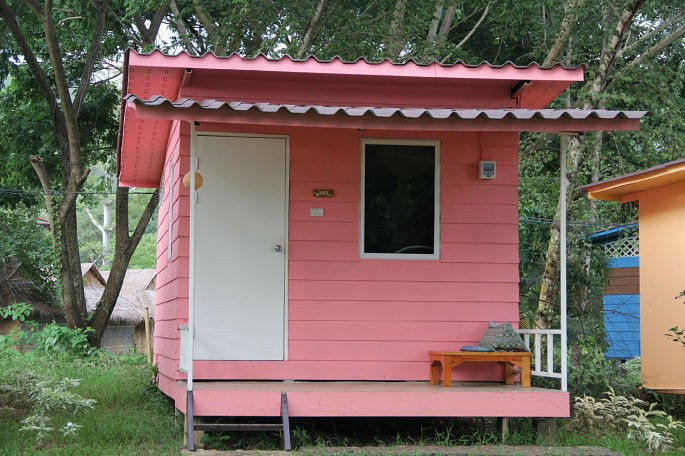 D3 Pai District
The night before, I mortgaged my passport in a motorcycle rental store, rented a motorcycle of 140B, and then added 50B of petrol. I haven't cycled for a long time. I was a little nervous. I originally planned to get up early, but I was not honest and stayed in bed.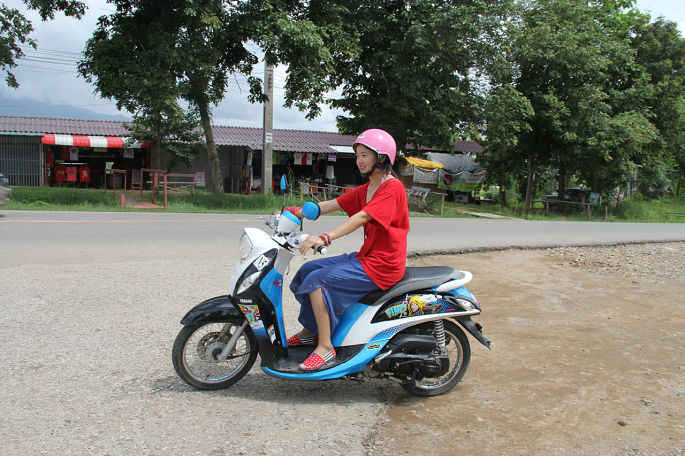 It was already 10 o 'clock when we set off, it seemed that everyone was still more lazy in bed than we were, and there were not many people on the way, so I rode my bike with my intuition happily, and lala sat behind my car. If I really did not know the route, she would help me navigate my mobile phone.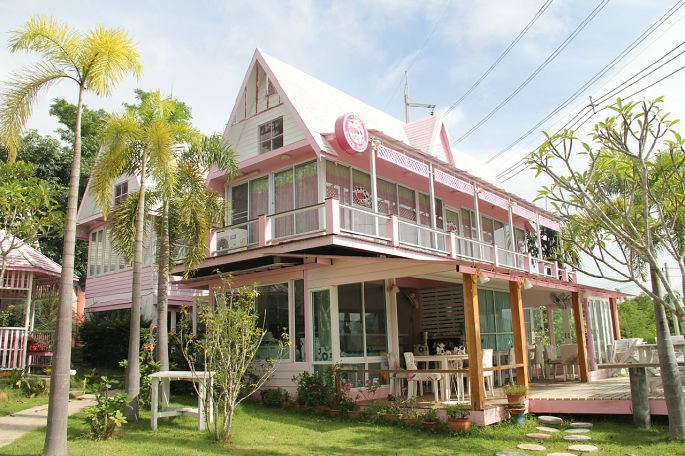 In fact, living here is really quite emotional, is a little far from the town.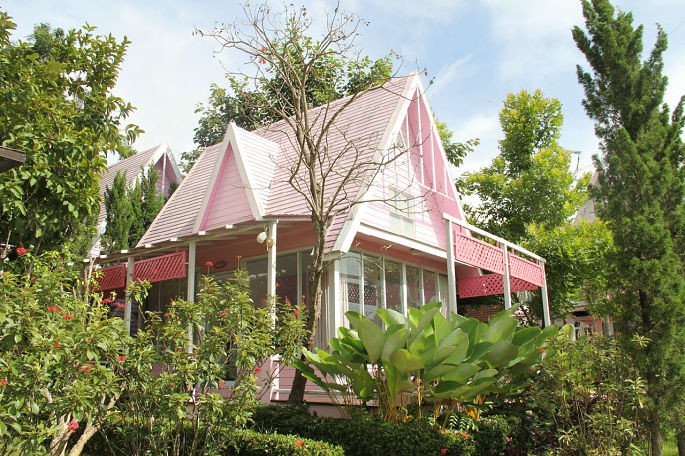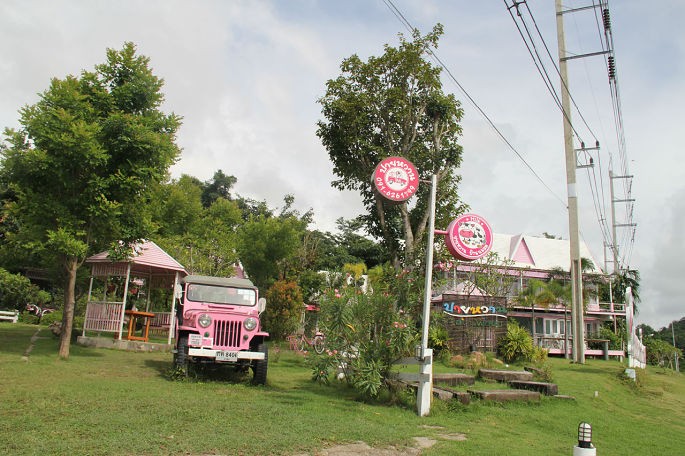 The view is great and the air is great.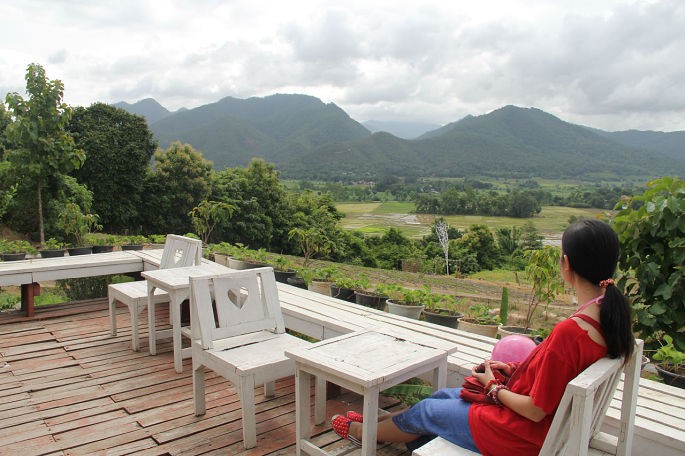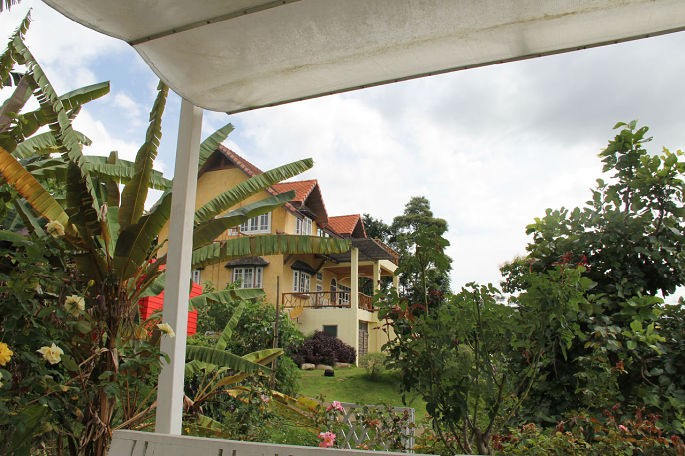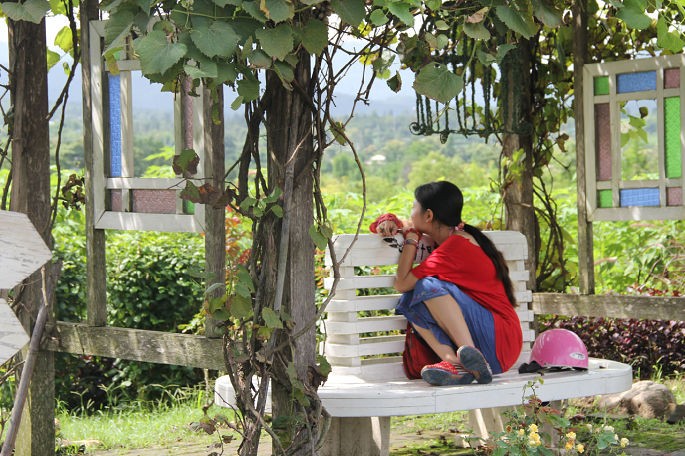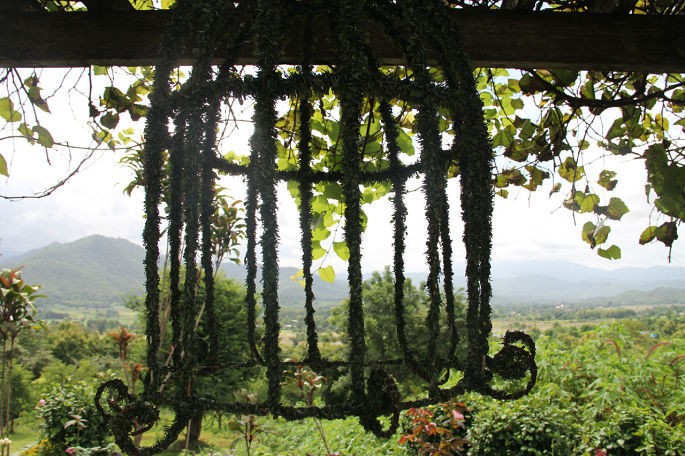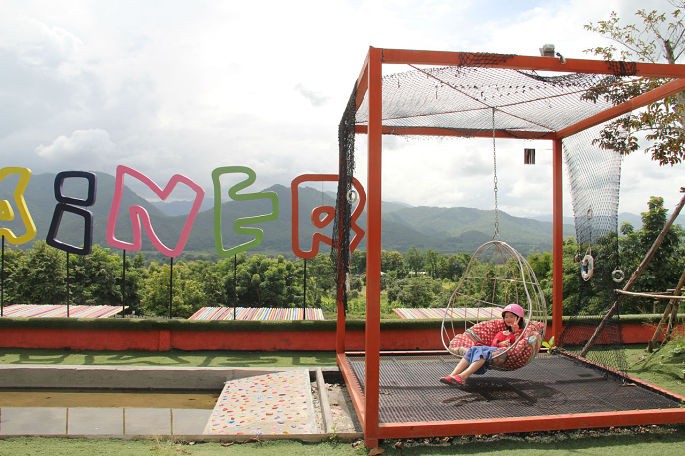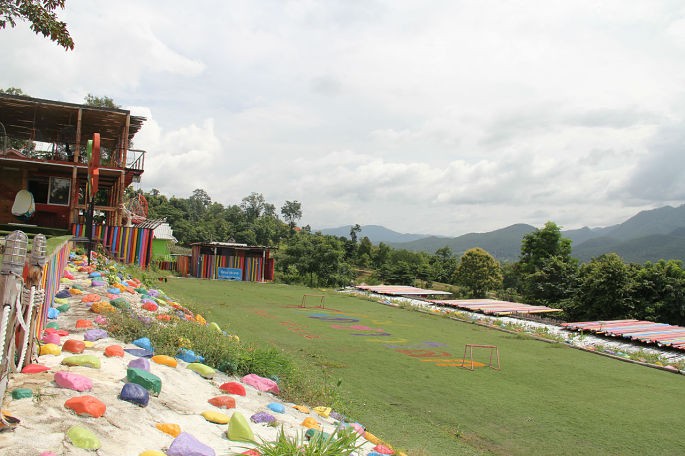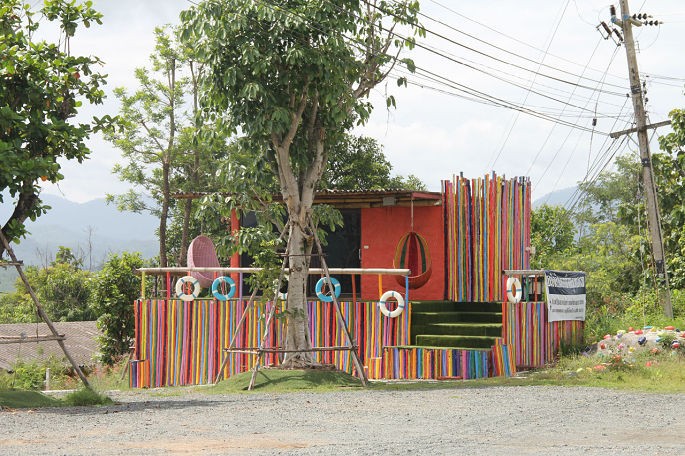 Then to the strawberry garden of love, like the fairy tale world, the strawberry juice inside is very good to drink. Is not expensive.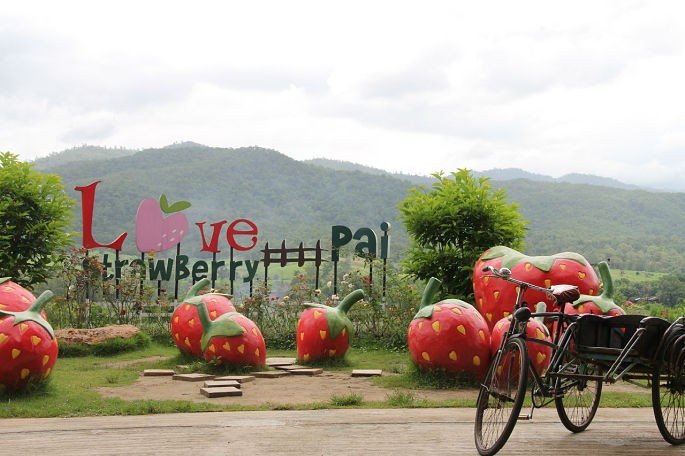 I was so excited to see him because he is my life, but in April I met Johnny Depp and got his autograph and took a photo with him. Scatter flowers scatter flowers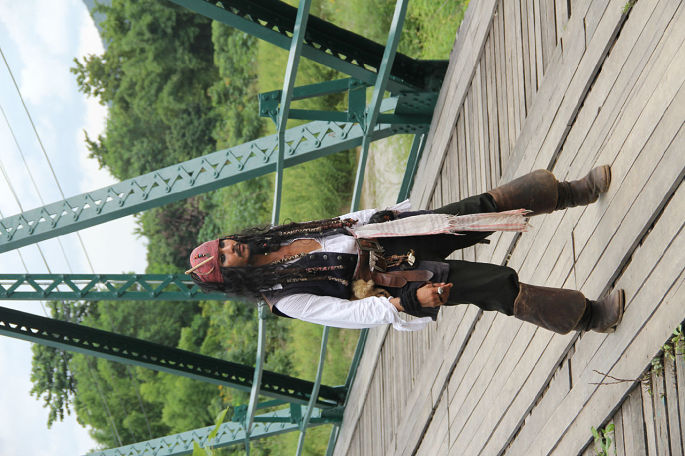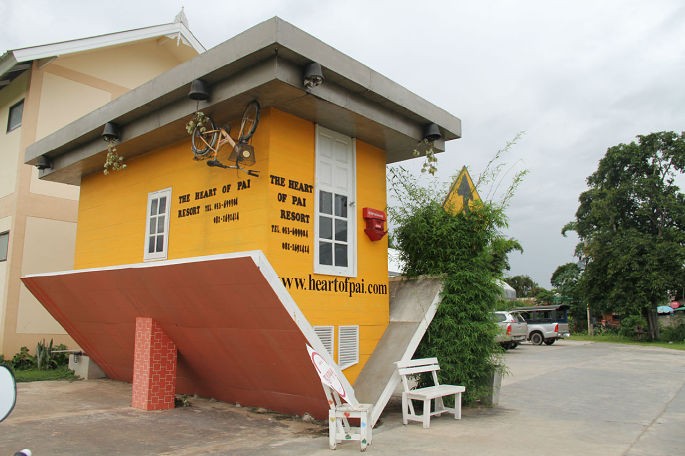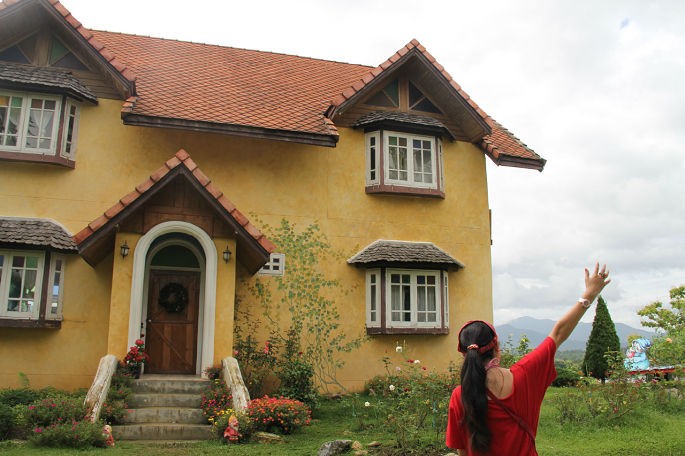 The scenery along the way was just right, and I was not afraid of getting lost. In fact, I was driving the wrong way-driving to somebody else's field. But at least he made a detour and returned to town.
Thank the boss for leaving us the small pink house specially. In fact, it is a matter of emotional appeal. The environment inside is the same. There are a lot of mosquitoes, but who cares? Ha ha.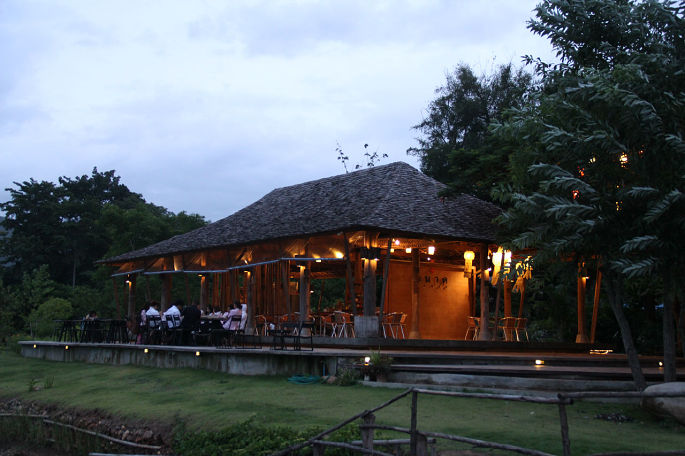 As night fell, the restaurant on the other side of the river also lit up. In the evening, I watched an outdoor movie in the hotel. Besides the fact that there were a little more mosquitoes, I really felt comfortable.
D4 Chiang Mai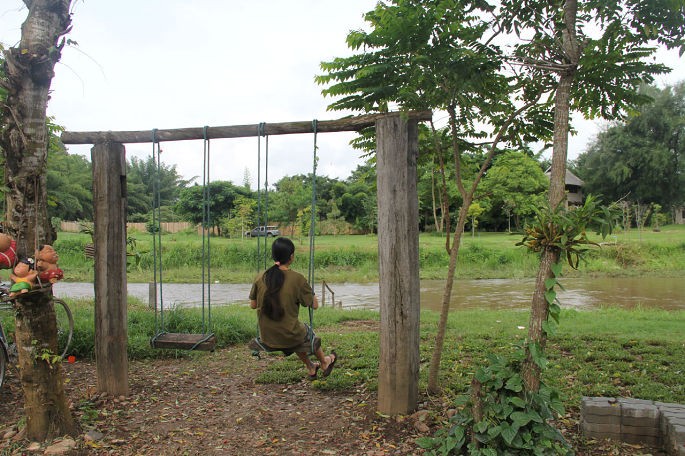 Early in the morning, in the river swing, quickly forget the troubles. Then he checked out and went to ride an elephant with his luggage.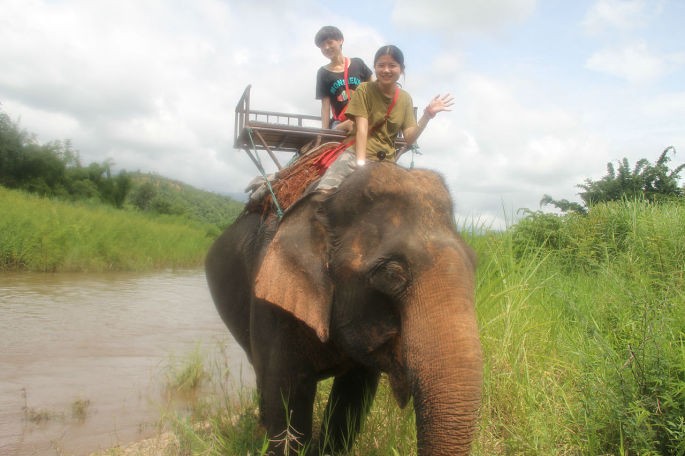 Elephant's fur is really good hard – later when riding on its neck is simply abused, remind everyone to wear trousers to go, and the sun is big, you really can second black and helpless, be afraid of black must do well prevent bask in measure.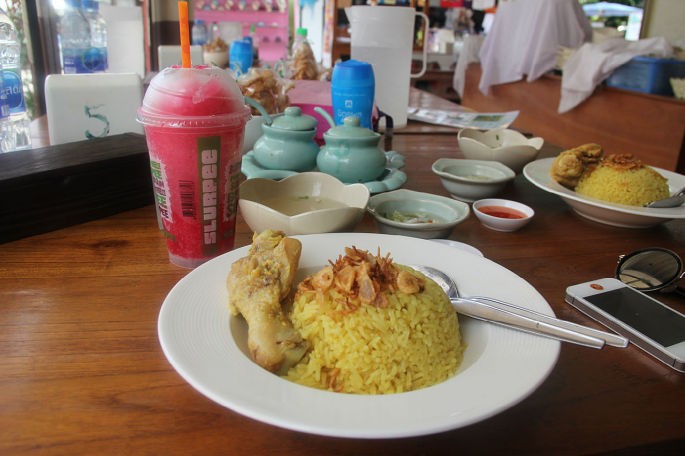 After the elephant ride back, after the last meal in Pai District, to say goodbye to PAI, and, 711 strawberry smoothie, cost 18B, really good drink ~~~
When I returned to Chiang Mai, I found that the driver's car actually passed by the ancient city. As a result, we got off directly at the ancient city and booked a room near Tapemen. We found it ourselves when we arrived in Chiang Mai on the first day. Many stores BOOKING and agoda did not have reservations. When we found it, we found that many good stores were also very cheap. So he went straight to the past.
Because I was too tired on my first night in Chiang Mai, I didn't go to the night market, so I washed my clothes and planned to go for a stroll at night. I took the map and ran to the Valuoluo market. On the way, I saw many people saying that the delicious banana grandmother. Maybe I don't like to eat strange things. I think fried bananas are quite ordinary.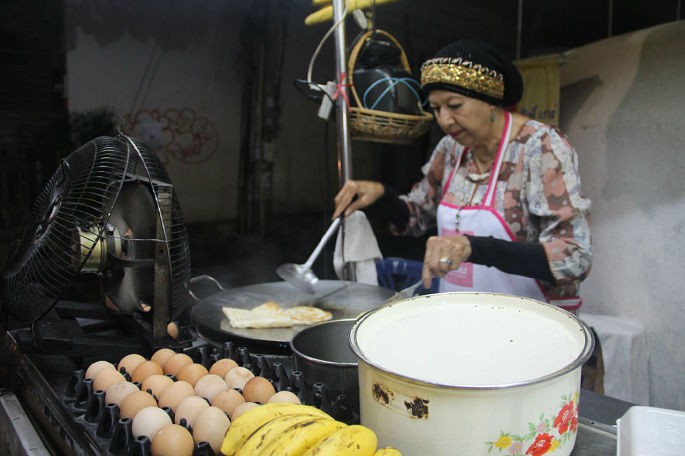 Flower Market in Night Market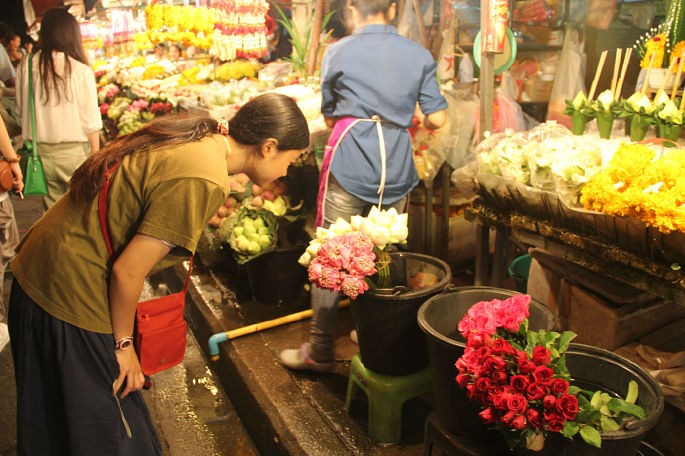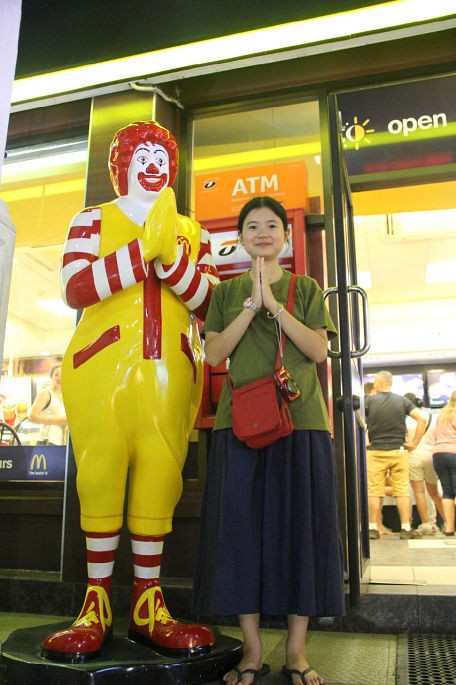 Savadhika, wearing slippers is really a mistake. In fact, the road is quite long. I want to be more casual.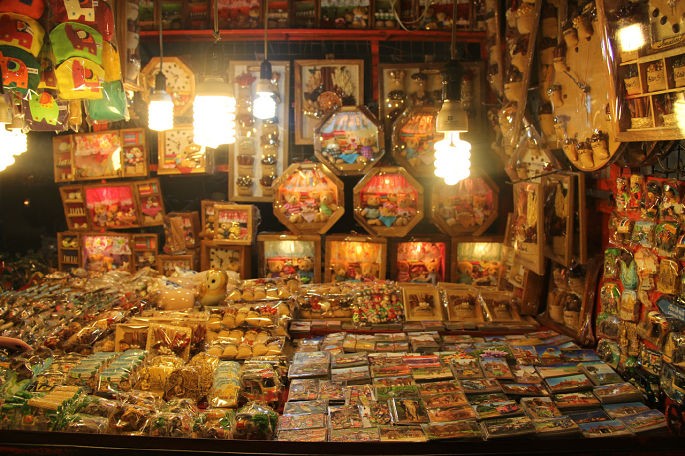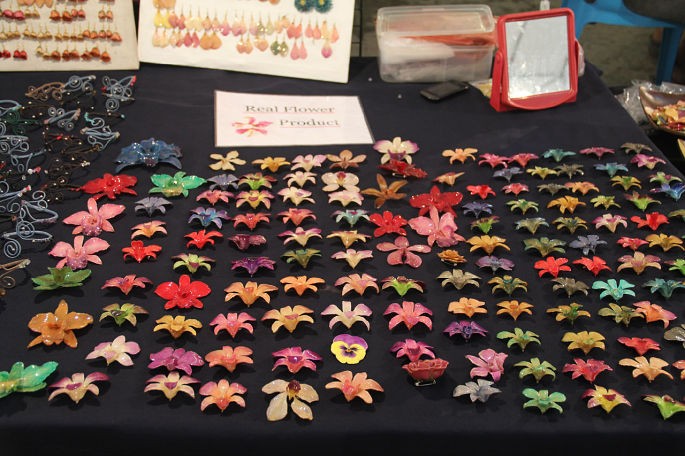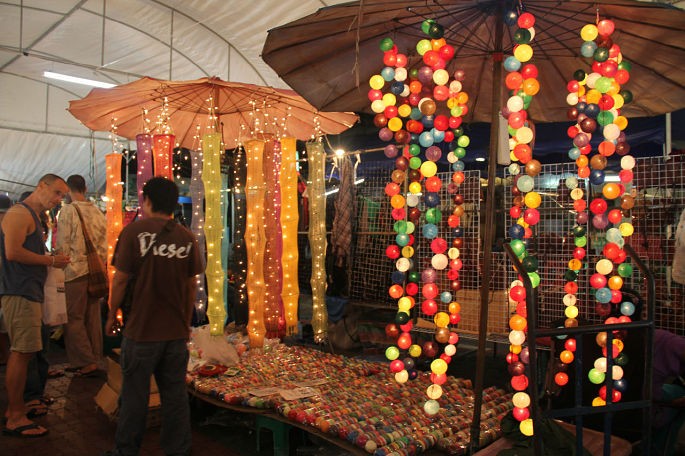 I bought a bunch of lamps and some souvenirs. I was so stupid that I came back to find that something was omnipotent.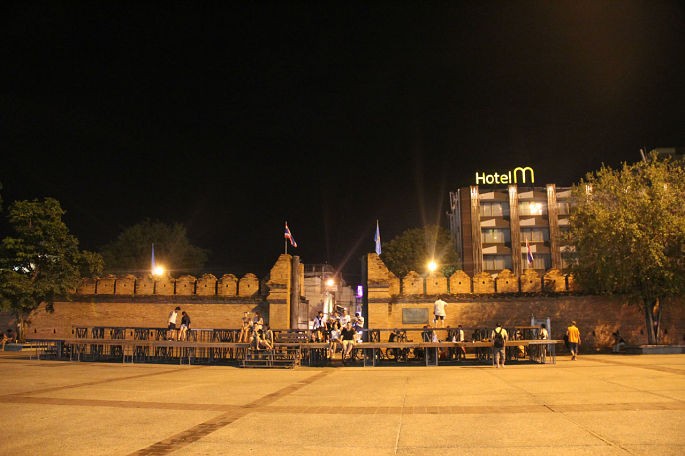 Tapie returns to quiet at night, and the light makes you want to sit there and think about something you don't know what to think about.
D5 Chiang Mai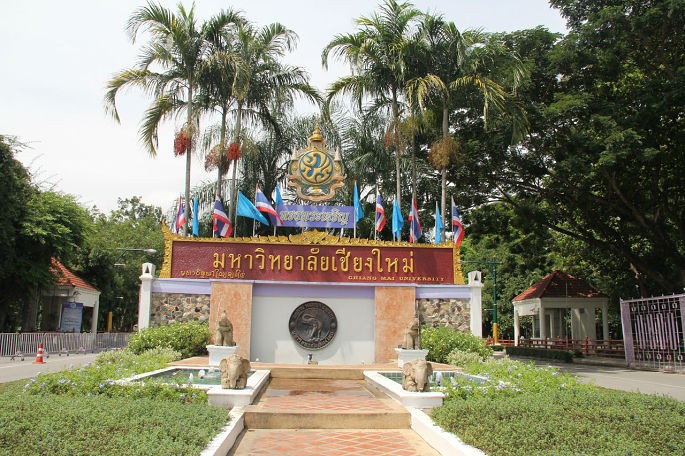 I this person every day to sleep less than three pole insolation, eyes are quite early, get up directly in place rented a bike to go to Chiang mai university walk, $50 b, thought that qinghai lake every day more than 100 km ride down, what is this little journey, results ah, super big sun ah, no hat, no glasses, prevent bask in not in place, Chiang mai university – ride to want to die of heart have.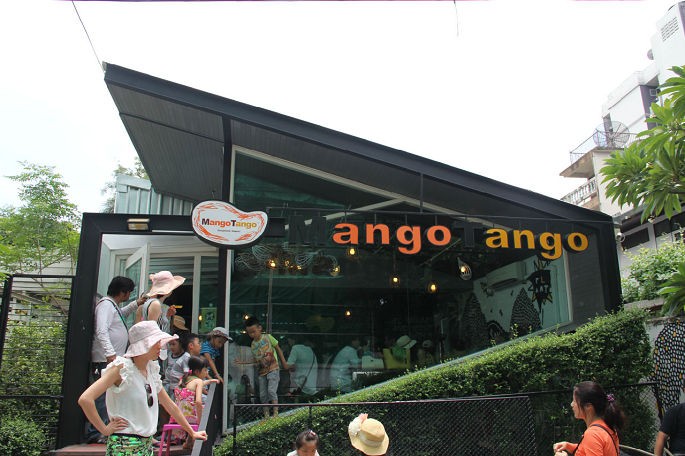 Then I went to the legendary mangotango. Actually, I was not good at mango. I went in and ordered a cup of strawberry. There are so many people, and there are so many Chinese, I think if you don't really love mango there is no need to wait in line.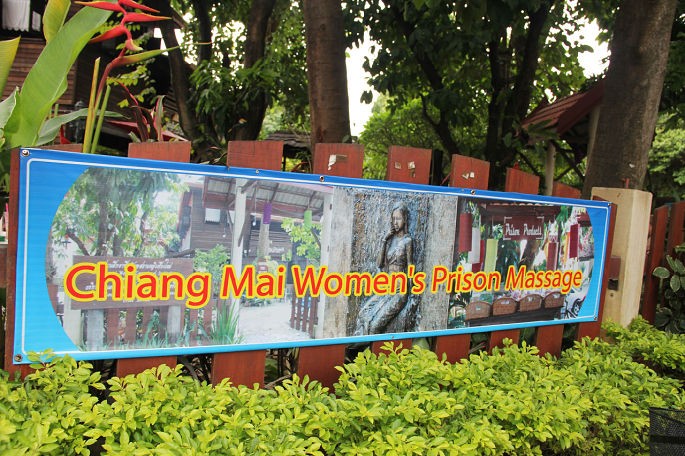 In the afternoon, I was going to do the women's prison, but the quota was already full, so everyone wanted to go there early.
Then we chose a LILA full-body massage of 200B, which was really cool.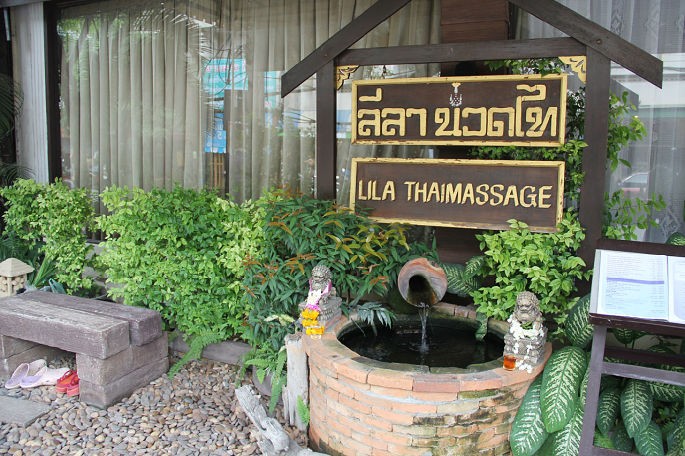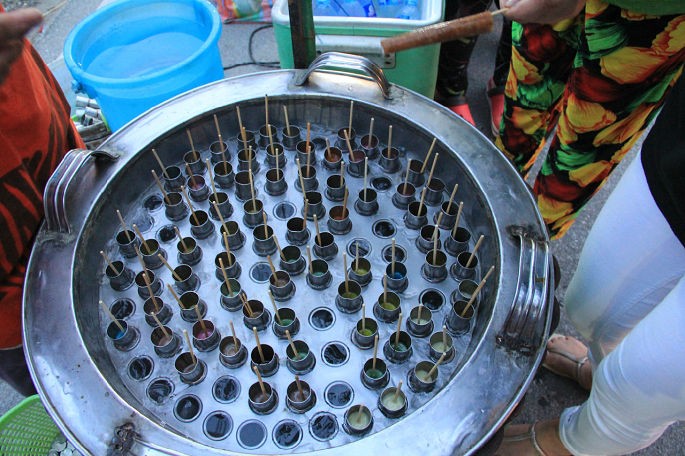 The exciting thing is that today is Saturday, there is the Saturday night market ~~~ the night market has been put out from the gate of Chiang mai, super busy, eat a lot of food, there is no place to put the bicycle. smoking lollipop ice, cost 10B.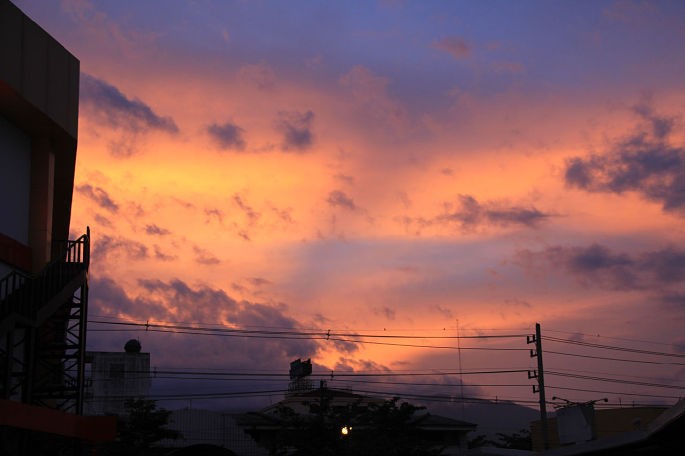 The sky at night is so beautiful that many locals are appreciating it. It seems that it is really a good day.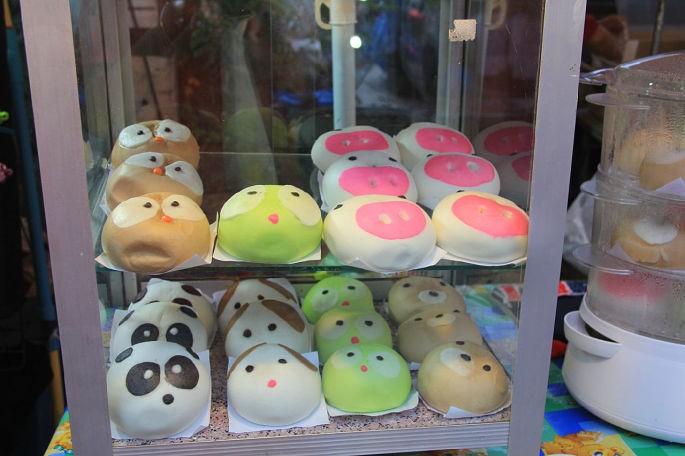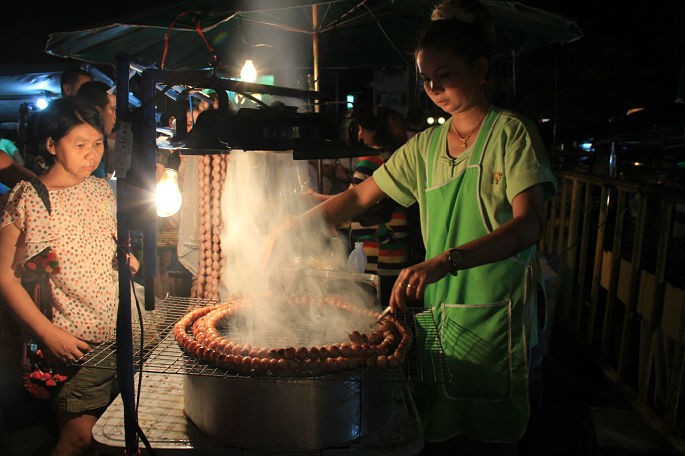 This meatball seems to be quite seductive, and the food is quite delicious. It's been a hard day, so I fell asleep. I'm going to Bangkok tomorrow.
D6 Chiang Mai-Bangkok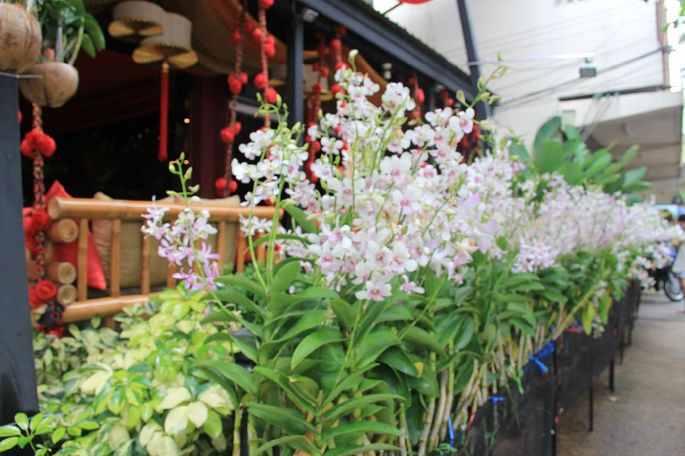 Looking forward to looking forward to, finally to the exciting Sunday, sleep to wake up naturally, then go to return the car to check out, luggage deposited in the living place, then go to the city for a walk.
Look at what my best friend is taking here ~ ~ ~ ~–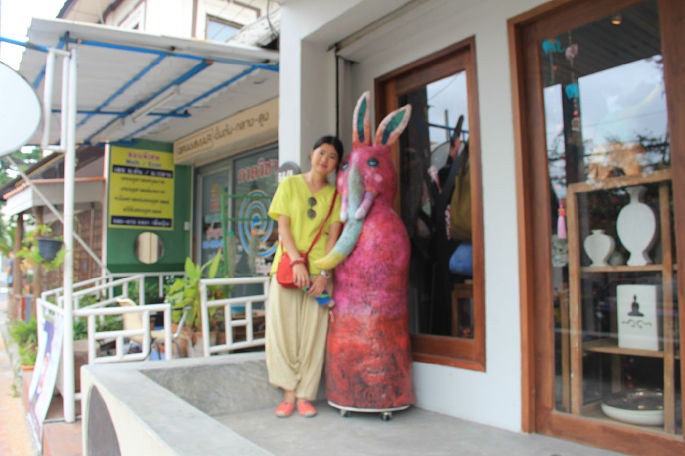 I have a habit of sending myself a postcard in a strange place, so I chose one of so many dazzling cards and sent it to myself. Shopkeepers have been consulted about the shooting in the store. Some stores are not allowed to take photos. Please don't take photos indiscriminately to cause unhappiness.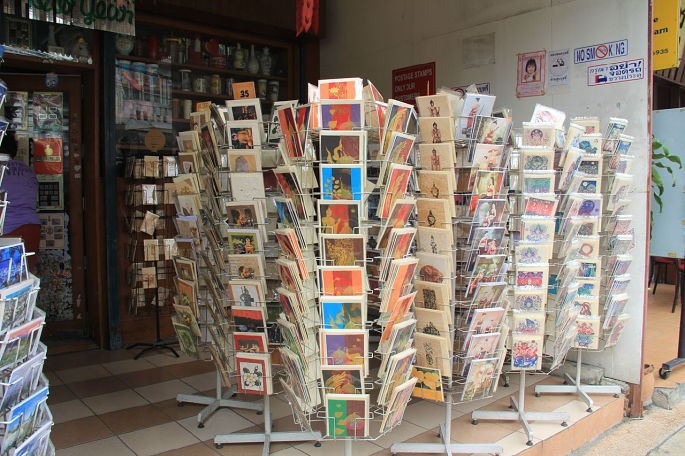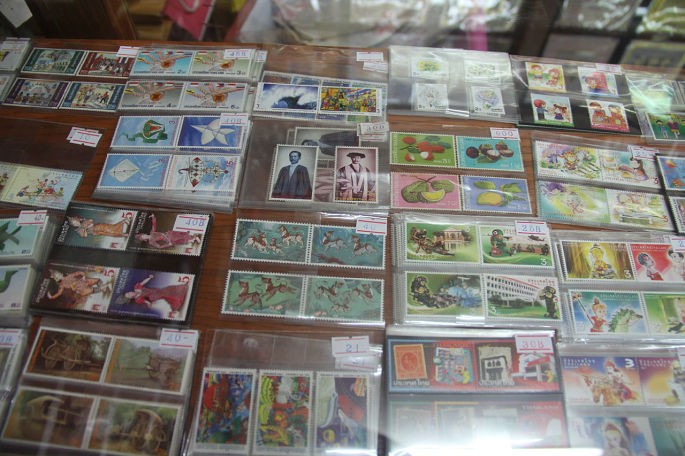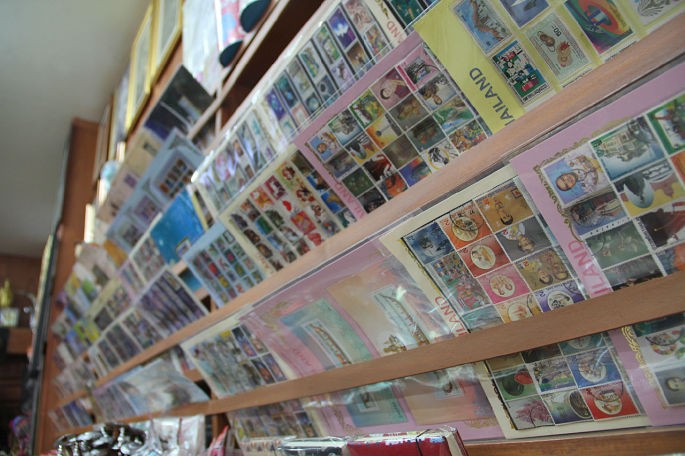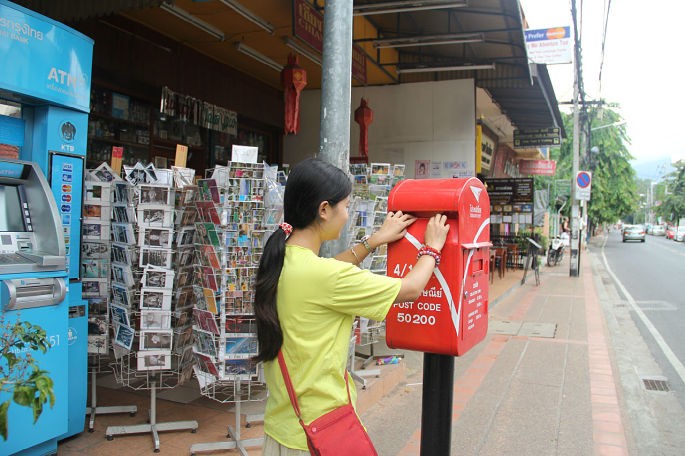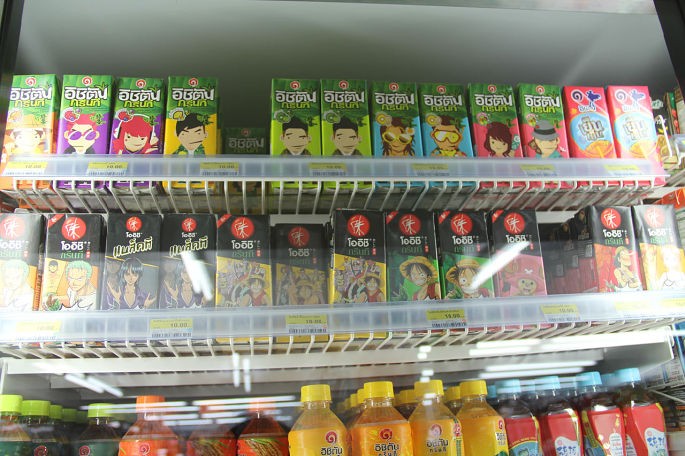 As a senior sea thief fan, see the sea thief drink how can not to a bottle!!!!!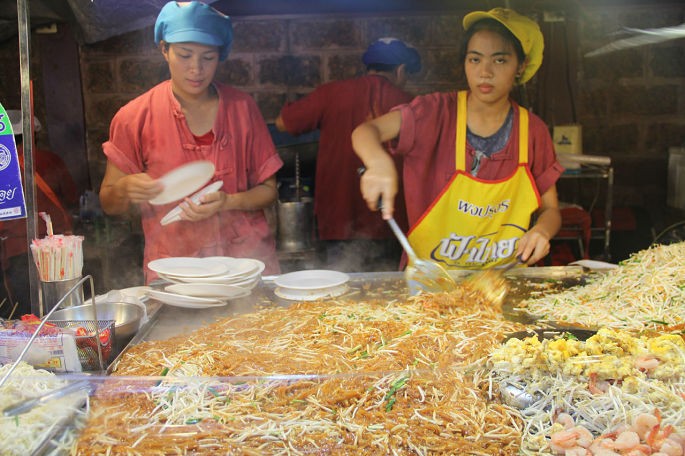 It's not dark yet, and the weekend night market in Chiang mai is already opening up. Thai Fried river noodles look very enjoyable.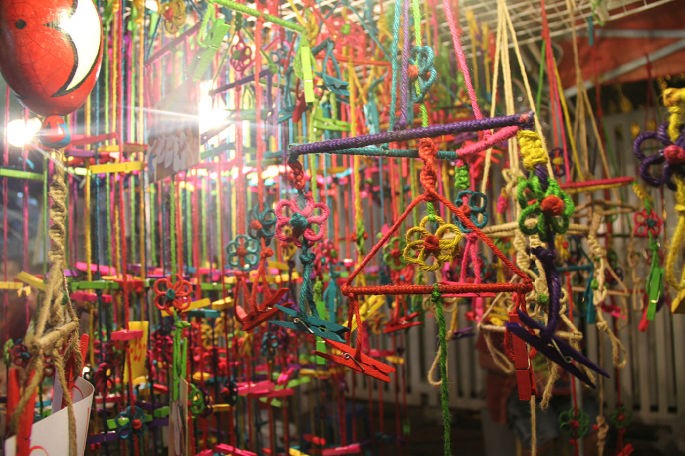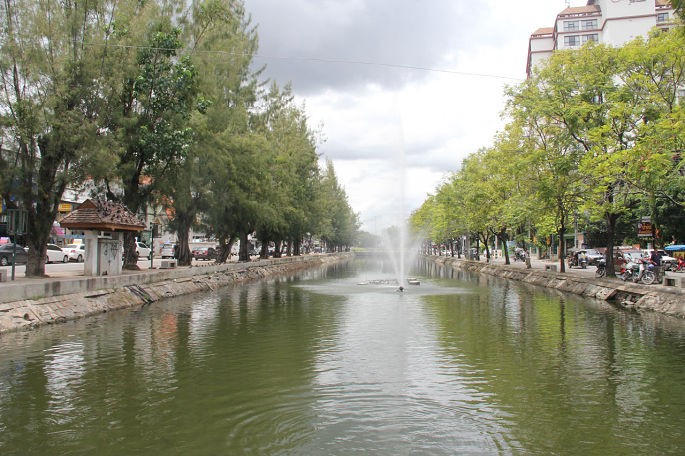 The moat outside the tapay gate is also beautiful.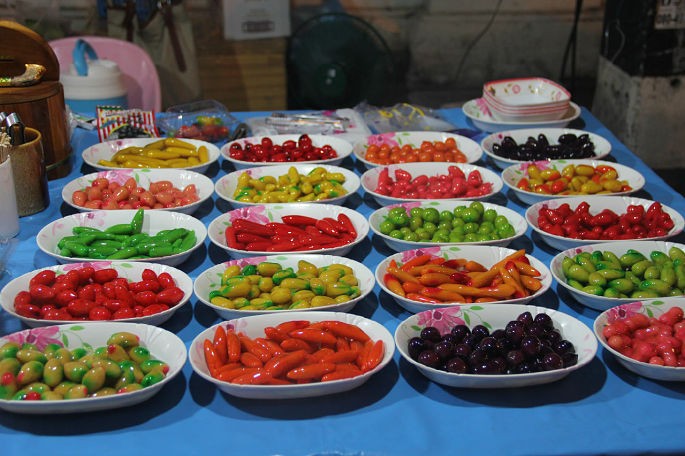 I'm afraid to eat such colorful food anyway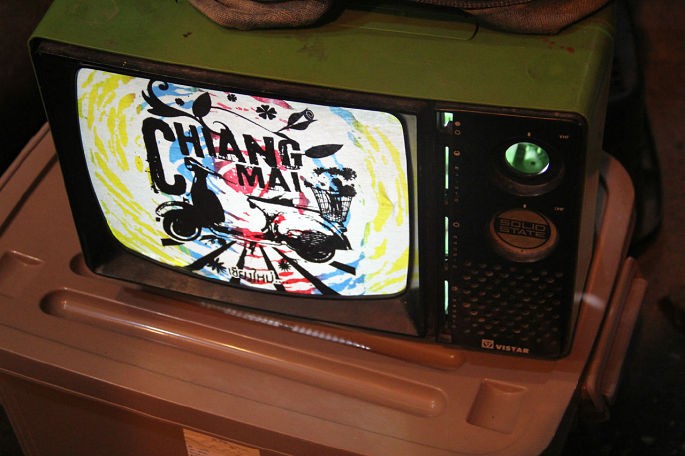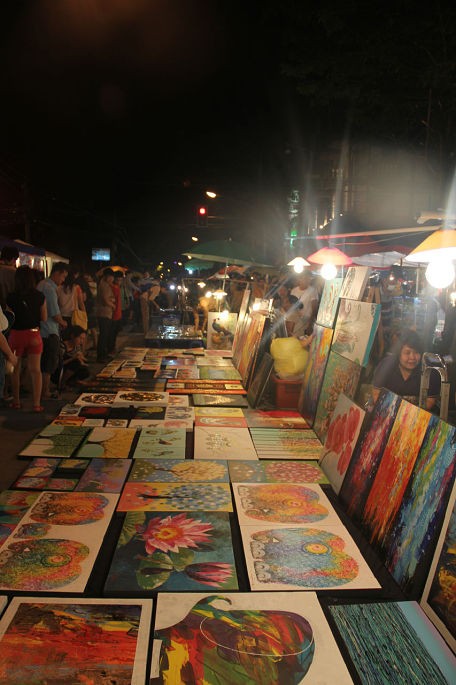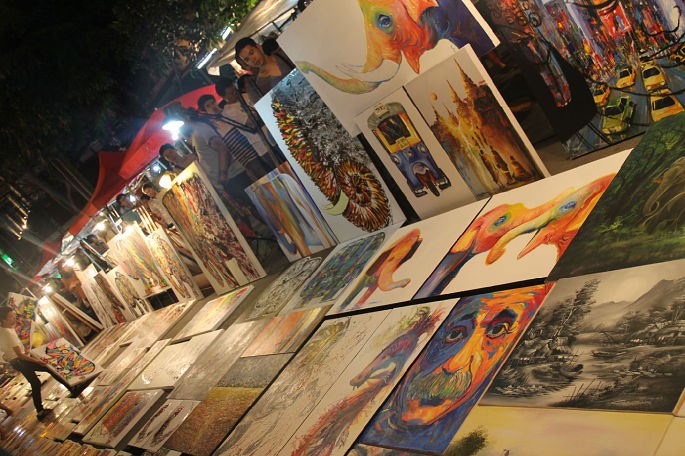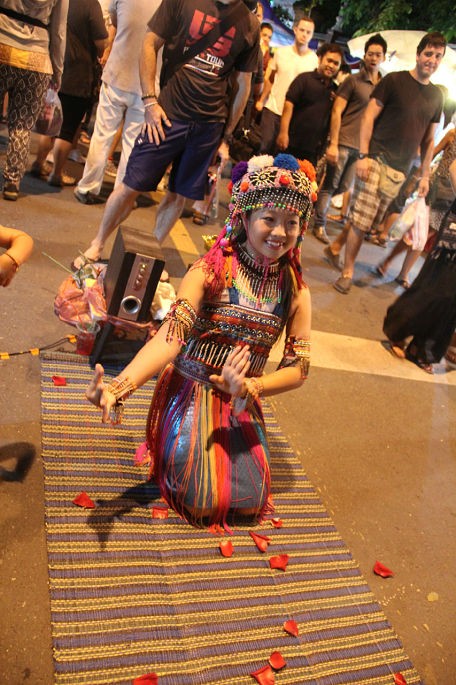 The night market was really lively. PS: When visiting the night market, the market didn't know if the national anthem was suddenly played. Everyone suddenly stopped. I didn't understand it. I stayed on the road with everyone and broke out in a cold sweat when I saw everyone stop like a flash.
In fact, we are still not satisfied with it. We want to buy and eat a lot.
Because I had to catch the NCA bus back to Bangkok at night, I had to finish my trip to the night market at 9 o'clock. It was really special to drag my luggage back and forth in the night market.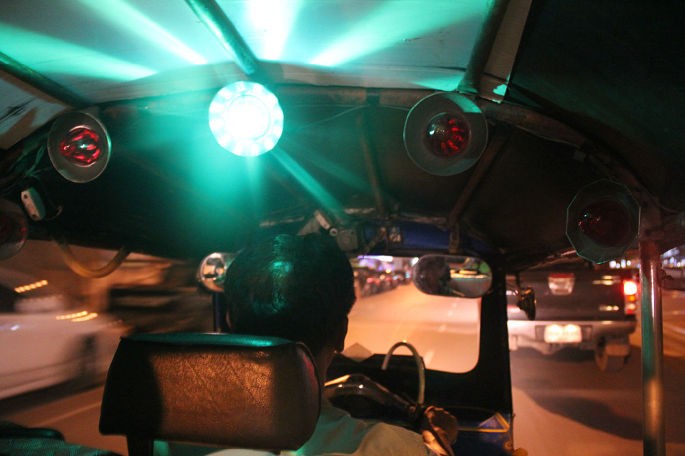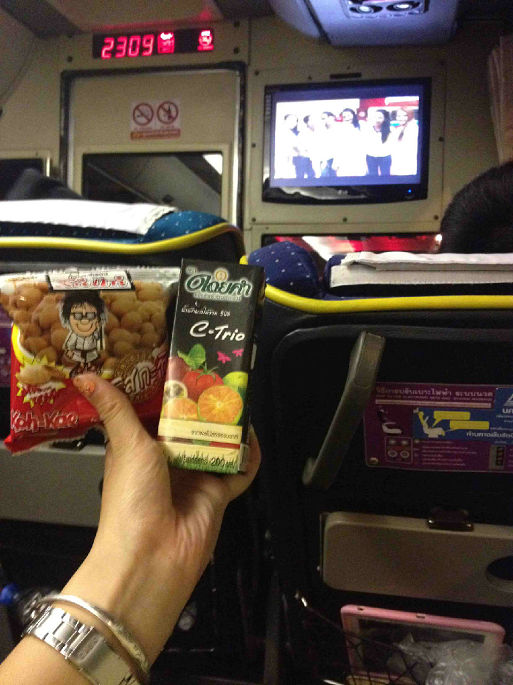 The price of the two cars in what increased on that day, and then we made a counter-offer of 80B and got on a tutu to the station.
I took the bus to leave Chiang Mai at 11 o'clock, which was really a little reluctant. I'll be back.
The service of NCA bus is really good. The first-class seat bought by a treasure was 166RMB. After getting on the bus, all kinds of food and drink were given. The attitude of the service personnel was also very good. The chair was also a massage chair. The bus was still very cold at night. Although blankets were given, everyone still had to wear more clothes on the night train.
D7 Bangkok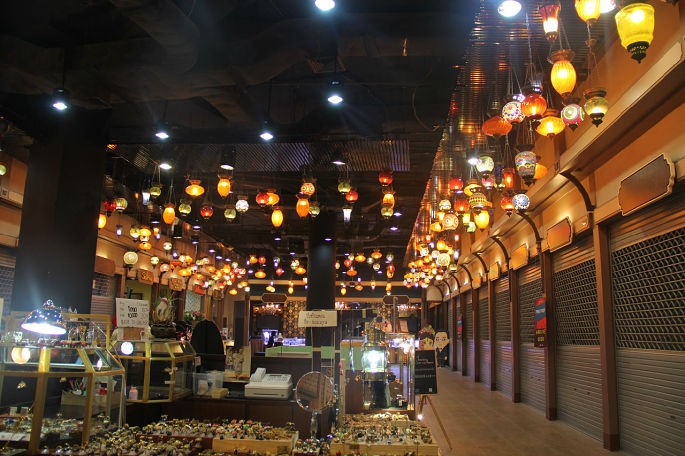 I woke up many times during the night. It was getting light, and then I couldn't sleep. Finally arrived at Bangkok station just after 8 o 'clock. After dinner, we took a taxi to zhudu subway station. I wonder if the driver took us to the last station in order to earn more money — we lived in a place where we didn't have much to eat, but the environment was really good, and we actually came for the free ice cream in the evaluation.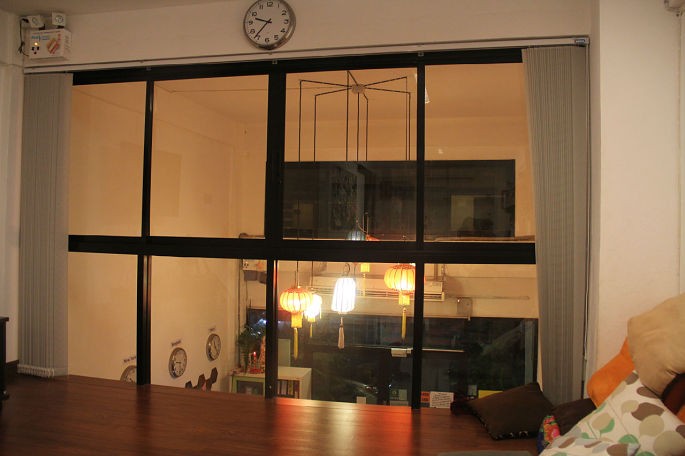 In fact, there are only 4 people living in the 6 rooms at night, which can surf the Internet for free. In the evening, I listened to a foreign friend playing the guitar beside me in the hall. Suddenly, I remembered that my guitar had been lying in the dormitory for 3 years.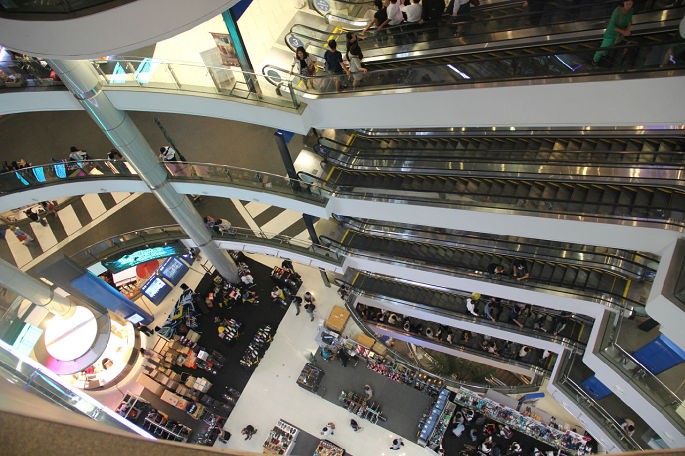 Then I went to the sukhumvit shopping circle for a stroll. To tell you the truth, I was not interested in shopping trip. In a word, I didn't choose the right place to stay.
D8
He spent a day in a daze at the hotel and then set off from the airport to Phuket.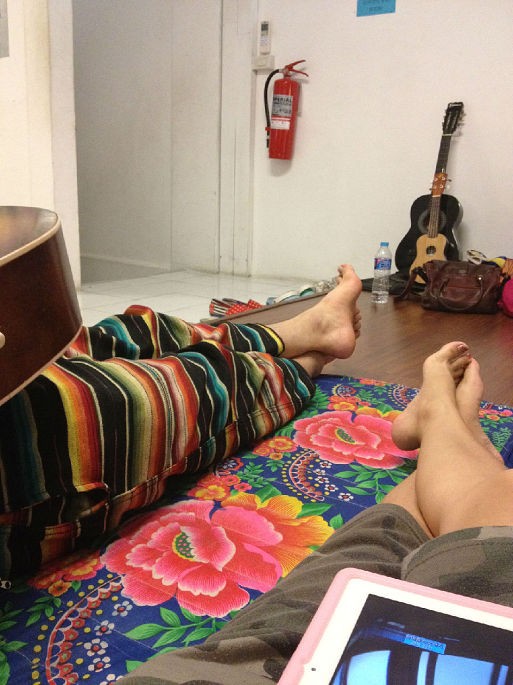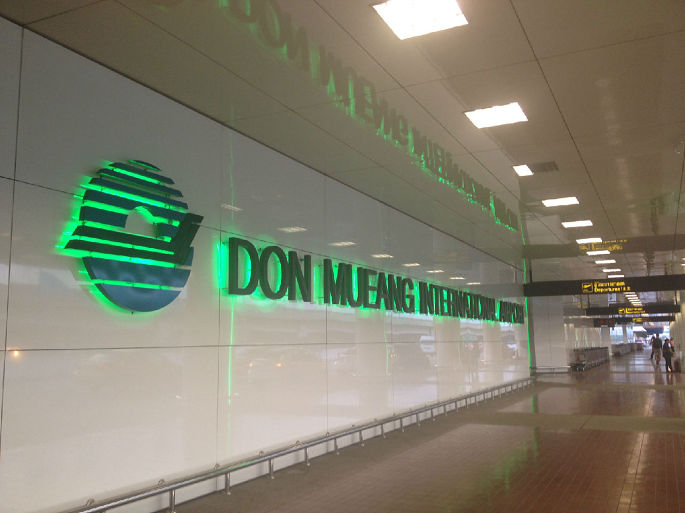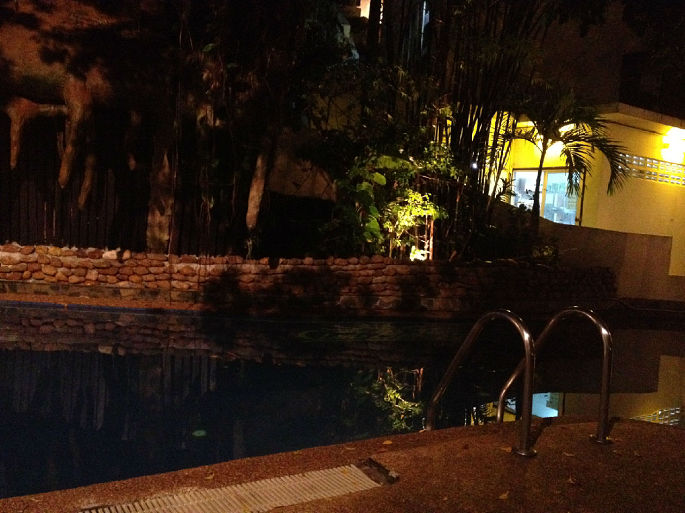 The place where I stayed was booked by the machine and wine during the promotion of AirAsia, and then it was very cost-effective to go back and forth to the hotel for 3 nights 734RMB, but it was not very close to the beach, but the environment was OK. A treasure booked a pick-up at 120 RMB. It was indeed beneficial to spend money. When I left the door, I saw the person with my own name tag.
The other side of the airport was really desolate. It felt dark all the way. Indeed, Patong Beach was still lively. It was completely impossible to see what it looked like at 12 o'clock at night.
D9 Phuket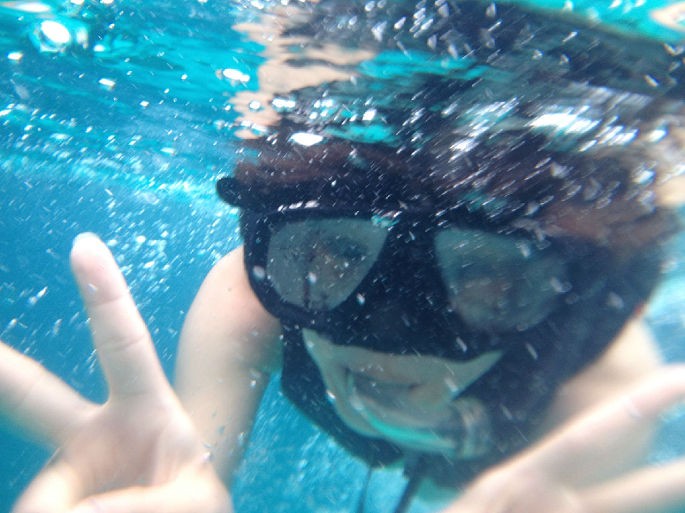 To phuket not diving is worthy of who, of course have to dive ~~~ is some treasure you are too versatile, booked the emperor island one day tour ¥249.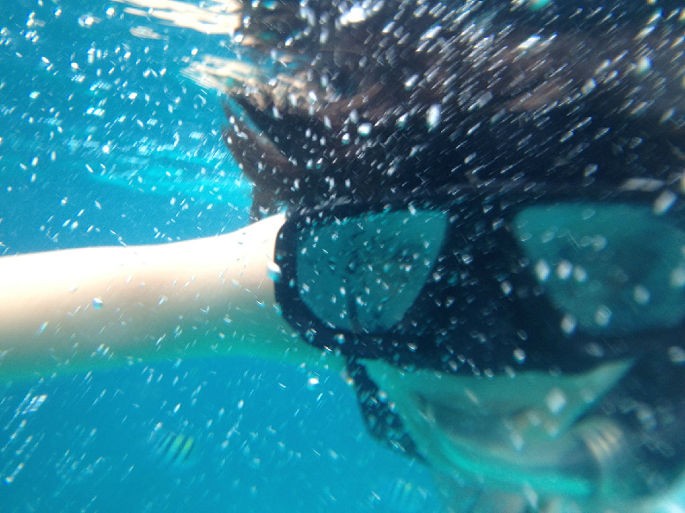 If you don't have an underwater camera, buy a waterproof case for your phone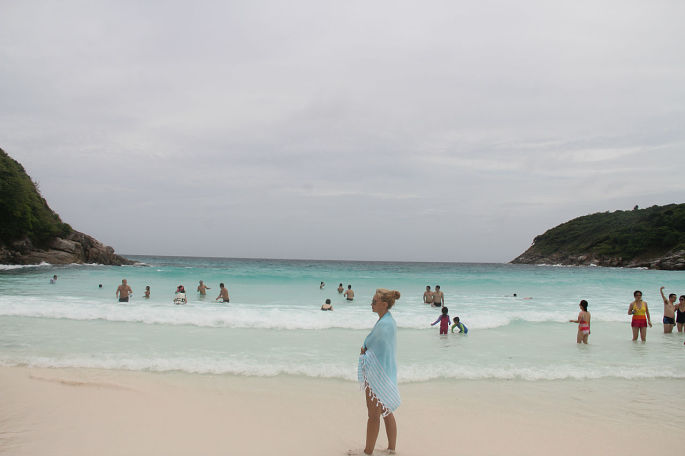 The water is as blue as jelly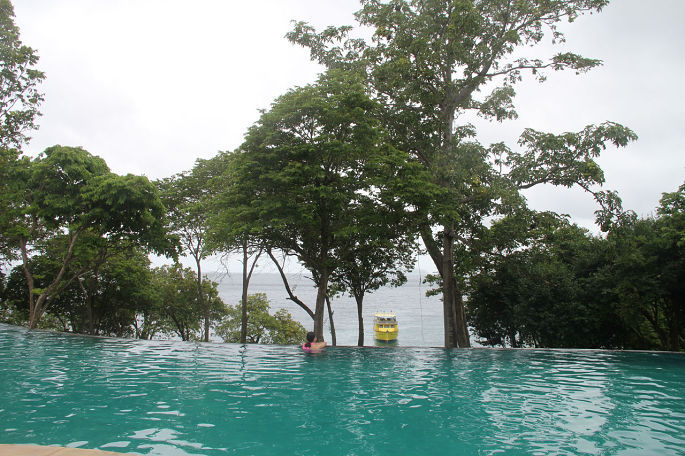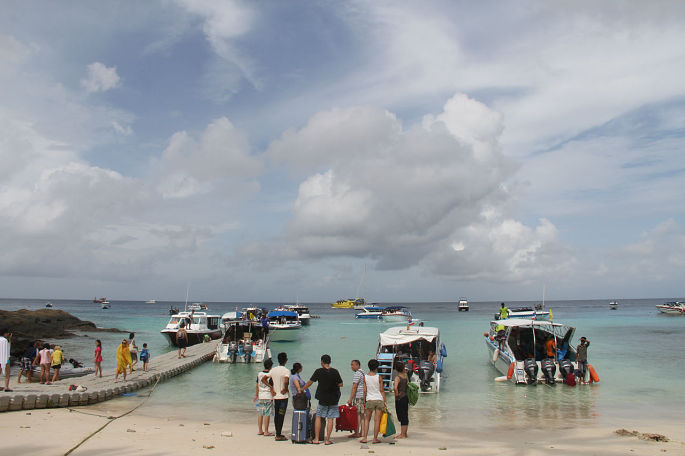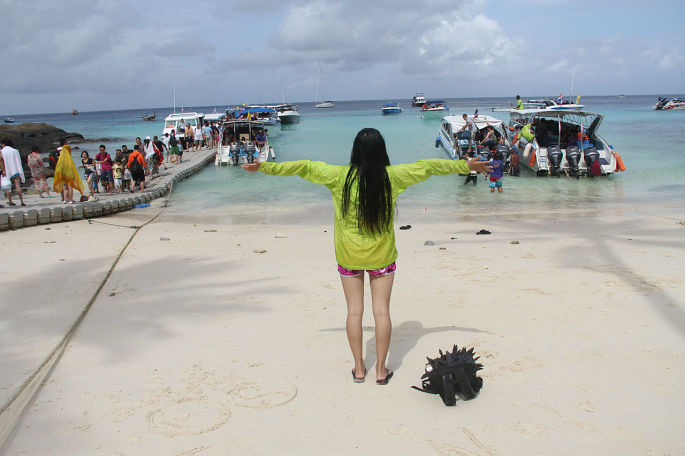 D10 Phuket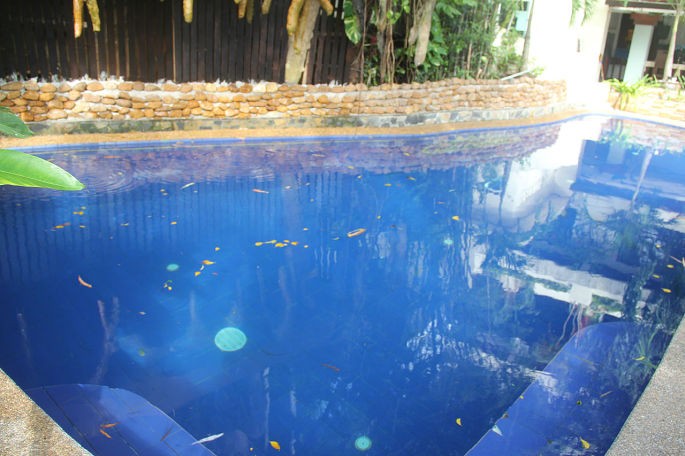 I got up early to swim in the hotel swimming pool, and then went to padang beach after breakfast. I had planned to rent a motorcycle, but I said I should have a driver's license, or I would get a fine.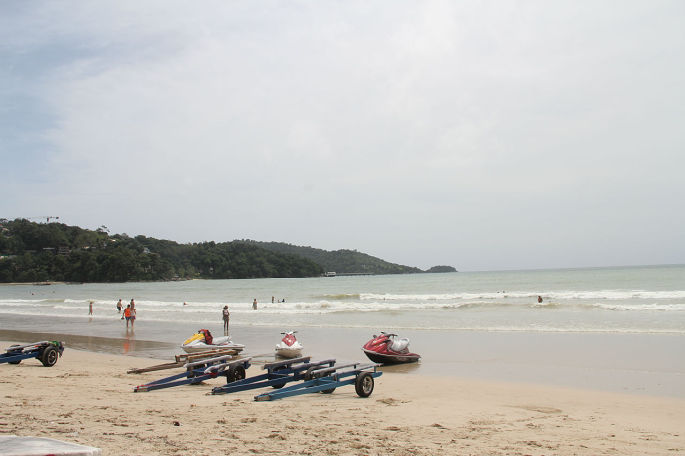 The beach here is really not comparable with the emperor island, and the water quality is obviously different. I rented a 100B beach chair and just watched those people running around the beach, and then looked through the previous photos, which are getting darker and darker.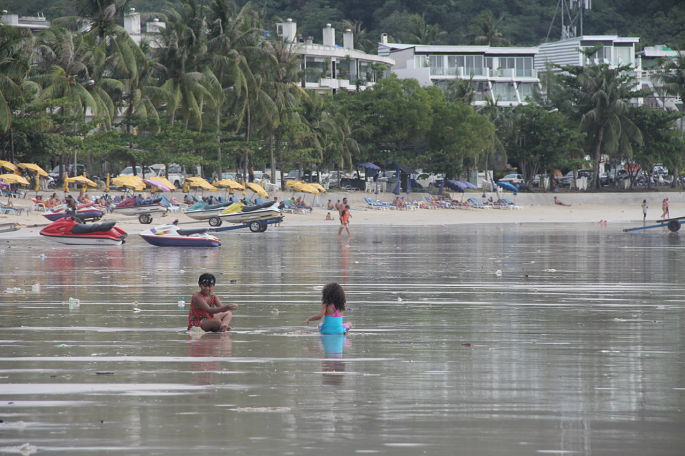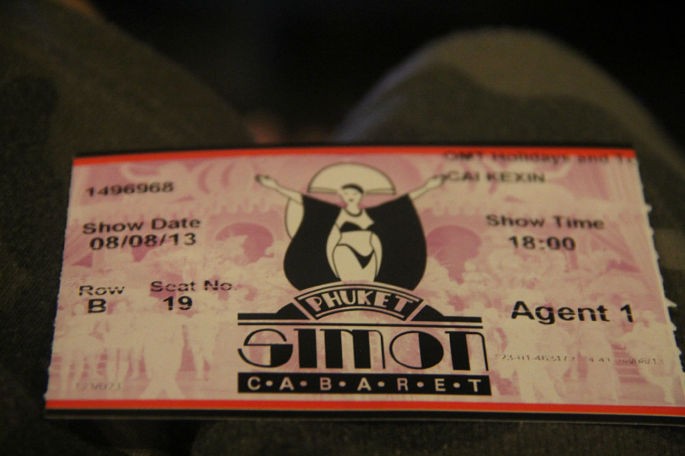 The highlight of the evening came. I went to see Simon's transvestite show ~ ~ ~ The transvestite show was also ordered by a treasure-how can I not love you ~ ~ ~ ¥ 102RMB, someone picked it up, and then the VIP seat was the real VIP second row? No photos were taken in the venue. Unfortunately, the performance took care of many tourists in Asia, such as performances in South Korea and Japan, not to mention in China. It was really beautiful. I was saddened to know that the average life span of each transvestite was only over 40 years old.
After the performance of the transvestite show, they waited backstage for a photo with a tip of about 150B, and then their whole minds were filled with the tone of simon.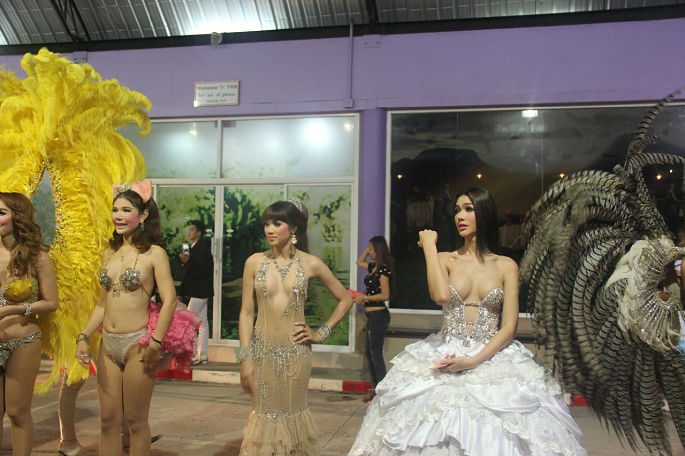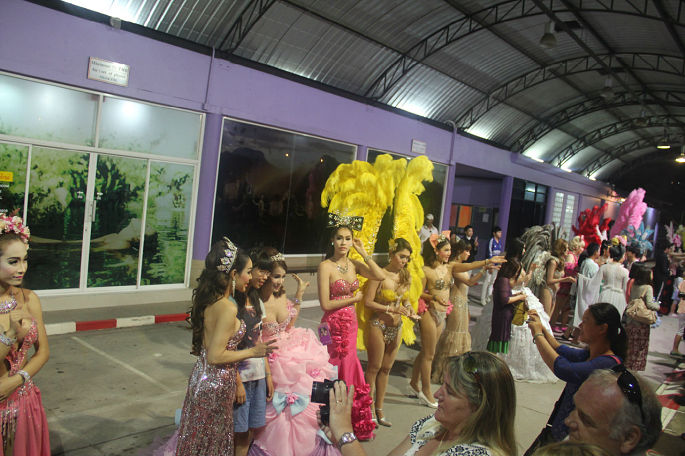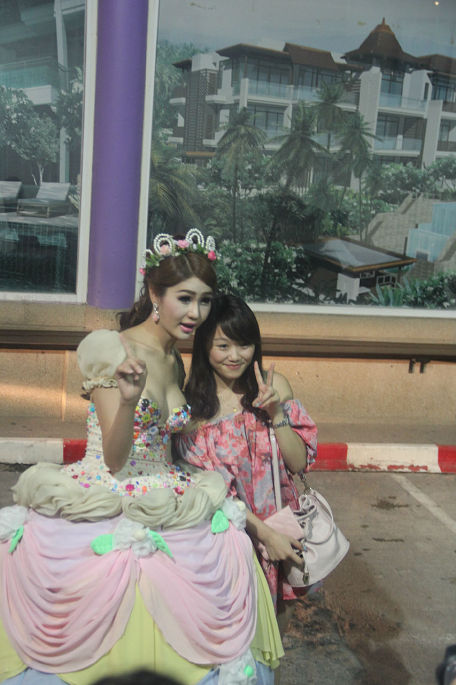 The first few transvestites are still quite beautiful ~ ~ ~ ~ ashamed. Cover your face-. Finally, I'm going back to Bangkok after my trip to Phuket.
D11 Bangkok
This time back to Bangkok to live in Kaoshan Road, I really think that Kaoshan Road, a backpacker's place, is suitable for our survival. There is a bus from the airport to Kaoshan Road. After asking people out of the airport, we can walk there. It can save a lot of money. I don't know where to get off when I get on the bus. Most of the people on the bus are local elderly people who can't speak English clearly. After dancing for a while, they are finally OK.
I am looking for a place to live, ¥ 350B. I am sweating profusely when dragging my suitcase. I must not live on the side of the road. I live a street away from the side of the road and it is very noisy. Because foreigners from all over the world play very HIGH in bars at night.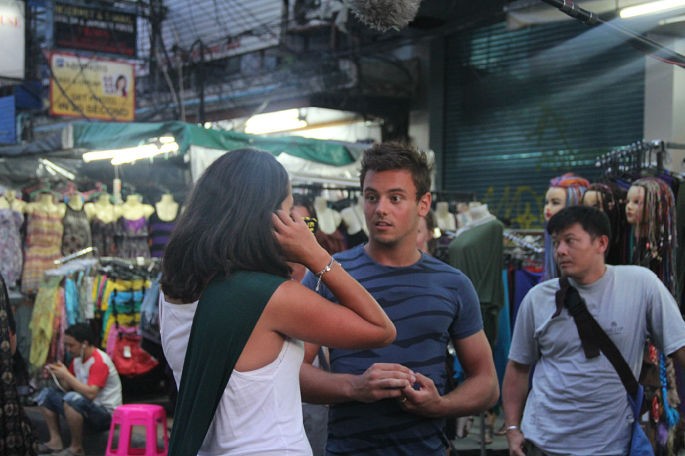 I also met daley, the British diving prodigy on what show, but now he's out of the closet, teary eyes, good guys are with good guys.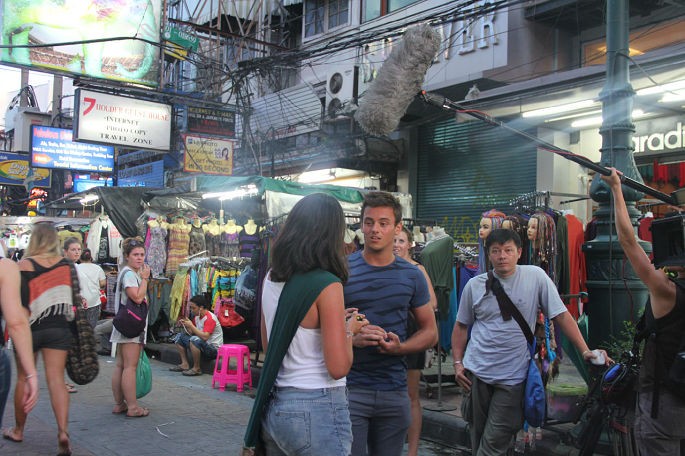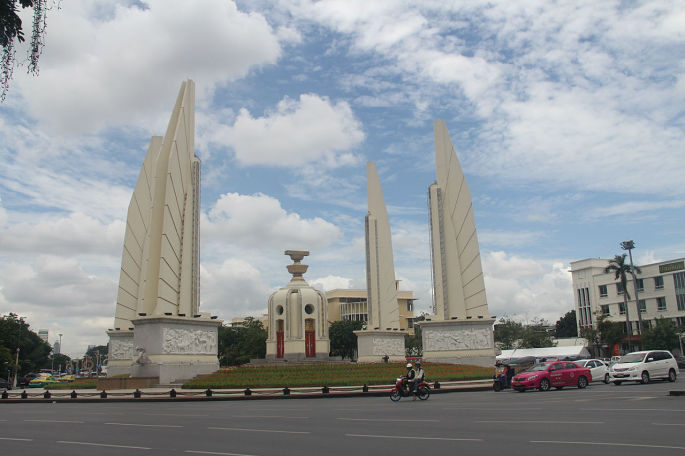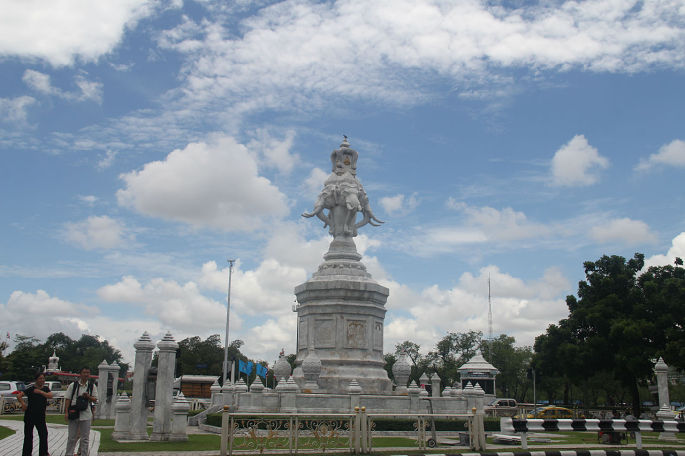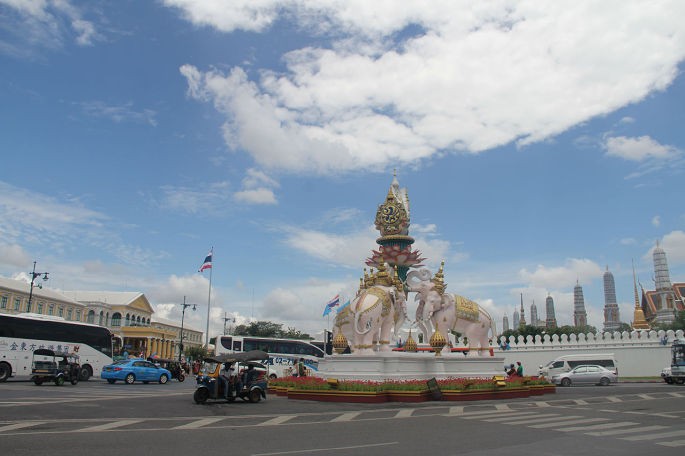 In the afternoon, I went to the Grand Palace for a walk. La La was really a little tired, because the plane we flew back from Phuket the night before didn't arrive until about 12 o'clock and we would sleep at the airport. So she didn't come with me, and I just jumped off my feet.
My sense of direction and intuition is really good. I have nothing to say, so I arrived smoothly all the way. Tickets are 500B..
And then–and the very unpleasant thing was that the pants I was wearing were still short, I always thought I couldn't wear skirts and knee-length trousers, As a result, I stopped me when I was wearing 7-cent pants. I was helpless. Then I didn't want to buy pants. I lingered for a long time and saw a girl like a Chinese. Then I went to ask. Indeed, I borrowed her scarf. I couldn't see her calf around my waist. Then I went to check in in fear and trembling and passed the test smoothly. Oh yeah.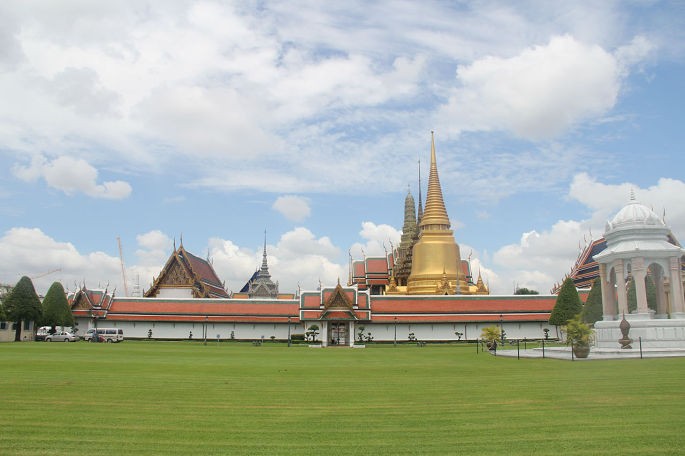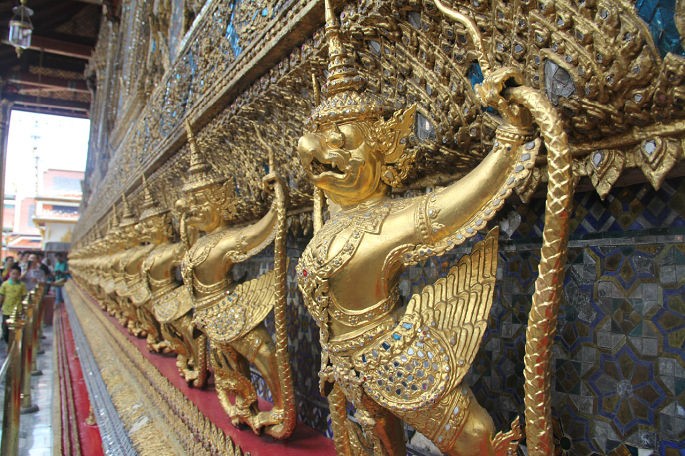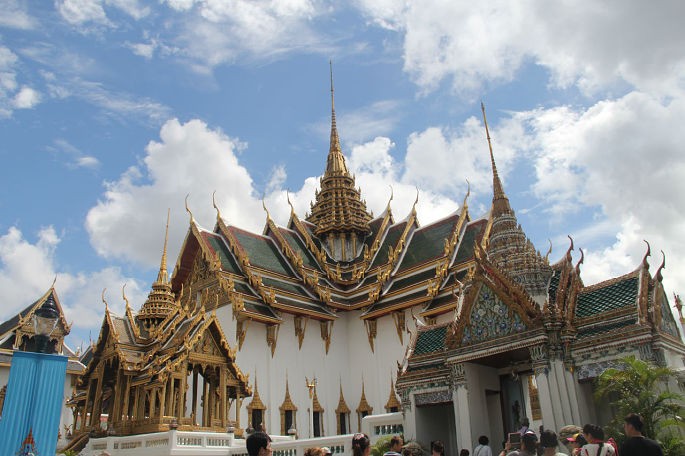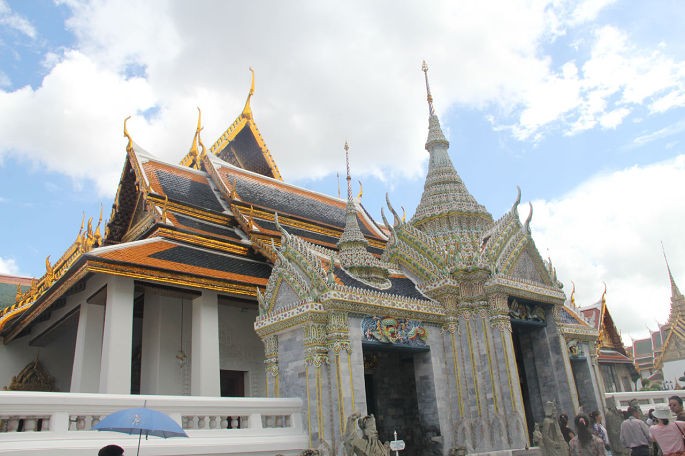 If one does not have a guide, it is better to ask a Chinese group to listen to them than to walk alone.
After the visit, I saw the cult organization * * what on my way back. At that time, I was really scared by myself and walked away quickly.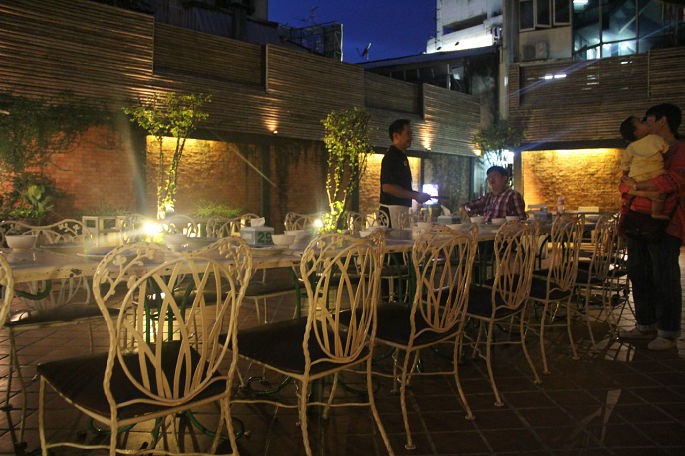 Khao shan road at night really super lively, in fact are more diaosi, ha ha. You want to eat a good meal, and then you have to eat Tom Tom. And then I was walking down the street looking for food, so I went to this house, and it turned out that I was really used to Thai food, and it was great. Then think Tom yum kung fu soup how so deja vu, the original is once tasted this flavor of cup noodles again ~~~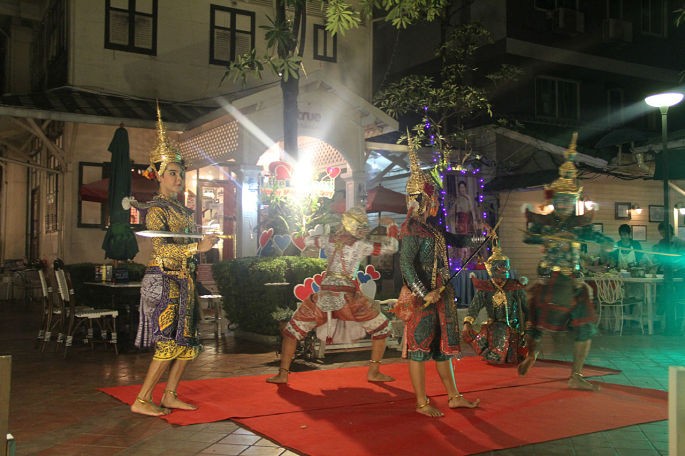 There were also performances during the meal. In fact, I really do not understand.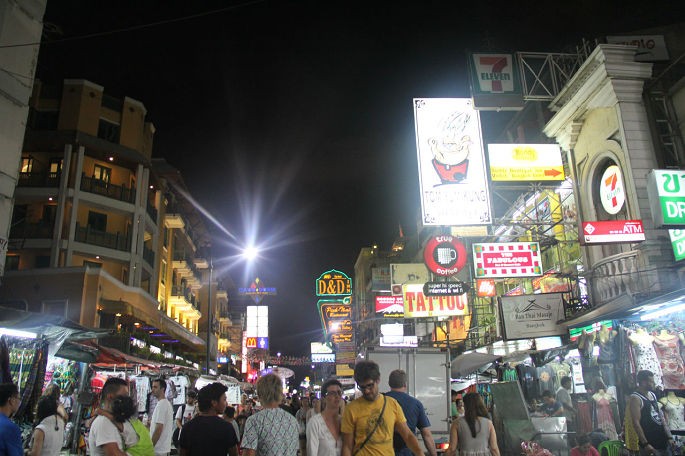 Kao shan is crowded with people at night, with all kinds of food, games and massage
After a drink on the roadside, we finished our operation and returned to the hotel. The bar was really noisy ~ ~ ~ For people like us who are 20 years old physically and 50 years old psychologically, nightlife is not suitable for us, ha, ha, ha ~ ~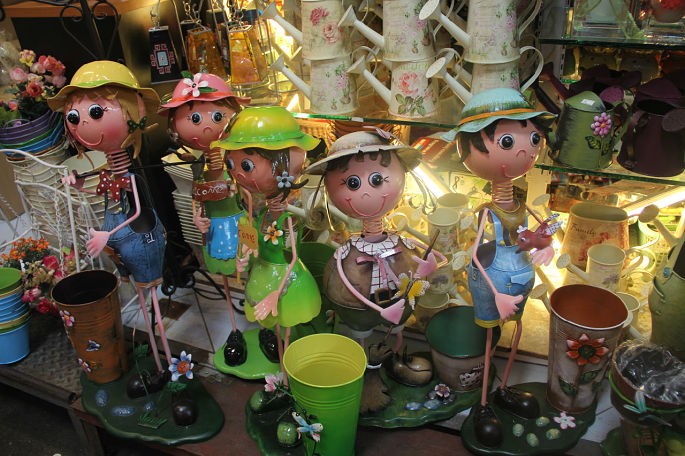 D12 Bangkok
Get up to go to the famous Chadian weekend market. This time the transportation in Bangkok really didn't cost much, Take the basic free bus and bus, Therefore, I have to say that Thais are really warm and friendly. For example, the last time I wanted to take BTS at NCA bus station, the 7-11 clerk saw that we couldn't get a taxi and went directly to help me talk to the driver. This time I went to Zhadu Zha, I didn't have enough change on the bus. The old man next to me really gave it directly to me, tears ~ ~ ~ ~ Kakunka ~ ~
Finally, I arrived at the weekend market. I was really full of expectation. Bangkok's taxis have many colors and I like them very much.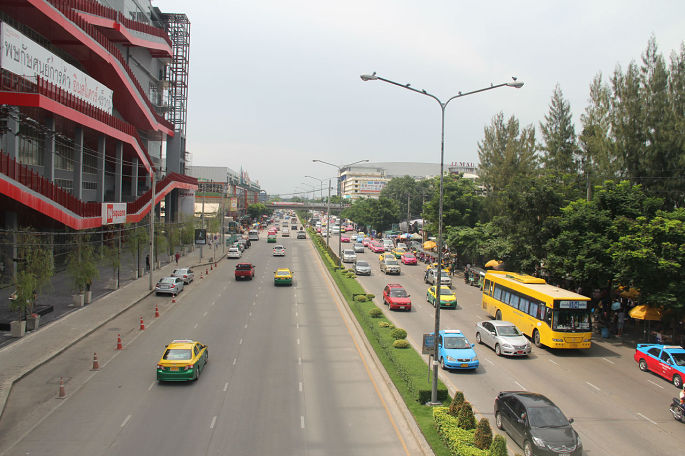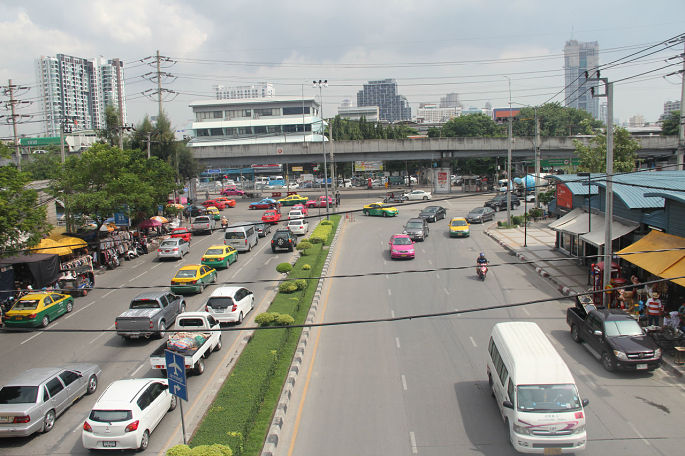 In fact, I didn't take photos of what in the market. I really planned to sweep the goods wholeheartedly. The market is extremely large. You can go to the information desk to get a map while taking it. The map is also extremely large. Many places we walked through repeatedly several times. Later, we walked in the S-shape.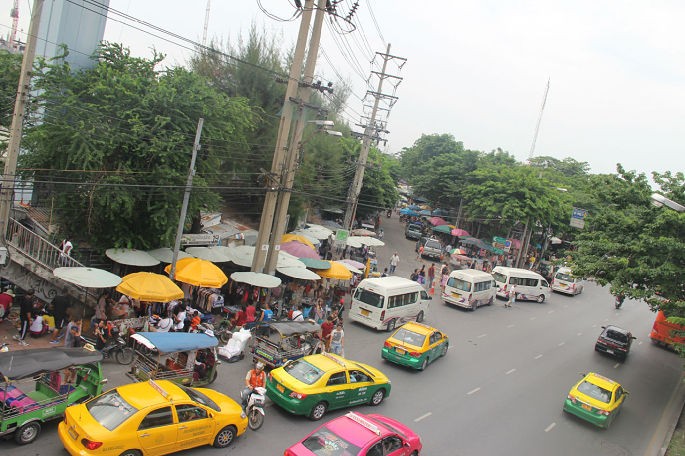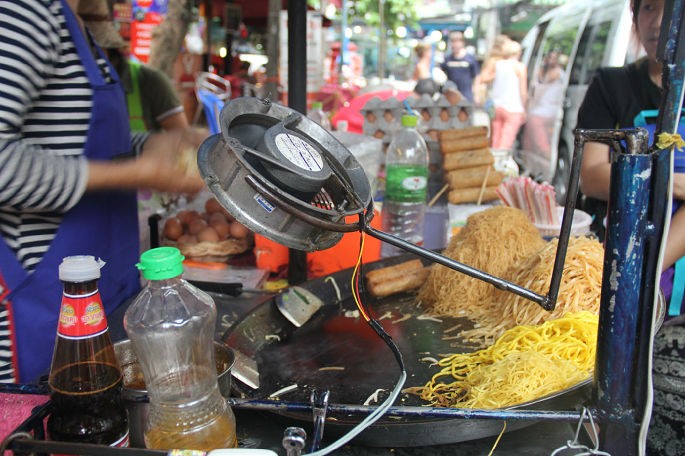 There are a lot of food and drink, when we were in Chiang mai, we took a fancy to a triangle of reliable sleepable cushion, we really like it, but it is made of cotton, forced by the volume is too big to take back, so we can only go to the market to see if there are semi-finished products, the result is really. Then I bought two to carry home, which is the thing below. The cotton inside is bought and filled by myself.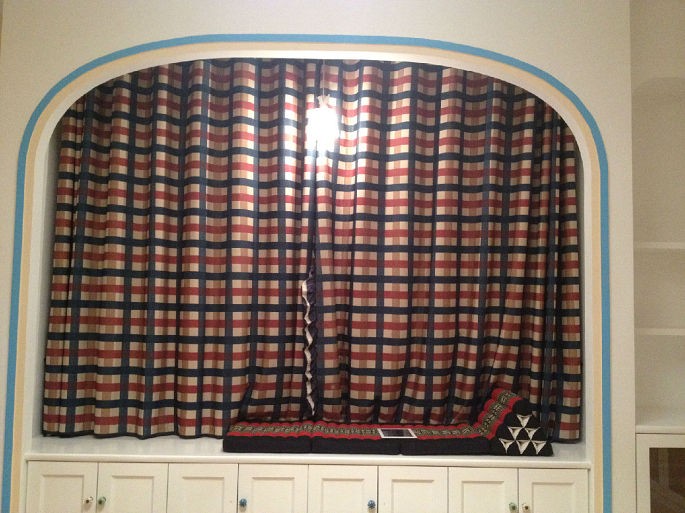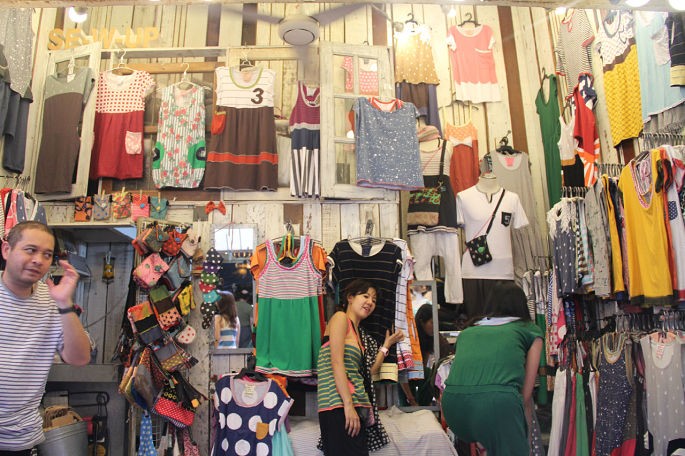 After that, I brought some gifts to my family and friends. I was so tired that I left contentedly.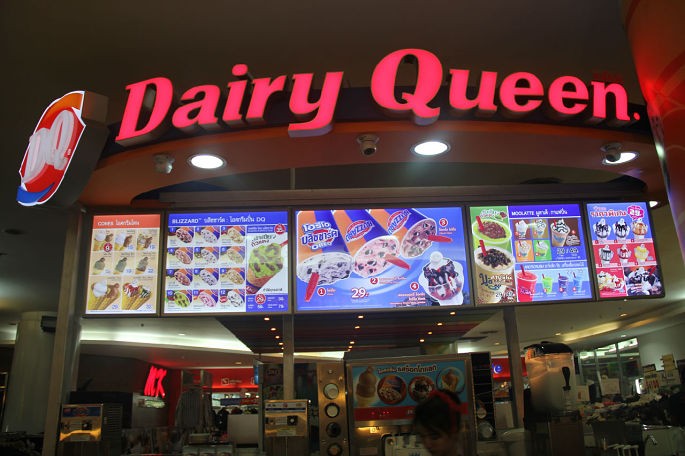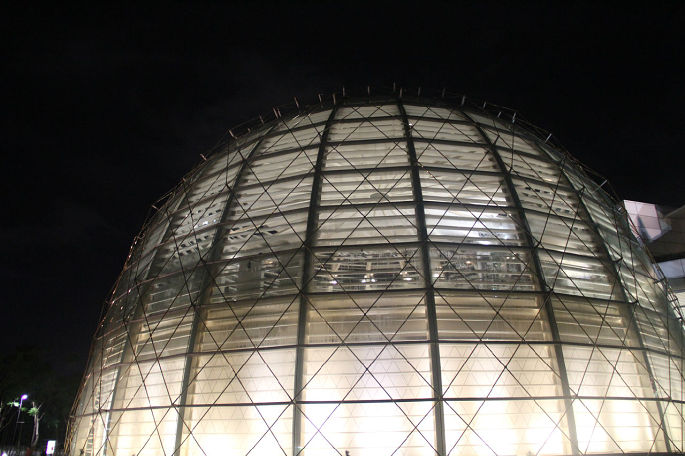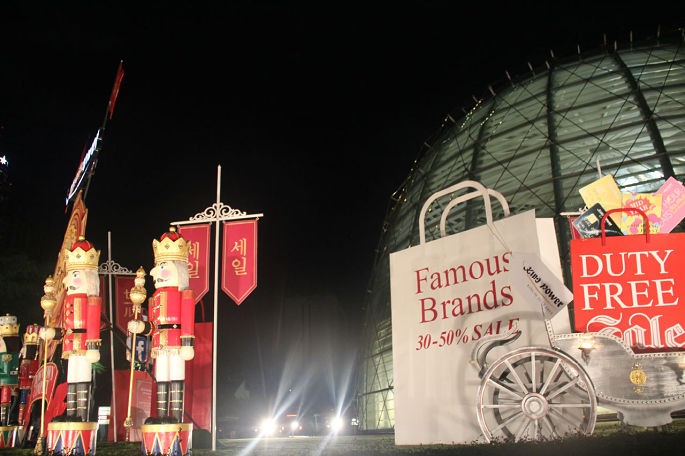 In the evening, I went to the kingship duty-free shop. I was really basically Chinese, ONO ~, and was going to buy a cigarette for my father. The cigarette package here was really insane. I was scared and afraid to buy it. Today is the last day in Thailand. Tomorrow we will return to Chongqing. We are not from Chongqing. Seeing the cheapest air ticket back to Chongqing, we went there. Anyway, we haven't been there and had a hot pot by the way. Save save ~ ~ ~
D13
Take bus no. 59 to the airport of low-cost airline, as long as 23B, with the last money left, went to the airport duty-free shop to buy a Bangkok bag, ha ha, I knew everyone would buy -. The Chinese are fighting for it. Spend all your money and come back home clean.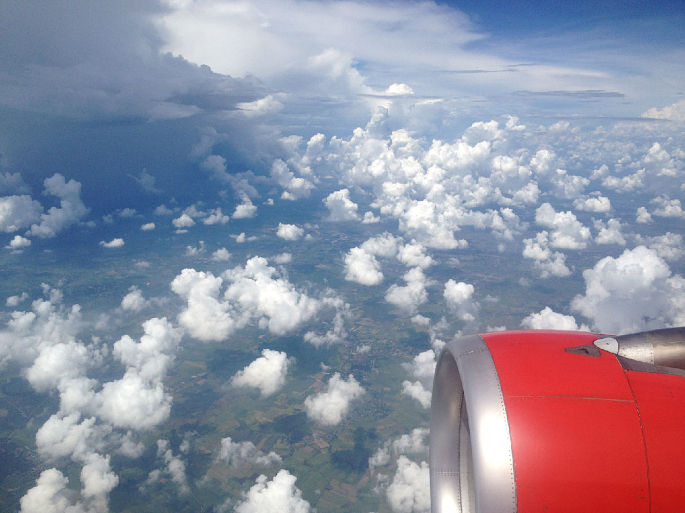 Postscript: I didn't go to the water market or the riverside night market, which is actually quite a pity. However, in a country like Thailand, it is impossible to go only once in a lifetime, leaving my regret for the next time. This time it took almost 3,500 people. Anyway, I felt that I was not enjoying happiness. I wanted to go out for a walk, relax and feel free.
PS: If you need an electronic version of Thailand's LP Lonely Planet, I will send it to you if I am online.
The travel notes are over, thank you ~ ~ ~