Have you ever seen the Flying Buddha in Dunhuang? You will be amazed by the exquisite image above, which also appeared in our trip to Thailand-Truth Temple.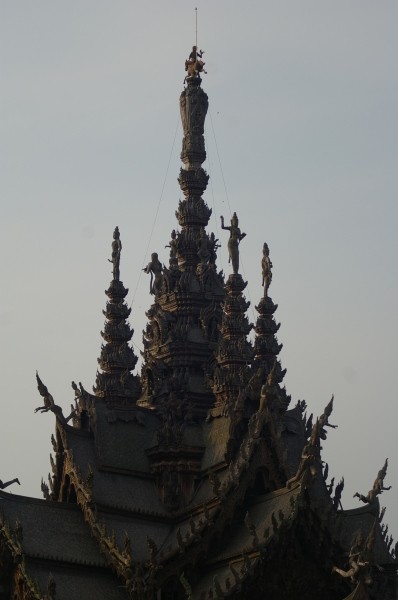 Our party changed into their carriages and came to the empty place. At first glance, this place is really inconspicuous. When we looked up, we were still shocked one by one. The buildings in the distance stood like sailing boats on the seaside. The gods on the roof were very strange and felt like flying one by one. The women's gods had elegant skirts, while the men's gods were majestic and straight, and their appearance had attracted us deeply.
When we wanted to go in, Hand in a helmet, The construction team that swam a lot was born, We also saw a lot of scaffolding around, There are still many workers working on the construction site. The Truth Temple is made of wood. It is very old and prevents corroded wood from falling down and hitting people. Therefore, we have become construction personnel. We filed in. The lens in our hands is constantly raised and lowered to photograph various gods. We only feel that one lens is far from enough to take in this beautiful idol. Peter kept urging us to visit the temple.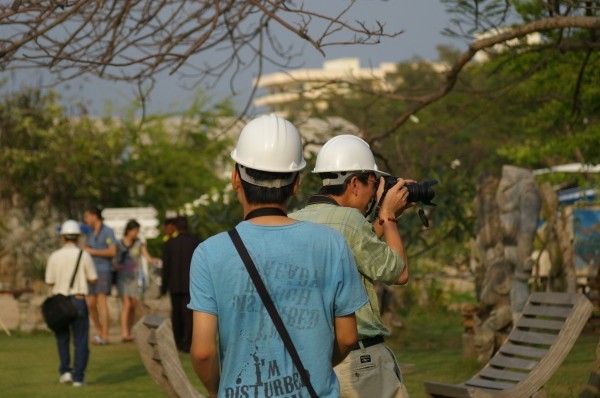 A commentator from the temple came to help us explain, Peter translates, Only then did we know that, The Temple of Truth was built at the expense of Thai businessman Varyapan, He started work in 1981, It has been built for 30 years now, Although others have passed away, his next generation is still continuing to complete the project. It is said that it will take another 20 years to complete. Because the whole building is made of wood, it will be catalyzed by years. Some old buildings need to be repaired continuously and new buildings need to be completed continuously. So I wonder if the project will be completed one day.
All the idols here don't use a nail, It was all built by wedges, tongues and bolts. There are gods of various countries in the temple. They have melted in all kinds of Buddhist essences, and the temple was also designed by the investors themselves. They have invited skillful craftsmen to complete this task. There are exquisite and complicated wood carvings in all corners of the temple. They will not let go of any gap, even on the steps. You will be attracted by the prosperity of the world. The most precious thing in this temple is the relics dedicated to the masters. These relics were piously placed at the highest place to accompany the completion of the temple.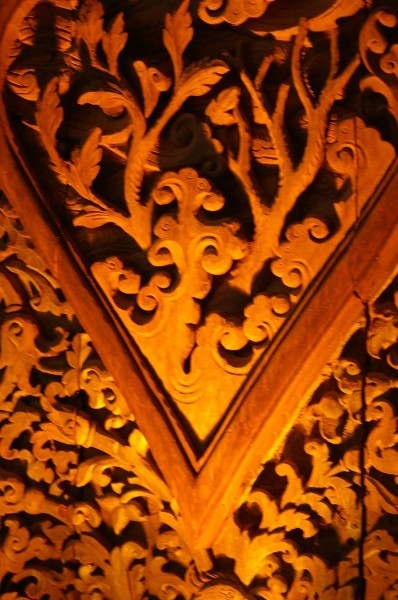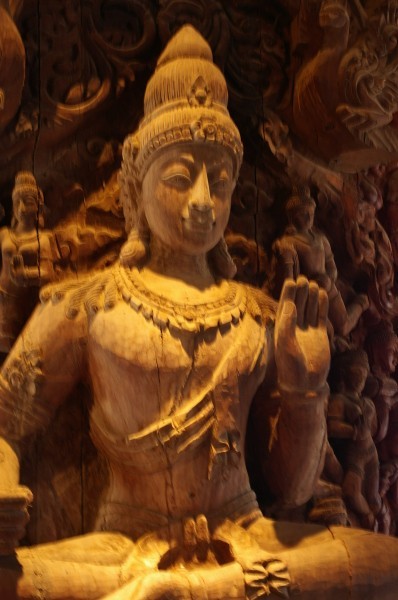 I am very curious to ask: Why would anyone pay for this prosperous and complicated project? Peter answered and said, Because Thaksin believes in Buddhism. No one knows what the investor really thinks, but I think this should be the best reason. I believe in Buddhism and love God, and because of love God, I built this temple without complaint or regret and managed it.
Under the setting sun, the gods on all sides put on a golden coat and looked at everything around them quietly. The smile on his face knew everything in the world, and the gods around him seemed to be resurrected under the light golden sun. At that moment, everything was quiet and detailed. When you walked inside, your heart seemed to calm down.