The meaning of traveling is not to tell others "I have been here", but to change. Travel will change one's temperament and make one's eyes more long-term. During the journey, you will see different people have different habits, so that you can realize that not everyone is living in your way. In this way, one's mind will become broader and we will face our life with a better attitude. -Yu Guangzhong: I think travel notes are not all written for others, but mainly for my own memories. When you are in your prime, open your blog and recall the past. The wonderful moments will reappear like movies! A wonderful trip is enough to remind you of your whole life, and travel notes are the assets of memory.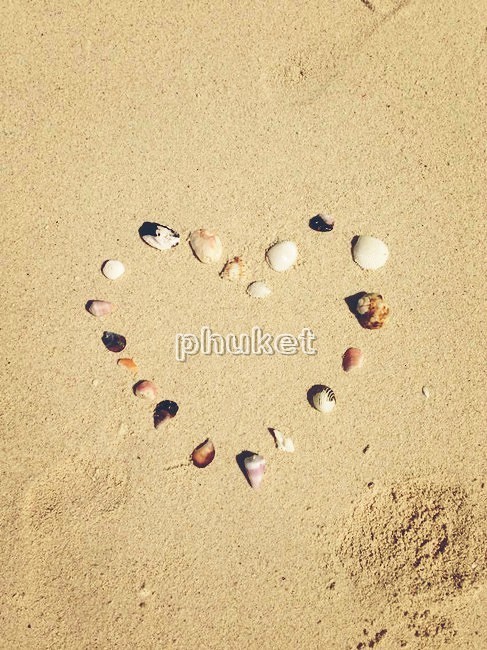 Life is always full of all kinds of possibilities. When you are extremely frustrated, God seems to have pity on you and suddenly smashed a love to you!
This free Phuket trip came suddenly! Anyway, when happiness comes, enjoy it, at least God has not abandoned you!
There has never been a trip like this before. We will leave tomorrow and our luggage has not been packed today. I will leave in the afternoon and still go to work in the morning. What, which should be prepared, was all prepared. What, such as strategy, was all thrown aside, and the SLR was not taken with him. He was accompanied by a small and micro single (when he arrived in Phuket, he found that this small and micro single was still a personal image, and the scenery in what could not be taken, only some flowers and plants could be taken, which was miserable! This preparatory work is done, er! Sister, this time she has a complete naked tour! Phuket, I'm coming! All right, let's go like this! Change the feeling of traveling! Therefore, the photos of this trip are basically taken by mobile phones.

【路线】   这次的主要游玩路线是:常州—杭州—普吉—杭州—常州

【费用】  
Taobao spent over 1,000 + the remaining 8,800 Thai baht after returning from Thailand last time = 3,000 RMB (this is a free trip, including landing visa and round-trip air tickets, and the above expenses are personal consumption + shopping.)
Our hotel is quite close to there, three minutes walk!

【行程】   D1:杭州—-普吉岛(航班:MU2021HGHHKT23350330+1) D2:斯米兰岛(这一天为自由活动安排)
D3: Hailong Temple + Four-sided Buddha, Phuket Island Panya Bay +007 Island + Cuhou Island Sofa Tour Thai Massage for 1 Hour
D4: Phuket Island Blue Diamond Island + PP Island + Small PP Island Snorkeling + Paradise Bay + Lover Beach + Bird's Nest Cave (Water Sports)
D5: Phuket Island is free to move all day on the 5th (5 nights trip, flight back in the early morning of the 6th)
Let's start our trip, la la la la ~ ~
D1: Hangzhou-Phuket Island (Flight: MU2021HGHHKT23350330 +1)
Red-eye flights can't afford to hurt, can't afford to hurt! At 1: 00 p.m., the super bus came to pick us up to the airport at the appointed gathering time and place. For such a big car, a special trip to Hangzhou Airport will send us two. The mood of traveling suddenly HIGH up, chatting with the bus driver all the way, unconsciously arrived at the airport.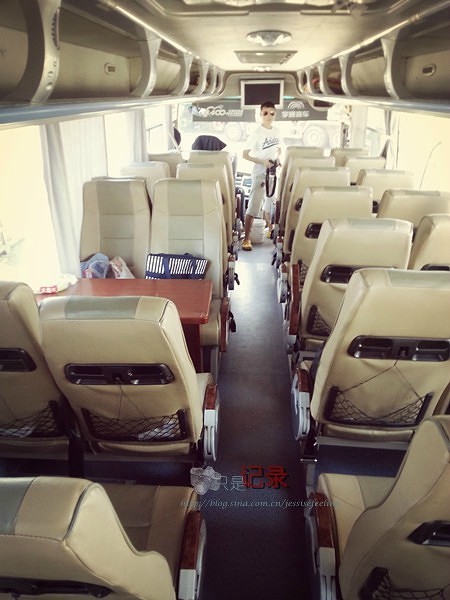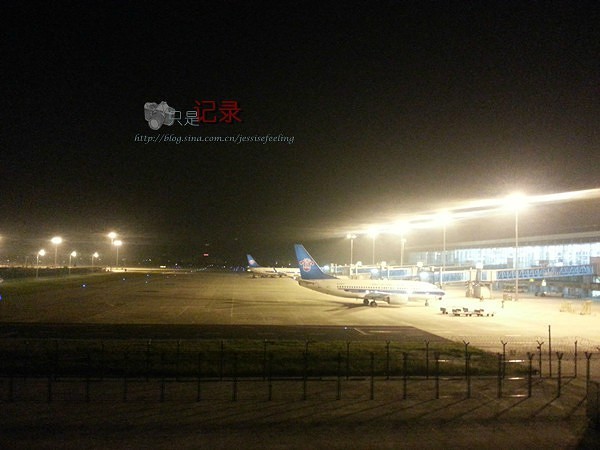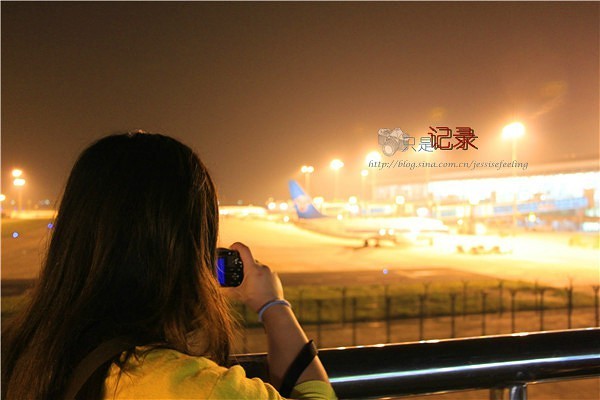 Connect with the team leader, cross the border all the way, wait, fortunately, the plane did not
(如果飞机晚点,我们后面安排的第二天的行程会受影响。

祈祷吧)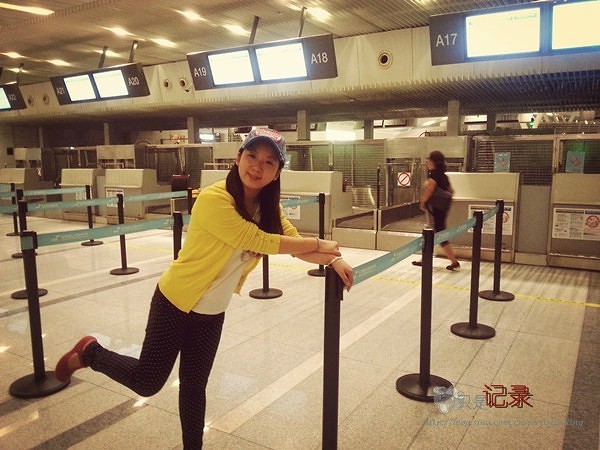 D2: Smilan Island (this day is arranged for free activities)
This day is a day when the team arranges free activities on Phuket Island all day long. I want to say that maybe we are crazy, crazy by the heart of free travel, I asked pa pa, "will you go to Milan on the first day? If you don't go on the first day, maybe you won't have time to go later." It hit it off and "went". So Taobao immediately decided to go to Milan for a one-day tour, snorkeling on 4 islands and 480RMB. Milan is one of the world's top ten potential points. It is a pity not to go to this life! I want to say we are crazy on this day.
1) After a night of traveling on the road, he arrived at Phuket Airport at 3: 30 a.m. Thai time (Thailand time is one hour later than Beijing time).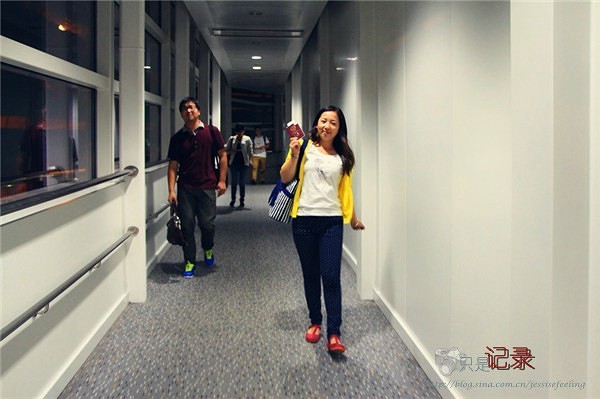 2) Handle landing visa at 4: 30 and exchange Thai baht at the airport. I wanted to buy a phone card when I left the airport. All the shops at the airport were closed. When I saw a Thai against the pillar, I asked him in English if there was a 7-11 convenience store nearby. I didn't expect him to answer me, "No" (in Chinese), poof ~ ~ ~, he is our tour guide in Thailand these days: Aping. I didn't think this was the way we met for the first time. I am a god. 3) Arrive at the hotel by tour bus at 5: 30, divide the rooms and drop the luggage. 4) At 6 o'clock, the group members bought the calling card on 7-11. 5) At 6: 20, I went home, and finally I was able to use WIFI. I was very anxious. Immediately open the mailbox to look at the order and get in touch with the one-day tour of Taobao Dingsi Milan. Xiao Hei was already waiting for us at the door. It was full of a minibus. We got in and a bus of foreigners. The car was sleeping in the dark again, as if it had been driving for a long time (in fact, it was nearly 2 hours' drive), and finally reached the dock.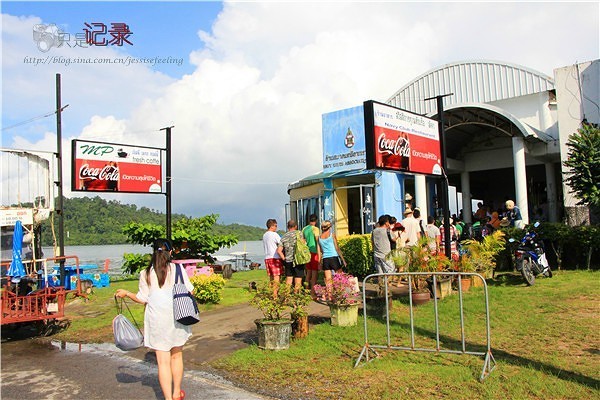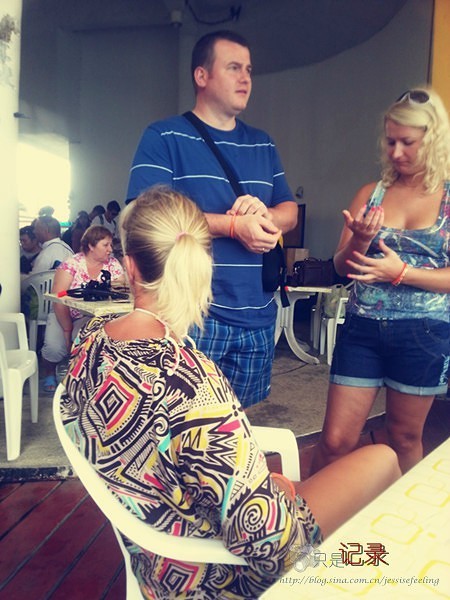 接下来换成快艇,又是接近2个小时的路程,哦,天,一般人吃不消。之前看到攻略说有人吐得不行,我也一直很担心,但是一路下来,还挺佩服自己居然还能在忽左忽右,忽上忽下的快艇上呼呼大睡,可能真的太困了。脑门撞板上,醒了几次

。船上的老太太吃不消了,小黑在耐心得给她做着按摩。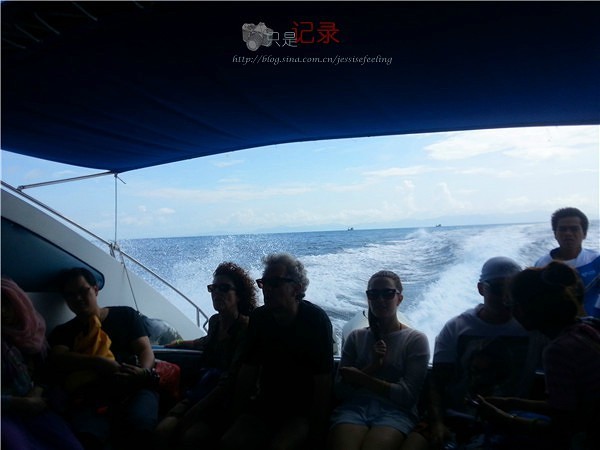 The more speedboats sail to the Caspian Sea, the bluer the sea is. It is really beautiful!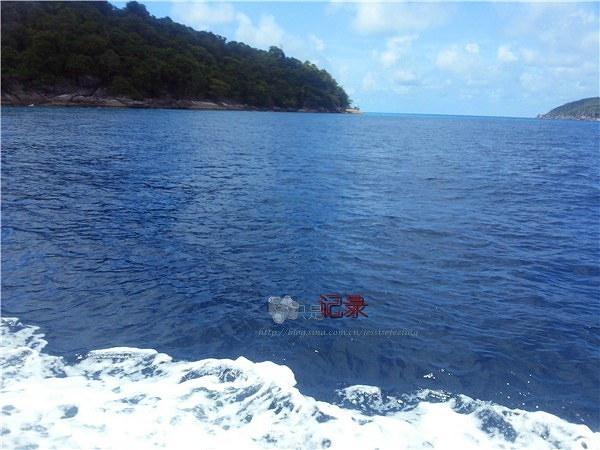 船上的小黑一路忙着给我们弄吃的,一路上没闲着。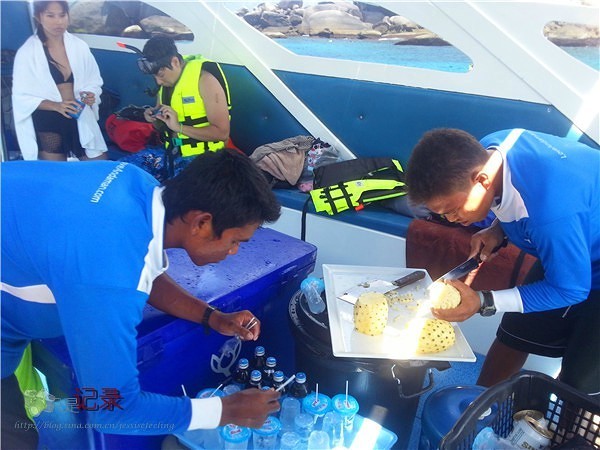 Let's introduce the island of Smilan.
SimilanIsland is one of the ten famous diving holy places in the world. It is only opened from November to May of the following year. The primitive ecological environment, clear seawater, white and soft sand beaches and colorful seabed landscape are the most attractive places in this Xanadu.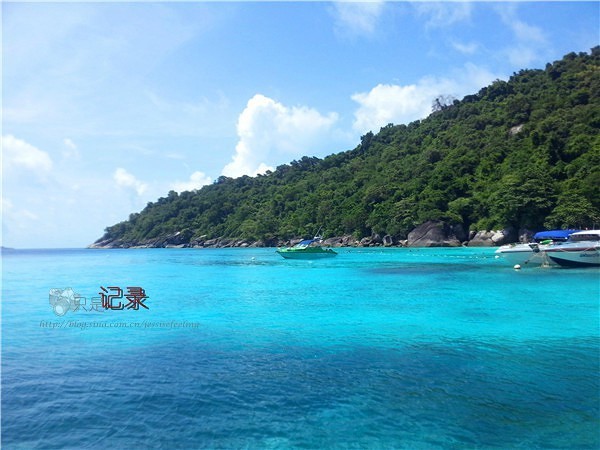 The nine remote islands, located 95 kilometers northwest of Phuket, were designated as national parks in 1982. The AndamanSea, located 90 kilometers northwest of Phuket Island, is an area composed of nine islands with an area of about 80,000 Thai mu. The Smilan Islands are some of the most beautiful and undamaged islands in the world. They are rich in marine life and spectacular coral reefs, which provide a world-class underwater paradise for deep-sea divers. These islands have not been developed. The islands present the original and simple beauty of nature, which makes people relaxed and happy. Under the island are giant sea fans, endless coral reefs and strange phosphorus rocks.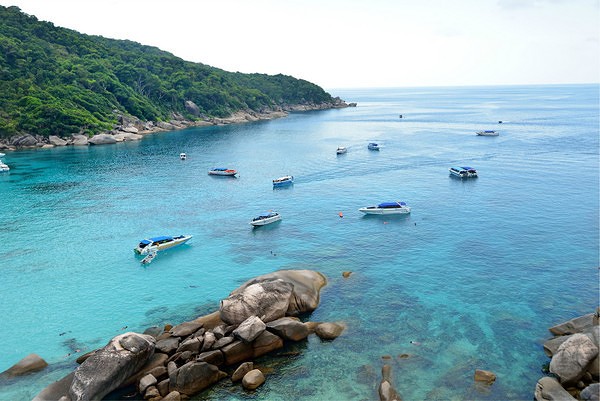 Because in order to protect the coral on the seabed, it is not allowed to anchor at will so as not to harm coral and other creatures. This is evident from the careful protection. The undersea landscape of Smilan is composed of huge granite and rich corals of various kinds. It has continuous undersea hills and is also the best place in the world to watch whale sharks. Whale sharks can be seen almost everywhere from October to May. There are also the famous leopard shark LeopardShark and the ray-like and shark-like guitar shark GuitarShark, which are surprising and unforgettable.
可是偶木有看到!

Luckily for us, the day we went was the first day of the development of Smilan Island. There were two companies operating the line during the sea ban period. LoveAndaman and SeaStar were LoveAndaman and SeaStar. Seastar and LoveAndaman are both sea-going companies that are very focused on quality, and the favorable comments on both hardware and services are "leverage". According to gossip, LoveAndaman's boss was originally a shareholder of Seastar, and officially split up in 2011 due to differences in business philosophy. Therefore, LoveAndaman fully inherited and carried forward the tradition of excellent service, eating, drinking and drinking all the way, elegant lunch environment, and providing high-quality snorkeling equipment and frog shoes. In addition, more attention should be paid to details, such as: more advanced management concepts: protecting the environment and turtles. Tour guides are more fluent in English. The speed of speedboats is faster, etc. In a word, I personally think LoveAndaman's price is very real, the service is not discounted, and the cost performance is very high ~ ~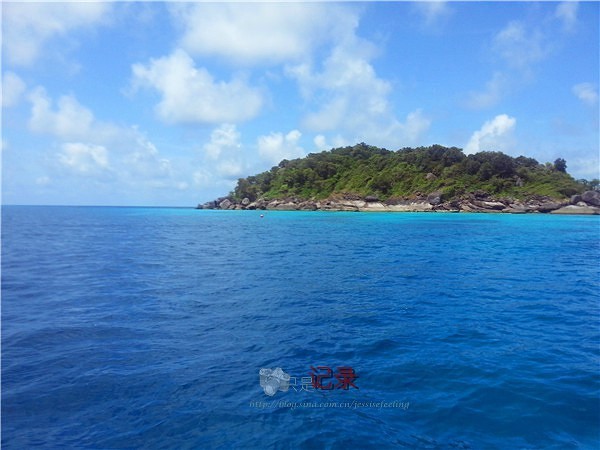 LoveAndaman Company • 06: 00-07: 30 (depending on the location of the hotel, the three beaches are usually 6: 15-6: 30) Depart from the hotel and take a bus to the dock. • Arrive at LoveAndaman's dock office at 08:30, check your name, collect snorkeling gear and enjoy a simple breakfast. At 08:45, take a speedboat from the dock to the Smilan Islands. Arrived at Smilan Island 9 at 10: 10 and began snorkeling. Arrive at 11: 30 to enjoy lunch on Island 8 of Smilan (you can climb the "sail stone" view). At 13:00, take a speedboat to snorkel near Smilan Island 4. At 14: 00, take a speedboat to snorkel near Smilan Island 7 (have the chance to see turtles). • Leave the Smilan Islands at 15:00 and return to the dock. • Arrive at the dock at 16:30 and return to the hotel by bus. • Arrive at the hotel at 19:00. SeaStar • 06:00-07:30 (depending on the location of the hotel, the three beaches are usually 6:15-6:30) Depart from the hotel and take a bus to the dock. • Arrive at SeaStar's dock office at 08:30, check your name, collect snorkeling gear and enjoy a simple breakfast and refreshment. At 08:45, take a speedboat from the dock to the Smilan Islands. Arrive at the vicinity of islands 5 and 6 in the Smilan Islands at 10: 10, snorkeling. Arrive at Smilan Island 4 at 11: 30 to relax and move freely on the white beach. • Enjoy a delicious lunch at 12: 00 on the island of Smilan 4. • 13:00 speedboat starts for snorkeling on Island 9 for 45 minutes. • Go to Island 8 at 14: 00 (you can climb the "sail stone" to view it). • Leave Island 8 at 15:00 and return to the dock. • Arrive at the dock at 16:30 and return to the hotel by bus. • Arrive at the hotel at 19:00.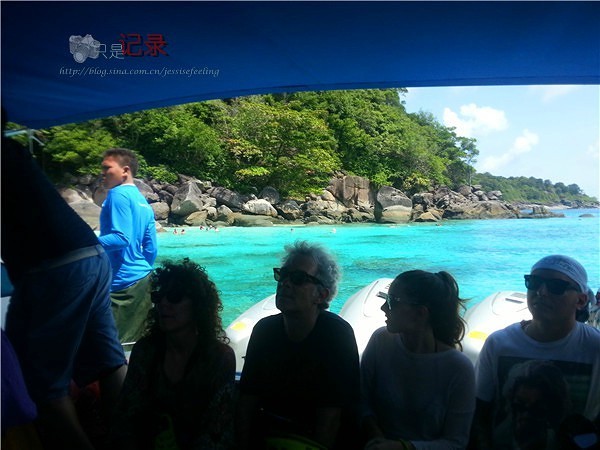 Those who want to go can make a reference to see which one you like and which company you choose. The route is different. We are on the island, Smilan is here, the sea here is really not ordinary beauty, Sanya what is weak! On the speedboat, I met a honeymoon couple in Chongqing, a MM who could talk very much.
We set it at the agent near Jiangxi Leng. It is quite cheap, cheaper than Taobao's lowest price. 5 yuan money, VIP seat!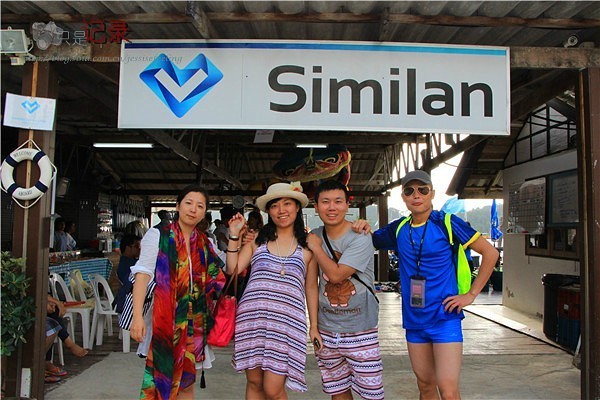 The first dive point was about ten meters down the beach to the sea, blocking an area with ropes. When the landlubber went snorkeling, I said there was a lot of pressure. When a wave hit, I fell down and did not dare to wear a respirator to go into the sea. The students went into the sea at once, and everyone could not see them. I stood on the shoal in a dull way and could not overcome my fear. After a while, my classmates came back and taught me to put on a respirator. I tried to breathe, tried to go to sea, and got used to the rhythm of breathing in the shallows. I tried to catch the rope in the sea, walked deep into the sea, and kept breathing with my mouth. Ha ha, am I too strong to be able to do so, and I hardly choked on the water. If you accidentally choke on the water, your head will rise above the sea level in the first place, pour out the sea water in the respirator, and continue to adjust your breathing.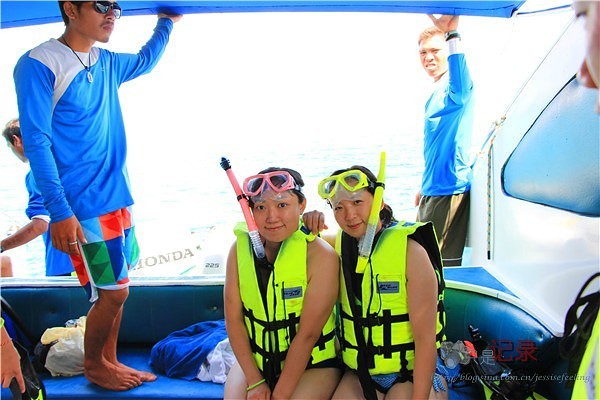 完全趴在海面上的感觉真爽啊,似乎跟海洋世界融为了一体!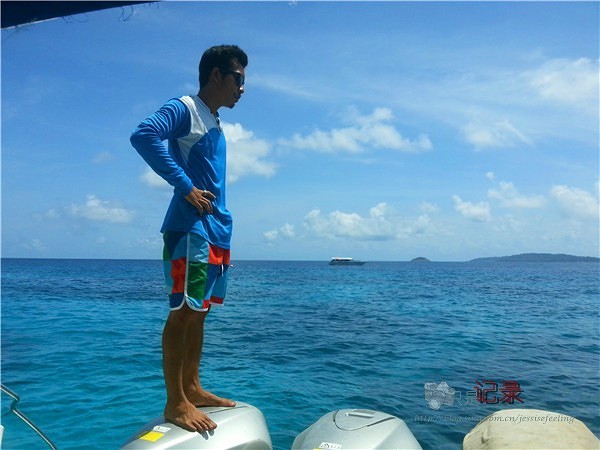 Milan's lunch is a buffet by the sea. When I was tired of playing, I went to the island to find food. I ate 6 chicken wings at once. Snorkeling really requires physical strength. There are still 3 o'clock in the afternoon, so I must not be hungry.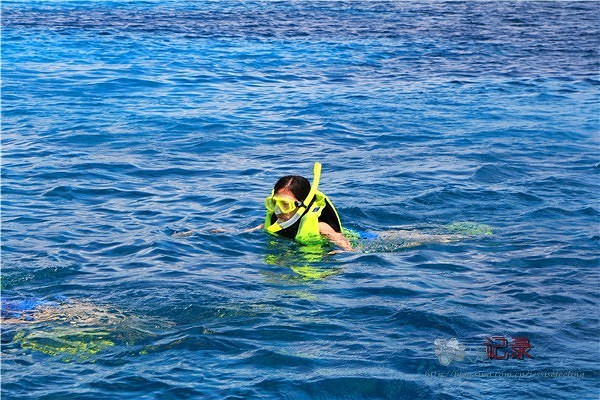 If I learned to try boldly at the first dive point, then I learned to dare to float freely in the sea at the second shallow point. The second dive point is a hundred meters away from the shore, which is deeper than the first one. There is no rope enclosed area. No one is pulling it. I dare to go into the water alone. I admire my boldness. After going into the water, I float on the sea surface without moving. The waves can push you further and further. When I look up at the sea surface, I find it is far away from the speedboat. Suddenly, I was very scared and wanted to swim to the vicinity of the speedboat and the crowd, but occasionally the landlubber could not move forward at all in the sea and it was difficult to turn around. When I was dying in a hurry, I suddenly saw Pa Pa swimming towards me. It was a life-saving god! Pa Pa took me around the place where there were many fish again. God, I am extremely grateful! (I am really bold. If I want everyone to wear masks, if I suddenly cramp or have an emergency in what on the sea, no one will hear me calling for help. Of course, this is also my personal thinking afterwards. With the bold attempt of the second dive point, the third dive point is even more skilled. Alone, I went to sea again, twice, and learned to turn, go forward, adjust the position and direction, occasionally! I tie a free fish! The fourth diving point seems to be driving the foot in the middle of the sea. This point has the most fish. I took my mobile phone and wanted to take some fish, but I was not skilled. There was pressure in the sea, and the touch screen could not be pressed and could not be seen clearly. Just, next time, you must bring an underwater camera. Snorkeling is really cool, and deep diving is definitely more cool. If you want to go to Tao Island or Sumi Island to take an OW test, there will be a drop of wood!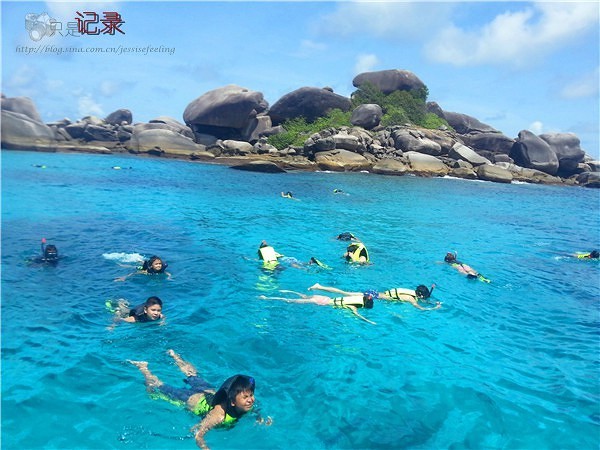 潜了那么多次,我彻底累趴了,上了快艇,就是一路昏天黑地的睡觉,等醒来都快到码头了,回了,有点恋恋不舍,斯米兰,让我爱上了大海,爱上了自由在海洋中的感觉!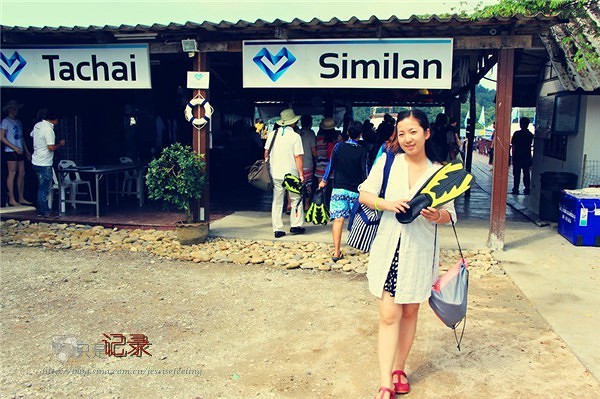 (I didn't go out for a stroll on the first night. When I arrived at the hotel, I collapsed at once. I ate a cup of instant noodles at night and fell asleep. I was sleepy and didn't sleep for two days and one night). PS: Students who go to Milan strongly recommend that you all prepare a pair of diving socks. When diving, you wear them in your flippers and feel comfortable. The most important thing is that when climbing mountains on the island of Smilan, that is the real weapon. Milan are not allowed to wear shoes on the island. Of course, there are still some Chinese who will take them. In fact, this is really not good. Milan is so beautiful, how can you bear to destroy it? Bring a pair of diving socks will not bring things from outside to Smilan, but will also ensure that our actions will not be affected. Why not?
D3: Hailong Temple + Four-sided Buddha, Phuket Island Panya Bay +007 Island + Cuhou Island Sofa Tour Thai Massage for 1 Hour
Only this morning can we have a good breakfast. I like to travel at a slow pace. I can sleep lazily until I wake up naturally, open the window and breathe fresh air, listen to the sound of flowers blooming, taste exquisite breakfast beautifully, walk away from the hotel dog Xiao Mao, and take some photos of flowers and plants. This is the rhythm of my travel.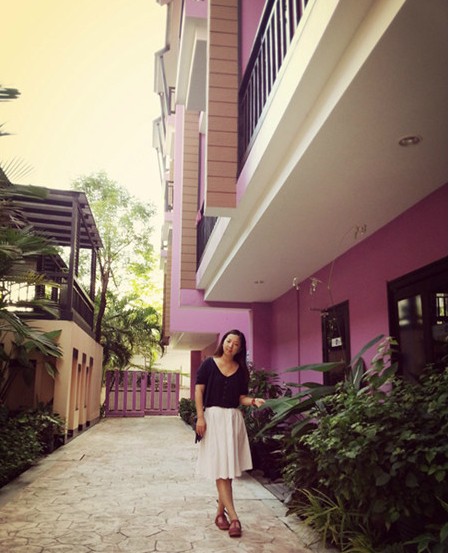 Breakfast is full and self-service, and there are also people who fry eggs and barbecue for you. It is very pleasant to enjoy breakfast in such an environment. Many hotels and restaurants in Thailand are semi-open and full of southern customs.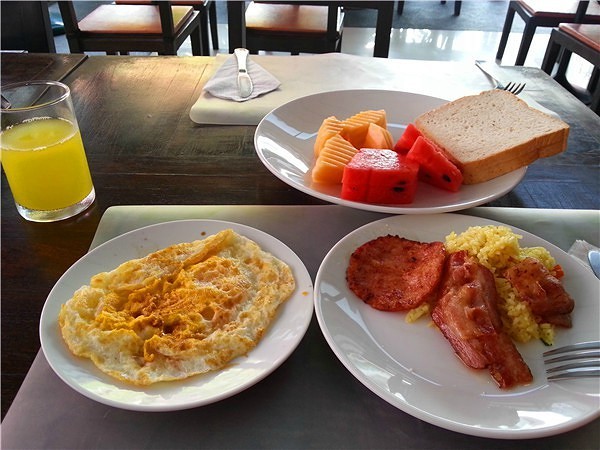 Next to the hotel restaurant is the swimming pool. The surrounding rooms surround the swimming pool. The color is my favorite bright red.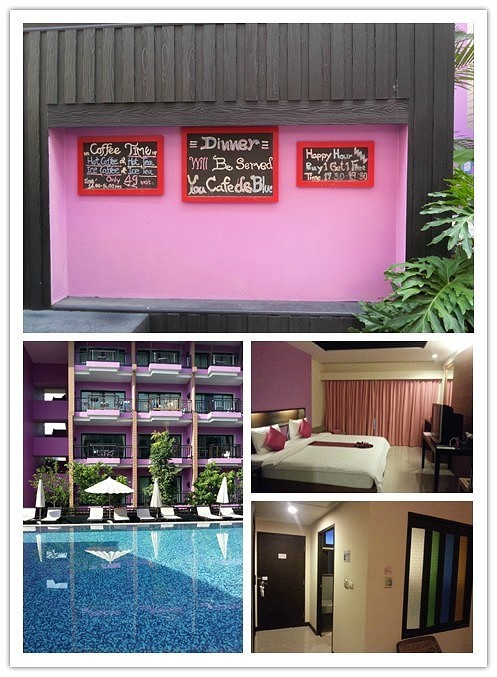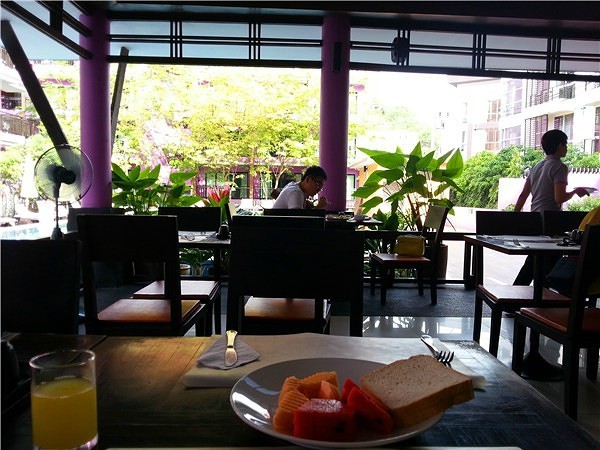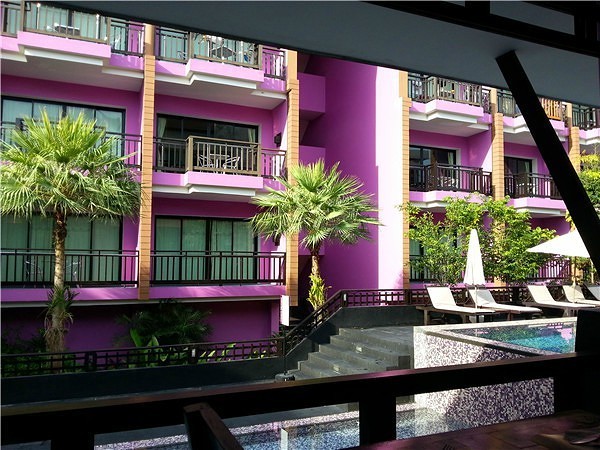 This hotel has a 3-star standard, but in my opinion, it is much better than the so-called 3-star standard in China. It is super cool to sleep alone in a big bed!
Today's day is full of itinerary, listen to me carefully! Don't bother with my daily book!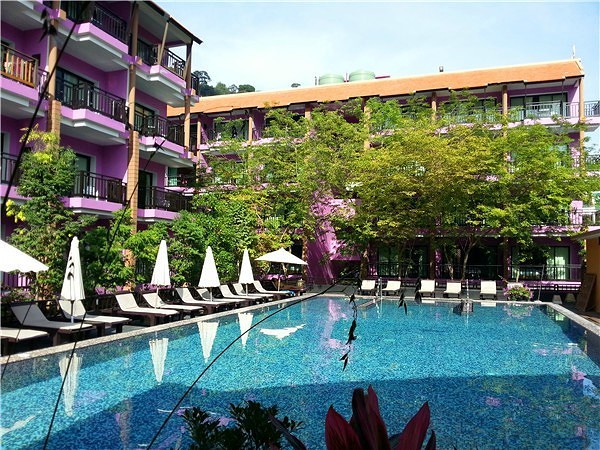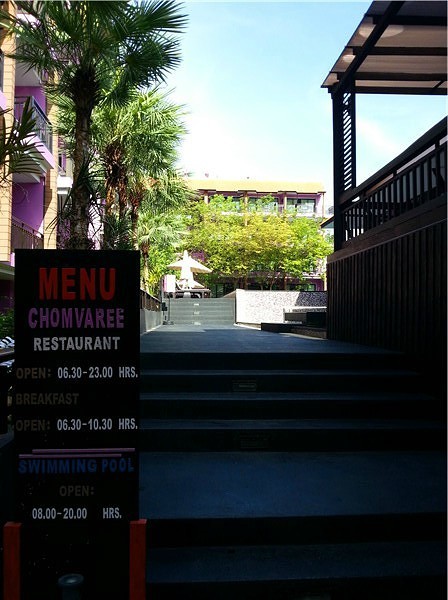 This hotel is: PHUVAREE RESORT. It is quite valuable. The online reservation price is in the early 200 s. It is located in Patong and is only 3 minutes away from SIMON Transvestite Show. (Accommodation is introduced here.)
The first stop: "Safari Tour" (stay for about 45 minutes): First, go to the jungle to explore, ride elephants, and easily stroll in the woods and swamps; Watch the local "rubber tapping people" on-site drills and visit the actual scene of how rubber farmers cut rubber. Continue to experience the pleasure of swimming in the fields by ox cart. After that, I visited Monkey School, which was hilarious, amazing and wonderful. This is the description of the tour group, please allow me to steal a lazy one).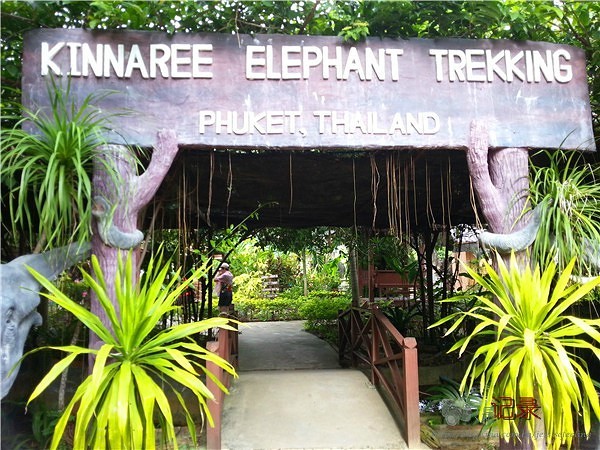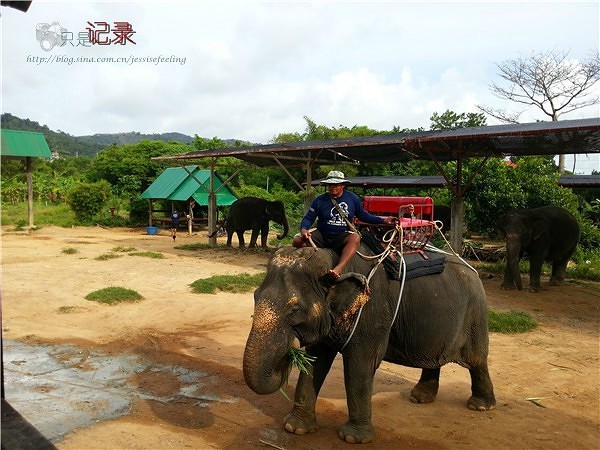 I would like to say that riding an elephant does not have the so-called walking in woods and swamps. After walking on the flat ground for about 5 minutes, I will come down before I can feel it. I did not communicate with the elephant and did not feed it bananas. To tell the truth, when I rode it, I still felt a little sorry. This animal is really poor.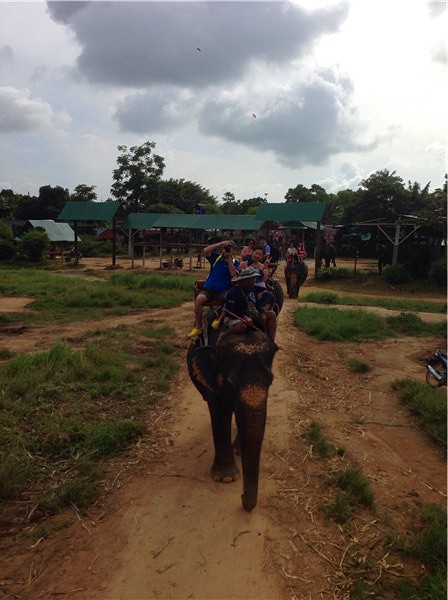 Watching elephants throw hula hoops and dance, I am very skilled in taking photos with tourists and collecting money with elephant noses! I can't say how I feel, anyway, I can't get up HIGH. These little things that have been stripped of ivory repeat the same thing every day, completely losing the original nature of animals!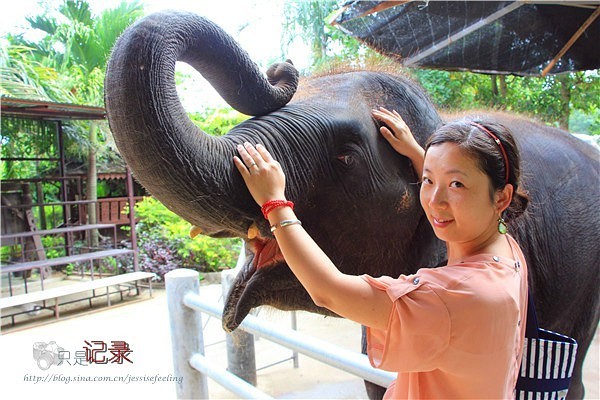 The next step is to take the ox cart back, which is similar to the tricycle here. It took the ox to run and walked for 3 minutes (this link is really chicken ribs. After a few minutes of driving, tourists have to sit down. To be honest, it's not fun!
These are also found in Chiang Mai, but the elephant tour in Chiang Mai is really a river pond and jungle. It takes nearly 2 hours to feed the elephants on the way. You can watch various performances of the elephants at the elephant training camp, and then you can turn back by ox cart. This side is a compressed version, 5 minutes! The team, understand, if we have to decide our own day's itinerary, we can only finish it in at least 3 days, but it is not so superficial.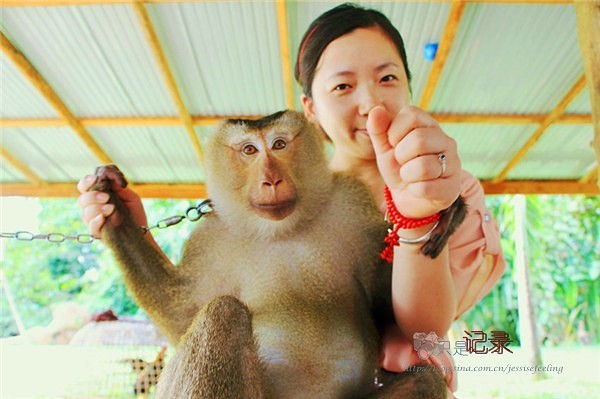 Monkeys are also familiar with picking coconuts and so on. After that, they take photos with monkeys. Well, I can't avoid customs ~ ~ Look at this product, it is also very cooperative. I don't know if it is thinking about what at the moment ~ ~ ~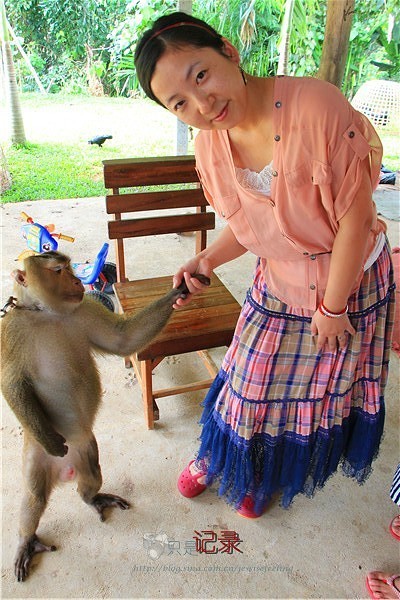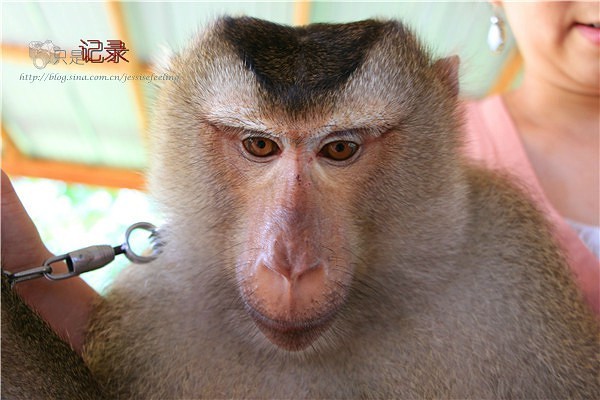 Cutting rubber is to draw a knife on a tree next to the monkey, and then white juice falls off. OK, less than 1 minute, the demonstration is over, and the end is gone!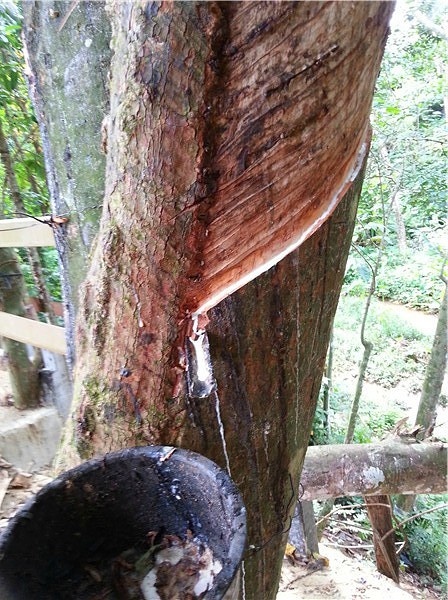 The second stop: visit the "Hailong Temple + Four-Sided Buddha" (stay for about 0.5 hours) where Phuket's incense is at its peak, and worship the four-sided Buddha who responds to requests. The incense here is at its peak all the year round. When the royal family comes to Phuket every year, they will also come here to worship.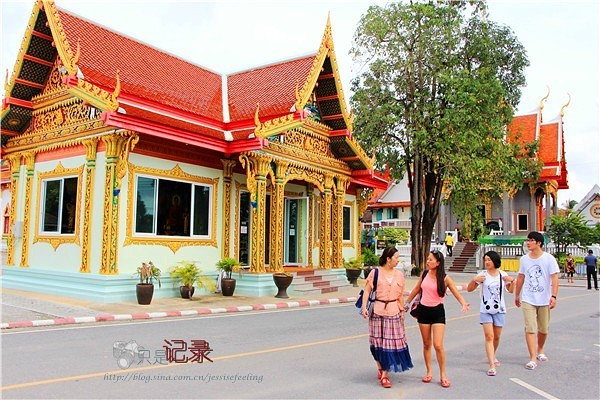 The four-sided Buddha is the most prosperous and effective incense in Thailand. I explained how to worship the four-sided Buddha in my last travel note. Interested basin friends can go and have a look.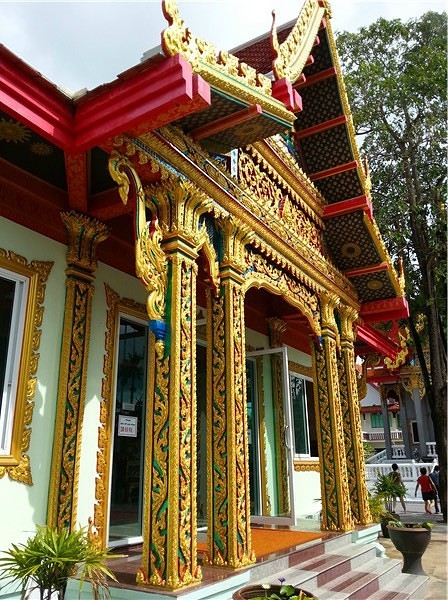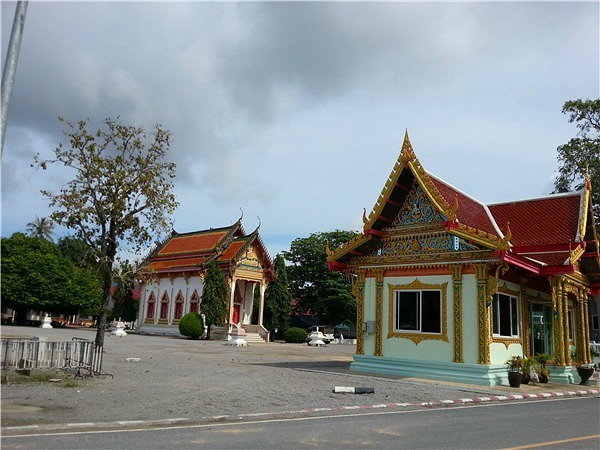 One sand, one world, one flower, one heaven.   
Hold infinity in both hands, and the moment is eternity.   
One sand, one world, one flower, one heaven,
One tree, one Bodhi, one leaf, one Tathagata.   
Innocent prophecy, understanding a thousand years.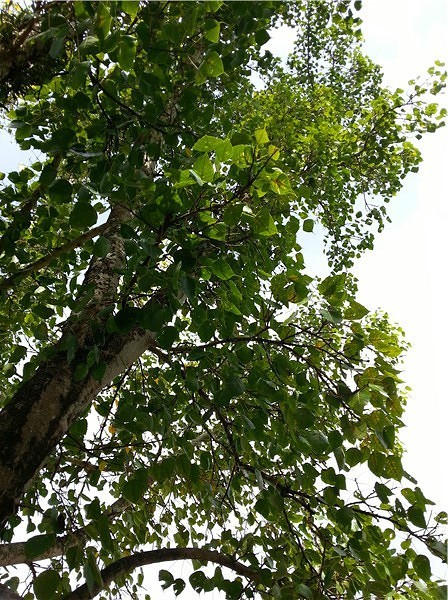 Buddha Sakyamuni became a Buddha when he became a Buddha, that is, under the Bodhi tree. Therefore, Bodhi Son has also become a Buddhist object, especially the Buddhist Dharma object-Buddha beads are mostly made of Bodhi Son. Bodhi, a transliteration of Sanskrit bodhi, means consciousness, wisdom, knowledge and road. Broadly speaking, it means wisdom to cut off worldly troubles and achieve nirvana. According to Buddhist scriptures, if you chant Buddha with Bodhi, you can get boundless merits.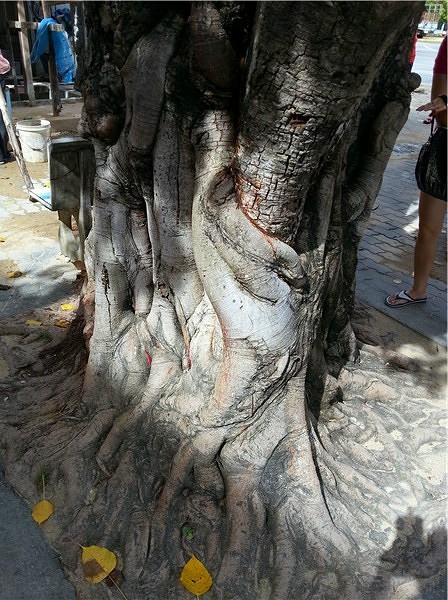 We are devout under the Bodhi tree at this moment, and this moment is eternal!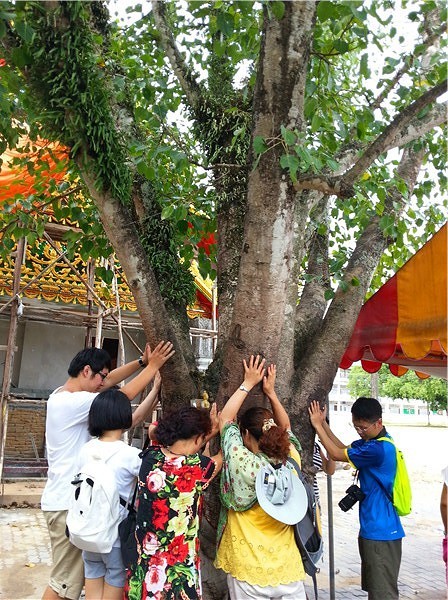 第三站:【攀牙湾】(停留约60分钟),是普吉风景最美的地方之一,被称为泰国"小桂林"。乘车约1小时抵达码头,乘特色长尾船往攀牙湾红树林国家保护区(乘船游观约40分钟)。其中前往最出名【007岛】(停留约20分钟)-金手指、【割喉岛】拍片地;可自费参加泛舟,游览经千万年海水冲击形成的各种岩洞及钟乳石洞。(此为旅行团的描述) 我们出发啦,坐着这样的长尾船哦!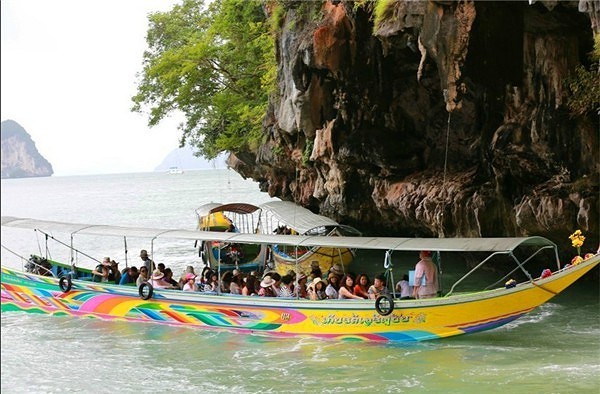 The scenery along the way was beautiful, worthy of being said to be Guilin on the sea ~ ~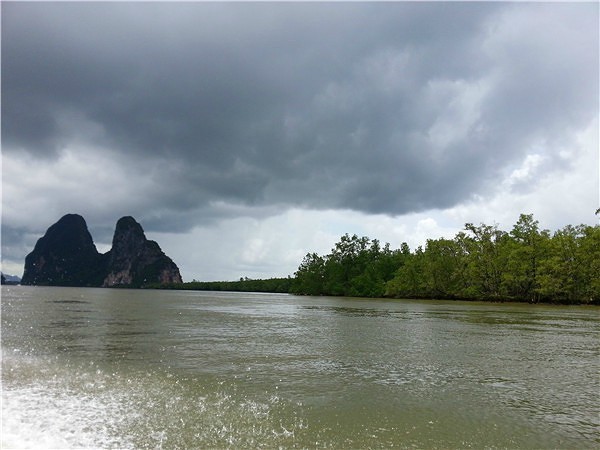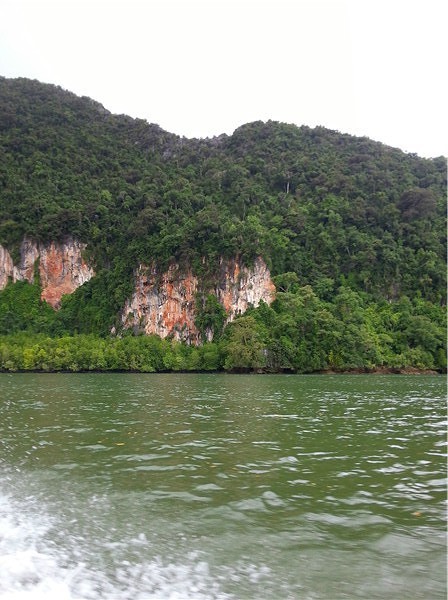 Under such beautiful scenery, I don't consciously think!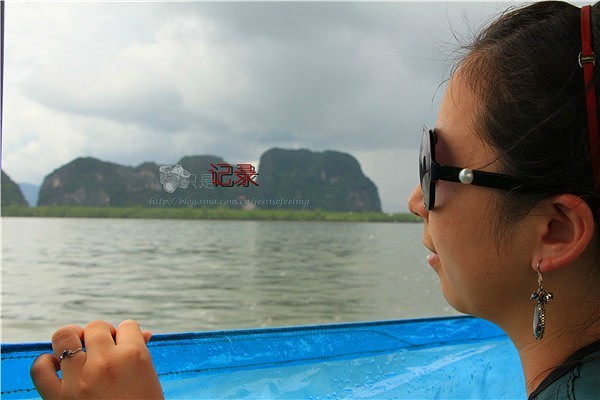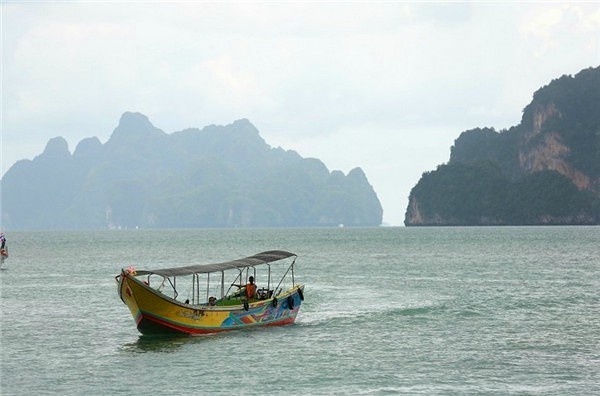 The weather at sea is really changeable, as if we were running into the rain. It is getting darker and darker, and the rain is getting heavier and heavier!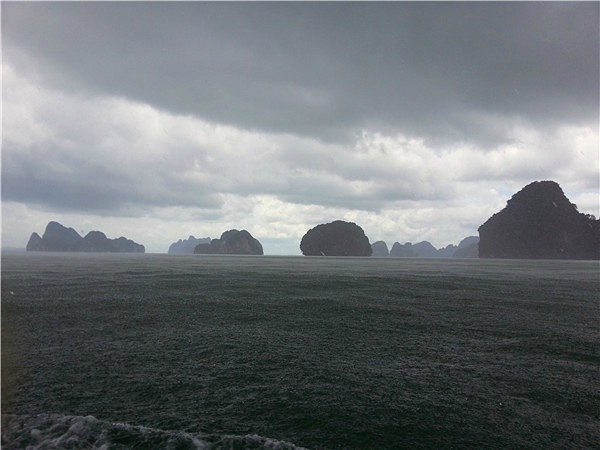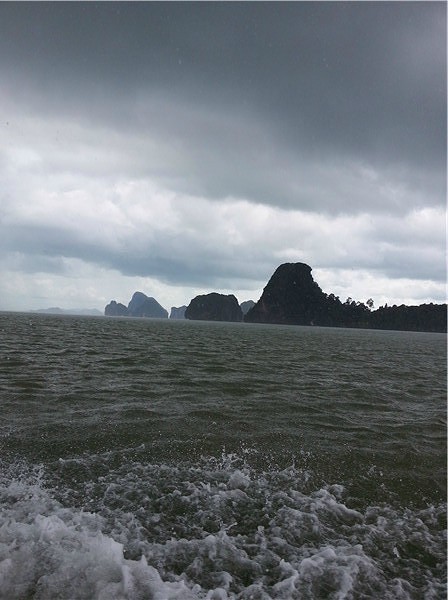 这一路我们风里雨里,不容易啊!看这天气,我们一叶轻舟在海上漂浮,突然想到了少年派!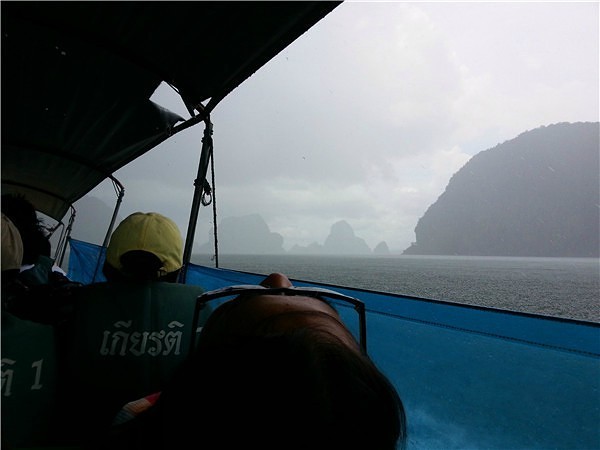 The first time I took such a boat, it was also an experience in such windy and rainy weather! Bad weather also has entertainment!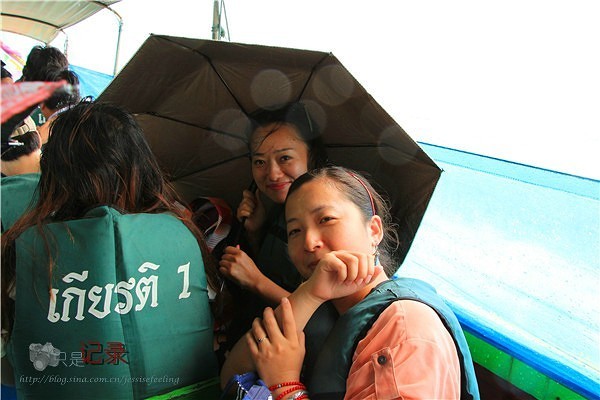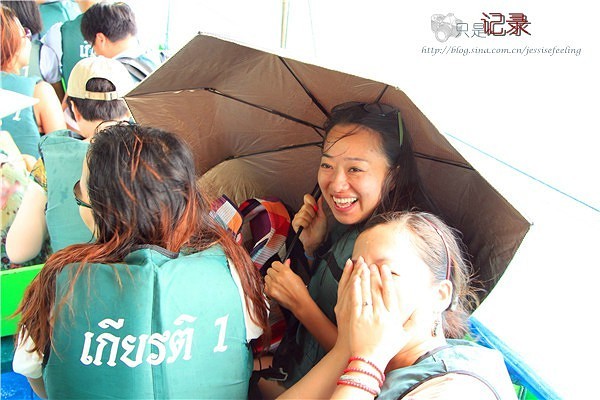 After all the wind and rain, we finally arrived at our destination ~ in order to see the "Chinese cabbage" ~ ~ but the weather has also improved ~ occasionally!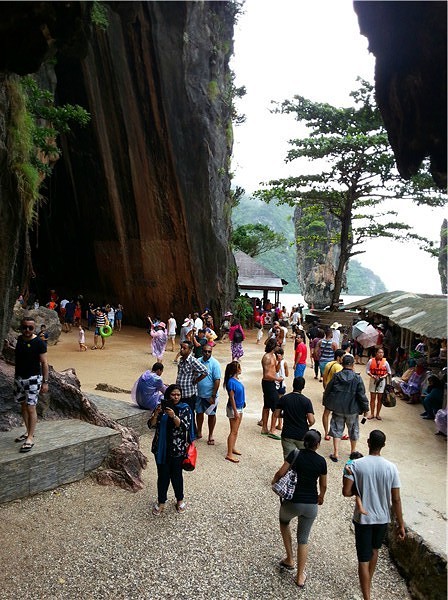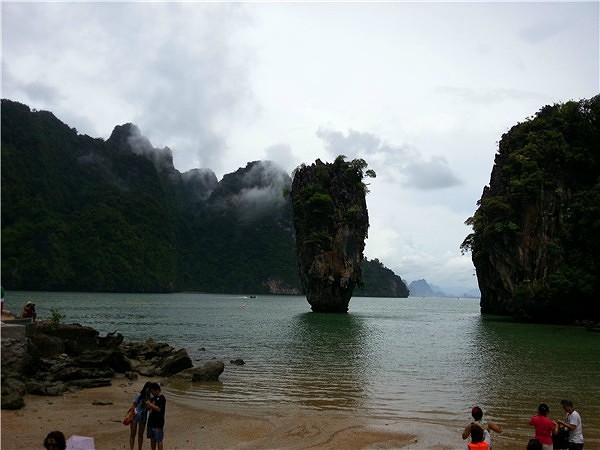 The quiet Panya Bay is full of many large and small islands with jagged rocks, which can be called a "wonder of the sea world". The islands are famous for their natural wonders, especially the 007 movie "Golden Gun Gun", which was filmed here. Therefore, everyone no longer pays attention to the island's real name TapuIsland, but calls it 007 Island or James Bond Island.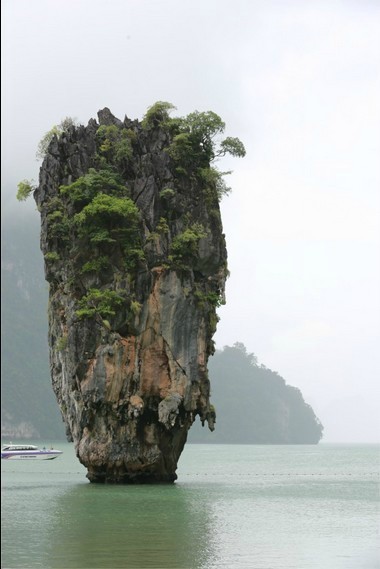 大家都会特别关注"大白菜石",一块据说不久以后会消失的奇怪的石头。30年前,罗杰·摩尔主演的《金枪客》在此取景,将攀牙湾的费康岛"改造"成恐怖分子金枪客的秘密基地,所有攀牙湾的明信片都会到刊出这张照片。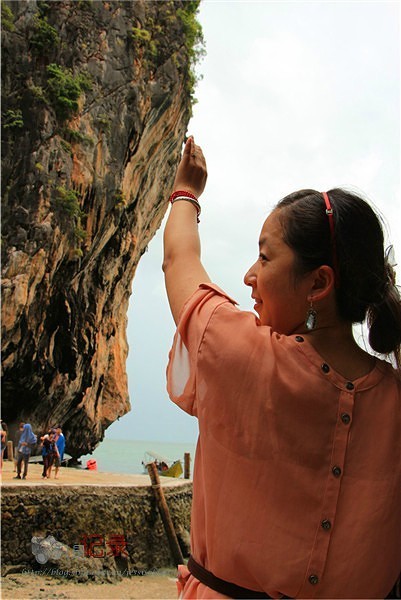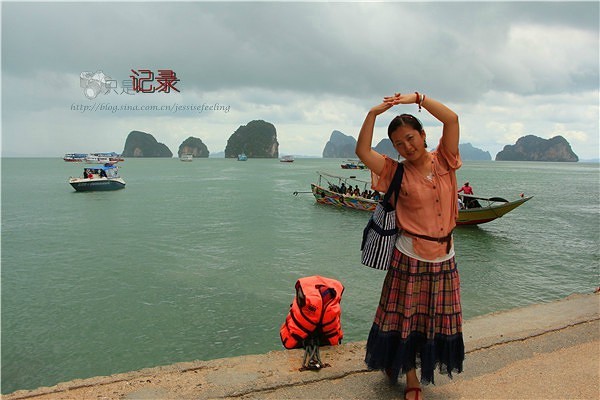 The fourth stop: Lunch: Banyi Island Seafood Chinese Food It's really not easy to set up such a dining place in such an environment!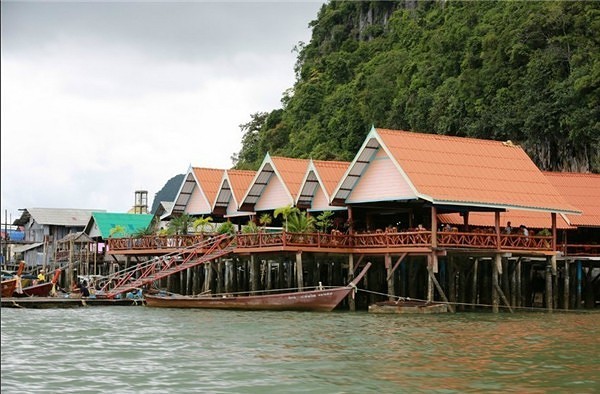 After getting off the boat, tourists stepped onto this platform and went in for dinner!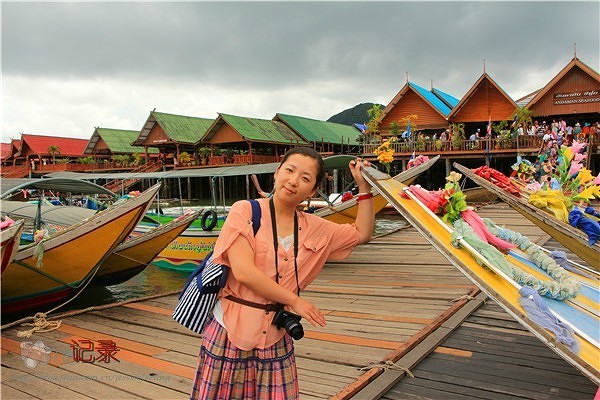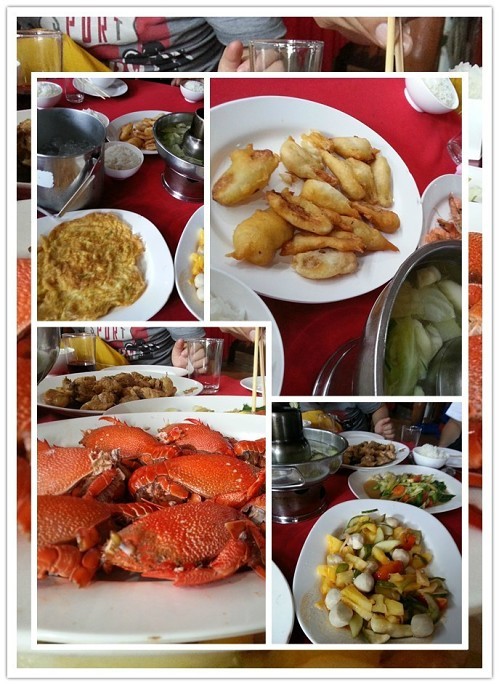 After the meal, I went back to my home. This road was very hurried to say ~ time was too tight to commit 2 crimes here ~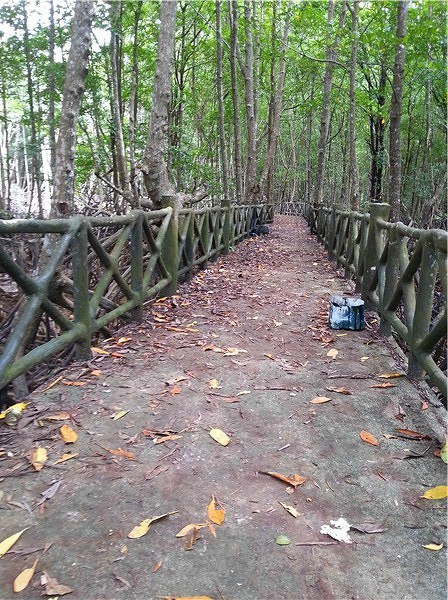 第五站:【泰式按摩1小时】您可尽享纯粹泰国特色的舒适按摩,帮您舒筋活骨,恢复体力。这个我喜欢,只是我平时国内的精油SPA做多了,这个简单的完全无感!幻想着是在一个海边的庄园,露天白色帘帐飘飘,听着海浪声,做着精致的精油SPA,那该多好啊!是不是我太贪心了,好吧,总比没有好吧!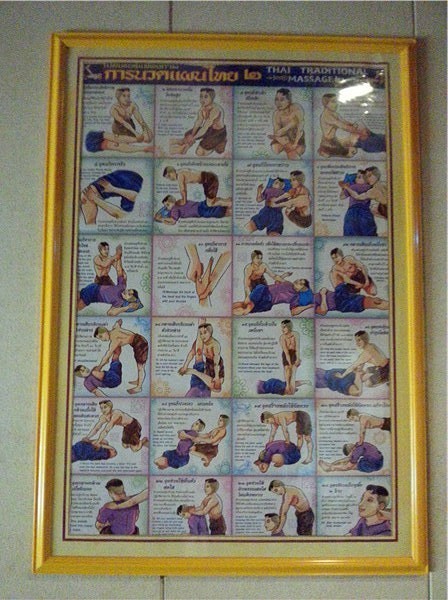 第六站:晚餐:韩国料理泰国的火锅都是这种,中间带烤的,周围一圈是火锅,跟清迈吃的千人火锅一模一样!晚餐种类很多,很丰富,只是泰国的调味料真心不适应!看我们吃的很HIGH吧!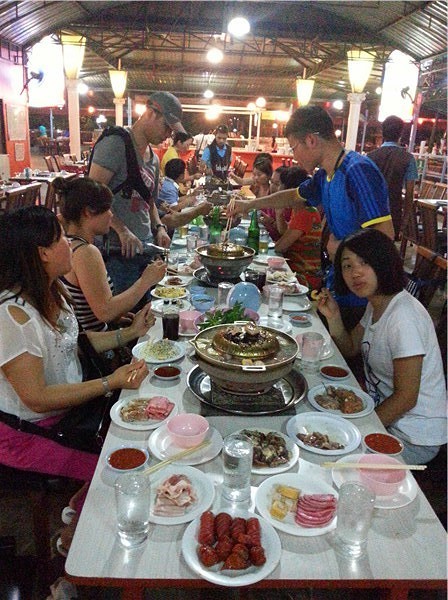 晚上回到酒店,我们几个人包了辆车到江西冷逛了一圈,我买了些纪念品,并且预订了第四天的人妖秀表演,90RMB,VIP座,超便宜吧。 晚上逛街的照片木有拍,关顾着买东西咧

D4: Phuket Island Blue Diamond Island + PP Island + Small PP Island Snorkeling + Paradise Bay + Lover Beach + Bird's Nest Cave (Water Sports)
First stop: "PP Island". The island has been planned as a national park by the Thai government, and its environment has been paid attention to. It is a place loved by the sun as soon as possible. Its soft and white sand beaches, quiet and blue sea water, uncanny natural caves and unpolluted natural features have become one of the hottest resorts at one stroke. After that, I took the "speedboat small PP island", There are transparent sea water in sapphire blue and emerald green. You can stroll on the white lover's beach, sit on the beach of Emerald Island to feed fish, and go snorkeling and dance with colorful and kind tropical fish. All these will bring you a unique island feeling and enjoy the most famous scenic spots "Paradise Bay", "Bird's Nest Cave" and "Lover's Beach". (Still the introduction of the tour group)
It is still the same way as going to Milan. It takes more than an hour to reach the dock by bus, and then it takes about 40 minutes to change speedboats. The police uncle at the dock is required with guns, and he likes taking photos very much. He will take the initiative to ask you to take photos with him!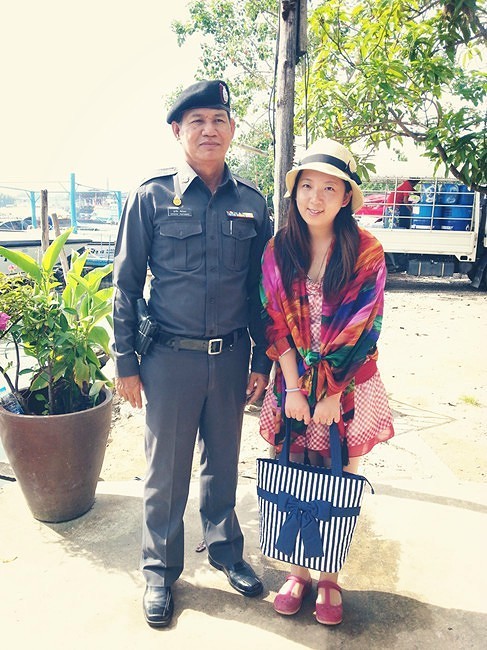 Several of us chose to sit in front of the speedboat. The sea view was invincible all the way. The wind and waves were extremely exciting. I really couldn't imagine how the little black on the boat could sit on the top of the boat without falling into the sea.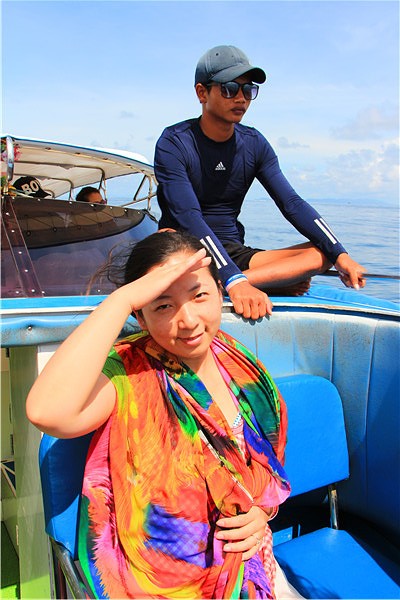 The invincible selfie of the students!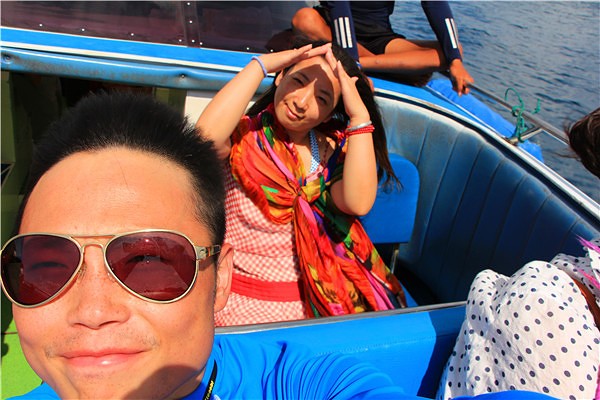 情人沙滩了,这个人啊,一眼过去密密麻麻,不过这个沙滩的沙确实细腻的很。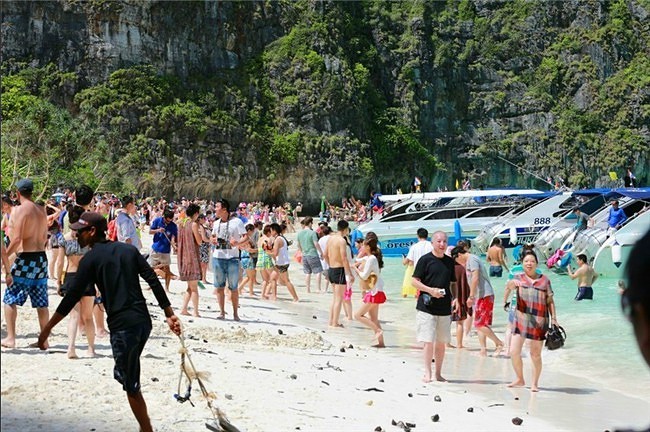 These two guys are quite funny ~ ~ like the big brothers in Hong Kong movies ~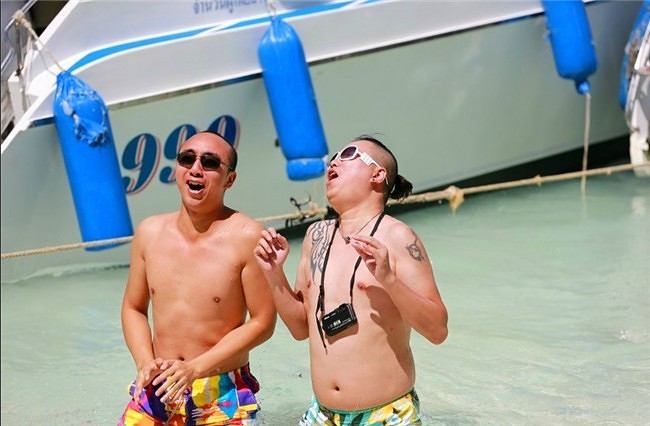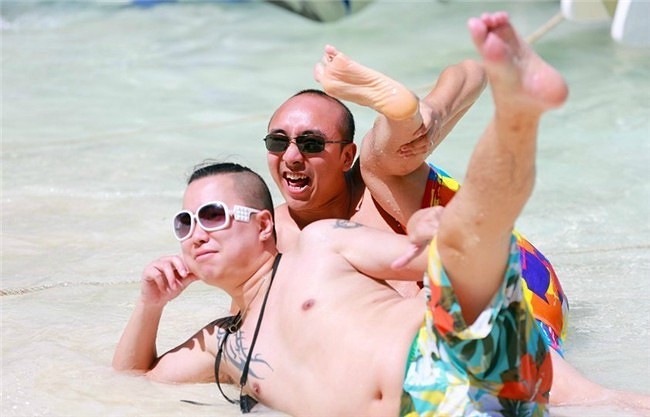 The most beautiful women by the sea ~ ~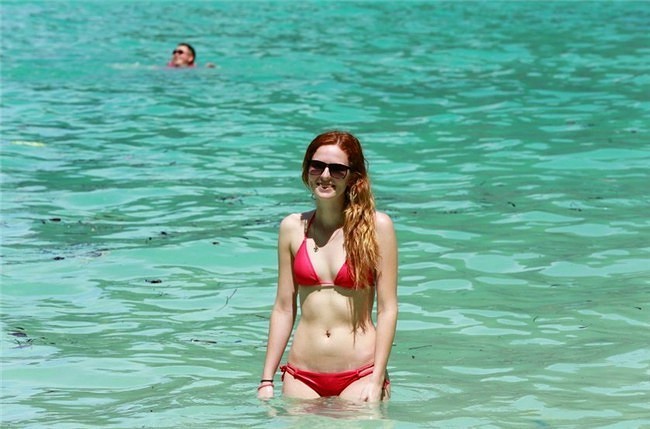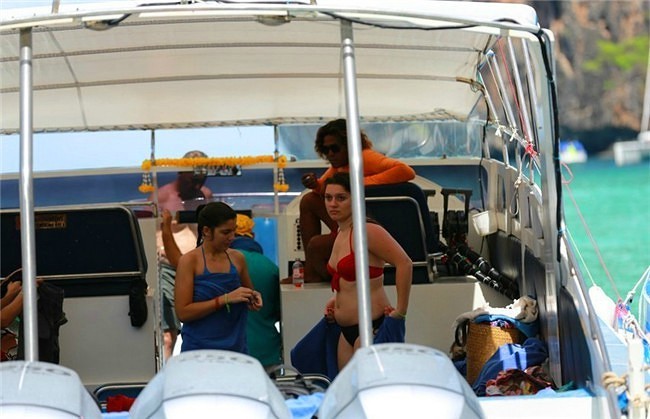 Another big brother, absolutely domineering ~ ~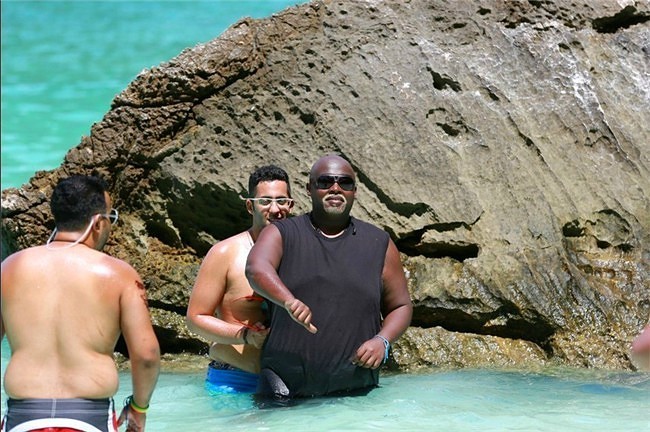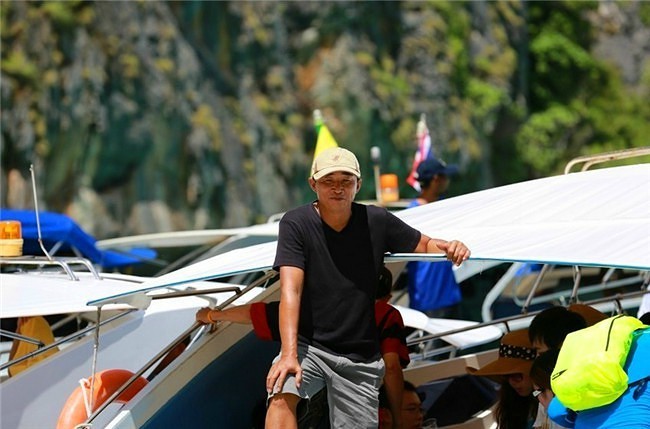 This is our Thai tour guide: Aping!
The following activities are taking photos ~ ~ All kinds of photos ~ ~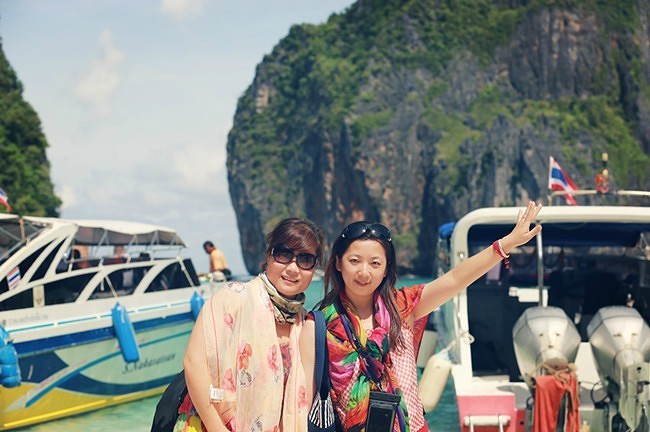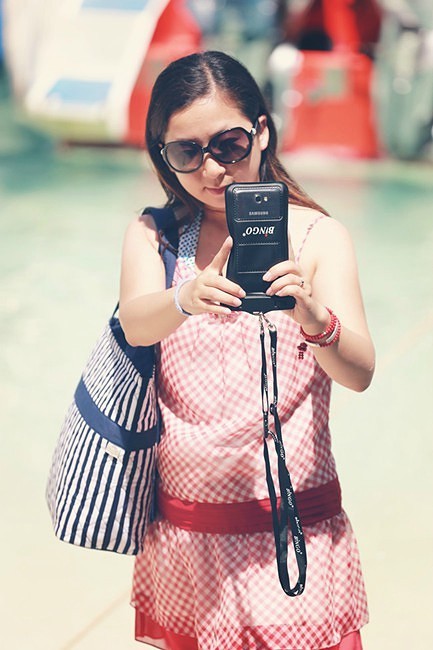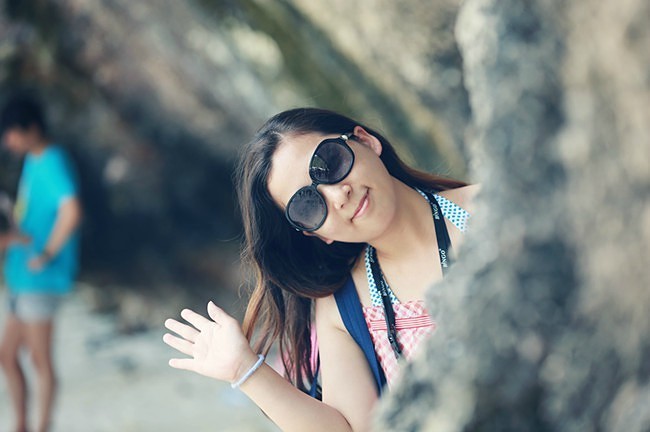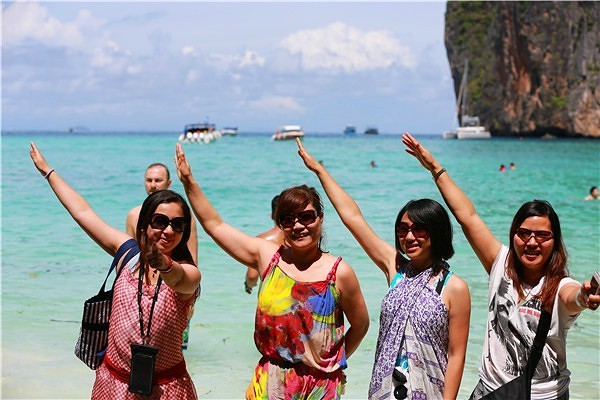 Xiao Hei and I also have a picture ~ ~ Xiao Hei's expression is a bit funny ~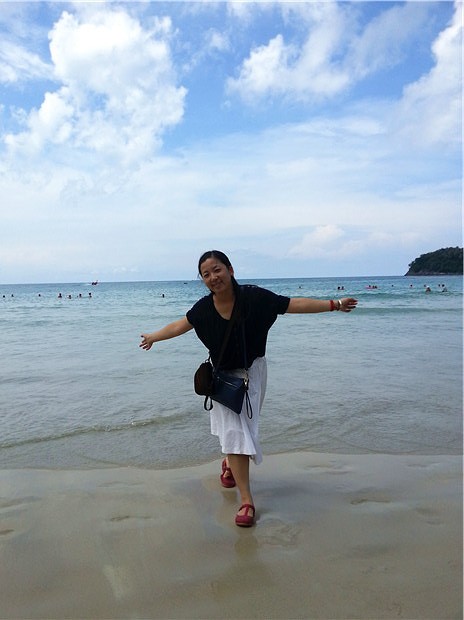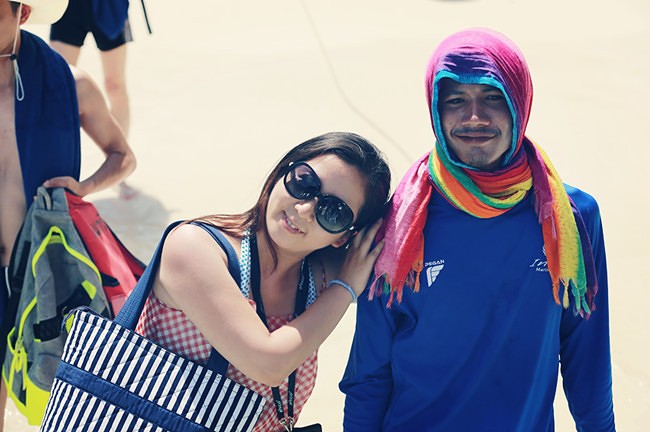 The second stop: Lunch Dining Point, which is PP Island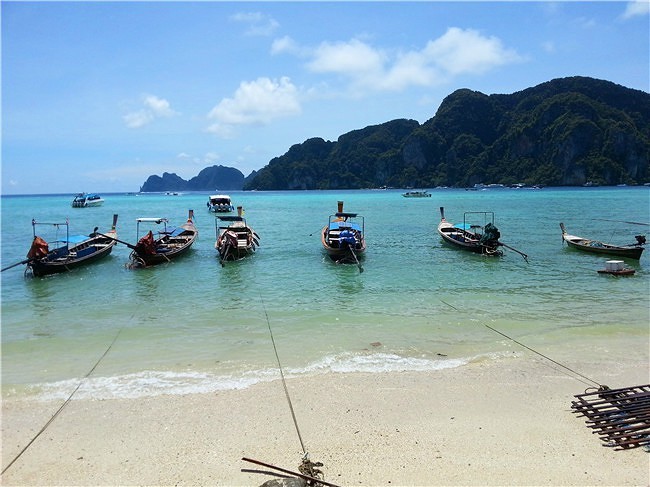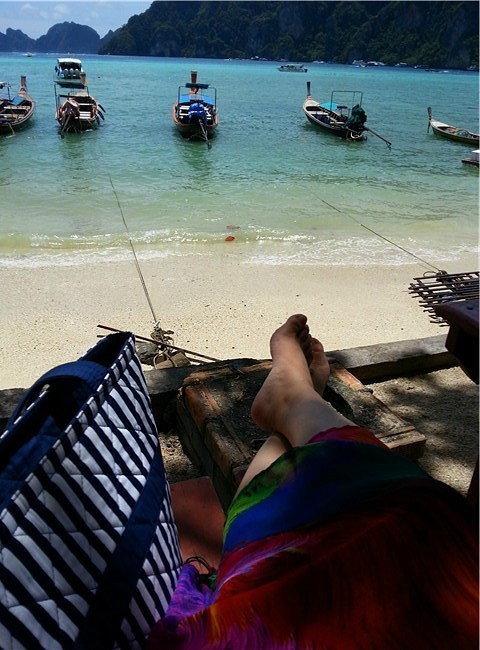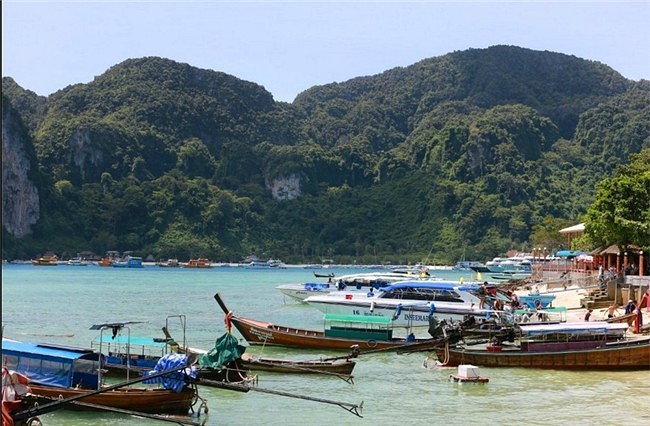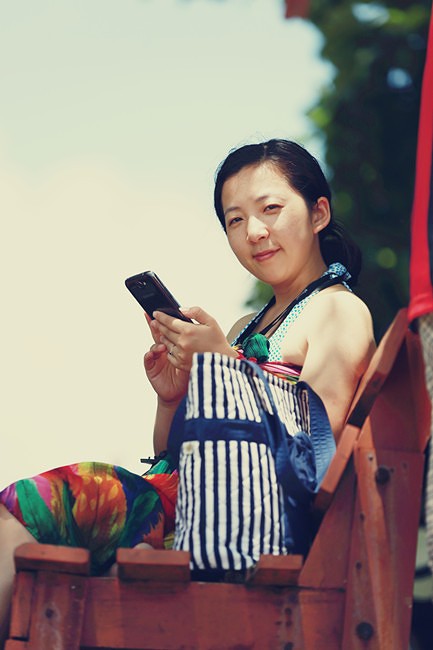 Arriving at PP Island, I basically didn't stop. I went to eat. I went ashore barefoot and went to a restaurant on the roadside to grab a few mouthfuls of rice at random. Many foreigners are leisurely wandering in the streets. If they travel freely, it is really nice to live here! (The team all rushed by and asked me to name the what of PP Island. I really couldn't say it!)
饭后快艇开至一处专门喂鱼的地方,面包扔下去,会有很多小鱼抢着吃,可是只能在船上喂,无法下水!喂鱼点旁边就是燕窝洞~~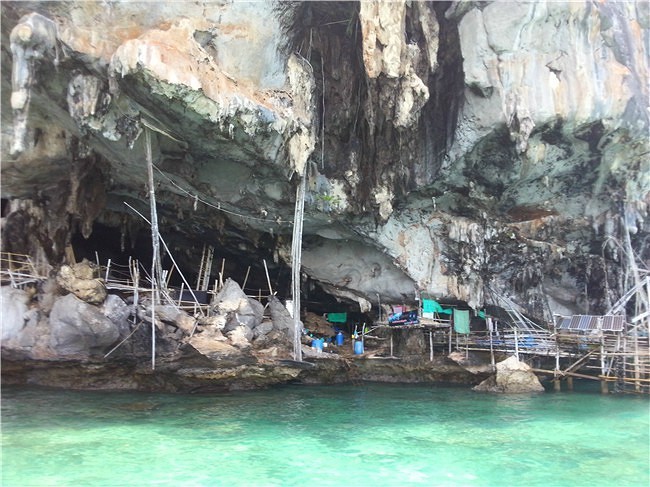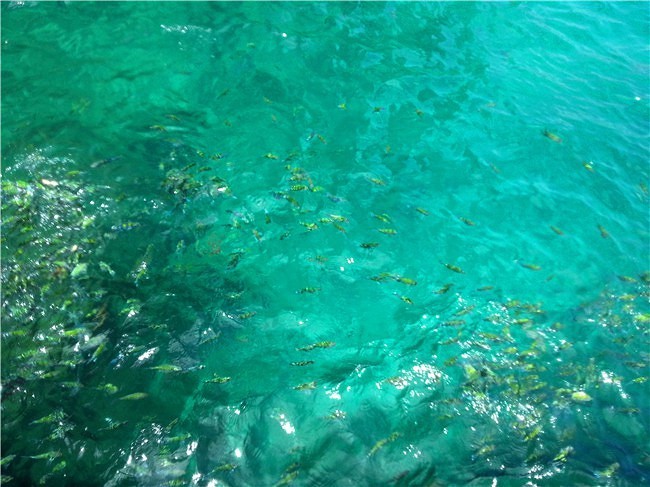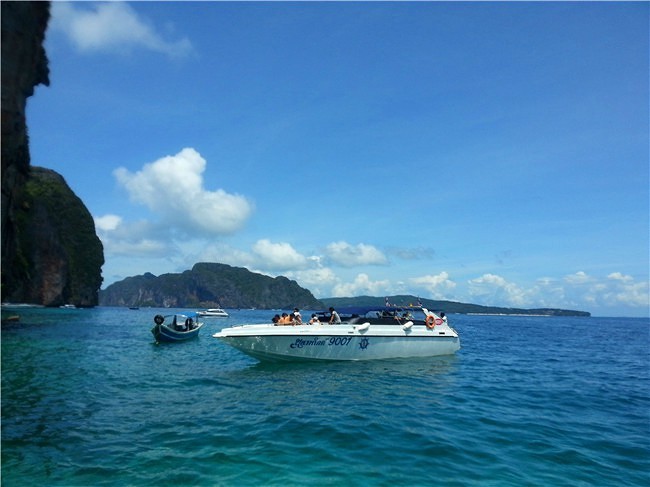 Let's take another close-up of Xiao Hei ~ Gaga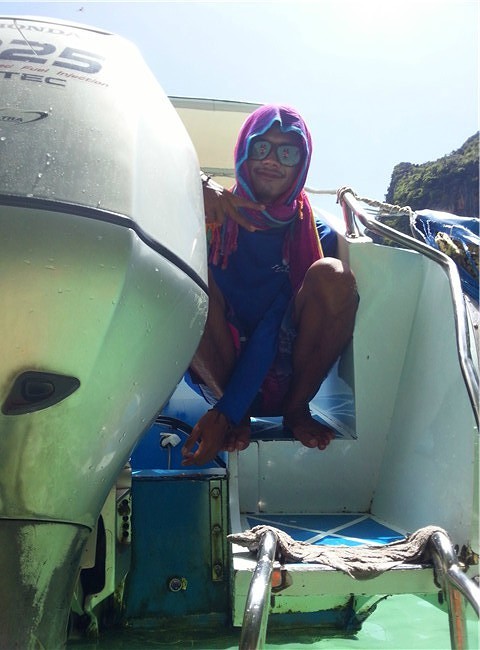 第三站:PP岛浮潜 现在下海去浮潜,简直是熟门熟路~~虽然水下什么都没有,都是死珊瑚~~玩水也很HIGH!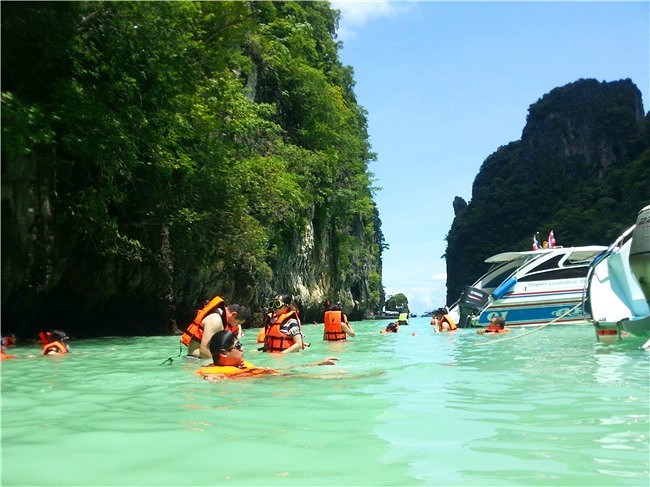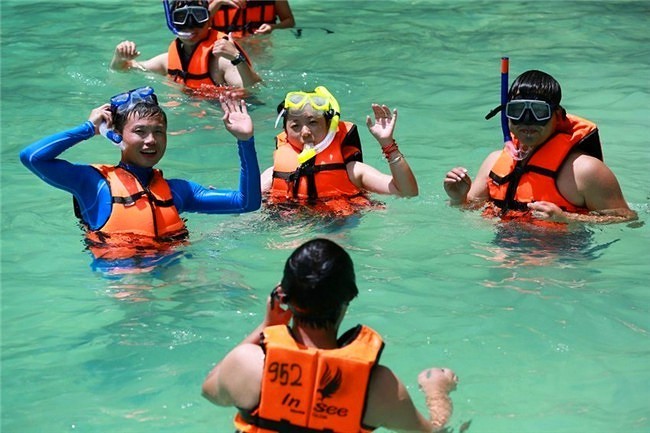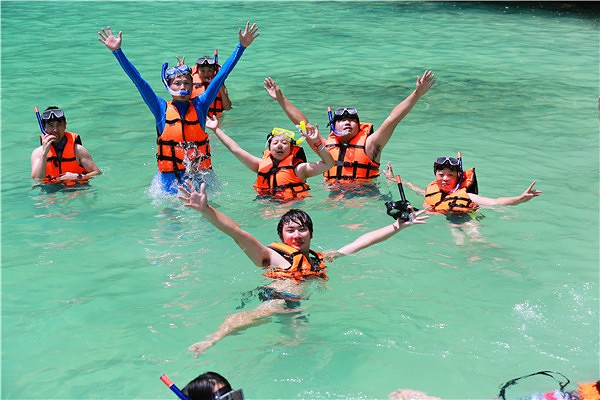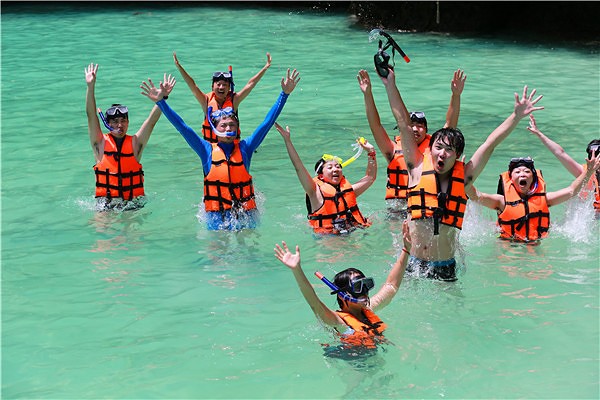 Maybe we should form a heart shape in the water ~ ~
第四站:【蓝钻岛】(停留约2小时),它以清澈湛蓝的海洋、洁白如雪的沙滩得到了不少品味高雅的游客的青睐。在此你可选择自己喜欢的海水活动,有惊险刺激的水上快艇、有全景海底世界的深潜。我们特别为您送上【水上活动】:香蕉船。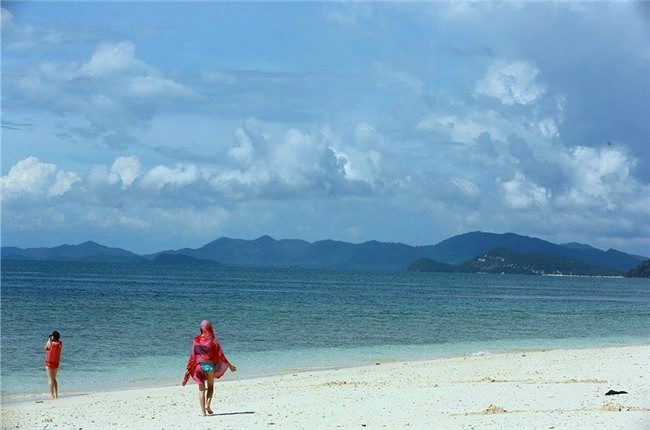 The beauty of Blue Diamond Island makes people intoxicated! I would like to be drunk for a long time!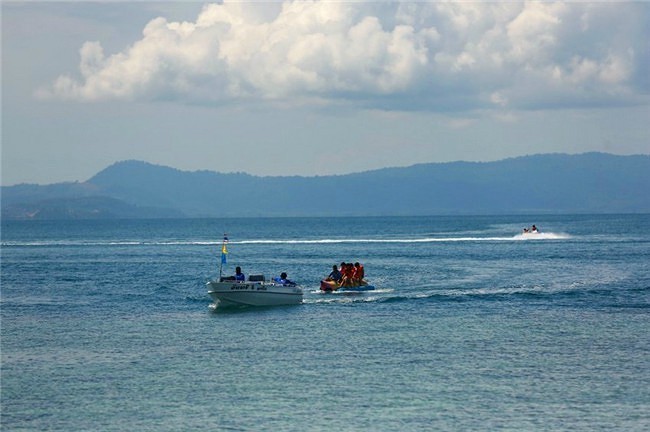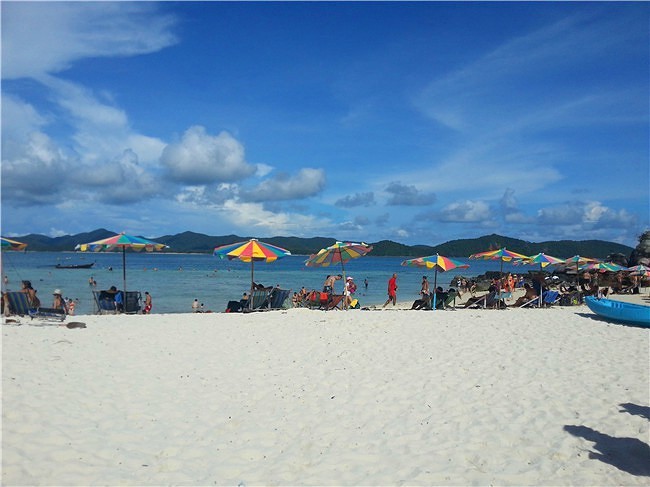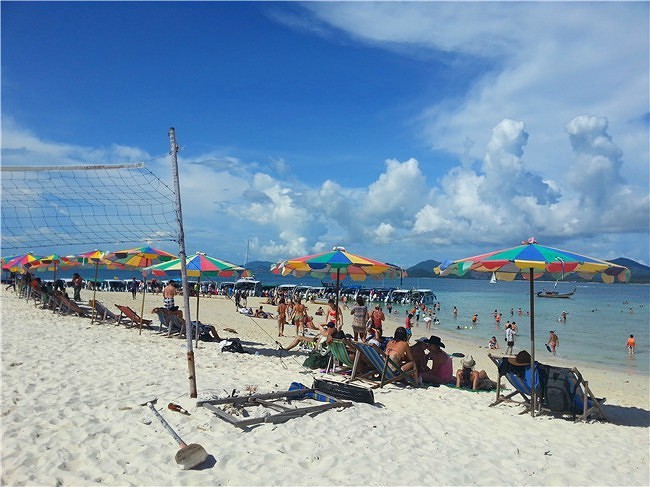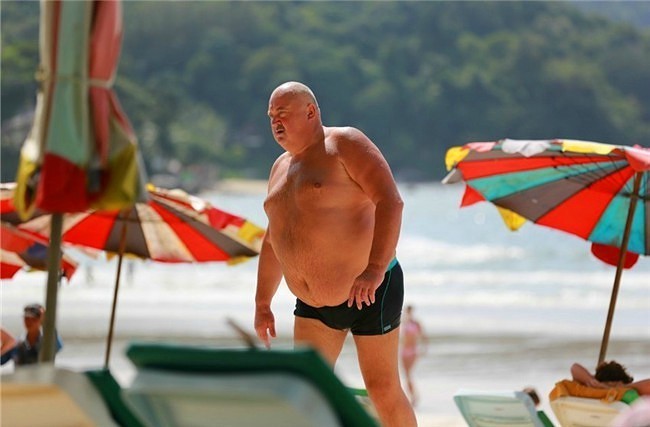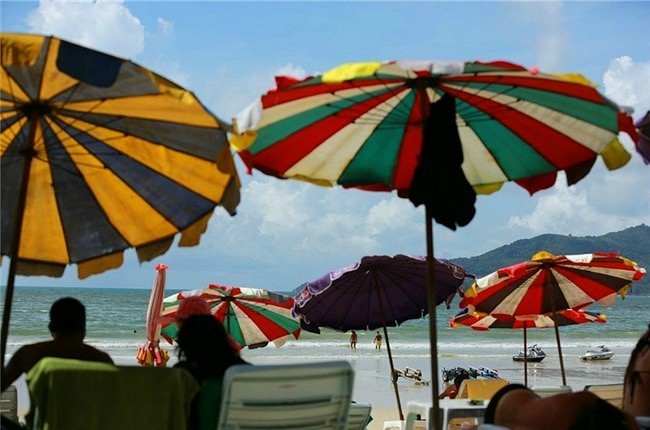 如果说攀牙湾的美是清秀,蓝钻岛的美是大气,是奔放!来吧,我们一起来嗨吧!  水上活动香蕉船短短1分钟都不到,不痛不痒,很是不过瘾!这里的海水太静了,没浪不那么刺激,罢了罢了!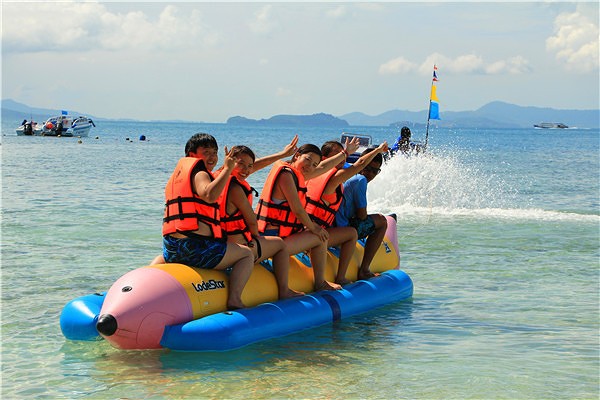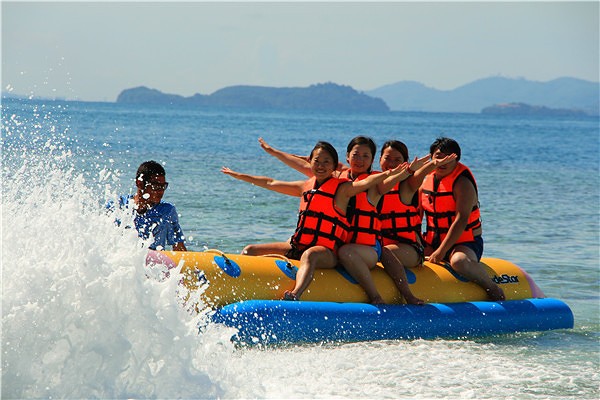 在蓝钻岛,我的眼睛周围以及面颊一阵阵的火辣辣的刺痛,估计是晒伤了,太阳光好刺眼,此刻的我实在没有心情再出去暴晒了。此间就是不断的拿冰水敷面以及吃东西,灭了一杯MANGOSHAKE,一盒榴莲,一对鸡翅,一份烤虾,外面太阳那么晒,我实在没有勇气下海,那么就在这里吃吧,基本把每种都吃遍了!  然后就是胡乱拍点小清新~~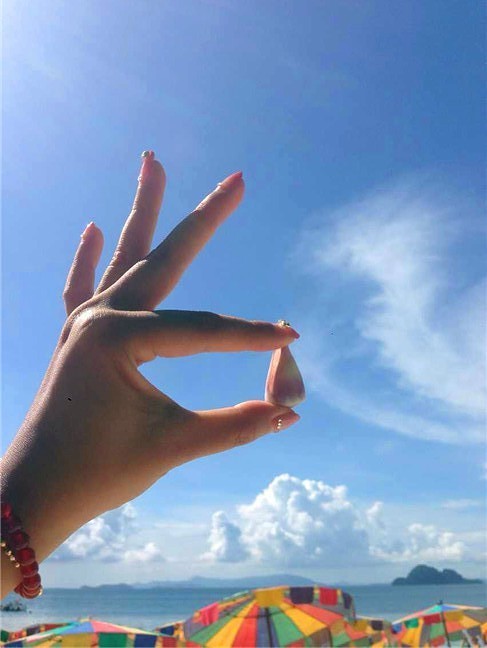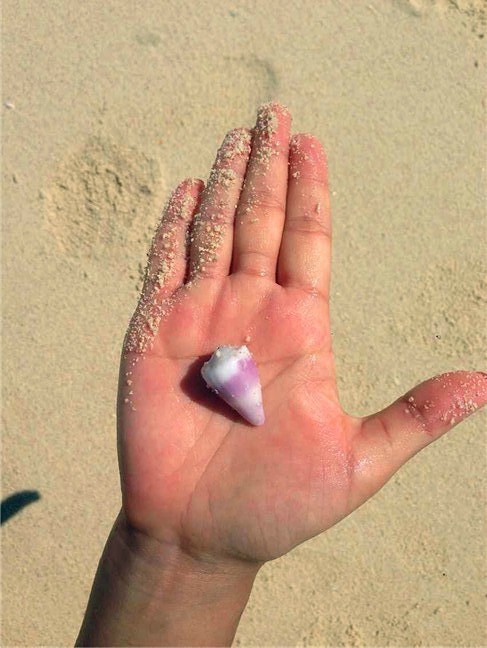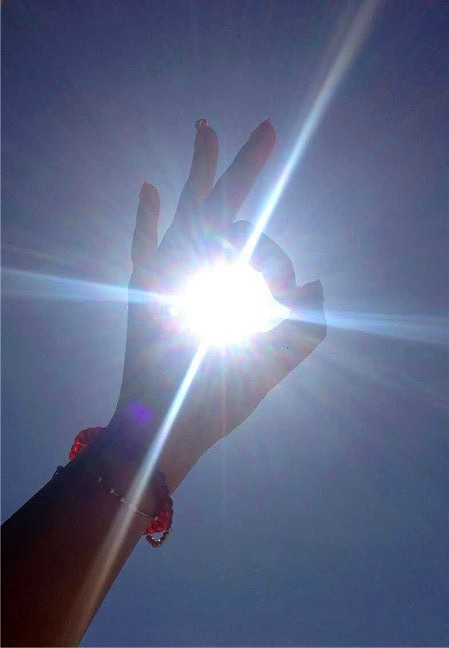 Stop 5: Dinner: Lanhuayuan Thai Flavor Dinner
This restaurant is super beautiful and has amorous feelings!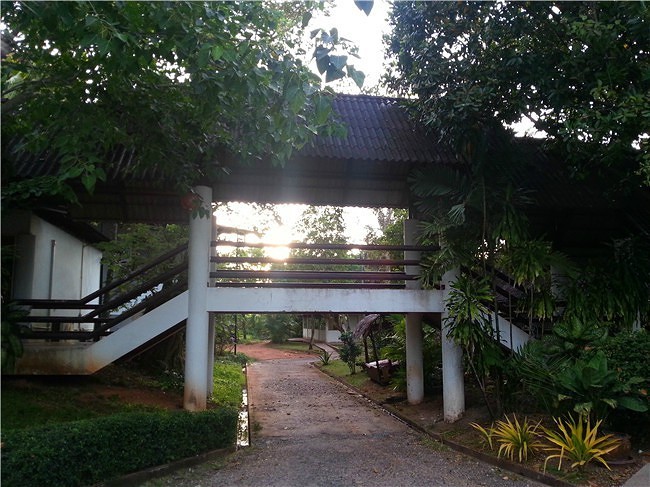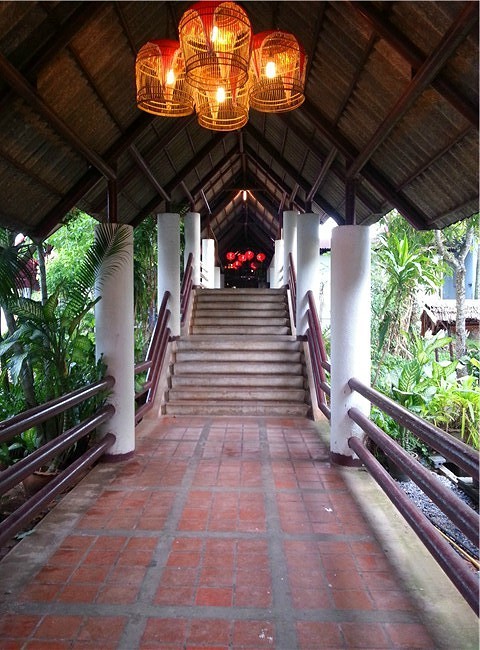 Next to the restaurant is a super beautiful lake. Why is the water so quiet? It feels a little out of touch with the world. I am afraid I will wake up the fairies here when eating here!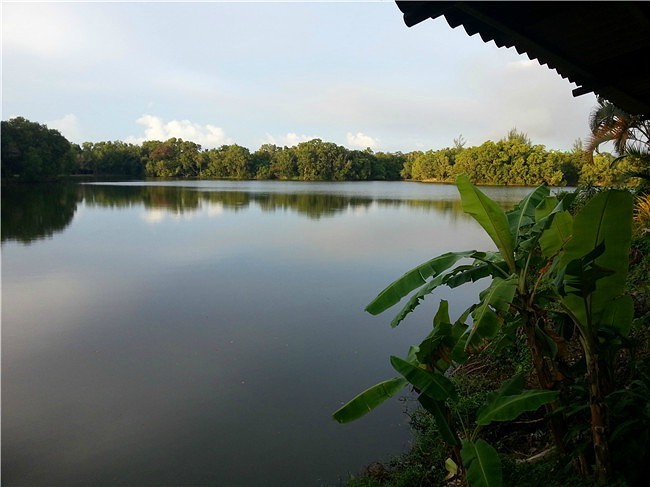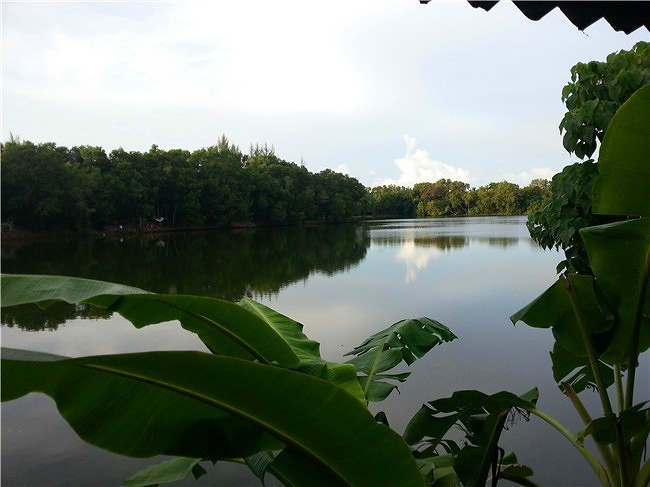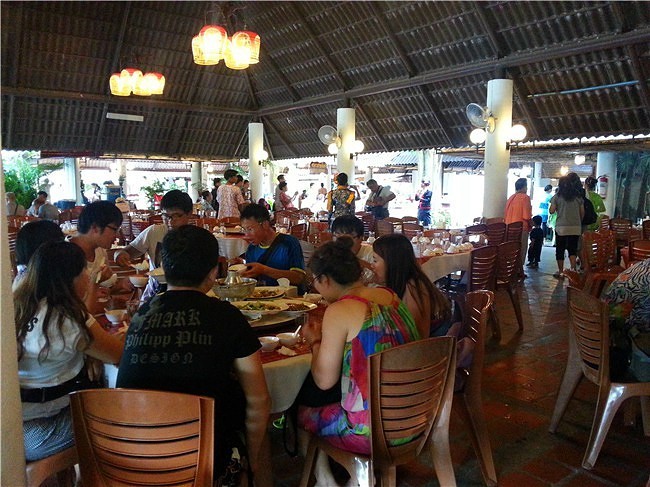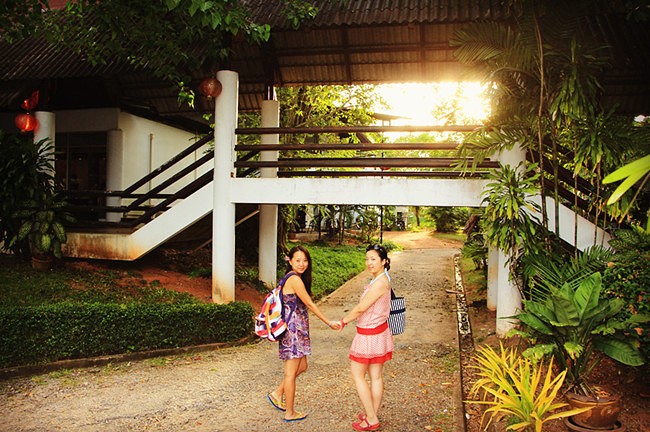 The sixth stop: Simon Transvestite Show!
We set it at the agent near Jiangxi Leng. It is quite cheap, cheaper than Taobao's lowest price. 5 yuan money, VIP seat!
Our hotel is quite close to there, three minutes walk!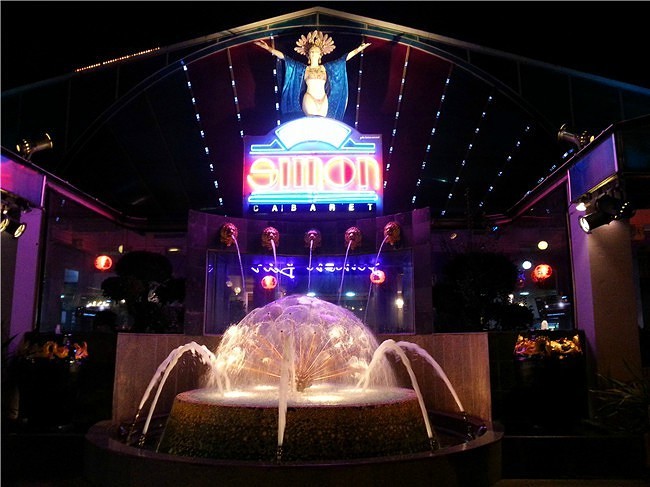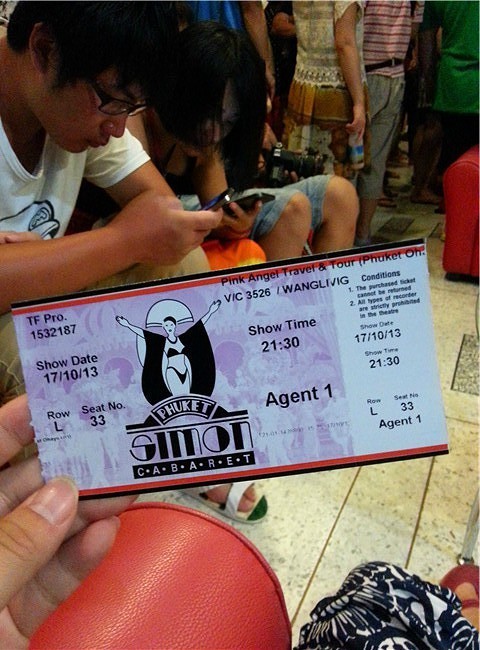 The whole performance was quite amazing. I couldn't find an adjective to describe it. It was a visual feast and a long aftertaste. Using the cultures of many countries, the stage effect is quite shocking! When performing Teresa Teng's songs, the applause in the venue continued. You can imagine how many Chinese tourists there were! However, no photos can be taken in the venue, probably because their programs will not be recorded and circulated, which will not affect their attendance rate.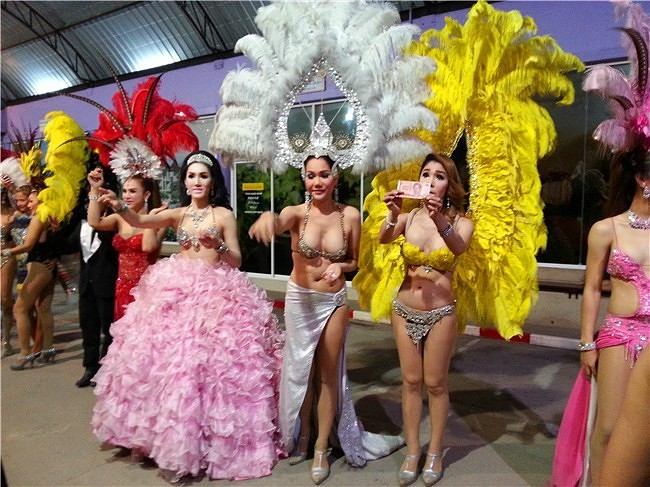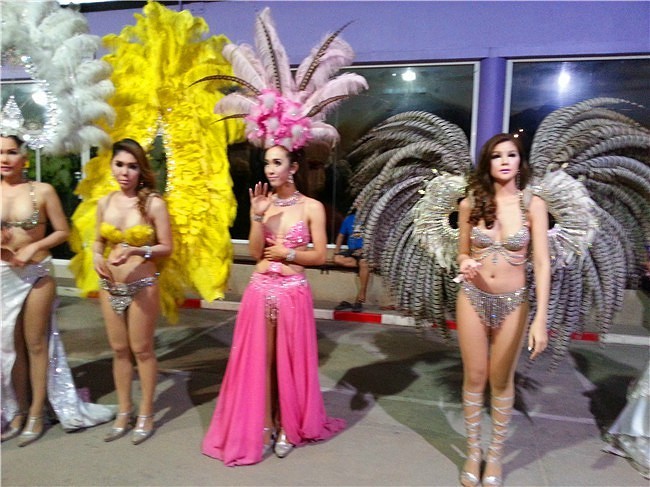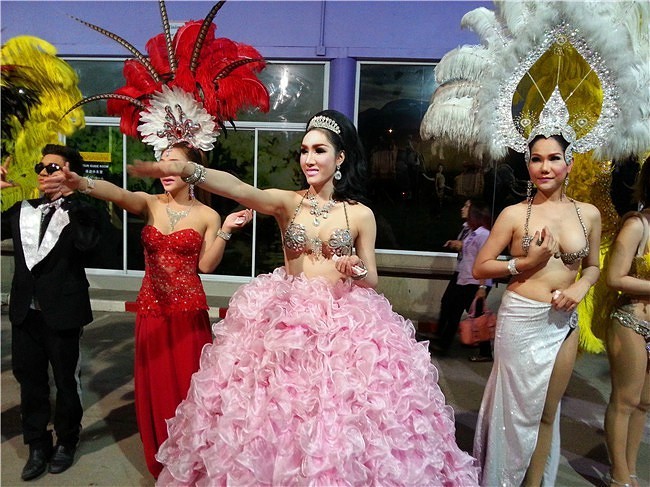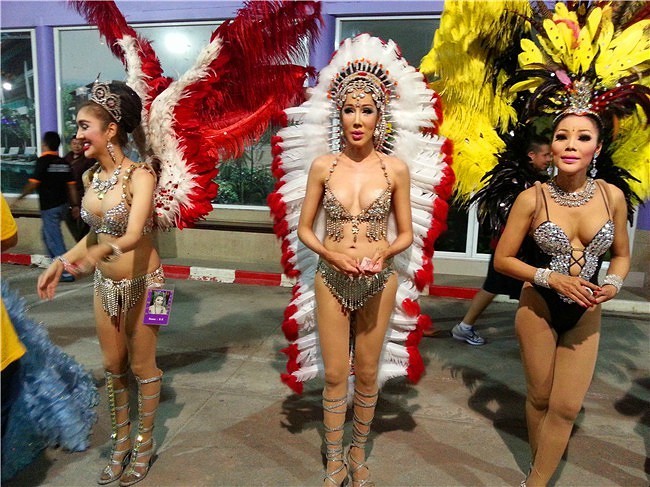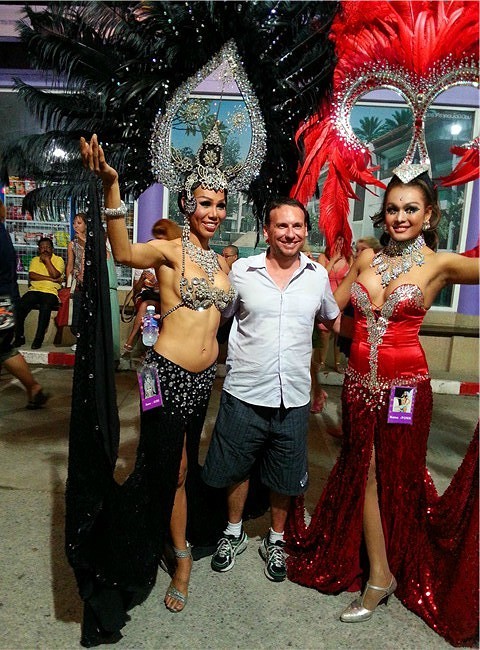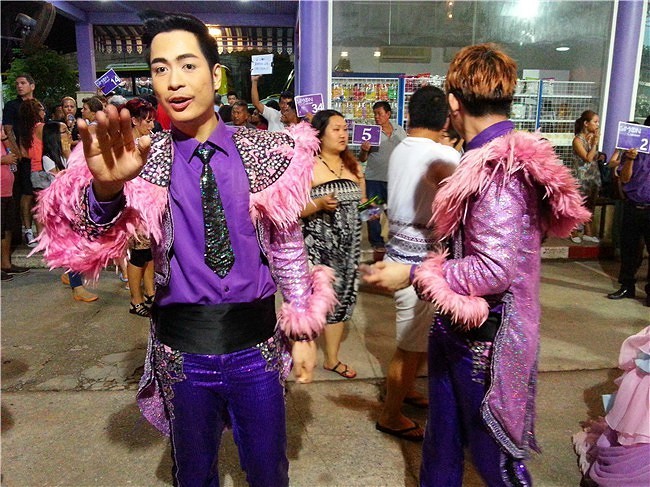 The transvestite has a good figure, but I don't have much interest. I have seen and visited it.
D5: Day 5 Phuket Island is free to move all day long.
We had a good time on this free day! We chose to ride Phuket on a motorcycle!
Our route rode from Patong to Kata, and Karen ran directly to the fairy peninsula!
This is my little car!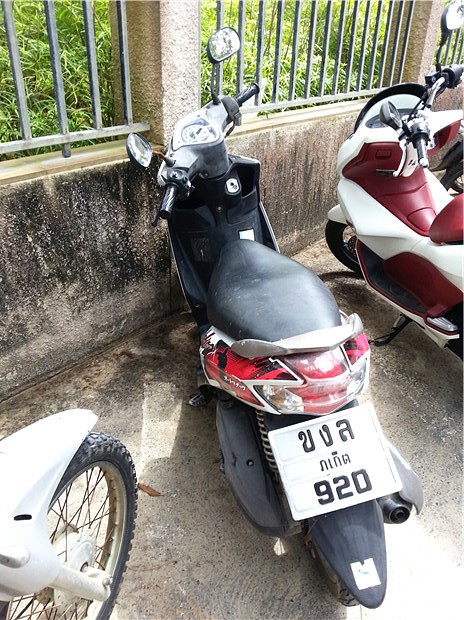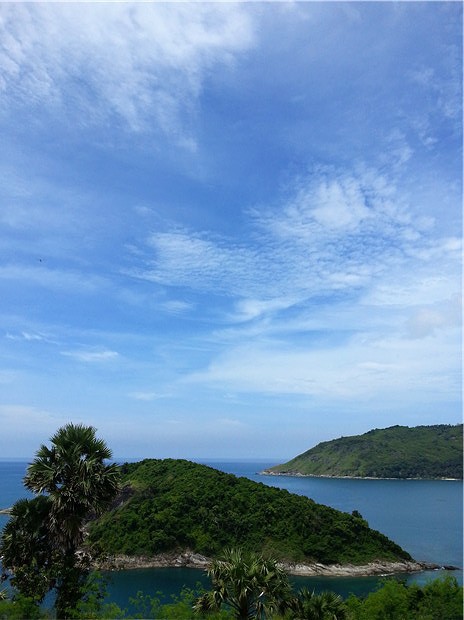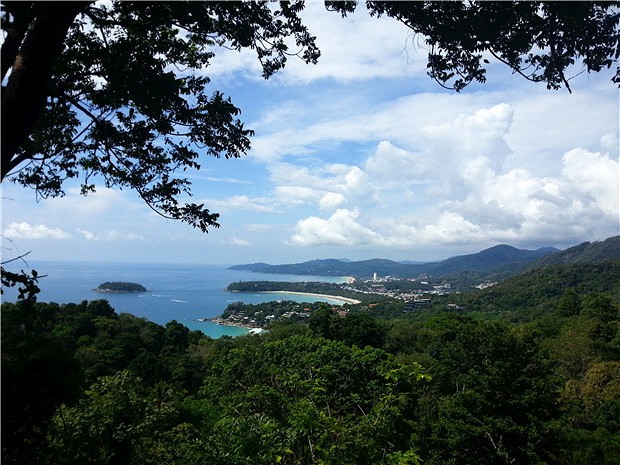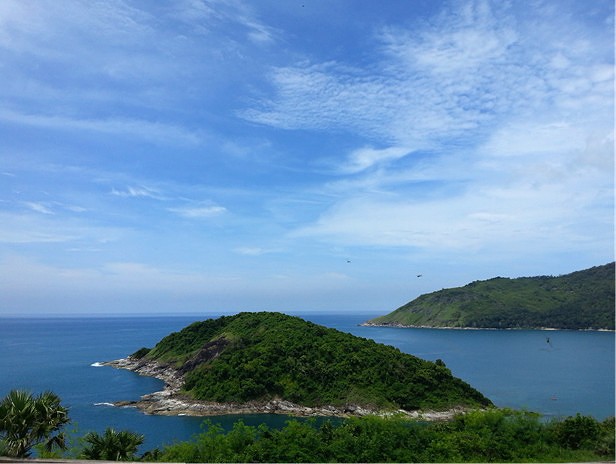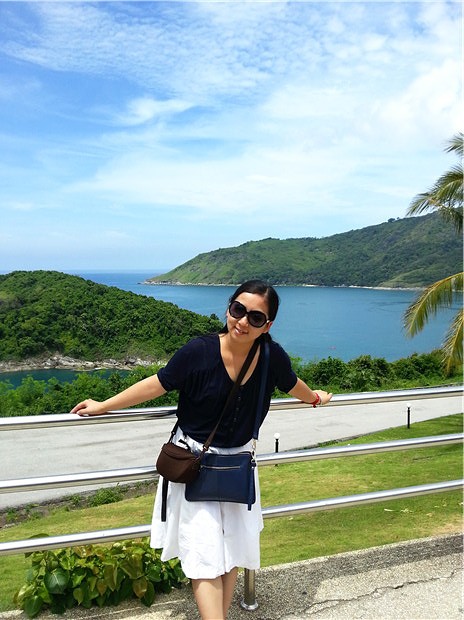 美,不是一点点!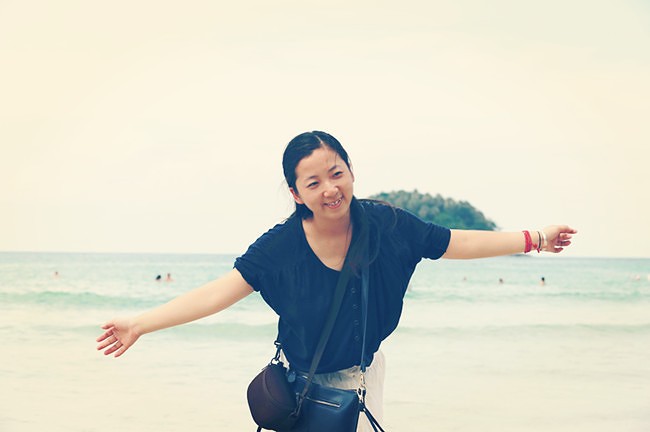 带着普吉满满的记忆,期待明天!