Preface: Based on the principle of sharing, this free trip experience in Bangkok, Thailand will be summarized to facilitate friends to go out and play.
Staff: My wife and I, my friend and his wife
Time: Early May 2011
Note: The following "B" denotes Thai baht and "Yuan" denotes RMB.
1. Prepare before going out
1.1 Passport Visa
1.1. 1 There is nothing to say about the passport. Go to the local public security bureau to handle it.
1.1. 2 Visa-free travel to Thailand will be granted until April 1, 2011. Currently, the visa fee is 230 yuan. It is the most convenient to find an agent to help you with it. The price ranges from 280 to 380 yuan.
1.2 Ticket: (Starting from Guangzhou) There are three airlines to choose from, namely China Southern Airlines, Thai Airlines and Asian Airlines.
1.2. 1 China Southern Airlines has morning flights, which are the most expensive and have good service.
1.2. 2 Thai Airlines almost arrived in the afternoon and arrived at night. The fare was about 1500 yuan one way (excluding taxes and fees).
1.2. 3 Emphasis is placed on AirAsia. AirAsia is a low-cost airline and can only book tickets on AirAsia's homepage. Agents and booking websites (such as Kuxun and Ctrip) cannot find AirAsia tickets. The advantage is that it is cheap, often engaged in activities, lucky enough to cover taxes and fees within 1K can fly back and forth, and even some people have got more than 100 yuan of air tickets. The disadvantage is that time is the worst. Leave in the morning and arrive in the middle of the night. Accommodation and transportation after arrival need to be properly arranged. After AirAsia arrived in Bangkok, it was around 2: 00 a.m. local time. There were no buses or light rail subways, but only taxis. Hotels in Bangkok charge for one day no matter how late they stay. Moreover, it is not safe to be too late (one day I was robbed of my bag by a flying car at 3 o'clock in the morning. Although I was lucky and did not lose anything, I must pay attention!) . Finally, there is an extra charge for seat selection (popular seat 24 yuan, ordinary seat 12 yuan), on-board catering and luggage check-in (120 yuan RMB when China goes to Bangkok and 530B when Bangkok comes back). In addition, the flight attendants of AirAsia are quite beautiful and speak Mandarin with strange and interesting tones.
Suggestion: AirAsia definitely wants to save money. For those who have some savings and aim to enjoy life, it is better to choose China Southern Airlines and Thai Airlines.
1.3 Exchange of foreign exchange
1.3. 1 Renminbi
First of all, it needs to be made clear that Thailand is full of places to exchange foreign exchange, but most of them do not accept RMB. Even if RMB is exchanged, the exchange rate bought is extremely low. When I went, the international exchange rate was 1 yuan = 4.64 B (Thai baht), and the exchange rate for RMB was usually 1: 3.6 ~ 3.8, and very few places were 1: 4.
There are three ways not to suffer losses: First, change the Thai baht at home. The Bank of China can change, only on Monday, 2 days later. Most of the time, banks will say that they will not exchange the Thai baht for you (evil foreign exchange control). Second, it is to withdraw money from ATM in Thailand. UnionPay can be used in many parts of Thailand. When I withdraw money from the bank, ATM will automatically convert the balance in your account into Thai baht at today's international exchange rate, with a handling fee of 0.5% (minimum 10 yuan RMB) per transaction. Third, find a place with UnionPay logo to spend, swipe the card, no handling fee.
Recommendation:
I swipe the card is the best, but to swipe UnionPay, not VISA and Master, these two handling fees are very high, like 1.5%.
The airport can also exchange foreign exchange, most of which is not cost-effective, but it is possible to exchange foreign exchange when I arrive at the hall to pick up my luggage (don't go out). At that time, the exchange rate given to me was 1: 4, and the exchange rate outside the small door was 1: 3.8. The best place to exchange foreign exchange is Super Rich. Walk from Siam's four-sided Buddha to Big C. There are two houses in the second alley. It is the most reasonable place to exchange foreign exchange in Bangkok. The door is opened very late in the morning, only for 3 hours in the afternoon, and closes at 8 o'clock in the evening.
When I landed in Bangkok, I did not have Thai baht on me, but I had US knives and RMB in my hand. Facts have proved that this is no problem at all.
$1.3. 2
With a beautiful knife beside you, you are not afraid to go anywhere. All the places where foreign exchange is exchanged accept U.S. Dollars, and the exchange rate is similar. When I went, the international exchange rate was 1 U.S. Dollars = 30.26 B (Thai baht), and the places where foreign exchange is exchanged are 29.70-29.97, which is much more cost-effective than RMB.
1.3. 3 HK $
Why do you want to say Hong Kong dollar, because I found that some exchange points give exchange rate, Hong Kong dollar is higher than RMB! Therefore, friends in Guangdong can bring some Hong Kong dollars to exchange, which is definitely more cost-effective than RMB.
Tips: Thailand's voltage is the same as China's, but the jack is slightly different. Individual strategies reflect that Hotel's jack does not match the domestic plug. There is no problem with the Hotel where I live. Most of them should be universal. If not, it is also convenient to go downstairs to 7-11 (Bangkok is full of streets) to buy a changeover plug.
II ` Flight and Entry
2.1 You will usually be issued a foreigner entry and exit registration card on the flight, all in English. It is a wise choice to fill it out on the flight, so that you can get off the plane and cross the customs as quickly as possible. It is worth noting that one of them is required. It is the place of residence in Bangkok. Just write the name of the Hotel. If you haven't decided on the Hotel yet, write Khao San Road. Get off the plane and queue up at the customs clearance, otherwise it will take a long time. Then the staff will take the entry couplet and book the exit couplet on your passport. Don't lose it, otherwise there will be trouble when you leave the country.
You will also be asked to fill in the Foreigner Entry and Exit Registration Card on the plane back, but you don't have to fill in it again when you return home.
2.2 Bangkok has three airports, and all international arrivals are at Suvarnabhumi Airport. There are many duty-free shops at the airport, so those who like shopping should pay attention. Many raiders have written before that maps and calling cards should be taken. After on-the-spot investigation, I felt that I didn't need to take the map in the airport. If I had a free map at TAXI stop, I would like to take one. This map is not particularly useful. As for calling cards, they can be sold at 7-11 convenience stores all over the street when they are not busy. There is no need to worry.
2.3 Transportation to the city
2.3. 1 Taxi
This is my recommendation. Taxi at the airport is very formal. Please take your luggage with your watch. There will be airport staff at the taxi stop, who will translate the place and hotel you are going to into Thai to the driver, and will also give you a list (for complaining about the driver, there is a complaint telephone number on it). This service is very useful to ensure that the driver can accurately deliver you to your destination. It is truly a tourist city and praises one. Take me as an example. Hotel took a taxi to 360B in Sukhumwit Soi.16 (including the high speed 70B, of course you can choose not to take the high speed; It seems that 50B airport tax is also included).
2.3. 2 Route AE
Route AE has a total of 1-4 lines to go to different parts of the city, as if each person is about 100B. Briefly list the route:
AE1 ~ Silom (business district, night market, bar)
AE2 ~ Banglupu (go to Khao San Road, backpacker gathering place)
AE3 ~ Sukhumvitt (business district, bar)
AE4 ~ Hua Lumpong Railway (Railway Station, Chinatown)
2.3. 3 Light Rail
It is also convenient to take the airport light rail to the terminal Makkasan Station and transfer to other means of transportation (close to the subway Phetchaburi). There are two types: ordinary and fast, the ordinary 15B, and the fast seems to be 120B. The actual situation is that the two types of cars are not a few minutes apart, so it is recommended to do the ordinary one.
2.3. 4 Hotel pick-up
Generally, hotels above the mid-range level will provide this service. If you book a hotel, you can ask it to pick it up by car. The cost is 2000B per trip. It is strongly recommended to choose this service for those who come from business and can be reimbursed.
2.4 Calling Card
No matter how many people go, it is still necessary to buy a local mobile phone card, at least you can call Hotel and Police. There are two kinds of mobile phone cards, Happy card and True card. Let's talk about it in detail:
2.4. 1 Happy card. All 7-11 are available, 99B, including 35B. After buying the suggestion, ask the clerk to recharge 100B immediately, which is basically enough. It is characterized by cheap calls to China: +009 in front and * * domestic calls are cheaper, which is 3.5 B/min. This is what my wife and I bought. It seems to be 1B/min if we fight each other. In this way, I can make a phone call to greet my friends in China ~ there is also a small discovery that my Nokia 6300 can actually display the street name of my current location after installing Happy card, which is extremely accurate, so that I later used my mobile phone as GPRS! My wife's HTC phone cannot be displayed!
2.4. 2 True card, it is said, is cheaper than happy card to return home. Friends who went together bought this kind of card, and it is cheaper to dial +005. However, facts have proved that this is more expensive than Happy, and it may also be an operational problem.
2.4. 3 GSM. The global service of international roaming has been opened. The roaming fee per minute is RMB 7 yuan. My friend's wife reluctantly chose this. The boss made a phone call for more than 20 minutes, and I felt distressed ~
3 ` Accommodation
1. Luxury
There are many luxury hotels in Bangkok, many of which are settled in US dollars. The famous ones are Shangri-La, The Oriental, etc. The approximate price is over 4000B/day.
2. Medium and high grade
This class is even more. I lived in Somerset Lake Point Hotel on Sukhumvit Road at that time and felt quite good, so I advertised it. Small Suite is 2650B/day. It has an open kitchen and various Size pots and dishes, central air conditioning, drum washing machine, whirlpool tub, Kingsize queen bed, iron, safe and more. The two walls of the bedroom are all floor-to-ceiling windows. The hotel also offers sauna, gym, swimming pool and more, all free of charge. In particular, there are 2 swimming pools, TowerA is outside 7F and TowerB is in the city. I went with my friends for 2 mornings, but there was no one. It was just a package. Breakfast is mainly western food, with more than 20 dishes and good taste. Open hour 5: 30am-10: 00am, there will be 6 Thai little sisters to take care of the meal. The whole hotel is mostly European and American. Ask the waiter to take you to the nearest Sky Train and Subway in a DukDuk.
3. Backpacker Hotels
Concentrated in two places: Khao San Road and China Town
3.1 Khao San Road
It is the legendary Kaoshan Road. Taxi drivers all know this place. Where backpackers from all over the world gather, There are many cheap hotels here (basically with or without air conditioning, You can bargain, A large number of backpackers appear here every day, so it has developed into a community integrating hotels, restaurants, bars, ticketing and Internet cafes. The real Khao San Road actually has 2 or 3 streets, with about 50 bars. It is very popular at night and there are many small vendors. The ghosts walking here are all suspenders + shorts for women and vests + underpants for men, which is quite interesting. Air tickets, tickets and train tickets can be settled here, and there are also many buses that gather here every day to go to the surrounding areas. Consumption is cheaper. It is very close to the Grand Palace, Sleeping Buddha Temple and other scenic spots. The disadvantage is that there is neither Sky Train nor Subway around, nor is it close to Boat Station, so you can only take a taxi or bus to go out.
Conscience advice: Friends living here must not choose hotels facing the street. The bars here have to be busy until 2:00 a.m. You will definitely not be able to sleep facing the street.
3.2 China Town
Many strategies say it is made up of three streets, but I find that the whole China Town has a very large range and it takes you a long time to walk out. There are two ways to get there: first, Boat on the Chao Phraya River will get off the boat at Rachawongse Station B5. Second, take the subway to the terminal Hua Lampong Station (South China Peng Railway Station) and walk for 10 minutes. Therefore, China Town is located in a good position, relying on various public transportation. There are hotels of all grades in it, but most of them are very affordable. Many people here can speak Mandarin, Cantonese or Chaozhou dialect. The streets are full of gold shops and seafood restaurants, especially those selling shark's fin and bird's nest, which are not large in appearance. It is said that many shops will sell fake bird's nest. If you buy it, please be sure to find a knowledgeable companion. The road is narrow and there are many cars. It is quite prosperous. Stalls are set up in all the alleys. There are many fruit sellers on the roadside, especially durian, which is cheap and delicious and can be bought more. There are several temples around, one of which is said to be made of pure gold. Interested friends can visit it.
Suggestion: Some people say in strategy that this place is specially for beheading Chinese. I think the Chinese are already good at shanzhai. They must have certain identification ability when buying things, otherwise they will also be beheaded in China.
Tips: Map is in charge of the Hotel you live in. Generally, there are more than one version of luggage, which is very useful when taken together.
Traffic
When the place of residence is settled, it is necessary to study how to travel. Bangkok has the following modes of transportation and their advantages and disadvantages:
4.1 Bus
Local people often sit and backpackers often sit, which has the advantage of absolutely saving money. There are two types of air conditioning and no air conditioning. It seems that those without air conditioning are only 2-3B (not sure, I haven't sat on it). The disadvantage is that the traffic jam in Bangkok is very severe, at least much worse than that in Guangzhou. The traffic jam is Feng Dao's masterpiece "Endless". And there is no English station announcement!
4.2 Sky Train
This ticket price is a bit expensive, 15-40B. I think the locals above are more like the middle class, and the rest are foreigners like us. The biggest advantage is that there is no traffic jam and the air conditioner is sufficient, just like Hong Kong, so there is no peculiar smell on the car. There are 2 lines. It is very convenient to go to many places by this line, and it is also convenient to transfer. There are one-day passes and three-day passes, if I remember correctly, 100B and 280B respectively, but they cannot be used on Subway subway. This is more speechless.
Operating hours: 6:00 am – 24:00 pm.
4.3 Subway Metro
There is only one line, there are not many people, the ticket price is about 10 B to 30 B, the advantage is also no traffic jam. There are also one-day passes and three-day passes, but the same cannot be used on SkyTrain.
4.4 Taxi
In Bangkok, there are only two or more people, and taxis are more cost-effective than SkyTrain and Subway. The premise is no traffic jam! The traffic jam rule in Bangkok is that it must be blocked from Monday to Friday, especially in the afternoon and evening. Traffic jam on Saturday depends on one's character, and traffic jam on Sunday. Taxi starts at 35B and then 2B per kilometer. If there is no traffic jam, you can basically go anywhere in the city around 100B. When I first arrived, I also asked the driver if he could use meter? "Later, it was found that all the Taxi passengers who took the bus in 8 days took the initiative to play the watch. Sometimes when you say a place, the driver will shake his head and refuse to take the bus, because there will be traffic jam, or he will ask you if you want to take the expressway. In short, 3-4 people taking a taxi is the wisest choice.
4.5 Boat Ship
4.6 Tuk-Tuk Doodle
A three-wheeled motor vehicle driven by local people is everywhere. We need to negotiate a good price in advance. The price has no advantage and is easy to be cheated and slaughtered. It is not very safe. It is recommended to sit once during the day and feel it. Don't sit at night.
4.7 Motorcycle Motorcycle
Commonly known as motorcycle, just like before Guangzhou banned motorcycle, its advantages are cheap and its disadvantages are unsafe, especially at night, don't sit down.
5. Shopping
This is certainly of interest to everyone. I will divide it into three parts, one part is the introduction of shopping location, the other part is the cost-effective purchase of what things, and finally I will talk about payment and tax refund.
5.1 Shopping Point
5.1. 1 Siam Paragon, Siam Center, Siam Discovery
It is located at Siam, the junction of Sky Train 2 lines, and is a big shopping point. There are three shopping mall, Siam Paragon, Siam Center and Siam Discovery. These three places are connected by air corridors, which makes it easy to walk from one to the other. It is mainly famous brand, which is expensive and has many street shops along the street. Tourists and young people are the main buyers. Siam Discovery has IMAX cinemas, which are cheaper than those in China, but we didn't go to see them because we couldn't understand the subtitles. The whole place is very large, it takes most of the day to finish the tour, and there is a queue for taxis at night.
5.1. 2 M.B.K.
At the "National Stadium" station at SkyTrain's destination, Siam is actually one stop away, and it takes 10 minutes to walk. Tiantie Pedestrian Corridor can directly enter M.B.K. This is a hypermarket mainly composed of small and medium-sized scattered shops, and there is also a department store and a large supermarket. It seems to be 7 floors, from electronic products to pure cotton T-shirts, and the price is relatively cheap. There are many places to eat upstairs. I'll send you a small card at the door. It says that you can bring Passport to this 6F tomorrow to get a free cotton shopping bag. In fact, you can go directly to 6F to get Passport and ask Thailand MM for it. You can get it if you are polite. There is a 3B charge for going to the toilet here.
5.1. 3 Central World Plaze
The "Chit Lom" station in SkyTrain is also one station from Siam. There are delicious food and cinemas here, and shops are still mainly engaged in medium and high-grade goods. The famous four-sided Buddha is also at this stop. Legend has it that he is extremely spiritual, but he needs to come back to fulfill his promise. There is also Big C Supermarket nearby, but I feel there is nothing to visit.
5.1. 4 Emporium
Located near the "Phrom Phong" (E5) station in SkyTrain, there are a lot of things and few people in the department store. Tourists are the main ones and few locals visit. Diane Finn's underwear has the largest number of styles here and the price is relatively low. If you want to buy Diane Finn, you can buy it here. The BOOTS store inside is quite large and has a complete range of things. Also, the Body Shop can be bought here.
5.1. 5 JATUJAK Weekend Market (JJ Market)
Known as the largest flea market in Southeast Asia, it is located at the SkyTrian terminal Mo Chit (N8), or the subway stations Chatuchak Park Station (a little walk out) and KampaengPhet (just walk out). It is said that it covers an area of 1 square kilometer and has more than 9,000 shops. Only on Saturdays and Sundays. There are 26 districts, all of which sell what. Things are rough, not exquisite and cheap. Now I regret that I didn't buy some handicrafts or aromatherapy ovens here at that time. If the artwork you bought is too big to bring back to China, there is DHL booth on the street here, which provides international delivery service. If you buy it, you can send it directly to your home. Most of the places here are greenhouses one by one, and a small number of them are sold on the street. It is better to have a compass to enter the greenhouses. Every time I enter the greenhouses, I can't find the direction very quickly. Many strategies suggest to bargain fiercely here, but according to my experience, most shopkeepers do not bargain with you at all. There is also the fact that there is no air conditioner at all. There are many people and it is very sultry. We should be psychologically prepared.
Suggestion: If you want to buy cheap souvenirs and handicrafts, buy them here, and if you want to buy high-grade handicrafts, go to the Shopping Mall mentioned earlier. (P14.) (P15.) (P16.) (P17.)
5.1. 6 Oduogo Market for Farmer
This market is next door to JJ Market. After JJ Market, continue to the west and cross a road. There is no strategy to mention that few people should have been here. In fact, it is also good here. In a greenhouse, the scale is also quite large. It is mainly selling food and fruits, with clean venues, rich kinds of fruits and moderate prices. It is a good place to buy fruits.
5.1. 7 SiLom area
It is located at the junction of "Sala Daeng" (S2) station and subway "SiLom" station in SkyTrain. Shopping is actually a SiLom Complex shopping mall, and the rest are roadside vendors. The whole street here is full of snacks and food stalls. The reason why this place is famous is not because of shopping, but because it is Bangkok's oldest * *, Patpong night market, various bars and nightclubs. It is said that it has become a black market now. Some strategies say that when entering the door, a bottle of beer will be 100B, and when going out to pay the bill, it will be 600B. Some strategies also say that the place on the second floor will not go up. In short, it is quite complicated. Be careful when going at night. There are many high-end hotels around here.
5.1. 8 Khao San Road
5.1. 9 China Town
As mentioned earlier here, it is mainly a place selling gold jewelry and shark's fin and bird's nest. I would like to add that there are many people selling fruits or gadgets on the street. I feel that I have time to go shopping.
(P24. Chinatown Street) (P25. Chinatown Street, too many cars)
5.2 Worth Purchased Items
Generally speaking, the price level in Bangkok is not low. I think it is similar to Guangzhou. Many things are very expensive. In particular, things related to modernization are expensive. Therefore, don't buy mobile phones in what and focus on labor-intensive products.
5.2. 1 Bra
Diane Finn's Bra is 1/3 of the domestic price here, with a slightly older style and high cost performance. The prices of other brands are similar, which is a must for all women to buy when they go to Bangkok. It is recommended to buy it in Emporium. There are many styles.
5.2. 2 Cosmetics
the body shop.
5.2. 3 Cotton T-shirt
Thailand's pure cotton products are exquisite in workmanship, low in price and high in cost performance. Many of them are 99B pieces in M.B.K., so you can buy more pieces to wear.
5.2. 4 Crafts and aromatherapy
Thailand's handicrafts and aromatherapy are very distinctive. It's great to buy them back and put them at home to commemorate them. If you have large items, you can directly DHL them. If you are willing to give up, go to a big shopping mall to buy it. It is very delicate. If you save money, go to JJ market to buy it.
5.2. 5 Watches
According to colleagues, Bangkok's famous watches are about the same price as Hong Kong's, not as cheap as Singapore's, but certainly cheaper than China's. Those who are interested can buy it.
5.2. 6 Converse Shoes
Bangkok has very few places to sell sports goods. Sports brands only see Nike, Adidas, Puma, Converse and Reebok. There are few poor stores and few things to sell. Perhaps Thais do not like sports ~ Except Converse shoes, other brands have no special advantages in price. Most of Converse canvas shoes are converted into RMB 200-300 yuan.
5.2. 7 Jeans
Mainly refers to Lee and Levi's two brands, which are about half price in China. You can buy a few if you like.
5.2. 8 NaRaYa package
This thing is basically a must for Asian women, but it is really good, of good quality and style. The key is low price. Many branches: Central World has the largest number of people and has to queue up. There is one on Sala Daeng Road, but there are few small shops. There is also one on the first floor of M.B.K.; It is recommended to have one near Emporium, which is large (2 floors) and has many styles, but not many people. In each NaRaYa store, a group of women were sweeping goods with baskets and paying for a row of chairs for their husbands.
5.3 Payments and tax rebates
5.3. 1 Payment
The most cost-effective way is to swipe the card and swipe UnionPay's savings card. It seems that there is no other fee, and the exchange rate is the exchange rate announced by UnionPay on that day. If the place where you buy things supports UnionPay, don't pay cash. Be careful, When I swiped ICBC's savings card at Boots, I was told that I could not enter their system (but the card had already been swiped), because my ICBC card number had 19 digits, and their system could enter up to 18 digits (sweat, small countries are small countries), because the money had already been swiped away, and finally they were busy for a while, and then I changed to swipe the card of the bank, which could avoid this problem.
5.3. 2 Tax refund
The Thai government stipulates that shops marked "Vat Refund for Tourist" can be refunded (basically large department stores can be refunded). If a store spends more than 2,000 B, it can show Passport and ask the clerk for a tax refund form. If the total amount of consumption on the tax refund form exceeds 5,000 B, it can refund 7% of the total amount of consumption at the airport. The specific method is to apply to the Vat Refund workbench at the airport, and remember to bring a luggage or bag, so that the staff will not check what you buy (generally not check, occasionally check empty-handed), choose cash tax refund, deduct 100B handling fee (other methods of tax refund handling fee is higher), and then go through security check to spend the money in duty-free shops.
Six ` Play
It is best to write down the name of the place you are going to and the name of the street on paper in English, and let the hotel people translate it into Thai for you and take it with you, so that you can definitely get twice the result with half the effort by asking the way or taking a taxi. Here are some scenic spots that I think I can go to.
6.1 Damnern Saduak Floating Market
Boats loaded with goods moored on the river channel, the traffic of boats was bustling, and the cries of hawking were heard one after another. This was the morning scene of the water market. The riverside roads on both sides of the Taiwan Strait are residents' houses and have a lot of life atmosphere. The busiest time here is from 6: 00 a.m. to 9: 00 a.m. After 9: 00 a.m., the customers are basically left with tourists. The break time is 2: 00 p.m. This is a water community with residential buildings, temples and markets. It's worth a visit!
It is more than 70 kilometers away from the city and takes 1.5 hours by car. My friend entrusted the hotel waiter to contact the taxi to take us to and from the water market at a cost of 1,500 B (no meter). The four of us arrived at the charter place (more than one charter point). The boss offered: a small boat with a motor, a boatman, and a 2-hour tour with a cost of 800B per person. Friends made a counter-offer of 700B per person and clinched a deal. There are also activities where elephants carry tourists across the river and watch monkeys. We didn't take part. Looking back now, the fare may have been slaughtered. However, the tour was still very happy. The boatman Xiao Hei also served well. He also cut flowers on the shore and gave them to us. We gave Xiao Hei a tip of 100B. Things in the water market are more expensive, killing tourists. Just feel it, there is nothing to buy.
6.2 The Grand Palace
There is not much introduction to such famous places. Boat can be reached at N8, N9 and N10 stations. There are too many people, all travel agencies. There is a Chinese tour guide map, which stipulates that you cannot enter in vests and underpants. The murals inside are very interesting. I didn't know they were narrative until I came back. If there is a team tour guide explaining there, I might as well listen to them.
Tickets: 350B (package tickets, including Jade Buddha Temple, etc.)
6.3 Sleeping Buddha Temple
Next door to the Grand Palace is the Sleeping Buddha Temple. In addition to the huge Sleeping Buddha, there is also one of Thailand's most famous ancient massage schools, which can pay for massage. The queue price is 250B/h, not 500B/h.
Ticket: 50B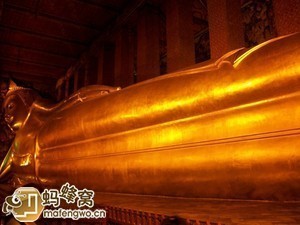 6.3 Wat Arun Dawn Temple
The Sleeping Buddha Temple went out to the dock and took a boat across the other side. The ticket was 3B. There is a big tower in the temple, which is very high, the stairs are very steep, pay attention to safety, climb up the scenery is good, and the top floor has yellow cloth to write wishes, remember to bring a water pen to go up. Lights will be turned on at night, and it is very spectacular to take a cruise ship from the Chao Phraya River.
Ticket: 20B
(P34. )
6.4 Four-sided Buddha
As mentioned earlier, SkyTrain's "Chit Lom" stood up and was on the side of the road. Legend has it that it is very clever and incense is very popular. No tickets, but it costs 20B to buy incense.
6.5 Lumphini Boxing Stadium Lumbini Thai Boxing Hall
Thailand's most famous place to play Thai boxing is located near the subway "Lumphini Station". There are competitions on Tuesday, Friday and Saturday, which start at 5 and 6 pm. Legend has it that Tuesday was the best match. One ticket can watch 8-10 matches in a row, and the more you get to the back, the more exciting it will be. There is no air conditioner in it, feel the heat wave!
Fare: 1, 000B outside, 1, 500B medium, 2, 000B inside. It is said that it will be much cheaper to find local people or travel agencies.
Tips: Bangkok also has another place to watch Thai boxing, near the Democracy Monument.
6.6 Ayutthaya
I wanted to go to this place, but I didn't go to it. Make a list of the information I asked. It is a little far from the city, about 70 kilometers away, and it will take one day to play. There are many trains to Peng Railway Station in South China, with a fare of 15B and a journey of 2 hours. Pack TAXI round trip, driver's offer is 1,500 B, one way 1.5 hours.
6.7 Crocodile Farm Crocodile Tan
This place also wants to go but didn't go to, the ticket price is 300B..
7 'Experience
7.1 Massage
The legendary "horse kills chicken" is full of Massage shops in Thailand. The technique is authentic and inexpensive. You must experience it. The small shops on the street are not very hygienic (especially SPA). Two Thai colleagues of Mrs. Wu recommended us to have an authentic shop "Healthy Land". The head office is in SiLom. Because of traffic jam, we turned to its branch near Asok. My wife chose essential oil Spa mass, 800B/1.5 h. I chose Thai Massage, 450B/2h. Our feeling is very good!
(P36. )
7.2 Bars
It is concentrated in three places: Khao San Road, Kao Shan Road, Sala Daeng Killing Osama bin Laden Road and Nana Station. The last two places are * *.
7.3 Royal City Avenue
Commonly known as dance street, the whole street is a disco. Hong Kong often uses this place to make movies. I heard that police cars close roads at night and people disco-dance in the streets. After going here, I don't feel satisfied with going to discos anywhere. Originally, I wanted to go and have a look. The hotel baggage boy told us that it started at 6: 00 p.m. and was Happy Hour from 7 to 8: 00 p.m. after 9: 00 p.m., and told us to take a taxi back before 8: 30 p.m., otherwise we would not be able to get a taxi. We saw that this place was a bit biased. There was nothing around it on the map. We didn't go to it for safety reasons.
Eight 'Food
Eating in Bangkok is generally not too expensive. One dish, ordinary restaurant 80-250B, street 35-50B. The amount of food is small, so it is popular to eat less and eat more. There are a lot of delicious food in Thailand, only some of which we have eaten are listed. It is absolutely guaranteed that the high-quality delicious food will come out for your reference. The order is from cheap to expensive.
8.1 First push all kinds of stalls on the street
(P38.) (P39.)
8.2 Fruits and fruit juices
8.3 Mango for Rice
8.4 Hainan Chicken Rice
8.5 S&P Restaurant
It was also brought to us by a friend of the gourmet and his wife. In fact, S&P has several branches and tastes good. However, the garlic prawn rice recommended online is not seen on the menu.
8.6 Lemon Grass Restaurant
The authentic Thai restaurant recommended by Thai colleagues is located in 5/1 Sukhumvit Soi 24 (opposite the Emporium). The place is not large, the environment is very good, the seats are relatively few, and the price is obviously higher than that of other restaurants. The four of us ate about 1,800 B in total here. I feel that although it is authentic, the taste is not as good as that of the food stalls. I admit that I am vulgar.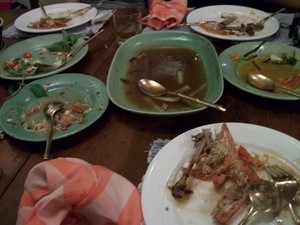 8.7 Hotel Marriot
Located on the side of the Chao Phraya River, it provides a night view cruise ship dinner on the Chao Phraya River. Only my wife and my friend's wife went there (my friend and I went to Khao San Road Kaoshan Road to see beautiful women that night). According to my wife's evaluation, the atmosphere on the boat was good and the service was also very good. The dishes were served one by one. After eating one dish, the dishes were collected once, and the taste was good. Per capita consumption is 1,800 B.
IX ` Other
9.1 Access to the toilet
Except for large department stores and scenic spots, the rest of the toilets need money. The cost is 3-5B. What is particularly interesting is that I was asked for 3B when I went to the toilet, and a European and American who followed me was asked for 5B. It seems that Asians have discounts ~
9.2 Access to the Internet
Bangkok is expensive to surf the Internet, usually 1B/minute, and some are 2B/minute. Although the hotel I stayed in is free to surf the Internet, it only provides 512K speed, and the faster one will be charged.
9.3 Region
There are several places in Bangkok that are especially large. It is very tiring to walk out. For example, Sukhumvit Road accounts for more than 1/10 of the map. If you want to walk to the next street, walk slowly ~
9.4 Beauty
The probability of seeing beautiful women is higher than that of any other city in China! There are so many beautiful women!
9.5 Animals
People and animals are very harmonious, especially birds. They are not very afraid of people and dare to eat the rest near street stalls in downtown areas.
9.6 Mosquito Control
Because the city is clean, there are not many mosquitoes! We stayed for 8 days and were not bitten by mosquitoes!
9.7 Weather
Dry heat is more comfortable than damp heat in Guangdong. And where there is air conditioning, the air conditioning is fully turned on. The rain is mostly torrential and will stop soon.
9.8 Humanities
Most people believe in Buddhism, so they are very friendly. When you say hello, you will definitely respond to you. The pressure of life here is not great, the people's happiness index is obviously higher than that of our country, there is no urban management, and small business vendors are very conscious.
9.9 Tips
Tipping is popular. The hotel cleans the room at 20B a day. Luggage 20B; Taxi driver 20-50B, Massage 50-100B, other services for you, depending on your satisfaction.