Thailand-Thailand-literally means "free land". Since the 19th century, she has been the only country in Southeast Asia that has not been dominated by European colonies. Places full of friendly people, colorful traditions and natural beauty are often associated with Buddhist temples, temples, elephants, water markets, beautiful transvestites and beautiful beaches. However, this trip to Thailand made me experience that Thailand is also a real golf paradise.
Thailand's tourism advocates 3S: sun, sea, service (sunshine, ocean and service) and playing ball games, which is roughly one of the S's. Before I came to Thailand, golf was a "noble sport" in my concept, which was a little far away from my life. However, golf was a "civilian sport" in Thailand. Why do you say that? The main reason is that its price is very cheap and people can afford it! Take eating as an example. The food consumption experience in Thailand Golf Club is beyond imagination compared with that in China. Our first formal lunch was enjoyed at a golf course. The cost of a sumptuous Thai lunch is estimated to be only enough for two or three cold drinks in Beijing and Shanghai Golf Club. Moreover, the cold coconut, herbal tea, iced coffee and other summer-heat-relieving beverages sold here are almost the same as the market prices. It is far from the gap between domestic clubs and the market.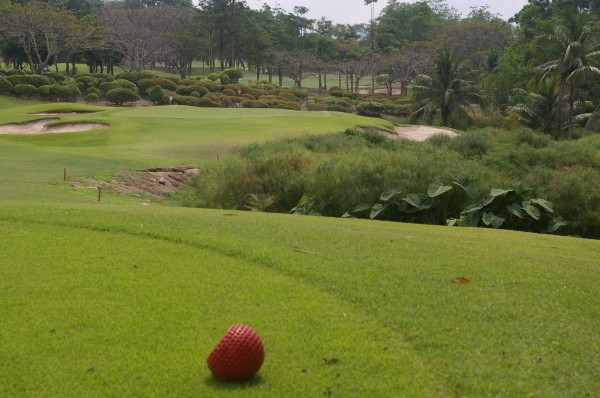 The Laem Chabang International Country Club, one of the three clubs we experienced, is located in Sri Racha, about 2 hours from Bangkok. The championship stadium designed by designer Jack Nicklaus is picturesque. The undulating hills are skillfully used as obstacles to be experienced before large green areas are covered. The stadium has not only a large number of sand pits and pool obstacles, but also many natural obstacles such as bare rocks, lakes and streams. These natural obstacles are all artificially built, which shows the intention. Perfect club facilities and accommodation also add to the icing on the cake, which is called one of the best golf courses in Thailand. Apart from the picturesque scenery, the stadium gives people another feeling of size. The whole stadium has 27 holes. The staff showed us about 3 or 4 holes in the morning. He told me that we have already driven 256 kilometers in this circle, which shows the size of the stadium. On such a vast green lawn, the natural and unrestrained swing, enjoying the blue sky and white clouds, breathing with nature, and what's troubles cannot be put down!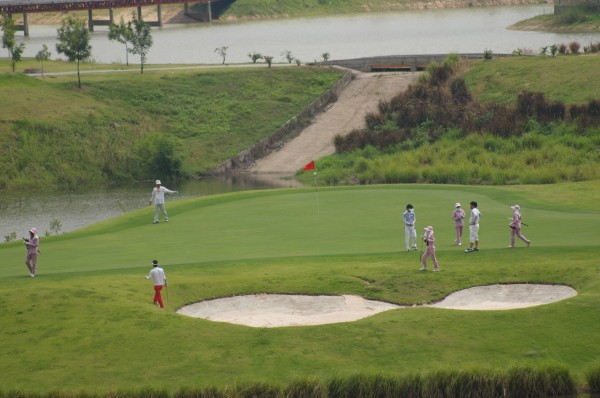 In addition to its low price and beautiful scenery, it can also enjoy the service of the World Championship. According to the staff, a golf course needs 24-hour professional maintenance, and it needs to be very proficient in lawn maintenance and management. Then, I have to mention the caddies who know the course like the palm of their hand. They wear lovely uniforms and straw hats, and their faces are always filled with smiles, which makes people feel more comfortable. They can also read the number of putts farther away than you-one of the secret weapons of Thai golf. When you need it, you can ask a caddy to follow you. They will help you pick up the ball you hit or help you carry the bag. If you want to enjoy the fun alone, you can not ask a caddy. You can use the car of Gore Stadium instead of walking, or you can walk alone to enjoy the beautiful scenery.
We were accompanied by a golfer who arrived in Thailand later than us. When I first saw him, I saw him carrying heavy equipment. I couldn't help wondering, isn't it troublesome to play golf in a foreign country? However, one that can make you willing to find time in your busy career schedule to overcome the fatigue of your journey and play golf in a foreign country must have her unique irresistible charm. Ha ha, so it is!
Come to Thailand and play golf! The natural and unrestrained swing, the supreme enjoyment!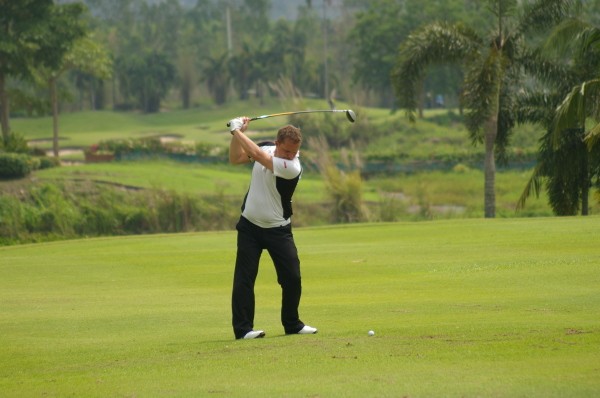 Tips for Golf Tour:
Golf equipment and articles: Thailand's golf courses all have golf equipment rental, which is very cheap. If it is also possible to carry your favorite equipment, they will generally know how to properly handle your equipment. Sunscreen articles: Thailand has strong sunshine. It is recommended to wear light-colored clothes and prepare sunscreen, golf cap and parasol. The best season for Thailand's golf tour: November to March of the following year is the cool season, with sunny weather and suitable temperature. It is the best season to play golf and the highest price. Especially from February to February, a large number of Europeans flocked to Thailand to play golf in order to avoid the cold and snowy days at home. April to October is hot, humid and rainy. However, it usually only rains in the afternoon, so you may as well choose to play in the morning. Stadium facilities: dressing room, restaurant, small shopping center and spa are all available.
Charges: caddy fee and massage fee are about 300-500 Thai baht. Golf carts will be provided in most courses and will be charged separately according to the actual situation. If you take the caddy through, the caddy will drive for you. Cash and credit cards: Most golf course stores in Thailand accept credit cards. However, it is still recommended that players bring sufficient cash to pay all kinds of miscellaneous fees, tips and use them in shops that cannot use credit cards.