As the first and last stop of the whole Thai trip, all of us did not have a good impression of Bangkok in what. If it weren't for T&K and the coconut ice cream, which was really delicious, I might have really given up writing it. Since we came out of the airport, TAXI SERVICE will bid for 500BHT for 800BHT, we have started a strange journey that is different from Dangdang every day.
Kaoshan Road, known as a paradise for backpackers, was not originally ordered for what Bar, but for the reason that it is only 1 kilometer away from the Grand Palace.
When we arrived at the hotel, it was already 3: 00 a.m. and Kaoshan Road was full of all kinds of foreigners' monsters, men and women, and it was difficult to distinguish between male and female. I was dragging my suitcase and just turned into the intersection when two foreigners rushed at me head-on with beer in their hands, frightening me to wave "No, thanks" hurriedly. The first floor of the hotel is also a bar. When Check-in, a group of foreigners came at you. Shit, am I going to say that this is too crazy, or am I not living in the right place?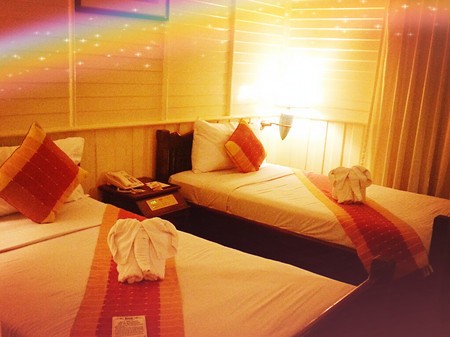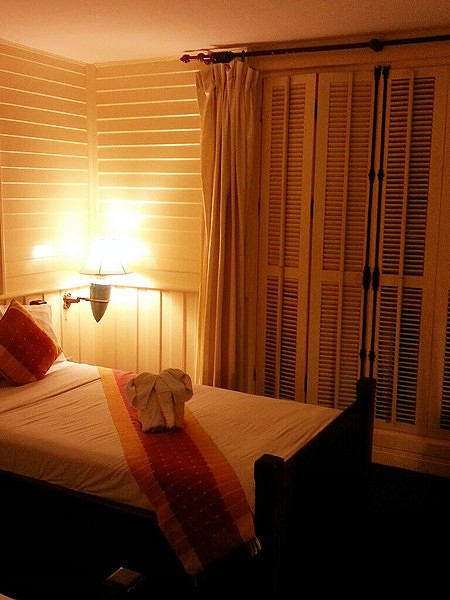 The room was not fooled. The room has Southeast Asian characteristics. It has wooden floors, wooden shutters like folding balcony doors, a small balcony, and this towel, which is so cute that I forget its actual use.
The next day I woke up, ate breakfast three times the price of the outside, and began to go to the Grand Palace. Many of the "enthusiastic" Thais mentioned on the Internet really caught us. They all claim to be volunteers of a hotel and will be "enthusiastic" to show you the way, but they will tell you that the Grand Palace is not open and will go at 1: 30 p.m. His "kind" suggestion is that you can take a ride to a market near the Grand Palace first. And then go over there, When you meet the first one, The fat man hesitated, but I didn't believe it, but at that time I didn't respond that this was a liar. When I met the second one, the fat man firmly believed that what people said was true. As a result, I suddenly had a flash of light and suddenly remembered the online saying "Thailand pays special attention" and pulled them away directly. The fat man also plausibly said what to do if the Grand Palace didn't open. As a result ~ ~ at the gate of the grand palace, the huge signboard of OPEN ALL DAY made the fat man indignantly say, "damn, it's also a volunteer, it's also a Bodhisattva day, and I met a liar when I first arrived."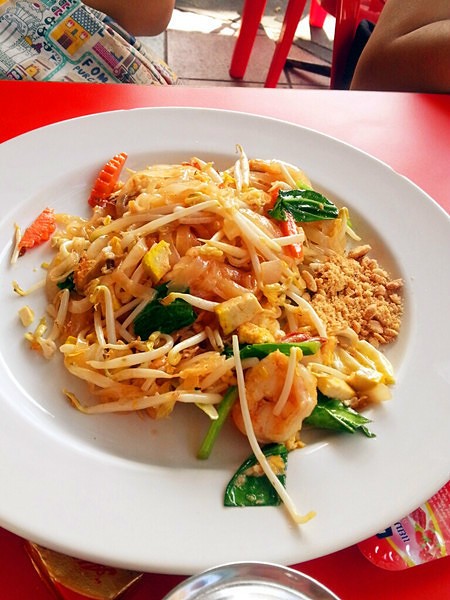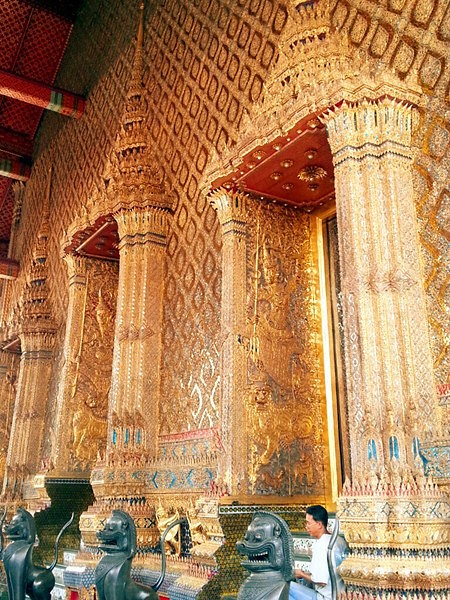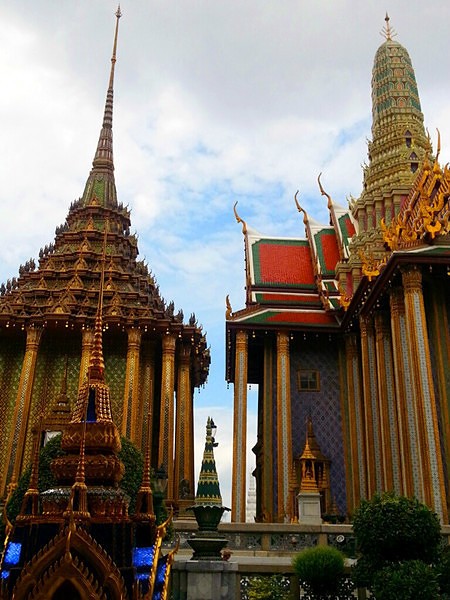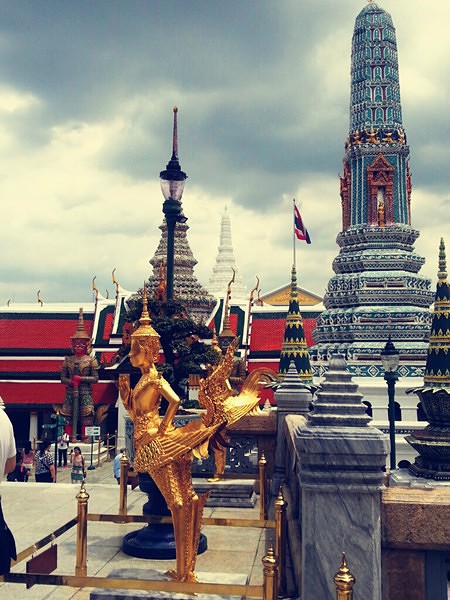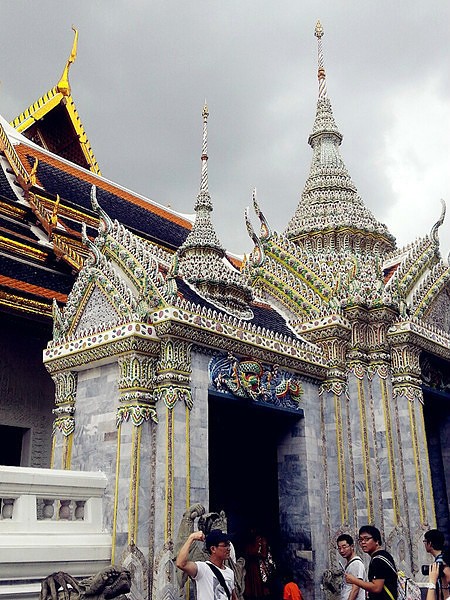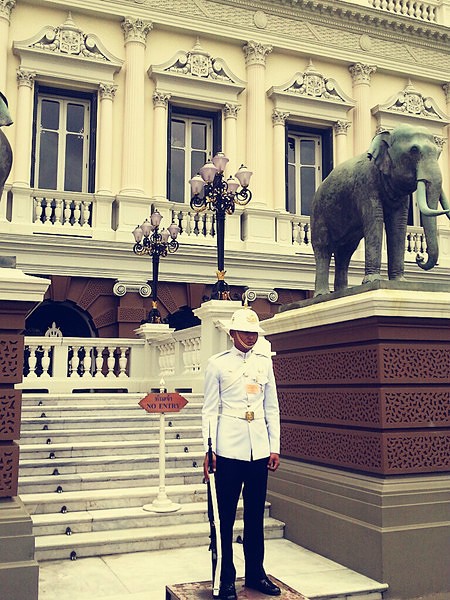 The Grand Palace is very beautiful at first sight. The blue sky, green grass and houses of various colors are like houses piled up with gold, silver and jewelry. However, after seeing too many kinds of houses, especially when seeing their throne made of gold, I still have to sigh with emotion. In terms of domineering, there is no palace in the world that can match our Imperial Palace in China. What is called art, what is called aura, and what is called grandeur. It depends on our own Chinese. But then again, the Grand Palace is indeed the most beautiful temple I have ever seen in Thailand. Opposite the Grand Palace is the teak palace where Chow Yun-fat filmed Anna and the King. The dark yellow theme tone is too hot to go in if you just want to take off your clothes as soon as possible. The weather in Bangkok is just like that in Xishuangbanna, humid and hot. However, when I entered the Grand Palace, I could not show my shoulders or knees. I wore a long skirt and a sweater. When I returned to the hotel, I could not strip off my sweaty clothes. I have to mention Thailand's air conditioner here. I dare to swear that although it is a brand, Thailand's air conditioner must not be a system with China's refrigeration in essence. No matter where what is, from cars to shopping malls, Thailand is a little sorry for people who do not catch a cold with sufficient air conditioning.
特别是我们在普吉岛的酒店,房间调到18度的时候,房间的玻璃全部结雾,从外面拉开门的感觉就好像是拉开了一个冰箱。要多爽有多爽,我们决定以后买空调从泰国进口。 在曼谷,出租车根本就不给外国人打表,本地人不拉,TUK-TUK车也是一样,不管去哪是200BHT起价,我们也确实心软,基本上打车都就还价到150BHT,但是一定要备足零钱,因为他们很不要脸的就不给你找钱,没有零钱那你怎么砍价都是白搭。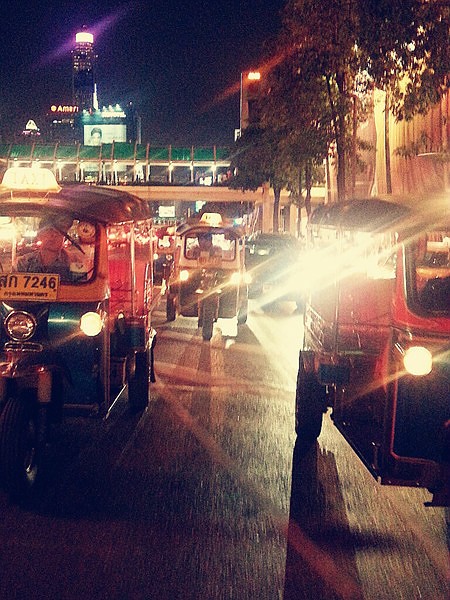 I went to Bangkok's beautiful downtown, SIME CENTER area, just to find this CENTRAL WORLD and took N streets, just for NARAYA inside. Who asked my mother to give me a task and let me help her classmates buy some gifts back, then all I can think of in my head is NARAYA. I now think that this brand is not specially sold to the Chinese now. It is full of Chinese who do not want money to buy things. I think it is already very cheap things, and there are imitations on the night market. Thai locals seem to take very little, except stewardesses and flight attendants, who really see this bag. No wonder the previous nickname was "stewardess bag".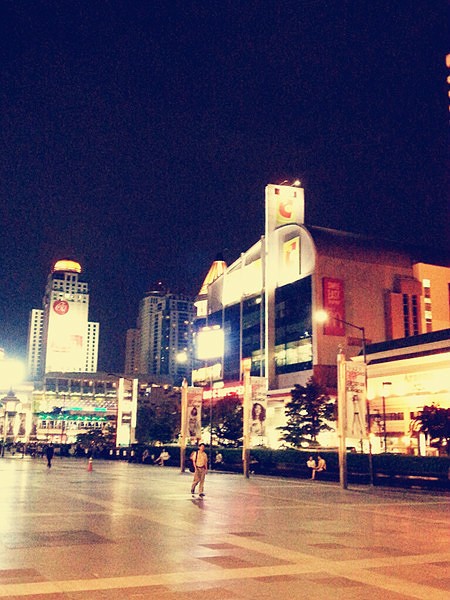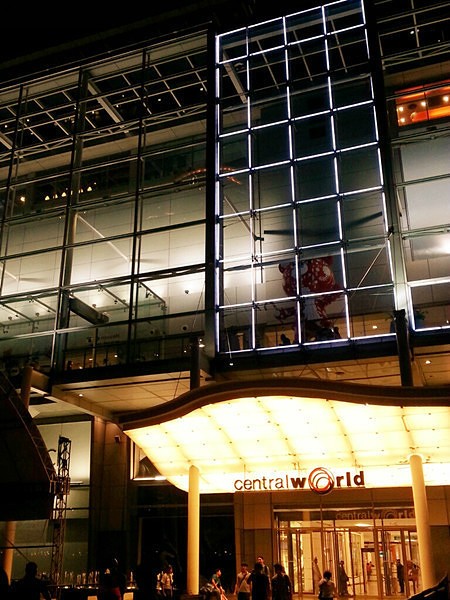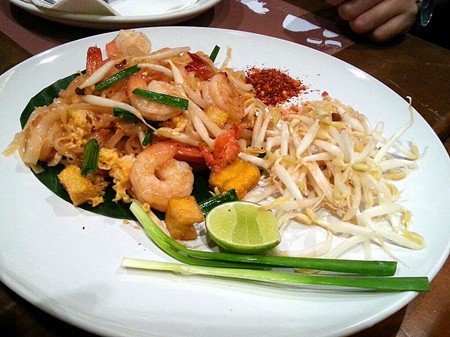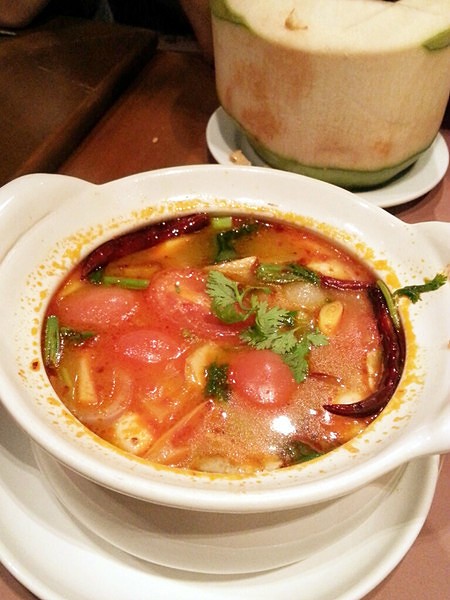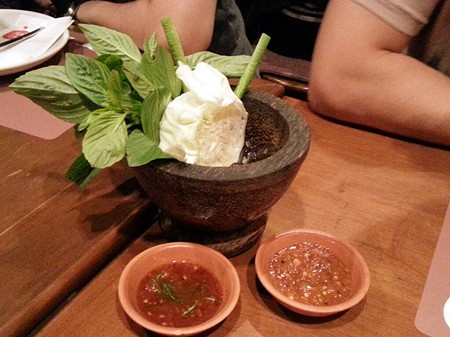 慕名在Central world上面找到这家泰餐,名字忘记了。就这么几个东西还有一个我不好意思上照片的可怜兮兮的所谓特级铁板牛肉,居然花了1000多BHT,要多难吃有多难吃,豆芽都只是焯了下水的生豆芽,就是外面的大排档也不是这个味道啊。截止到当时,2天了,我们居然没有吃饱过一顿,最后一天我们决心去唐人街碰碰运气,中国人多的地方再不济总能吃上一顿合口的饭吧。于是我们暴走N条街,做出各种决定都未果,忽然一扭头无意间发现一家大排档T&K,人很多,真的饿爆了,不管了就这家了。于是我们转运的时刻开始了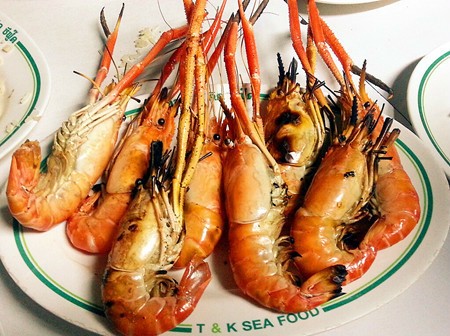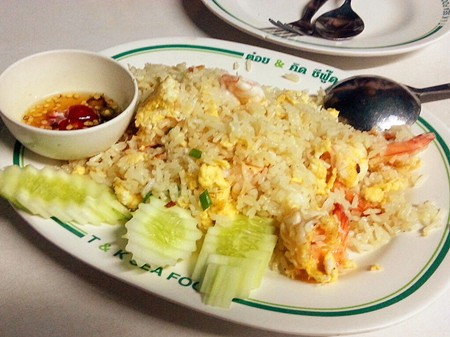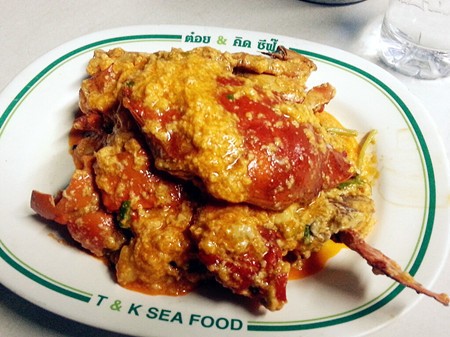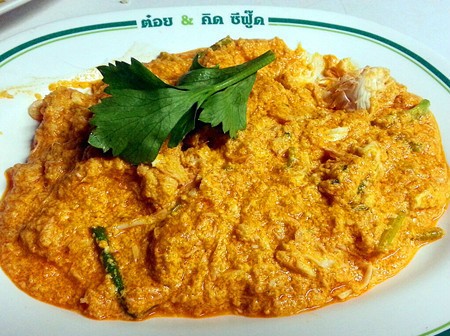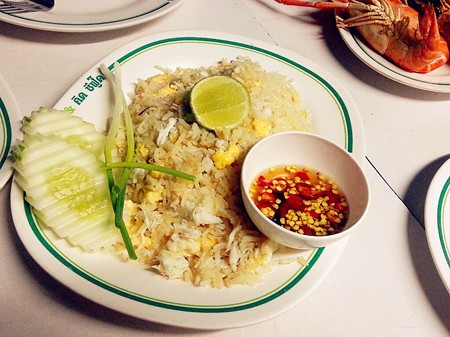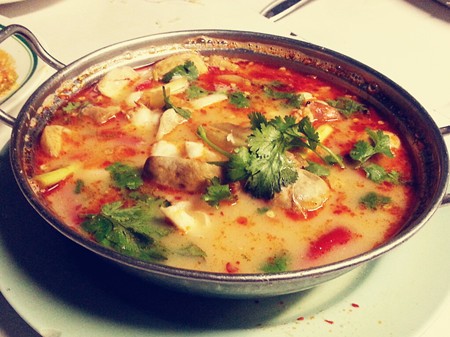 咖喱蟹,咖喱蟹肉,咖喱鱿鱼,BBQ大虾,虾肉炒饭,蟹肉炒饭,冬阴功汤,我们几个人如同风卷残云一般扫荡食物,10分钟扫荡一波,再来第二波,3分钟不到解决一盘咖喱蟹肉,服务员弯个身子拿盘子的功夫一抬头看见我们菜又没了,那个呆住N秒的眼神儿这辈子都忘不了

。
In Bangkok, we booked a one-day tour of Damnoen Saduak Floating Market in Dannenshado Water Market. We have to say that people's travel market is really regular. We will do whatever we say. We will never add additional shopping places to you. We will take you to the market and tell you to gather in an hour and a half. Then you can play by yourself. If you want to take a boat seat, no one will keep advising you. However, this boat can really be used or not. Those people selling decorations along the coast will directly hook you up and won't let you go for half a day. However, can I say that all the things sold are in Hui Street ~ ~ Why should I buy products from Hui Street in Thailand? The market is about 80km away from downtown Bangkok. Reservation at the hotel is 300BHT per person. The water markets in Bangkok are all weekend markets, so if you can't meet the time to go, you can trouble the delegation to participate in this water market. Mango glutinous rice, very delicious! Originally, I was thinking how these two things could be delicious together. However, super sweet mango and super fragrance can be used as a dish of glutinous rice mixed together. It is indescribably sweet. The asking price is 50BHT and the counter price is 20BHT.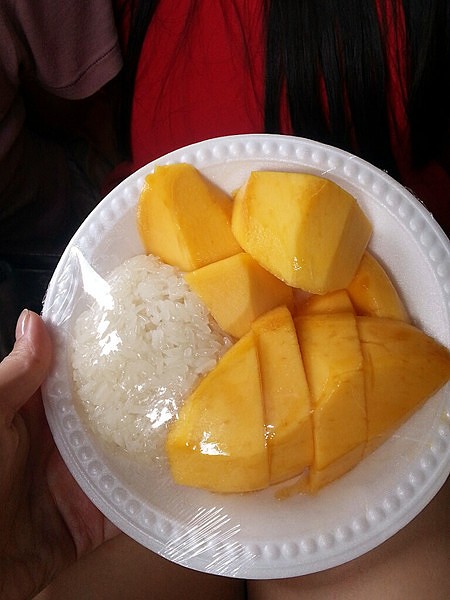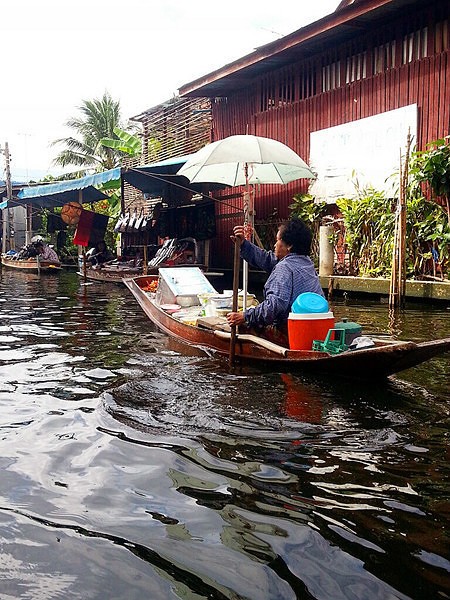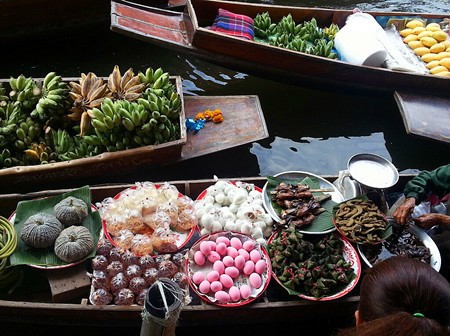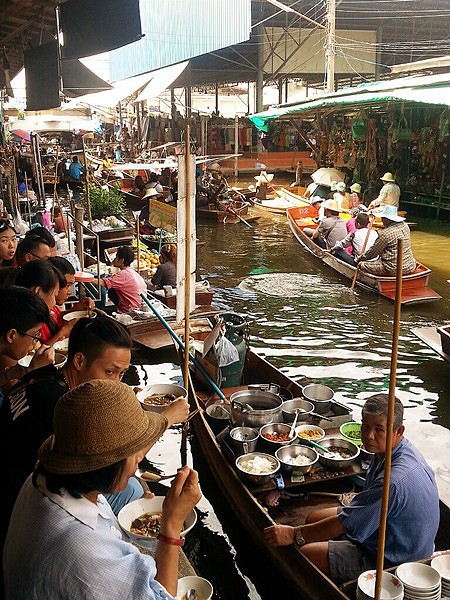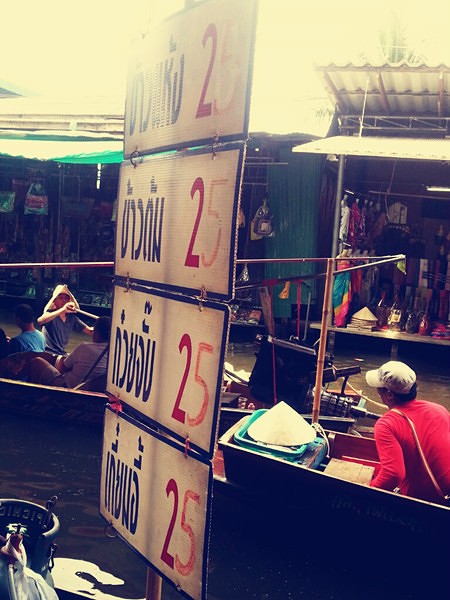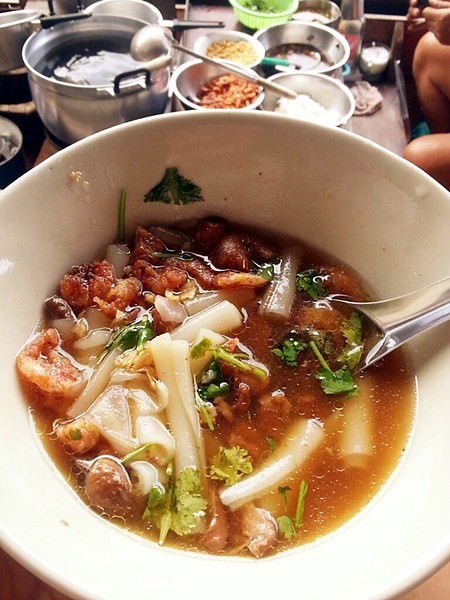 I didn't know it was what. Some kind of slices made of rice, fried shrimp meat, pork and soup made by what are not known. The first bite is normal, but when mixed, the more you eat, the more fragrant it is. The more you eat, the more fragrant it is. The soup is thick. A bowl is only 5 yuan.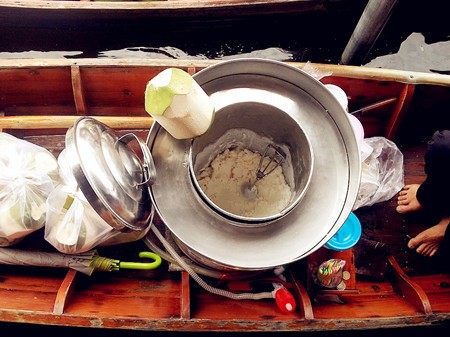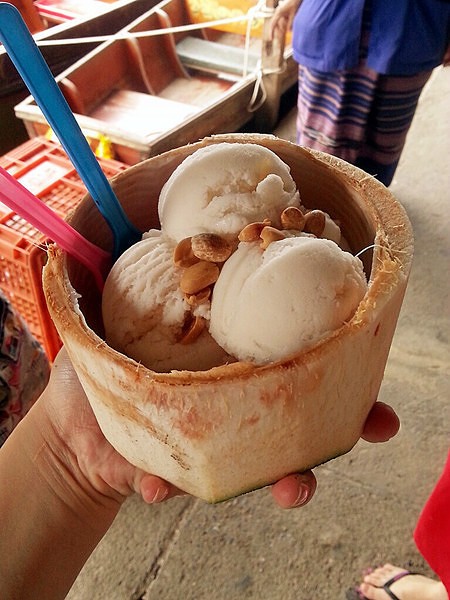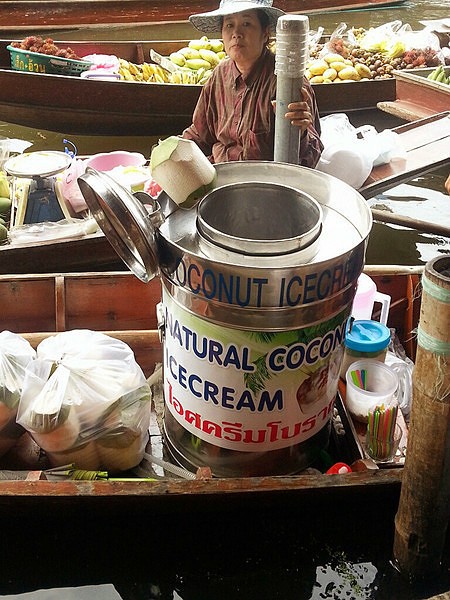 Super, super, super love, It is recommended that coconut ice cream, which must be eaten when going to this market, A whole coconut is cut open directly, the water is released, the coconut meat is scraped out for you, the ice cream is put on it, the coconut meat and the ice cream are eaten together, and the ice cream slowly melts to form thick coconut juice, which is matched with nuts. I depend ~ please forgive me for using these two words to express my great love at this moment. 30BHT is really too cheap.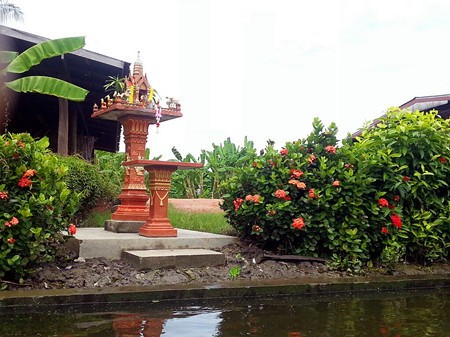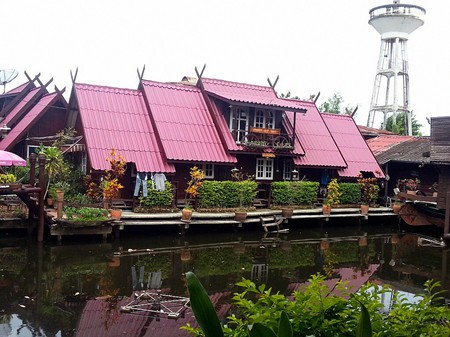 Leaving the bustling market and entering their villages, I suddenly felt like driving in Amazon. The narrow river course and turbid river water make me constantly imagine that if there were piranhas in the river, it would not be very lively. People living here have become accustomed to tourists from all over the world looking at their lives with curious eyes every day. No matter how they are photographed, it will not affect what they are doing. Bangkok, as Thailand's political and economic center, gives people the feeling that it is very complicated. The polarization of urban construction is serious, and the polarization of housing is also serious. The quality of most people is still very simple. However, economic opening has also affected the mood of many people. On the whole, it is not as mellow as Chiang Mai people. The phenomenon of random asking prices for tourists is serious, and the price cuts start from one-third. However, the tourism market is not chaotic, and as long as it is a regular local delegation, there is no need to worry about being slaughtered. According to a friend, one of his friends and our itinerary were just the opposite. After going through Phuket Island and Chiang Mai, he went to Bangkok and was cheated three times a day. He was fooled by the Grand Palace that did not open the door. He was pulled down by the market and cheated from one end to the other. His depression reached the limit. If you want to go to Thailand, you really don't have to leave too much time for Bangkok. After watching the Grand Palace and sweeping the things you want to buy, you should go to a fresh and simple place for vacation. So at 4: 30 a.m., we packed our luggage, got on the plane and fled to Chiang Mai.
There is a very handsome joke circulating on the Internet, saying that people who go to Gulangyu Island are all pretending to be literary and artistic and pretending to be small and fresh. As Gulangyu Island has been getting hotter and hotter by the online pretending to be literary and artistic in recent years, an originally quiet island has almost been trampled and collapsed by the people on holidays. I do suggest that if you want to pretend to be a literary artist next time, you might as well choose Chiang Mai, Teresa Teng's favorite small city. Only when you go to that city can you understand why you always feel a little inappropriate when you hear her songs in old Hong Kong movies. It turns out that there is no way to find the right place. Deng Lijun's songs can often be heard on Chiang Mai Street, but with the 7 or 8 heavy rains on that day, the remaining old city walls and people's slow and quiet life, how there is no sense of disobedience ~ ~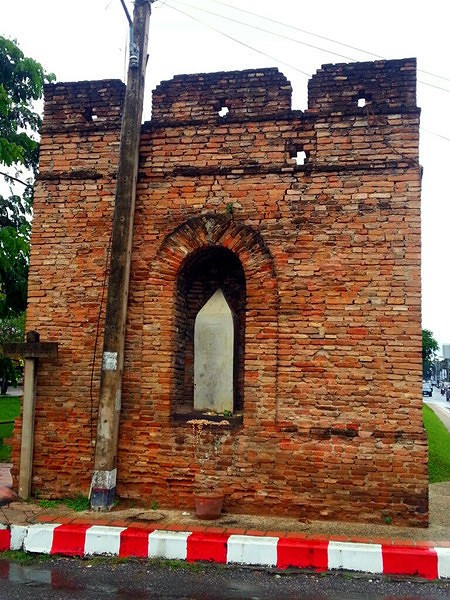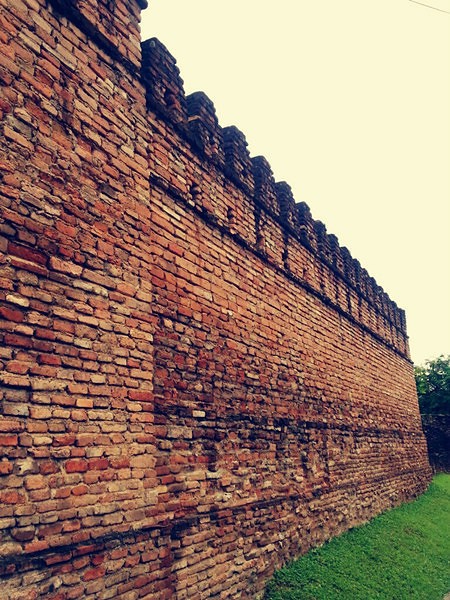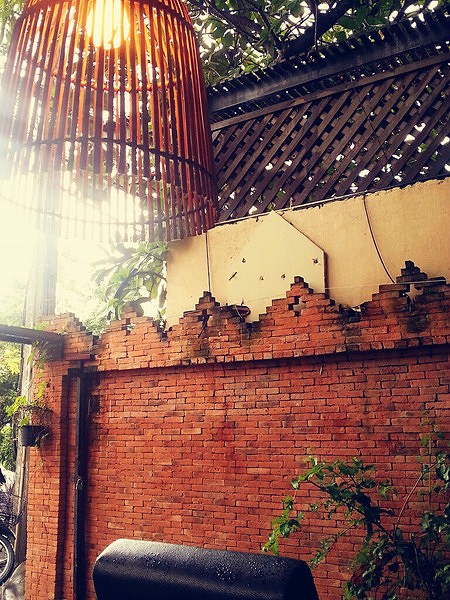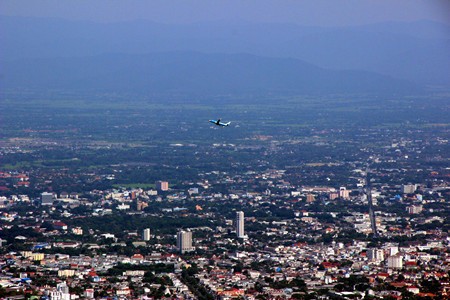 Chiang Mai, the few remaining broken walls, constantly reminds us that this is a city with a long history, but why do I think of the princess riding an elephant played by Liu Tao in Princess Huanzhu 3 every time I see these remaining city walls back and forth? Is she playing the princess of Thailand? Chiang Mai City is not big, Standing above Shuanglong Temple, you can see the whole city of Chiang Mai. Including the small and exquisite airport, I especially like NOK Airlines' planes. All of them are Angry Birds, Ha, ha, ha ~ ~ ~ a blue angry bird flew into the blue sky ~ ~ the ancient city is usually very quiet. Almost at 7 o'clock in the afternoon, the shops on the street will be closed. People talk quietly and walk quietly. Apart from the sound of motorcycles coming and going, this is really a very quiet small city, except for the Weekend Market every Sunday. We were lucky, On a Sunday, All the streets of the quiet ancient city were filled with all kinds of vendors in an instant. The feeling of people crowded inside reminds me of the Forbidden City on National Day. But it is still much looser ~ ~ what has food and clothing, I really want to say that Chiang Mai's consumption is super and super low ~ this box of durian in my hand is only 80BHT, which is only 16 yuan and 16 yuan. It is estimated that because of the low price, the price cut is very, very small. Many stalls even directly write you down how much it costs to buy one and what kind of discount to buy several. Other bargaining prices are not accepted at all.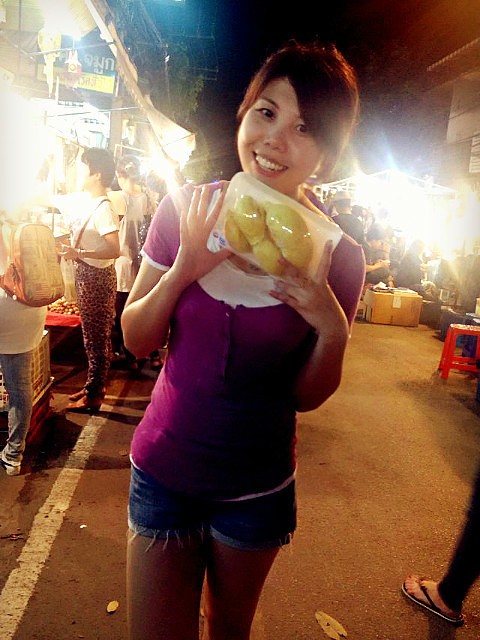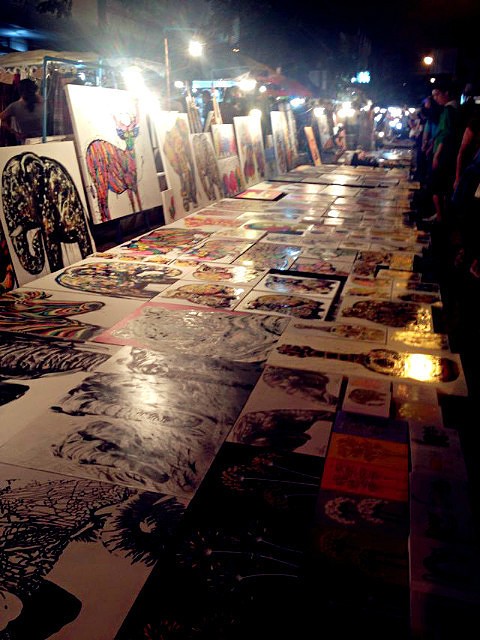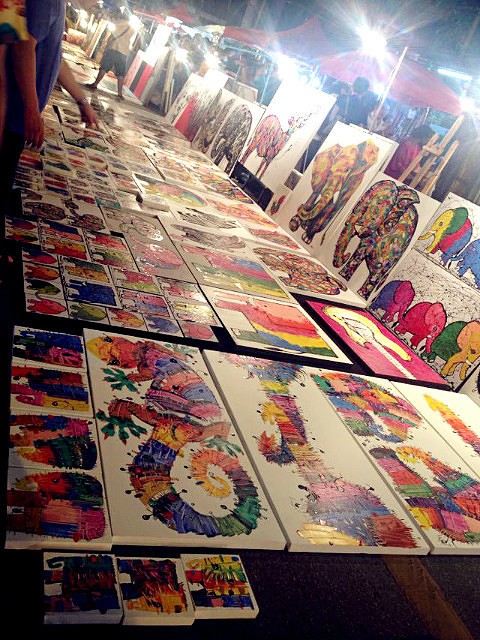 I really like the works created by artists of various styles. They are really not expensive. For a medium and small price of 250BHT, there will be a discount for more than two. It is true that everyone's display style is different. If I hadn't thought about coming back and didn't know where to hang, I would have carried them back. The weather in Chiang Mai is very good. It is located in northern Thailand. The water content in the climate is obviously less than that in Bangkok and even less than that in Phuket Island. The temperature difference between morning and evening is obvious, and you can feel cool. In addition, Chiang Mai is the most famous and in fact the most famous in Thailand is SPA. However, Chiang Mai's price is absolutely not competitive in other places. The following is the most famous Lila Thai Massage in Chiang Mai City, Chiang Mai Women's Prison Massage. It is said that it was founded to give the prisoners in Chiang Mai Women's Prison a chance to re-enter the society, but now there are five branches in the ancient city, each with a large number of staff. With the Chinese people's skeptical attitude in everything, my immoral guess is that many people are not prisoners now?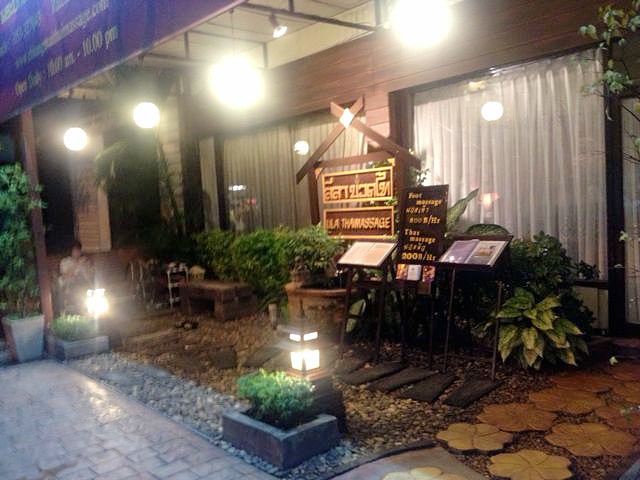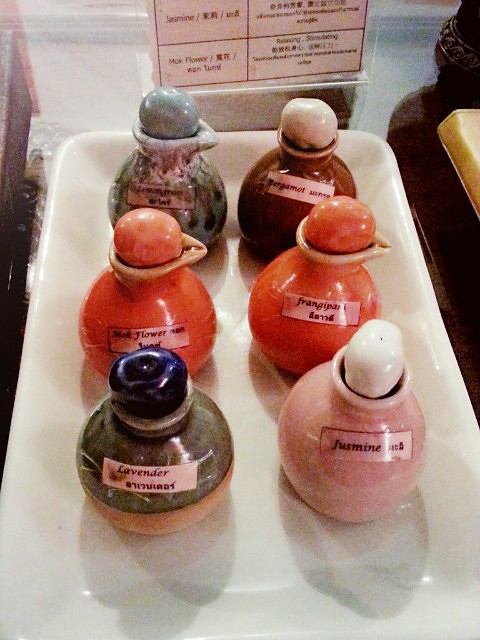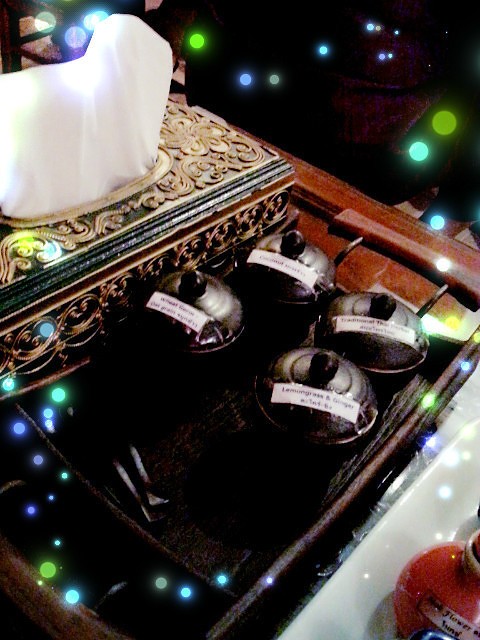 我们一开始只是抱着试试的心态,想着来泰国了,咋都要试一把泰式全身按摩,可是都害怕给扳扯了,所以只选了1个小时。人家的技术确实好,点到为止,不会很痛,可是很爽,有瑜伽的动作加入其中,用劲巧妙,小小女子可以把你整个人都举起来,呼啦一抡就听身体里的骨头想的那叫一个克拉拉,完后浑身舒坦。给我服务的那位结束的时候说,建议下一回选择长一点的时间,1个小时实在太短了,不能很好感受。我们几个一商量,直接出去给前台说再来一个2个半小时的C套餐。我们那几个服务的技师原本都去后面洗手准备下一个了,结果被赶快叫了出来重新准备物件

他家的精油不错,一共6款供你选择,都是味道很淡很清新的,而且味道特别,完全没有寻常玫瑰,椰子之类的,闻上去就不是那种添加了很多芳香剂的玩意儿,最后是吓死人的价格,一个全身草本去角质+全身精油按摩+面部维护+1小时全身泰式按摩,全部下来一人合人民币才花了240,240元哦~~~国内号称昂贵的会所全部都弱爆了! 很走运的这次预定的酒店旁边每天晚上6点后就有大排档,完全是针对当地人的说,摊子上面除了那个每天都好多人排长队的卖卤煮猪腿饭的有中文标示以外,其他摊子全部都是拧来拧去的泰文,想吃就靠指。一不留神指错了,我就只能吃到一碗连粉丝都没有的蛋花汤,所以保存第一次吃对的食物照片是多么重要的一个事情啊~~最重要的一点就是便宜,特别便宜,你在清迈呆久了,根本就没法看曼谷那物价,吃什么都是30-50BHT,味道还非常的巴适~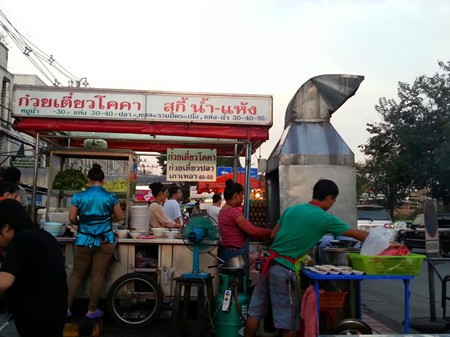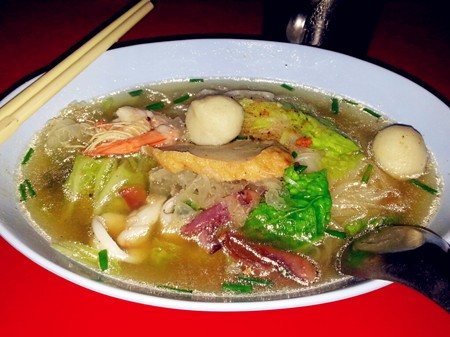 去大象营的路上,BIG停在一个市场帮我们买午饭的材料,让我们随便转转,于是乎我们就有找到了好吃的,这个泰文发音LONG GUO的东西,构造有点像是山竹的感脚,口感像红毛丹,外形又像桂圆,完全不知道英文怎么说,但是很好吃。还有这个摊子里面的烤串,我靠,再一次价格震撼了我们。这么一大块实在的鸡肉,人民币10块钱,哪些串串才4块钱一个。可是市场只早上,下午回去的时候还专门停靠,可是木有了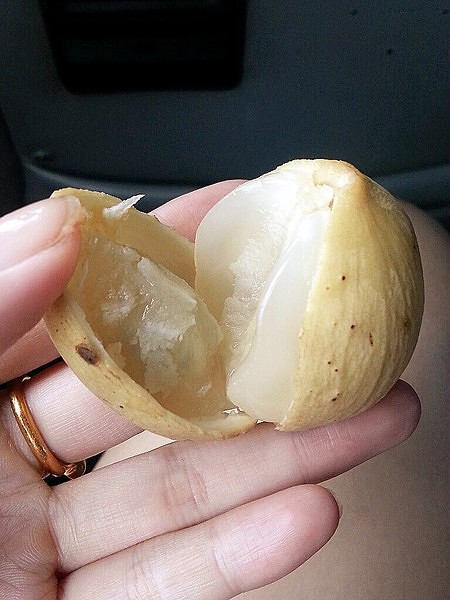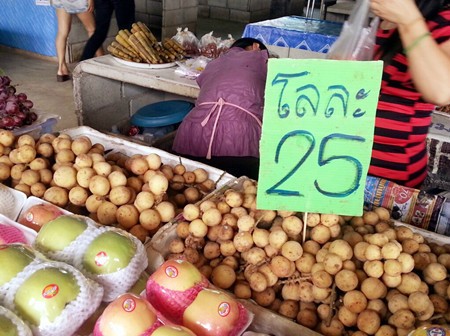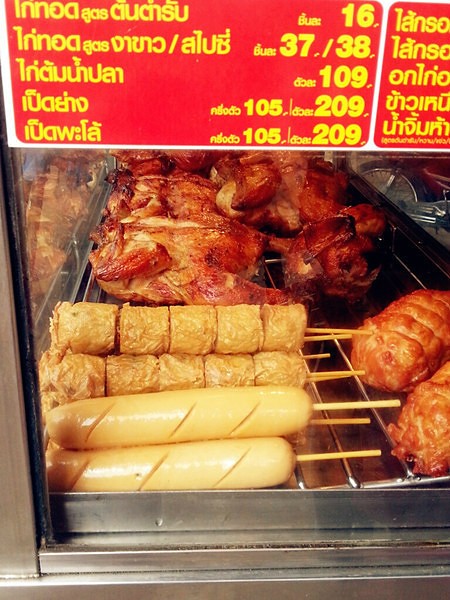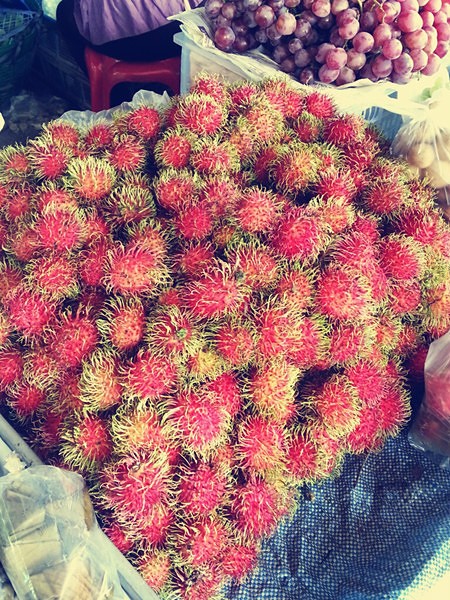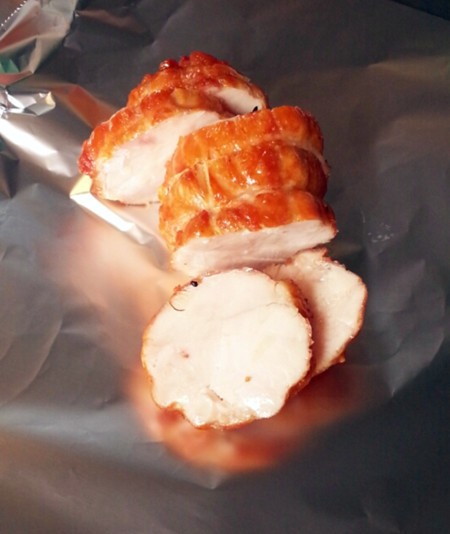 Shuanglong Temple, estimated to be the largest temple near Chiang Mai City, is located on the top of the mountain and overlooks the whole Chiang Mai City. It takes more than an hour to drive both cars back and forth, but the price is not expensive. The round trip is 200BHT (but I always remember it is 100BHT/person), which is probably the price anyway. In Thailand, one must follow a little when entering temples. One must never show one's shoulders or knees, otherwise one must rent an apron to wrap it up. The whole temple is glittering with gold and blue sky and white clouds, which blinds your eyes.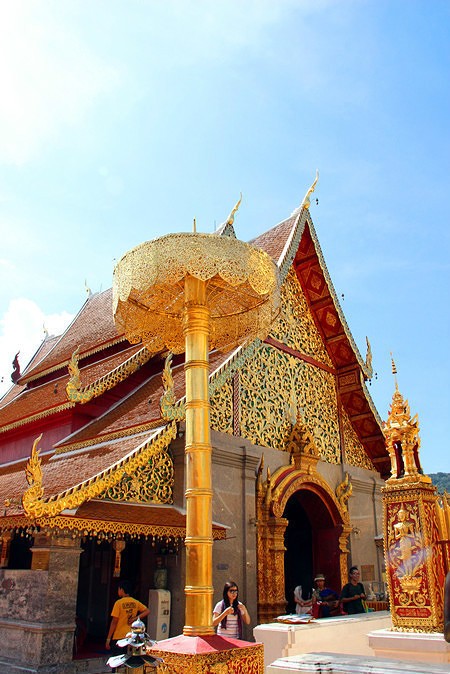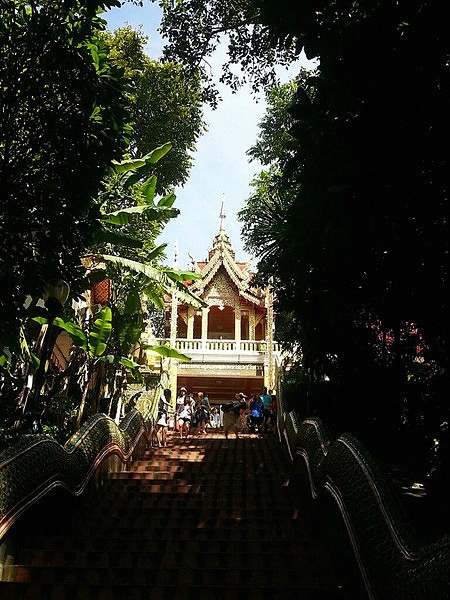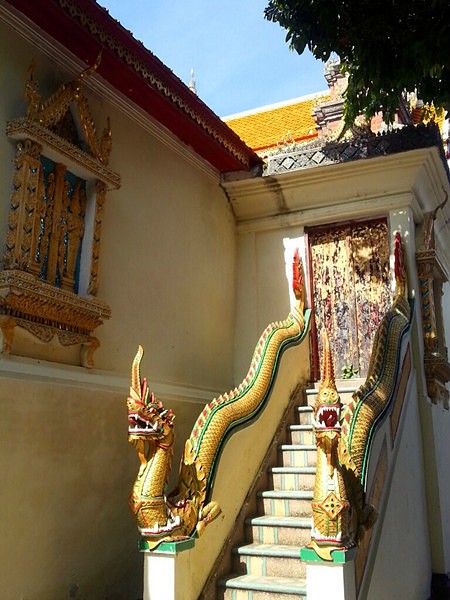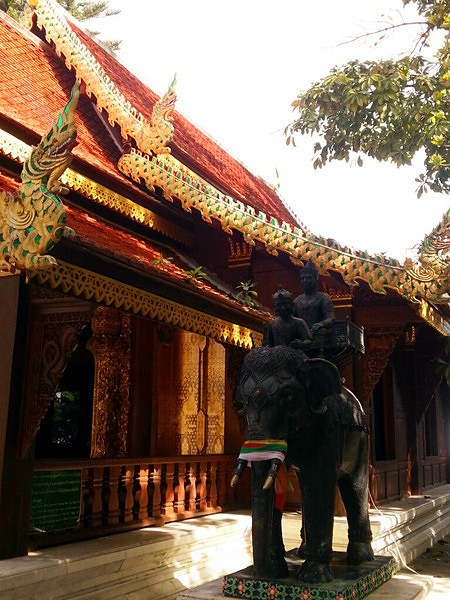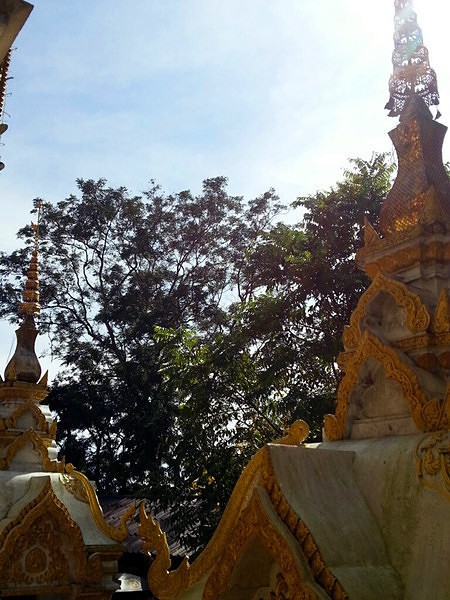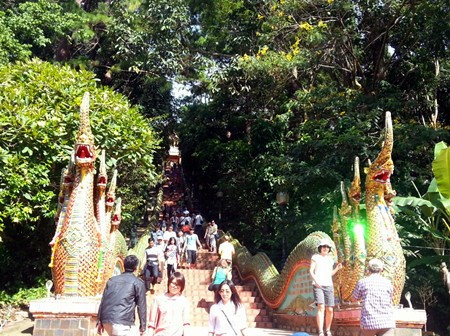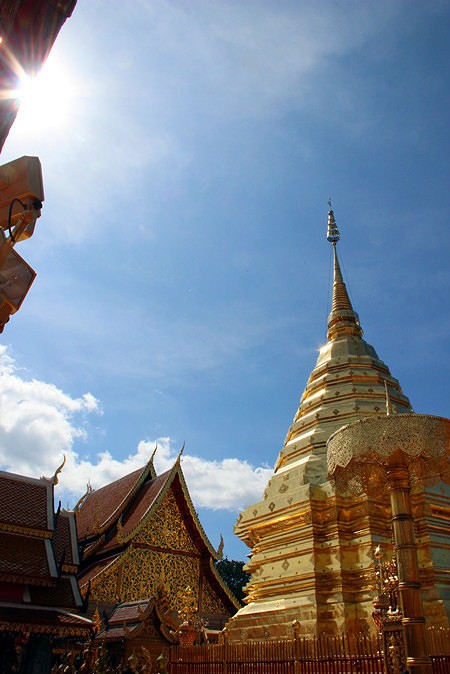 Chiang Mai is the cheapest, happiest and simplest place for our trip. One reminder is that if you want to book that kind of one-day tour, there are many small Tour Information places in the ancient city. If it is ONE DAY TREKKING about 750BHT and ELEPHANTS TRAINING1800-1900BHT, don't be embarrassed to make a price. If you say two more good words, there will be a discount. If you don't give a discount, you will change one. One-day tours in Thailand are very regular. It must be the case when, where and when you go back. There will be no commercial consumption. Don't worry too much, but you have to make an appointment in a qualified place.
Next came my favorite day of the trip, One Day Elephants Training.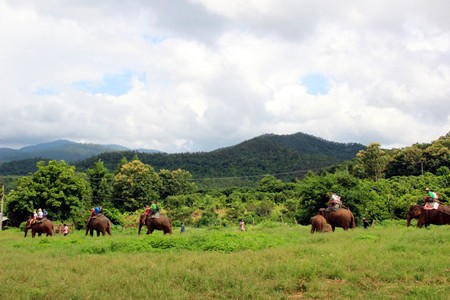 Elephant!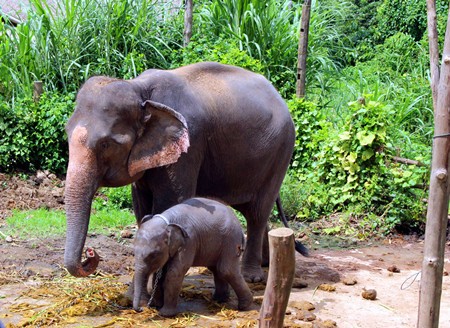 Elephant!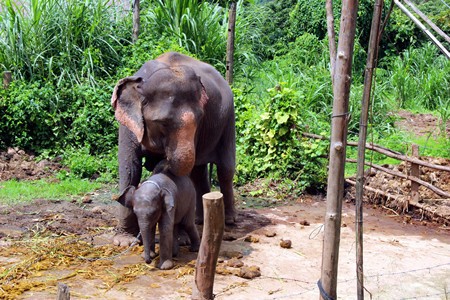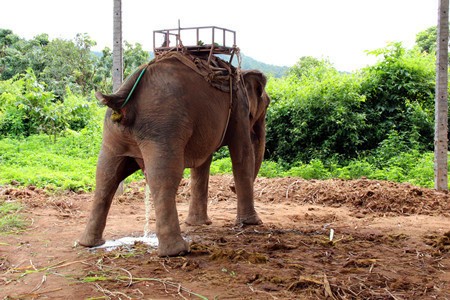 Elephants defecating and urinating ~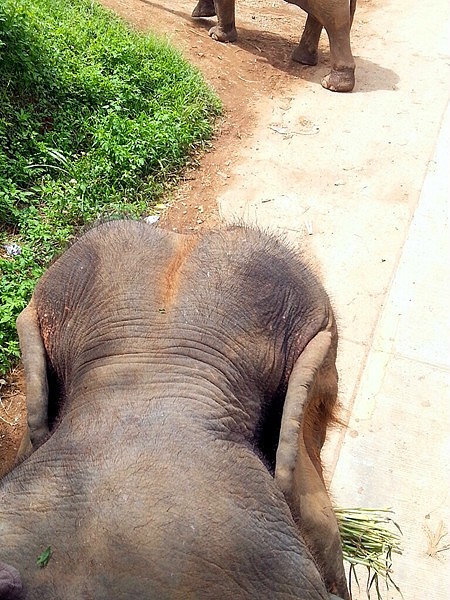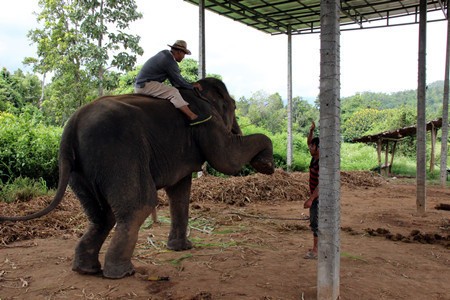 超近身,全方位无死角,多重感受体验大象就在泰国清迈的ONE DAY ELEPHANTS TRAINING。中国人真的是被国内这种不靠谱的一日游都给整怕了,出去报这种一日团的时候,我们都提心吊胆的,想着要是在中国出事儿了,好歹还是说中文,这边要是给拉到山里,周边人说的话都是"卡卡卡"各种卡的,回头不死都得掉层皮啊。可是清迈人民的淳朴和友善又一次让我们对这个城市增添了无数的好感,也给俺们这些城里面长大的屁都不知道孩子增添了一次人生的体验。 早上8点半,Mr Big 来接我们,他不喜欢照相,只不过我这张上面那位就是他

在这里不得不先说下Mr Big,人超级,非常,特别的NICE,特别是当王胖子把眼镜给冲到河里后,他不计时间的帮忙在市场耽误1个多小时帮忙配眼镜,还给店家留下自己的电话,害怕万一回头联系不好的时候,他可以帮忙。特别特别的赞,一路上不停的帮我们拍照,我们在大象上的90%的照片都是BIG帮忙拍的,最最重要的,还刻成光盘免费送给我们。并且他的CAMP里面的所有吃的都是免费对参加的人提供,唯一需要花钱的就是长炮筒子拍摄的照片,4张以上,一张才50BHT,拍的真的太好了,一点完全没有让我们的旅行留下遗憾,当我们躺在普吉岛的大房子里面看着光盘里的照片,我们几个人都还能感受到当时的欢乐和刺激。
In the past, it was really enough to learn how to control the elephant's language first. After giving us a general oral statement, we were directly put on the elephant for practical experience. This should be put on other countries. You are not allowed to move a small bench, sit for half a day's class, and take half a day's test to ensure that there is no danger before you can take the elephant's practical experience. Elephants are super edible, As soon as we went, we carried two baskets of millet bananas. The family three and two were solved in a few minutes. When they took us for a stroll in the mountains, they also climbed high and low to find food. To say that elephants were indeed chicken thieves. They specially picked the deep trees for food, or the high buds that no one could reach were pointed to eat. It seems that the big guy is very picky about food.
The most comfortable driving part of the elephant is its soft neck, with its legs between its neck and its big ears flickering incessantly. Although it hurts a little, it is very effective to repel mosquito bites. You can control the direction by hitting its neck with your leg. The only place where your hand can help it is its big head, which is like Mao Taizha. Moreover, if you suddenly bow your head when you meet it, it can really scare away half of your soul.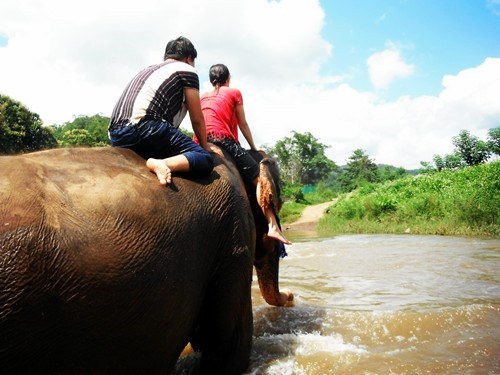 One of my favorite photos, if the angle is lower, it will feel better. Our trip is to learn the basic knowledge of elephants in the morning, feed elephants, learn to ride elephants, and then sit in a chair and let elephants take us to the tropical mountain forests in Chiang Mai for a big circle that does not take the usual road. After lunch, we rode elephants naked into the river to bathe elephants. Speaking of this bath, In fact, elephants play very high on their own. Our elephant saw that it was on its way to the river. It was called one rubbing and throwing the other away. I had to stop it all the way to wait for my friend. However, after coming out of the river, the speed of the other elephant was not as fast as that of my companion in an instant. It seems that the big guy has no water to play with and is very unhappy. As soon as the somebody else stepped into the river, when we slipped down, we crashed down and lay on our side in the river. You know, the river is in a hurry. If we don't pull each other one by one, it is definitely a rush. There is no discussion. The somebody else lies on their side with great pleasure. We are frantically fighting the water battle beside us. The last time we fought the water battle was what? Primary school? Or even smaller, the last accident happened. Wang Pangzi's glasses could not bear to leave and chose to stay there for a long time.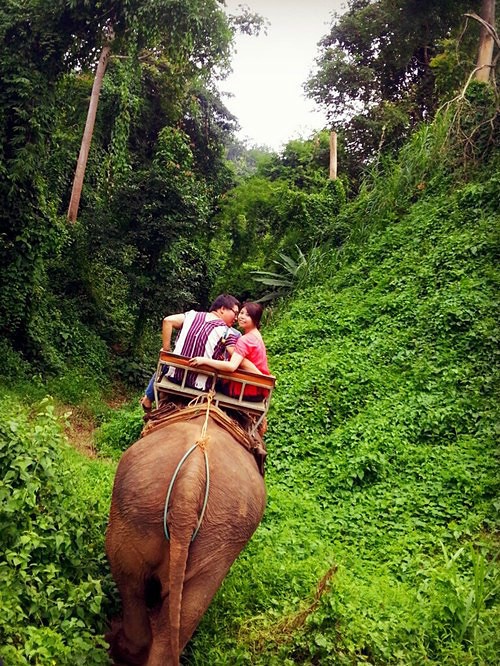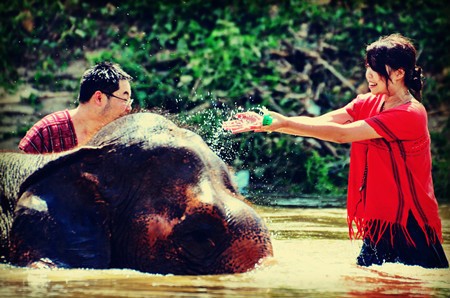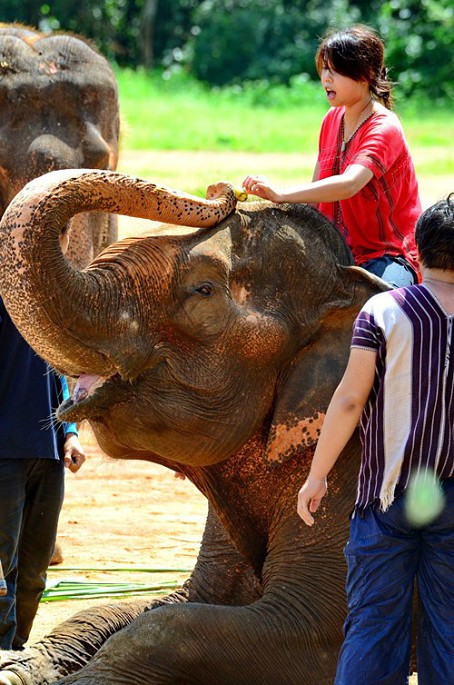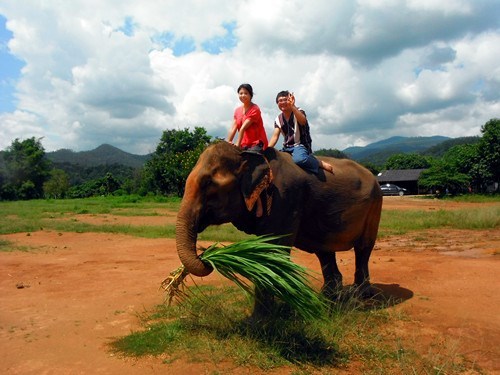 There is also a baby elephant in Camp. Especially cute kept running around in my mother's legs. The little fellow was very naughty. When drinking water, he deliberately put his nose in the water and then put his nose at us to spray. When we were all scared and yelling, people took back his nose and opened his mouth. It felt like he was very HAPPY because he scared us. Elephant Camp is about an hour's drive from Chiang Mai City, There are still many people who go back to choose ONE DAY TREKKING. The content of this trip is only to ride an elephant for a while, then go to bamboo raft rafting, hovercraft rafting and a hiking jungle. Although it is much cheaper, I still strongly suggest that everyone choose ONE DAY ELEPHANTS TRAINING to give their cement heart, which has lived in the city for a long time, a release close to nature and animals.
从清迈飞普吉岛,其实最最开始定行程的时候我实在没打算去普吉岛,可是其他几位都觉得都去了,不去普吉岛好像有点太亏,其实最重要的是想去的沙巴岛价位太高

。因为在网上看过很多照片,我实在不觉得普吉岛好看,但是去了之后我不得不说这个大海漂不漂亮真的是完全取决于天的颜色,之前见过很多游记上面说普吉岛多好玩,多好玩,可是灰灰的天和灰灰的海真没让我看出这个海和国内的海有啥子不一样的地方。要不怎么说,和我出去玩就是走运呢,除了湖南那个败运的地方,我从来出去都几乎碰不到下雨,于是,这次我们好好享受了一把普吉岛的碧海蓝天,虽然代价就是我们所有人肩头都在爆皮,先来说说我们这次的酒店。 超超超级赞的酒店,名字我就是不说,哈哈哈哈哈~~我们到的时候都已经是半夜了,服务生帮我们提着行李弯弯曲曲光下楼都下了半天,后来停在一个黑洞洞的楼门口,我们几个都在寻思,这咋还是个黑单元房,结果当灯一打开的时候,我们几个真的,真的,真的,不夸张,丢人了~~~跟没见过房子一样的兴奋了。一个80平方左右的一卧室套房,房间里面一应俱全,比家里还准备的充分,甚至为了防止某些红酒是直接扭开的瓶盖没有塞子,特色的酒瓶塞子都有准备。跟家一样的开放式厨房,从微波炉到土司机,锅碗瓢盆想啥有啥。还有开到18度房间里直接可以结霜的空调,直接让我们这一次的旅行完全升华。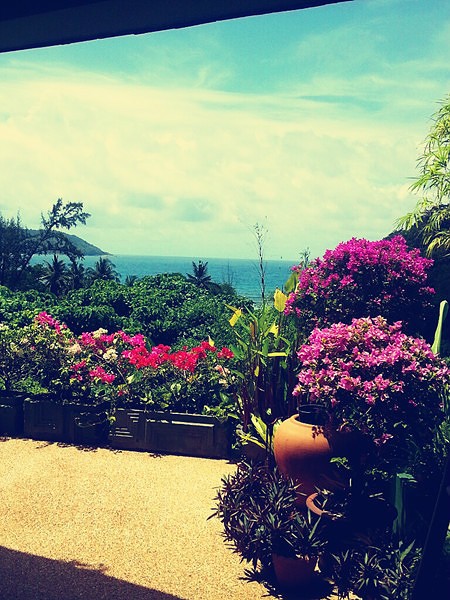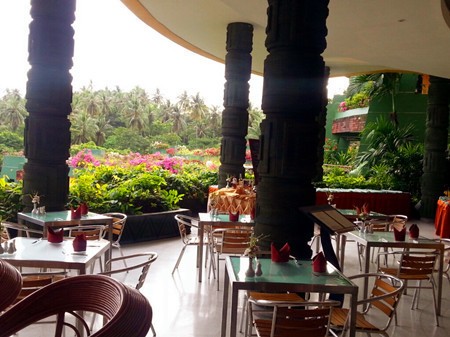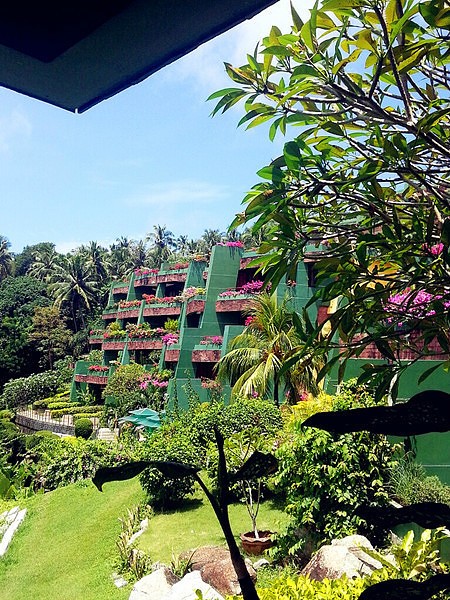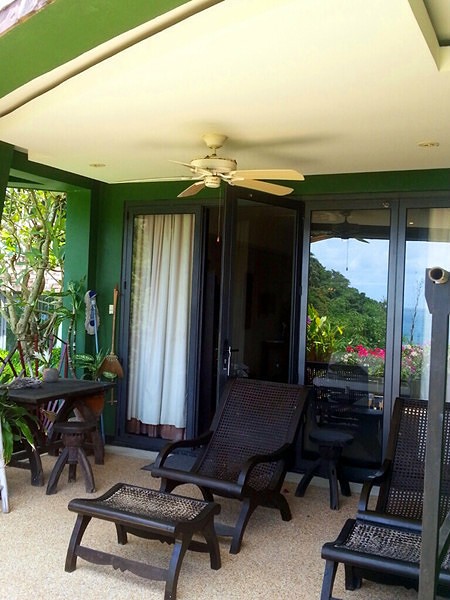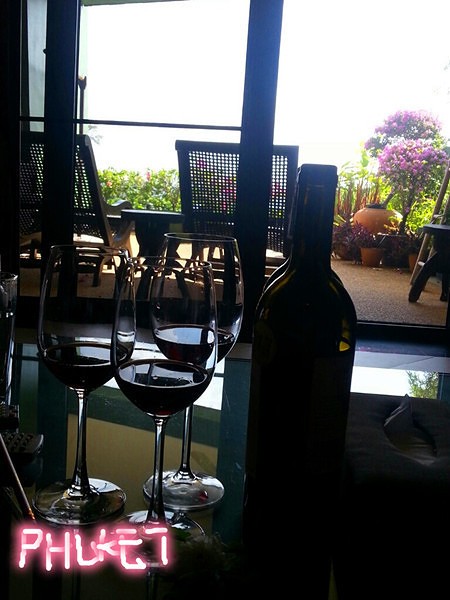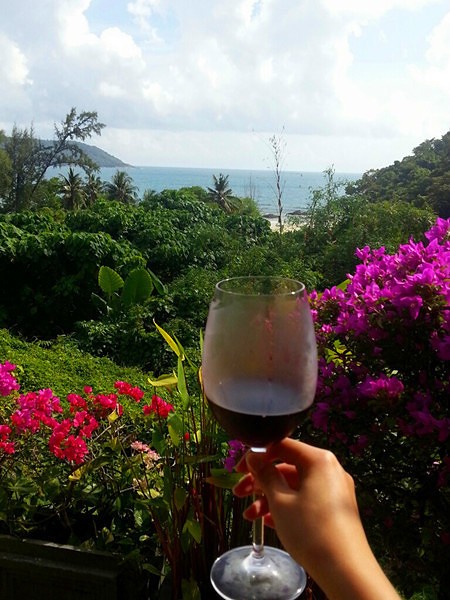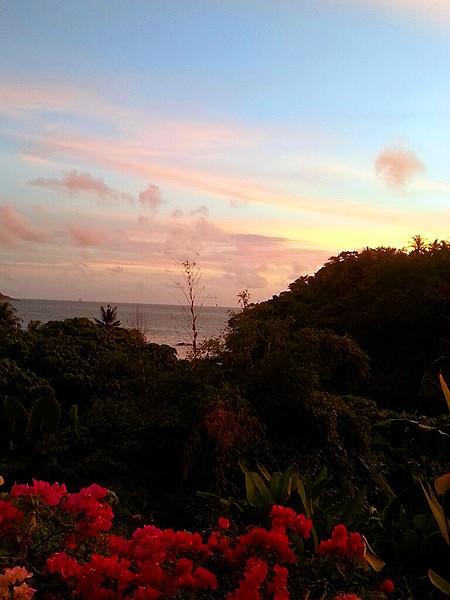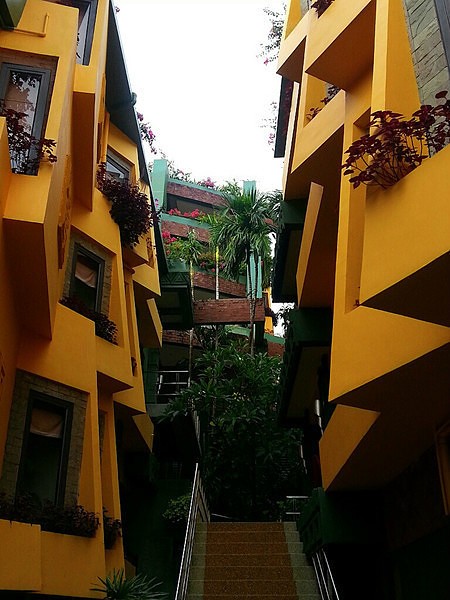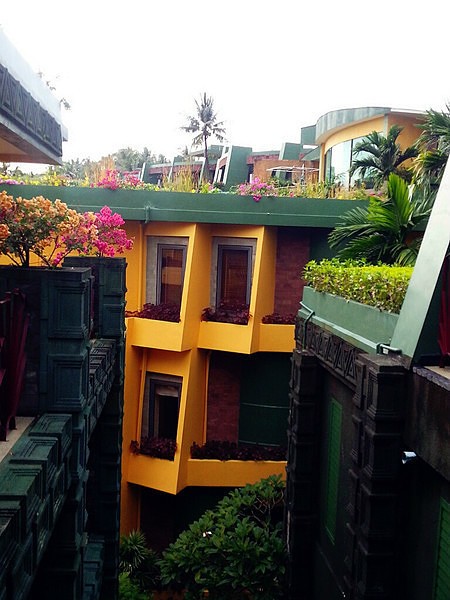 The most important thing is the house price. Such a wonderful house is only over 500 a night, and over 500 ~ ~ Wow, Gaga, Gaga, Gaga, Gaga, Gaga, Gaga, Gaga, Gaga, Gaga, Gaga, Gaga, Gaga, Gaga, Gaga, Gaga, Gaga, Gaga, Gaga, Gaga, Gaga Either it is foreigners who make people comfortable to do things. The swimming pool of the hotel is under repair. The hotel directly provides free dinner rolls and free SPA rolls as compensation. The hotel is halfway up the mountain. Just because of this house, several of us cancelled our diving plan to Phi Phi Island and decided that the 4-day trip to Phuket Island would be a leisurely sleep until we wake up naturally. Buy a pile of wine, lie outside on the couch every day, play UNO, drink small wine, until hungry climbed down the mountain to eat lobster, wow, quack, quack, quack, quack, quack, quack, quack, quack, quack, quack, quack, quack, quack, quack, quack, quack, quack, quack, quack, quack, quack, quack, quack, quack, quack, quack.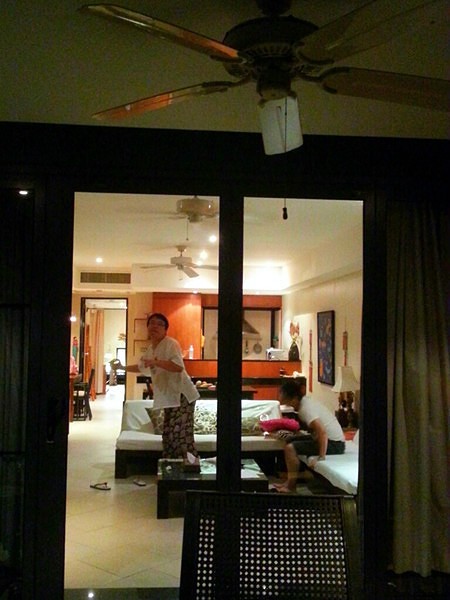 我感觉胖子会因为这张照片而红了

我太喜欢这个酒店了,如果我没记错的话,这还只是个四星的,完全是RESORTS级别,我们后来去看人妖表演的时候路过芭东,那个人山人海,酒店能比我这个贵一倍,但是我相信一定没有我这个这么棒。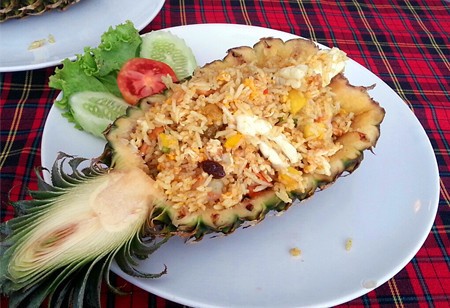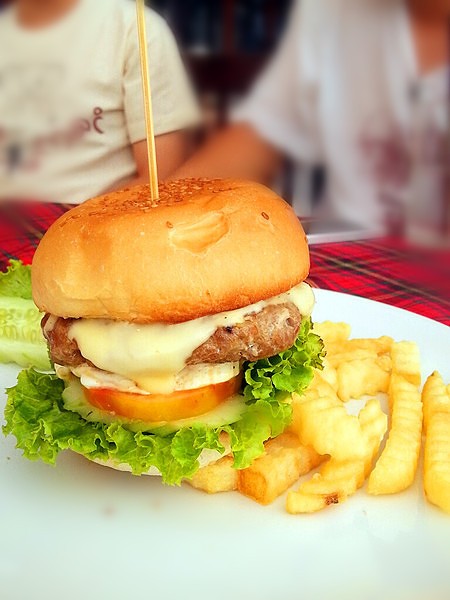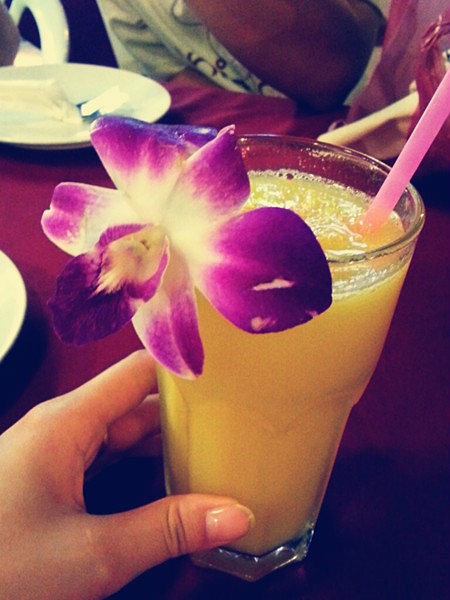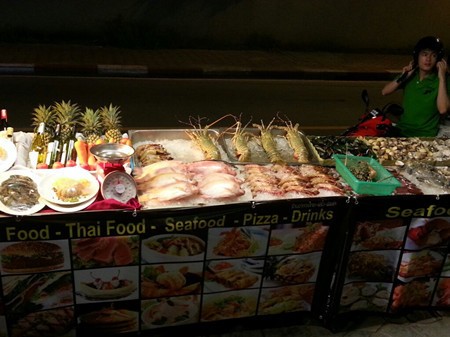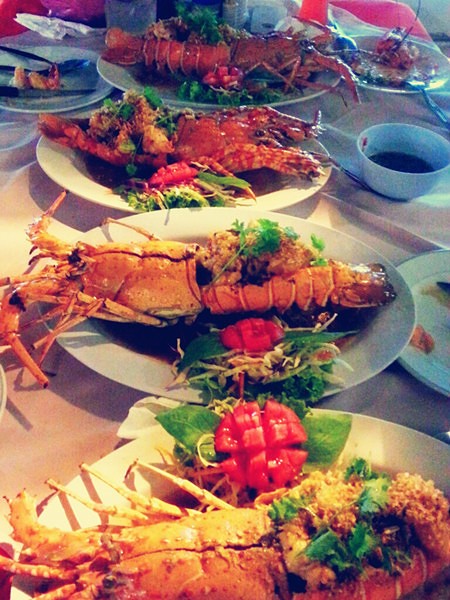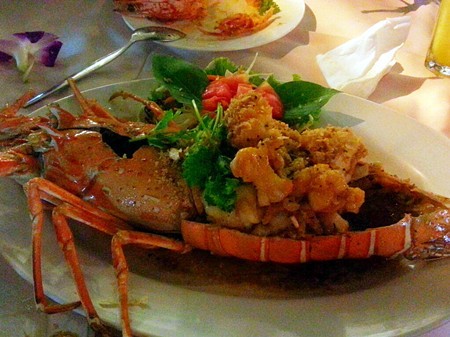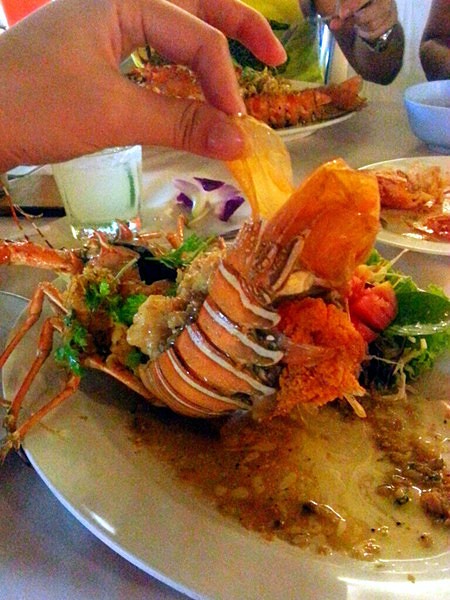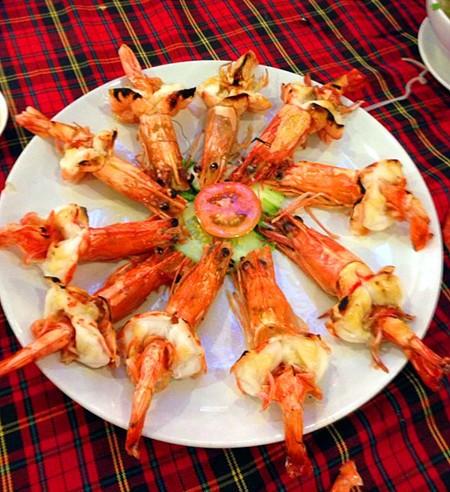 This is what we eat every day on Phuket Island. Is it still good to say that the cost in Phuket Island is high, Before we went, we were all ready to eat a cup of noodles every day. But after a few days, we summarized it a few times. It is estimated that the first is related to the location. There are not many people in Kata, where we live, during the National Day Golden Week, but Patong is different. It is called a sea of people and tour groups. Moreover, judging from the enthusiastic response of seafood barbecue shops to the Chinese, the more Chinese, the higher the price. Second, we will not bargain. Our lobster, which weighs more than 2 kg, is all with shrimp seeds. We asked us for 1900BHT. We ground it back and forth with the store for more than half an hour. Finally, we clinched a deal with 1200BHT, and only all of them are with shrimp seeds, which is 240 yuan. There is also this plate of prawns, 10 500BHT, that is, 100 RMB, hey hey ~ ~ it is with fat man's invincible bargaining skills that we have been eating all kinds of prawns from the first day to the last day. However, other prices such as pineapple rice and hamburger, which are between 150 and 200BHT, are completely incomparable to Chiang Mai, but they are also completely acceptable. The processing of their lobster is very good. It tastes like black pepper. The lobster meat is smeared with sauce and sprayed directly with muskets, so each piece of lobster meat can be kept crisp outside and tender inside. There are pineapple rice and all kinds of seafood among them, plus Thai fragrant rice. In fact, the Thai people are really simple in nature. At least the biggest difference with China is that the pictures are consistent with the real objects. Before leaving, someone shouted to see the transvestite, and must also say that he should put his hand on the transvestite chest to take photos. As a result, I coaxed all the way from Bangkok to Phuket Island, which didn't make anyone look at it. In order not to be called a liar, go to Phuket Island and watch it. The result was as I expected, It was just that a bunch of beautiful transvestites twisted and twisted on the stage. The performance was really not as interesting as what's. However, the final photo session was very happy. The two brothers went up and did not dare to get started. As a result, the self-appointed transvestite queen put their hands directly on her chest, and a transvestite who was neither male nor female took a photo by force. In the money collection phase, the transvestite queen shouted "touch milk 100, touch milk 100", and a local tyrant other than someone gave the money. Another neither male nor female also said that she wanted money. One was 40. A local tyrant said, "I don't want to take a picture with you." The transvestite said, "I have already taken a picture." A local tyrant said, "Here you are 40." The transvestite said, "Not enough. You two still have 40." A local tyrant said, "Here you are 100. Find" the transvestite: "Thank you" and left directly. A local tyrant shouted depressively, "Your sister's"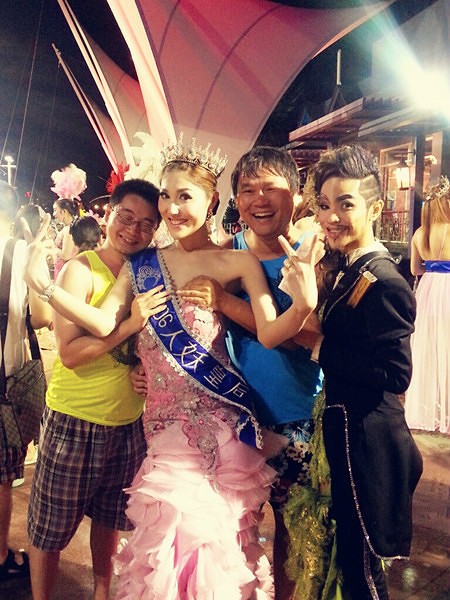 就是这张照片,好多朋友都看过截图版,这个就是完整的携带不男不女人妖的版本,请注意看某土豪那个陶醉的表情,再想想这张脸喊出"你妹"时的样子,笑死我了,我躺在床上想起来自己一人笑了快1个小时,跟神经病似的。哈哈哈哈哈哈~~~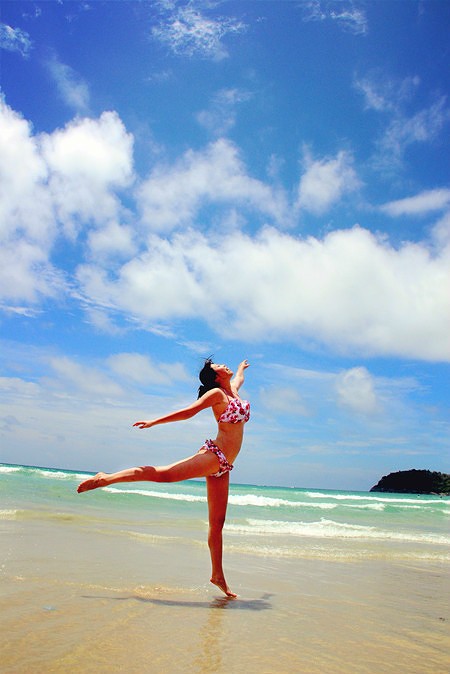 玩的太欢乐的,根本没有想起来去拍纯景色照片,头一次玩冲浪板,我废了半天力气都没有爬上去,这倒算了,结果我好好的站在海里感受一波一波的浪潮,突然感到后方有一个板状物体向我拍来,我就直接被拍进了海里,爬起来一回头,某人无辜的站在那,手里还拽着一根冲浪板的线,操~~ 从刚到曼谷天天上当,当当不一样,到从T&K开始转运,清迈骑大象的最欢乐再到普吉岛的完全升华,我们这次的旅行非常圆满的结束了,回程的时候直飞到了澳门,又一次去感受那个纸醉金迷的世界,这一次去**的去**,去购物的去购物,等去购物的去**的时候,某人已经输光了

所以说,还是购物最划算~~~哈哈哈哈哈哈~~~~