I am really very happy to hear that the Olympic torch will pass through Bangkok on April 19. On this day, the country I once referred to as "cultural loss" greeted the Olympic torch on its return from the continent with a tolerant, friendly and ebullient gesture. In contrast to France, Germany and Britain, who flaunted themselves as "cultural powers" but behaved in an indecent manner, and India, which pretended to "defend the flame" and drive out ordinary people, the acceptance and support shown by the Thai people in Bangkok is a touching example of the rare good-neighbourliness.
The reason why I thought Thailand was suffering from "cultural loss" is that I have seen Thailand suffer from too much western culture shock. As a country with no other pillar industries, it can only rely on tourism to develop its economy. Under the premise set life, in order to attract tourists, nature have doors open, without reservation to accept western culture, to adapt to the European and American tourists a full range of requirements, from food, accommodation, transportation, health care to education system, municipal planning, in absorbing the essence of modern civilization at the same time, also inevitable fall into a vulgar, heavy make-up. The porn industry and the not-so-genteel tourist industry around it are so well developed that they are simply trying to win over more western tourists. On the streets of Bangkok, it is not unusual for foreigners to bring a young Thai woman, sometimes two or three; Many hotels even post openly gay ads; Resort "**", "green area" and even "rainbow area" in the fall of darkness in the endless stream of visitors, a variety of "show" is the scene is hot… In a country where behaviour and belief run counter to each other, it would be unconvincing to say that she can still hold on to traditional culture.
However, you can always find many with rich Thai culture construction, the marvel at the beauty of the them at the same time, with my limited understanding, they are the product of a kind of "cultural formalism", that is, in its cultural serious erosion of the moment, not through the way of people to popularize education or culture protection, but in appearance is that of a form of evidence, to foreigners. I think superficially that Thailand, a country that reveres Buddhism but promotes tourism "so", is undergoing a subversive social and cultural transformation, and if it cannot find an outlet for the culture in this transformation, the result will be disastrous. As I think, culture is something that maldives can do without, Las Vegas can do without, Thailand can't do without.
To be sure, "total westernization" can give foreign tourists a relaxed tourist environment, but the consequences are terrible, as if heavy cultural programs become witty circus performances. I can't say that China has done a very good job in this, but look at Malaysia and see how the malays are trying to find their own way of development, a perfect combination of traditional culture and modern civilization. For our people themselves, more have a considerable reference significance. Coming back from such a big turn, I still want to say that some countries that are highly developed in spirit and material tend to be arrogant and arrogant, and always adhere to the principles of freedom, equality and fraternity. In particular, they have played an unseemly role in "politicizing the Olympics", even less than low-profile countries. We have long attached great importance to the friendly diplomatic relations between China and France and between China and Germany. However, the news over the past two weeks has been truly astonishing and beyond our comprehension.
I don't want to argue with my German colleagues, and I'm not a political person, but there's no reason to be patriotic. Those born in the 1980s who grew up in the hinterland still have their own principles and standpoints — as I said to my macau friends. But I won't be irrational about boycotting certain foreign companies, just keeping an eye on what's going on as the Olympics count down. In the news of the torch relay in Bangkok, I read a familiar place names, looking at the picture of a smiling face, the heart moved beyond words. Withdraw all previous criticism of Thai culture, although the idea of "cultural loss" will remain. But for a nation that embraces you so warmly, those warm, strong hands must melt the ice in your heart. Dig up the film you made in Bangkok and recall it. The erawan shrine in Siam square is lined with shopping malls. In front of the magnificent grand palace and jade Buddha temple, the guards standing guard are different in height, height and weight. Can always buy fresh tropical fruit in the street stalls at the end of the street, sprinkle some plum powder with bamboo stick inserted while eating; Night market, weekend market is a favorite of foreign tourists, where a variety of handicrafts are sold – wooden home, incense, Thai woven Thai silk, t-shirts… Food to play with the gift of a variety of people; In this buddhist country, white lotus blossoms and devout believers can be seen everywhere; The pungent smell of curry and spices fills the air, tempting your nose to your stomach; The downtown area is full of European food shops and large supermarket chains.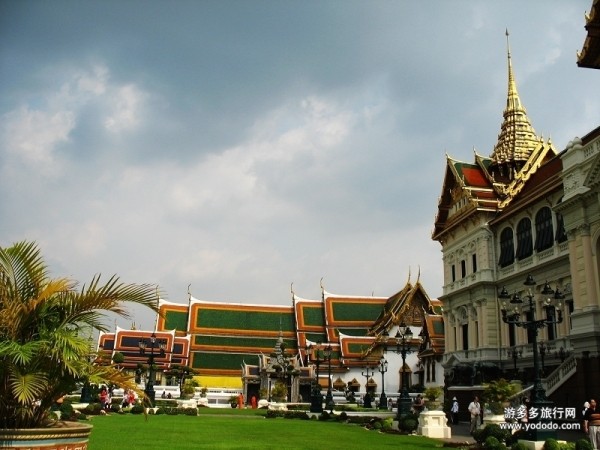 Bizarre, colorful colors make up the impression of Bangkok, where people are always smiling, warm and friendly, girls graceful figure, fat makeup, flowers in full bloom in the four seasons, the sun. This is Bangkok in my eyes.