Koh Samet Island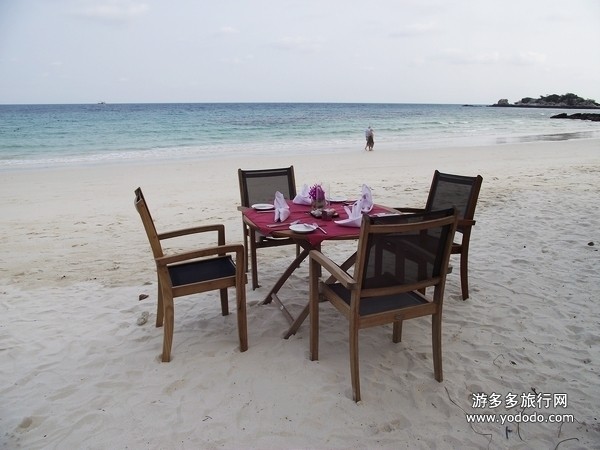 This is really a fascinating place. If you have read McDull's story, you will know the Maldives with clear water and white sand in McDull's mouth. But if you come to Koh Samet Island, you will know that McDull does not have to go to Maldives to experience the wonders of the world.
We went to many star hotels on the island, which were different everywhere but had one thing in common: romance.
I have been to many beaches, Qingdao, Helsingh, Holland, Scheveningen and Barcelona, Spain, but none of them can match Thailand. This is definitely one of the most beautiful beaches in the world. If there are rivals, it is also Maldives, Philippines and Hawaii.
The island is dominated by Nordic people. Most of the hotels we stay in come from Scandinavian countries, namely Norway, Sweden, Finland and Denmark. Many hotel staff are also Nordic. Dinner lit a candle, blowing the sea breeze, eating Western-style Thai food, with a little tipsy wine, interest is dim.
On such a night, it is most suitable for three cups and five cups to go down and say several soft and soft love words choking on your throat. It is also suitable for caring for each other without saying anything. Just drag your hands and walk on the beach, leaving the warm waves to kiss your instep gently.
I don't want to describe this picture any more. I think everyone has a dream of an island coconut forest in his heart. I can only recommend Koh Samet Island as follows: there are the most beautiful beaches in the world and the first-class services in the world. It is for this reason that it attracts a large number of Nordic tourists.
As a blind spot for Chinese tourists, Koh Samet Island is innocent. I can foresee that many Chinese will appear here in the near future. The problem is not that Koh Samet Island has not been discovered, but what kind of mood you are traveling with.
See my photo album Experience Siam 0-5 for pictures. There are six albums in total.