Bangkok of the World, Big City of Thailand, My Chiang Mai
Seven-day Free Tour to Thailand
2 May-9 May
[Preparation]
[Air Ticket] We started to prepare for the time to go to Thailand, but it was actually very urgent. AirAsia started to launch the route from Chongqing to Bangkok on February 14, 2012. Many people grabbed 99RMB tickets, but the three of us didn't start to apply for passports until the end of February. Finally, we had to book tickets in mid-March, with 1700RMB back and forth. Asian Airlines is similar to the domestic Spring and Autumn Airlines and is a cheap route. Therefore, its air ticket does not include checked luggage and meals. If you need it, you must book both first when booking on the official website of Asian Airlines. If you buy checked luggage at the airport or meals on the plane afterwards, it will be slightly more expensive. However, AirAsia is much more tolerant of the luggage on the plane. They stipulate that it cannot exceed 7kg, but one of our luggage is 9kg, so it is no problem to get on the plane.
[Visa] Thailand's visa, as you all know, is very simple. You can contact the consulate yourself to inquire about the preparation of relevant information. We didn't want to be too troublesome, so we found a tourist organization with better quality in Chongqing to help us handle it. 250RMB was also included in the mail, which was really cost-effective. However, most tour groups choose landing visa and can handle it when they get off the plane. However, I was worried that I didn't understand Thai English very well, and that I didn't consider landing visa at all because I didn't take what documents.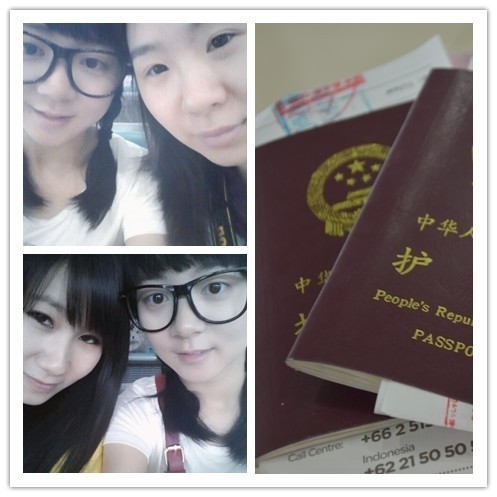 [Exchange of Money] The Thai baht is a small currency, so it often happens that domestic banks cannot buy it. Many people suggest buying US dollars at home and then buying Thai baht in Thailand, which is more than buying in RMB. This is true, but the exchange rate of the Thai airport bank is quite low. You need to go to the bank in the city center to exchange it, which is more troublesome. The three of us girls, safety is the most important thing. China's UnionPay cards can be used in all ATM machines in Thailand, and the exchange rate is determined according to the international exchange rate on that day, generally not less than 4.8. Therefore, after inquiring about various banks, I handled a business travel card in Huaxia Bank. It has the lowest handling fee and is the most cost-effective. Huaxia Bank does not charge any handling fee for the first sum of money taken in Thailand on that day. No matter how much the second sum is, it will only deduct 12RMB handling fee. No handling fee will be charged for the money taken on that day. Moreover, Thailand's ATM is all over the streets and lanes, and there is no worry about not being able to find ATM to withdraw money. Before going abroad, deposit the amount you need in the card, and you can withdraw the Thai baht at the ATM machine at the airport. Each of us has saved 1400RMB, which is almost more than enough for seven days. However, no matter how much money you save, a credit card is very necessary. Whether you book hotels, air tickets online or have urgent needs when traveling, you can use it. The credit cards of China Merchants and CCB are recommended by me.
[Strategy] From my experience, it is necessary to look at a large number of strategies in advance. Unless you plan to stay in Thailand for a month or two. We downloaded the electronic version of Lonely Planet, the backpacker bible (which usually sells for more than 70 in bookstores), and also registered a website where poor domestic tourists gather-Youduo (http://www.yododo.com/). You can find a large number of strategies and maps in this website, and you can also find travel companions. It is a quite good self-help travel website.
[Route Planning] We arrived in Thailand at 1: 00 noon on the 2nd and flew back to China at 6: 00 a.m. on the 9th, so we had a total of 7 days' journey. The three of us arranged to be in Bangkok from the 2nd to the 5th. The middle 5th reported to a local tour group to take part in the one-day tour of Ayutthaya. Then we took the train from Bangkok to Chiang Mai on the evening of the 5th, stayed in Chiang Mai for two days, and finally returned to Bangkok by train on the evening of the 7th. The website of Thai train reservation (http://www.thairailticket.com/esrt/). Only after the whole trip came down did I realize that this route was not very reasonable and wasted a lot of precious time. My suggestion is to play Bangkok on 2-4, Chiang Mai on 5-7, and visit the big city on the 8th. Finally, you can board the plane and return home. Dacheng is located in the middle of the train line from Bangkok to Chiang Mai. When Chiang Mai is finished, you can get off at Dacheng. When you play Dacheng well, you can return to Bangkok from Dacheng. Although this is relatively reasonable, in fact, no matter how how arranges it, you will find that 7 days is really too short in the end. Thailand is a place that needs to be tasted and experienced slowly.
[Hotel] After the itinerary is planned, it is the problem of accommodation. The International Youth Hostel (http://www.hihostels.com/) is a good choice for the poor, but you can also choose http://www.agoda.com.cn/index.html, which has various types and prices.
[Luggage] I think drugs should be necessary, and at least two boxes of Huoxiang Zhengqi Liquid (diarrhea, constipation, heatstroke and acclimatization are all covered), OK tension, cooling oil and allergy drugs should be brought. Flip-flops are the best choice to travel all over Thailand. The choice of clothes depends on the person, but girls must bring a long skirt with sleeves covering their knees, because visiting some temples in Thailand has strict clothing regulations, and even some temples cannot allow girls to wear trousers. Therefore, the long skirt is * *. If there are students who take the train, they must bring more thick clothes. The air conditioner on the train is very strong and the blanket is very thin.
[Language] English is necessary. Thai English is very popular, but most local people can only understand simple words and simple sentence patterns. You should try to use simple words and avoid advanced words when expressing. Learning Thai "thank you" is also very useful. It can close the distance with the local people. Thai pronunciation is very simple. Transliteration into Chinese is "Kongkunka". It is enough to hold half a beat for each word.
Travel
[Bangkok] Before I arrived in Bangkok, I booked the hotel-Khaosan Palace Hotel on Agoda's website mentioned above. The hotel is most conveniently located in the middle of Kaoshan Road, and 711 is next to the hotel.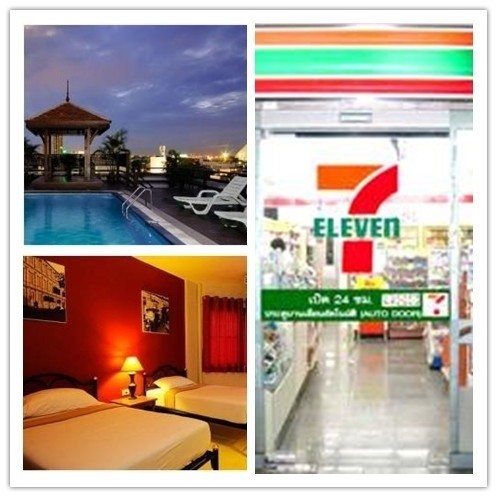 There are quite a lot of hotels in Kaoshan Road, and this area is almost invaded by Europeans and Americans. Kaoshan Road is reputed as the world of backpackers, which is worthy of the name. However, the transportation is not very convenient. It takes a while to take the bus. There is no light rail nearby. Therefore, it is also a good choice to choose the hotel in Siam Square and Sukhumvit area. I do not recommend living near China Town. The Shanghai girl who went with her stayed in Bangkok Loft Inn, which is close to the city. Although the hotel is not located in the center of Siam, it has convenient transportation, pick-up service and much cheaper housing than the central area.
Our first day was on Kaoshan Road. In fact, Kaoshan Road has been almost occupied by foreign cultures. You can stroll around the street on the left side of Kaoshan Road, which is mostly the residence of local residents. You can get rid of the hustle and bustle of Kaoshan Road, have the peace of Thailand, and communicate with the local people. In the evening, the night market on Kaoshan Road is really worthy of its reputation, and all kinds of bars and street snacks are beginning to get lively.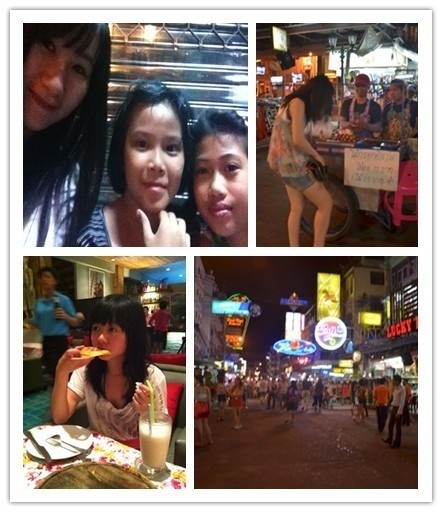 The next day, we chose to go to the scenic spots near Kaoshan Road. The National Museum, Thailand's Silpakon University, Wat Phra Kaeo and Grand Palace. These scenic spots are almost in a straight line and are not afraid of fatigue. You can walk from Kaoshan Road. However, before going, we should inquire about the opening and closing times of the museums in various places. The museums only open at 10am. So we are going to take a cruise ship around the Chao Phraya River before that. There are many ports taking cruise ships, and the price is 3,000 beads, but fortunately we went to Rachinee Pier under the guidance of a local person. The price of cruise ships is only 900 beads. We talked about the price again, and 500 beads per person reached an agreement. Moreover, the port is very close to Kaoshan Road. This kind-hearted local also called Tutu for me. It only takes 10 beads.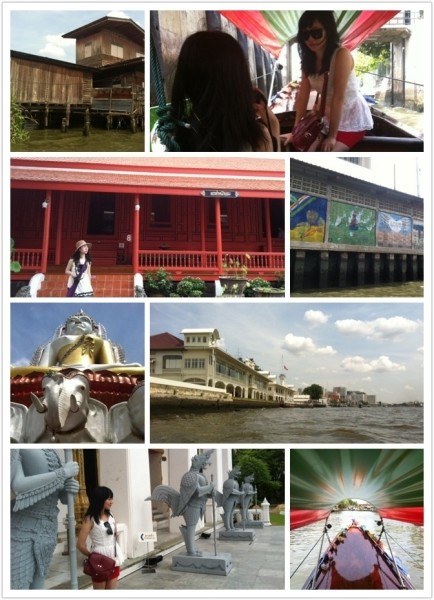 行到终点大皇宫后,我们还有充裕的时间,于是决定去中国城逛逛,大皇宫外面的广场上,就可以直接坐1路巴士到china town。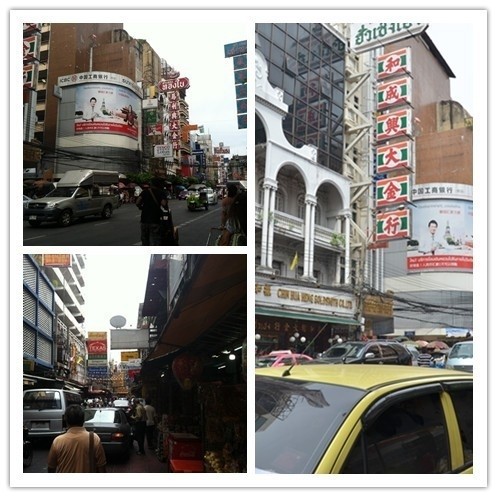 There are many good snacks in Chinese cities and cheap bird's nest. After eating, you can also go to the nearby transvestite performance and Thai boxing competition. Finally, bus 53 can return to Kaoshan Road from China Town.
On the third day in Bangkok, we went shopping in Siam Square and visited the Four Sides Buddha. Students from Kaoshan Road can take buses 47 and 79 to Siam Square. The whole Siam region can be divided into three parts. Siam centre is a good place to buy international brands, siam paragon is a good place to chase stars, and siam square is a good place to shop in batches. The four-sided Buddha is very close to Siam Square, and it is almost ten minutes' walk, but you can choose the light rail and feel the Thai transportation. From Siam, it only takes one stop, which is very convenient.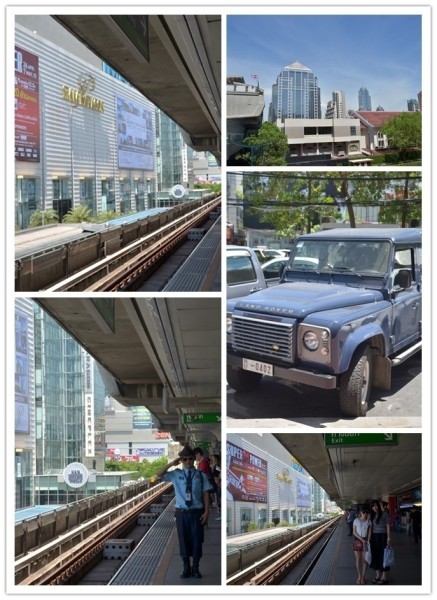 On the fourth day, we found a tourist organization near the hotel to organize a one-day tour to the big city. 900 pearls per person, free ticket fee for scenic spots and lunch. I think it is relatively expensive, and the students can also bargain. Dacheng is Thailand's first kingdom, with many relics and ancient temple buildings. My favorite is Wat Mahathat (ticket 50 baht), which has the earliest Khmer pagoda built in Dacheng. "The head of the Buddha surrounded by tentacles of tree roots is one of the iconic images of Dacheng".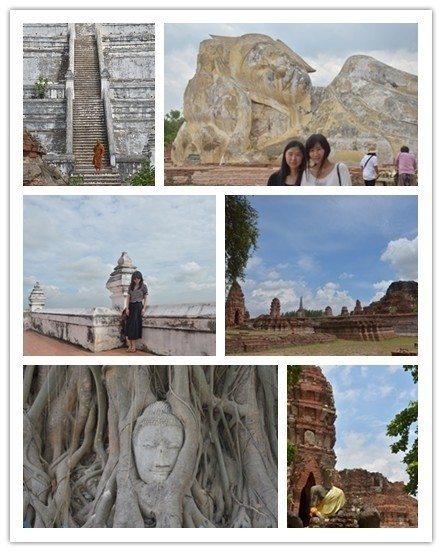 We returned to Bangkok at 4 pm, and the three of us dragged our luggage from the hotel to Thailand's largest Hualaipeng railway station to catch the 7 pm train to Chiang Mai. I like Thailand's railway stations very much. They are small, delicate and clean. No matter how many people there are, they are still very quiet. It is not like the noisy and chaotic trains in China.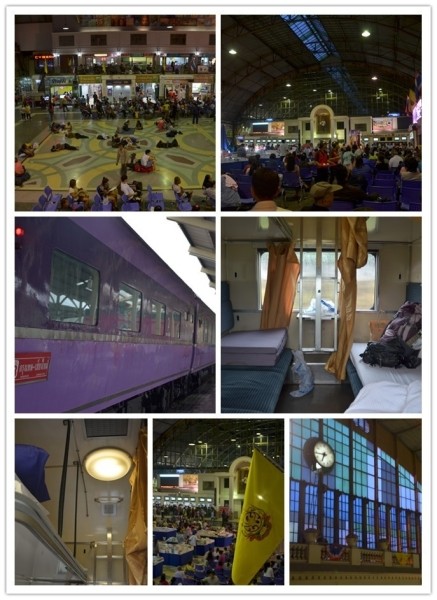 [Chiang Mai] When they arrived in Chiang Mai, it happened to be Sunday, catching up with their weekend market. The hotel was still booked when it was in China. Standard room, 146RMB per night, including breakfast. The service is very good, you can pick it up and drop it off, visit scenic spots, and help you hire a car. At the same time, you have free WIFI. The name of the hotel is The Adventure Hotel.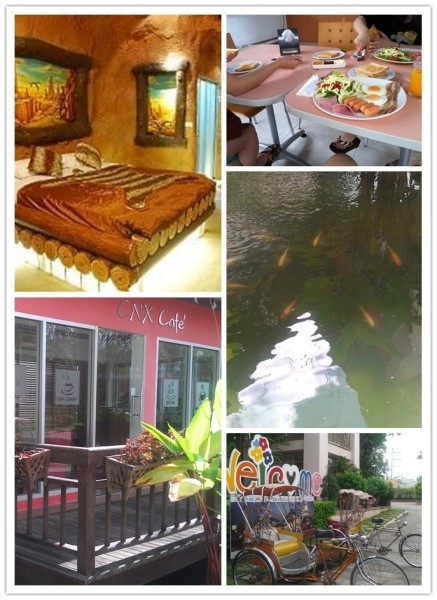 When you go to Chiang Mai, you must visit the ancient city of Chiang Mai. Apart from the weekend market, he also has a Night Bazaar every night, where many snacks and jewelry items can be found in Thailand. In addition, I would like to recommend a very good essential oil store, not in the ancient city, but on the street of The Pae Road leading to The Pae Gate. If you go straight ahead, you can see a well-decorated shop, HERB BASICS, which is reasonable in price and rich in variety.
In addition to the ancient city, there is also a street called Nimmanhaemin Road. There are many strange and beautiful shops in this street. The bar is also very tasteful. By the way, you can also do massage. The shops look luxurious and the price is not expensive.
The next day, we went to Chiang Mai University. People with a loose schedule can visit here and experience different university cultures.
We can only stay in Chiang Mai for two days, so the most regrettable thing is that we did not go to the White Temple in Chiang Rai, a suburb of Chiang Mai. The Thai people in the White Temple are called Wat Rong Khun or commonly known as White Temple. In Chinese, there are many names such as Falongkun Temple, Lingguang Temple, Walong Kun, Bailong Temple or commonly known as White Temple. The temple was built in 1997 by Chalermchai Kositpipat, a famous Thai architect and former painter. The temple was built with funds from his savings over the past 20 years and donations from willing people. He revised the drawings several times during the construction, but the project was particularly slow.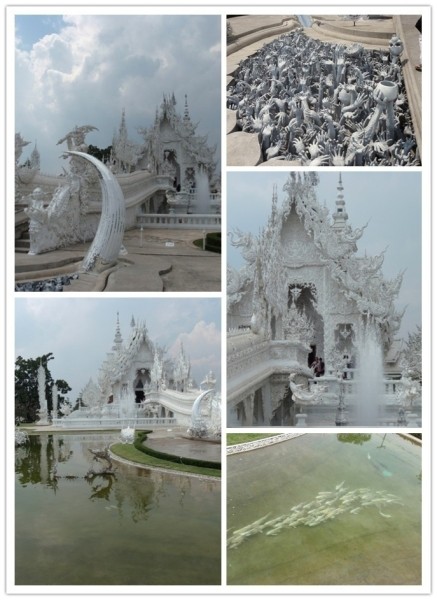 "Final Return" We returned to Bangkok on the last day and stayed in a hotel near Bangkok Airport. Some students who are not afraid of fatigue can also choose to sleep outdoors at the airport, where many people wrapped in sleeping bags can be seen lying on chairs and the ground at the airport. For hotels near the airport, we chose a hotel named ORCHID RESORT at 62Soi Ladkrabang 48 Onnut-Ladkrabang Road Ladkrabang Tel: 66273910201 to arrange pick-up and delivery.
This hotel is in a residential area. The prices of small restaurants and snacks are cheaper and more authentic than those in the city center. There is also a large local market nearby. It is not specially designed for foreign tourists. The disadvantage is that no one can understand English. On the last day, according to the recommendation of LP, we went to the nursing service market mentioned in the book. The book made a lot of noise here. As a result, we asked the local people that none of the four taxi drivers knew. Finally, a driver thought for a long time and finally pulled us there. Only after arriving did I find out that this amulet market is actually on a street on the left outside the Grand Palace (the park on the right). Things are indeed as stated in the book. Linglang is everywhere. It is also excellent to buy an amulet for the family.
We got on the plane at six in the morning, so we got to the airport at three. After the three women had enough rest, they took the whole airport as a shopping paradise. The brands in Thailand's airport were very cheap. My friend bought a box of four small samples of Dior perfume, which was only 1559 beads. Revlon Maybelline and other brands were very cheap, and there were also some local cosmetics in Thailand. What, a local specialty for family members, is also a good choice in the Thai food area at the airport. The three of us almost missed the plane while wandering around. Finally, the three of us boarded the plane in a hurry and left Thailand.