Yesterday was just a warm-up, starting today!
The night before, I made an appointment with the front desk to return to Sovannabe Airport at 9 o'clock the next morning. Once I got off the bus, I went straight to Gate 8 on the first floor for food and freshness. The reason was that there was another must try in Bangkok, Magic Food, a famous store mentioned in almost all Bangkok raiders.
MF's name is appetizing, but in fact it is not as exaggerated and delicious as the legend has it. It is really a blessing for the vast number of poor travelers to have such a staff restaurant with extremely high cost performance and open to the outside world in a place like the airport where people are killed with their eyes closed.
MF is similar to the big era in China. It feels like a food court. It has all kinds of noodles, meals, fruits, drinks, desserts and snacks. It is suggested to make a turn to calculate the money before buying tickets, so as to avoid the trouble of refunding more and making up less.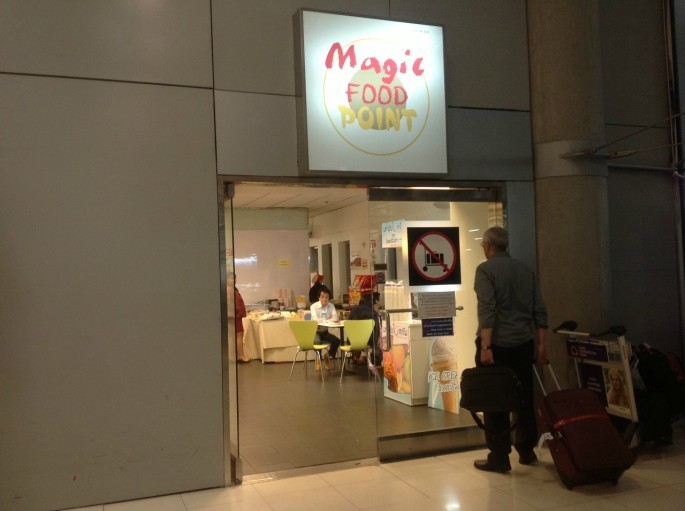 Xiao Qingxin ordered pig powder and sugar water, and the big food ordered fish ball powder and strawberry shake, each costing about 100B. Except for the failure of small fresh feedback sugar water, everything else is good. Later, I saw something similar to roast meat and rice ordered by MS locals. It looked very attractive, but I couldn't stand such sincere things when I ate it early in the morning. I didn't feel lucky. Interested friends can try it later ~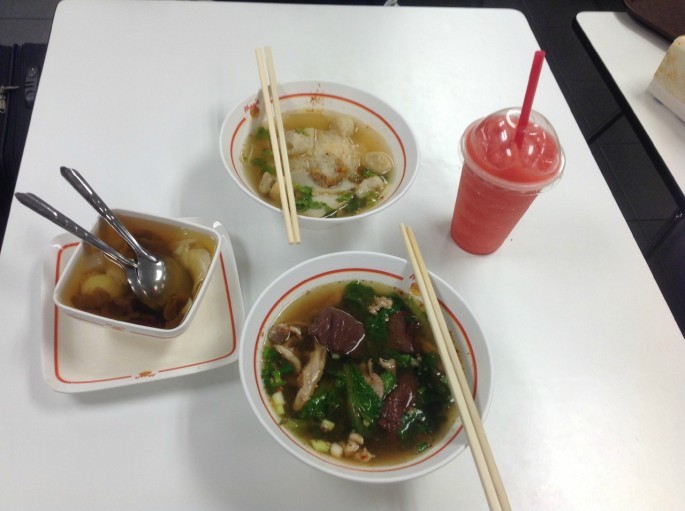 Put a picture that conforms to the theme of big food ~
Because the hotel booked can't check in until 2 pm, in order to make effective use of the time to visit more and eat more, it didn't take less effort to check the strategy. Finally, the emperor did not give up his heart. SIAM PARAGON's underground supermarket can send bags free of charge to start with the information, finally avoiding the hardship of traveling.
The plan was to take taxi to SIAM SQUARE, but after asking several taxis parked on the first floor of the airport, they were not willing to By meter, and the price was very high at about 500B, so forget it. When giving a chance to experience neon technology (Thailand's subway and light rail are said to have been built with neon investment).
If you don't do your homework well, you can only cram for it. Big food and small freshness immediately thought of the handsome boy at the information desk last night and wanted to take this opportunity to take a picture. However, the handsome boy has already left work and replaced him with a capable MM with good English. He marked the route on the map three or two times and circled the transfer stations and terminals. The high efficiency is worth praising! With MM's route reaching SP smoothly, it is recommended that you make good use of the information desk at Bangkok Airport, which is very reliable.
Bangkok subway, elevator is very long. . . . . . . . .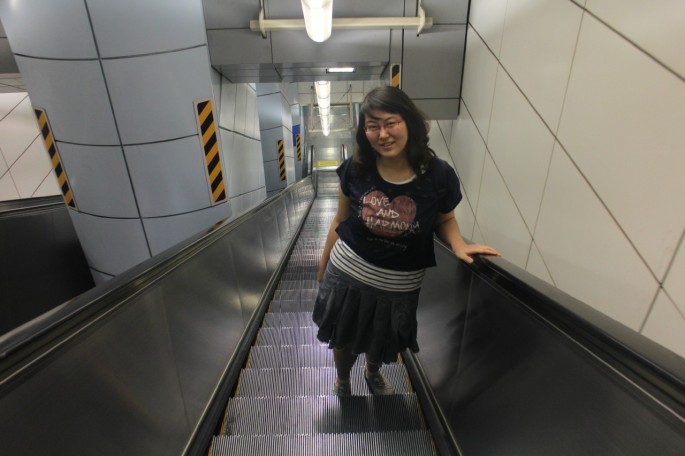 Street View of Bangkok from Overpass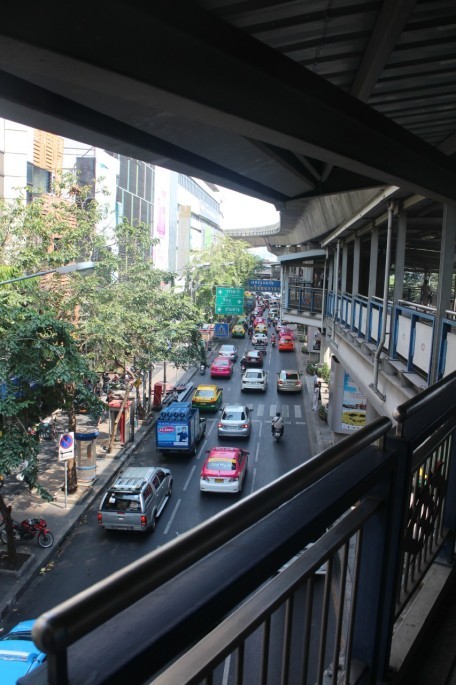 After sending the bag, it was still early. Big food and small freshness rushed to the railway station to buy the train ticket from Bangkok to Chiang Mai on the 8th. In fact, train tickets could have been bought online, and some travelers had done very detailed tutorials. However, in actual operation, they must enter Thailand's own ID number, so they could not decide on it and had to give up. However, if the budget for the return trip is a bit high, we can only take a chance.
If you go to Chiang Mai, please identify this railway station, HUA LUMPONG. There are several railway stations on the map obtained from the airport information desk. If you are not sure, you must ask the local people more. In most cases, you can get patient and friendly answers.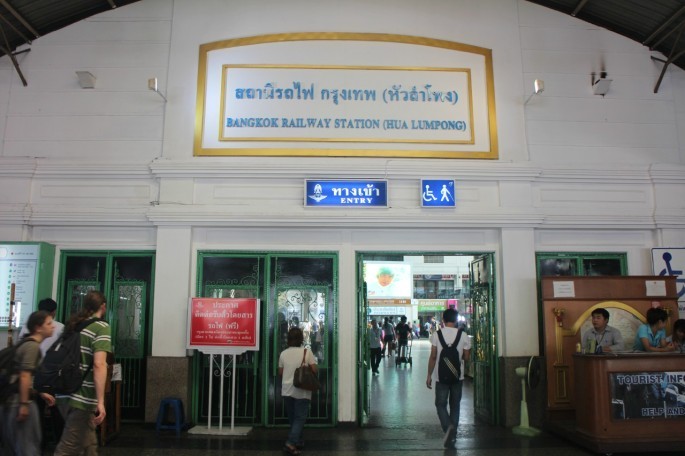 However, unfortunately, we arrived here excitedly, and the uncle who sold the tickets said that they had been sold out, which was also expected to me. Who made Chiang Mai's weekend night market influential? However, he quietly told us that if we went to buy the tickets around 9 o'clock the next day, there was a 99% chance of buying the tickets. (It turns out that like us, Thais are also popular in snatching tickets.) We finally chose to take a night bus to Chiang Mai. Friends who have the chance can verify the truth of this statement.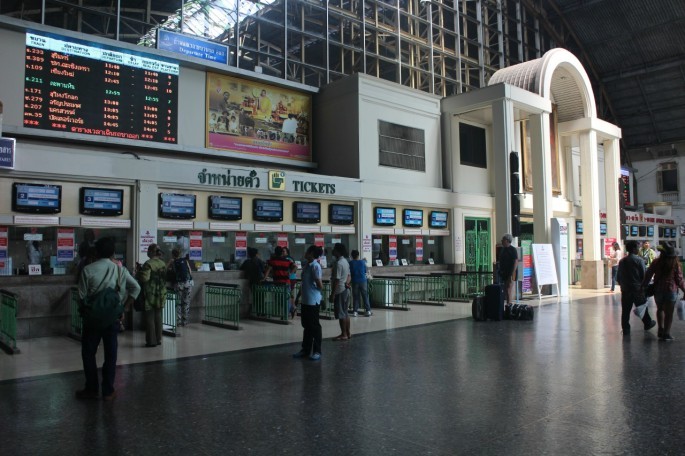 If you don't have a chance to take the train, take a photo as a souvenir.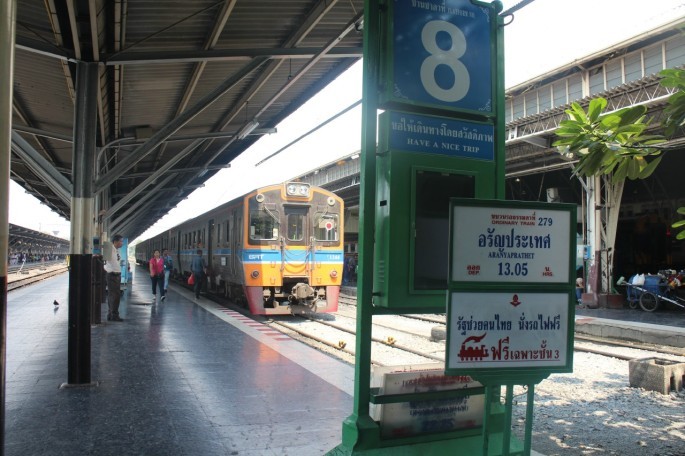 On the return trip, I wanted to save money on the one hand, and on the other hand, I wanted to try different means of transportation. In fact, the railway station was not far away from SIAM SQUARE, so I tried to eat a lot of food and a little freshness-buses.
Bus ticket, 8B, good feel, little fresh to collect ~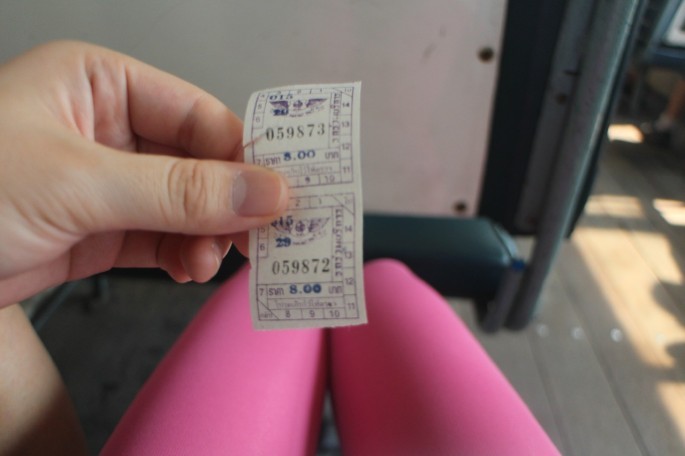 All the way through the scenery of Bangkok's old city, we finally saw the modern wind buildings in our view. We knew that the destination was bird ~ outbreak S.T.A.R.T
MBK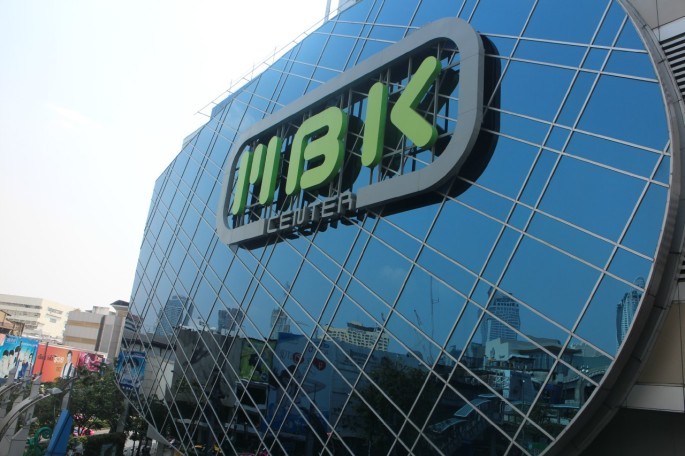 The snack stand in MBK tried Orange Shake on the left. It has a faint bitter taste of oranges. It is really made of real materials.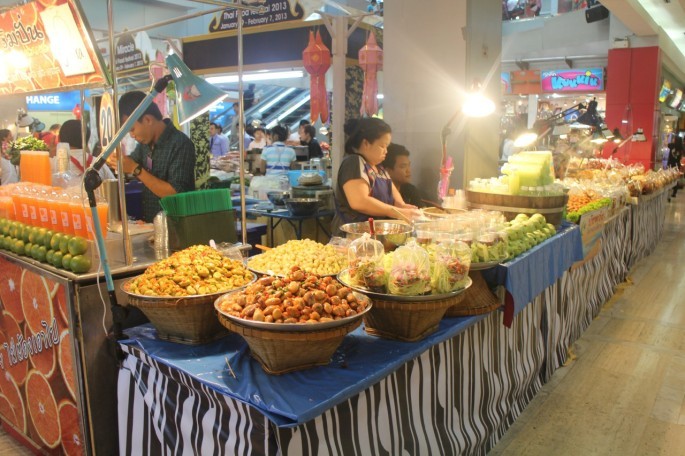 Japanese grocery LOFT is very suitable for small fresh and adorable places.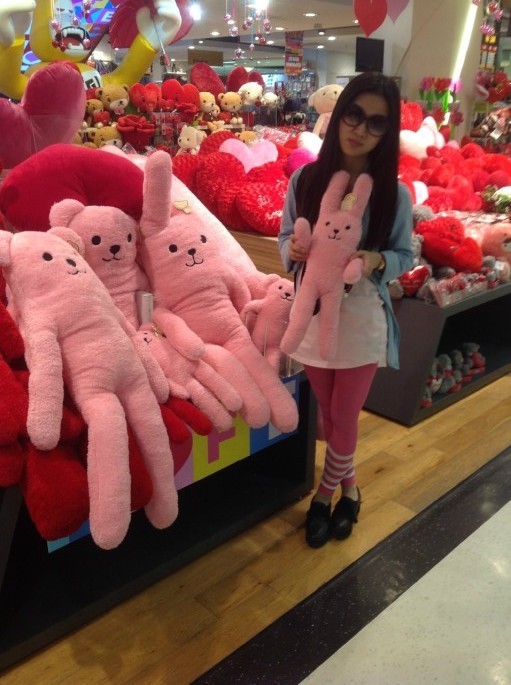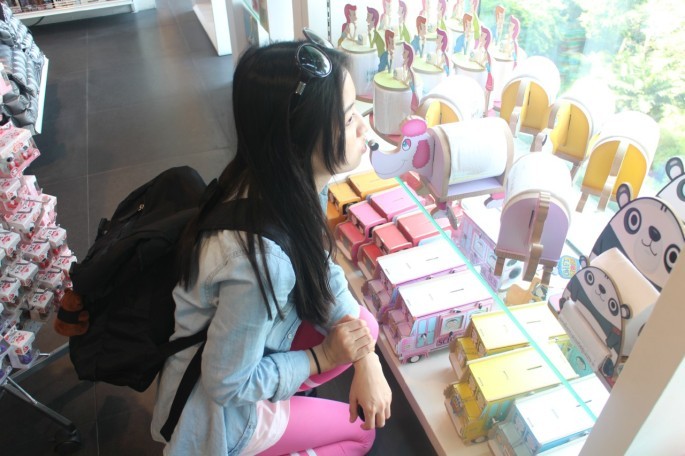 Flaming Lips, WHO ARE U IN LOVE WITH?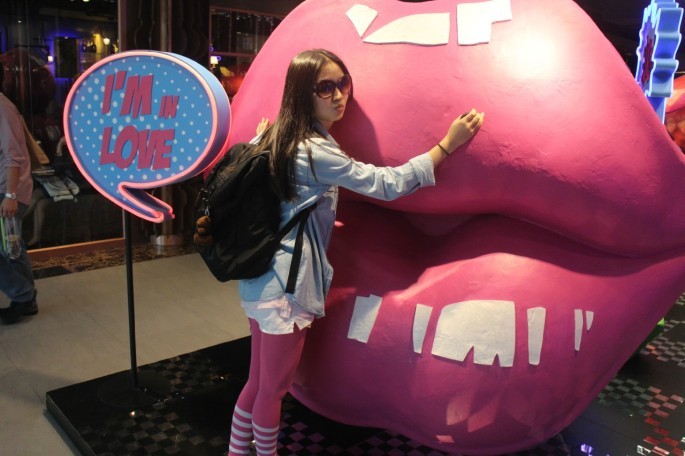 Big food also come to adorable ~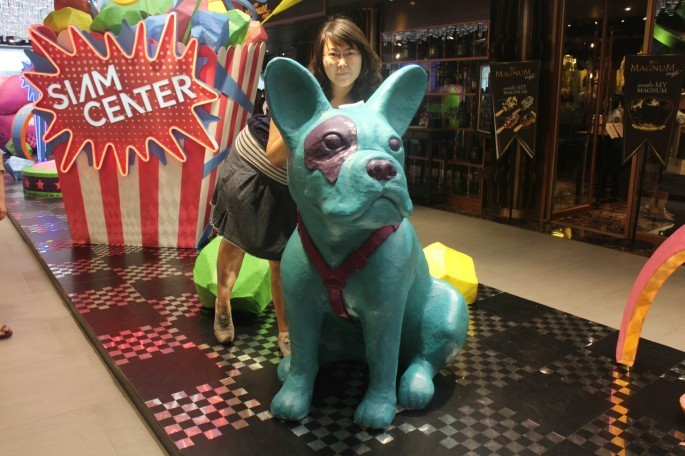 MBK, SIAM Centre and SIAM PARAGON are basically adjacent, but their styles are much worse. Personally, I feel that MBK is a variety of boutique shops, SC is mainly engaged in grocery chain, while SP is mainly engaged in high-grade clothing.
BOOTS in SP is similar to Watsons. I don't know if it is because this store is in SP and there is no discount.
This brand of hand cream lotion seems to sell well ~ ~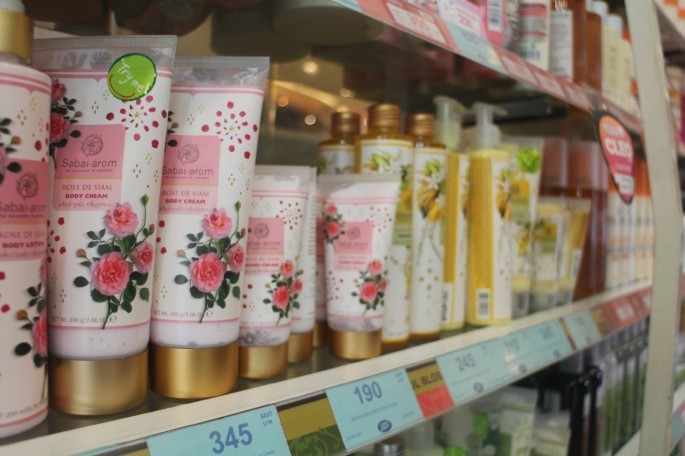 Hand cream suit, bought on behalf of Liu, is much more cost-effective than buying 3 pieces alone, and the fragrance is very good ~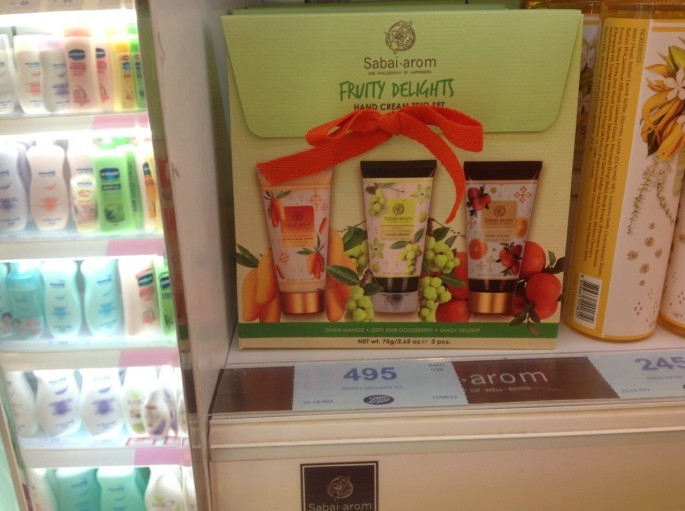 The negative floor of SP is a gourmet paradise. Thailand has a lot of Japanese food, such as large houses, sushi, mos burger, Beardpapa puffs and what's. I tasted the DQ of Must try 3 here. The snowstorm was about 40B. It was really cheap to death ~ ~ It was a little less than that in China.
Favorite for big food ~ ~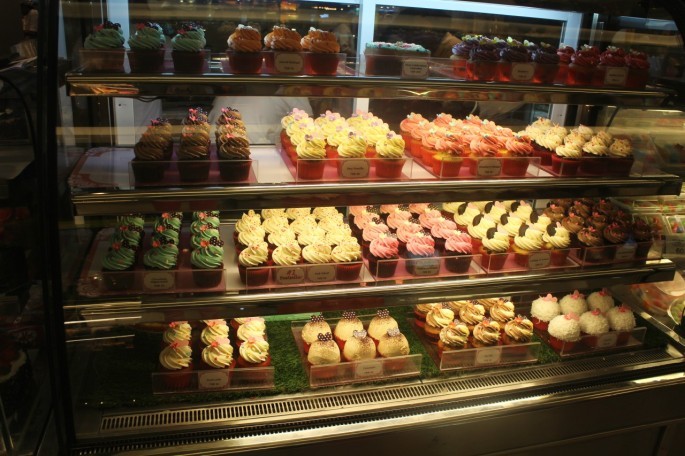 Gorgeous and retro color cake, do you have the heart to say it?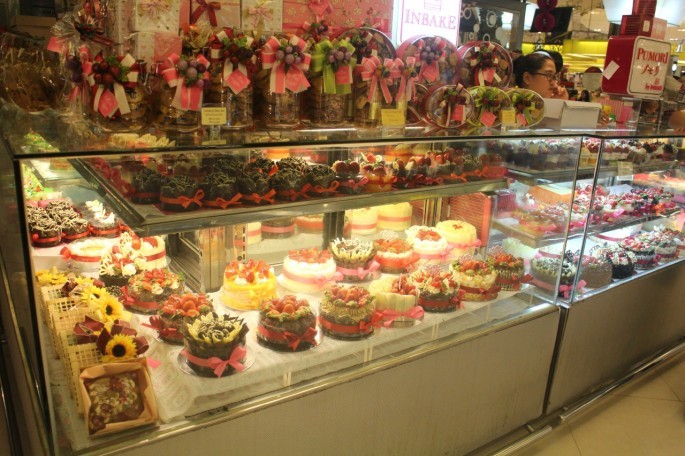 After visiting SP, there is Central World. There is an overpass that can be passed directly. While studying the map, I suddenly found that the building opposite is not the four-sided Buddha that Xiao Qingxin said from the beginning that he wanted to worship. Since the strategy of big food didn't do this scenic spot at the beginning, so let's say it's fate. This can be met, really predestined friends!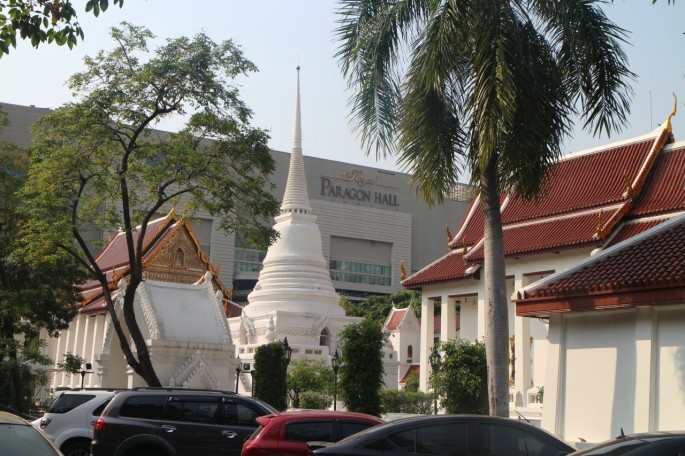 I don't know if it was a coincidence to go to the temple. There were almost no people in the temple and it was very quiet. When making a wish, it happened that a gust of wind was blowing and the bells under the eaves made a series of clear and crisp noises. Our wish will surely come true ~ ~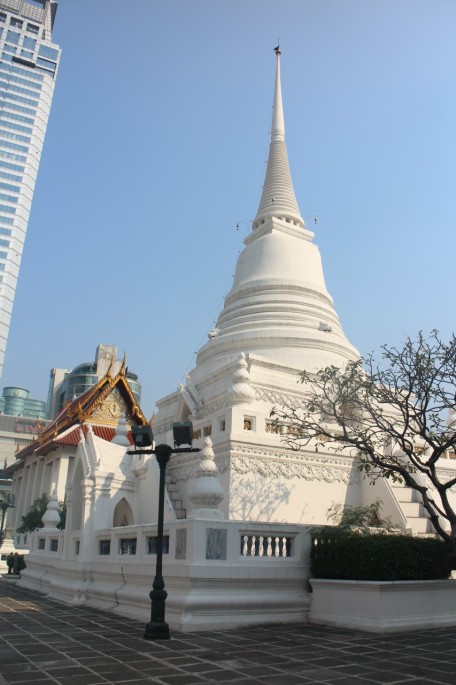 Coming out of the temple, a few steps away is CW. I came here for NARAYA flagship store. There are many styles of bags in the store, but there are also many people. They are packed and everyone's basket is full. Big food bought several shoulder bags that can be used for work, while small fresh picked out a bunch of small bags and a small elephant as hand letters ~ walked out of the store and turned several corners. From time to time, I met people who saw our bright yellow NARAYA bag coming up to ask the way.
Dinner time went up to the 7th floor. I wanted to try MANGO TANGO, but I couldn't find it. . . I also wanted to find a cheesecake opened by Uncle Neon of FARM Design. As a result, I stared at the floor guide one by one and found nothing. Finally, I gave up. . . . It's still Japanese. . .
This Lamian Noodles is small and expensive, and the small and fresh non-flavored Lamian Noodles is more delicious than the large-scale flavored soup Lamian Noodles.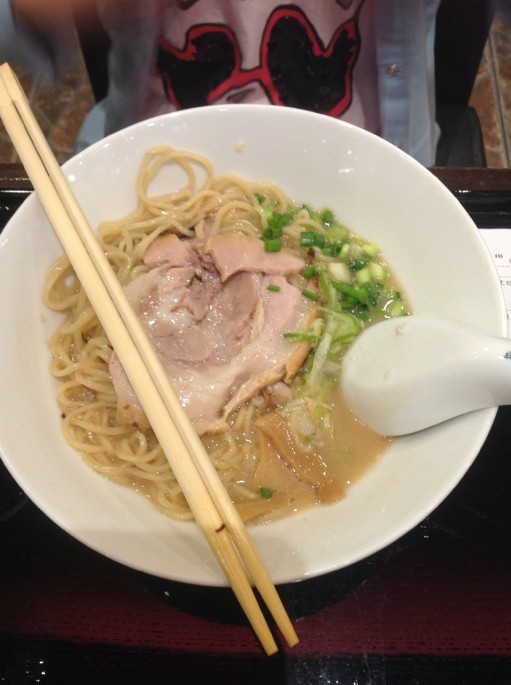 At night, after retrieving my luggage, I am going to the hotel check kin. The car near CW is very difficult to fight. Listen to us saying that Taxi refused to take the bus when I went to Kaoshan Road. The reason is that it is too far away? ! TUTU generally offered 300B, and finally 200B was sold, but there was still a feeling of being slaughtered.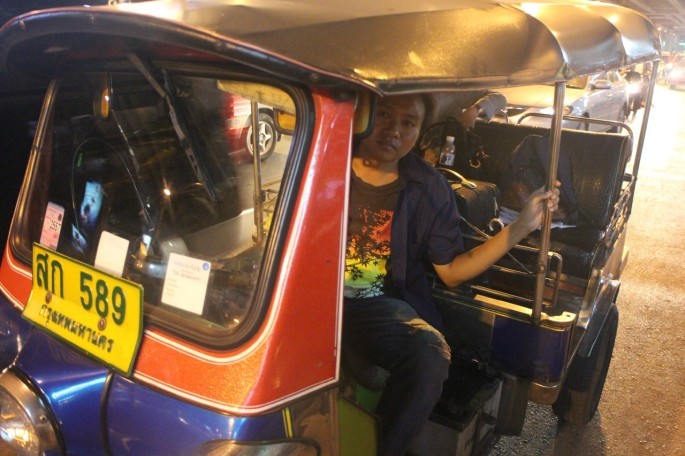 TUTU, speeding all the way through the streets of Bangkok at night.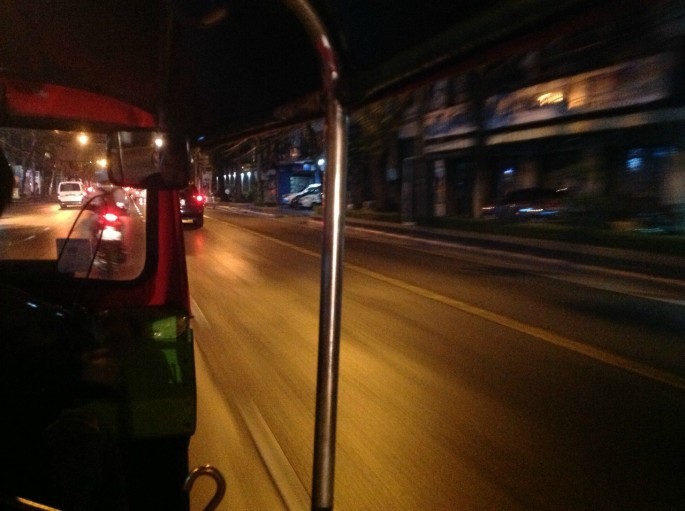 TUTU driver put us down at the junction of Kaoshan Road and left. The dark man could not see the map clearly, so he had to ask the person with the address. With the help of a bar waiter MM, big food and small freshness crossed the whole Kaoshan Road and finally arrived at the hotel ~ ~
Kaoshan Road Night Market, bustling crowd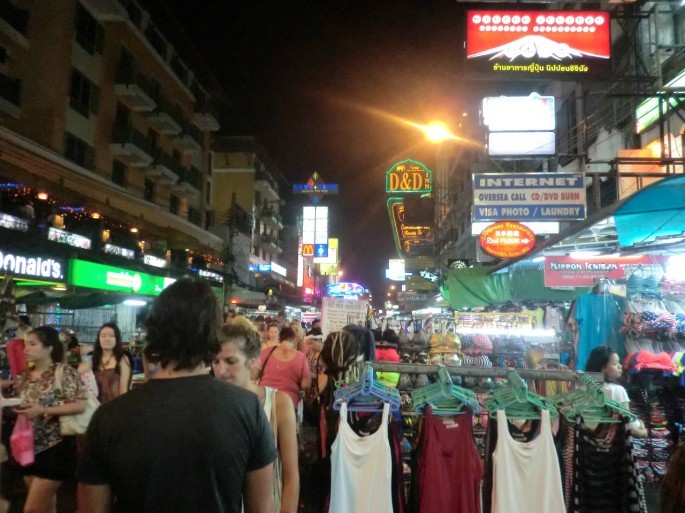 Just across the alley from the hotel is a McDonald's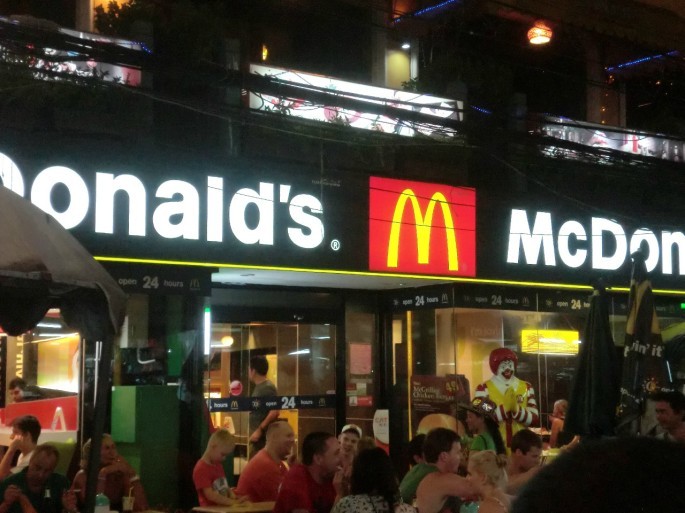 We live in Bangkok in this Buddy Boutique Inn, which is located in a small alley near the end of Kaoshan Road near the Grand Palace. The location is very convenient and it is quiet at night. About 200RMB per night, it was later recommended to my brother with heavy taste who met in Pattaya.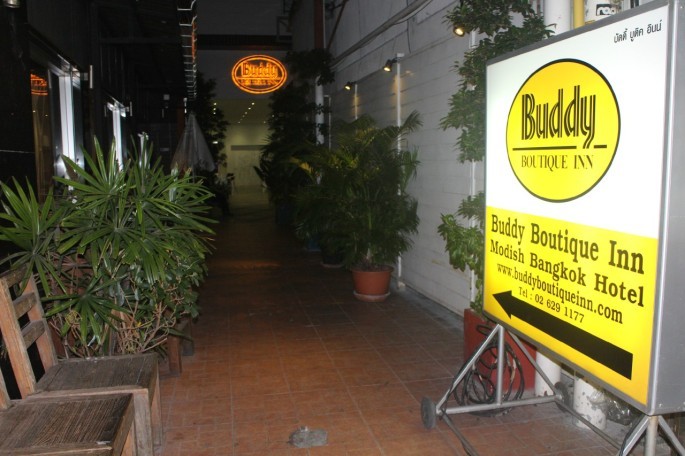 There are very top-grade murals on the wall, with strong artistic flavor.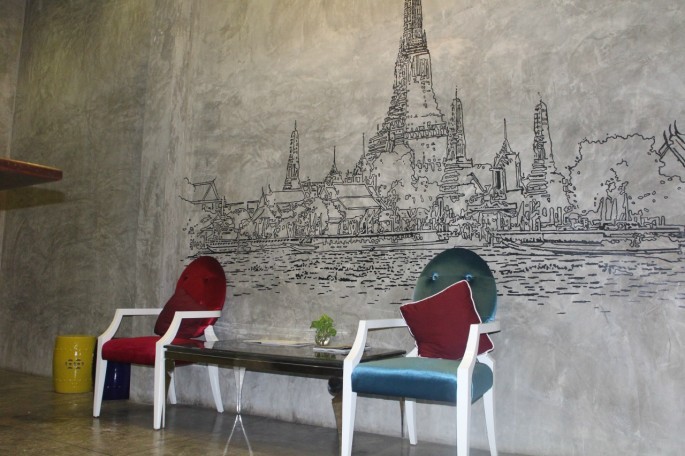 MM at the front desk was very kind. We were going to go to the railway station the next day. She told us that we could book a bus to Chiang Mai through a nearby travel agency, which was cheaper than the train and saved time. This is a little fresh and exciting, so you don't have to get up early the next day to go to the railway station ~ ~ So you went back to your room to take a rest and went out to find a travel agency ~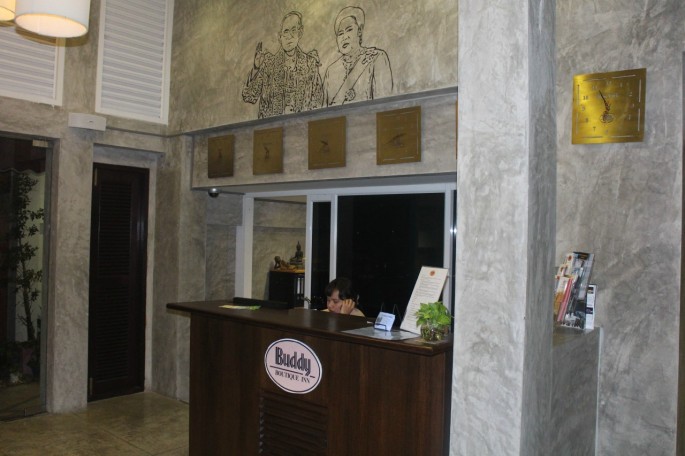 At this travel agency located on the second floor of the 7th-11th near the hotel, we were lucky to book 2 VIP night bus tickets to Chiang Mai, 700B one. Although we later met the cheaper 500B one ordered by calm eldest brother, we were already very satisfied ~ ~ After all, we didn't have to do much physical or psychological trouble, so we should spend more money to buy peace of mind ~
This is the pet of the travel agency owner, very, very cute little BABY, is a shy little boy, little fresh and big food can't hold ~ ~ ~ ~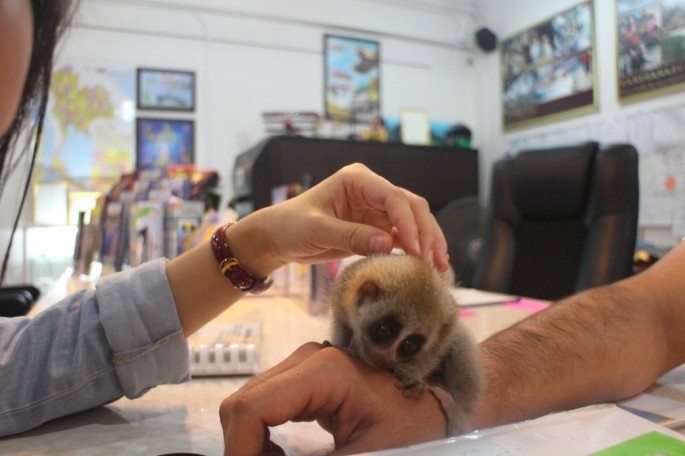 Little guys like big food bags,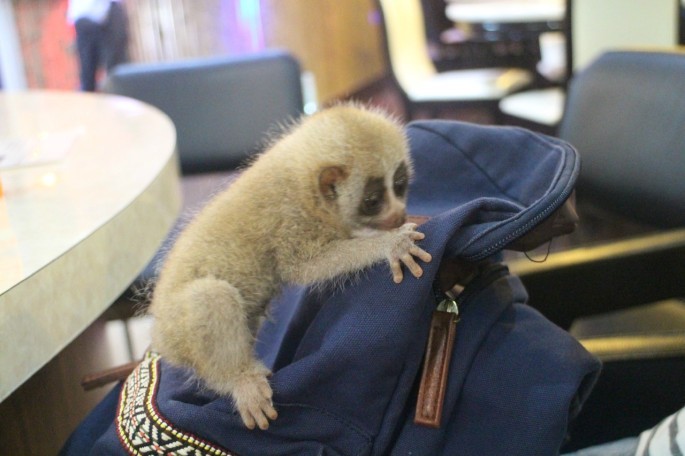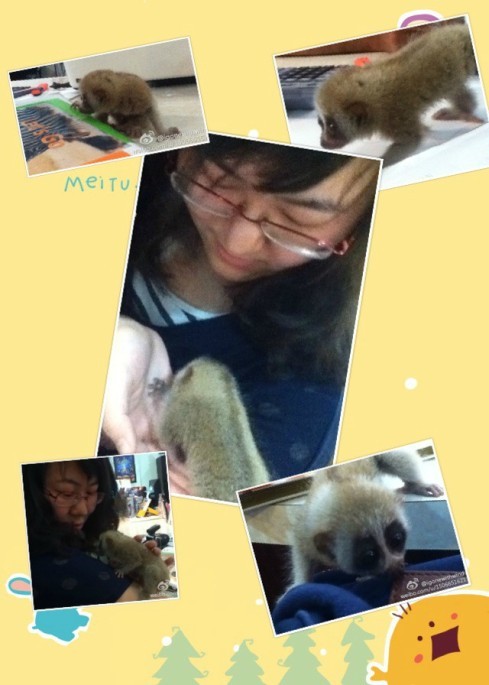 The fried powder bought at Kaoshan Road Night Market is delicious after adding fish sauce and chili powder.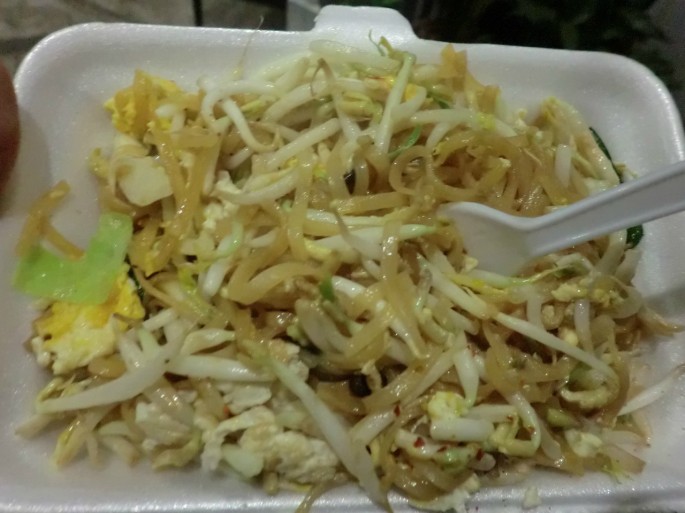 Ho. . .