This trip to Thailand's seaside is a pure rest, a complete relaxation and forgetfulness of body and mind. Before leaving, I browsed many strategies of my predecessors. Now I'd like to share some personal and practical information with you.
I. Preliminary Preparation
1. Issue passports. It must be done well in advance. Passport information must be provided for booking international flights. However, if you see a discounted ticket, you can also fill in a number at will, call the airline customer service 24 hours before the flight takes off, and change it to the correct passport number and passport validity period, which will only be a little troublesome.
2. Book air tickets. AirAsia's red-eye flight air ticket is the cheapest, the departure time is often late at night, and it is not cheap to add money to buy luggage, seats, meals and insurance. The seat space is still relatively narrow (we didn't choose to buy the extra money item, Bangkok-Phuket round-trip air ticket is 700RMB per person). The domestic China Southern Airlines is expensive (1950RMB per person from Guangzhou to Bangkok), but the convenient service is also excellent.
3. Exchange Thai baht. The Bank of China can exchange it. Other banks seldom have the Thai baht as a small currency. They make an appointment two working days in advance and need to provide their ID card, name, telephone number and exchange quantity when exchanging it. However, when I arrived in Thailand, I found that UnionPay ATM machines are everywhere. Withdrawal is very, very convenient. It will be automatically converted into Thai baht. It is recommended to use debit cards (savings cards) as much as possible for ATM withdrawal.
4. Book a stay hotel. AGODA website (http: //www.agoda.com.cn), There are also many hotels to choose from, There are both high and low grades. You must first know where you want to play and then determine the hotel accommodation nearby. Each hotel has a detailed picture and text introduction (the key depends on the hotel's check-in evaluation) and a hotel location map (you must print it out before departure, the language communication is not clear, and you can fully understand which one is when you take out the map).
5. Pack luggage
Certificates: Passports, visas, round-trip air tickets and hotel orders should be made in two copies for standby. Please separate them from the original. If the original is lost, these will come in handy.
Cash: valid credit card, savings card, small amount of Thai baht;
Information: Phuket-Phi Phi Island Travel Service, a practical English book for travel, a pen and a small notebook that you can take with you (remember the phone number, travel notes, and the price when bargaining);
Drugs: Band-Aid, anti-mosquito water, cooling oil, cold medicine, Huoxiang Zhengqi Oral Liquid (bring your own for stomach trouble), carsickness medicine;
Toiletries: toothpaste, toothbrush (the first two are not really available in Thai hotels), towels, facial cleanser, facial cream, 50 times waterproof and sweat-proof sunscreen, post-sun repair, facial mask, shampoo, conditioner, shaver, comb, cosmetics (preferably travel clothes do not take up space);
Clothing strap: Clothing should be light, thin and quick-drying. Thailand will not be very cold. It does not need long-sleeved trousers, bikini (don't join them, otherwise you will be the weirdest there), sun hat, sunglasses (essential), flip-flops, and it is best to carry a long-sleeved coat in your bag. Air-conditioned places (such as airports and cabins) are extremely cold.
Second, play with PHIPHI
There are two ways to get to Phuket from Bangkok. One is to take a bus, which takes nearly 900 kilometers and takes about 14 hours. The ticket is about 600-999b/person (the price of each long-distance bus company is different, and the most expensive 999b/person for 24 seats). The destination is the bus station of Phang Nga Rd in Phuket City, and the return journey is the same. At Bangkok's South Line Bus Terminal (located on Pinkao-Nakhon Chaisri Road), there are more than a dozen buses to Phuket every day. It is recommended to take the bus at night and get there after a sleep. The second is to fly and arrive in an hour and a half (fast! We choose this one without delaying the time to play). Phuket Airport is a relatively crude airport, and there is a free puket map at the exit (be sure to take it, it is very useful). It takes about 45 minutes from the airport to Patong Beach. Take a minibus of about 150b/person (you need a full bus to drive, sometimes you have to wait) and a taxi of 600b/car. Both the minibus and the taxi will be delivered directly to the hotel you booked.
DAY 1: Tour Phuket's three major beaches by motorcycle-Patong, Karon and Kata
The PL Guesthouse Hotel, which lives on Patong Beach, is located in a very good position. It is quiet in the midst of the noise. It is very close to the beach and Patong Street (also called Bar Street). It takes more than ten minutes to walk, and it is closer to JUNGCEYLON (Jiangxi Leng) shopping mall. It takes three minutes to walk right from the door.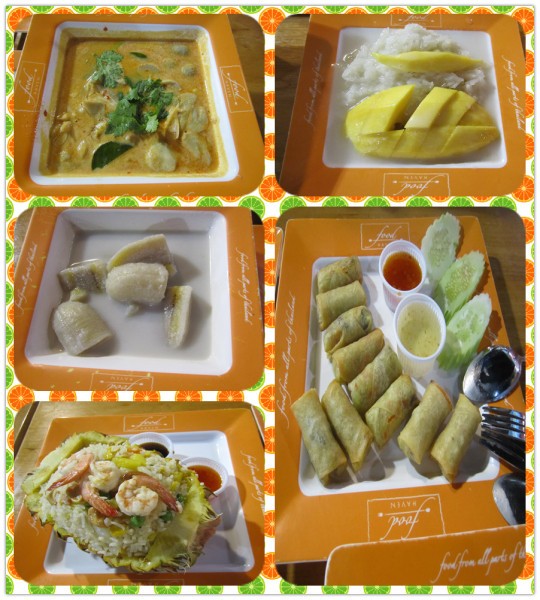 JUNGCEYLON (Jiangxi Leng) shopping mall in the food, first buy a card at the front desk to charge money, order dishes directly swipe the card, can use up can refund money, very convenient. Seafood Dongyingong Soup is scattered with some coriander, which contains squid, shrimp, crab, fungus, etc. Mango glutinous rice is very sweet with coconut juice, and Thai glutinous rice tastes excellent. Banana coconut dessert, banana is not as soft as fresh fruit, a little chewy, like pickled; Seafood pineapple rice is not as good as the one we ate behind, with a lot of cashew nuts. Fried spring rolls are crisp, fragrant and thin in skin, and tastes great when stained with flavor juice.
This is the restaurant where we ate two dinners in Phuket. It is full of color, aroma and taste. The price is not expensive, about 700B, and there is also a free cold coke. Pineapple rice is super straight, bread is sweet and crisp, and seafood coconut milk winter yin gong soup is delicious and excellent!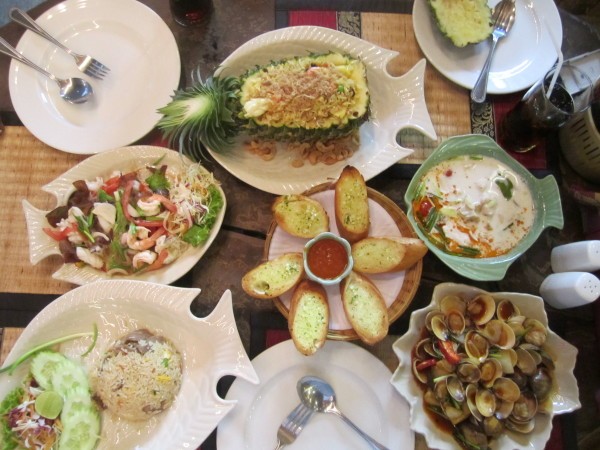 这就是我们在普吉连吃了两个晚餐的餐馆饭菜,色香味俱全,价格不贵大概700b左右,还有免费的冰镇可乐送。菠萝饭超级正,面包香甜酥口,还有海鲜椰奶冬阴功汤,美味一级棒!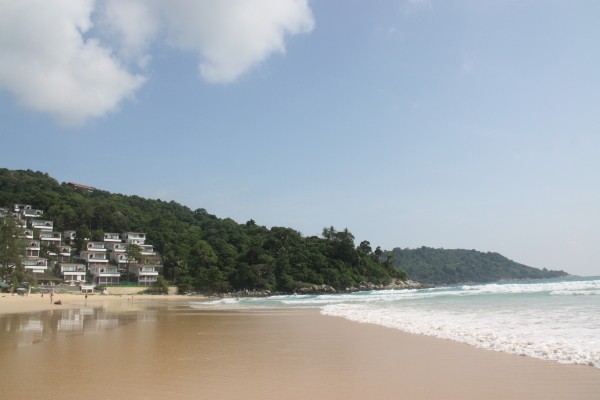 Kata Beach.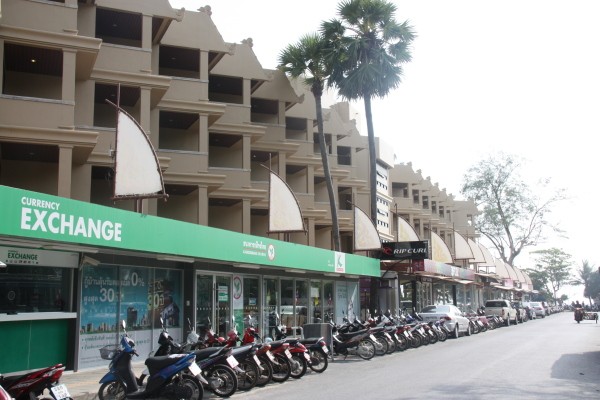 The three of us rented two motorcycles (200B/set, need to detain passports, one car for each car, and return it when returning the car). The price of each car rental shop is the same, and the price varies according to the model (similar to the kind of car parked on the street in the photo). It is not difficult to drive, and it is not very different from driving electric motorcycle in China. You must pay attention to driving on the left (it is on the right in China). When picking up the car, the car oil is full, and when returning the car, it must also be filled with oil. The car oil is packed in glass bottles (50b/bottle of oil), one box at a time like buying beer in China.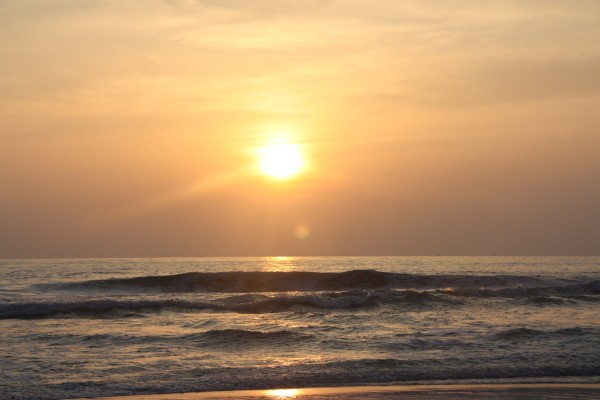 Sunset at Karon Beach.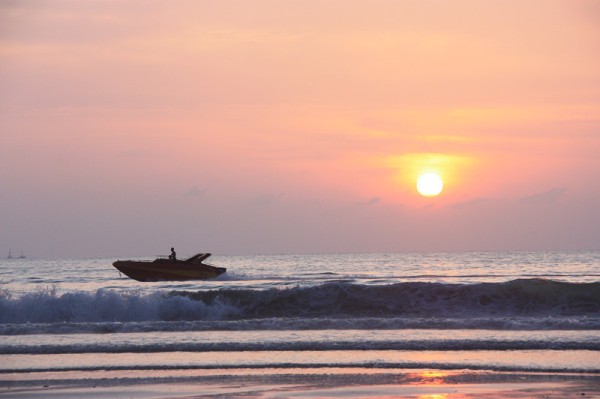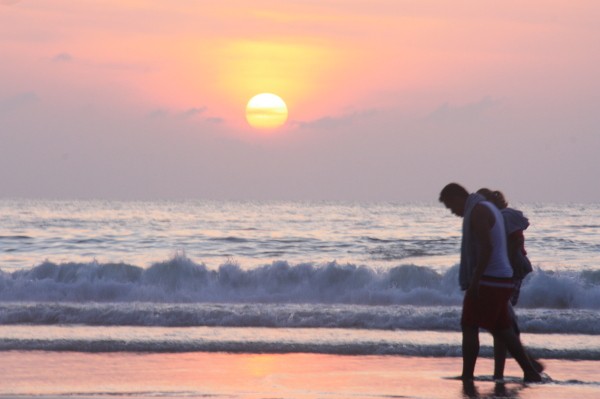 Couples walking on Patong Beach.
Phuket is quite lively at night, with many nightlife programs. SIMON's transvestite show VIP and ordinary seats cost one price, 19:30 and 21:30, including the hotel shuttle fee in Patong, 650b for adults and 600b for children. No hotel pick-up is 550b. Karon and Kata pick up 750B adults and 700B children.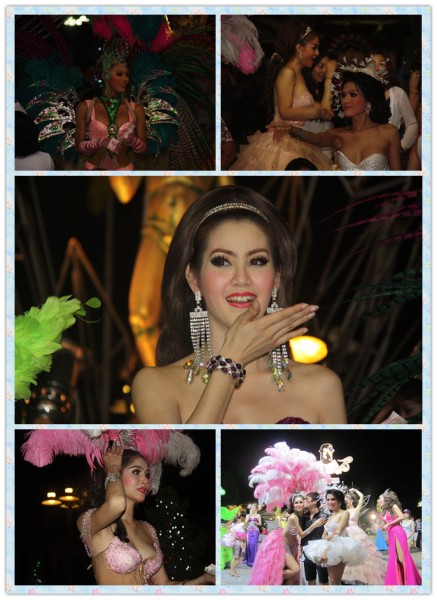 Tip 40b per person for taking a photo with Ladyboy.
The street in Patong is the busiest. You can walk along the street and watch or participate in dancing your body. You can also watch the show with a bottle of beer (we are girls who only need juice to watch a ladyshow, 300B/person, and the refill is the same price). You don't have the courage to watch the ladyboyshow go. In fact, as long as you haven't finished your drinks, it's no problem how long you want to watch it. The overall feeling has no aesthetic feeling at all. It is purely an alternative experience of life and an eye-opener.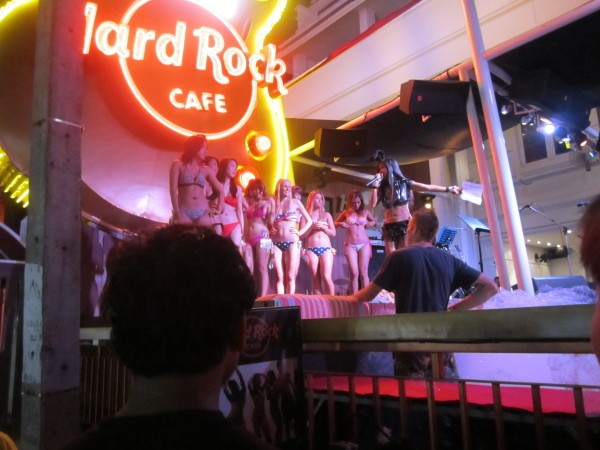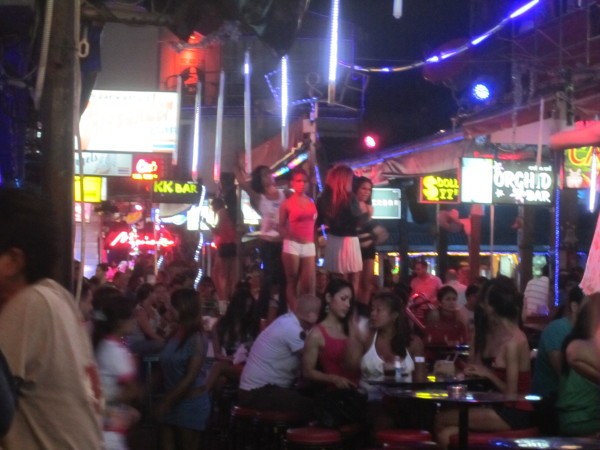 Phuket's nightlife is crowded during the day and at night.
DAY 2: Take a cruise ship to peel the skin, contact the roundabout tour and deep sea diving.
At 7: 20 a.m., we waited for the bus to pick up the dock in the hotel lobby. We were on the 8: 30 boat. The boat schedule was: Phuket-Phi Phi 08:30. 11: 00; 14:30; Phi Phi-Phuket 09:00; At 13: 30: 14: 30, there are no flights at 11: 00 and 13: 30 in the off season. Tickets are 600b for adults and 550b for children. If you get seasick, you must take carsickness medicine before the ship sets sail. The sea to Phi Phi Island is stormy and the voyage takes about 2 hours. The staff will stick a ticket on you and give you a return ticket (be sure to put it away, you can return any day and show the ticket). On the return trip, a car will be sent directly back to the original hotel.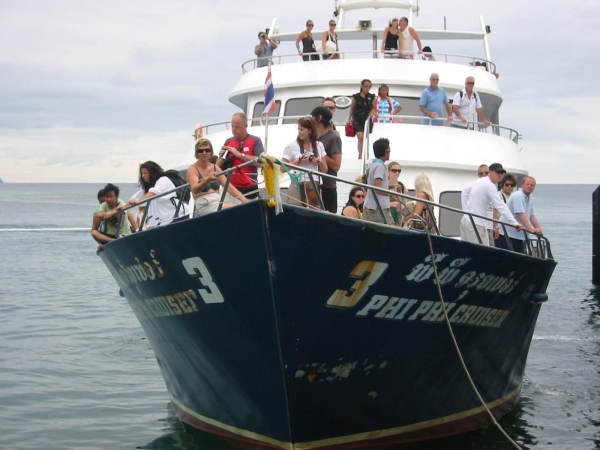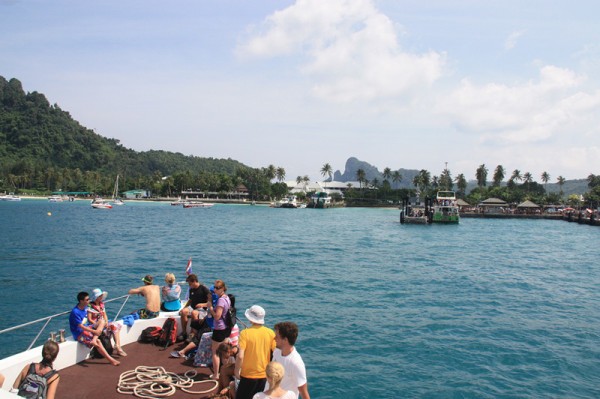 The cruise ship is about to dock.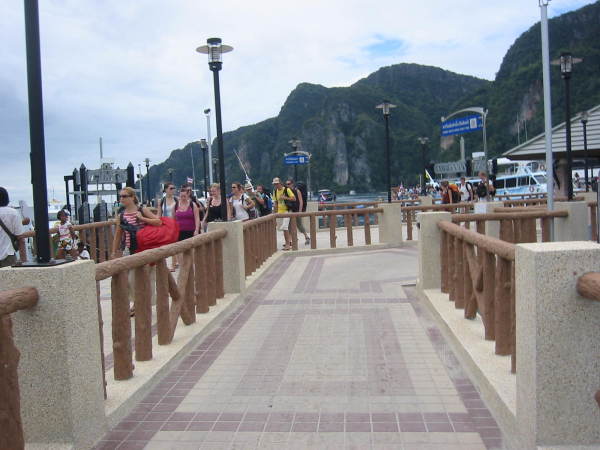 Ton Sai Bay on Phi Phi Island.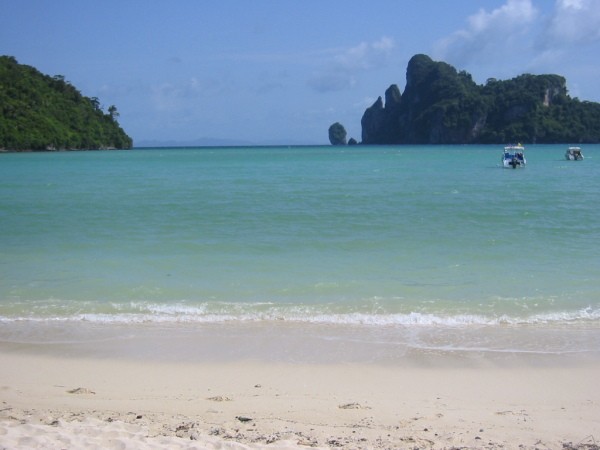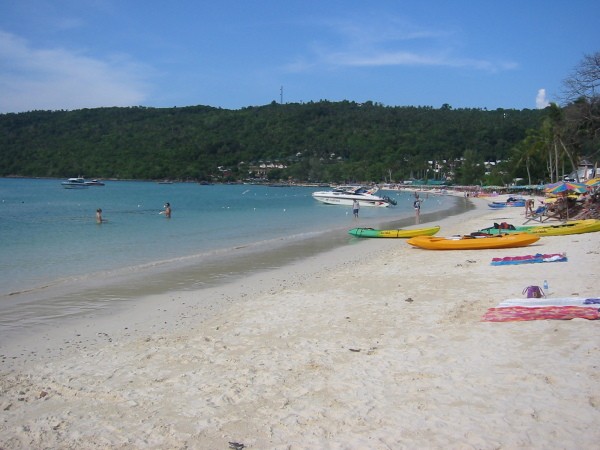 The view of Phi Phi Island.
Go to the island at 12 noon, find a place to stay first, and finalize the Twin Palms cabin (1000b/night). Next to it is the carnival beach, which often hits until 2 a.m. Have a casual lunch at an Indonesian restaurant and start a round-the-island tour of the Long Tail Boat tomorrow (2800B includes all the fees for boarding the island). The comparison found that the deep diving price on the island is the same for each family, which is said to have been unanimously determined by everyone at the meeting (I feel that there is no malicious price increase in Thailand's tourism market, which is still very standard). We accidentally met Aaron, a Chinese diving coach. Because we had no diving experience, we chose one deep dive (one deep dive 1600b/person, two deep dives 3200b/person) and underwater camera video (500b/person) according to his suggestion. During the chat, Aaron learned that we were going to travel around the island tomorrow and offered to go with us to teach us snorkeling free of charge and take us to places few people know to play. (to be continued)