On the morning of June 3, we slept until we woke up naturally. I didn't have a good schedule for today! I plan to spend this day on my trip to Elephant Island. When everything is ready, it is about 11: 00. Go downstairs and check-out and ask the receptionist how to get to Xiangdao. She is a very warm and open Thai woman. So she took us to the agency travel agency next door.
Let's look at the appearance of our hotel in Pattaya first. The hardware is good, but the software is not.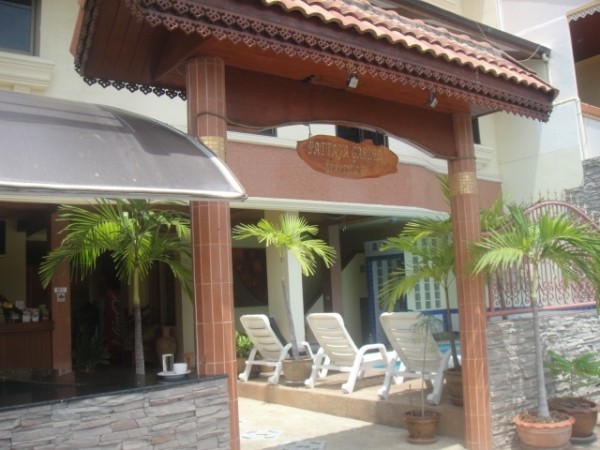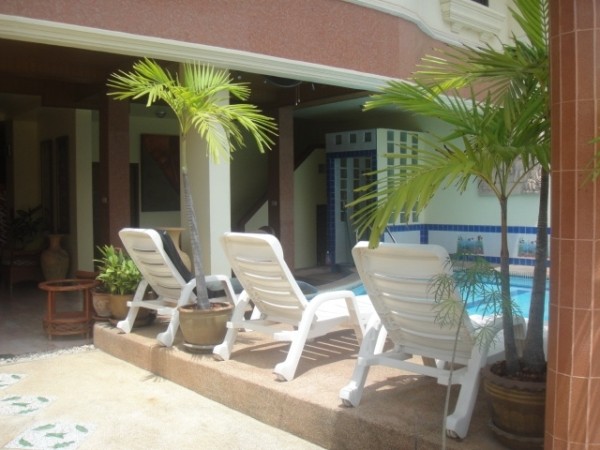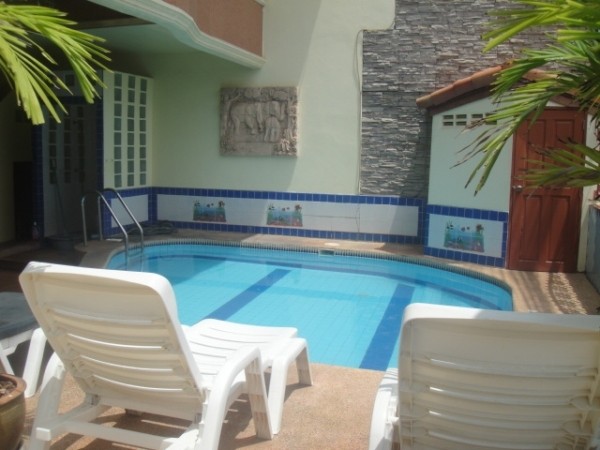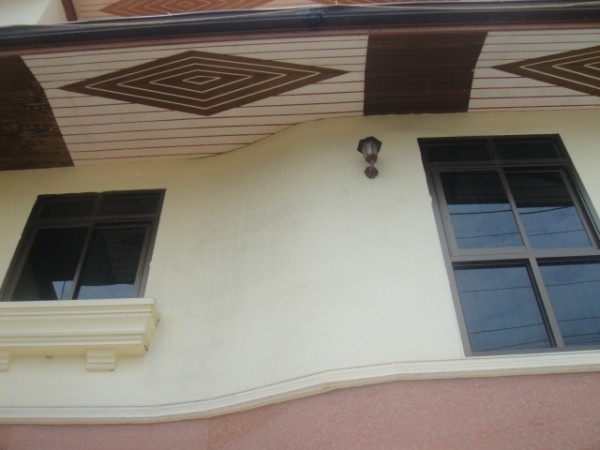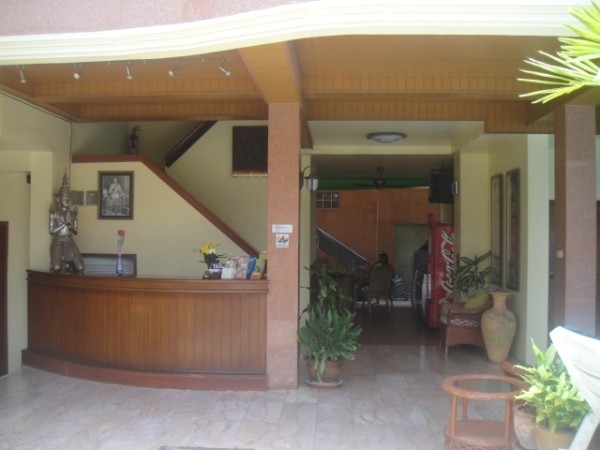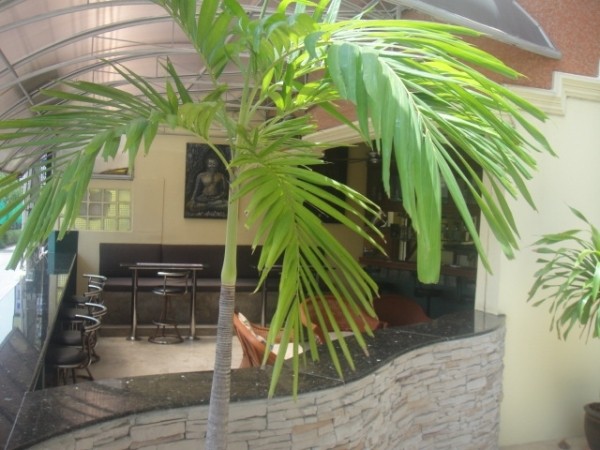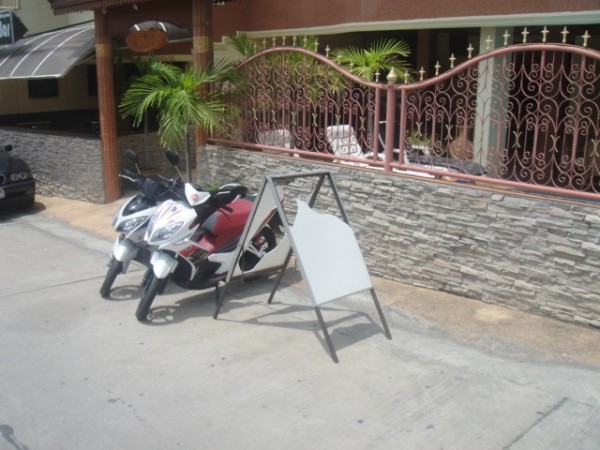 Look at the Travel Service next door! As soon as we went to the wife of shop-owner, we said that there was no bus today. There was only one mini bus to Elephant Island every day, and it was at 7: 00 in the morning. Other times are gone, and tickets cannot be booked anywhere. Mini bus tickets include 700B tickets for one person and 1400B tickets for two people. We will definitely not be able to go today, or we will stay in the hotel for another night and wait until tomorrow morning. If you really want to go today, then take a taxi, but the journey to Xiangdao is really very, very far away, so the taxi will be very expensive and need 4000B B. She can help us contact the taxi. We asked if it could be cheaper. She said there was no way out.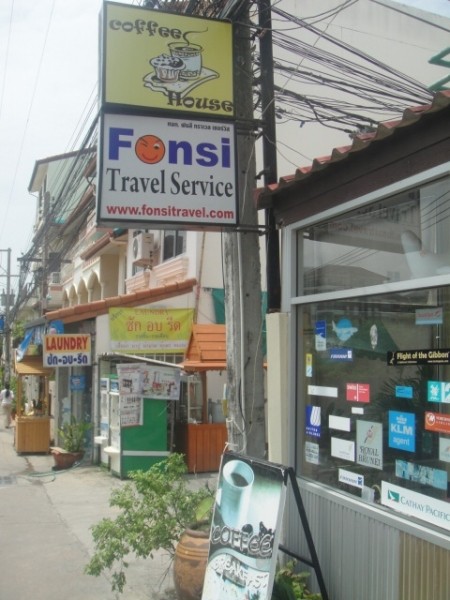 Therefore, it is really not possible to believe in strategy. According to the strategy, Pattaya does not have a taxi and it only takes one hour to walk the whole city. Do you believe it? In short, I can't finish walking. And Pattaya is so prosperous, how can you not get a taxi? The street was full of it, we saw it as soon as we walked out, but we were not going to sit on it. There are also strategies that say it is most convenient to find an agent travel agency for everything. They will drive the car directly to the gate of the hotel to pick it up. I think convenience is convenient, but it is not ideal either. If you are really lazy and afraid of trouble, this method is still feasible.
All right! We can't find a way out here either. Let's go out and find a way out.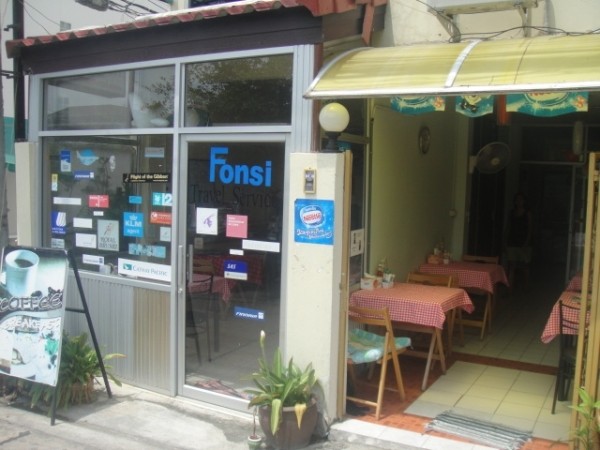 Out of the travel agency, bid farewell to the hotel we stayed in. Take Dudu 40B to the station from Bangkok and have a look! There may be a chance.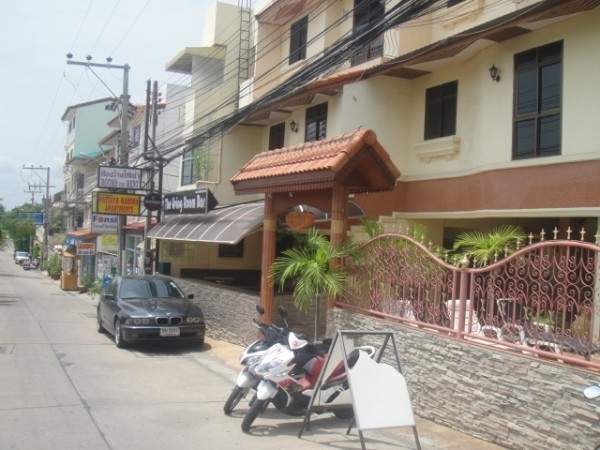 Arriving at the station, I looked around and saw a very just and dark staff member. I went up and asked! The staff member was very good and extremely considerate. He ordered two motorcycles for us. The price was agreed to take us to Mini Bus Station. He also said that we would definitely be able to take the bus to Elephant Island today. I am really touched. The Thai people are so cute!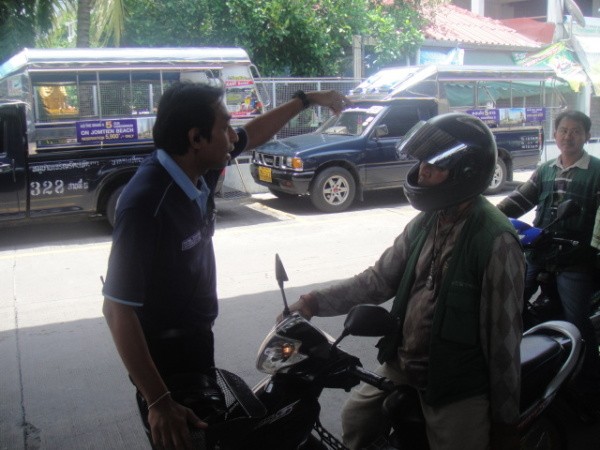 He looked at his watch and said it was getting late. Go now! Not very far. So we set out.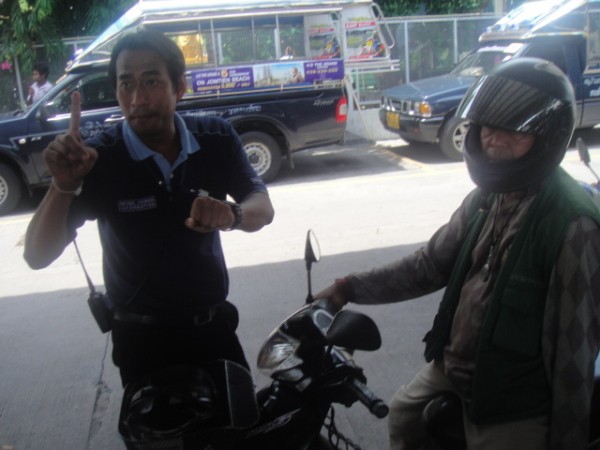 Pattaya's roads are full of fast-moving motorcycles, and they all take motorways. Therefore, be careful. I don't know what the safety factor is!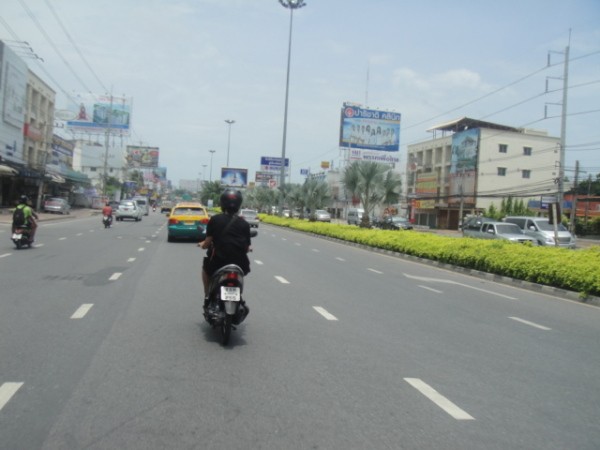 Look at my hair swinging wildly with the wind!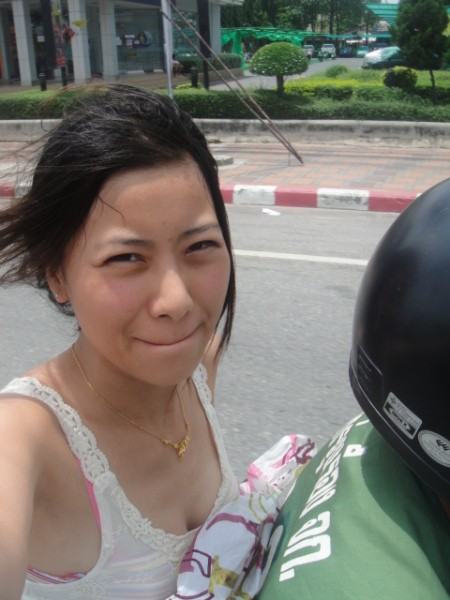 Look, the following kind of motorcycle is a bit like the three-wheeled motorcycle of China long ago, but in fact they assembled it by themselves and built such a large shed. There is really no concept of safety factor. There are still so many people sitting.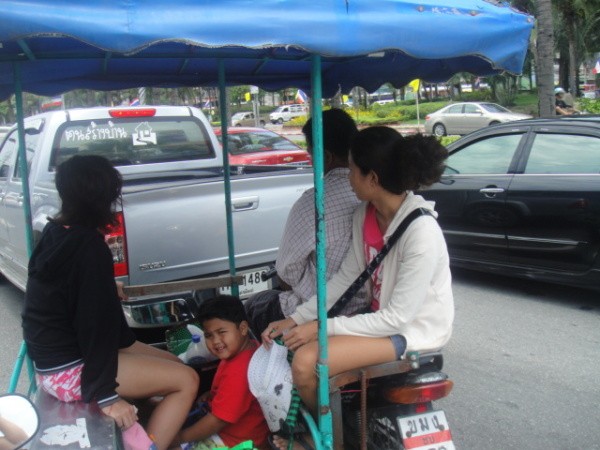 Look again, my husband is already like this! It's almost there, bear it.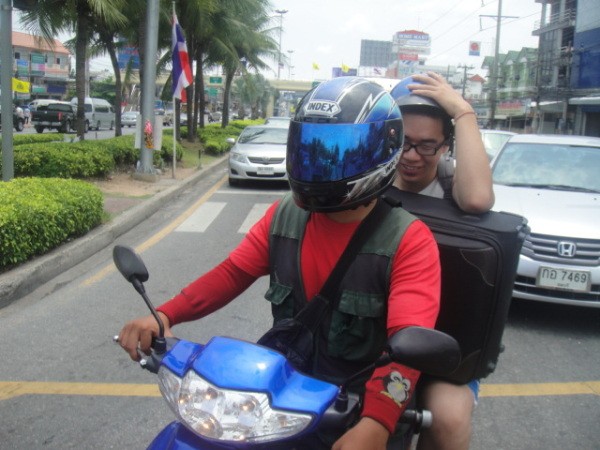 They all looked at us with strange expressions!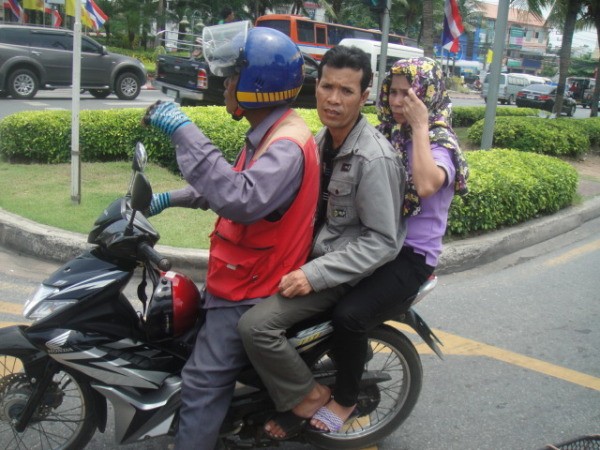 The journey is not short. The motorcycle is driving very fast. We will arrive soon.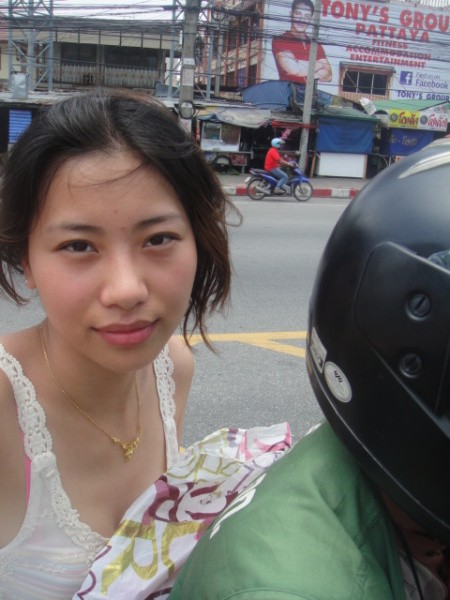 This is the mini bus station! 35 GROUP PATTAYA, the same picture of the car I took at Bangkok Station. How happy!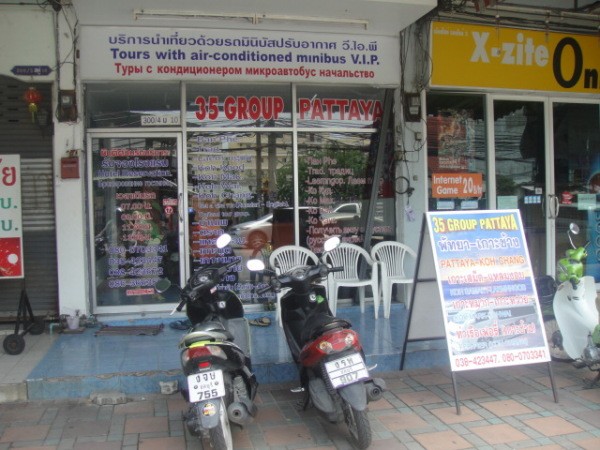 What a cool motorcycle driver, like Armor Superman, let's take a picture!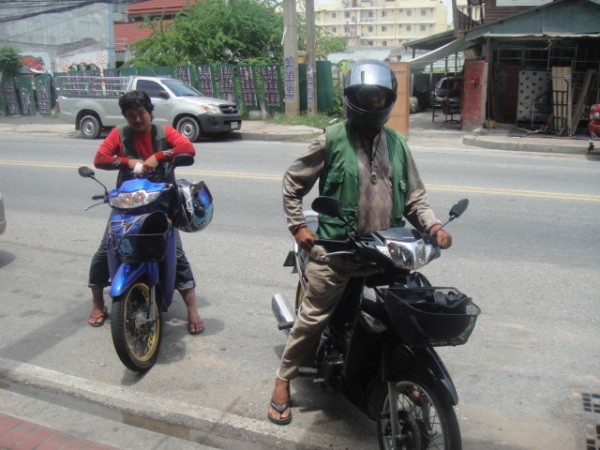 At 12: 30, we bought the ticket at 1: 00, mini bus + boat is only 400B, and two people are 800B, which is very cheap! It is true to find it yourself.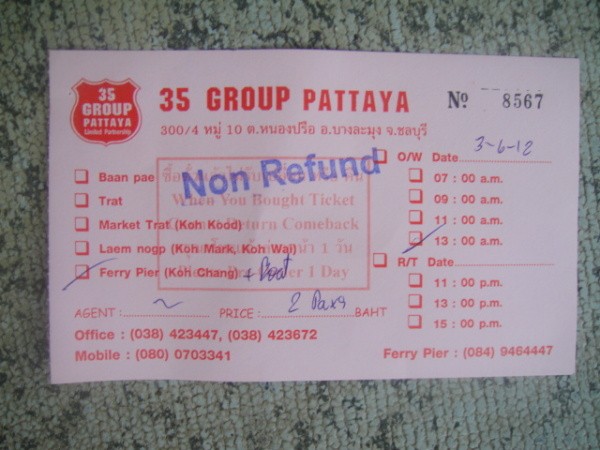 After buying the tickets, we told the ticket lady that we should go to have breakfast and lunch first. What will be back before 1: 00. The ticket lady left my number and we came out!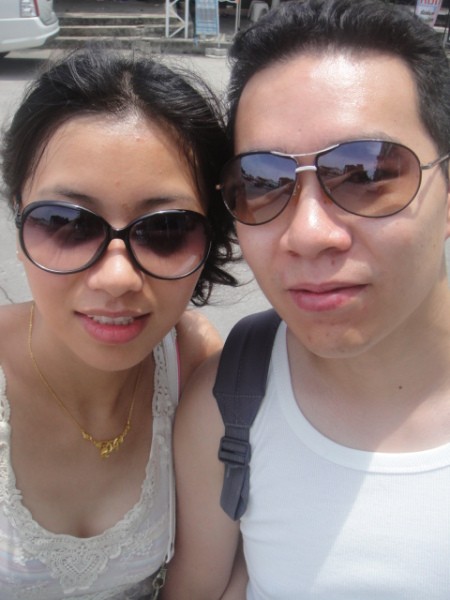 Walking to a alley, there was a row of snack stalls in the street and came to a sausage baking stall. The business was very good and many foreigners were buying it.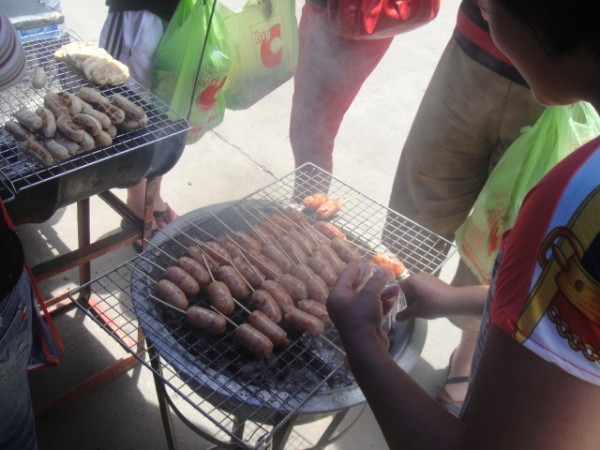 10B, we bought two. My husband seems to be drooling.
Next to the roasted banana 5 20B, it seems that there is no appetite, so we didn't buy it.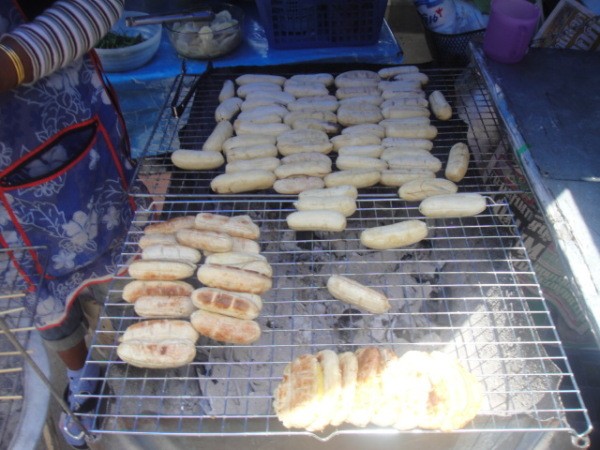 Take it and pay for it. It's 20B in total.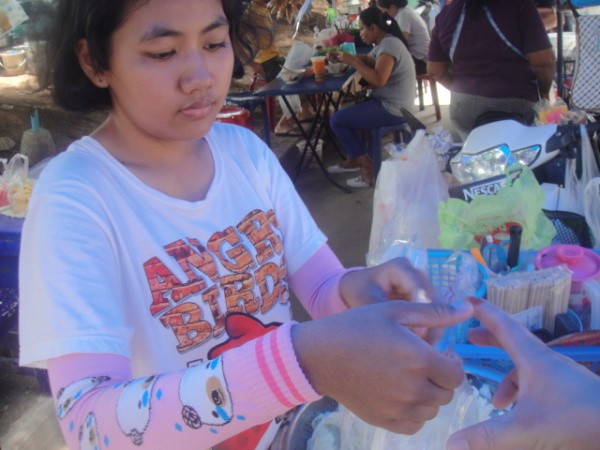 The taste is really strange, sour, and there is rice in it. People who don't know think it is bad. The taste of Thais is really strange. I can't get used to it!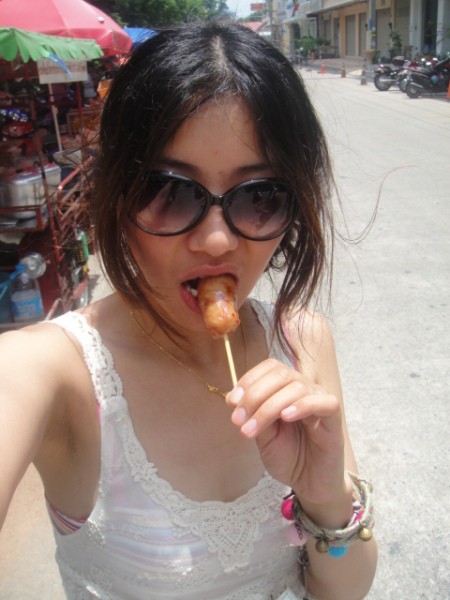 Look at my husband's eating style again. The vendors were all smiling.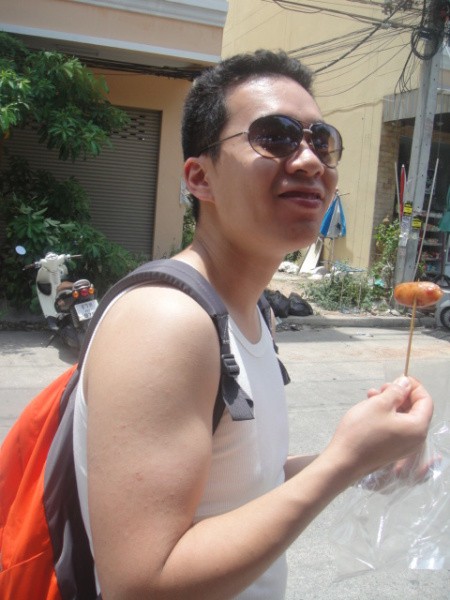 Walking a little further, I saw a big bigC not far away. Shopping mall, go in and see if there is anything delicious in it!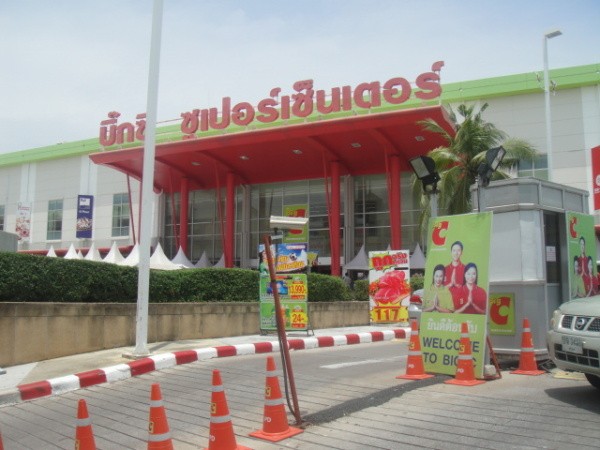 There are also some lazy dogs sleeping, and the dogs here are really similar in appearance.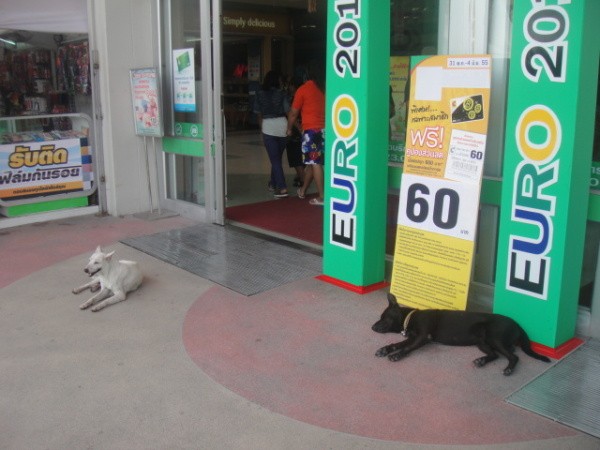 Entering the shopping mall, I saw KFC at a glance. All right, I'll choose you! Simple and convenient, we don't have much time!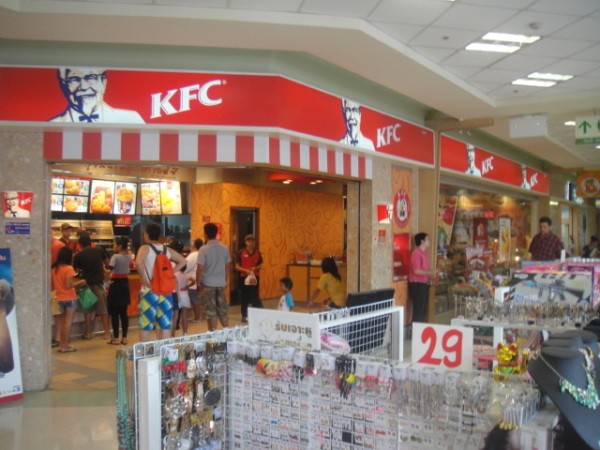 This is the simplest, directly refers to the picture point! We ordered these.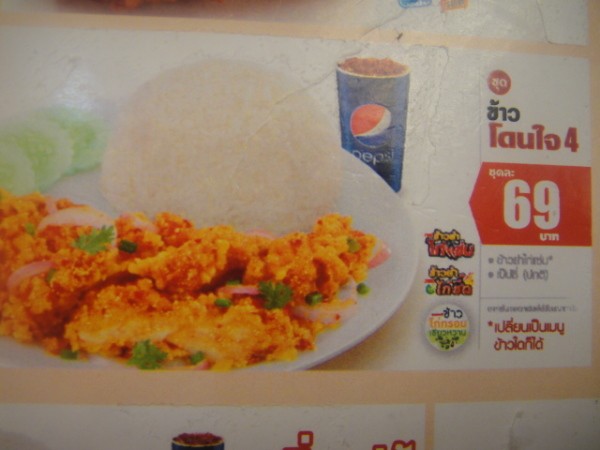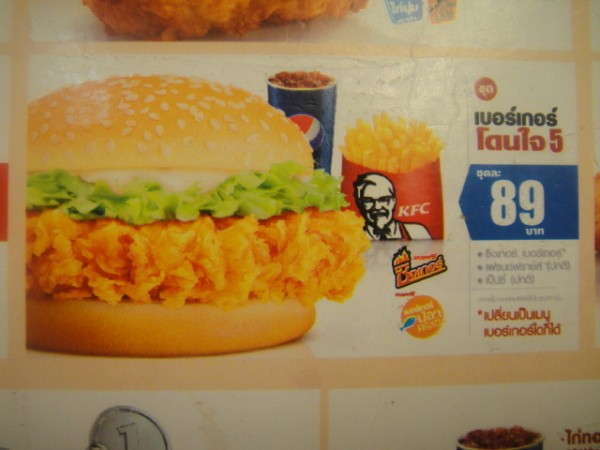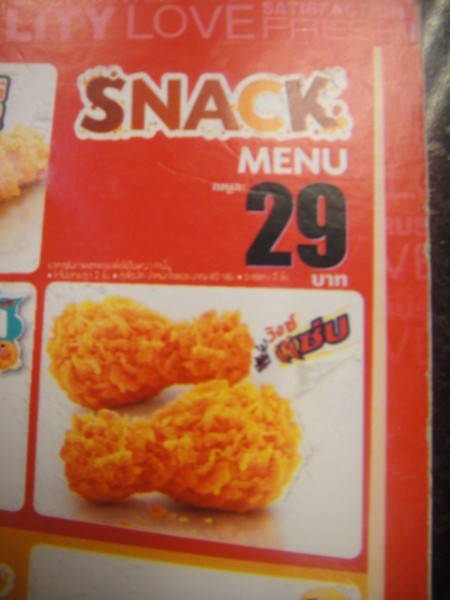 This is our dish!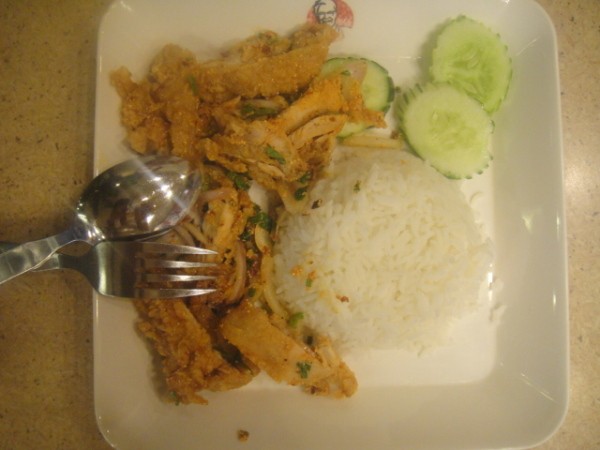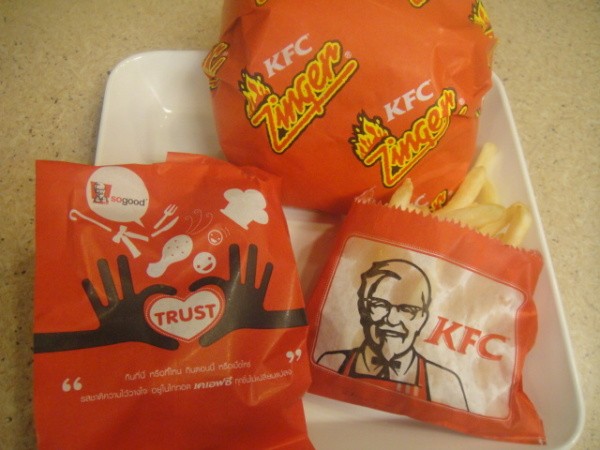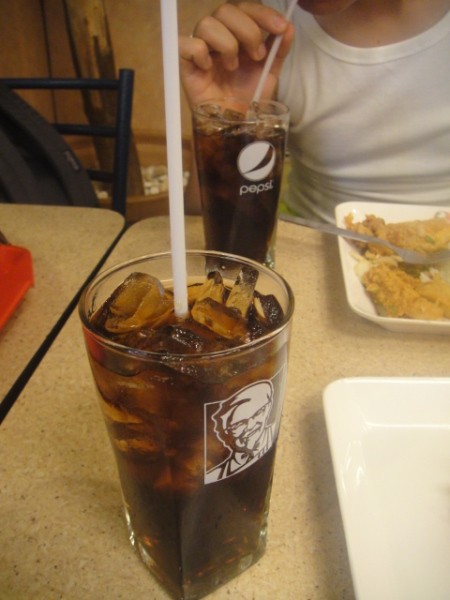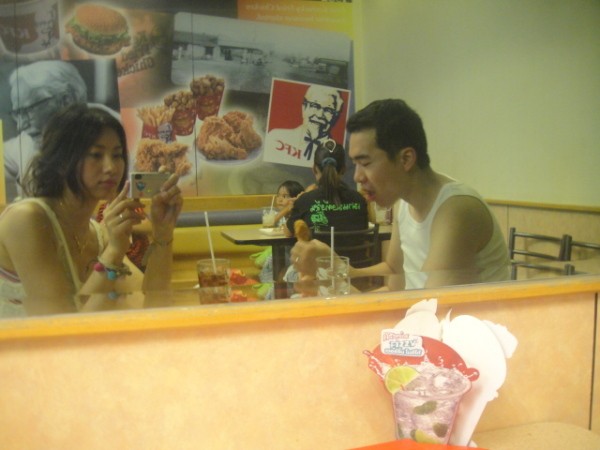 I'm starving. Look at my food!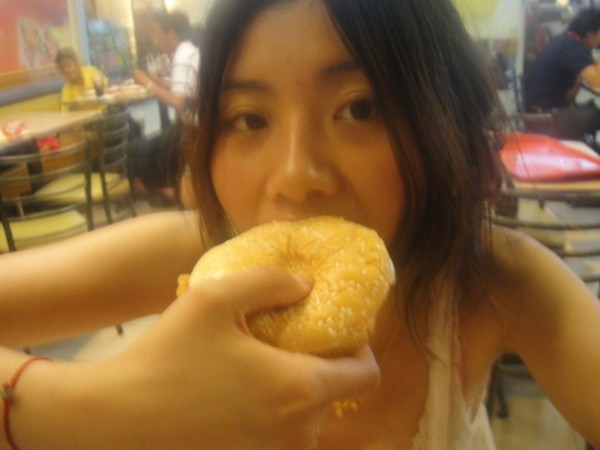 My husband said that the chicken wings here are too spiced and not delicious, and they are also good in China. But I think it's okay!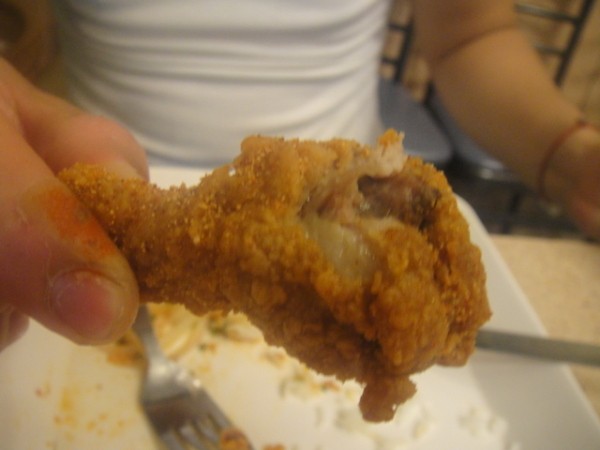 What a warm family of three! Native Thai.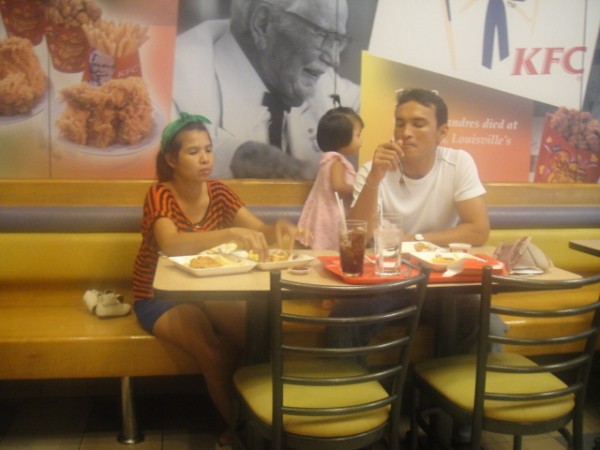 This bill is 158B, which is cheap. I'm full and back. It's almost 1: 00.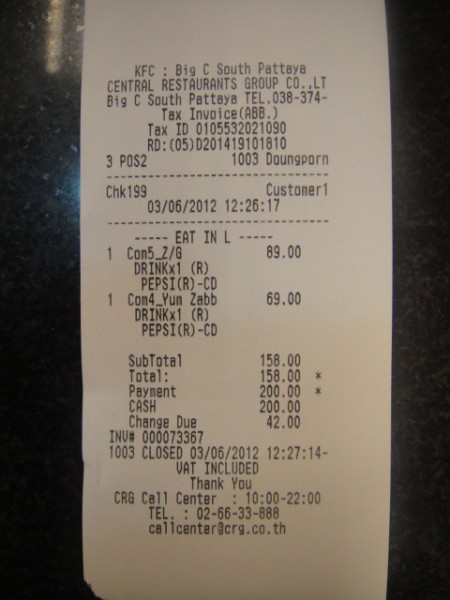 Look at all the what under the car? There are so many cats and dogs enjoying the cool air that I am afraid! Thailand is hot, and dogs are especially lazy, either sleeping or enjoying the cool air.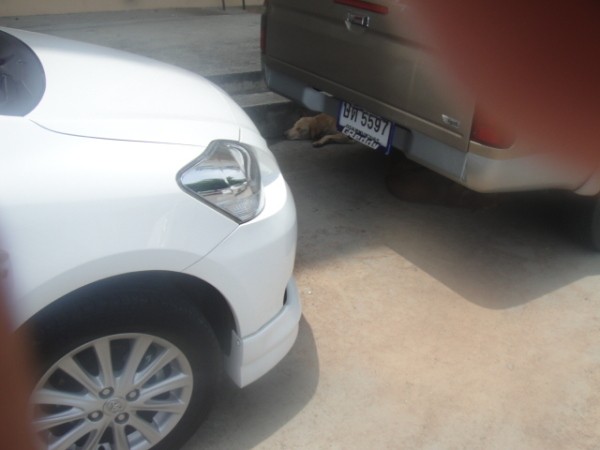 Let's go, back to the ticket booth!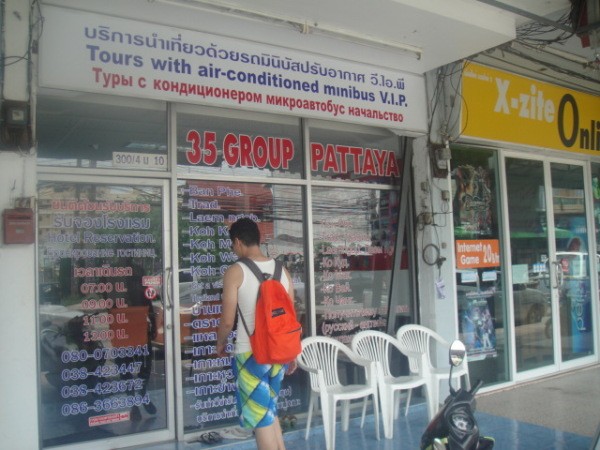 The car hasn't arrived yet. The staff have to eat. Let's sit down and wait.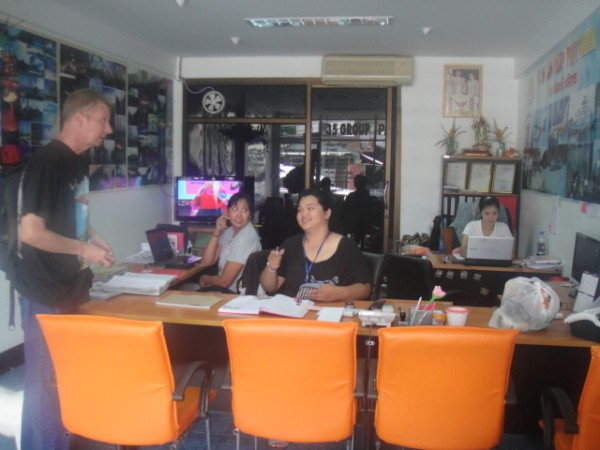 I need to take off my shoes here. The inside is very clean. There is also a naughty dog who always "molests" me! I'm afraid of dogs. During this period, they also played dogs! Very cute.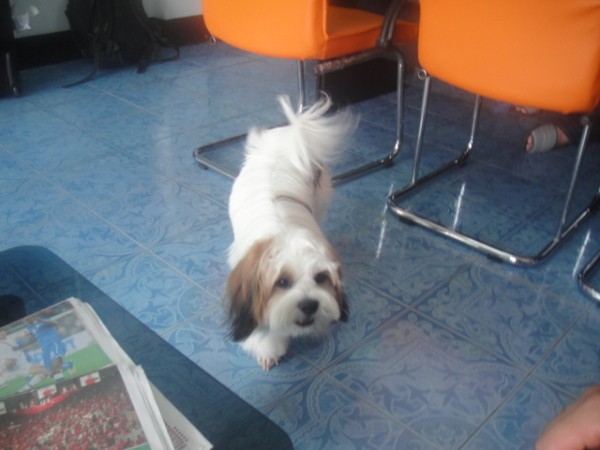 Waiting for boredom, let's boast again!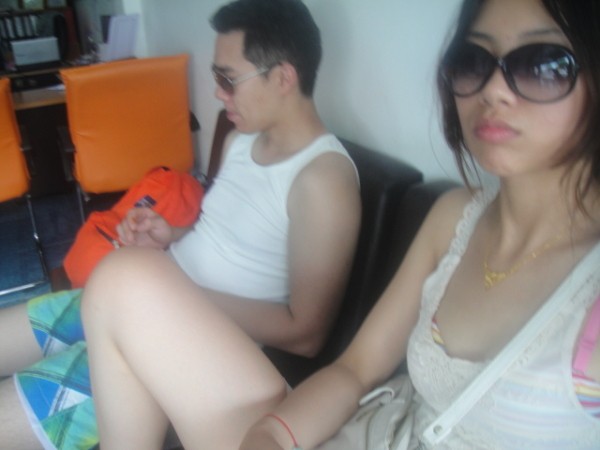 After a while, the mini bus arrived, put on the luggage, and we could go.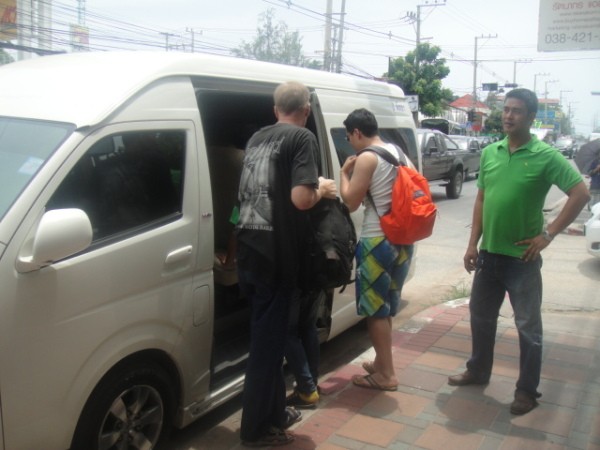 This kind of car has large space and is clean. It is still relatively comfortable and has a free journey. From time to time, you can get off for a walk and buy things in what.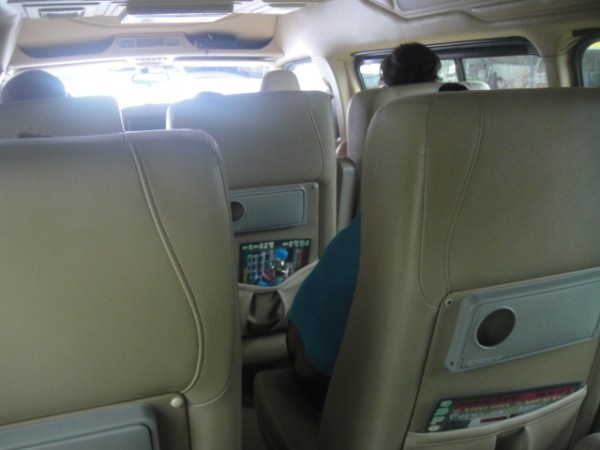 We started and drove a lot of roads. The driver stopped at a gas station to refuel and told us to go to the toilet and do some shopping in what.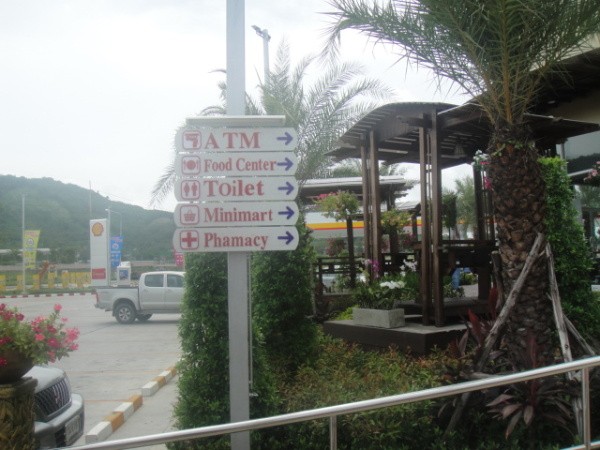 We bought three bottles of drinks at this Family Mart, totaling 35.75 B.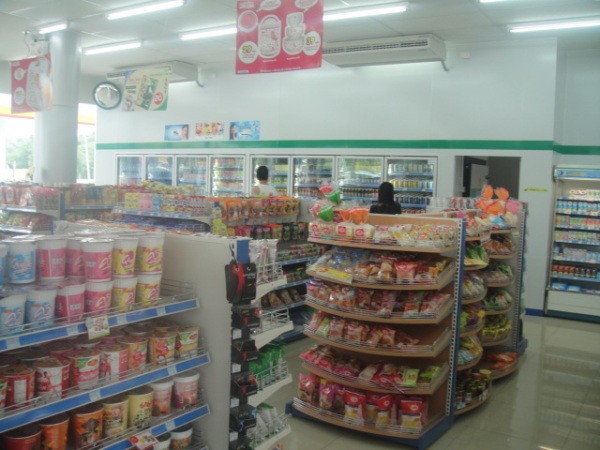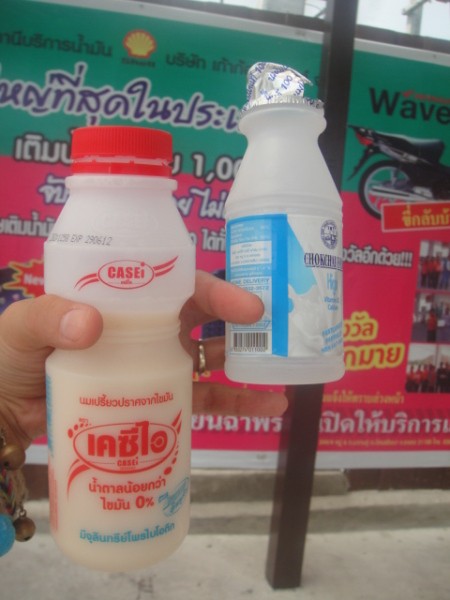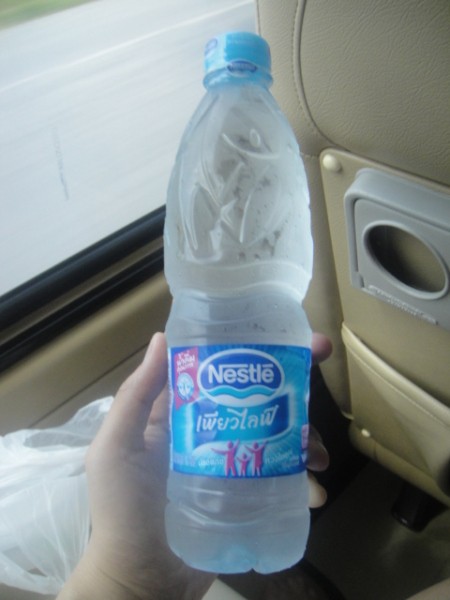 The car is parked here!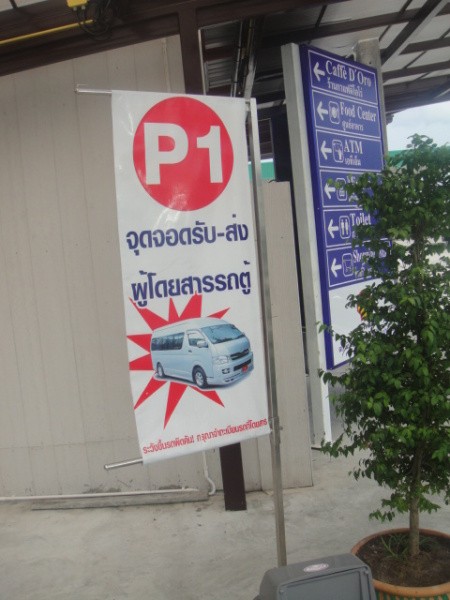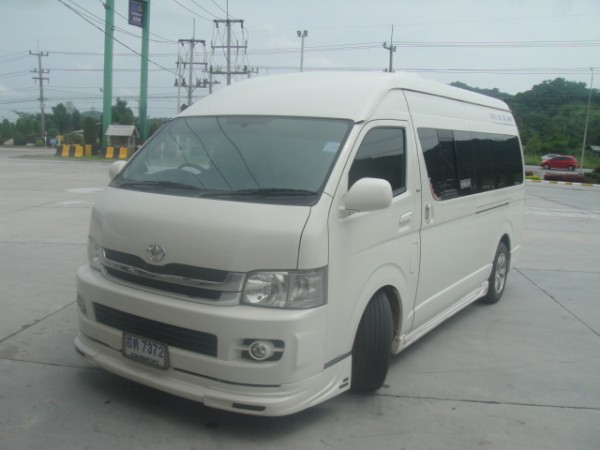 There was a little boy in the car, sitting in front of us. I thought it was Indian and dark. I also caught cats with me from time to time!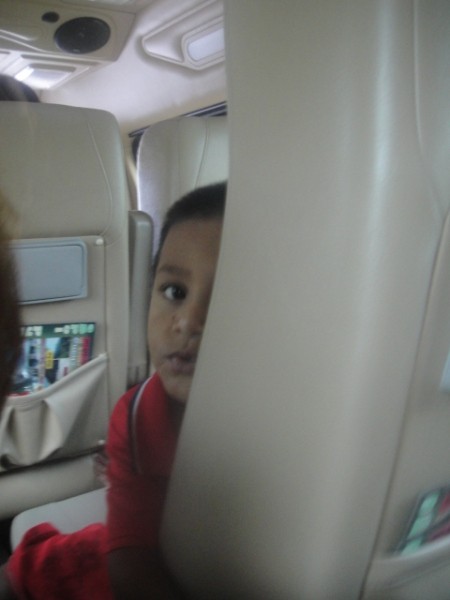 Our car stopped at a dock first. The dock was very close. I thought we were coming soon, but I didn't think we were far apart. A foreign couple got off here, and my husband went down for a stroll, almost leaving him there. Ha ha!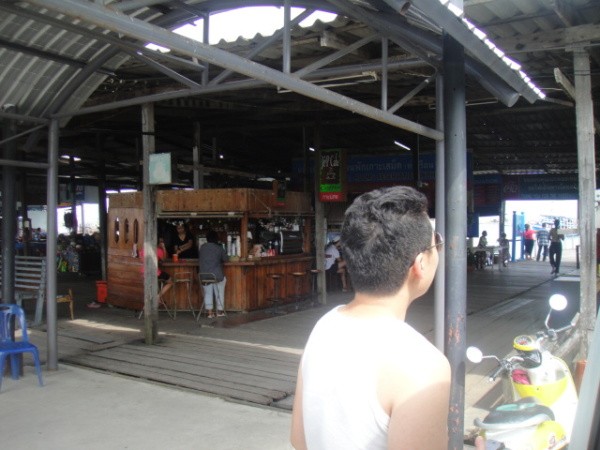 The driver let us both sit in the front. This is the sign posted on the car.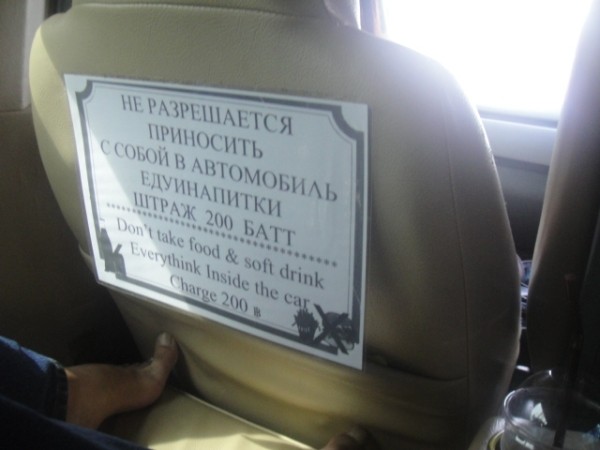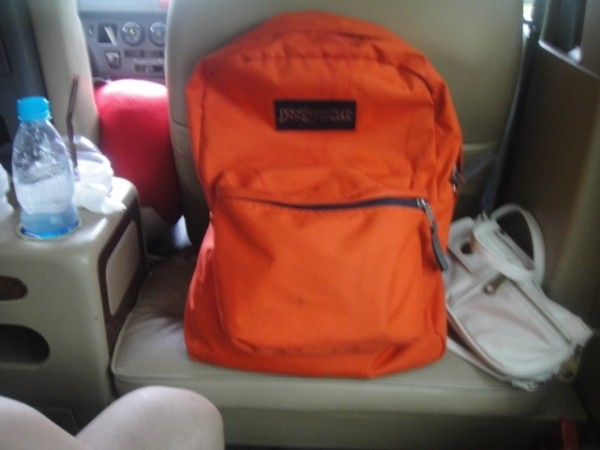 Then we continued our journey, with cars driving and cars driving, and colorful houses along the way.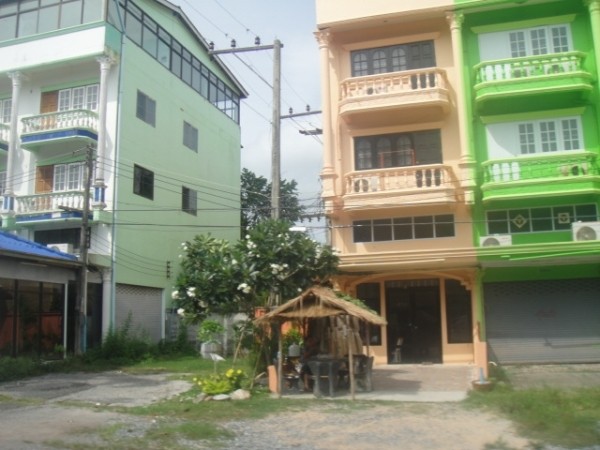 We didn't go at high speed, the driver went all the way, 120 yards, 130 yards. . Open it casually. There are not many cars along the road, and they all follow the rules and regulations. They drive their own roads and never rob them. It is really easier to drive in this way, and there will be no unexpected events that will catch you off guard!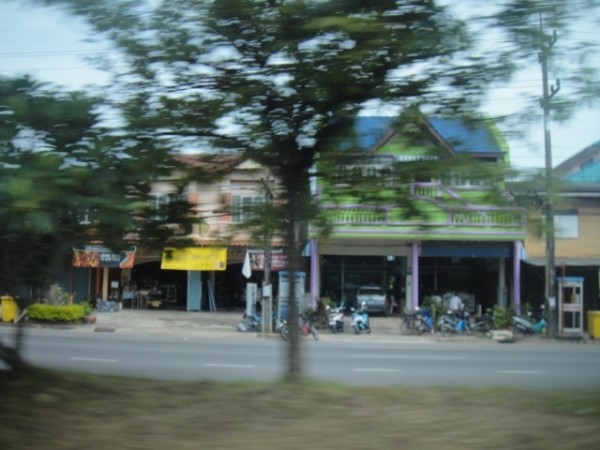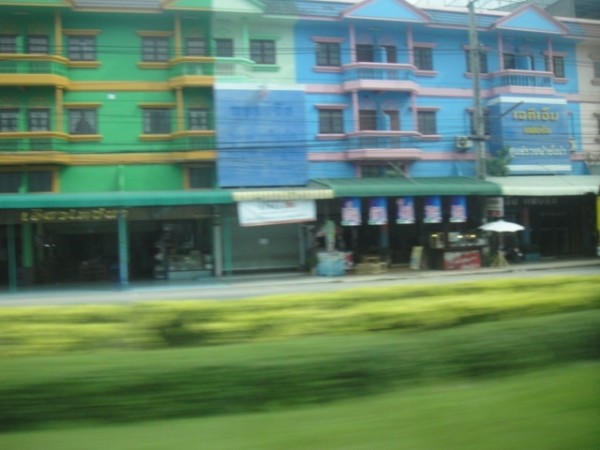 In the middle of the bright houses, there will also be some dilapidated houses, many of which have been abandoned there. We have seen many in the old city.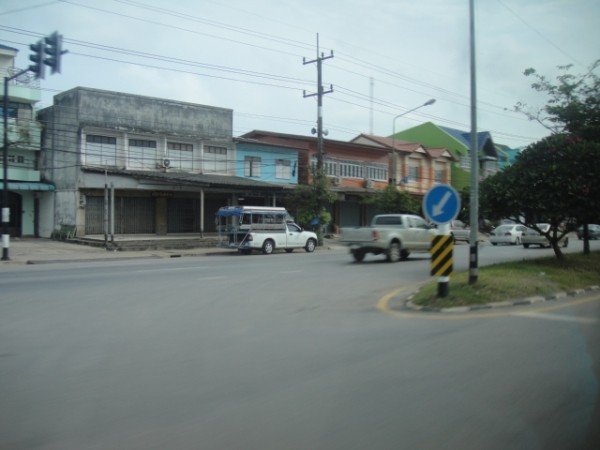 After driving long long away again, the driver turned to another gas station and ran out of gas again. Thailand's cars are all filled with natural gas, so the environmental pollution is less and the air is better! This is a small gas station, relatively remote, see the driver is quite familiar with the people here.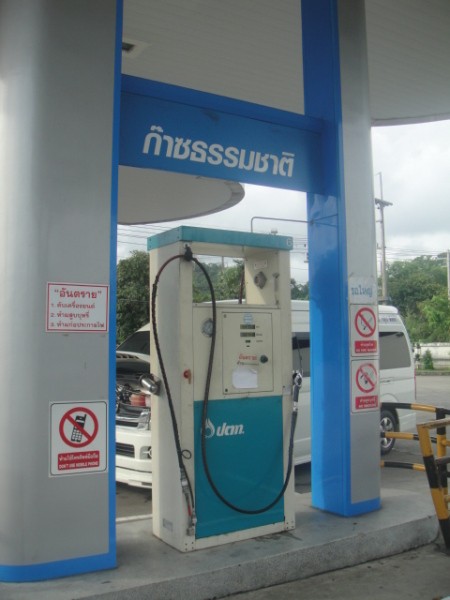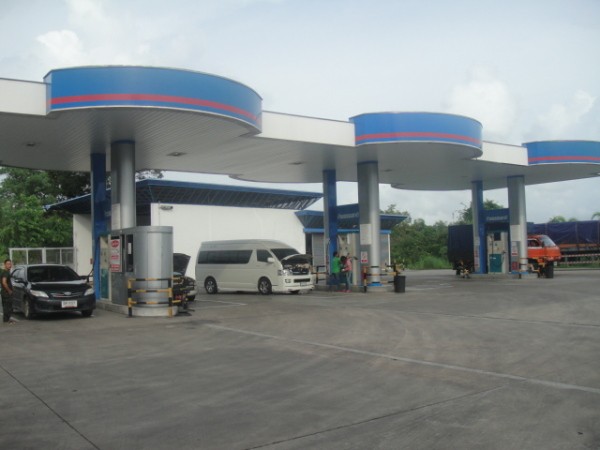 Another tall and thin dog followed him to take out the garbage.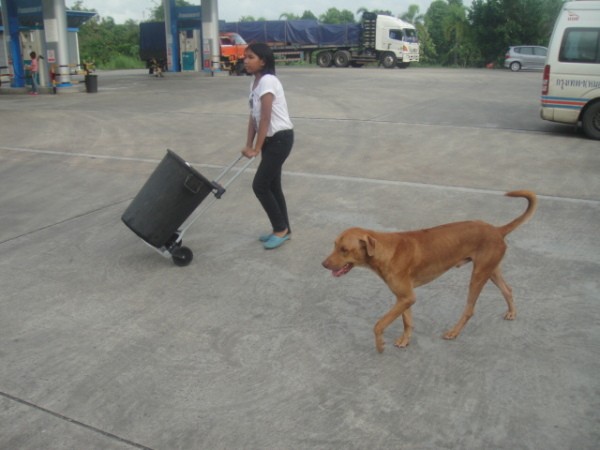 I bought an ice cream at a small supermarket, 30B, which is more expensive than downtown. Every time I choose a different taste, the taste is not bad.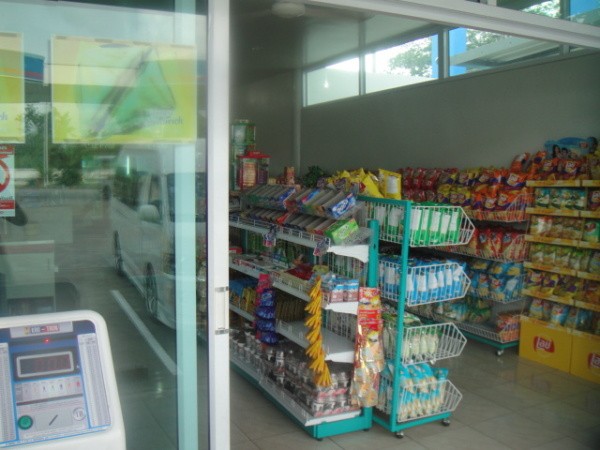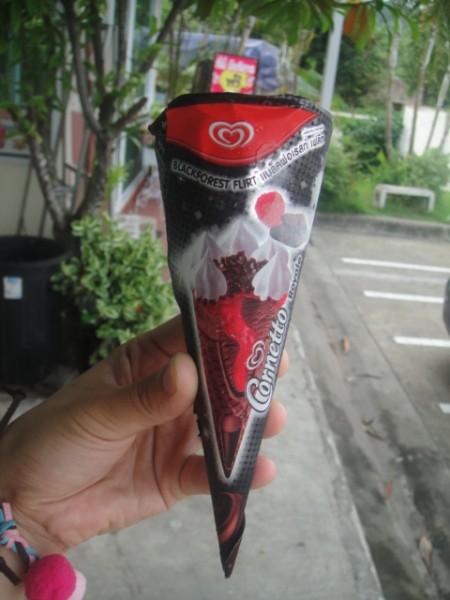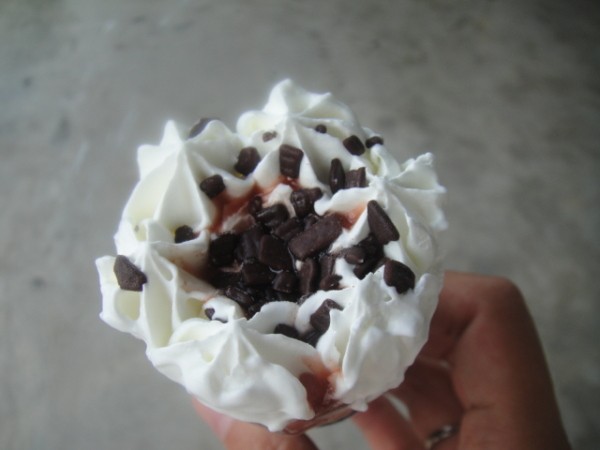 At the gate of the supermarket, there was a weight-weighing person who put in 1B coins. My husband and I both weighed it and the result was satisfactory.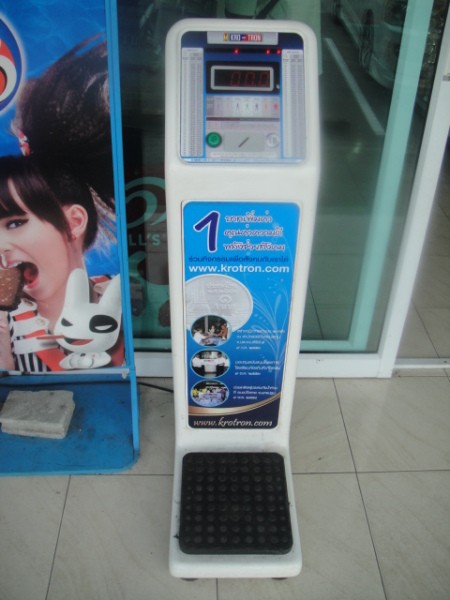 There were three people in this place, namely, the child who just played with me, his mother and aunt. All three were very dark and seemed to grow up in a relatively remote country. However, his aunt spoke English very well when she called, and the assembled three-wheeled motorcycle opposite came to pick them up.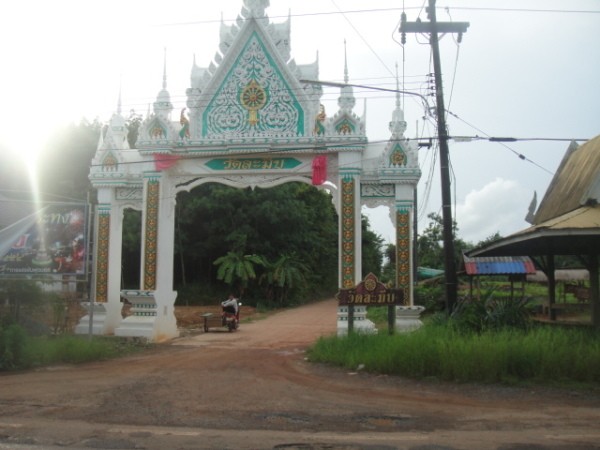 Continue our journey, open, open, open for a long time. The total journey was definitely more than 4 hours. It was almost 6 o'clock and finally arrived. PP is numb.
Arriving at the dock, the driver had each of us given a ticket. Go in, check in and board the ship.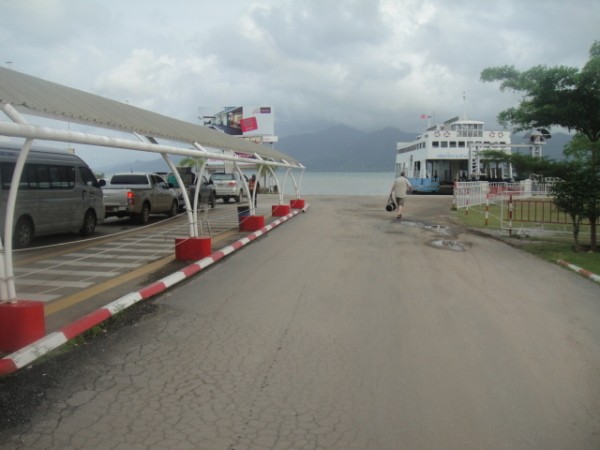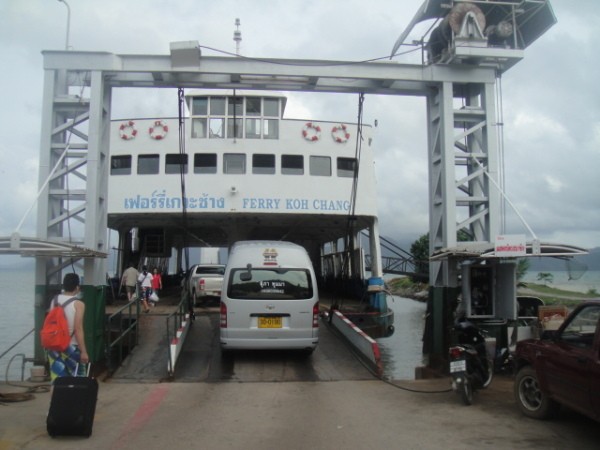 We are facing the sea breeze.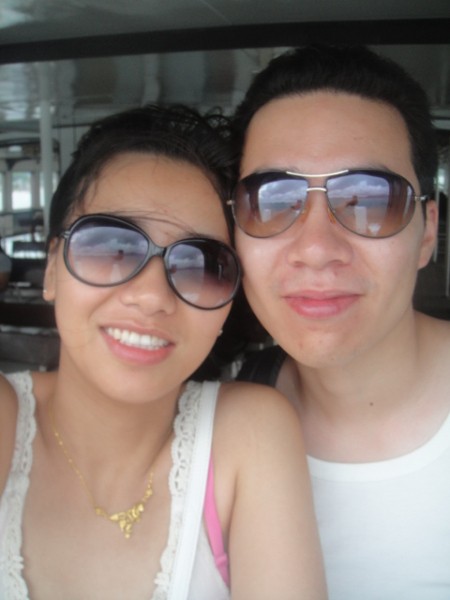 Seeing the weather on the opposite island is not good!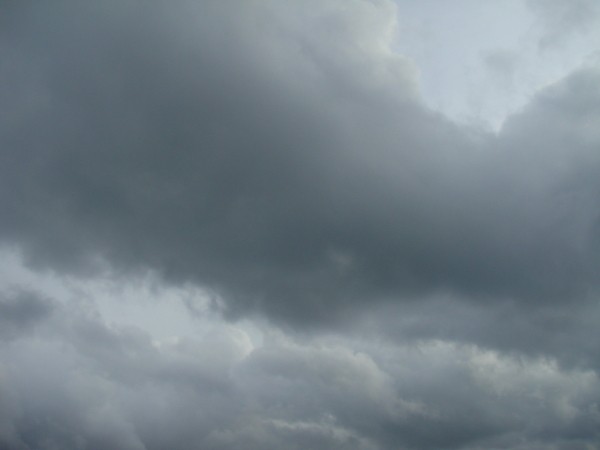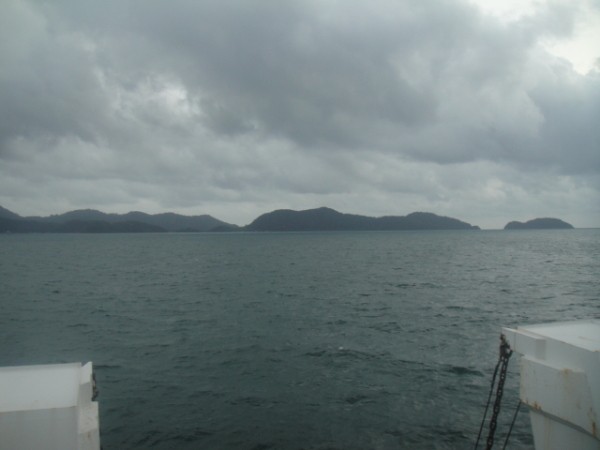 More than ten minutes, soon, arrived at the shore, elephant island did not rain, not bad!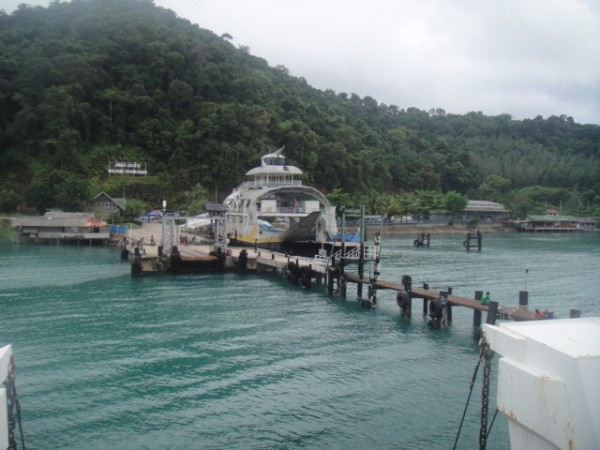 We got off the boat and saw a big sign: Welcome To Koh Chang!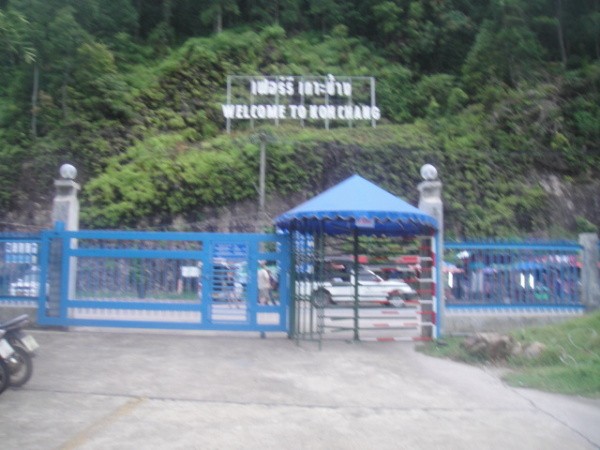 Then hit Taxi on Elephant Island, or the legendary Dudu car, two 100B! We showed the address to the driver and did not know which way to go. The bus was not full.
As a result, the driver took us to another dock to continue picking up passengers.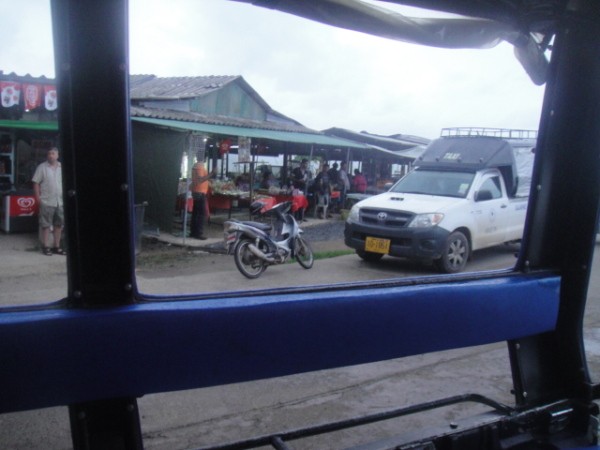 The weather in Xiangdao is just like this. It was fine one minute ago and rained one minute later. However, the rain came and went quickly and disappeared in less than one minute. We also encountered two such rains in Elephant Island. The rest were sunny and lucky.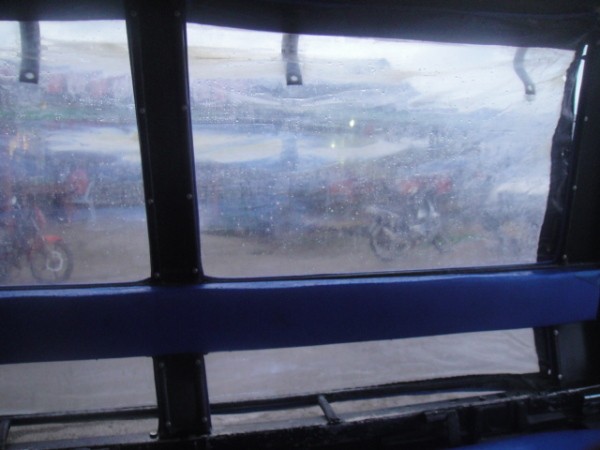 Soon, a boat came ashore and a group of backpackers from all over the world came along. They talked nonsense and wanted to go to Lonely Ireland, the legendary backpacker's paradise. Then they got on the bus and were packed with people. We could set off. While waiting for them, I saw a super-large and super-fat earthworm on the ground, which frightened me. I hated this kind of soft and lying thing most, and began to fear the island. Fortunately, it was not as bad as expected. The hotel I booked was very clean and tidy, and I was very satisfied!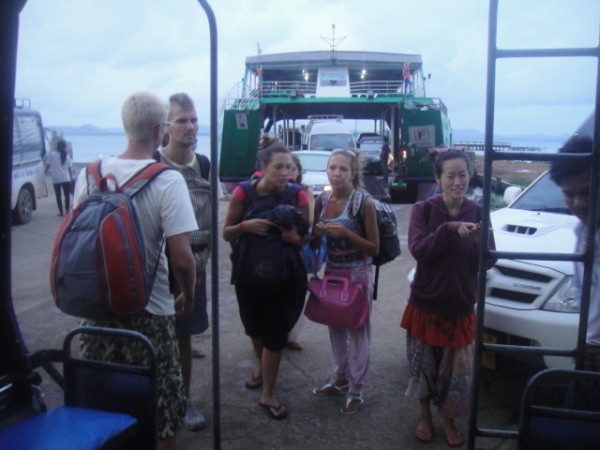 It is strange that those backpackers did not prepare the Thai baht and all they were carrying were US dollars, but the drivers here did not charge US dollars. Later, the drivers took them to the currency exchange center to exchange them. It's right next to our hotel, very close. However, our money has been ready for a long time, so there is no need to bother!
The driver quickly took us to the gate of the hotel. We were the closest to the exit. The Lonely Island that foreigners want to go to is the innermost and the least developed island. People who like to explore and approach nature can go there. It is very good and the consumption is much cheaper than that outside.
By this time it was getting dark, almost 6: 30!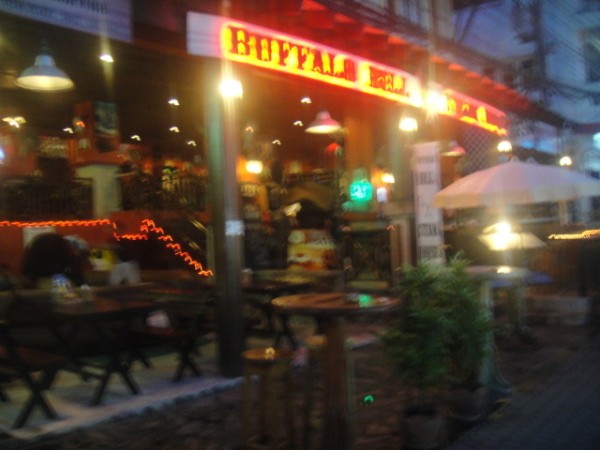 There is also a wooden cow in the lobby of our hotel. I saw a child playing, as if I could play with a coin. There is a small Trojan horse beside it.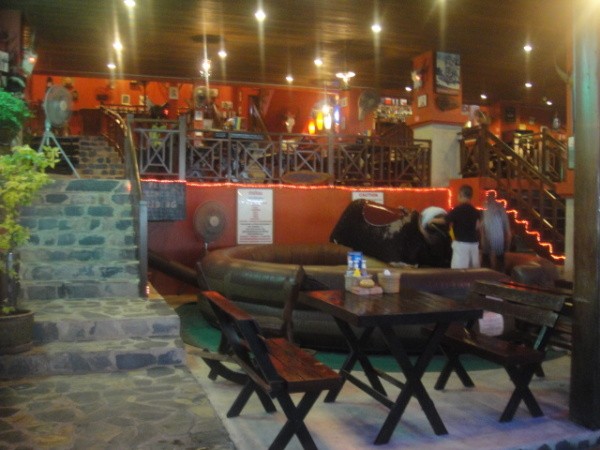 There is a billiard table on the second floor.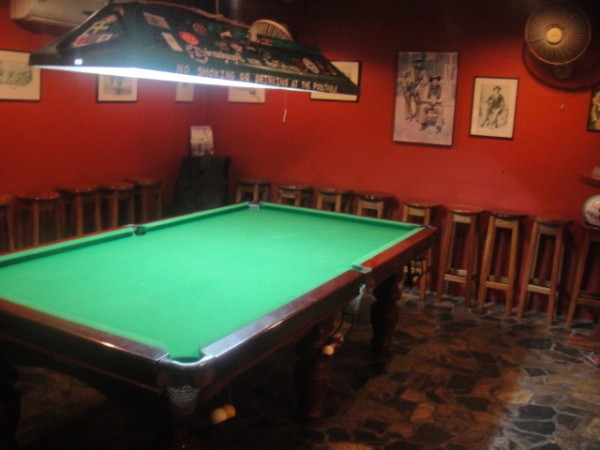 There are many lovely small stairs in the hotel.
We don't have many hotel rooms, only a dozen in total, so it is much more convenient to take care of them. No wonder they are so clean and beautiful!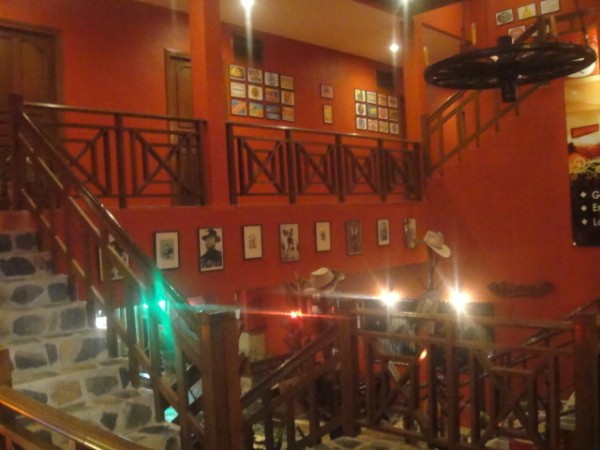 This is the front desk. Because our hotel environment is relatively good, we can also drink here as an open-air bar, and there are not so many kinds of wine on the bar.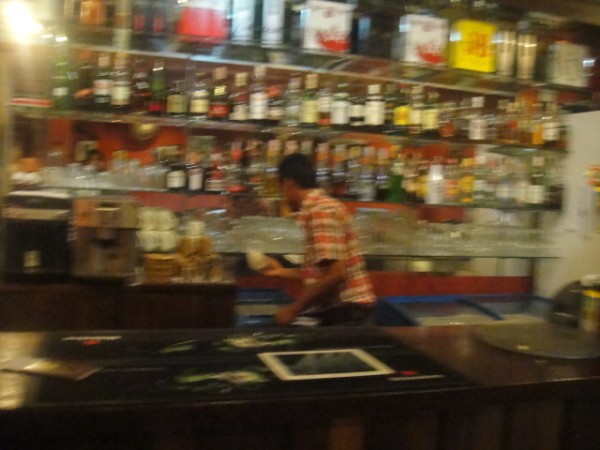 This is our room!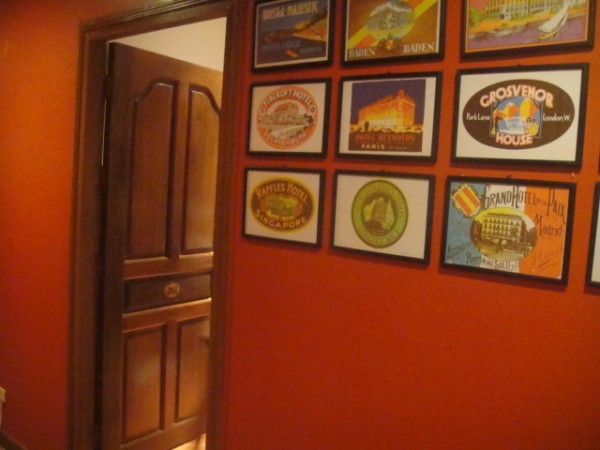 Guest Room Interior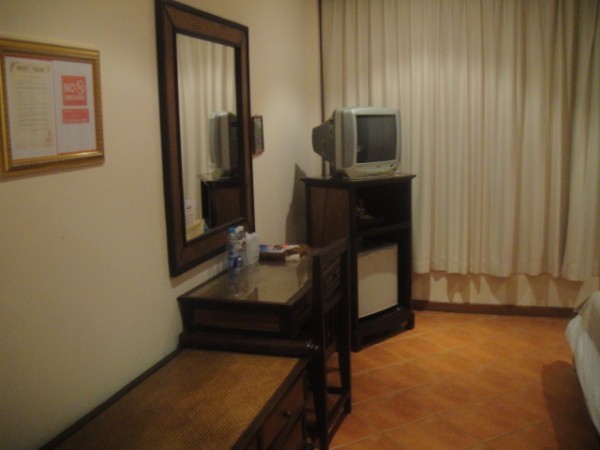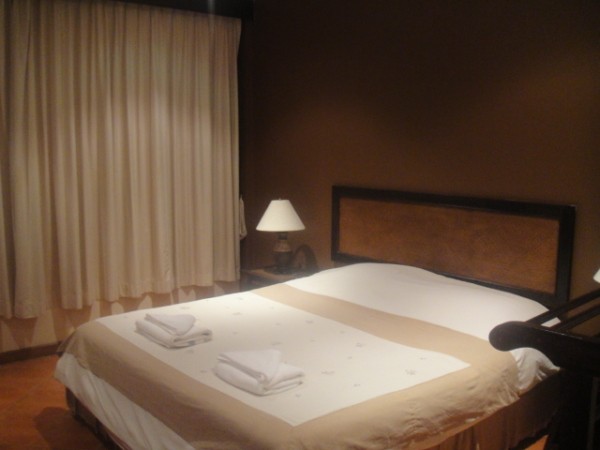 、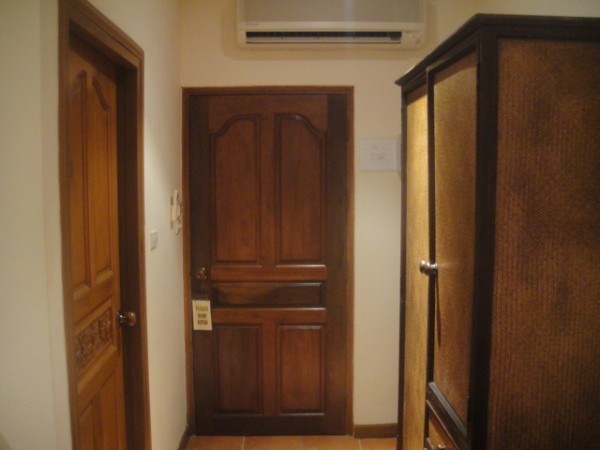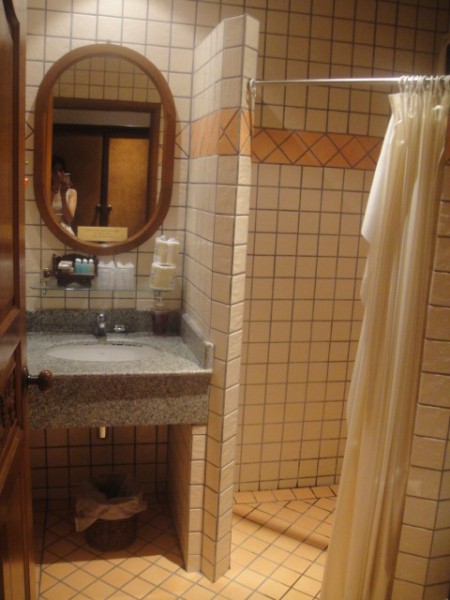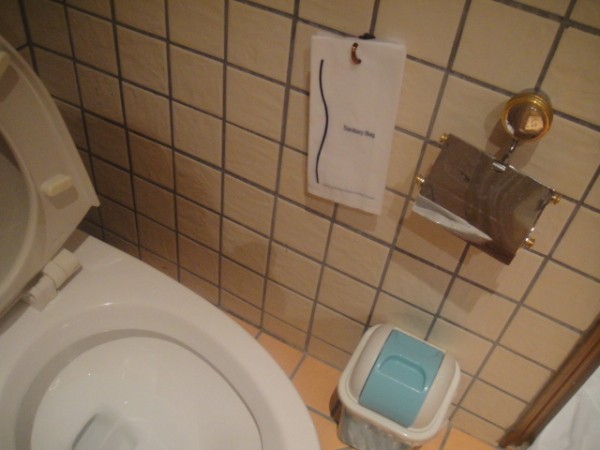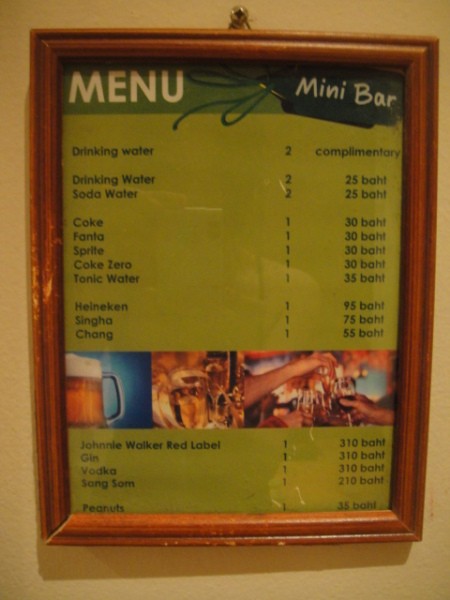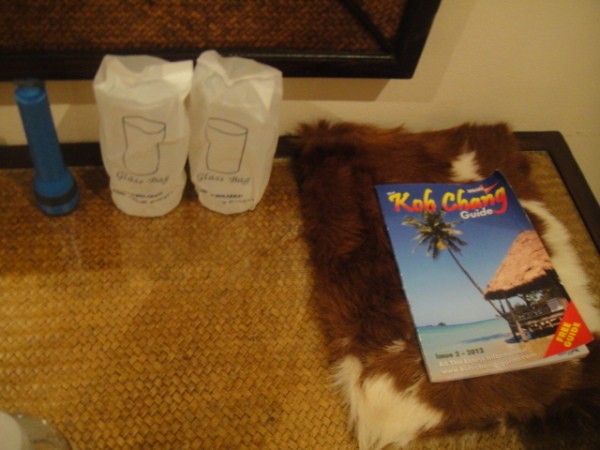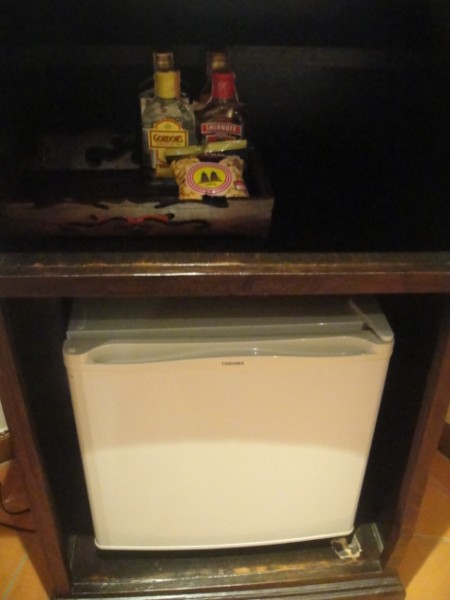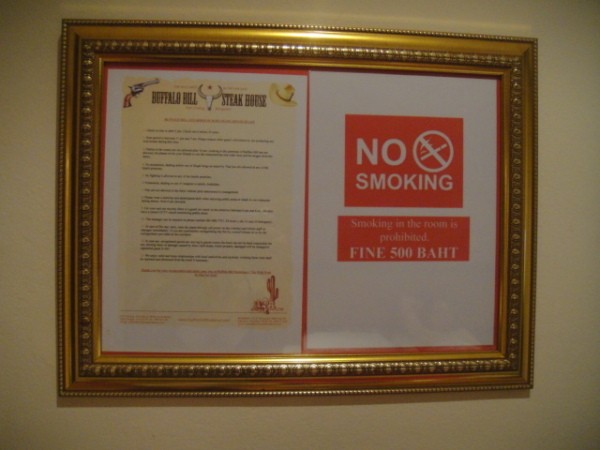 Beautiful! Clean and comfortable, I personally like it very much! This is the hotel's free WiFi password!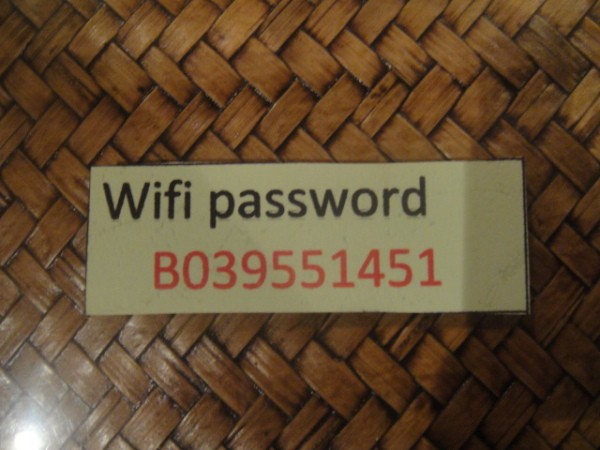 As soon as my husband came in, he took a bath and slept. He was tired. I plan to let him sleep until he wakes up naturally to eat, so I will be busy around. Until he wakes up! At 9: 00, I went downstairs and went out to have a look at the delicious food in what.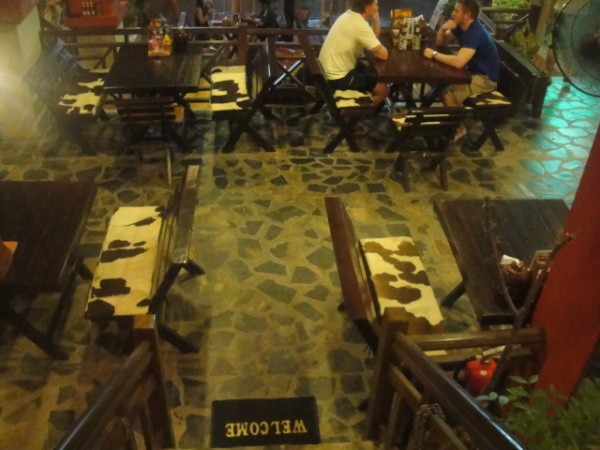 This is the cow just mentioned! Beautiful.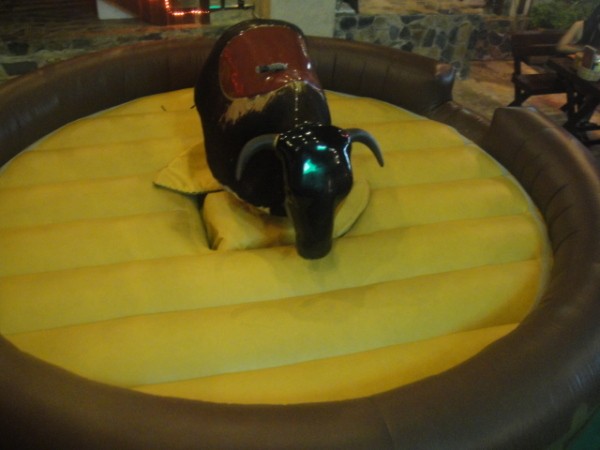 And Trojan horses.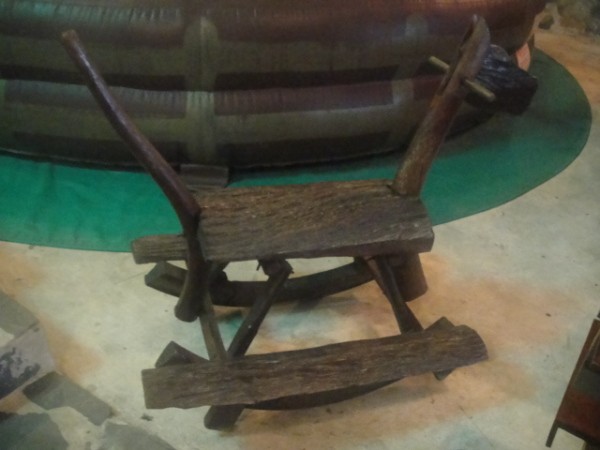 This is the bar opposite our hotel. Many foreign friends mentioned it before booking a hotel in Agoda, and they did see it.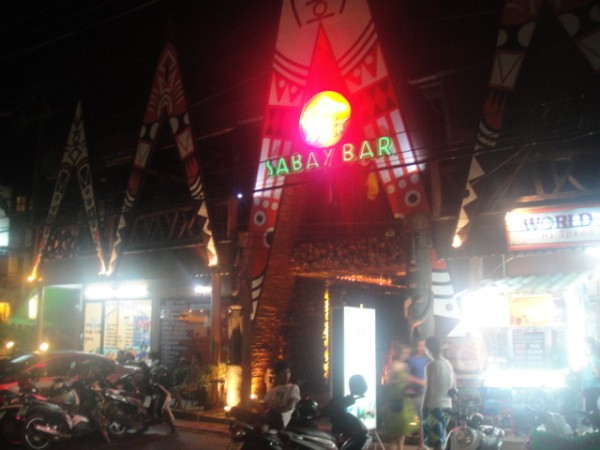 Before going downstairs, she asked the front desk where she could book a one-day snorkeling tour on the four islands. She pointed to the opposite side! We went to the opposite side and looked at it. It was this independent pavilion. He has all the sightseeing projects in what. Standing at the door in a vague big font was the owner of the small shop, posing me funny.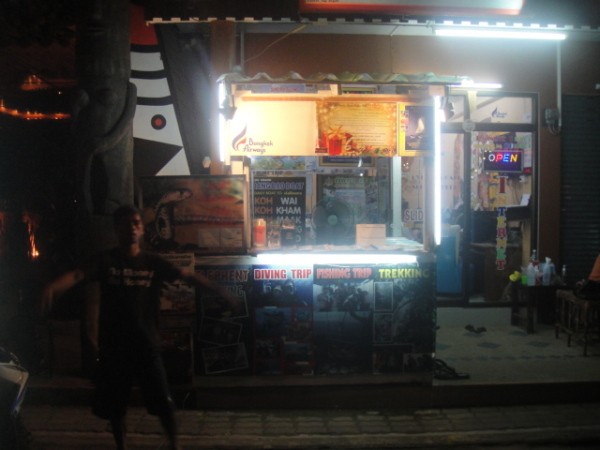 Let's look at the price, which is about the same as that said by the travelers who traveled in April, and they said that the prices of tourism items like Island are very transparent, almost every one is the same, so late, in order to save time, we didn't go to other places to see!
We booked a one-day snorkeling tour to the four islands at 8 o'clock tomorrow morning and a two-hour elephant ride at 9 o'clock the day after tomorrow morning. 600B and 900B respectively! Both have two prices, and we have chosen expensive ones, because we have all kinds of things to say. I don't think there will be what regrets when there is time. The shuttle will pick us up at the gate of the hotel on time.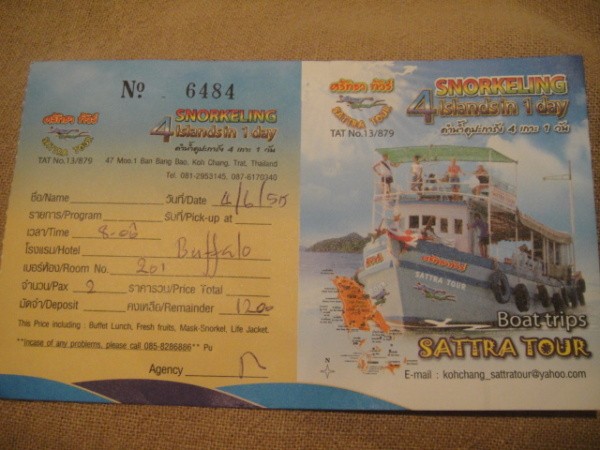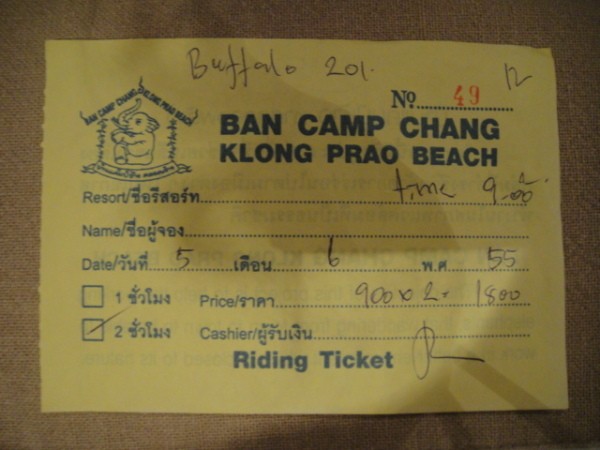 Do a good job in business, you can feel at ease to fill your stomach! Here, I saw a flying cake stall. The young man acted quickly and the business was good. There were still many people watching. I took a video!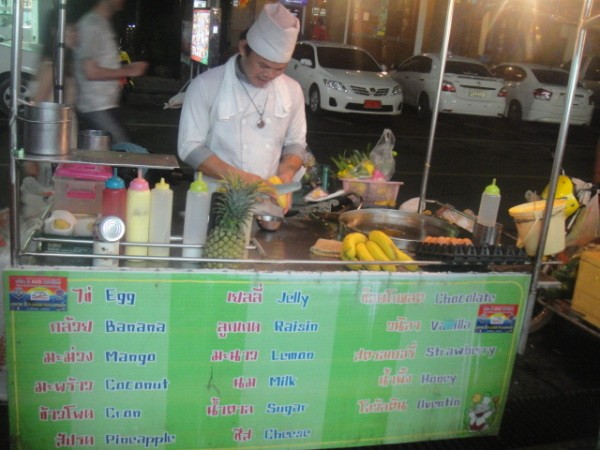 The picture is fresh, mango is chosen, and the taste is not very good. It's too sweet. I put a lot of granulated sugar, 40B, which is too expensive.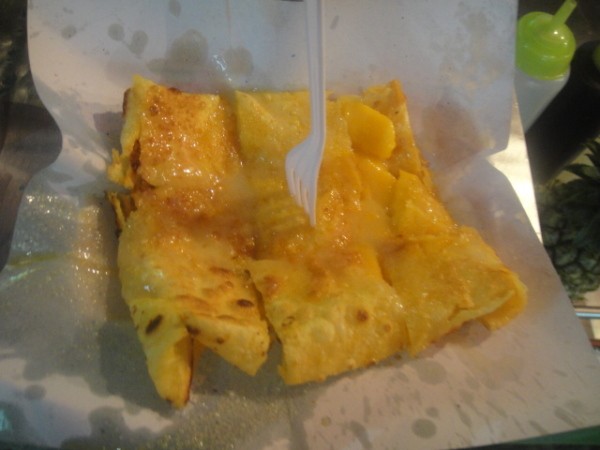 Our street is prosperous in Xiangdao, but it is not like in the urban area in Xiangdao. The nights in the urban area are very noisy. There are relatively few people here and they may be scattered.
This roadside stall is very beautiful, but few people eat it!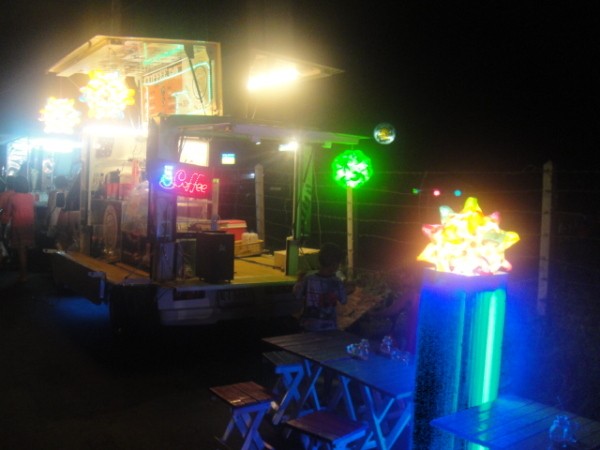 Walking along, we saw a car selling rambutan on the roadside. We wanted to eat it for a long time, only a few dollars a kilo. However, my husband was afraid of being heavy, so he bought it again, and the result was gone! It is a pity that I have never met or eaten it since then.
Because of the short time, our schedule is very full and we are very busy every day!
When I came to this hotel, my business was quite prosperous and I almost had no place to sit. We like to join in the fun!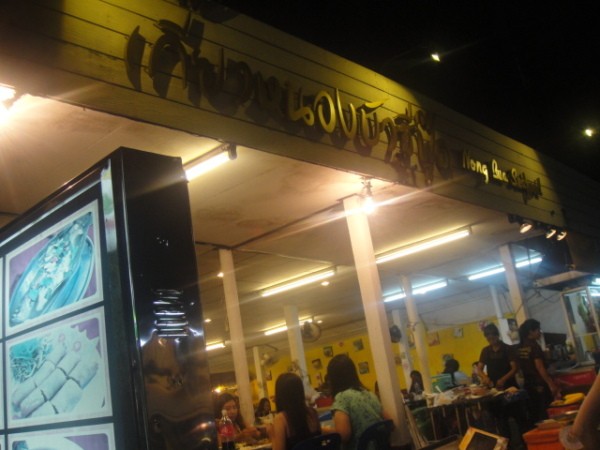 It seems that there are Chinese, but I haven't heard the voice of the Chinese!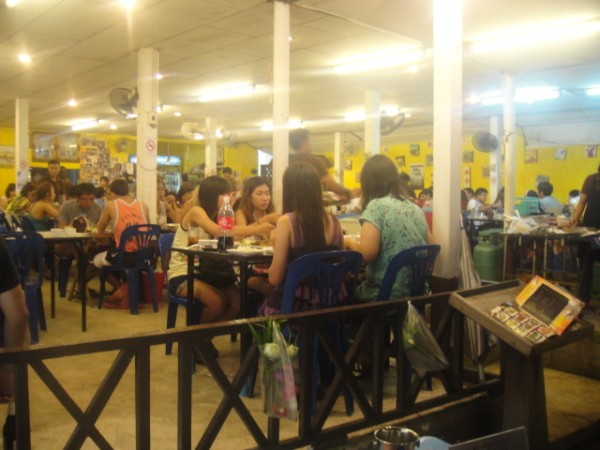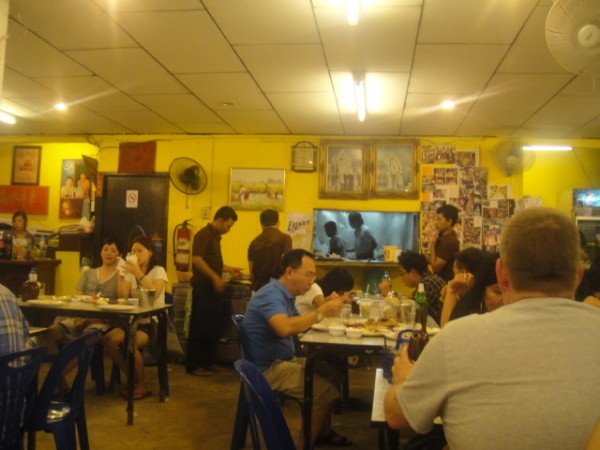 Find a place to sit down and start ordering! My husband ordered a bottle of wine.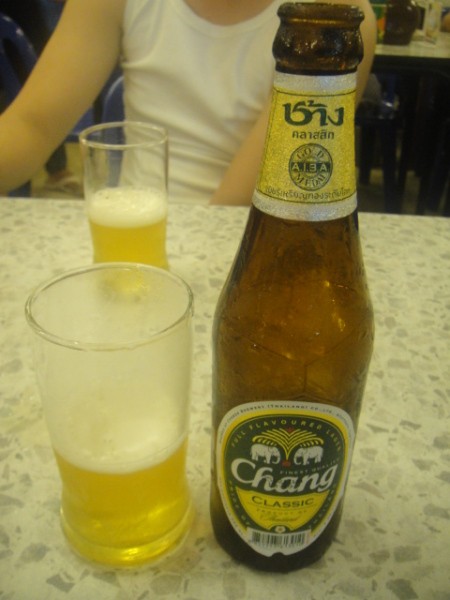 Light vermicelli noodles also need seasoning sauce.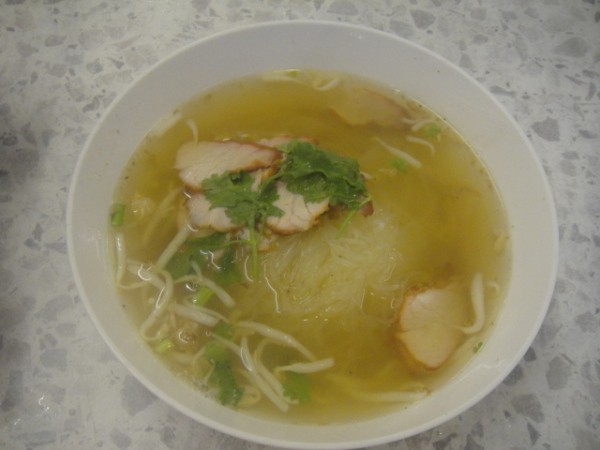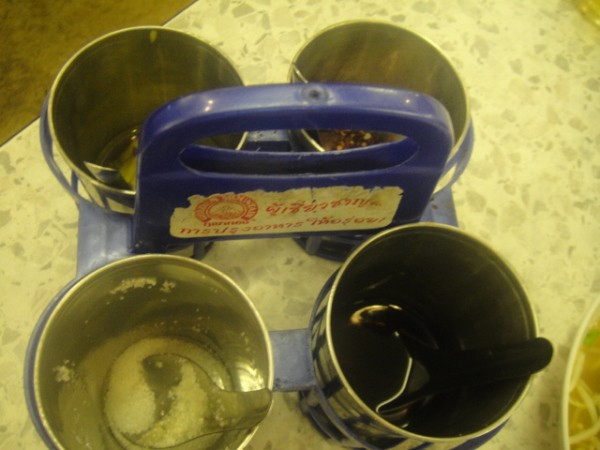 Authentic pineapple fried rice, see, this is authentic!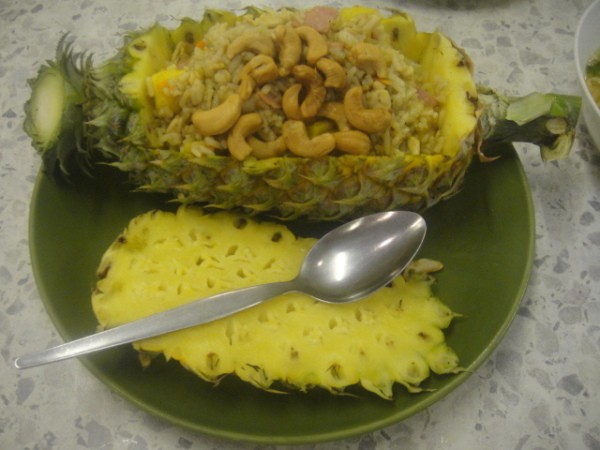 This is really delicious, my favorite!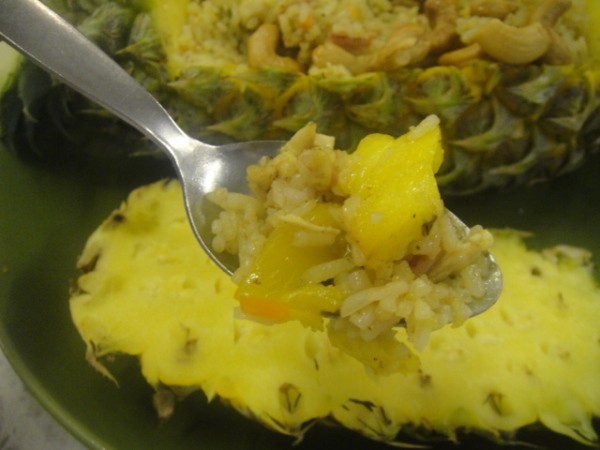 Strange sour and hot soup, with small corn strips in it, looks immature and has never been eaten before!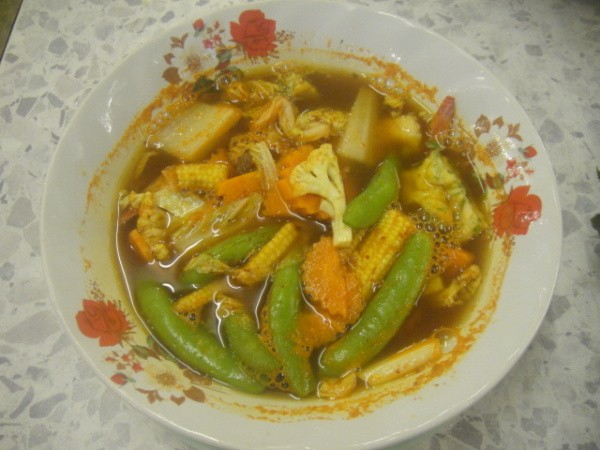 This is the egg bag I ate in Pattaya. The bread in it doesn't know what sauce. It tastes very heavy. I didn't eat it. My husband ate it all. However, the color is definitely better than Pattaya's. No wonder this business is so good that people have an appetite.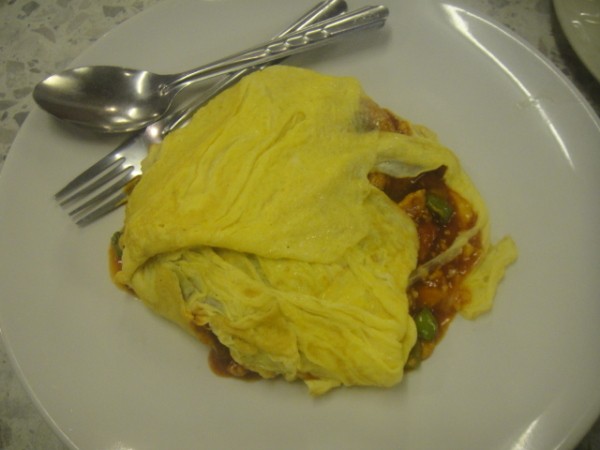 This what, which I didn't know was put in the coconut, was bought just for a fresh one. It was at sixes and sevens. It tasted very strange. To be honest, it was not delicious. See others ordered another kind, also this shell, eat with relish!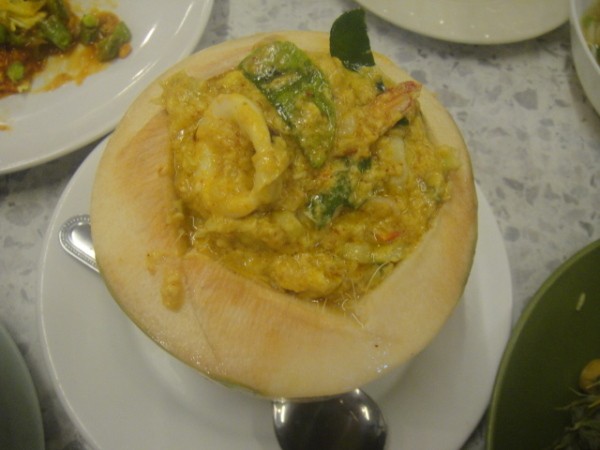 No matter what cuisine, there are always shrimps.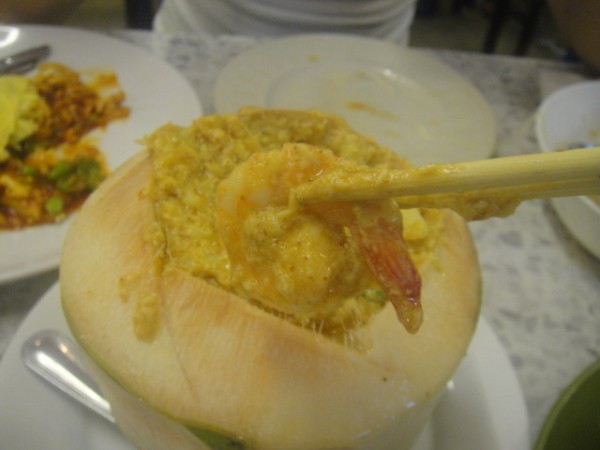 Another bowl of fried vermicelli, this is a dry pan. We can eat very well!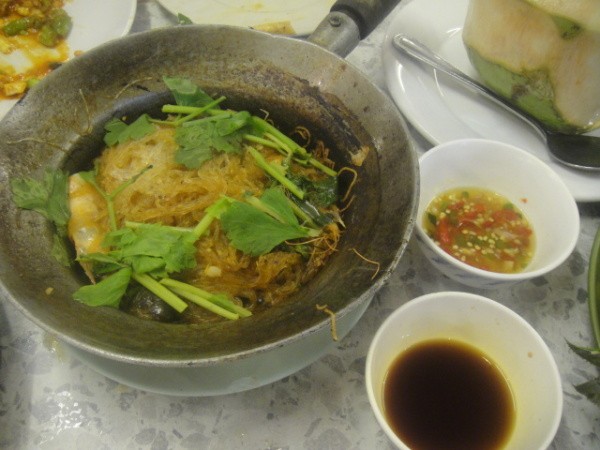 Looking at nothing, turn it over, it is quite rich!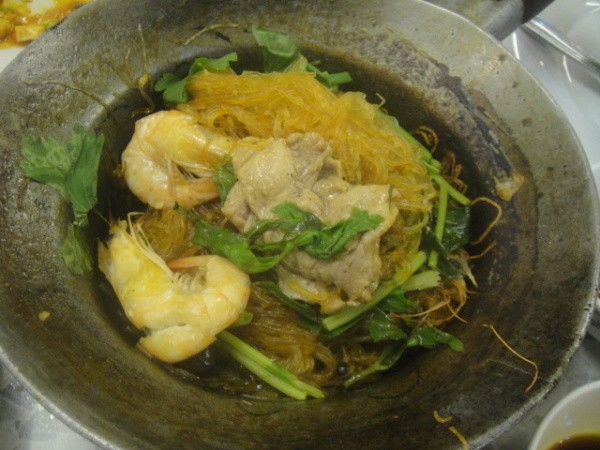 Wow, our masterpiece, know how delicious it is! Have some more of it next time.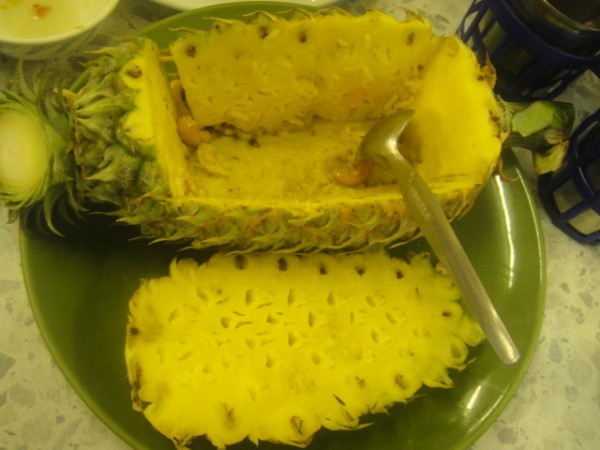 Sweep the table! We can really eat. Pay the bill, 740B in total, this meal is really plump!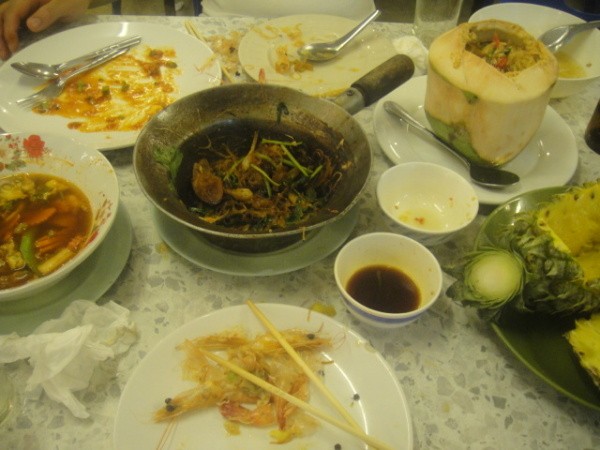 After paying the bill, a small fruit plate will be given. This is very thoughtful, the fruit is very fresh. It's just a restaurant like a food stall. It's very considerate to be able to do this! Business should be good.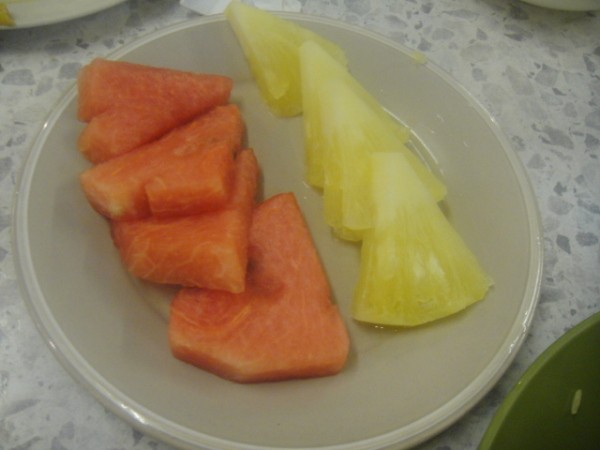 After eating, go out and have a look. There are delicious fresh seafood in what at the door. You can order it tomorrow!
I don't like this bloody thing, green pepper + onion + pineapple + chicken and so on, which looks strange! Later, it was discovered that BBQ eaten on snorkeling ships was this thing! This is a roadside snack. Bangkok has a lot of snacks.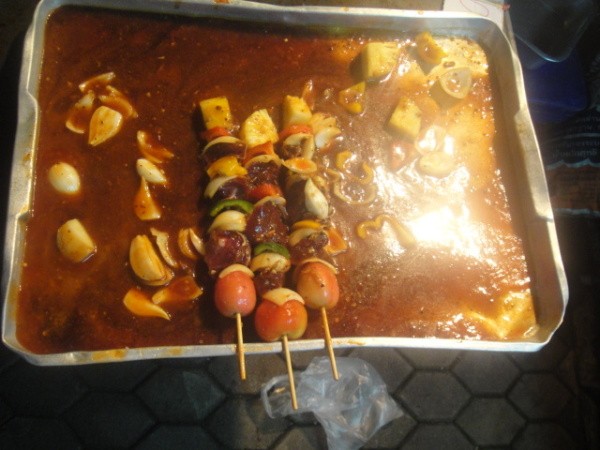 All kinds of fish and shrimp platters.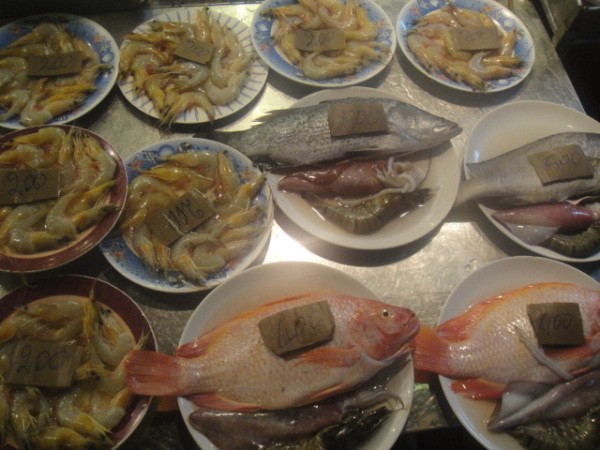 We don't order fish. All the fish we eat in Thailand don't smell fishy. It's strange to eat it!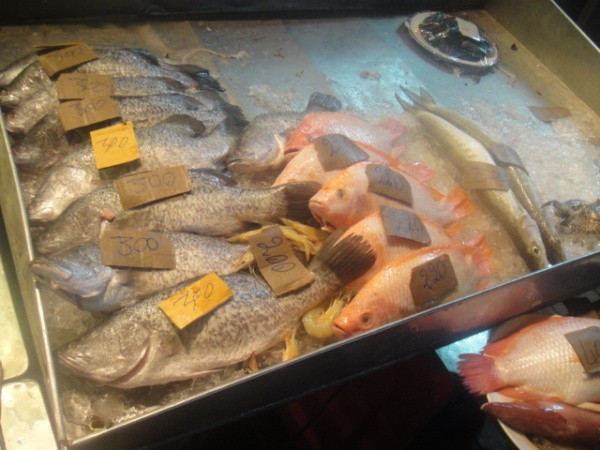 We are optimistic about shrimps. We have seen many people order them! With such a big size, the price is not bandit.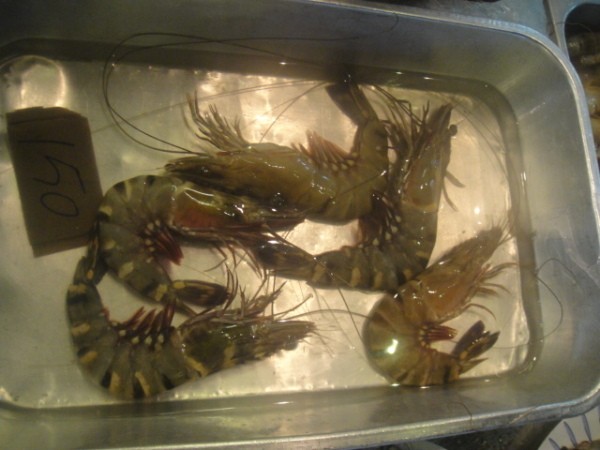 After reading it, I accidentally found that the opposite is Fruit Corner, who is a little famous in legend. I don't know if it is really famous. We really have nothing to order at this time. They are already Finish. Well, next time you have a chance, you must try.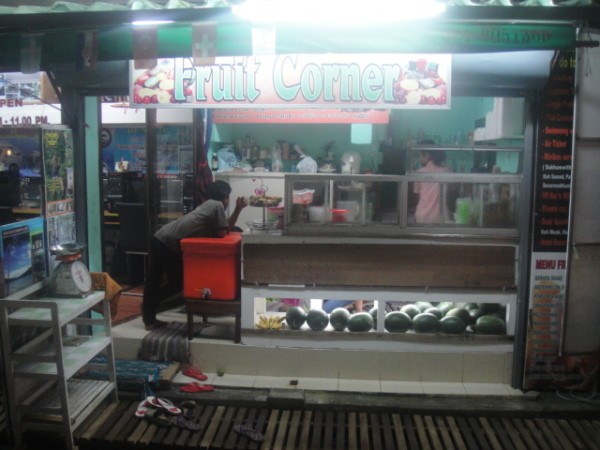 On the way back to the hotel, I saw my beloved 7-11. Go and buy some and put it in the hotel refrigerator.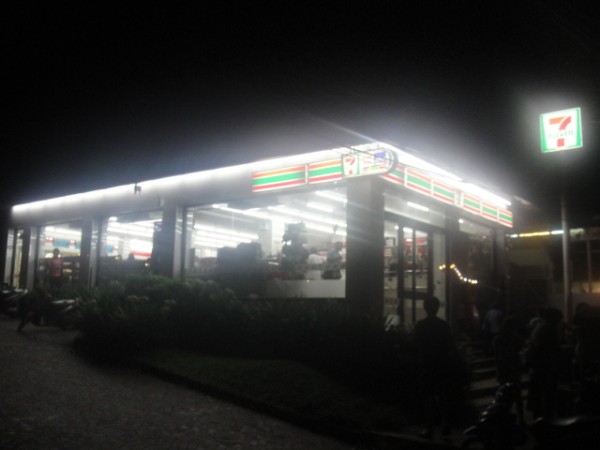 这里的红牛包装不一样哦,像药瓶。老公说喝起来好像压缩过的饮料,劲太足,不喜欢!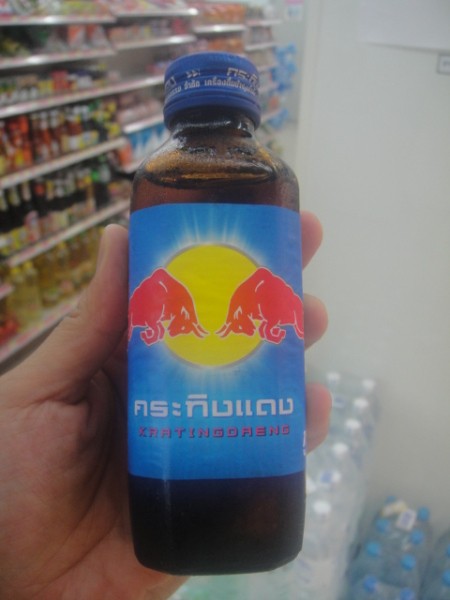 Black toothpaste, two sets, broadband, ha ha!
There are also magazines here. I wanted to buy one, but I really can't understand Thai!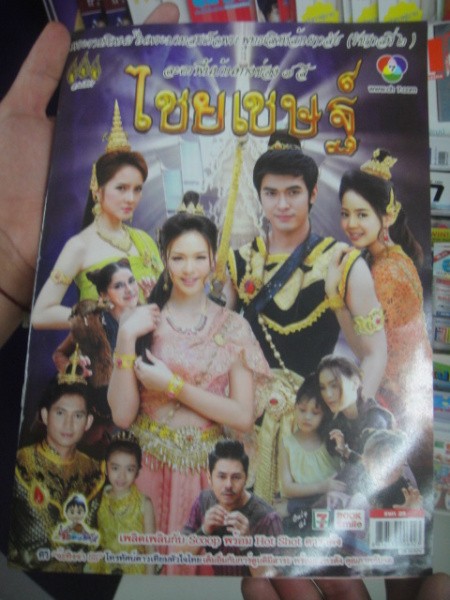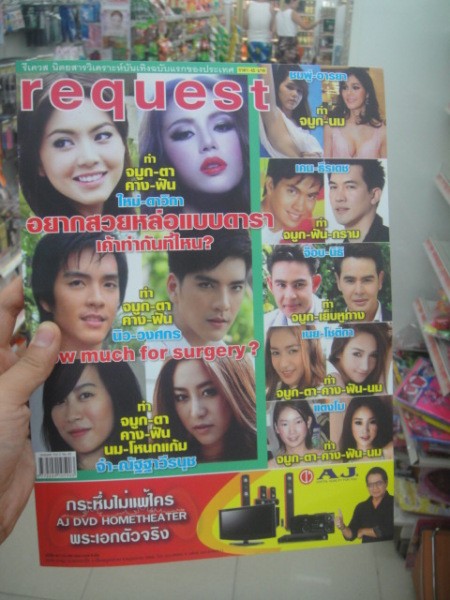 The cigarettes sold in the supermarket said in Bangkok that they could not be photographed. They were secretly photographed here and could not be seen clearly. Anyway, they were printed with disgusting human organs! I wanted to buy one back, but it's really not very nice to give it away in China!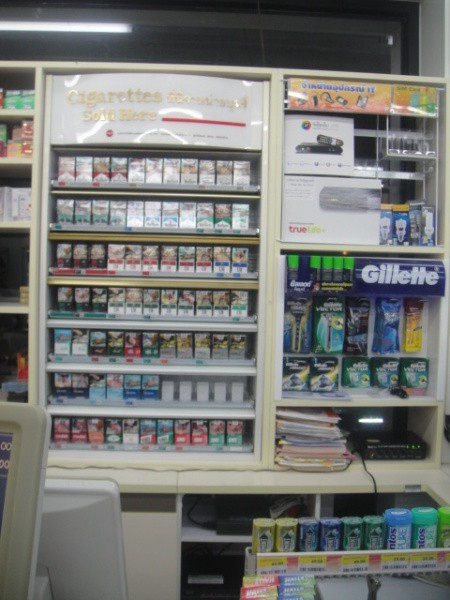 Supermarket consumption, 120B in total!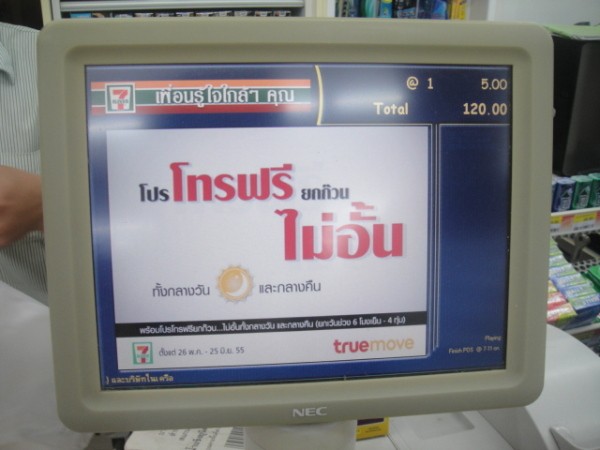 After passing through this pineapple stall, a big uncle was selling it and bought the oversized one! This uncle helped me cut pineapples leisurely and leisurely, so he took the video very slowly. The pineapple in Elephant Island is delicious and sweet. Our snorkeling ship also provided oh!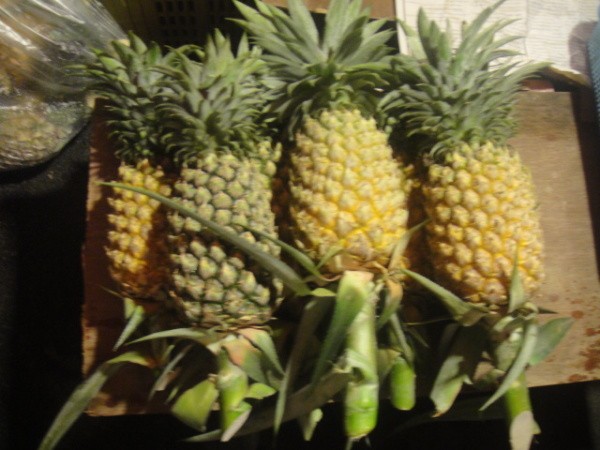 Go back to the hotel and see our trophies! This is a snack bought on 7-11.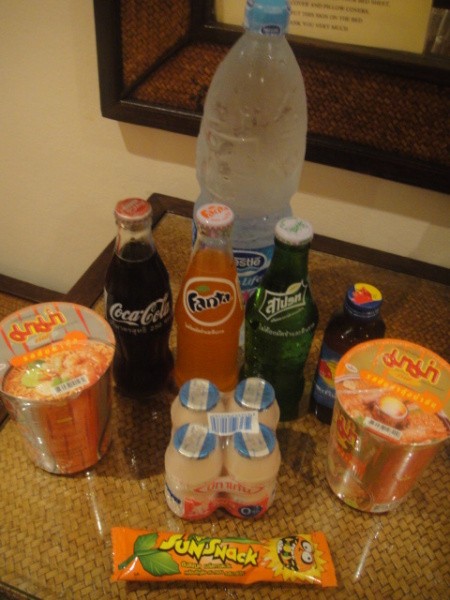 One big pineapple, 30B.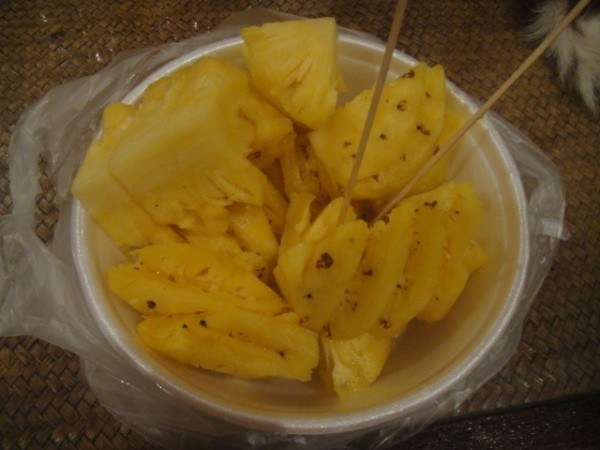 This coconut is not delicious. My husband wants to buy it. There are only the last two left. It looks stale and it is 25B.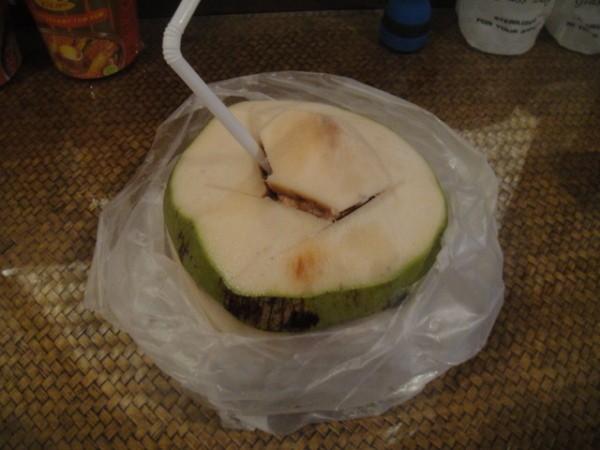 This is the messy appearance after we checked into the hotel!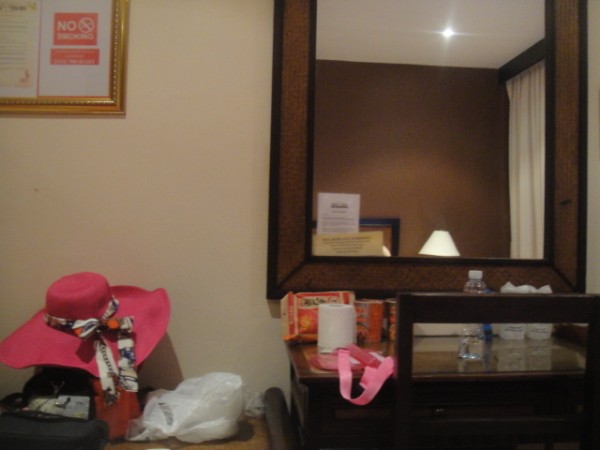 Good night, Elephant Island! Thinking of another day's trouble tomorrow, go to bed early! To recuperate.
(To be continued…)