I worked very hard to write travel notes, which can be said to be painstaking. Ha ha, it's a pity that there are not many people who pay attention to it. I just hope I can help you a little and live up to my efforts ~
Traffic tips:
Air ticket: direct round trip to Thailand
Accommodation tips:
Bangkok Sentara Jiayou Central Plaza Hotel (formerly Sofitel Sentara Hotel Bangkok))
Http://www.booking.com/hotel/th/sofitel-centara-grand-bangkok.zh-cn.html
Pattaya Doustani Hotel
Http://www.booking.com/hotel/th/dusit-thani-pattaya.zh-cn.html
Sheraton Royal Orchid Hotel Building
Http://www.booking.com/hotel/th/royal-orchid-sheraton-and-towers. Zh-cn.html
Http://www.royalorchidsheraton.com/cn
Attraction tips:
Grand Palace, Jade Buddha Temple, Ananda Shamakong Royal Guild Hall, Dongba Paradise, Three Wonders (Seven Treasures Foshan, Sarira Pagoda, Wax Museum), Royal Temple (Four Sides Buddha), Chao Phraya River Water Family, Koh Samet Island
Entertainment tips:
Princess Zhaopaya Oil Tanker, Thai Folk Dance Performance, Elephant Performance, Elephant Riding, SPA Thai Ancient Massage, Jintony Transvestite Performance
Gourmet shopping tips:
Bangkok Xintiandi ASIATIQUE Riverside Sightseeing Night Market, Supada Fruit Park, Blue Sky Bar, Pattaya Local Night Market, Bangkok Central Plaza Shopping Mall, Frerea Bangkok Bag Store
Travel gear tips:
If women want to visit the Grand Palace, the Royal Temple, the Royal Guild Hall and other places, it is best for women to wear long skirts, try not to wear shorts, and do not expose their arms (men and women). Sunglasses, sunscreen, cameras and hats are necessary. It is better to change some Thai baht (of course, the exchange rate can be changed at the front desk of 5-star hotels is not bad, and there are also places to repay the money on the street, but you have to touch it). UnionPay is not available everywhere with Visa or Master credit cards. Bring toiletries and slippers, not all hotels are ready.
Visa tips:
Apply for a visa in advance
Insurance tips:
Overseas travel insurance
Commonly used Thai tips: (similar pronunciation)
Hello: Savadhika
Thank you: Kou Kunka
Beauty: Shui Jingjing
Handsome boy: old mother
Massage (gently) wrap milk
Massage (Key): That Milk
~ ~ ~ ~ ~ ~ ~ ~ ~ ~ ~ ~ ~ ~ ~ ~ ~ ~ ~ ~ ~ ~ ~ ~ ~ ~ ~ ~ ~ ~ ~ ~ ~ ~ ~ ~ ~ ~ ~ ~ ~ ~ ~ ~ ~ ~ ~ ~ ~ ~ ~ ~ ~ ~ ~ ~ ~ ~ ~ ~ ~ ~ ~ ~ ~ ~ ~ ~ ~ ~ ~ ~ ~ ~ ~ ~ ~ ~ ~ ~ ~ ~ ~ ~ ~ ~ ~ ~ ~
Opening paragraph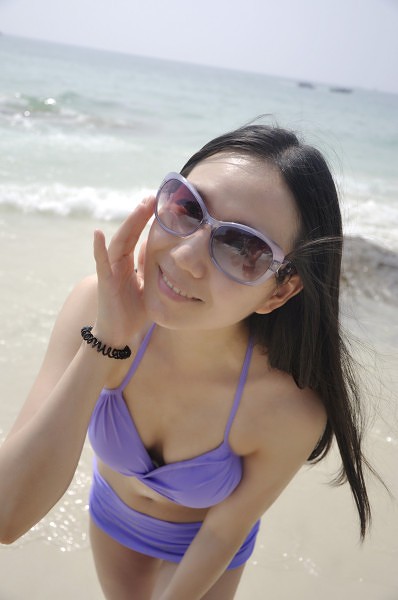 Because there is no professional photographic equipment, it is only a simple SLR with low matching, the photos cannot be compared with professionals, and can only be sent out for memory ~
On October 24, 2013, "Thai Beauty" and "Thai Love" embarked on the journey of "Thai Legend"……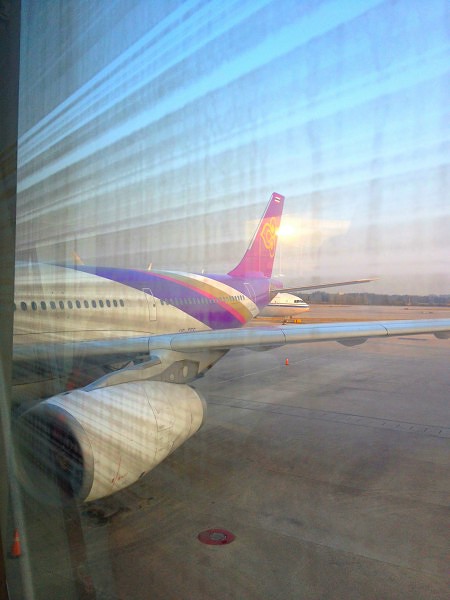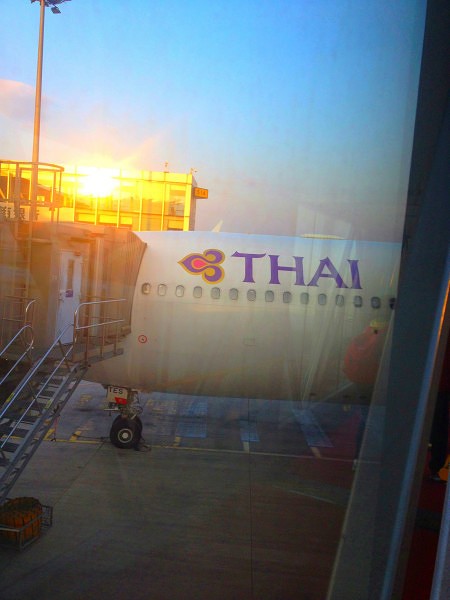 Purple, ha ha, is my favorite color when entering Thai Airlines. The greeting of "Savadhika" (meaning hello in Thai) reverberated in my ears. The food on board is really better than that of some domestic airlines. It is really not worshipping foreign things and fawning on foreign countries, but a true portrayal. Gaga ~
On the night of the 24th, we stayed at Bangkok's Sentara Jiayou Central Plaza Hotel. It happened to be in time for the Thai Young Miss draft at that time. Countless flashlights and countless beautiful women drifted across the hotel's lobby bar ~ We only took a few photos secretly with our mobile phones because they were blurred. Ha ha.
The next day we started our real "Thai Legend Tour".
There are mascots of auspicious elephants everywhere ~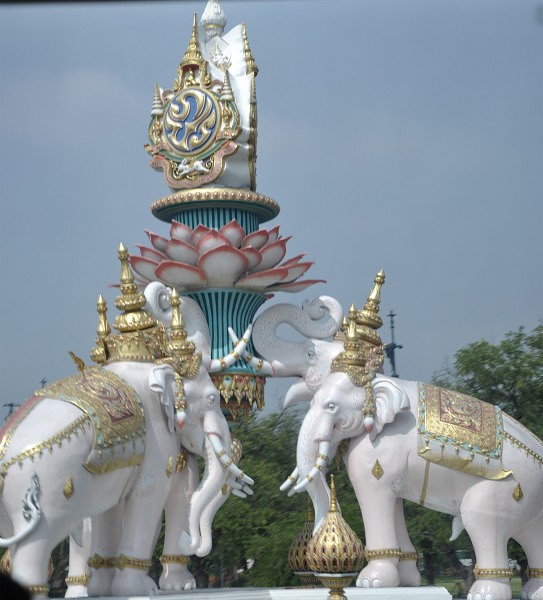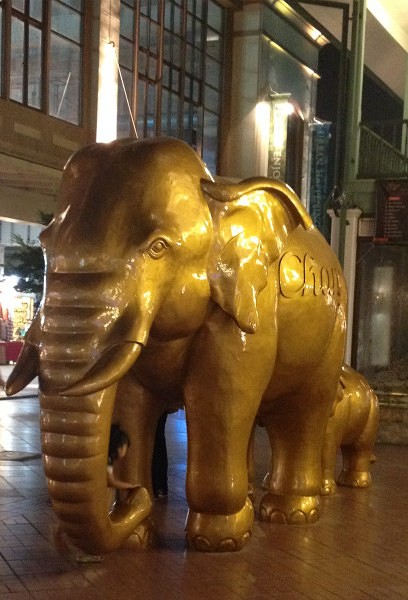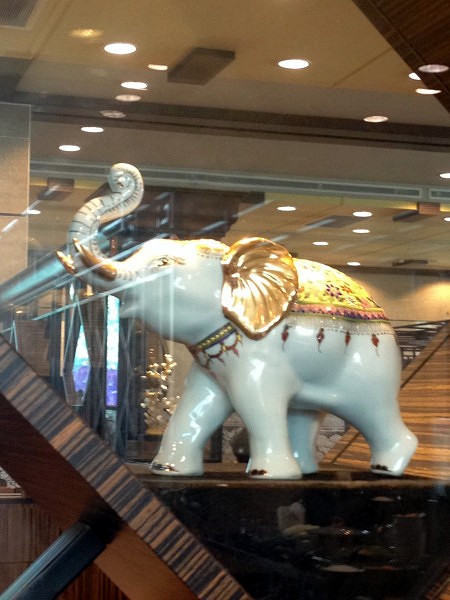 The pendant in the car ~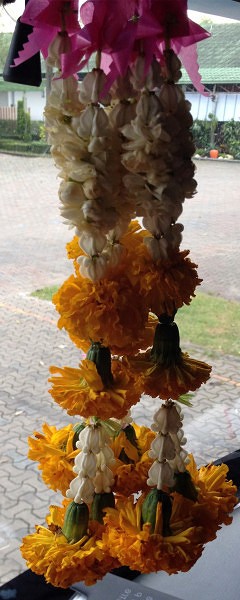 The girls were asked to wear long skirts to travel. Early in the morning, we went to the resplendent Rama Palace and Jade Buddha Temple. Although the palaces here are not as magnificent as the Forbidden City, they are full of gold and noble spirit.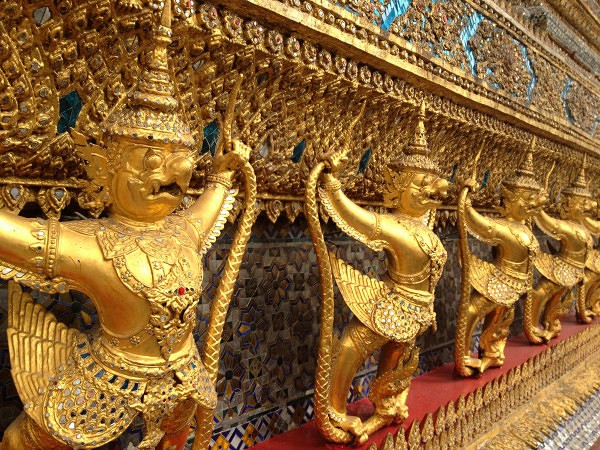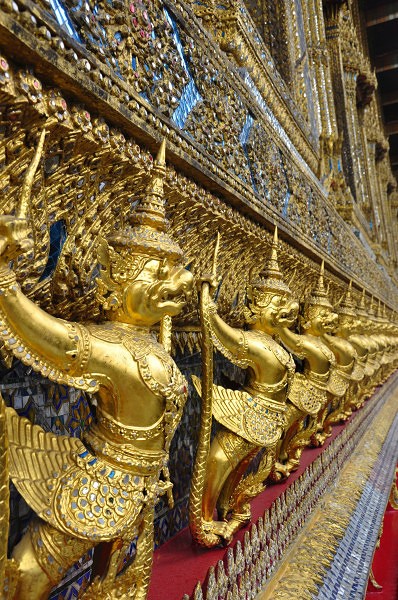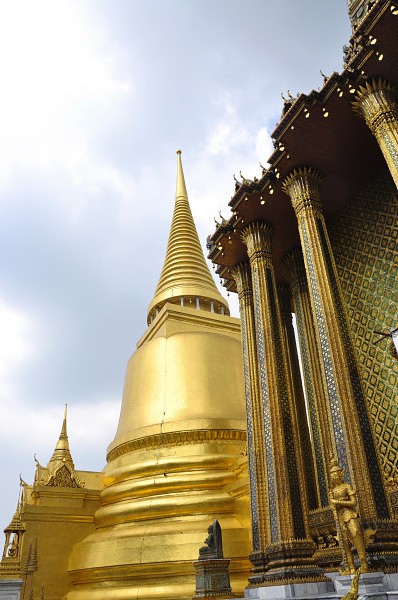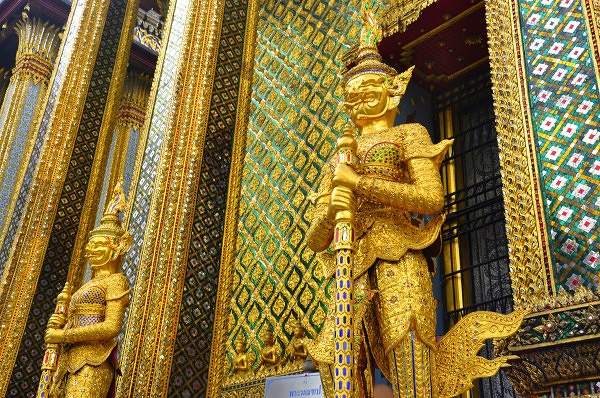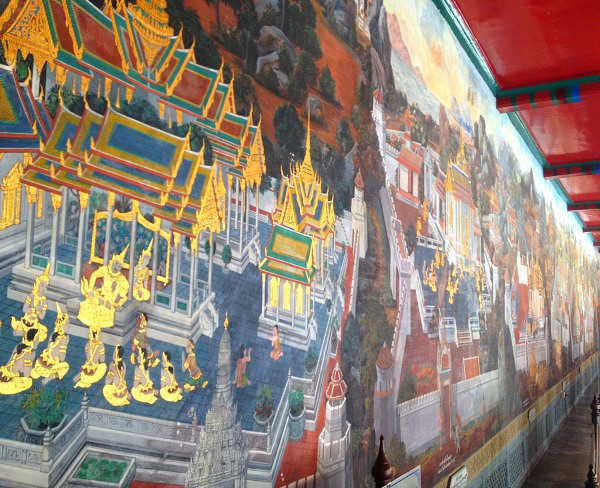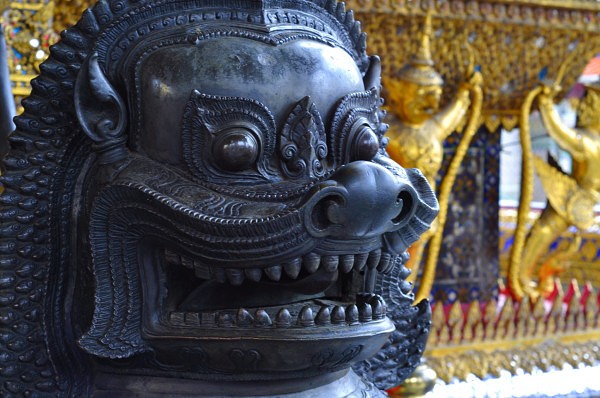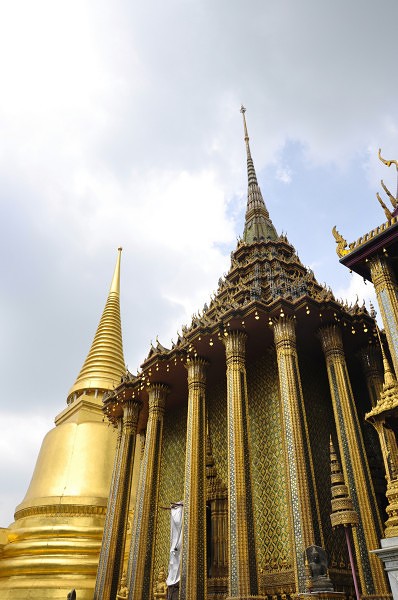 The famous Jade Buddha, Buddha bless ~ a total of 3 gold costumes ~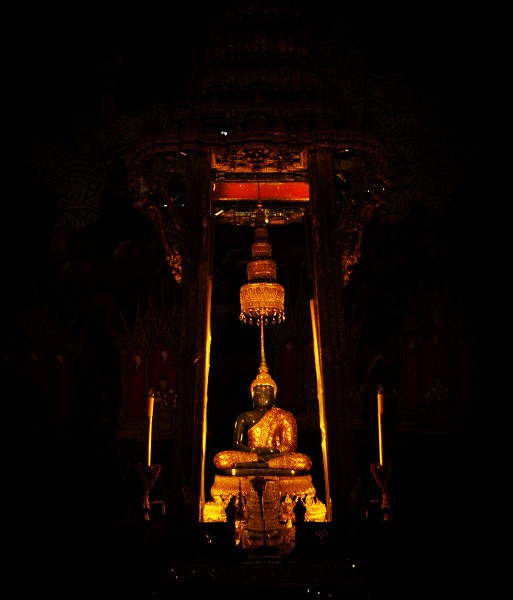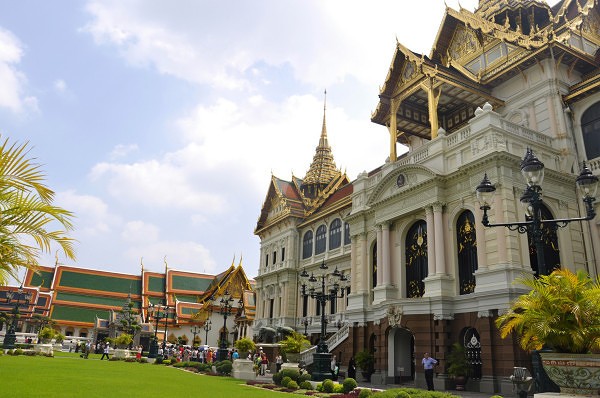 Just in time for the soldiers to change their posts, ha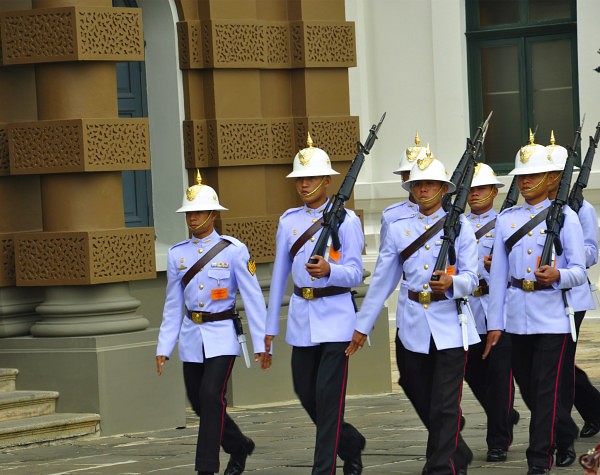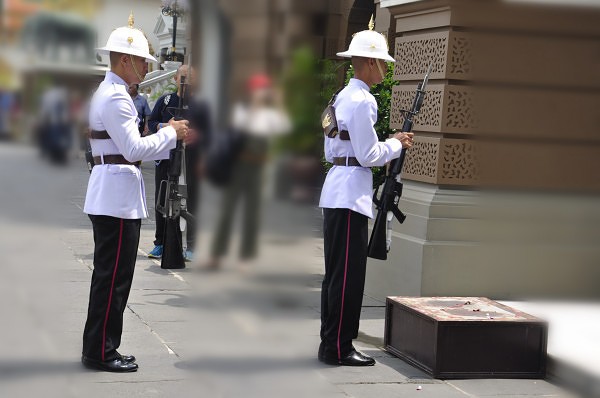 The embroidery in Ananda Shamakong Royal Guild Hall is really beautiful, and there are all kinds of handmade royal articles and works of art. Unfortunately, photos cannot be taken.
Thailand's taxis are very colorful ~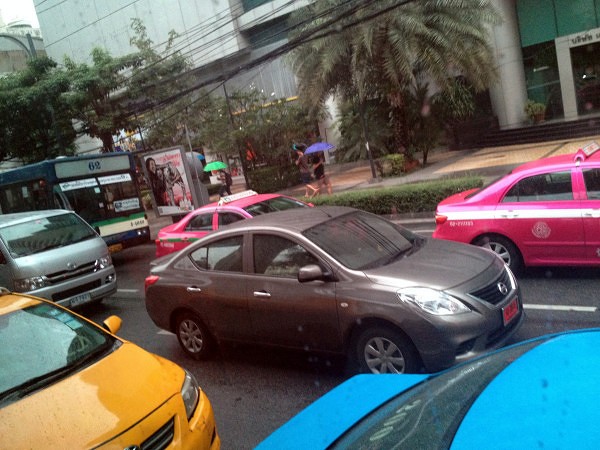 The next step is to take the tanker Princess Zhaopaya, Gaga ~
When waiting for the boat, I grabbed it, ha ha, Da Ai ~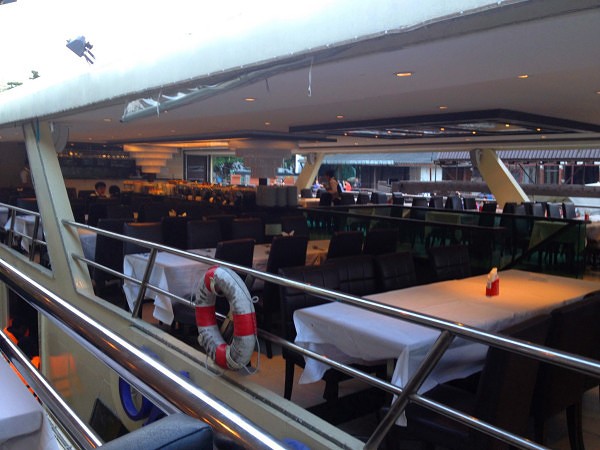 (The mobile phone is a bit empty)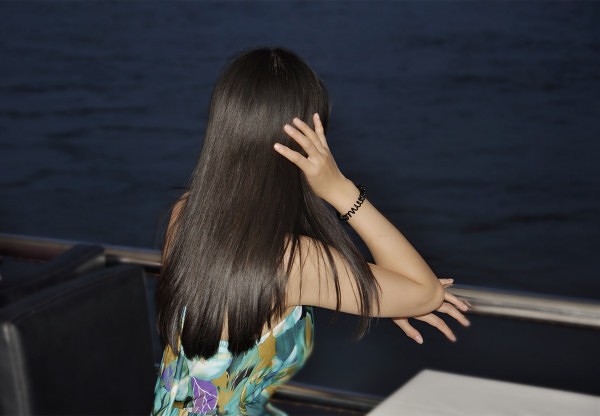 Because one of the scenic spots visited on that day had to require women to wear long skirts and long sleeves, the cover was extremely strict, ha ha.
It's really not advertising, but MAMA brand winter yin gong cup noodles are too delicious. Even if I eat very well every day, I will have another bowl almost every day when I return to the hotel. Maybe this taste is to my appetite. I really regret bringing only three back….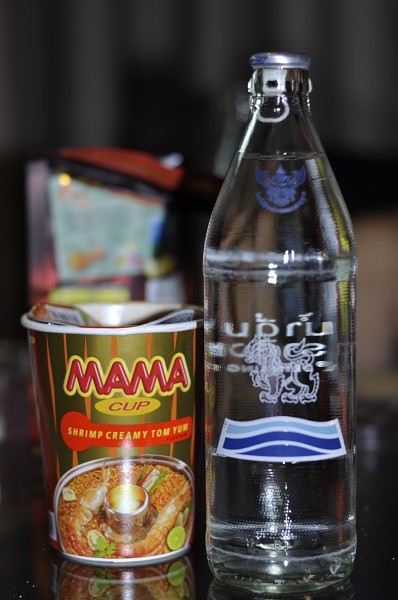 The next day, we set off for Pattaya, a famous seaside resort known as Hawaii in the east of Thailand. The road was full of various races and exotic customs.
I went to Longhu Garden and ate crocodile meat for the first time. It was really bad and I will never forget it!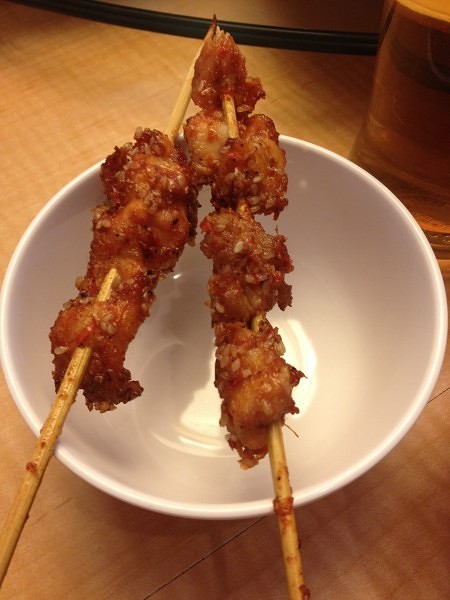 After that, I went to Dongba Paradise and visited the three wonders.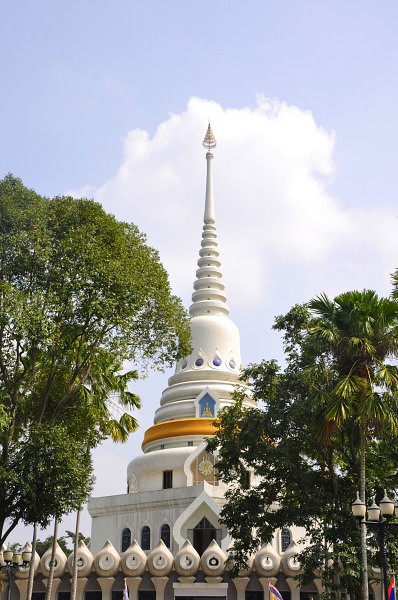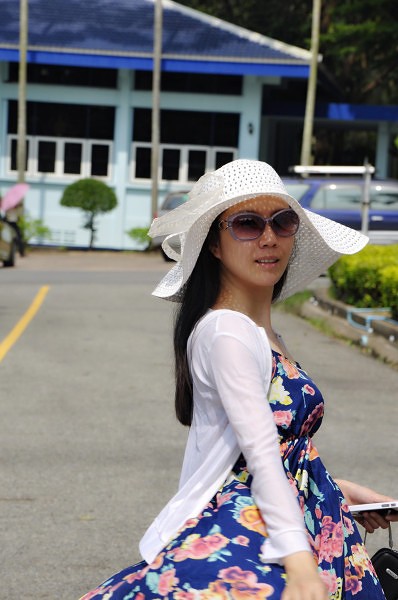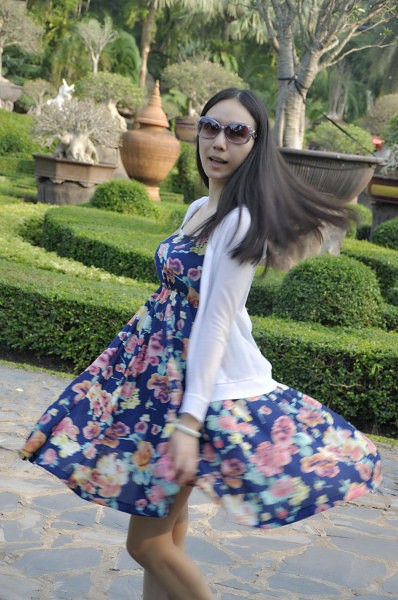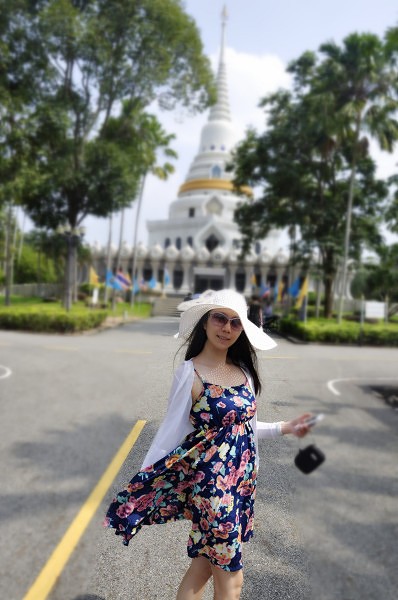 I like a big tree very much. Do you feel it?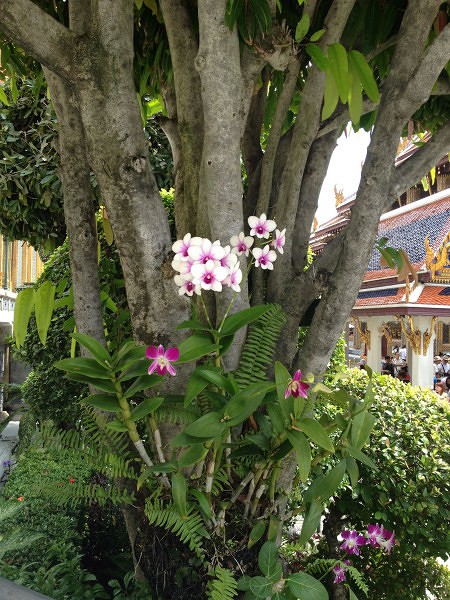 After playing for a day, I felt a little tired and took a Thai massage. I really wanted to praise it. It was very comfortable. Because I am relatively thin, I am not very stressed. Even if I had done the best SPA massage in the world in Maldives before, I felt very ordinary and even felt suffering. I cried in pain, just like being beaten, with a deep memory of 5555. However, Thailand's massage hand strength is just right, which relieves fatigue, relaxes meridians and promotes blood circulation. Therefore, I run to massage and enjoy it almost every night in Thailand these days. Ha ha.
On the 4th day in Thailand, we took a speedboat to Sammy Island in Luoyong Prefecture. Change into swimsuits and begin to enjoy this leisurely island time ~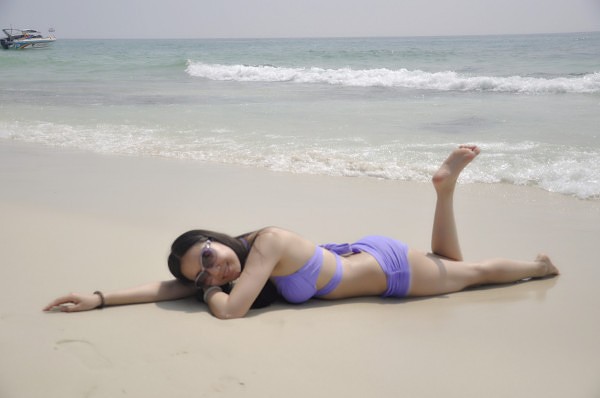 After that, we went to Supada Fruit Park in Luo Yongfu, where dozens of tropical fruits were planted on more than 1700 mu of fertile land. Taking the battery sightseeing bus, he walked slowly through the lush and luxuriant gardens, breathing the fragrance of fruits in the air. Here, we can eat different kinds of seasonal fresh fruits indefinitely. Unfortunately, there is no mangosteen in the season, but durian makes us eat well. Ha ha. Rambutan, lotus mist, carambola, pitaya, guava, mango, papaya, pomelo varieties are OK.
The swing in the garden ~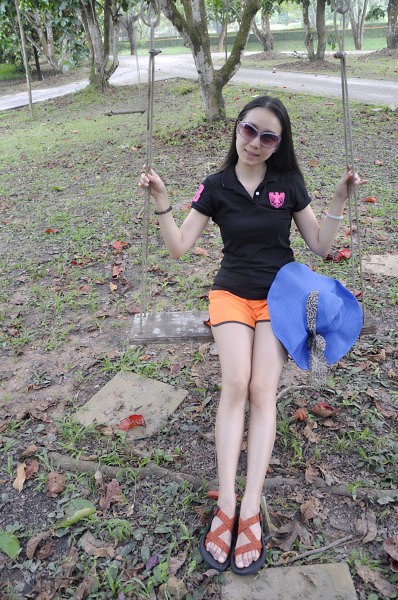 I have drunk a lot of coconut juice these days ~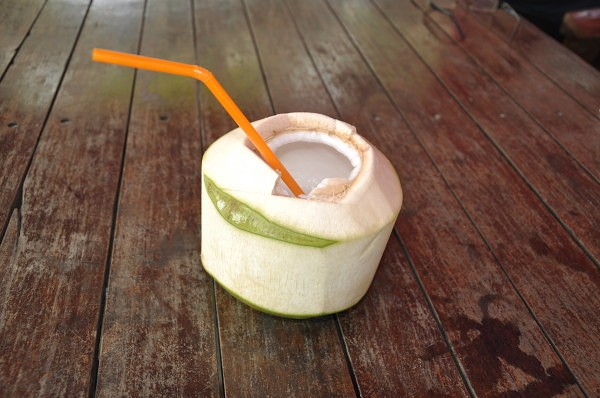 The sour horns and dried mangoes bought in the supermarket are delicious ~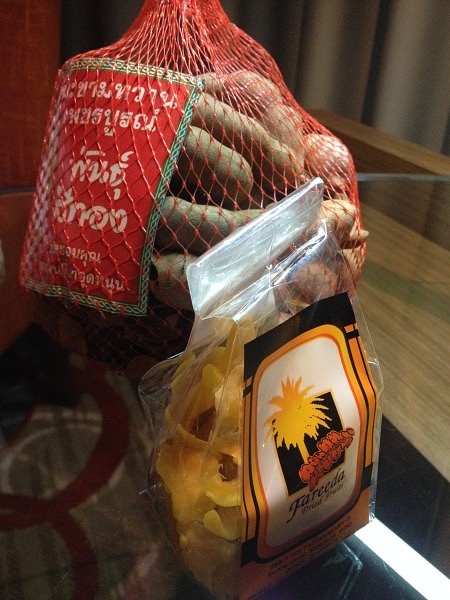 Thailand's taxis are very colorful ~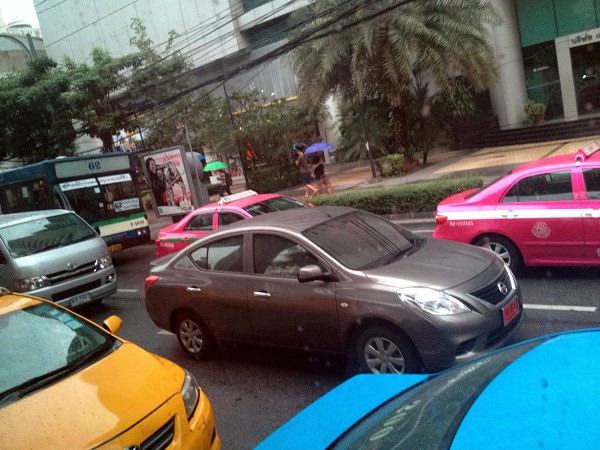 Pattaya's hotel environment is not bad ~
芭提雅的夜市逛得很过瘾,战利品-曼谷包,当然主要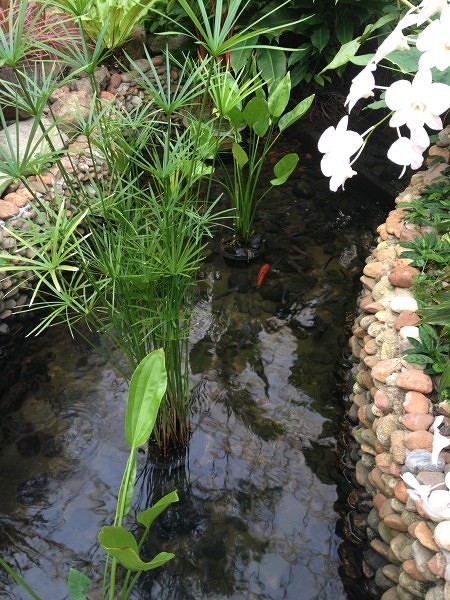 I came back to give it away ~ Ha ha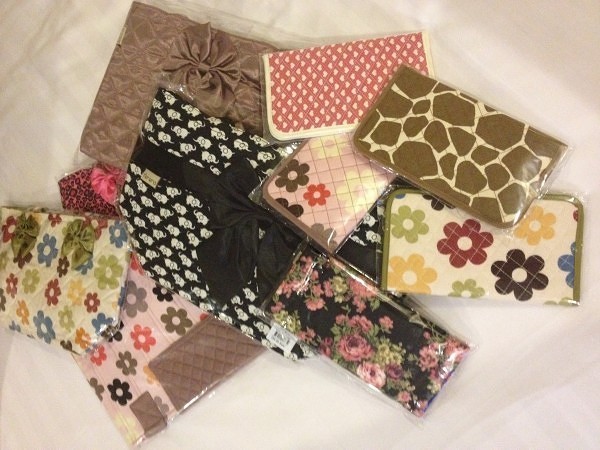 Pattaya's nightlife is very rich. The empty streets gradually become lively after 7.8 pm during the day. When passing by * *, the streets are filled with pole dancing girls. The heat's figure attracts foreign tourists to stop. Red neon lights are flashing, and the air is filled with the ambiguous smell ~
Pattaya does not have a regular taxi, or very few, it is the kind of scooter that we become a three-hop scooter, because we have to charter a car as soon as we get on the bus, and we feel that our language is not good, there are often rumors of deceiving customers, and we drive too hard, so we didn't dare to try and took Route 11 ~
Next is the delicious food in the night market ~ a dazzling array of fruit stalls ~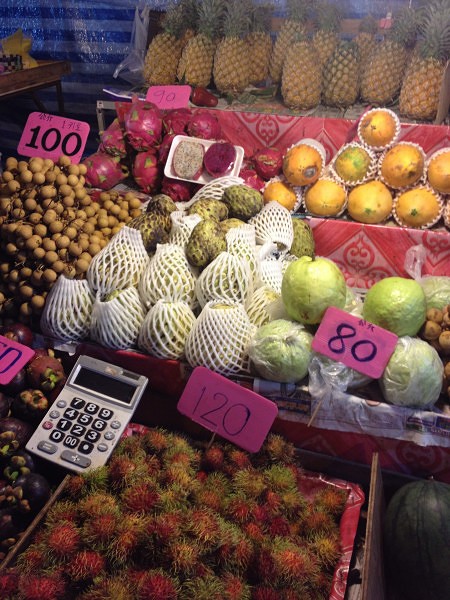 Mango glutinous rice is so delicious that I asked for 2 portions ~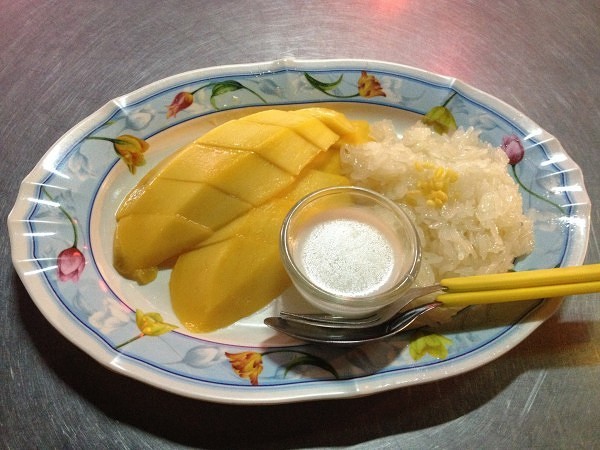 Authentic Thai Dongyingong Soup, but it's a bit spicy for me ~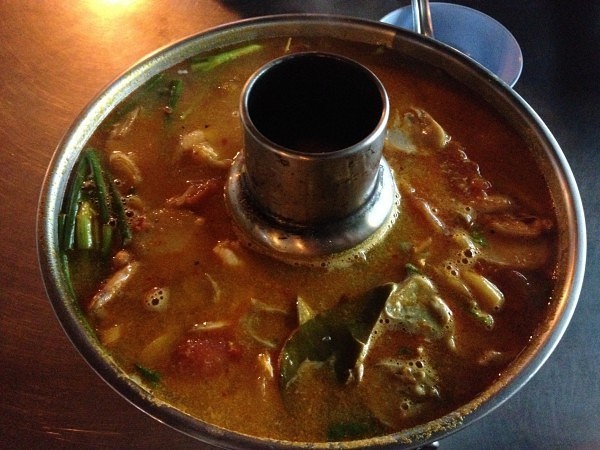 In my impression, this prawn is very cheap and tastes very good, attracting countless foreigners to queue up. The boss seems to be able to speak many languages.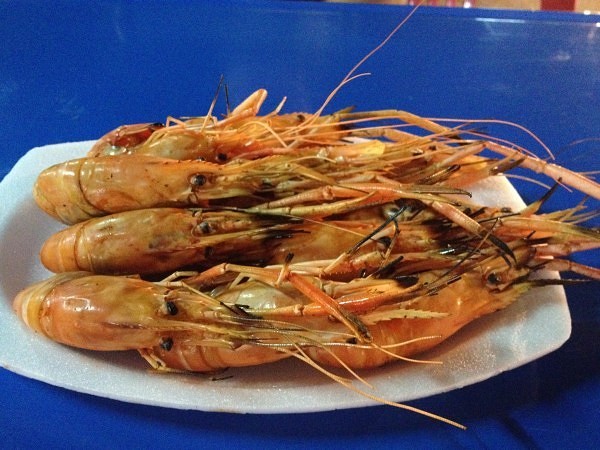 Of course, after eating and drinking, we haven't forgotten to continue to enjoy our Thai massage. Gaga ~ comfortable
On the 5th day, we went to the famous Royal Temple and worshipped the four-sided Buddha according to the rules. It is worth mentioning that I invited a four-sided Buddha, hoping to protect the well-being of the whole family ~
After that, we went to ride an elephant. Before riding an elephant, I also flattered and bought two bananas specially for it. Although I experienced the exotic atmosphere of riding a auspicious elephant, I still felt sorry for it. The indecent photos held up by 2 elephants and rolled up by one elephant's nose will not be uploaded, hehe. By the way, when I fed bananas to the baby elephant, it gave me a naughty kiss, which was interesting ~
I watched the traditional performance in Thailand, but the most wonderful one was the elephant's performance. Apart from turning around, cycling, drawing (the red heart pattern painted on the scene was bought by a foreign tourist for 400 Thai baht), shooting (basketball), shooting (football), massaging people, and finally performing the dance of Jiangnan style. Praise it, it is really human nature ~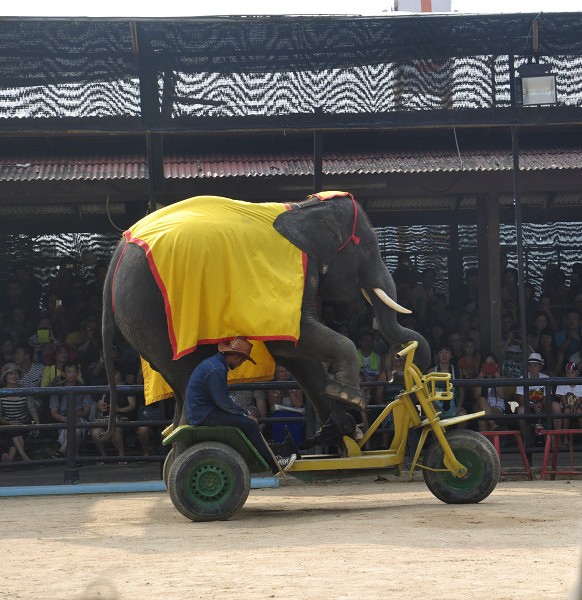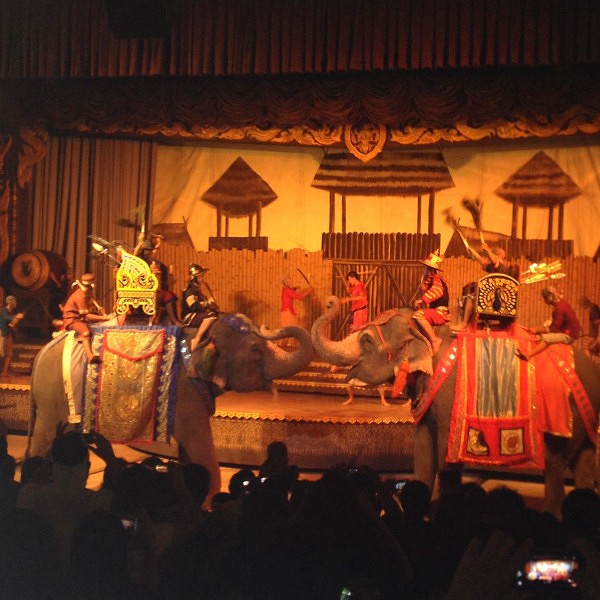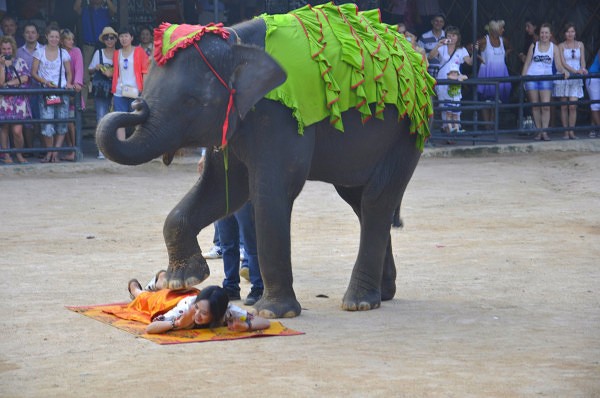 This tiger is too poor. On such a hot day, it was tied to a chain and forced to take photos with people. It was supposed to have a rest and lie down. It was also dragged by its tail and forced to get up and perform arts. It was touching its head and buttocks without dignity. Looking at its plaintive eyes, it really hurt ~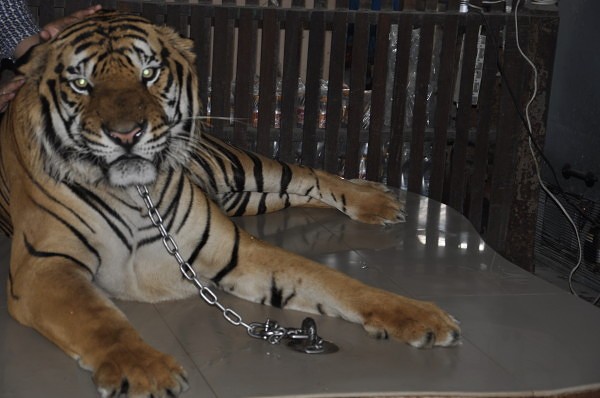 After that, we took a boat to Asiatique Bangkok Xintiandi, the so-called largest night market in Asia, on the Chao Phraya River. We didn't think what was special, but we started our special trip. Ha ha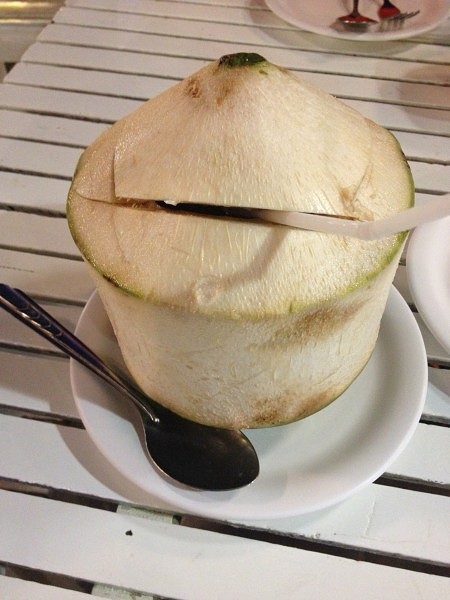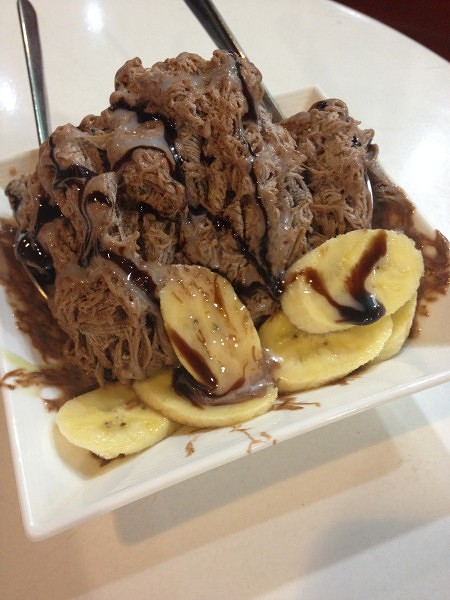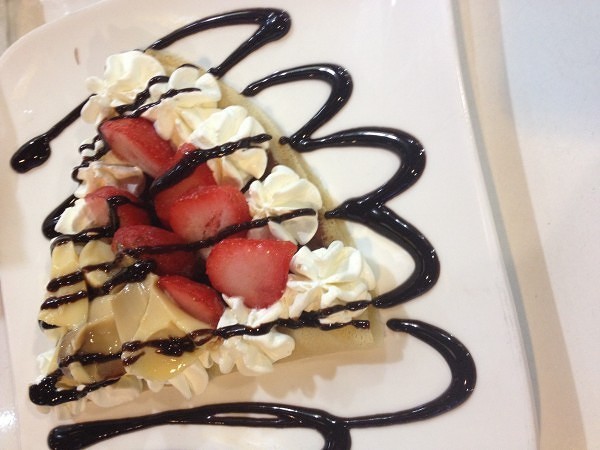 On the last day, we visited the water family (that is, the family that used to sell fruits by boat). Unfortunately, this is the old site. I heard that we had moved and did not see the scene of the boat selling fruits next to each other ~
No one will send this wreath with Thai style when boarding the ship, but it will cost 20 Thai baht ~
Colorful boats ~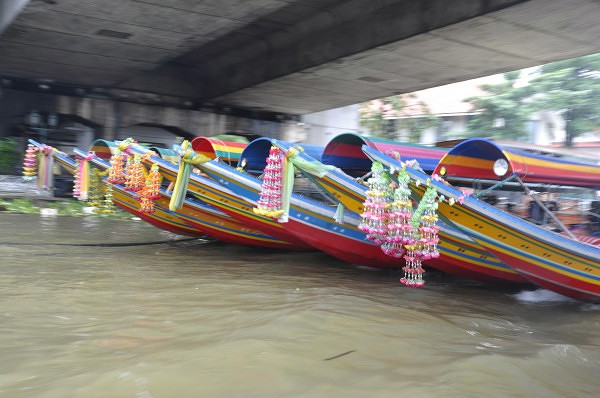 Through Zheng Wang Temple ~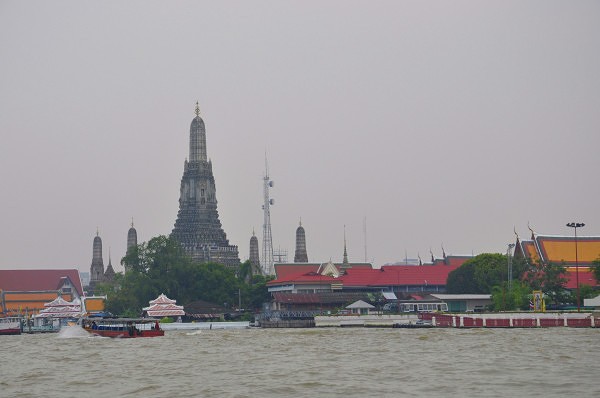 Is this a Thai warship?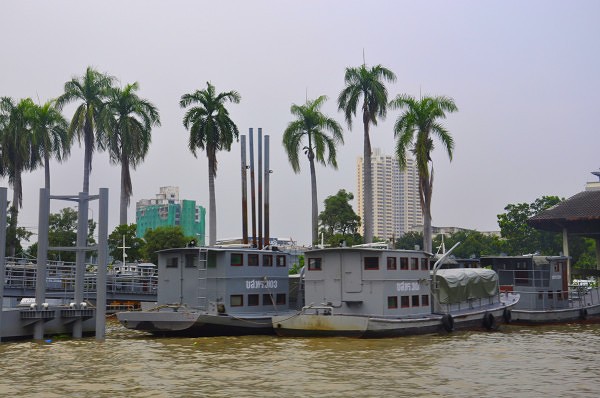 On the last night in Thailand, we went to see the Jintony transvestite performance. Although it was not as wonderful as Tiffany's, it was not a trip for nothing ~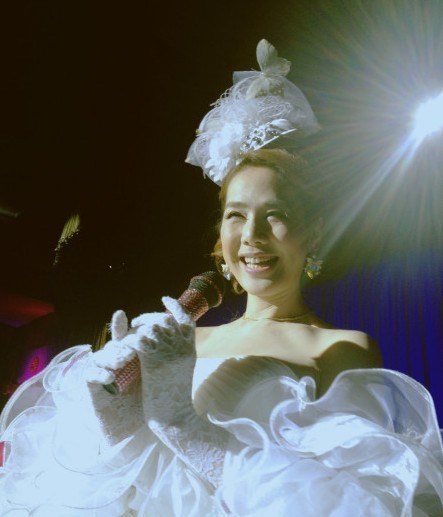 I think this transvestite is the best one here, ha ha ~
I went to the duty-free shop to buy some cosmetics (some kinds of L 'Or é al are really cheap), and I also bought some jeans with good version. I searched for seasonings of Dongyingong. My favorite is the cup noodles mentioned earlier, durian candy and coconut candy. Thailand has a kind of snack with meat floss, which is very good, but I forgot to buy some back ~ Finally, we flew back to the embrace of our motherland safely by Thai Airlines ~
At this point, the "Thai Legend" tour has come to a perfect end. At that time, it caught up with Thailand's "winter vacation", The children are all on holiday, But it was still warm, It can be said that it is very comfortable, not too hot or too sunny. These daily public services are really beautiful, which makes this trip feel good. I think it is a good time to go to Thailand at the end of October. It just passed the plum rains season ~ The public security in Thailand is still OK. It is not as terrible as the tour guide said. The local people are also quite friendly. It is wonderful to hear the praise of Shui Jingjing. Ha ha ~
The last, the last. Let's finish the photo of "Thai Beauty" and "Thai Love" and look forward to the next wonderful trip ~ Thank "Thai Love" again for acting as bodyguard and cameraman….