Overview
Long before Lost in Thailand, Thailand is my highly recommended choice for Southeast Asia. I like Ty very much. Not only because of the rich tradition in northern Thailand, Not only because of the small train passing through the cliff in the jungle, It is not only because those who do not eat enough Thai food and drink enough Mango-SHAKE, Not only is it because of the beautiful islands that have set foot on or have not yet set foot on, Thailand is a smile gushing out of my heart, a belief inherited from past dynasties, and a natural outpouring of friendship and kindness. Every trip to Thailand can bring incomparable warmth and peace to my heart.
From the summer of 2004, when I first walked backpack to Thailand, my memory has been deep and tired.
Character 1: Baby Miss Apple, 3 years old and 9.5 months old, is traveling freely in Thailand for the first time. Objective: Three cups of mango shake every day, watching small fish, playing on the beach and swimming;
Character 2: Baby Ma Ma, unknown age, n th free trip to Thailand. Objective: Mango rice, pork rice, various tropical fruits and shake, beach stunned, snorkeling, swimming.
Looking at the similar purposes of the two characters, nearly ten years later, I joined hands with my Miss APPLE to choose Thailand as her first destination to go abroad in her life. So he said he would go and booked an AirAsia ticket from Shenzhen to Bangkok and Bangkok to Phuket on the 9-day trip from August 25 to September 2, 2013.
Some people say that take such a small P child and don't go to Thailand. Thailand's eroticism is not suitable for children either. Look at what you said, I think Thailand is definitely the first choice for self-help travel to take the little P child abroad. Don't think that little P-child has no memory. What she wants to remember is definitely firmer than mine. This is not true. It's almost February. She still remembers those small fish for a moment. She will remind me every few days: Ma Ma, the small fish photo I took in the fish pond outside Ampava's room hasn't been developed yet. (Sorry, I deleted it at the beginning, but now I regret it and don't know how to explain it)
Speaking of Thailand's eroticism, at night in Padong, Miss APPLE saw the pole dance performance in the window show of those bars and said to me: Ma Ma, do they dance pretty well? There is no eroticism in the child's eyes. The lively night in Patong filled Miss APPLE with novelty.
When traveling to Thailand with the little P-child, adults will take advantage of the good popularity of the little P-child. The friendly and slightly shy Thai people are especially friendly to the children and definitely receive better care than in Chinese society.
Nowadays, it is popular to learn Chinese in Thailand. Salespeople in major business premises can speak some Chinese, so if your English is not so good, you can go.
Are you tired of taking your little P child out? Personally, I feel that this tiredness is completely within the range of tolerance, so those who used to be hikers and are now upgraded, take your little P-child and continue to donkey.
Let's start with this 100B commemorative film and recall it with APPLE Zhitai.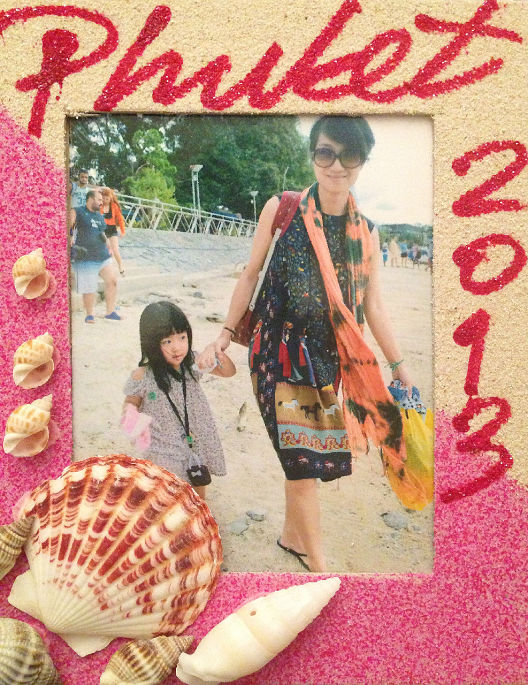 The itinerary was specially arranged very simply, after all, Miss Apple is less than four years old. Although Miss APPLE is still very delicate to me, she looks like a little traveler. It is not ambiguous to catch a train and a plane. Even in a deep sleep, she still calls one by one and picks up the camera to take pictures one by one, causing a lot of eyes. I often can't tell which one was taken by me and which one was Miss APPLE's masterpiece. Walking on the road is also a kind of growth.
The original plan was to take Miss APPLE to Thailand for a 5-star journey. Because Thailand's hotels are famous for their super cost performance, but they failed to break away from the frugal nature of backpackers and could not bear the temptation of big promotion. In the end, half of the hotels chose Accor's IBIS. The half-price big promotion price is really too attractive and the cost performance is really super high. I am very satisfied with all the hotel choices for the 8 nights. I won the 8 nights with less than 2,000 Chinese dollars. Look at the pictures and know the truth.
Riverside IBIS
First stop Bangkok Target: Eat and drink, stroll around casually in Buy Buy, Taxi on the water, Moon bar on the top floor of Banyantree, the oldest restaurant.
Bangkok's Riverside IBIS, don't blame me for not choosing a Thai-style hotel. Who made this River Side IBIS so attractive and greatly promoted the 1800-odd river view rooms. The rooms are very clean and spacious, the bedding is very comfortable, and what is valuable is the swimming pool that Miss Apple loves very much.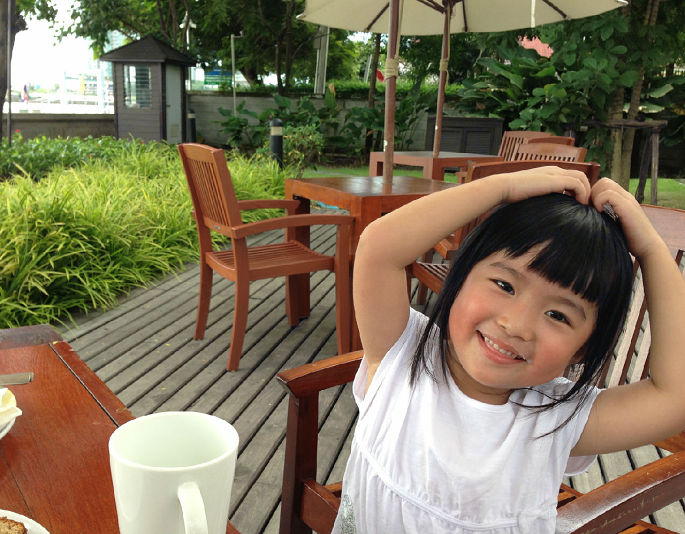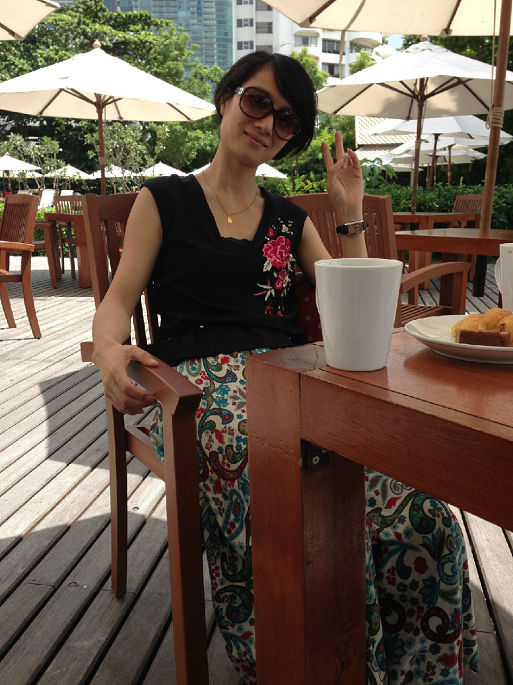 After a leisurely breakfast by the river in IBIS, you take a picture of me, I take a picture of you, and then say to the swimming pool that I am here.
Has it overturned your impression of IBIS?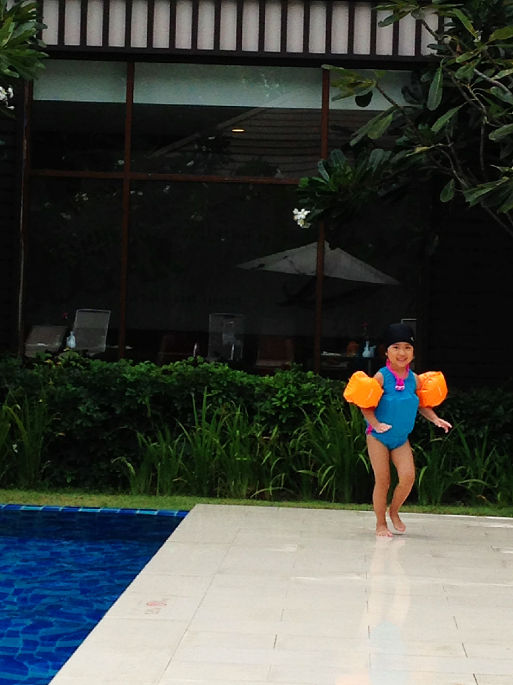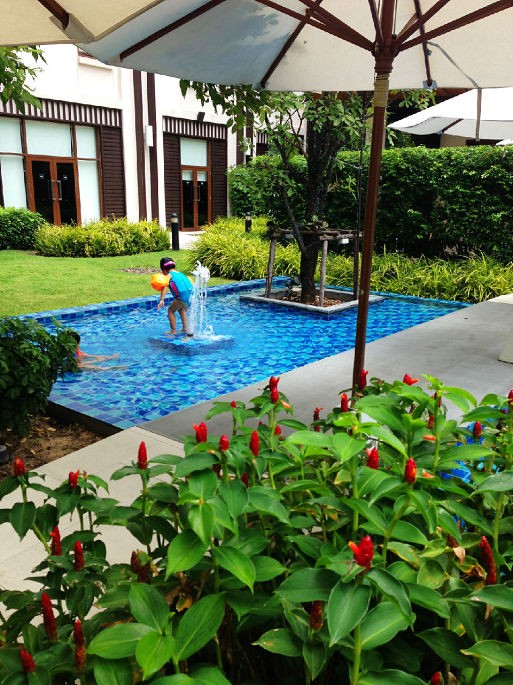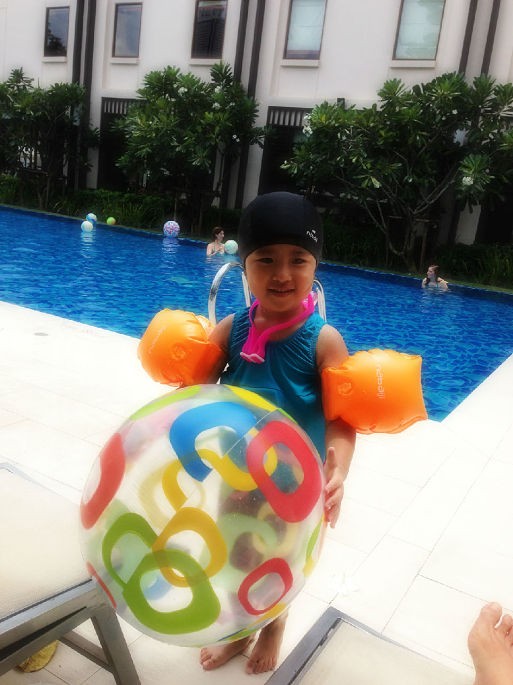 Miss APPLE will also enjoy sunbathing.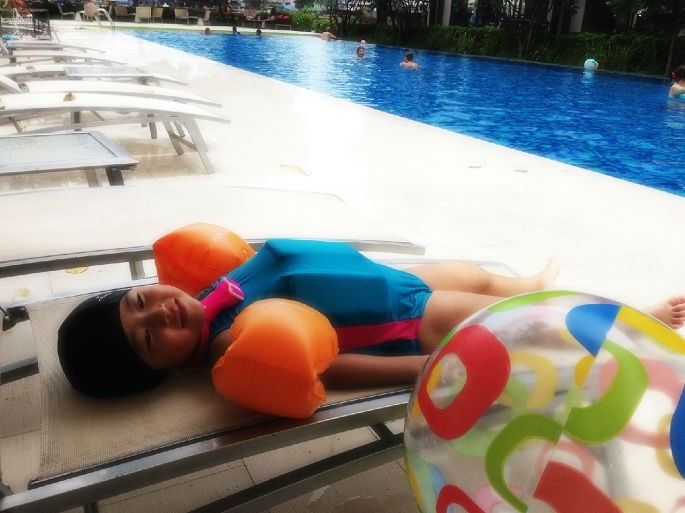 If you don't satisfy your taste buds in Bangkok, the city of angels, it is definitely your mistake. If you don't have the addiction of shopping in Bangkok, then you will regret it. Bangkok is very rich in goods. If you are here for the first time, then leave the big purchases to the last stop, because the things you will buy must exceed your imagination and your trip burden is too heavy with them. Bangkok has a lot of shopping mall, And many of them are very easy to reach, Usually connected to the Tiantie station, Regarding shopping, Just search the Internet for more detailed strategies, I only suggest buying some local handicrafts, Local brands and duty-free L 'Or é al (it's really cheap, if you have a 10% discount, it's really very economical, how to get a 10% discount, see the introduction article for details) Most people buy NARAYA bags with very good reputation on the first floor of Central World Plaza, but it's really all a Chinese army that doesn't need money for shopping. If you want to avoid this congestion, you are advised to go to NARAYA stores near Emporium. (See the strategy for the specific location)
The best first meal: Apart from the hotel breakfast, this is our first meal. Miss APPLE, who ate it, praised it as delicious. After one meal was not addicted enough, she ordered another one until she was satisfied.
This restaurant was visited by accident, but it was also very delicious by accident. If you happen to go to Siam Discovery, and if you just want to eat some what, then don't miss its pork rice set meal, which is really delicious and cheap.
There is a bridge on the wall of his house. Go in if you see it. You won't be disappointed.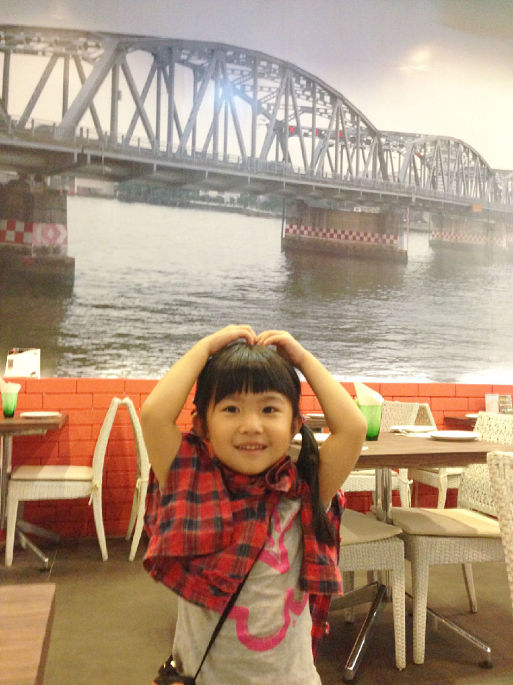 I look like a blind aunt laughing at APPLE playing cute there.
Just look down on it and make sure you say it is delicious. Three cups of drinks, one and a half sets of meals, because I asked for another golden crispy cake, totaling more than 30 RMB.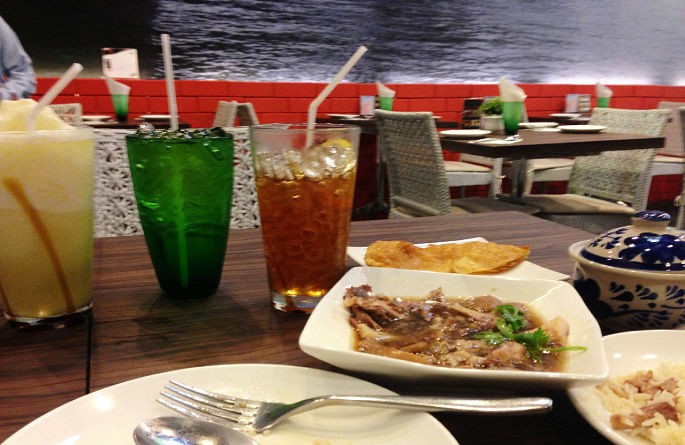 Shoppingmall
Shoppingmall can sometimes become a playground for children, because there are many lovely animal furnishings, and taking photos with various animal shapes is the pleasure of little P children, because lovely animals are in the hearts of lovely children.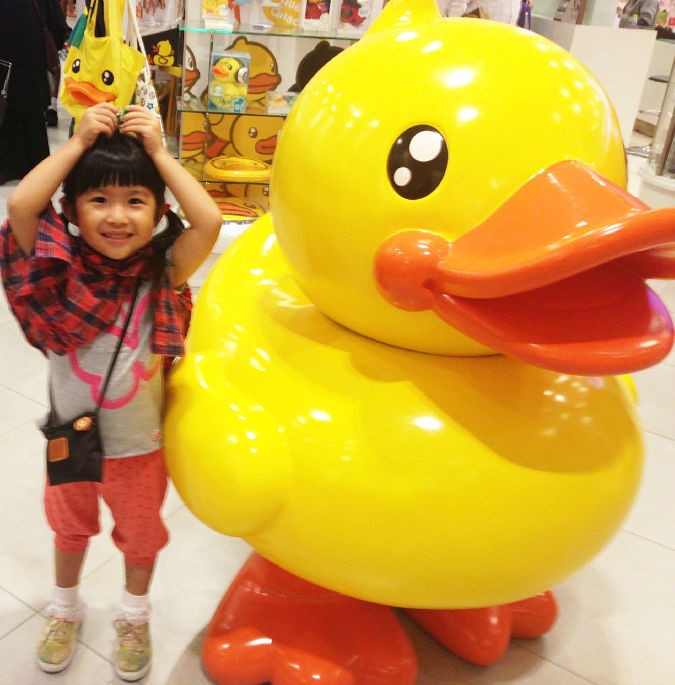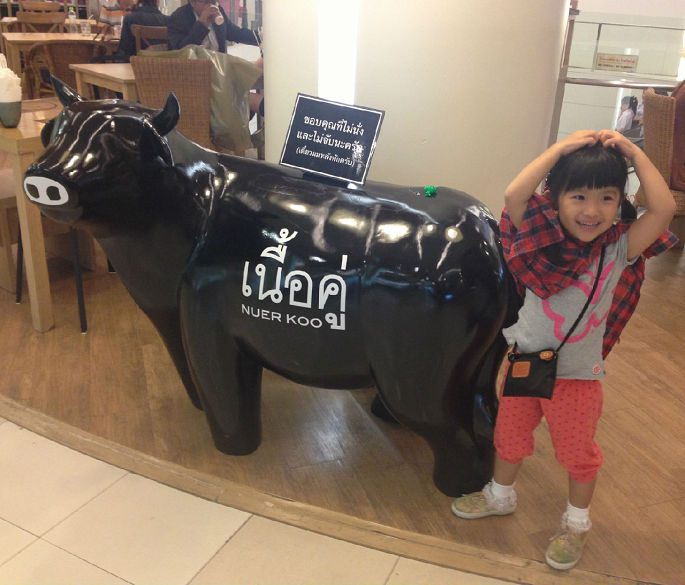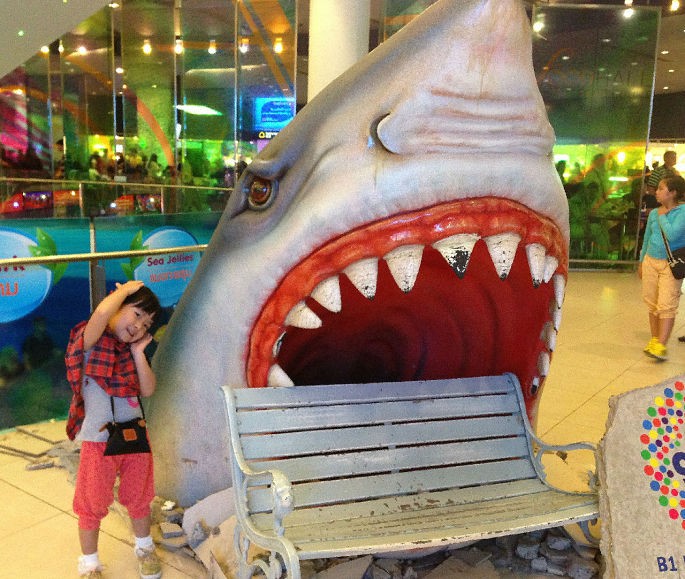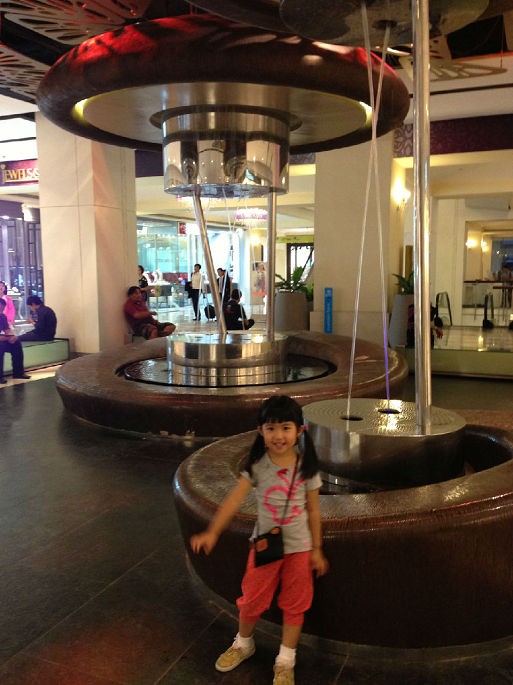 After playing Shoppingmall, we took a taxi to the Jade Buddha Temple, but I suggest you go earlier because I missed the famous Massage in the Jade Buddha Temple. Originally Thailand was full of it, but this is the most academic school. Unfortunately, it didn't catch up. If you are interested in this, you can visit the Jade Buddha Temple early and Massage inside. The price is slightly higher than that outside.
Don't miss getting to Dawn Temple on the other side of the river before 5: 30 to take a look at it. Dawn Temple is one of my favorite monasteries in Bangkok. From a distance, it is simple and unsophisticated, from a close look, and the night is even brighter. It stands quietly on the bank of the Chao Phraya River. It has a faint feeling of looking at the world. It is not as magnificent and dazzling as the Grand Palace, nor as legendary as the Jade Buddha Temple. However, it commemorates the 41st generation of Thai kings and hero Zheng Zhao. If you still have time to go to Bangkok, you must climb to the top of its tower before 5: 30.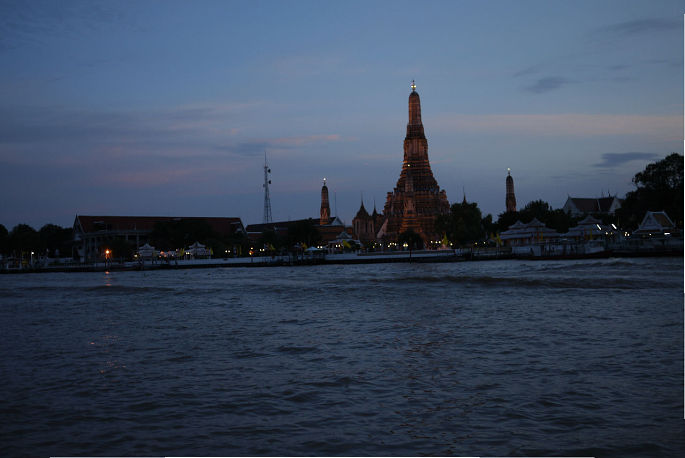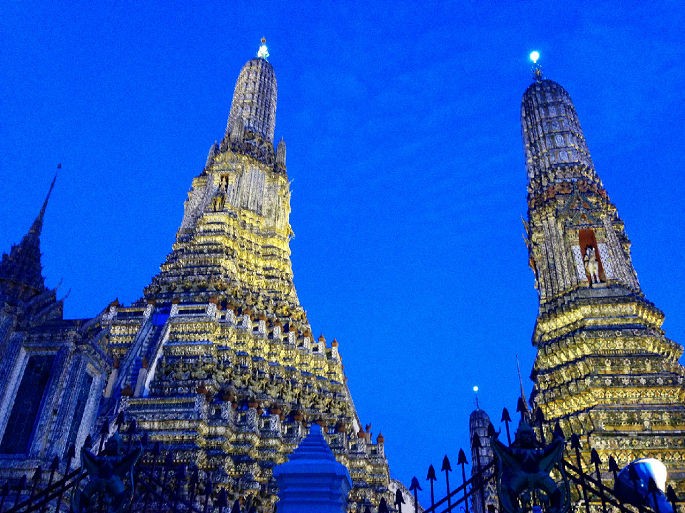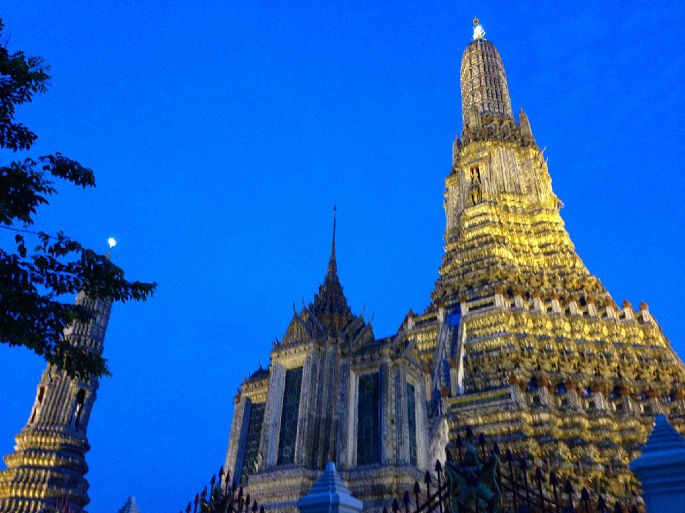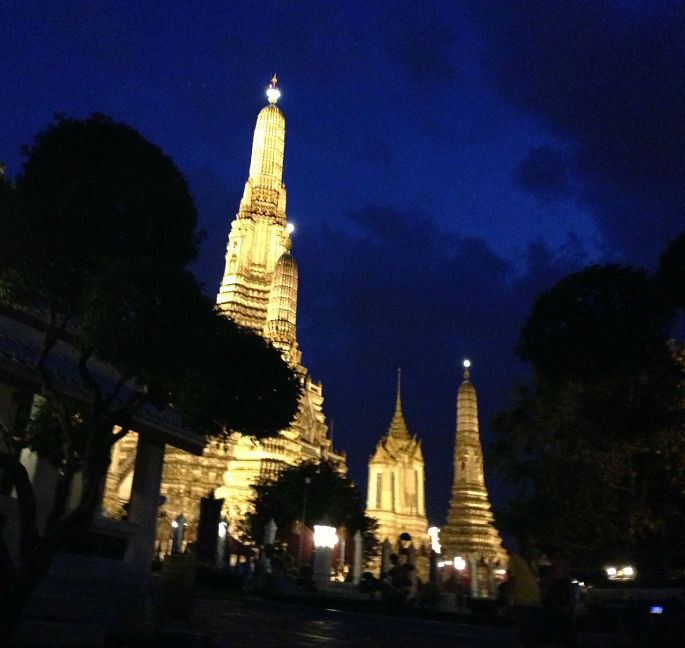 When you come out of Dawn Temple, you can take a bus to find a restaurant on Kaoshan Road to have a good time. At the same time, Kaoshan Road is also a good place to buy many small souvenirs and Thai clothes. This is where you can find everything you want to know about travel. Including a one-day tour and a two-day tour, Most importantly, it is almost the most cost-effective place in Bangkok. So backpackers all over the world will not miss this place. If you are a backpacker and if you have a tight budget, then I suggest that you must come here to see what you need. If you are luxurious or have a comfortable budget, you can find a good place to stay outside Kaoshan Road, but you can still come to Kaoshan Road to feel the youth and vitality here and the backpack atmosphere here.
The bad thing about Kaoshan Road for me is that it is located in the old city and has no air rail or subway. There is a little way to the dock, which is a little inconvenient for Bangkok, a big city. Of course, if you like, the flexible doodle car can take you to the place you want to go, but the doodle car usually has to kill you. How deep the knife is depends on your path.
This my favorite mango rice is essential, as long as the restaurant has it, I will order it. However, the price has risen from 20B that year to 80B today.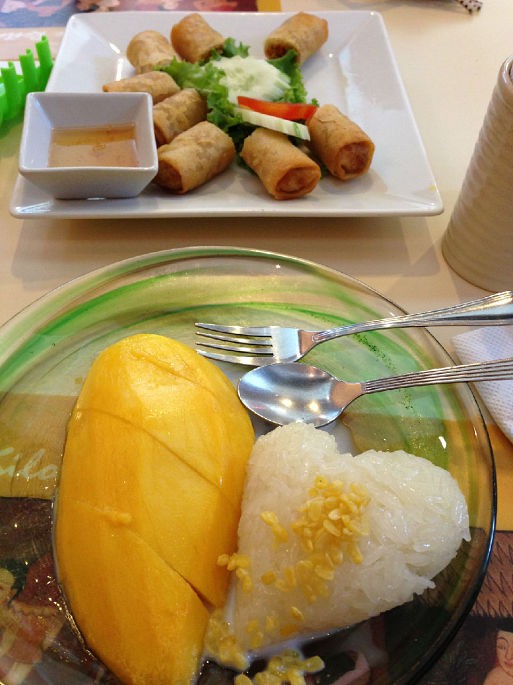 With all kinds of people coming and going, we started the dinner on the roadside of Kaoshan. This was our casual choice after missing the traditional Thai restaurant that has a saying. Although it was a simple roadside restaurant, it gave enough seafood in Dongyin soup.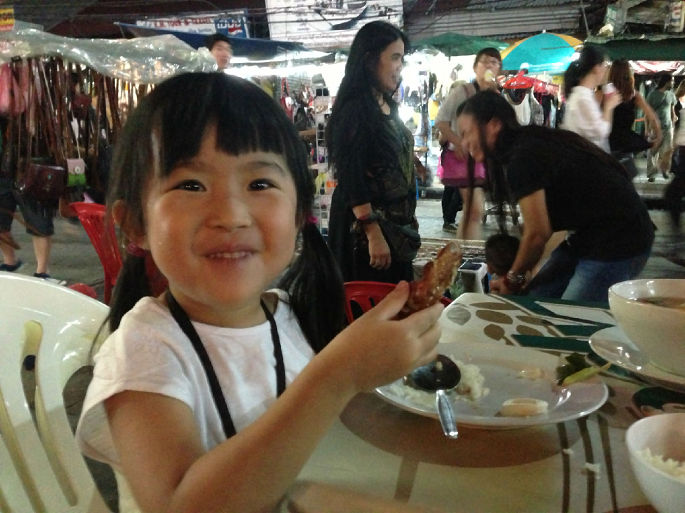 Bangkok's Regret: I didn't have enough time to go to MOON Bar on the top floor of the planned BANYANTREE, and I couldn't catch up with the traditional Thai restaurant with a long history. I used to serve the royal family and left Bangkok with regret, because there must be another time.
The second stop Phuket Island Target: Swimming Pool, Beach, Sea Water, Still Eating and Drinking, Emperor Island Snorkeling.
The reason for choosing Phuket Island is that Miss APPLE likes the seaside. The other reason is that after I came here in 2004, I have never been here again after the tsunami. I have always been thinking about the changes it has experienced after the great tribulations. I have always been worried about the family of Phuket Island Chinese teachers who took me to Patong that year. Choosing a place is more or less because there are thoughts and cares in my heart.
I know that the sea water of Phuket Island is not very beautiful among all the islands. Even in Thailand, it is definitely not in the top few places, but it can rank first in the number of tourists visiting Thailand Island every year. So whether you agree or not, Phuket Island definitely has its charm. If I have time, I think I will go again, even if it's just for personal reasons, even if it's just for chatting with those friendly people.
MINI bus from Phuket Airport sent us directly to IBIS in Patong. Yes, it was IBIS, or because of its ultra-high cost performance, it was also close to the beach, and it was a little distance to Jiangxi Cold, but if you didn't take your children for a walk, it was OK.
Compared with IBIS in River Side, the room is slightly smaller, but it is better than having a small balcony. You can have afternoon tea on the balcony facing the swimming pool without any problem.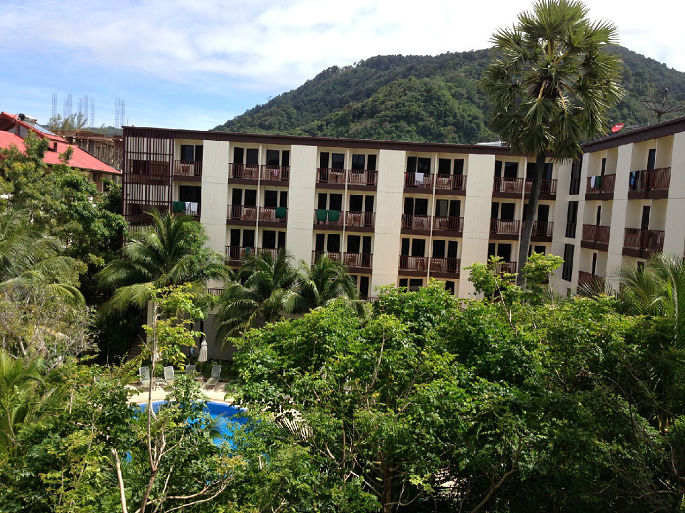 We had fruit afternoon tea on the balcony of IBIS. I was very satisfied with the house price of less than 200 yuan in such a place.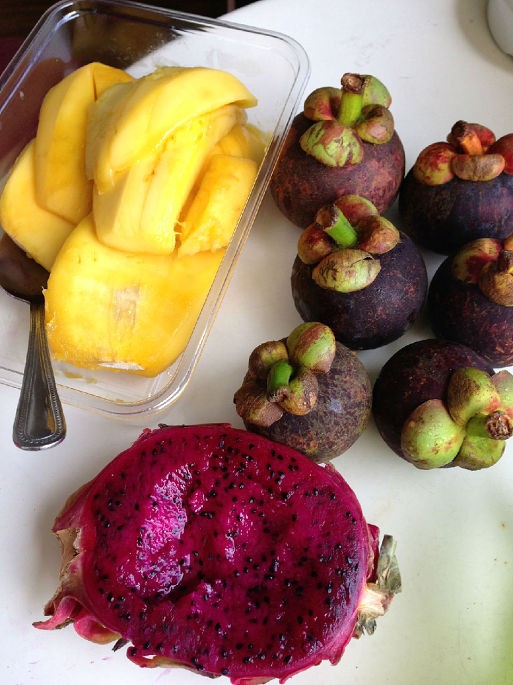 Patong Beach
In the evening, when walking on Patong Beach, IBIS came to the beach quite close and did not need to go out for 5 minutes.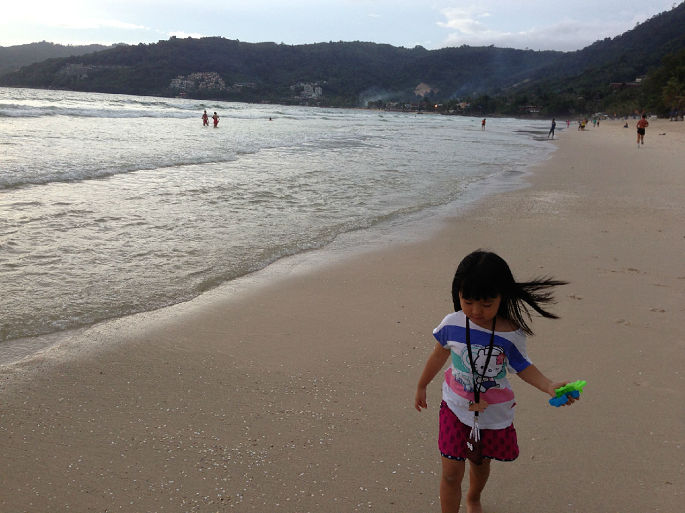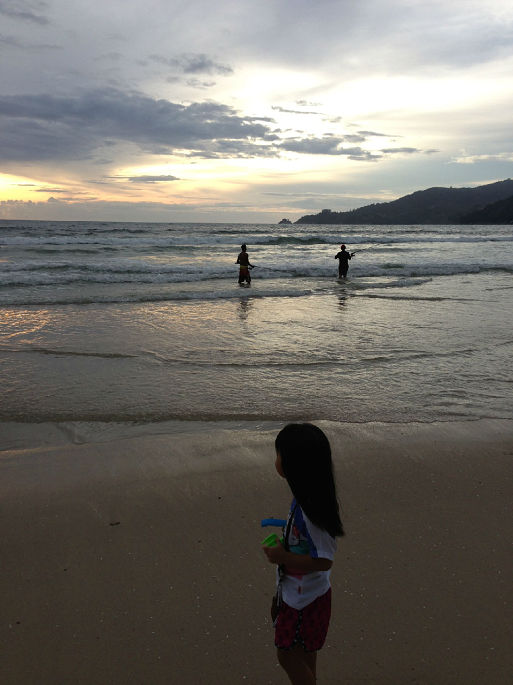 Dear friends, don't be disappointed, the sunset in Patong is very beautiful.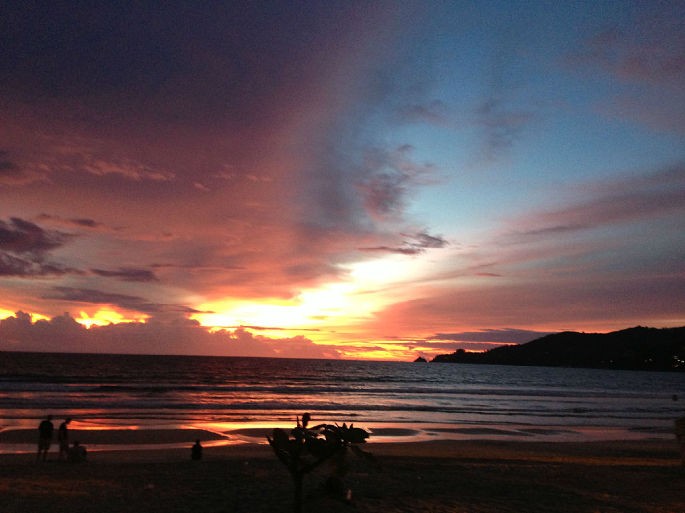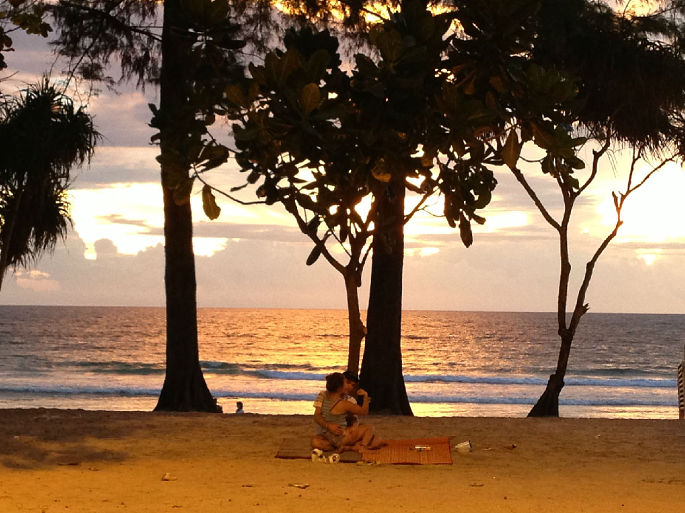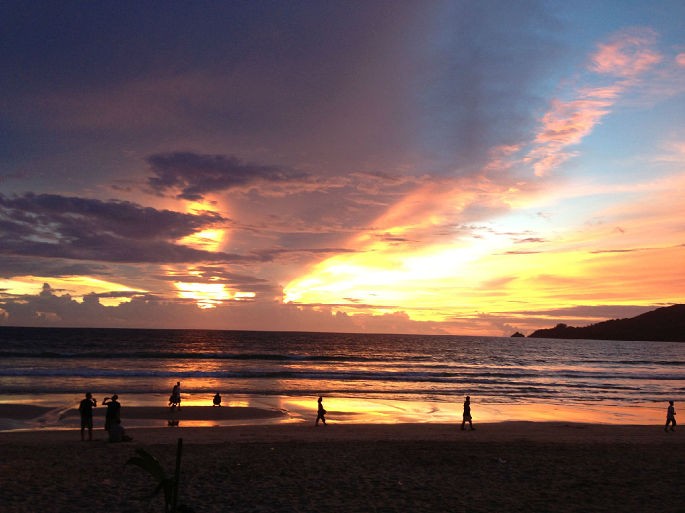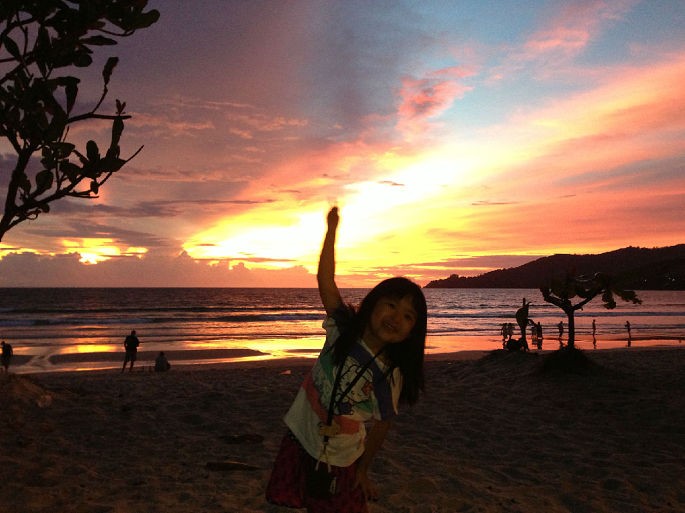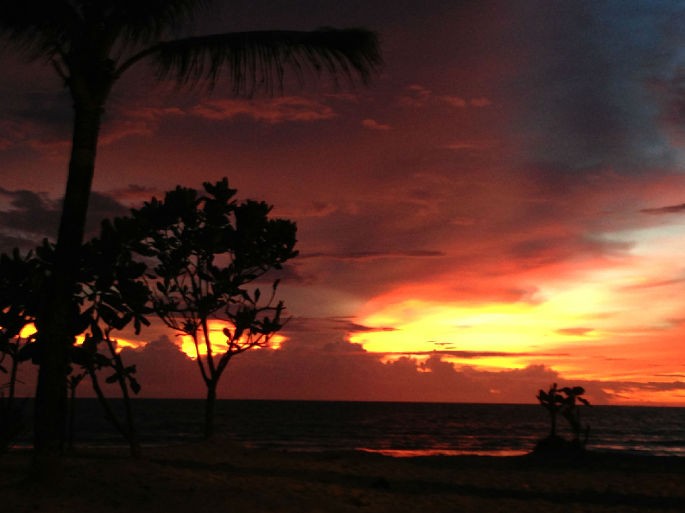 If you have nothing to do every day, step on the sand and see the infinite beauty of the sunset.
Night View of Patong
The night in Patong is wonderful. It is suitable for all people, men, women and children. You will not be disappointed if you get what you need.
It's just that if you like quiet, you can live a little far from the main street in front of Jiangxi Leng.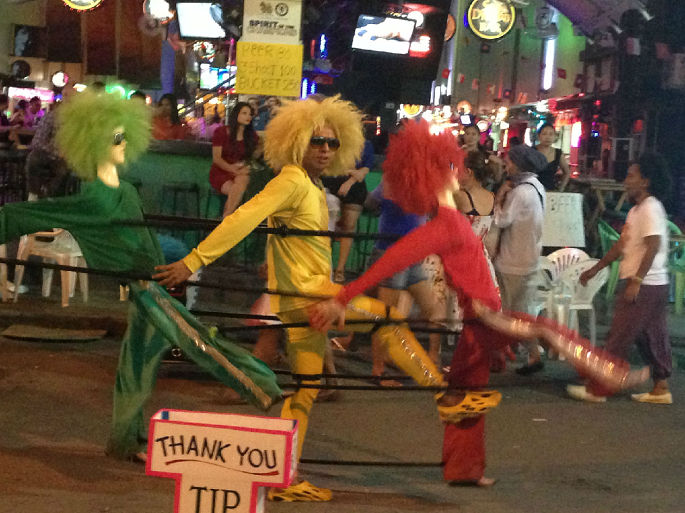 Miss APPLE, the little P child, liked it very much and refused to leave after watching people do magic tricks.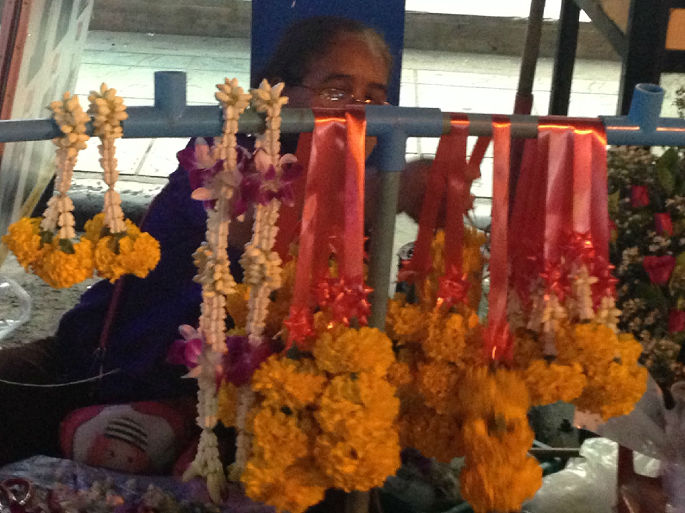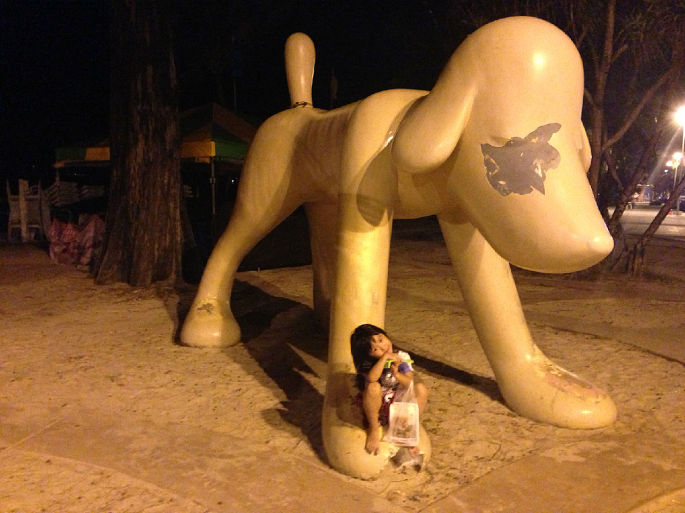 On the second day of Phuket Island, I will move from Padang to Kata Beach. The only annoying thing about Phuket is that the public system is underdeveloped. Or subjectively unwilling to develop, The easiest way for you to move from one beach to another is TAXI. But this is a uniform price, The beach and the beach are usually 400-500B, This is a relatively high price, On this day we walked around Patong. If you want to step on the sand in Patong before you leave, So we met a very good taxi driver at the beach and directly offered 300B to transfer us from IBIS in Patong to the hotel in Kata. I agreed without hesitation. I got on the bus and saw a very good new car. The little taxi driver was very nice. He was playing with Miss APPLE when I went down halfway to pick up my luggage and hurried to book a trip to Emperor Island tomorrow morning.
Sawadika, play for a while. We're going to Kata.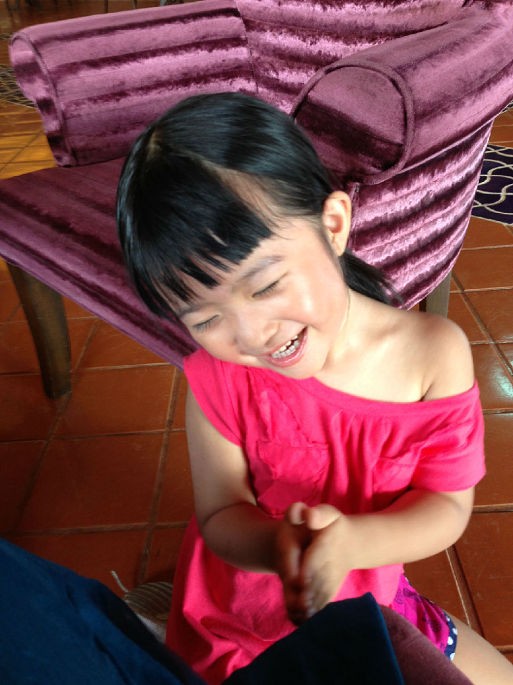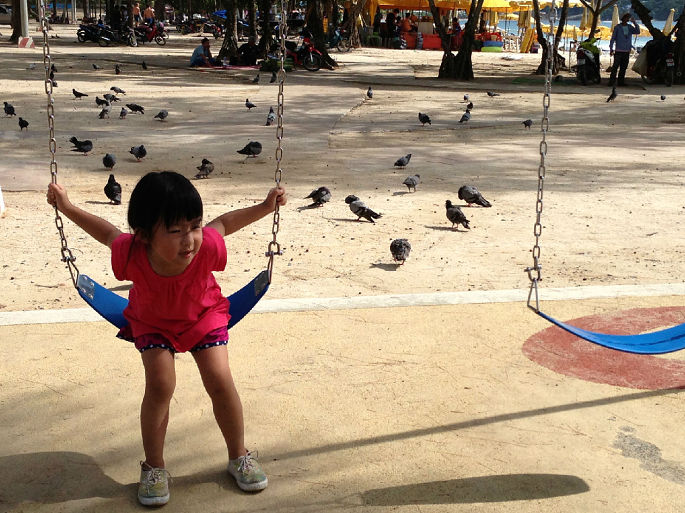 Novetel in Patong, the price of Yagao Promotion Time is more than 300. Personally, I think the cost performance is also good. This hotel often has activities and can get 500 with double early price.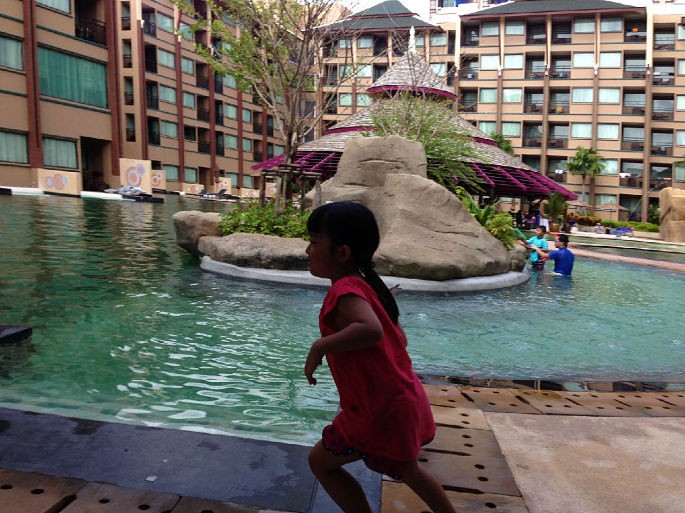 Kata has two bays, big and small. I chose a relatively new small hotel at the end of Big KATA. It is also very convenient to go to the beach. It will take 2 minutes.
This hotel has to say that the cost performance can no longer be higher, even higher than IBIS, with more than 200 early, the room is very comfortable, there is a large balcony, the swimming pool at night is beautiful, you feel traveling in space, the refrigerator in the room also has free drinks. Can you still ask what? It is strongly recommended that students with low budget can move in.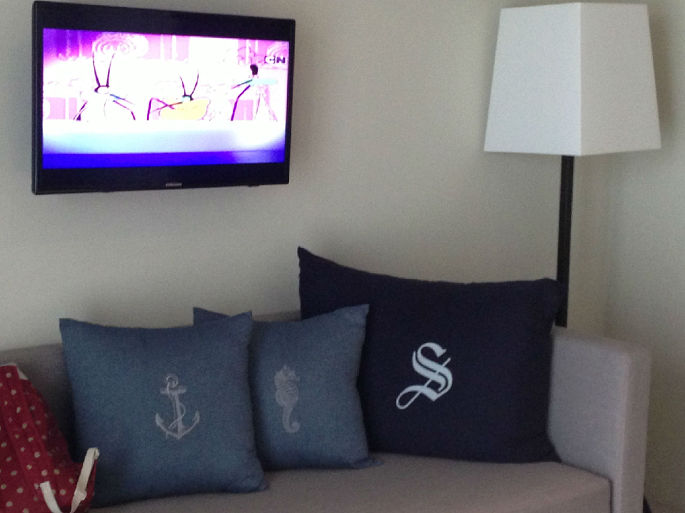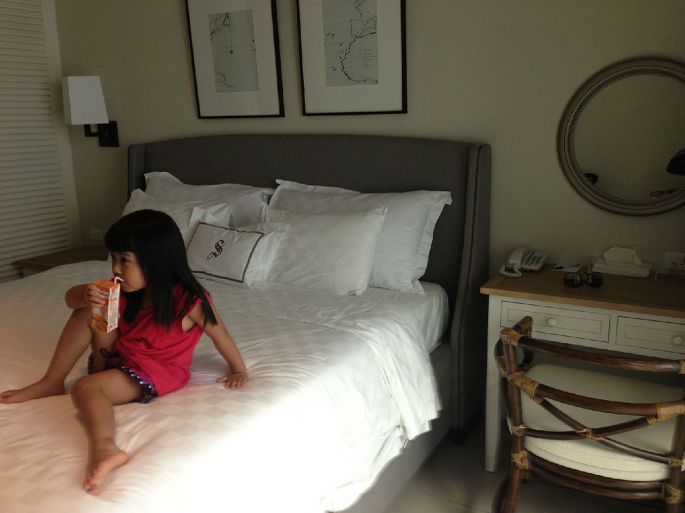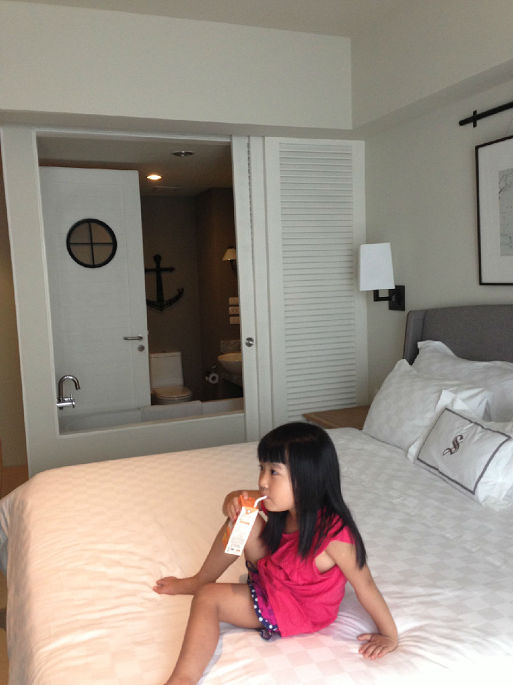 Restaurant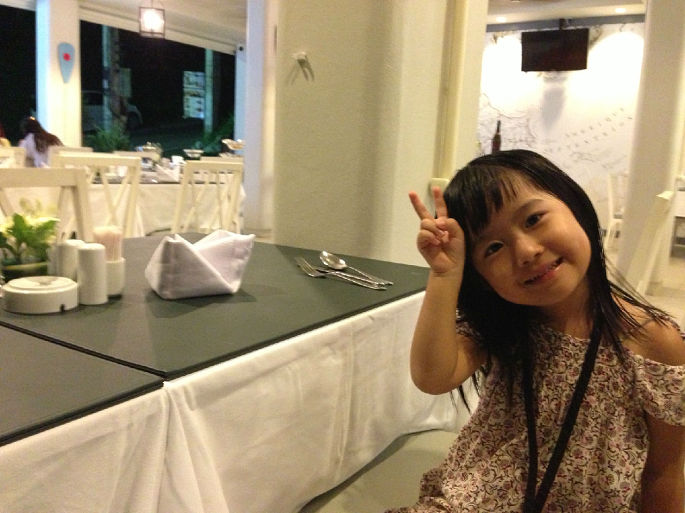 The swimming pool at night is so beautiful that Miss APPLE has always said that she has never seen such a beautiful star swimming pool.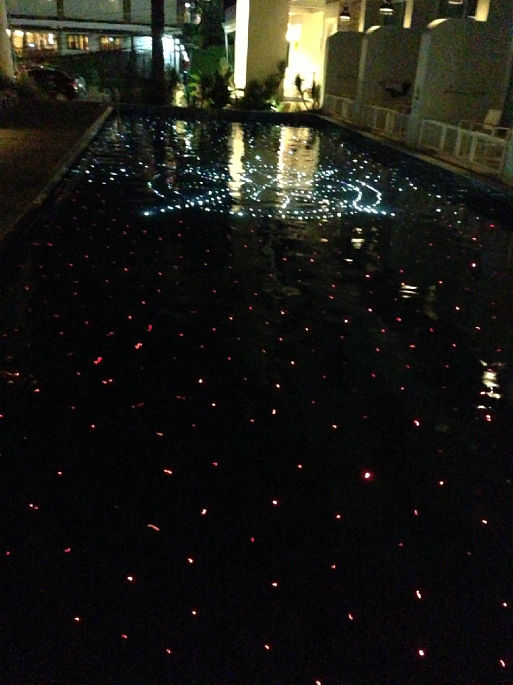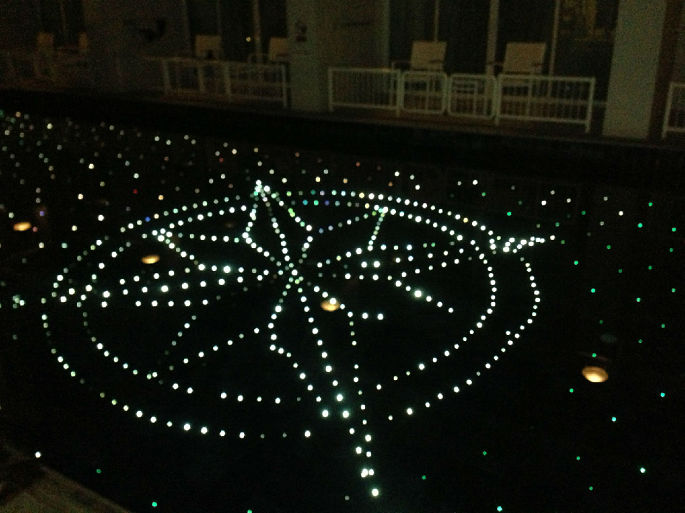 The next day, the driver picked us up to the dock on Emperor Island. Thailand's tourism service was very reliable. At most, the time was not on time, but don't pay too much attention to everything when looking at the smiling face.
The sea water on Emperor Island is really beautiful. If you don't go to PP and other small islands, Emperor Island is absolutely OK. The only uncomfortable Emperor Island has few accommodation choices and low cost performance, or it is really enjoyable to choose ROYAL RACHA, which is expensive to die. After struggling for half a day, I resolutely chose a one-day tour, because the hotel in Kata, where we live, has a high cost performance and I really don't want to give up. However, if other students are possible, RACHA Island is still worth living on. After all, the sea water is not of the same level as Phuket Island. However, it is strongly recommended to bring beach socks, especially for children, where the beaches are ground from coral, so they often step on coral to cut their feet.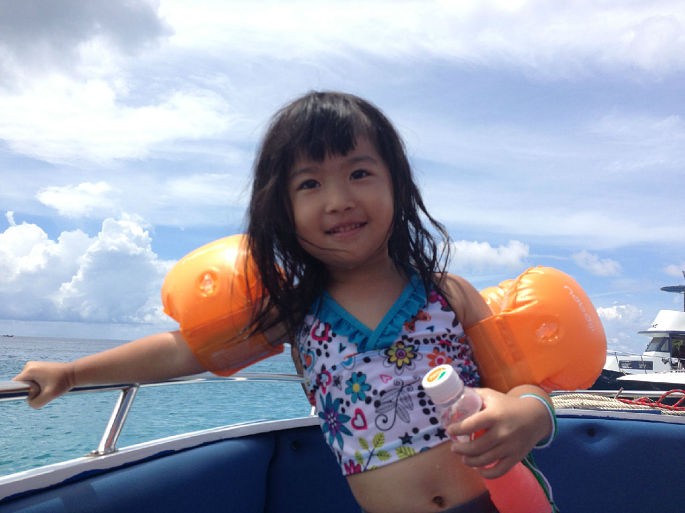 Emperor Island:
The sea water is clear and transparent, with patches of turquoise dotted between large sapphires. It is a beautiful island in the sea area near Phuket Island. There is not much development on the island. There are a few restaurants and small shops. The roads are basically dirt roads. There are pimps modified from tractors, but most of them are used for hotel and team transportation services.
Most of the ships arrive at about 10: 00 a.m. and leave at about 3: 00 p.m. This period of time is a peak of crowds, but it is definitely within an acceptable range. Avoiding this period of time, I think it will definitely be an excellent choice for people who like quiet and meditation. The beach here is still not so suitable for swimming, but for proper surfing, so if you want to swim, you must make sure it is the lunch arrangement in the hotel with boundless swimming pool when booking a one-day tour of Emperor Island, then you can swim in the swimming pool of other people's hotel and then play surfing Xiu Xiu on the beach. Of course, when you arrange snorkeling programs on the cruise ship, you can also have a carefree ride. By the way, I'm 1000B, Children under the age of four are free of charge, Booking at the agency at the gate of Patong IBIS Hotel, There is no counter-offer, Because I think the price is very reasonable, It's just lunch at Cliff Restaurant, It's actually at Father Resturant, I don't care about this either, I guess I didn't mean to be fooled, However, if relatives go, they can confirm the location of lunch with the agent a little, There are usually three arrangements: Cliff Restaurant, Boundless Swimming Pool Restaurant, Father Resturant, has slightly different prices according to different restaurants. However, now Taobao has a lot of searches. If time is tight and English is not good enough, then you can book it on Taobao. Even if you don't book it, you don't have to worry. Any agent in Patong can go. The price is not necessarily much higher than that on Taobao. Just book it one day in advance.
Let's take a look at the beautiful Emperor Island. There is a ship stop on the east and west of Emperor Island. It will decide which direction to stop according to the season and the wind and waves. We stopped at the beach in the opposite direction of RACHA RESORT. Before landing, everyone snorkeled here. Personally, snorkeling felt normal. Perhaps because I snorkeled too many places, I didn't feel much shocked. I just took a swim as a leisure and began to play with small fish with bread after swimming for a while.
Go to the boarding dock on Emperor Island and watch it rain.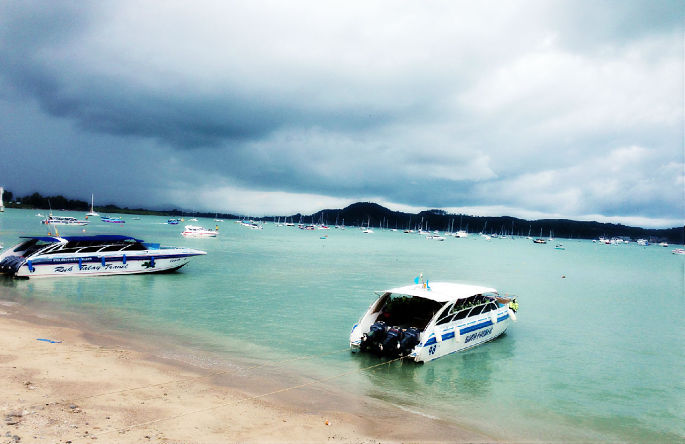 Arriving at Emperor Island, I experienced rain on the way, but when I arrived, the sun was shining, so this person was fighting for character.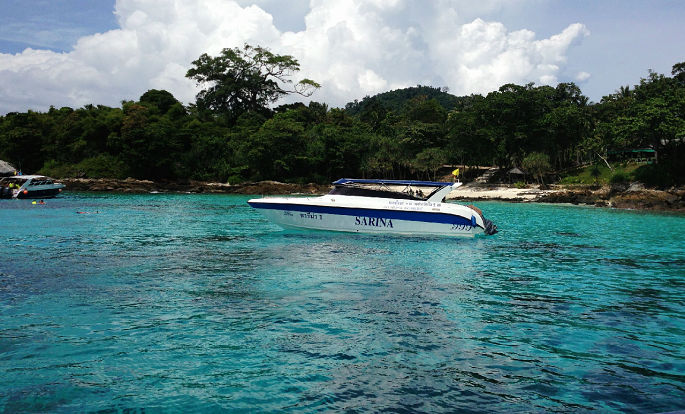 After snorkeling, other tourists who go ashore and don't want to go ashore to soak in the beach gather to go to FATHER Restaurant. This is an ordinary restaurant. Most of the business is estimated to come from such a one-day tour team, like a few dishes, a soup and a table for 4 people. It is no problem for you to eat enough, the taste is passable, and the price of zero is estimated to be very affordable. But don't ask for emotional appeal and luxury. There is a simple place to flush water, which is convenient for students who have soaked in seawater to refresh themselves simply and quickly.
After lunch, I was arranged to go to the sea area in front of THE RACHA RESORT. The sand is really very fine, young, tender and white. Some students can't describe it too much as flour. However, there will be coral residue and coral pieces near the sea and shallow sea, so it is more reliable to put on diving shoes or socks.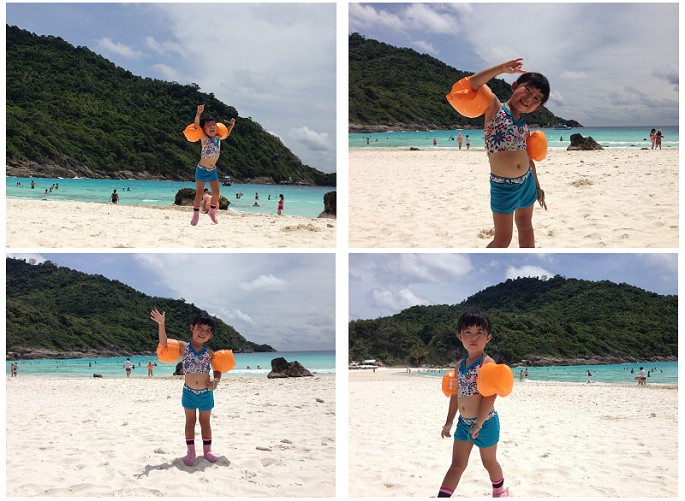 We can have more than 2 hours on this beach, rent beach chairs and surfboards, 200B. So Miss APPLE started her incomparable concave modeling moment. I have to admire the expressive force of this new generation of girls. It was not I who taught her to pose, but Miss APPLE who taught me the old man who was already OUT. I feel ashamed and inferior!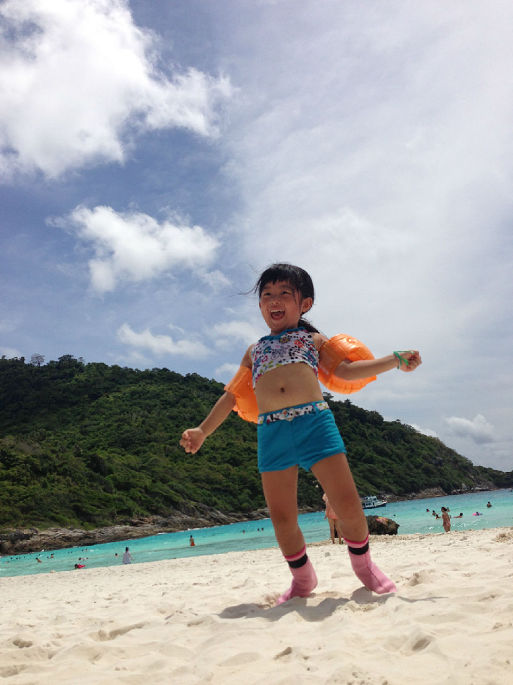 To be continued…