The morning in Chiang Mai is quiet, while the weekend night in Chiang Mai is a joyous feast.
The east-west Sunday Street has been surging since the afternoon. Snacks, clothing and handicrafts are the same as the Wu Shan night market in Hangzhou. The three of us bought some snacks and tasted them. One of the coconut rice balls was the most delicious and moderately sweet. Some of them can't be seen as made in what. The materials should be all made of famous Thai rice, fruits and herbs.
Crafts include colored lights, folding fans, sarong and essential oil, but essential oil can be purchased in a specialty store called BASIC HERB. The shelves and countertops there are filled with essential oils and related aromatic products, such as lily, lavender, rose and plumeria. The aroma types include flower aroma, fruit aroma, aucklandia root and grass aroma. Essential oil, sachets, soap and lipstick in small round cake boxes make people fondle admiringly. The package is small and exquisite, which is very suitable for taking it back as a small gift. I think of a friend who likes lily, and another who likes rose and lavender, which is suitable for people who don't sleep well. With such gifts, it seems to carry the fragrance of plants. People remember smells for quite a long time, longer than the memory itself.
We went to another temple at dusk. There was an open temple inside, which was located on a high stone platform. It looked very old. The stone statues and rock walls turned into gray-black as if they had been roasted by fire. Behind the temple lies a beautiful golden reclining Buddha and a huge tree as high as the sky. The round crown presents a black silhouette after sunset. The scenes here, such as the high platform, reclining Buddha and huge tree, all come from ancient times and do not belong to this modern society.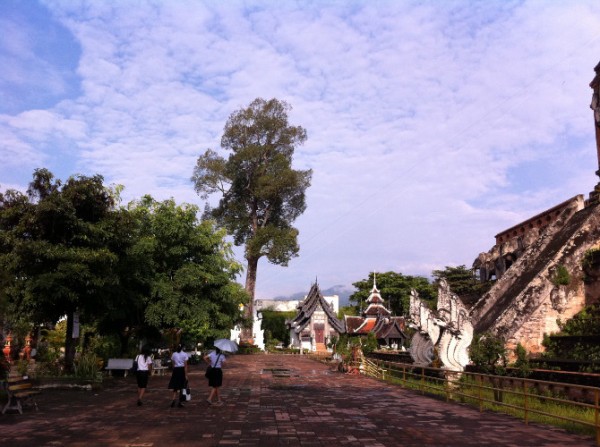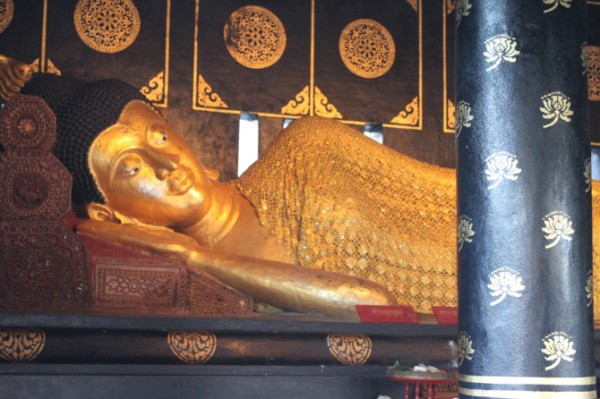 Out of the temple gate again, separated by a wall, the noise of the night market came on our faces. Colorful lanterns lit up the streets, * * became more crowded, and the sound of music began.
At night, the function of the fair changed. It sells not only all kinds of commodities, but also folk customs. Folk painters and musicians also show their skills on such nights, and at the same time, they also want to make a living.
I saw a four-or five-year-old girl sitting cross-legged in the middle of the street. The ground was covered with mattresses and stringed harps. She was dressed in a pink robe and a lovely baby-fat face. She seemed to hear but not see the noise around her. She only played the harp attentively, as if she were sitting in the wild, with only ponds and lotus flowers beside her, not the figures of passers-by, wearing different shoes. How does such a small girl settle down like an old monk? Or are Thais born to draw a piece of pure land anywhere, concentrate on it and isolate all the hubbub?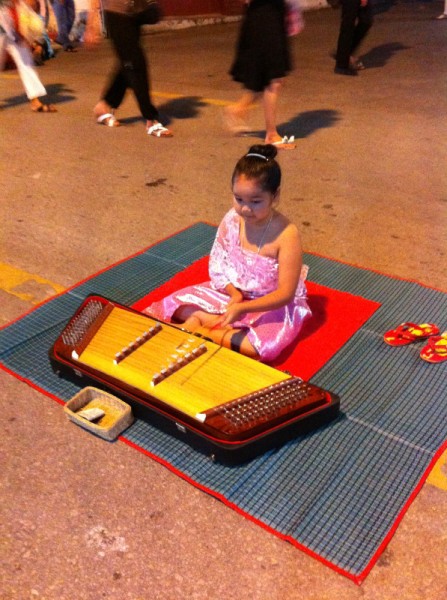 In front of it was a band of five, five men dressed in national costumes. The five men held different musical instruments in their hands and played joyful tunes. What is interesting is that they are not only sitting in the middle of the street, but also sitting in a straight line in the longitudinal direction, very much like sitting on an invisible narrow boat. It is not surprising if they are not holding musical instruments but paddles.
However, we cannot stand and admire it for a long time, because * * keeps crowding in. As we walked all the way, we had to keep looking at each other to see if we were separated.
Suddenly there was a higher noise, and five or six people came along like those on the stage. Fat, thin, wearing red and green, wearing heavy makeup. A tall fat man looked like a man, wearing a strapless sarong, a blonde woman wearing a mask on her head, and they were still holding a donation box in their hands. "Look, this is ladyboy," the handsome boy explained nearby. What, this is the famous Thai transvestite, where is skin like coagulated fat, enchanting as flower, looks more like a performance artist imitating ladyboy.
Tourists pouring in from all over the world have also become a scene of night markets. They lie leisurely on comfortable seats on the street, doing Thai massage, some closing their eyes and taking a nap, and some watching the passing crowd with great interest. These tourists regard the streets as sand beaches. The night wind blows across their faces. Although there is no salty taste of sea breeze, it brings the aroma of food, essential oil and grass leaves, making people peaceful and intoxicated.
Night and beauty.