After so many days of laziness, I finally wrote the strategy. The words are not so beautiful and the pictures are not so beautiful, but I still want to dedicate them to all my friends who love to play.
Preparation in advance:
1. Air tickets: You can pay close attention to the changes of air tickets at any time. You will not hesitate to rob them when you encounter special fares. I booked a round-trip air ticket to Thailand in January in September, totaling 687 yuan. At present, I have bought air tickets for AirAsia, which is called Taxi in the air. It is really cheap. From Bangkok to Sumi Island, I also bought a round-trip air ticket for AirAsia, totaling 544 yuan.
2. Visa: Although Thailand implements landing visa for China, it is said that it is very troublesome. For people like me who are not good at English, it is better to find a travel agency to sign it in advance. Thailand's visa is valid for three months and the visa fee is 256 yuan.
3. Accommodation: For those relatives who are not very good at English and geography, it is suggested that they book accommodation after checking the strategy online in advance. Even if they do not book, it is better to have a psychological chart first (after you have decided on the hotel, compare the prices in agoda, booking, Ctrip and Taobao and choose the best one to book)
4. Food: There are two ways to eat when going out to play-a reference strategy (personal tastes are different, so choose carefully); B see what want to eat, all kinds of roadside stalls, snacks and so on (a little less at a time, delicious and then continue to order, not delicious to withdraw)
5. Shopping: I have to admit that many things abroad are indeed cheaper than those at home. You can also investigate before you go. Thailand recommends buying: Bangkok Bag Naraya, Counter Pain's Sore Ointment (Mom likes it very much and says the effect is very good), Qingcao Ointment and Tiger Brand Tiger Balm…
6. Calling Card: If it is mainly used for surfing the Internet, It is recommended that you use Thailand's Happy Card, 7 days of unlimited traffic, Including 100 Thai baht telephone charges, if you buy each one in 60 yuan in Thailand, you can buy it in advance on Taobao, 45 yuan/one, you must insert it again in Thailand, you can recharge it at 7-11 in 7 days, and then choose your own package (we have set up a 75B package, just use the phone * * * 104* 322 #, if you have other needs, you can also ask the local people to set up another package)
7. Currency exchange: It is not recommended to exchange it at home. Most of the time the exchange rate is not cost-effective, Thailand's ATM machines can basically use UnionPay cards to withdraw cash, The handling fee is 50 baht each time. You can get up to 10,000 baht at a time, It is suggested to take more points at a time, so as to save handling fees. Sometimes, in addition to Thailand's ATM machines, the issuing bank also has to charge handling fees. Therefore, it is recommended that relatives who often go abroad do Zhang Huaxia Bank Savings Card (the first transaction does not charge handling fees every day). According to the introduction of the strategy, the most cost-effective exchange rate is purple ATM machines. This trip is in purple withdrawal drops.
Now let's give you a detailed description of my itinerary:
D1: Kunming-Bangkok:
At 13:20, take the AirAsia plane from Kunming Changshui Airport, Arrive at Bangkok Langman Airport at 14:50, On the plane, you can fill in the entry and exit cards first, Passport and entry and exit card are required when entering the customs. After leaving the customs, everyone can see rows of ATM machines. Plug in the phone card you bought in advance, Try making phone calls and surfing the Internet, If there is a problem, You can go to the airport supermarket to sell HAPPY cards. Ask the service personnel to help you debug (my card was unable to surf the Internet at that time, so I bought two bottles of water in the supermarket and asked the staff to help me get it done) and finish the phone. After withdrawing money, you can queue up to take TAXI. As you will fly to Sumi Island early the next morning, the hotel will be booked at U Apartment (158 yuan/night) near the airport. It will take about 150B and 15 minutes to take a taxi from the airport. It is better to locate it by mobile phone. It is a little hard to find. The apartment is relatively clean and the room layout is very distinctive. There are 7-11 and Tesco Lotus around.
This time I lived in a special bicycle room, After packing at the hotel, Went to the nearby Tesco, Fruit is really cheap, It's really delicious. After buying more than N fruits crazily and breakfast the next morning, you can go to Tesco's third floor for dinner (25 yuan per capita). This is similar to the snack street in Kunming. First, you can recharge at the top-up office, see what you want to eat by swiping your card, and then return the card after eating. The two of us ordered Dongyingong Mixed Rice and Pad Thai. The taste is very good. I like it very much. The following picture is above: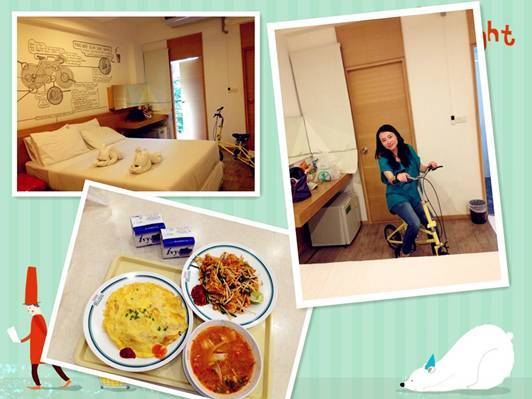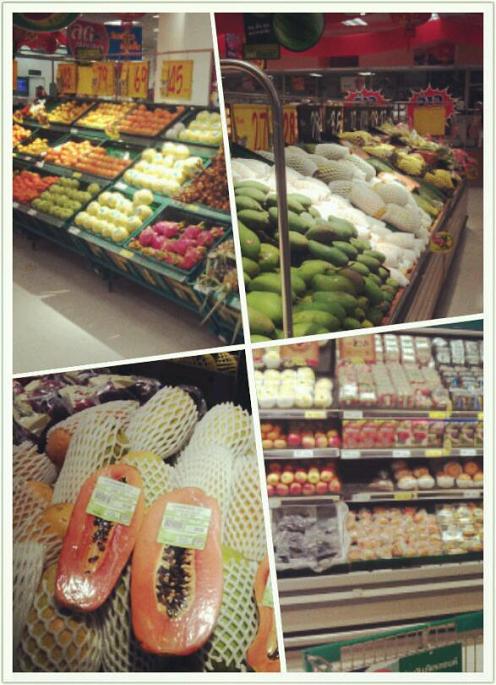 D2: Bangkok-Sumi Island
Early in the morning, I asked the service staff of the apartment to help me call a taxi to Langman Airport (with a tip of 20B). I bought a connecting ticket to Bangkok to Solatani at 7: 00 a.m. and then transferred to Sumi Island by ship. (AirAsia stops at Lipa Noi Pier on Sumi Island, which is a remote small dock, so on the bus from Surat Thani to the dock, AirAsia personnel will sell tickets to Sumi Island Hotel, 200B/person, which is recommended for everyone to buy.)
After experiencing the plane, After cars and ships, At 12:30 we finally arrived at Sumi Island. Get on the AirAsia bus, You can get to the hotel, For the first two nights on Sumi Island, we stayed at Cactus Bungallow (151 yuan/night) on Pope Beach. The hotel has a very distinctive layout. It belongs to a single-family villa near the sea. The murals in the room are also very wild. It is equipped with electric fans. It is Pope Beach when you go out. It has a seascape restaurant and a bar. The beach bar also has a billiards table. Interested relatives can blow the sea breeze, play billiards and have a cocktail at night. It is really excellent. After the hotel comes out, there will be supermarkets, pharmacies and travel * * (tickets can be purchased), which is very convenient. The only disadvantage is that it does not provide hot water, only cold water bath, and it is close to the seaside. There are indeed many mosquitoes (in short, my legs have been horrible after playing all the way down the seaside for 11 days)……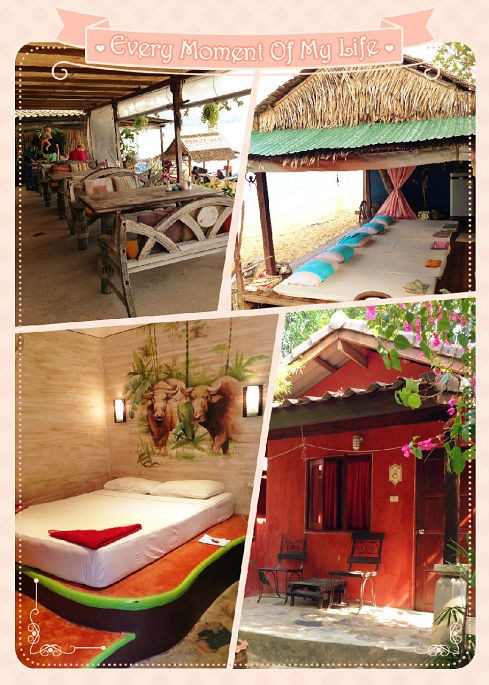 After changing clothes, the hotel went to the seaside, walked along the beach, stepped on the sea water, and then went to the small town. The dinner was settled in caf é 69. The main curry dinner was very good (80 yuan per capita). On the way back to the hotel, I passed a French dessert shop and bought two croissants to make breakfast for the next day (the taste was also very good)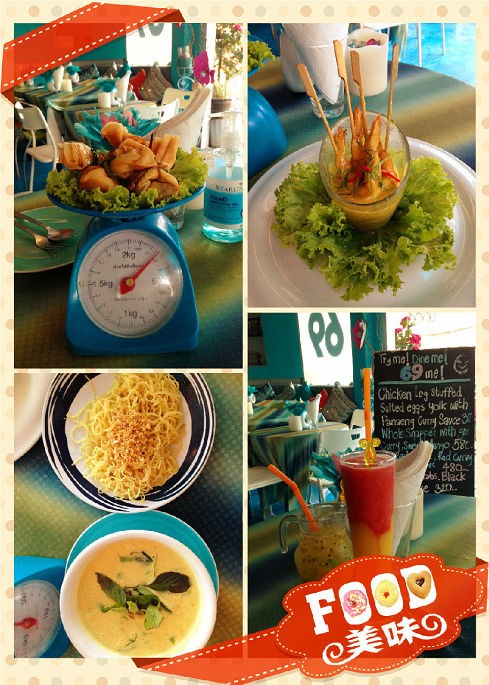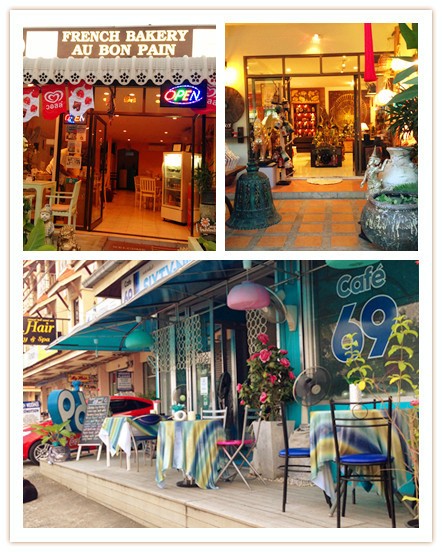 D3: Sumi Island:
Today's visit is suitable for all relatives who can't rent a car, ride a motorcycle and get carsick to Sumi Island-a one-day tour of 4*4 off-road vehicles around the island jungle. This was previously ordered on Universal Taobao (330 yuan per capita) (including lunch, hotel pick-up, 6-7 scenic spots, English explanation). It was a very full and lively day, I visited the grandfather and grandmother stone. The tallest old tree on Sumi Island, Elephant riding in the jungle (Elephant riding is the only time in Thailand that people have been forced to tip. The two men gave a total of 200B, I took a photo with the elephant for me), Look at the baby elephant, Monkeys, crocodiles, The buffet lunch at noon is also good (especially the noodles are delicious and the fruits are sweet). After lunch, I went swimming under the highest waterfall on Sumi Island. Playing with water (all beautiful women and handsome men must wear their swimming trunks and swimsuits in advance. There is no dressing room there. Don't take your swimsuits with you like me. As a result, you can only watch others play happily). After that, I also went to Kulamu Temple to visit the body of mummies and monks. After visiting the mysterious Buddha Garden with Thai characteristics, I finally went to the top of Sumi Island to view the scenery. Of course, the most important thing for this one-day tour is to take an off-road vehicle, especially the roof. The scenery is very beautiful and exciting. You only need to have a head as hard as I am and not afraid of all kinds of branches, and it is OK (the road up and down the top of the mountain is strongly recommended)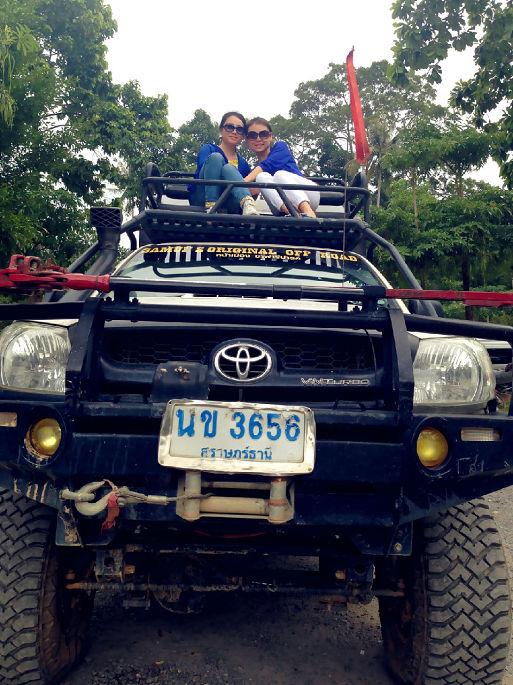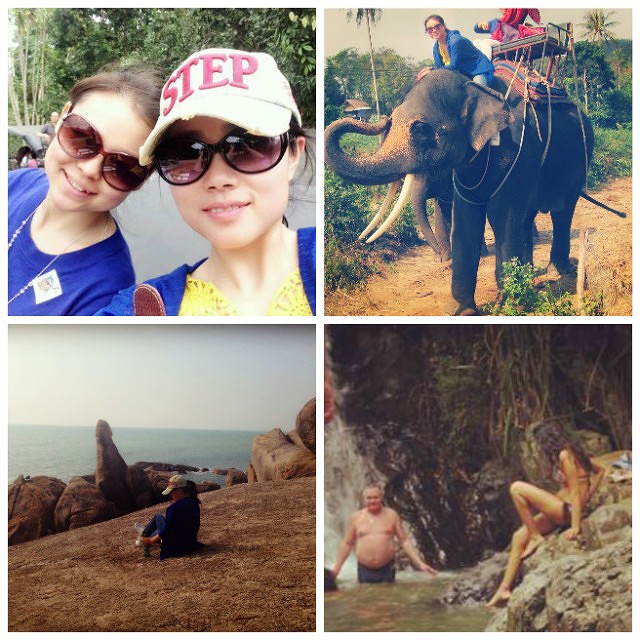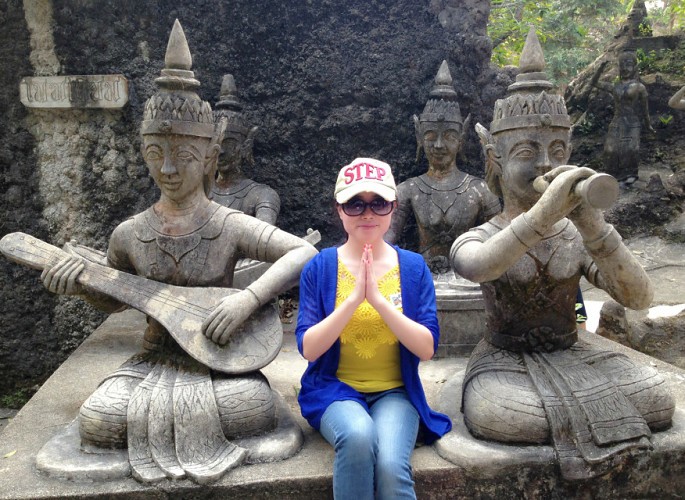 At the end of the rich one-day tour, About 4 o'clock, We asked the driver to take us directly to Barracuda Restaurant on Meinan Beach. First, I ordered a meal for the evening, and then I went to Meinan Beach. The two of us were playing with sand at the seaside. We originally planned to pile up a lot of things. The result was beautiful imagination and cruel reality. It seems that we are the clumsy ones who are best at drawing hearts. When we were tired from playing at the seaside, we went to the small shops around and sent postcards.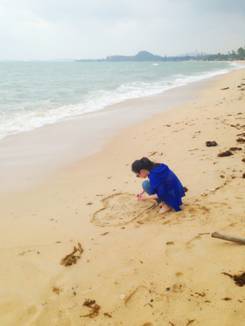 I went to the restaurant to have a big meal on time at 6 o'clock-Barracudarestaurant, which tastes great and the boss is nice. Each dish is good-looking and delicious, especially fish. Personally, I think it is very suitable for couples to go (PS: Their home is off on Monday and it is better to make an appointment in advance, otherwise it is very likely that we will not be able to eat at 15: 30. Only 18: 30-20: 00 have seats, which is breathtaking) (120B per capita)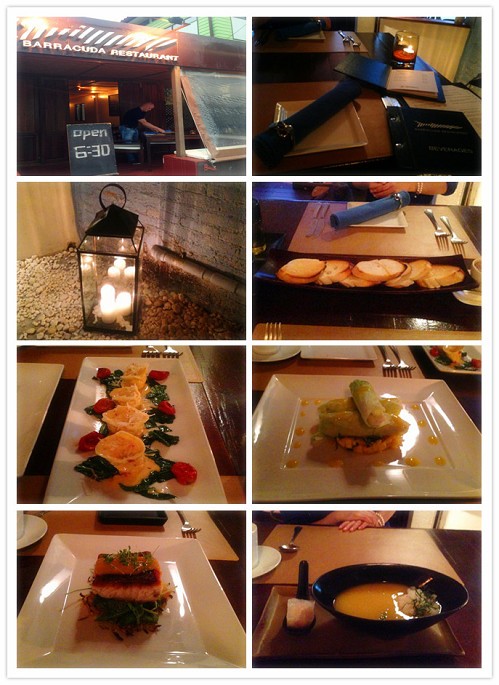 After dinner, I went back to the hotel, had a cup of coffee in the seaside restaurant, and listened to the sound of the sea. I was also very happy.
D4: Sumi Island-Tao Island:
At 8: 00, take a boat from Sumei Giant Buddha Wharf and pass through Paan Island. Arrive at Tao Island at about 10: 30 (find an agent to buy a ticket of 600B/person, If it is not clear, then you must take seasickness medicine in advance. We encountered a very big wave, Ninety-five percent of the crew vomited, It feels like a pirate ship for two and a half hours in a row. I don't think I will take a pirate ship again in my life.) When I get to the dock, the hotel will send a car to pick me up. This time the hotel is booked at Charm Churee Village (610 yuan/night) (with private beach, Five-star diving center, can free snorkeling, very quiet, disadvantage is a little far from town) hotel service attitude is very good, free to help us upgrade to the characteristic sea view room, the room is quite characteristic, very original ecology ~ ~ bed, toilet is built by rocks, toilet is also covered by big stones as screens, the most important thing is to go out and dive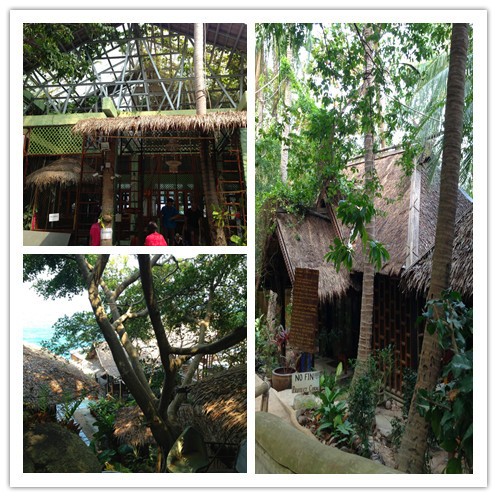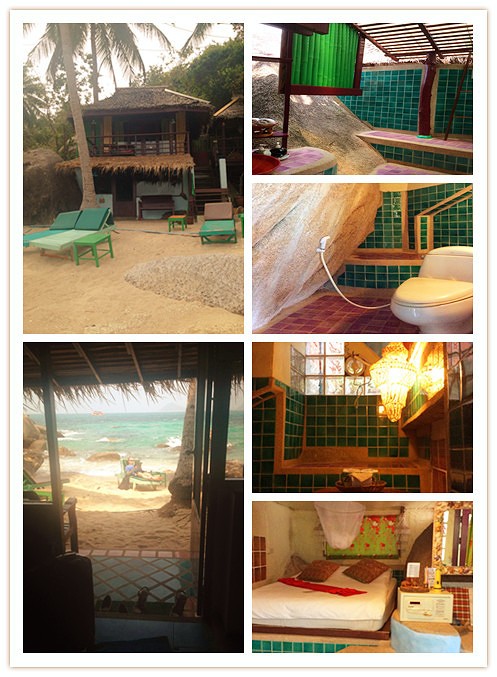 At noon, I had lunch at Charm Churee Beach. I like Dongyingong Seafood Salad best. I took a nap after dinner to relieve the discomfort of seasickness in the morning. In the afternoon, I went to the small town. After eating all kinds of BBQ and snacks, I ate dinner in the small town. By the way, I could also buy the ticket back to Sumi Island and bought more than N fruit juice and fruit snacks on 7-11.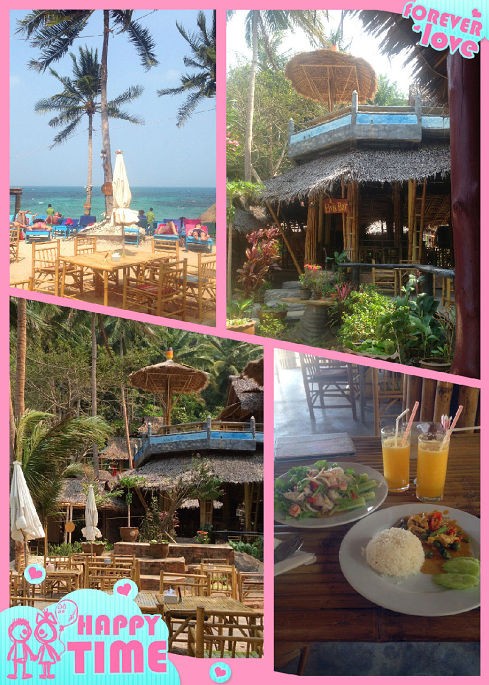 D5:
Early in the morning, I got up in the sound of the waves, had breakfast, and was ready to go diving. The initial plan was to go to Nanyuan Island. Unfortunately, the weather was not very good, plus the shadow of seasickness yesterday, so I decided to snorkel in Charm Churee, leaving a pity to make up for it next time. When snorkeling, the big waves have a great influence on people like me who can only swim like dogs. I can't swim far. Finally, I gave up completely. I can see many fish wherever the waves go. I can touch them with my hand. Moreover, these fish are also floated by the waves, and my heart is immediately balanced.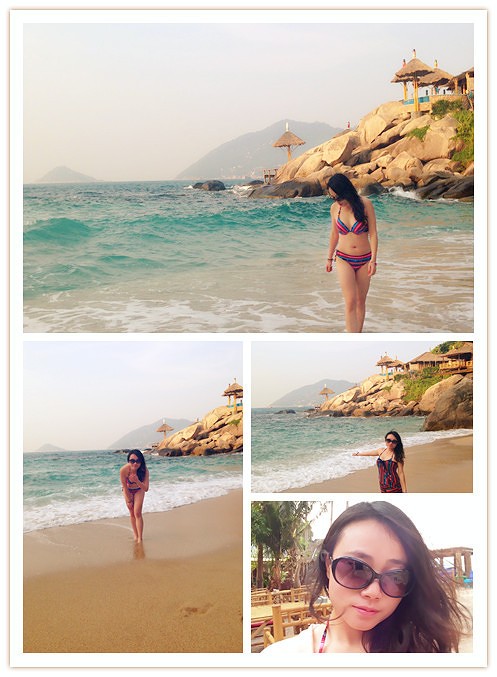 After playing at the water's edge for a day, I will have a warm and romantic candlelight seafood dinner at Chaba's Starlight Restaurant, which enjoys a panoramic view of the sea at night (although it is for the two of us, it is also very romantic). Ladies and gentlemen, don't miss it ($150 per capita)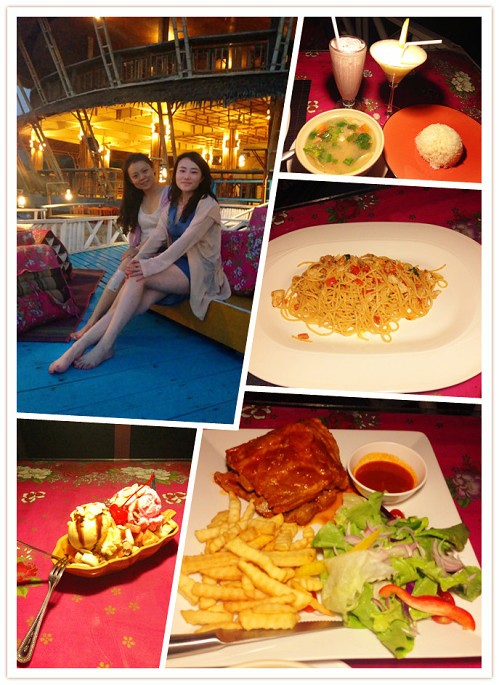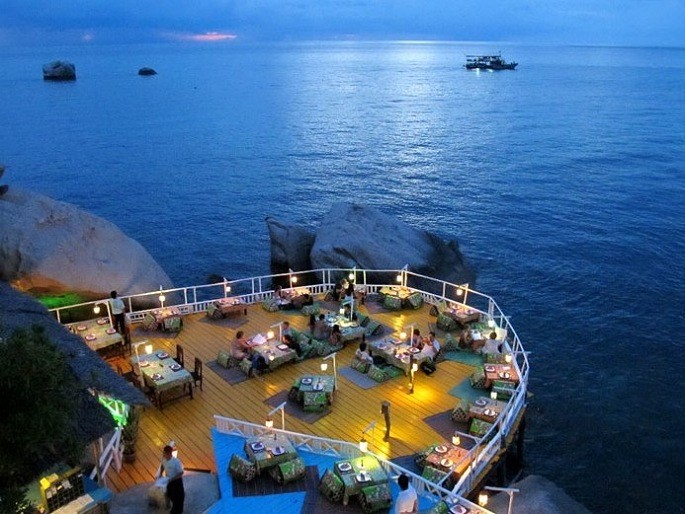 D6: Tao Island-Sumi Island:
In the morning, I took a boat back to Sumi (600B/person). With previous experience, I took seasickness medicine in advance, As a result, the sky was clear, The ship did not shake at all, Suffering from those of us who took the medicine, the whole people were dizzy (when buying the medicine, I told us to take two pills at a time, I insisted on taking only one pill, only saying that the drug effect was too good), and arrived at Meinan Beach in Sumei at about 10: 30 (I personally suggest that if you go to Tao Island, you'd better take the boat to and from Meinan Beach, which is larger and will be relatively comfortable)
After disembarking, the hotel headed straight to Samui Cliff View Resort & Spa (413 yuan/night) on Lamai Beach. The hotel is located on the hillside, overlooking the sea, and has endless swimming pools and cliff landscape. It is very quiet and has less food around. After arriving at the hotel, the seasickness medicine still has the same effect. After taking a good nap, the food time began.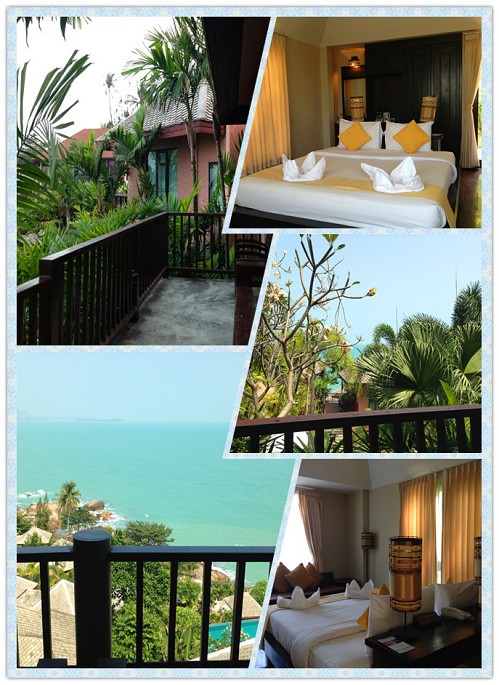 Take a bus to the Spirit House Restaurant on Chawen Beach. It is decorated with a very distinctive Thai restaurant. It has the style of a temple. The taste of key dishes is also very good and the atmosphere is also very romantic. It is strongly recommended that seafood Noodle balls (personal favorite) and Tomyum also have a very positive taste (160 yuan per capita)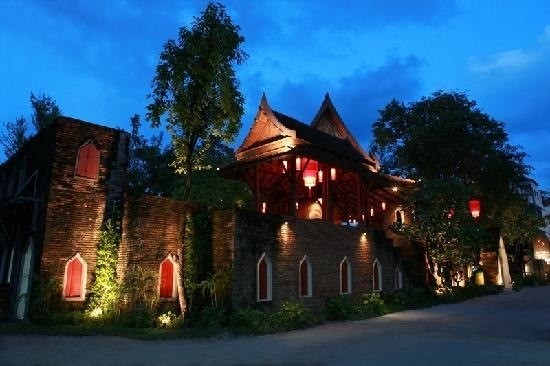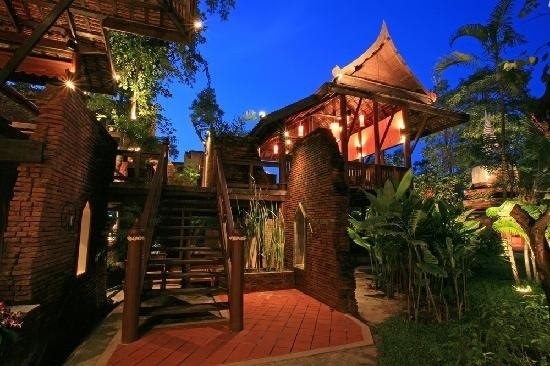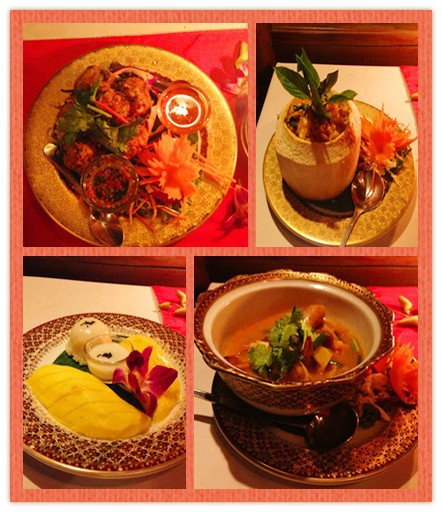 D7: Sumi Island:
Today is the last day to stay in Sumi Island: after tasting a delicious breakfast in the early morning, I came to the endless swimming pool on the edge of the cliff to enjoy the beautiful scenery in the distance. It is also good to stay. Have a bottle of beer, sit and read, and bask in the morning sun. Walk around the edge of the cliff and listen to the sound of the sea beating against the rocks. Meimei soaked in a flower bath, Jacuzzi lie down; Finally, I went to Chawen Beach to see all kinds of handsome men and beautiful women until dark. In the evening, I went to the night market to have a seafood dinner ~ ~ a perfect day, which made people feel a little reluctant to give up. Note: From Cliff View to Chawen Beach, it is usually 100B/person. If it is a bitter fleabane car and there are more people, you can bargain to 50B/person.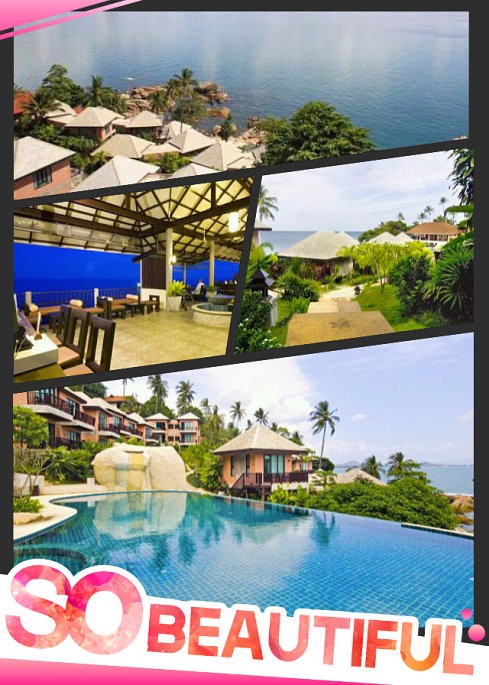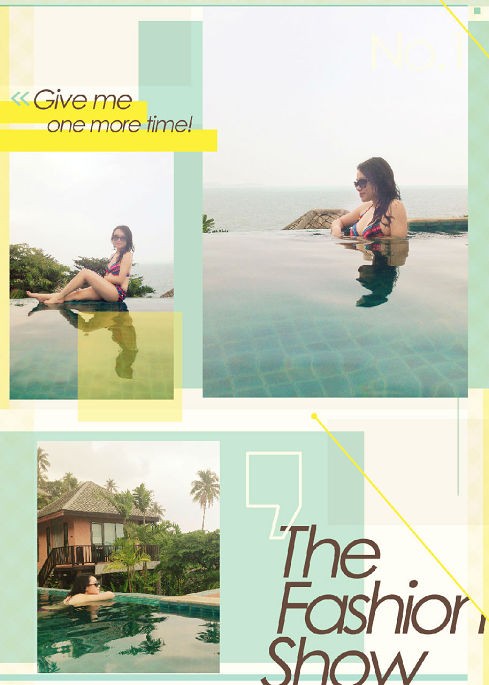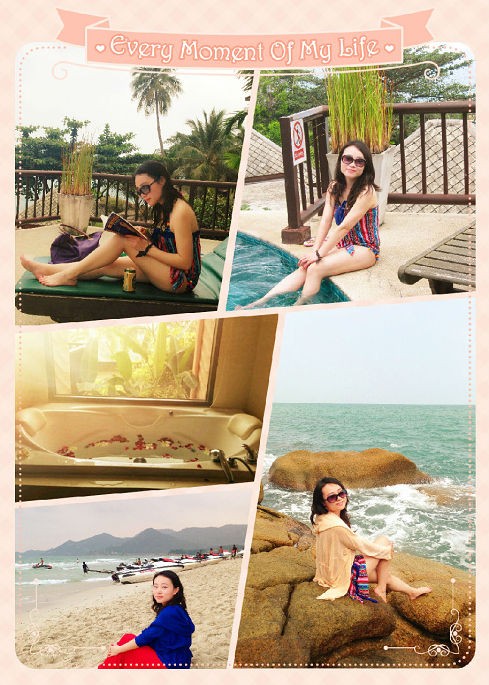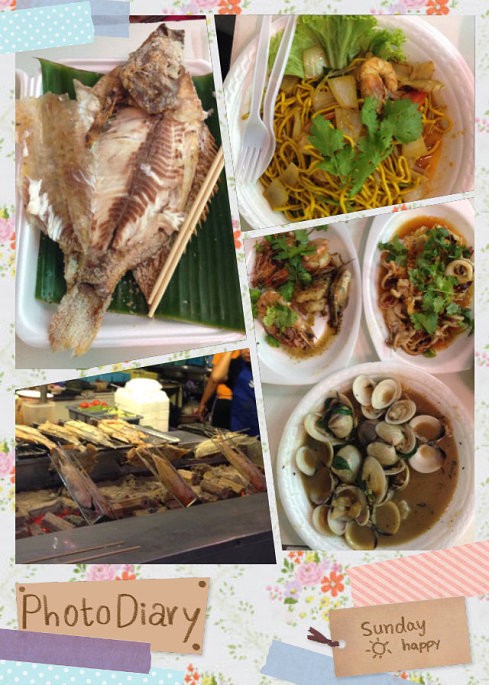 D8: Sumi Island-Bangkok:
Today, I will leave Sumi Island. I got up early in the morning and walked around the seaside. I am very reluctant to give up.。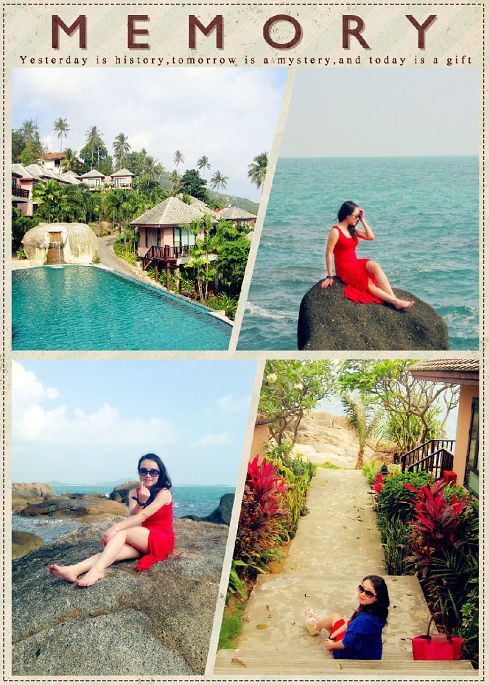 I checked out of the hotel at 12 o'clock, took a bitter fleabane car (150B/person) with the logo of AirAsia, and took a boat to LipaNoi Pier. After arriving at Lipa, I found a small shop around and had a Pad Thai. I set out at 15:00 and left Sumi for Bangkok, the next stop. After all the ordeal, I finally arrived at Bangkok's Langman Airport at 22:25 (if you think this kind of locomotive-boat combined transportation is too ordeal, you can also choose to fly directly from Bangkok to Sumi Island, but the price is higher)
When I arrived in Bangkok, I took a taxi (250B) to Twin Towers Hotel (442 yuan/night) in Siam. My friends and I strongly suspected that the hotel was opened by Chinese. The hall has been playing the song Gong Xifa Cai all the time, and the layout also feels like the Spring Festival. The hotel has a good geographical location, but there is no free wireless network. Due to the need to check in online, it only took 60B and spent half an hour online, which is really not cost-effective…
D9: Bangkok:
One-day tour to Bangkok: I took a taxi to Bangkok's famous Grand Palace early in the morning (it is recommended that everyone go there early in the morning, there are not many people and it is not very hot). The visit to the Grand Palace requires a lot of clothes (trousers should be worn in trousers as far as possible, and the clothes should not show their shoulders. If the clothes are not up to standard, there are free clothes provided at the entrance, just pay a deposit of 200B, and you don't have to spend money at the door to buy them). The ticket price of the Grand Palace (500B/person). Visits to the Grand Palace include the Jade Buddha Temple, The Imperial Palace, the Princess Memorial Hall… Because there are many Chinese tour guides, So we all listen all the way, After listening to the explanation of the whole Grand Palace (you can also rent a Chinese pronunciation tour for 200B), We walked around the Grand Palace for 3 hours. After coming out, we ate two bowls of powder in a small shop at the door. The balls were delicious, crisp, chewy and cheap… After we were full, we took a doodle car (25B/person) to go to the Sleeping Buddha Temple. The Grand Palace was not far from the Sleeping Buddha Temple, and it took us 15-20 minutes to walk. Everyone could walk past it. Tickets to the Sleeping Buddha Temple (100B)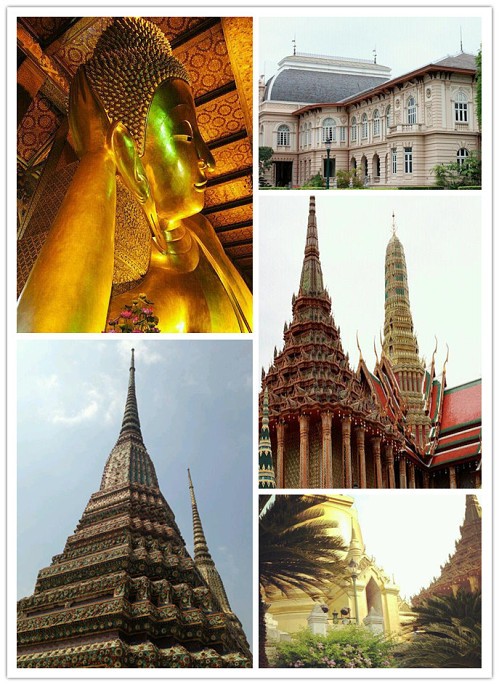 In the evening, I also went to MBK. You can focus on the 6th floor. I mainly sell Thai handicrafts and snacks (I chose two bracelets 200B). After walking for a whole day, I finally had a sole SPA to relax and eat Thai hot pot (MK hot pot feels like shabu shabu shabu, the soup head is clear soup, and I don't love it very much) (65 yuan per capita)
D10: Bangkok
The last day of each trip is reserved for shopping: once again proving that women are really terrible creatures, I visited two shopping malls in one day: Central World Plaza and BIG C (both too big to finish). BIG C, who went first, bought a pile of ointment, instant noodles and various seasoning bags (Mom was shocked to see this pile of things). If friends who like Thai food can also buy it and go home to cook hot pot or something, it is fast, convenient and delicious. Central world is opposite BIG C, The largest shopping center in Southeast Asia, Let's first deposit the things we bought at BIG C at the front desk (free of charge). I started the second round of shopping and recommended NARAYA, a Bangkok brand bag. This should be regarded as his flagship store. The price is around 200-400B (40-80 yuan). Kunming sells 200-400 yuan (really black). After shopping, I can also go to Kum Poon on the 7th floor to taste delicious Thai northern cuisine ~ very good, sour and spicy, and the cost performance is also very high (80 yuan per capita). I came back to take a doodle car, smiled all the way, and found my own bright spot…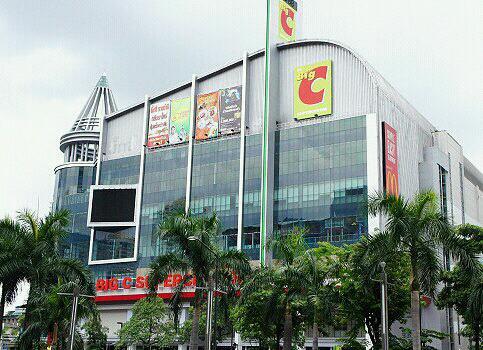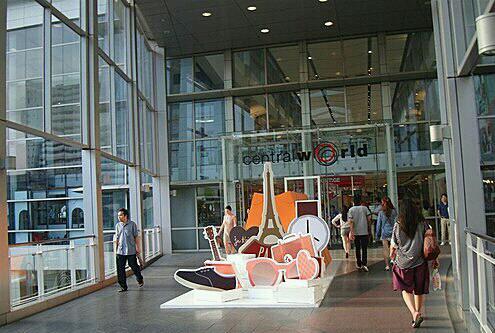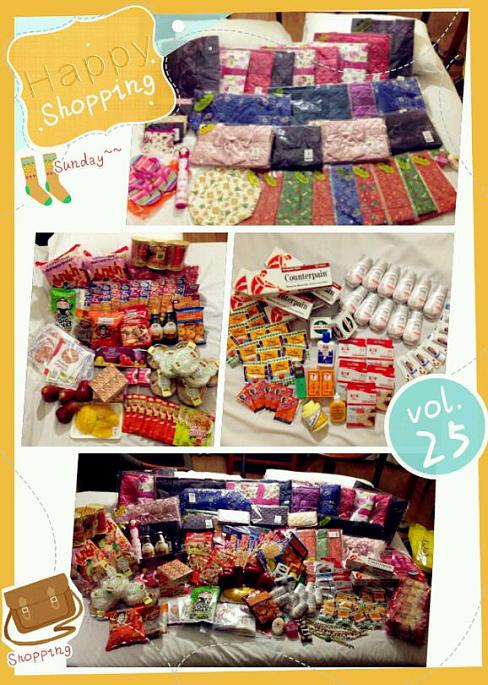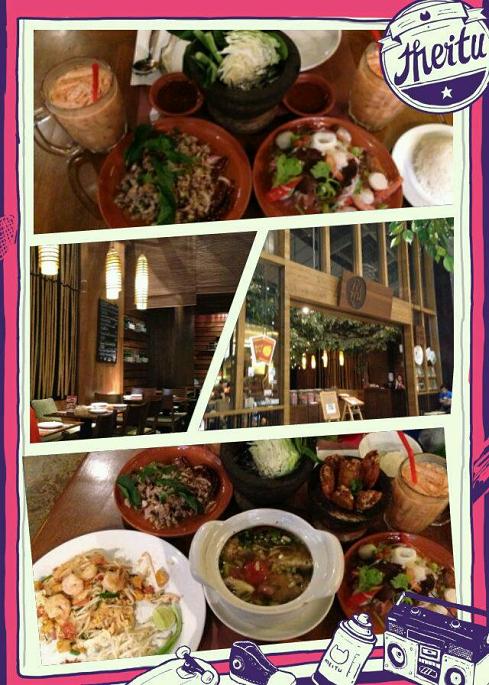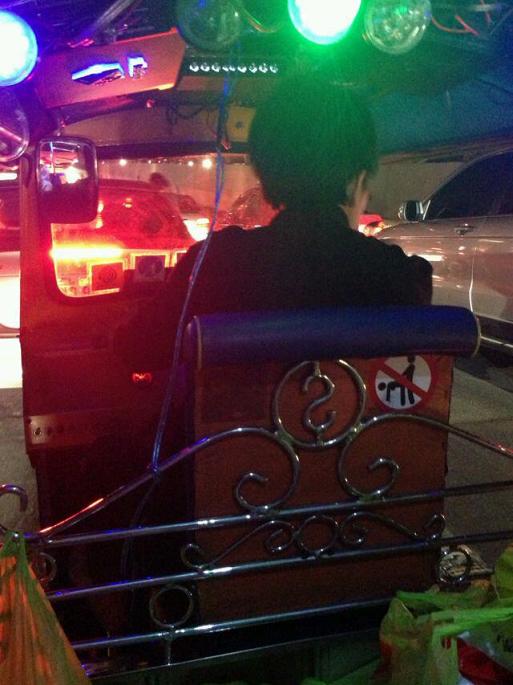 In fact, Bangkok is not as messy as reported, It is still a sea of people, Of course, we also met the rally speech of the yellow shirts, but as long as we walk away quickly and don't join in the fun, it will be OK. Also, oh, try not to wear yellow and red clothes in Bangkok, and everyone else need not be too nervous and worried. However, due to the parade, Bangkok's shopping malls are basically closed at 8 o'clock, so we have to hurry up whether shopping or eating.
When I returned to the hotel, I started the most important thing, collecting luggage. AirAsia's official website ordered a 20kg check-in (95 yuan). I have to say that it is really a technical job to receive this lot of things into the box.
By the way, let's introduce Bangkok's tax rebate for shopping. Most shops in Bangkok receive tax rebates for shopping, Generally, a single store spends at least 2000B, When buying things, you can say hello in advance to see if there is a VAT refund. Some shopping malls can return now, most of them still have to go to the airport to return. After buying good things, they can find merchants, fill in the tax refund application form, and keep the original shopping documents. It is suggested that everyone fill in the same passport when returning tax, because when handling tax refund, each passport will charge a handling fee of 100B
D11: Bangkok-Kunming:
Departing from the hotel at 6: 30 in the morning, Take a taxi to Langman Airport (240B), No traffic jams in the morning, We'll be at the airport in about 20 minutes, After entering the airport, There is a big VAT REFUND tax refund counter on the left hand side. First, let the customs personnel cover a stamp on the tax refund form, then go to CHECK_IN, check in luggage, and go through security check. After passing through security check, you can see the tax refund counter. After handling these, it is still early, and you went around the duty-free shop at the airport. The plane left Thailand at 9 o'clock.
Arrive in Kunming at 12:30, ending this journey.
Details of my travel expenses:
Tickets: 112.8 yuan (500B of Grand Palace and 100B of Sleeping Buddha Temple)
Accommodation: 10 nights, totaling 1693.02 yuan
AirAsia air tickets, etc.: 1278.50 yuan (Kunming to Bangkok, Bangkok to Sumi)
Shipping fee: 235.60 yuan (Sumi Island to Tao Island)
Taxi fare: 365.37 yuan (Taxi fare in Thailand must be negotiated. According to the starting point of less than 50%, those who can meter must meter, especially in Bangkok. This time, some money was wasted because of this problem. Some drivers will cheat you into saying that you are going to rest in the place where you want to go, do not open the door, and take you to other places. This will ignore him and change the car.)
Eat: 900.69 yuan (this time because there are only two people, it costs a little money to eat it. What wants to eat it, and he often orders too much to eat it all, alas)
One-day Tour of SUVs on Sumi Island: 330 yuan
Calling card and Internet access, etc.: 69.44 yuan
Visa fee: 256 yuan
Snacks, drinks, etc.: 264.84 yuan
Tip: 51.54 yuan (Thailand usually gives tips, 20B at a time, ps: don't give coins, generally you think the service is good, help you call a car, carry luggage, these can be given)
Others: 51.08 yuan
Total: 5608.88 yuan
In line with the principle of helping everyone when going out, if there is what to consult, you can add me Q: 675485323 to indicate the travel.
By Cherry
26 February 2014