Imagine a scene: two months later, at midnight on a summer day, the sky was full of stars. Guangzhou Baiyun International Airport, in the dim light of night, an "Airbus" roared from the runway, which was an Asian Airlines flight to Bangkok, Thailand. Guangzhou, a metropolis under the wing, is brightly lit. The Thai stewardess on the plane is beautiful and lovely. She gives a charming smile to all the passengers. There is a passenger beside the window of the plane porch, staring at the stars outside the window. He is the traveler-free qq.
After traveling for so many years, it is all train travel in China. This time, it was the first time to take a plane.
Thailand is a country that must be visited by life travel. I have been admiring this beautiful country for a long time.
This is a Buddhist country and a democratic country. This country has a beautiful coastline, a magnificent palace and a kind and honest folkway. Add one more: Chiang Mai in this country is a land that Teresa Teng loved during her lifetime after a generation of songs.
I know that this country once had a beautiful and graceful Prime Minister, Yingluck.
I also know that women in this country, like the Dai people in Yunnan, wear tube skirts and have a slim figure. They also celebrate the Water Splashing Festival.
I also know that there is an auspicious and lovely animal in the forest of this country-elephant.
There is also a unique cultural phenomenon in Thailand: "transvestite". I really don't know which Chinese defamed "him/them" as "demon"? In contrast, the English word "ladyboy", which means "boy with ladies' characteristics", is much more tolerant! All we have to do is call them "transsexuals". Many Chinese people do not understand them and think that they are completely forced by life and willing to be destroyed physically. Some people come into contact with them for pornographic purposes. The purpose of this trip to Thailand is not to rush to see the performance of this transsexual person, but to explore the origin of this feminine culture.
When a man decides to incarnate himself as a woman, what proportion are the forced and voluntary components? Just like sex workers, is it purely to make a living or is it because of vanity to make more money?
Thais believe in Buddhism and worship Buddha, which they do much better than us! Buddhism spread to China and was gradually alienated. In Thailand, Buddha is used to respect and purify life, while here, Buddha is used to bless material benefits (euphemistically called blessing). Respect for Buddha has become a practical philosophy. At ordinary times, they don't burn incense or do good deeds, so they rush to cram for it.
Thailand, Japan, Britain and the three countries have some similarities. There are not only democratic and free politics, but also the respect and prestige of the king's royal family. And here, the emperor came out a lot, and in the end he was always overthrown by the people and spurned by the Chinese. Why is this?
Strangely, Thailand seems to have experienced few wars in its history compared with Vietnam, our other neighbor. Apart from the short history of British colonization, China, Japan and the United States, which are international powers, seem to be very friendly to Thailand.
I also know very little about Bangkok, only that there is a floating market there, full of foreign sentiment.
Generally speaking, one should always know something about choosing one's favorite destination. However, for Thailand, one finds that one knows very little about it. When asked about Thailand's history and geography, one cannot say. Ask if Thai has ever produced what heroes or heroes, I can't say! Ashamed, on second thought, perhaps this is not a bad thing for what, its mystery and beauty may increase the charm of this trip!
Having said that, I began to catch up on everything about Thailand: history, geography, climate, Buddhism, royal family, customs, taboos, Bangkok, Chiang Mai, Lion Air, diet, transportation. . . The so-called "body is not moving, heart is far away."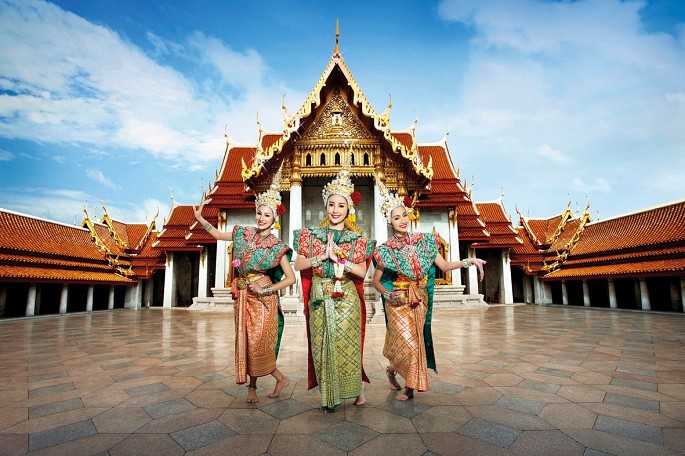 Data collection:
Buddhism: Theravada Buddhism
Rice: Thailand is the world's largest rice exporter.
Water Market: The most commercialized water market is Danenshado, 100 kilometers west of Bangkok.
Convenience Store: Most Common Convenience Store Name: 7-Eleven
Thailand time: one hour slower than Beijing time.
Landing visa: Bring enough 4,000 yuan = 20,000 Thai baht to show the return air ticket, 4*6cm white background color photo (about 2 inches))
Thai Baht Withdrawal: Thai Bank has a Chinese interface for withdrawal,
Food: Dongyingong Soup-Sour and Spicy Shrimp Soup Mango Glutinous Rice Rice Thai Fried Noodles Green Papaya Salad
Embassy in Thailand: Bangkok Rachaapisek Road 57 (662) 2457032 Consular Department Alarm 191
Luggage: Don't take luggage casually.
500 Thai baht for airport tax?
Thai currency Thai Baht Airport has a low exchange rate, so do not exchange it. University of bangkok: downtown guilantai campus address: rama 4 road, klong-toey, bangkok10110, thailand
Bargaining: 10% to 40% below the offer. Smile
Traffic Walk: Left
KhaoSanRd., Bangkok (If you go from Langman Airport Airport, take bus No 59 across the road from the airport gate and get off at Kaoshan Road. Bus No 59 operates 24 hours a day.)
Amphawa Floating Market, Bangkok
Located about 2 hours west of Bangkok, it is a water market that combines tradition and creativity. It is suggested that everyone stay overnight to experience the life in the water market. There is a special water market and home stay here. You can also watch fireflies by boat at night. Monks can also be seen on the river in the early morning to beg for alms by boat.
Travel Tips: Usually, people will make the trip of Amphawa Water Market and Maeklong Railway Market on the same day a one-day tour.
Transportation:
There is a bus to Amphawa at the South Bus Station on Minivan:
Take the BTS to Victory Monument (N3) Exit 4) and you can see the ticket booth of the Mini-Van to Ampava under the overpass.
Opening hours: Friday, Saturday and Sunday 3:00pm-late at night
Ayutthaya Klong Sa Bua Floating Market
This is a more traditional Thai market and the largest water market in Thailand. The whole water market is antique and has many Thai buildings. It is divided into 22 districts, including handicrafts, furniture, clothing, food, etc. In addition, every Friday, Saturday and Sunday, you can also enjoy the most traditional Thai singing and dancing performances here. Also don't forget to taste a special snack here, pancake rolls and sugar shreds!
Opening hours: 10:00am-9:00pm
The first attraction wasAyutthaya Klong Sa Bua Floating Market and Water Theater [MAP]. In Thai it is called. This is found just north of the old city not too far from Wat Na Phra Men. It is not your traditional kind of floating market. The name is a bit misleading. It is more of a "Dinner Theatre" experience that you somethings get in Bangkok
Despite it being the week, there weren't that many people here. When you arrive you have two choices. First choice is to buy a ticket just to watch the Water Theatre. Adults are 50 baht and children 30 baht. The second choice is Dinner Theatre and the buffet. Regular price is 199/119 Baht or 119/99 Baht if you turn up after 2:30 p.m.. This is excellent value for money as you are allowed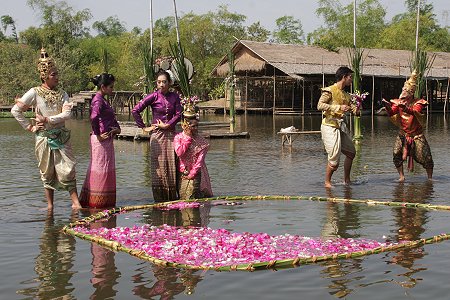 The floating market is only open at the week and on public holdings. It is open from 10 a.m. To 5: 30 p.m. There are five scheduled shows in one day. What I didn't realize at first is that each show is different. The first one is at 11 a.m. And this is followed by four more shows at 12 p.m., 1:30 p.m., 3 p.m. And 4: 30 p.m.
Pickpockets: on buses, in public places
Deceptive Trick: 1: "The Grand Palace Closes Today" Deception
2 Doodle Car Fraud
3 Patpong Night Market Fraud the Patpong Night Market Fraud is still working very well, because it is too good for curious tourists. When you walk through Papon District and try to go to GoGo Bar to find out, there will always be some people approaching you with menus. All the fun acrobatics on the menu are quite attractive,
Four: Taxi Fraud
Remember to choose the kind of taxi that passes by the road instead of stopping at the side of the road.
The cruise ship scam is similar to the Grand Palace scam. Friends who come to Thailand to travel will not miss the trip to the Chao Phraya River by boat.
When you are having a good chat, he will provide you with cruise ship service at a ridiculously low price. He will explain that he specially provides you with such service because he is very speculative with you. The man was so friendly that he could not give up his hospitality and followed his boat to swim in the river. This visit is real, but it is actually very good. He may even stop at a bar by the river to provide you with cold drinks. So far, everything has been fine. Seeing that the tour is coming to an end, you will think how lucky you are today! However, when the ship approaches the dock, your good luck will disappear instantly at this time, the ship will stop about 200 meters away from the dock, and then the "kind man" will ask you for 1,000 Thai baht or more for service fees. No matter how much you say what, you think it should be, the ship will not approach the dock. Of course, you must also pay the money, otherwise you will not be able to get ashore. The most speechless thing is that you must also give double the price, because they are two people, and both the sailor and the person responsible for introducing the scenic spots to you have to pay.
Don't trust any stranger who approaches you, although it seems that he is kind, you just smile and refuse. If you want to swim the Chao Phraya River, just go directly to the ticket office on the dock to buy tickets. Don't be cheated for petty gain.
Accommodation: 1TH Khaosan Kaoshan Road, Yaohuali Road (Chinatown), the gathering place of famous backpacking hotels in Asia)
2M. R > ken Homestay, No.105, Sukunyi Road, No.14, Lasan Lane (500 meters walk from Light Rail Station E14 to the store)
Soi Lasalle BTS Bearing Station
3 check_inn Hotel
Address: 63-65-67 Charoen Krung Road Soi 44 Bang Rak, BangRak District $8 Hotel: Soi Charoenkrung 22 (Yaowharaj 10), Loftel 22 Hostel, Charoenkrung Road, Talard Noi, Sampantawong, Bangkok Riverside, Bangkok, Thailand 10100
Bank of Chao Phraya River
The Golden Mount (Wat Saket) artificial high point in Bangkok overlooks the scenery of Bangkok, and the ticket price is very cheap, only 10 Thai baht. It is very close to the Monument to Democracy and is within ten minutes of walking. Climbing to the top of the temple has infinite scenery.
Th Sukhumvit Sukunyi Street, Bangkok Business District
Amusement Park: Santorini Park HUA hin Santorini Park on the main traffic route from Bangkok to Hua Hin
Metro and Light Rail: Metro MRT Light Rail BTS
Light Rail: Get off at Siam for the shopping center, Mo Chit for the weekend market, and Saphan Taskin for the boat.
Bangkok's light rail transit system has two light rail lines-the dark green "Shilong" line. Light Green Pigment Kun Yi Line
At each light rail station, there is a ticket vending machine, which only accepts coins of 1 baht, 5 baht and 10 baht, and can also change at the service desk. In addition, light rail transportation network maps can be obtained free of charge at all light rail ticketing booths.
The self-service ticket vending machine is very easy to operate. There is a ticket price chart beside the machine, which will indicate the price from the current station to the destination station. Press the corresponding price, then put in coins, and the machine will vomit tickets. If you catch up with an insensitive machine, you don't have to worry if you don't recognize the swallowed coin. It will come out of the change hole below.
7. You can also consider buying One Day Pass, 130B, with unlimited rides on that day.
Shopping: Bangkok's large shopping malls and shopping centers are mostly concentrated in the area near Siam Station of Tiantie.
Bangkok Choose Accommodation Attention: 1. Close to BTS (Tiantie), walk for no more than 10 minutes. Because the traffic jam in Bangkok is very severe, sometimes taking a taxi to some places is the rhythm of sucking to death, so it is true to choose BTS to travel! Moreover, Bangkok's fun is basically along the BTS, so be sure to choose hotels close to BTS. 2. Choose hotels in the middle of BTS, because Bangkok's rail transit is priced in sections, and living in the middle can save you a lot of ticket money. If I were to choose next time, I would choose to stay in a hotel near BTS Saladeang Station. What exactly is the middle zone? I will talk about it in the traffic at the back.
Night Market: Asiatique Riverside Night Market: Open from 5 to 24 pm,
Elephant Island is located in the southeast of Bangkok, Trat)
Bus Station 1 East Bus Station (Ekkamaibusstation) North Bus Station (Mochit). Both bus stations have buses to Elephant Island and can also buy joint tickets. You can also go to the VictoryMonument to make a Minibus to Elephant Island, which is also a bus ticket. All the above stations can be reached by air rail (BTS), except for the North Central Station (Mochit), which takes 5 minutes to get off. It takes about 4 to 5 hours to reach Elephant Island by car. Elephant Island can also be flown, but it is not recommended. After going to the island, there will be taxis waiting at the dock to pick up passengers and tell them the beach you are going to. He will give you a price ranging from 80 beads to 200 beads.
The "EasternBusTerminal" next to BTS's E7 station (Ekkamai) is the only way to get to the islands in southern Bangkok: TRAT, a dock town. From here, you can take a boat to Elephant Island, Dog Bone Island, Mak Island and other small islands. Basically, there is one flight every hour, and the condition of the bus is very good. Even if we only add 7 or 8 guests, the large air-conditioned bus will leave and arrive on time. It's a 5.5-hour drive. The ticket is 241 baht per person. The road conditions along the way are good. We set out in the evening and the sunset glow accompanied us to the south of Bangkok. Gradually, the salty and wet smell in the air became more and more obvious, and the sky became more and more transparent. We all felt the aura of the sea. Arrived at TRAT at 11: 00 p.m. The main streets of the town were sparsely populated and food stalls were closed. Only 7-11 was still brightly lit.
White Beach is the busiest beach in Xiangdao. The beach is the most prosperous area. White Beach is also the best quality beach. The beach is of high quality, beautiful and has everything to eat, drink and play. The second beach (Klongpraeach) is also a good beach. The third (Kaibaebeach) is relatively cold and cheerless beach. The fourth beach is Lonelybeach, which has few people, sometimes the wind and waves are relatively strong, and the room fee is relatively cheap for backpackers.
Ekkamai station (Thai:) is a BTS skytrain station, on the Sukhumvit line in Khlong Toei District, Bangkok, Thailand.
The station is located on Sukhumvit Road at Soi Ekkamai or Ekamai (Sukhumvit Soi 63) next to the eastern bus terminal to eastern provinces.
There are two types of shuttle buses: standard 1 standard 2
The first type is direct and costly. The second type of middle stop does not use expressways.
The first type, 2.5 hours to Pattaya, 113 Thai baht
To Elephant Island: First to Trat City, 241 Thai Baht for 7 hours
2. Direct to Elephant Island Wharf 300 Thai Baht
It leaves every two hours from 6 a.m. to 6 p.m.
Rayong (Koh Samet) Luo Yong Fu Sha Mei Island
The direct bus to Rayong takes about 3, 30 hours and costs 146 baht. The standard 2 option takes about 4, 30 hours and costs 127 baht.
Luo Yong Fu (Thai:, English: Rayong) is a government in East Thailand, all of which are Luo Yong City. She is adjacent to Chonburi Prefecture in the west, Jianzhuwen Prefecture in the north and east, and the Gulf of Thailand in the south. Today the population of this house exceeds 530,000,
, Phonlawat Chayanuwat).
Rambutan, rambutan, mangosteen, mangosteen, durian
Khao Chamao-Khao Wong National Park The last piece of virgin forest in Rayong, the park is located in Klaeng District, 71 kilometers from the city. Declared as a National Park in December31, 1975, Khao Chamao-Khao Wong covers an area of 83.6 square meters, which is home to tigers, wild elephants and bears. The park is family for its limestone mountains, caves, high cliffs, verdant forests and waterfalls
Namtok Khao Chamao Namtok Khao Chamao is situated approximately 17 kilometers off of the main highway at Km. Marker 274. The main attraction and landmark of the 8-tiered waterfall is "Wang Mutcha" a large pond on the second level which is the habitat of Pluang fish. Reaching the top is easy and visitors can enjoy the refreshing scene all the way up to the highway level of the waterfall.
Namtok Klong Pla Kang Located some 3 kilometers from the National Park Office is this 7-tiered waterfall. Reaching the top of the waterfall is not quite an easy task as visitors have to walk through the mountains. Plant lovers should not miss this opportunity to see severe kinds of plants such as ferns, orchids, mushrooms, etc., while walking along the trails.
Pha Sawan (Heaven Cliff) Pha Sawan is situated about 1,500 meters from the Park's Office. The cliff is family for its scientific lookout point which offers an intriguing panoramic view of the pristine forests. Variable types of plants can be found along the way up to the cliff and are ideal for nature studies.
Camping sites are available at the price of 10 baht to pitch personal agents. Bungalows are available (8 all together), at the cost of 800 baht/bungalow and have to be reserved well in advance, call 038 894378. Princess Maha Chakri Sirindhon Herbal Garden The Princess Maha Chakri Sirindhon Herbal Garden is located within the grounds of the Petroleum Authority of Thailand, about 25 kilometres
• Pattaya
Temple of Truth Paradise Art Museum, Temple of Heaven Giant Buddha Tiffany Transvestite Show Pattaya Marble Park and Crocodile Farm Koh Lan (Coral Island) Mini Siam and Mini Europe Pattaya Pedestrian Street (Viharnra Sien) Beach Road Pattaya Beach Pattaya Park Tower Gallery PattayaLanpho Nakluea Market Sifang Water Market Tawaen BeachTeddy Bear Museum Huang Ahmad's Jiami Prefecture in southern Thailand has the laudatory name of "Andaman Sea Emerald", There are more than 130 large and small islands in the whole government, of which Phi Phi Island, Bamboo Island and Maya Island are especially famous. The sea water here is green, the beaches are white and the sand is fine, and the beautiful landscape can be seen everywhere. It is deeply loved by tourists from all over the world. Koh Phi Phi belongs to Jiami Prefecture, and the movie "The Beach" was filmed in Maya Bay on the small island. Soi Cowboyis a short (150 meter long) street with some 40, mostly go-go, bars, similar to Nana PlazaandPatpong. It caters Mainly to tourists and expatriates. [1] It is near Sukhumvit Road, between Sukhumvit Soi Asoke and Soi 23, within walking distance from the BTS Skytrain's Asok Station and the Bangkok Metro's Sukhumvit Station. Lumphini Park On the surface of the pale green bay, limestone peaks and rocks are scattered all over the water, some rising hundreds of meters from the water. Many rock islands look like hump, while others look like turnips planted upside down. Panya Bay is one of the scenes used in James Bond's 1974 movie Man with a Golden Gun. Today, tourists take narrow boats and follow Bond's route to Pingan Island (two islands back to back), an island that was broken in the middle by the earthquake a long time ago. Phang-Nga is located 75 kilometers northeast of Phuket Island and is known as Thailand's "Little Guilin". There are many large and small islands here, with jagged rocks and changeable scenery, which can be called "wonders of the world". Among them, James Bond Island, Iron Nail Island and Bell Rock Island Cave are famous for their natural wonders. Especially James Bond Island, because 007 movies were filmed here, everyone no longer paid attention to the island's real name Tapu Island, but called 007 Island, or James Bond Island. The number of kilometers between different parts of Thailand is 150 kilometers from Bangkok Pattaya, 2 hours from Bangkok Dacheng, 90 kilometers from Bangkok, 1.5 hours from Bangkok Huaxin, 240 kilometers from Bangkok, 3 hours from Bangkok Bobe-Siem Reap, 450 kilometers from Chiang Rai, 250 kilometers from Chiang Mai, 3 hours from Chiang Rai, 50 kilometers from Suwannah Plangman, 50 minutes from Pattaya Beach-Jinsha Island, 7.5 kilometers from speedboat, 45 minutes from Bangkok Pattaya Pattaya is served by frequent bus service from Bangkok's Northern Bus Terminal (Mo Chit) and the Eastern Bus Terminal (Ekamai), connecting to Pattaya's main bus terminal on Pattaya Nuea near Sukhumvit Road. Elephant Village Non Nooch Tropical Botanical Gardenabout 15 kilometres south of Pattaya, Bangkok Airport: Don Muang Airport.

A total of 6 bus lines connect the airport with different areas in Bangkok. Ordinary bus: No.29 Airport-Bangkok Railway Station ((HuaLamphong Huanan Peng Railway Station)) No.59 Airport-SanamLuang) No.95 Airport-RamIndraRd.-RamkhamhaengRd. Air-conditioned bus: No.4: Airport-Xilong No.29: Victory Monument-Bangkok Railway Station (HuaLamphong) No.10: Victory Monument-Students who are worried about traffic jams in the urban area can consider taking the above bus to ChatuchakWeekend (Zhaduzha Weekend Market Station), which is about two or three stops. Then transfer to rail transit (Tiantie MoChit Station; Or the subway Chatuchak station), you can quickly reach any place that Tiantie subway and Airport Express can reach. B Langman Airport, you can also enter downtown Bangkok by train. The advantage of trains is that they are extremely cheap. They can reach the city in less than 10 baht, which is the cheapest airport transportation in Thailand. At the gate of Langman Airport is the railway station. Its name is Langman Railway Station, DonMueangTrainStation, and downtown Bangkok is HuaLamphong, South China Peng Railway Station. Its official name is Bangkok Railway Station, BangkokTrainStation. Train Ticket Inquiry (official website of Thailand's Ministry of Railways)
http://www.thairailticket.com/esrt/Default.aspx?Langage=1. On this website, the railway station name of Langman Airport is DonMuang, the name of South China Peng Railway Station is Bangkok, and South China Peng = Langman Airport Station has two lines in operation, namely Northern and Northern, which have many flights every day, with operation time ranging from 40 to 50 minutes. 1-3 shifts per hour, South China Peng-Langman direction the earliest shift 5: 45, latest shift 23: 40. The earliest flight from Langman to South China Peng was over 2: 00 a.m., Other accommodation areas around 22 o'clock at the latest shift: Siam) It's Long/Satun ( Silom/Sathorn) Su Kun Yat ( Sukhumvit) Wireless/Zilong ( (Khaosan) Langman Airport/Don Muang Airport/Impact Accommodation Key Words Grand Palace Chao Phraya River Siam Square Business District River View Ferry Victory Monument Red Light District Royal Duty Free Shop Bar Street Watergate Chinatown Watergate Market Sleeping Buddha Temple Spa Old Town International Airport Seafood Air Train Backpacker Palace Bangkok and Chiang Mai are two well-known tourist destinations in Thailand. The transportation is still very convenient. You can use the following ways: 1. Trains: There are about 6 trains a day from Bangkok to Chiang Mai, which are divided into ordinary trains, express trains and express trains. It takes about 15 hours for ordinary cars and 12 hours for express and express trains. Carriages are divided into 123 classes, ranging from no seats to soft sleepers, with prices ranging from 500 Thai baht to more than 1,000 Thai baht. 2. Aircraft: It is the fastest and most convenient way to make a plane. It takes about an hour to arrive, but the price is also the most expensive. Bangkok's Langman Airport and Suwannabe Airport have many flights to Chiang Mai every day. If you take cheap airlines (such as AirAsia and Bird Airlines), the air tickets are less than 1,000. 3. Bus: There is VIP BUS to Chiang Mai at the bus station north of Bangkok's mo chit. About 500, it took about 9 hours to arrive, and the seats were relatively comfortable. There was also free water and food on the bus from Guangzhou Station to Baiyun Airport: Guangzhou Railway Station Exit A took Metro Line 2 (take Station 8) to Metro Jiahe Wanggang Station and then took Metro Line 3 (Sports West-Airport South) (take Station 3) to the entrance of Metro Airport South Station. Take about 60 meters to Guangzhou Baiyun International Airport (New Airport) to exchange Thai baht (5 methods) 1) Direct exchange of Thai baht at the Bank of China in China can directly purchase Thai baht, but not all business halls or at any time. You need to make an appointment in advance and bring your ID card and passport with a good visa. ICBC seems to be more cost-effective than BOC. 2) Take RMB to Thailand's Exchange Counter for Bangkok. There are Exchange exchange counters everywhere, so there is no need to worry about not using Thai baht in Thailand. 3) Take US dollars to Bangkok's Exchange cabinet for exchange. As the exchange rate for US dollars to Thai baht is good, In addition, Bangkok has Exchange everywhere, which is quite a convenient way to exchange money, and you can exchange as much as you can while playing. Anyway, it is no difference to take back US dollars when they are not used up. Compared with RMB, US dollars do not occupy much space in your wallet, and there is no ATM handling fee. It is also a very popular way. But unless you have dollar cash, Otherwise, you will inevitably be charged two handling fees (RMB USD, USD Thai Baht). If you plan to exchange RMB for US dollars, you will be stripped of three layers of skin (RMB USD, USD Thai Baht, and USD RMB that cannot be used up). As for the handling fees exchanged in this way, is it not cost-effective? Applicable object: I have US dollar cash, and I want to exchange as much as I want. 4) The exchange rate of "RMB for Thai baht" of Super RichSuper Rich, which brought RMB to Thailand, can be said to be the best of all money exchange institutions at present, but the disadvantage is that there are not many strongholds (compared with Exchange, the more widely known strongholds are BigC, Chit Lom MRT Station, Kaoshan, Silom and Phrom Phong MRT Station). Students who are going to change money should bring photocopies of their passports. The two that went more: in the alley across the street from Centerworld, the alley that went left after the overpass of Centerworld in the afternoon. See the orange sign ~ You can also see the green sign Super Rich from the alley of this Li Haiquan seafood store diagonally opposite Central World. In addition, there is an orange sign Super Rich on Chit Lom MRT station, but the exchange rate is not very good. Bangkok's best exchange rate store-Green SUPER RICH Store is located at BTS Chit Lom Station, opposite Central World. It will not be hard to find. There are also many foreigners who will come here to exchange Thai baht. Remember to bring their passports for the store manager to check. Chiang Mai's Best Exchange Rate Store-SUPER RICH Address: 34/4 Loi Kroh Road, A. Muang Chiang Mai 50100, Thailand. Friends who bring RMB or US dollars can change here! On Loi Khor Rd, the ancient city is 1/3 of Changkang Road. This road is a one-way street, so if you drive a motorcycle, the exchange rate is good on the right hand side of the road. 3. Thai Baht Exchange Frequently Asked Questions and Answers 1. Where should I exchange Thai Baht before departure? Do you need to exchange small bank notes? A: Bank of China and ICBC can directly purchase Thai baht without exchanging small banknotes, because most banks in China only have large Thai baht, and small banknotes are not easy to settle and small in quantity. 2. After arriving in Thailand, how to turn large banknotes into small banknotes? A: Find a convenience store at the airport, buy something casually, or buy a local mobile phone card as soon as you get off the plane, and open it. 3. Can I withdraw cash directly with UnionPay card in Thailand? Cash withdrawal exchange rate and handling fee. A: Cash can be withdrawn directly. The exchange rate is currently the highest among all exchange methods. The handling fee is charged according to the overseas cash withdrawal of the card issuing bank. For example, the overseas cash withdrawal amount of the Agricultural Bank is 1% + 12 yuan. Since September last year, all Thai banks have charged a handling fee for the cash withdrawal of UnionPay cards, each of which is 50B. 4. Is there a handling fee for swiping UnionPay cards in Thailand? Can I swipe UnionPay cards anywhere? A: There is no handling fee. Major shopping malls such as Central World and Siam Square can swipe UnionPay cards. The exchange rate is the same as that of taking Thai baht directly. (If the card you want to swipe has both UnionPay and MasterCard or VISA and other what dual-channel cards on it, the card reader will give priority to the identification of Visa or MasterCard channels) 5. Is there a private exchange point in Thailand to exchange Hong Kong dollars? What is the exchange rate? A: Yes, for example, Exchange Cabinet and Super Rich are quite good exchange points. Some exchange rates are even higher than those in China.