Sakura Tour D13/13 [Original-Photography]
Osaka-Beijing Sunny Thursday,
I am going back to Beijing today. I am a little excited. I got up at 5: 30 a.m. And took a picture of Osaka's morning at the window of my room again.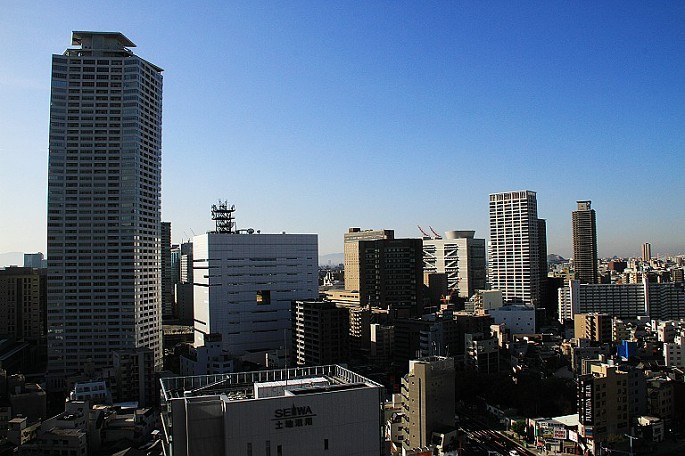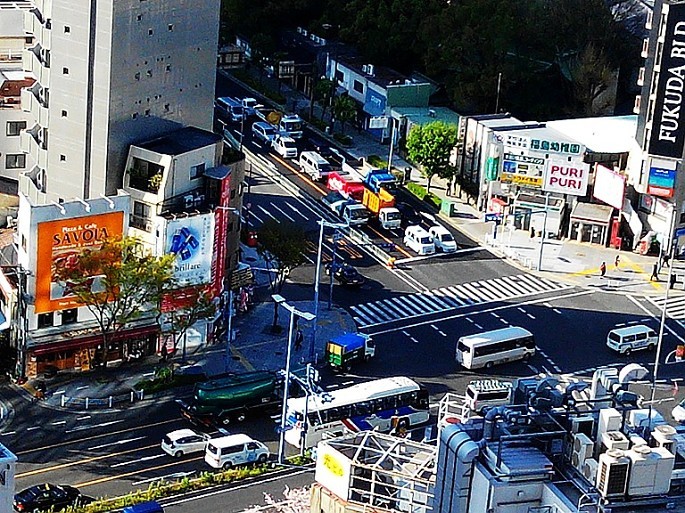 Morning in Osaka
Judging from the overhead picture, there were still many cars and few people in Osaka on Thursday morning, so it was in good order. I would like to say one thing here, that is, the way pedestrians cross the intersection. In our country, crosswalks that seem to be intersections are all surrounded by a square, that is, from east to west, from west to south, from south to north, and from north to east, pedestrians simply walk through a street. If you want to go from the northeast corner to the southwest corner, you must go at a right angle, that is, the hook edge. And Japan's big crossroads, There is a big fork, In addition to the square crosswalks, And diagonal sidewalks, That is, the string of a right triangle, pedestrians can walk directly from the northeast corner to the southwest corner, which is very convenient and safe. It improves the traffic rate of pedestrians and is equivalent to improving the traffic rate. This is really worth learning. I don't know when such humanized, scientific and reasonable sidewalks will appear at our big intersections.
Go out for breakfast at 7: 00, or go to the restaurant yesterday (305 yen/person). Return to the hotel at 7:50, simply pack up and check out at 8:10. Arrive at JR Fukushima Station at 8: 15, take JR at 8: 36 and arrive at Kansai Airlines at 10: 30 (fare 1190 yen/person). There are a lot of people going through the airport, especially the check-in offices of Air China are lined up in long lines, with the inner three floors and the outer three floors queuing up in circles. After handling the boarding pass at 11: 30, go through the customs and rest at gate 30. In the waiting hall, there are some computers that can surf the Internet free of charge. My son went to surf the Internet, and we took pictures of the airport.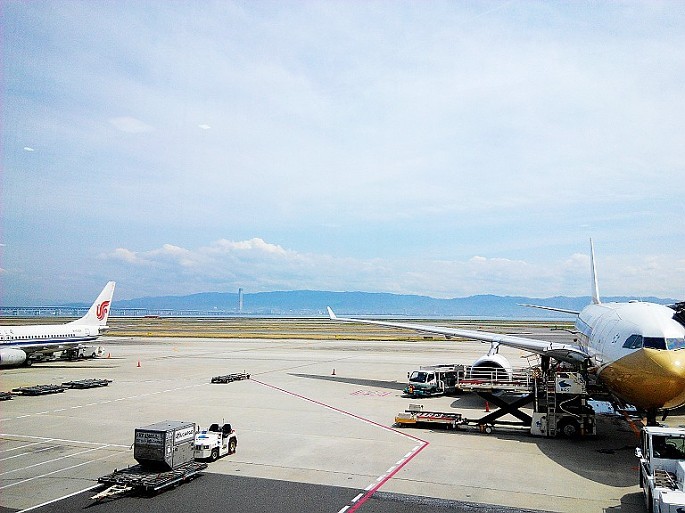 Kansai Airport
The official boarding at 12: 20 is Air China flight CA928 (also JAL flight NH5723). It took off at 12:50 on time and landed at Terminal 3 of Capital International Airport at 16:00. At 17:00, my niece drove to pick it up, picked up my luggage at 17:10 and got home at 18:30. So far, the 13-day cherry blossom tour has come to a successful end!
Along the way, his son played an important role. He was not only a planner, but also a tour guide, as well as an interpreter and tour leader. Let's enjoy the charm of the cherry blossom country and enjoy it well.
Looking back on this free trip, we visited 43 scenic spots successively, spending 14,797 yuan per capita, including 1,800 yuan for food, accounting for 12.2% of the total expenditure, 4,493 yuan for residence, accounting for 30.4% of the total expenditure, 7,335 yuan for travel, accounting for 49.6% of the total expenditure, and 1,169 yuan for tickets, accounting for 7.9% of the total expenditure. This is impossible to participate in the tour. The key is that there is no forced shopping, one's own itinerary is arranged, and one can adjust the scenic spots to be visited at any time. It has great freedom and is very different from the domestic tour groups that one has participated in before.
During this 13-day trip, my wife and I both took full photos of the memory cards we were carrying, so we had to take a look back and delete some before continuing to take photos. Moreover, our shooting habit is to shoot 2-3 pictures in continuous shooting at a time (continuous shooting keeps shooting when encountering birds), and we have to change to single shooting in the later period. Even so, I used 3 16G CF cards and took more than 4500 photos. My wife used 5 8G SD cards and took more than 4500 photos. From this, I feel that I will bring more memory cards or computers with me next time I go out, and transfer the movies in the cards to the computers at any time so as not to be unhappy.
This is the end of my travel strategy. Maybe I can't remember some places accurately, but it should be close to each other.
I uploaded this article simultaneously on Netease Travel Blog. Friends who want to see the big picture can click to watch it:
Sakura Tour D13/13 [Original-Photography]