Sakura Tour D12/13 [Original-Photography]
Last Appreciation of Izu Peninsula-Osaka Turned Cloudy and Sunny on Wednesday
I'm going back to Osaka today, so I got up earlier and wanted to take a look at the sea before leaving. Get up at 4:30 a.m. and start shooting at 4:40 a.m. First, I went to the river from the back door of the hotel to photograph, because my wife had already scouted the scenic spots the afternoon before, so I moved the sliding door to the river and could photograph cherry blossoms. The cherry blossoms reflected by sunrise are very beautiful. We took pictures by the river for a long time.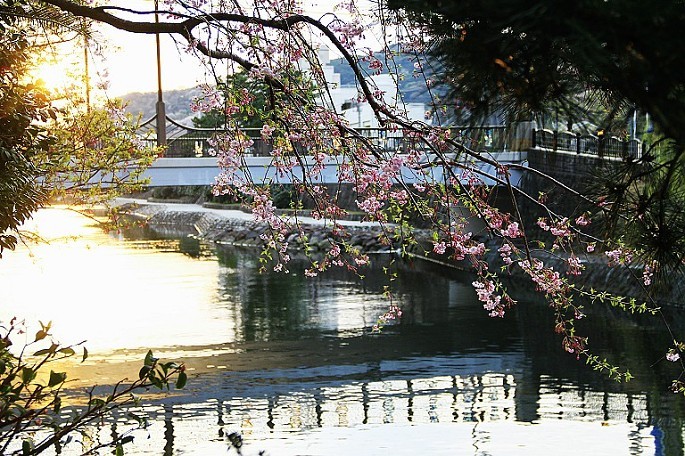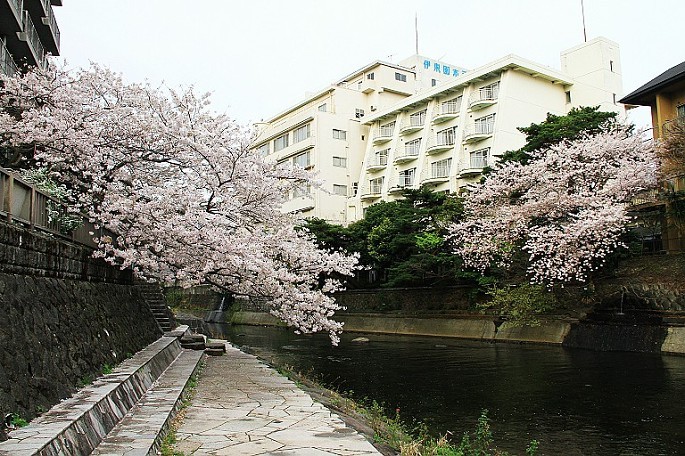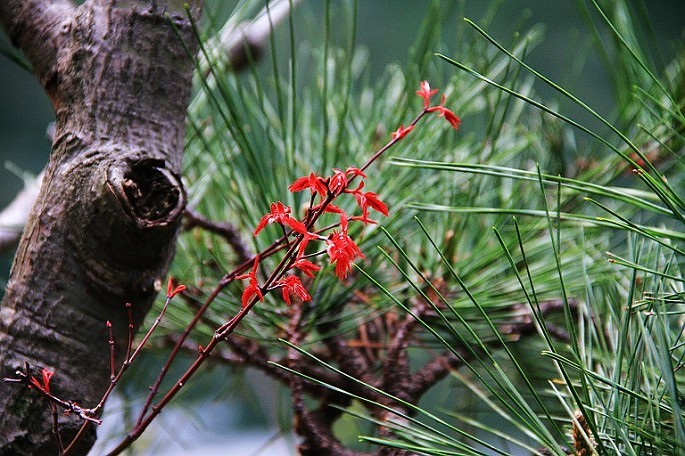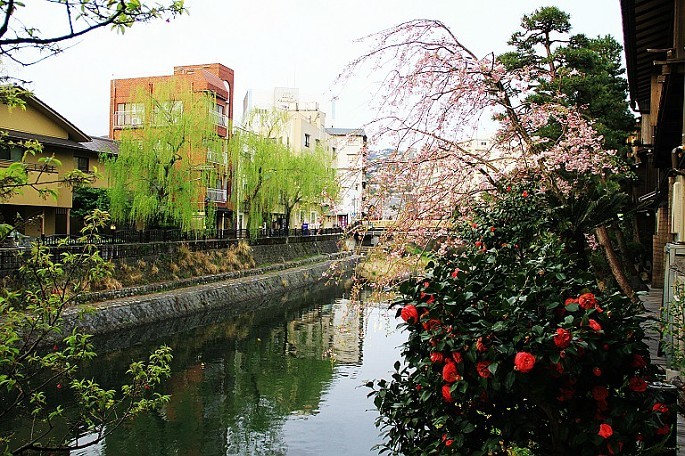 Beautiful scenery outside Yidong Hot Spring Hotel
After filming the river, I went to the seaside. There is a sculpture park there, and we took a big picture from several angles. Due to cloudy days, the sea view is not very good, foggy and gloomy.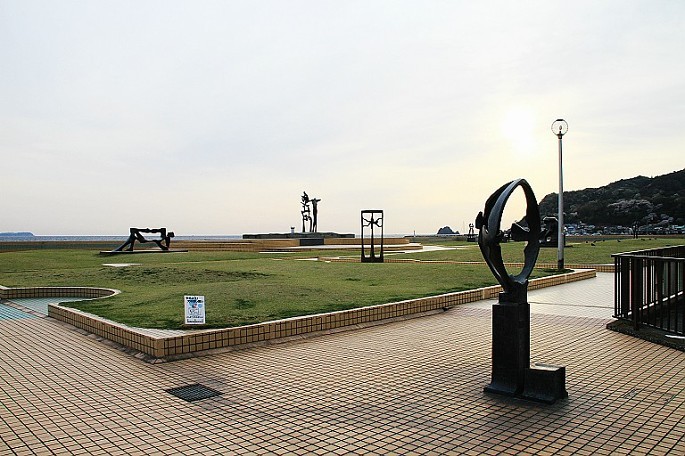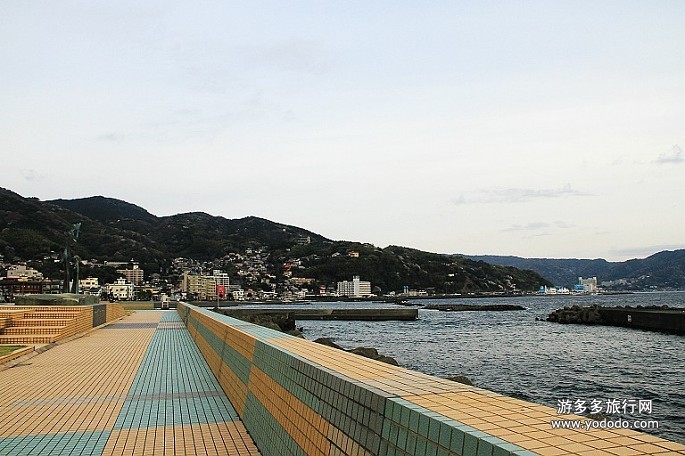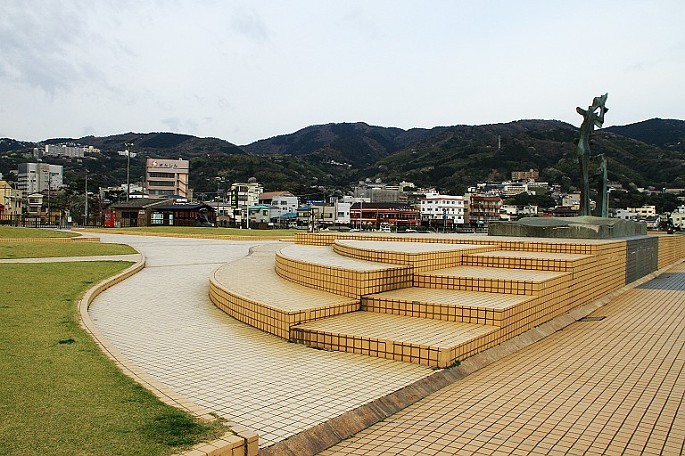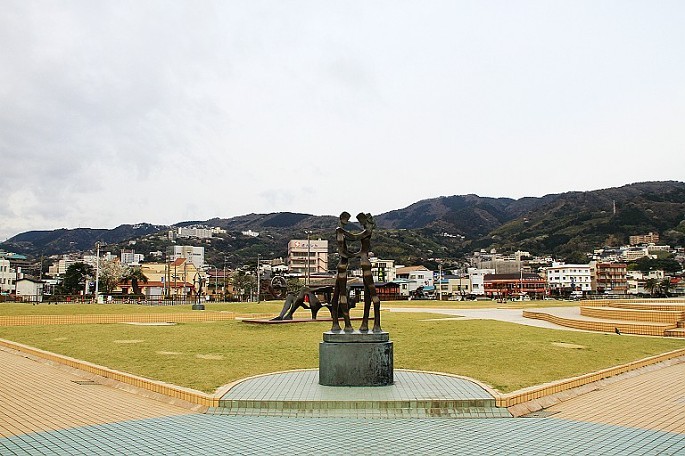 Yidong Sculpture Park
I returned to the hotel at 6: 00, checked out at 7: 30, went straight to Yidong Station, ate noodles (477.5 yen/person) in front of the station, and bought various tickets to Osaka, including JR Donghai Line Yidong-Rehai 320 yen/person, Shinkansen Rehai-Kyoto 11,340 yen/person, JR Electric Train Kyoto-Osaka 560 yen/person. JR starts from Yidong at 8:39JR, arrives at Rehai at 9:15, starts at Shinkansen from Platform 6 to Okayama at 9:43, arrives at Kyoto at 11:40, changes to JR at 12:09, and arrives at Osaka at 13:00. According to GPS, we thought we could find the hotel we booked soon. As a result, GPS suddenly failed, the signal was unstable, and sometimes it disappeared. Moreover, the directions were often opposite, causing us to circle in situ. Finally, after asking questions and navigating, I finally found the Hanshin Hotel with one stop and many places, which was delayed for 50 minutes.
At 14:30, after settling down, go out to a roadside restaurant to have a regular meal (a self-service restaurant, choose the food you want on the machine, pay and wait, the back kitchen will make it according to your choice, and the waiter will deliver it to you). I still mainly eat noodles (615 yen per person). I feel that I have eaten well and decided to eat here for breakfast before leaving.
Depart at 15:00, look for Osaka JR East-West Line, to Osaka Tianman Palace (fare 120 yen/person). When I got to the Mint, it was already closed, and when I saw that the cherry blossoms were out of season, I still didn't see the Mint full of cherry blossoms. So he went to the Dachuan River. On the Tianman Bridge, I saw the cherry blossoms on both sides of the Dachuan River like snow. It was very beautiful. I took more than an hour on the bridge and included the last scene of cherry blossoms in our lens.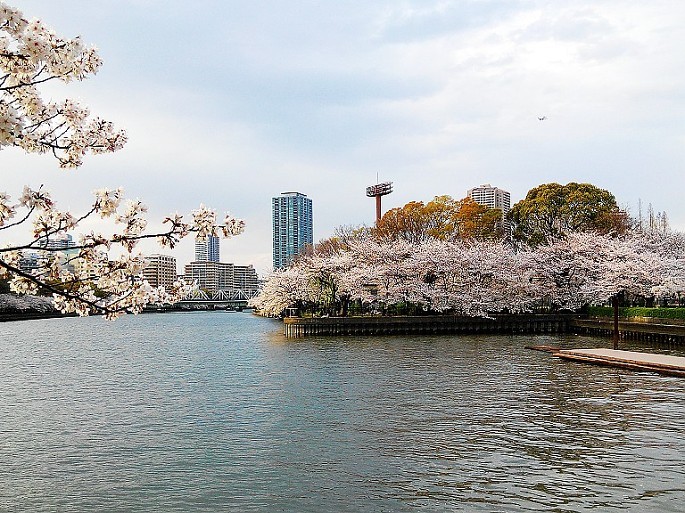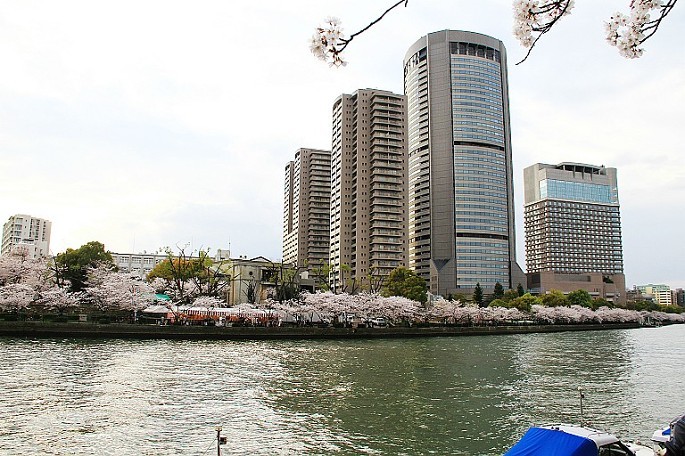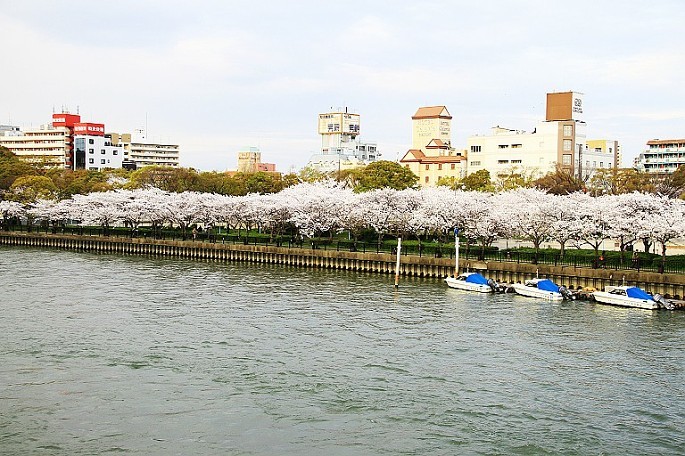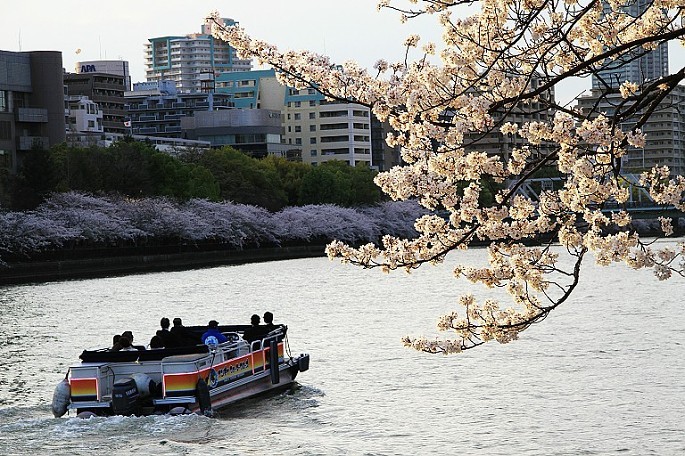 Cherry Blossoms on Both Sides of Dachuan River
Go north along the Dachuan River to Sakura Palace JR Station in Sakura Palace Park, and keep shooting at different angles until we think the shooting is satisfactory. During this period, many tourists, including the elderly, can be seen at any time, and they also enjoy the blooming cherry blossoms in the sunset.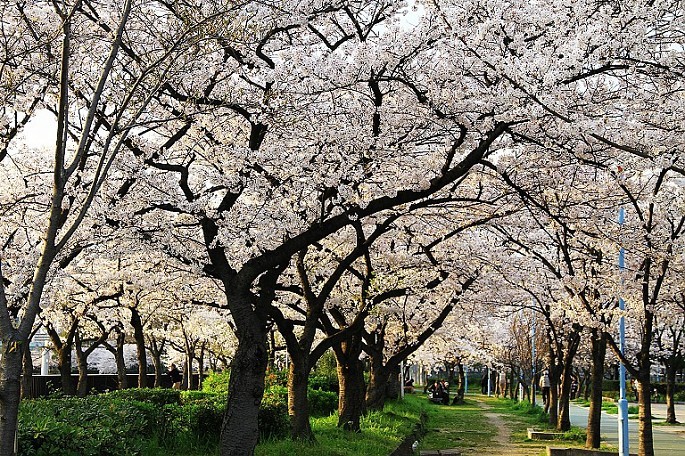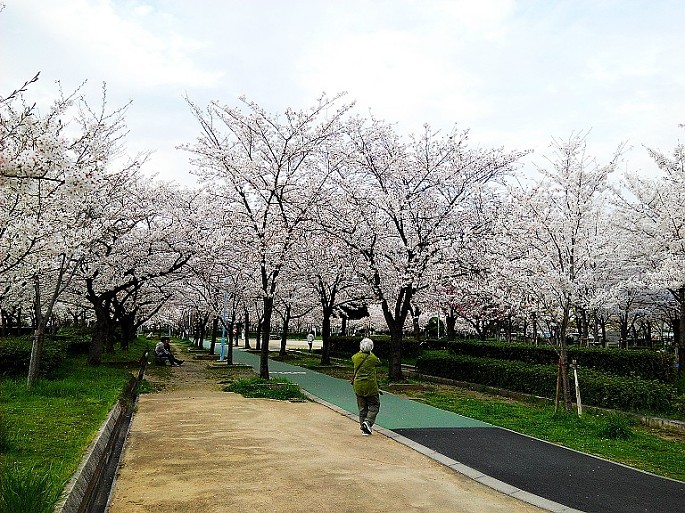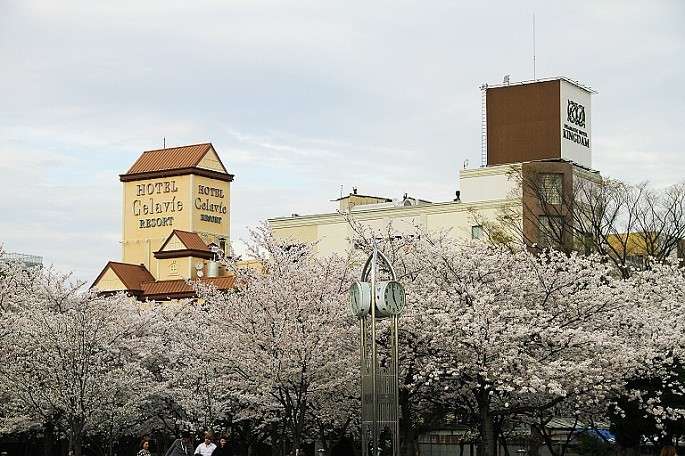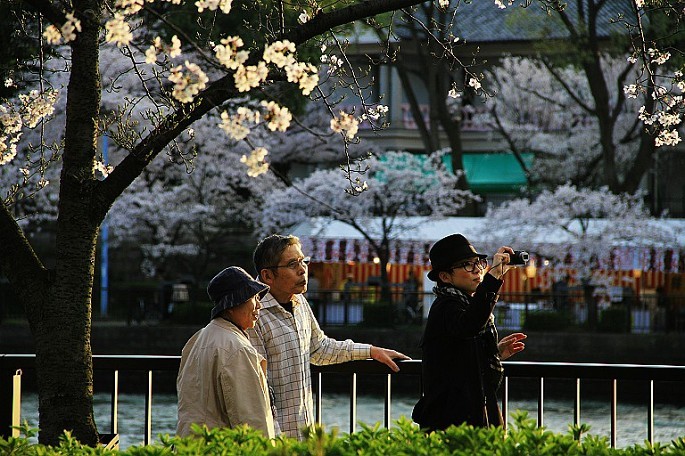 Dusk in Sakura Palace Park
After that, we went to Meitian and went shopping in the shops in the subway station. Our son bought some food for our colleagues, but we didn't go shopping again because we had already bought enough gifts. At ordinary times, it seems that there are not many people in the streets of Japan, while the subway stations at work are very busy.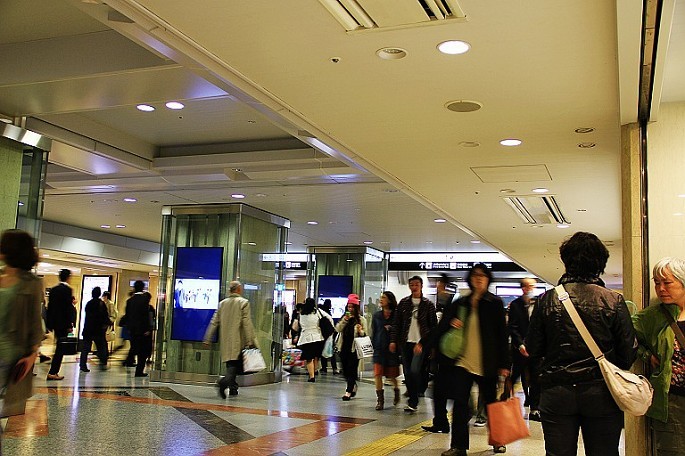 Mei Tin MTR Station
Then I went to Heqiao Fengyue Japanese Fried Noodles Restaurant and ate authentic Osaka roast (1652.5 yen/person). The price was not low but I ate very well.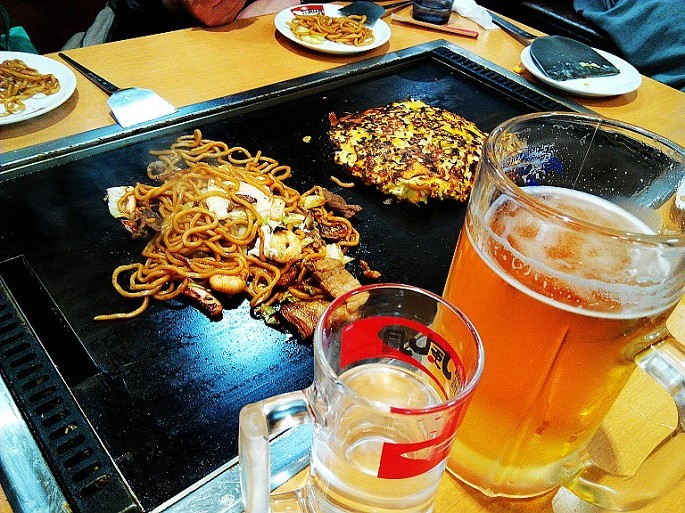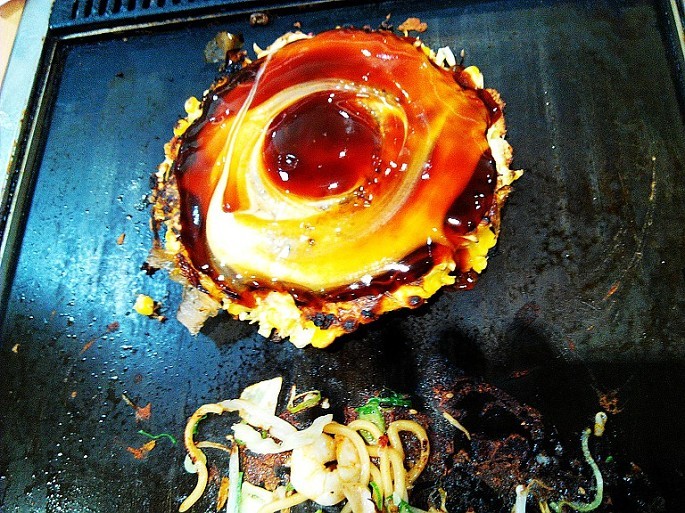 Osaka Burning in the Wind and Moon of Crane Bridge
At 19:50, take the JR circular line from Mei Tian to Fukushima (the fare is 120 yen/person), and return to Hanshin Hotel to rest at 20:00.
The cherry blossom tour was basically over. On the last day, I saw the beautiful scenery of cherry blossoms all over the sky in Osaka and enjoyed it very much.
I uploaded this article simultaneously on Netease Travel Blog. Friends who want to see the big picture can click to watch it:
Sakura Tour D12/13 [Original-Photography]