On August 1, 2012, my college classmates and I started a 8-day tour of Thailand. This is our first trip abroad, and we are extremely excited. Let's share our strategy. Our route: Macau-Bangkok-Chiang Mai-Phuket-Macau
Pre-stage:
Before traveling, we signed a visa to Thailand online, which was much cheaper than in reality, less than 300 yuan. The students also bought a calling card in Thailand by the way. The results proved that there was no need to buy any calling cards in advance, because there was a SIM card at Bangkok Airport and it could be recharged on 7-11 after getting it. And my little global phone can also be used in Thailand.
We bought AirAsia's air ticket from Macao to Bangkok in June, with a total of 1500RMB for round-trip tickets. However, some students bought it earlier and only needed 1000RMB. And we also bought a round-trip air ticket from Bangkok to Phuket, totaling 775RMB. (But this was the biggest failure of our trip, causing us to travel back and forth before various places and Bangkok.) AirAsia is a low-cost airline, so there is an extra charge for luggage check-in and catering. Although it is not as good as China Southern Airlines, it is also a good choice. The Thai stewardesses on the flight can almost speak Chinese. When they enter the cabin, they feel that it is a complete trip in China. Chinese are everywhere. Since her classmates have never been to Macao, this route is more suitable for her. Because you can pass the customs directly with your passport, you no longer need to use your Hong Kong and Macao pass, and you can stay in Macao for 7 days.
In addition to air tickets, due to the convenience of AGODA, we will also complete our accommodation in Thailand.
August 1
Starting from Foshan to Macao, I met so many people for the first time. The queue is already 200 meters long outside the customs hall. After waiting for 2 hours, I finally passed the test. We went straight to the Venetians, checked our luggage and went to the Grand Canal Shopping Center. Since the Venetians and Macao International Airport are both on outlying islands, the hotel has a direct bus to the airport, which takes only 7 minutes. At 8 p.m., our plane took off, listening to the excited discussion of the Chinese around us. Soon, 2.5 hours later, the plane landed at Bangkok's Suwannabe Airport. After getting off the plane, I felt that Thailand was cooler than Macao in August. The time in Thailand is one hour slower than that in China, so when we arrived at the airport, it was more than 10 pm in Thailand.
Skytrain is on the lowest floor of the airport. And a map of bangkok is also available at currency exchange. Since our destination was to go straight to khao san road, after studying the route, we decided to take skytrain to pai tai and then take a taxi to the mountain road. The total fare from the airport to Phai Tai is 45baht. From there, I took a taxi to the mountain road. After bargaining with the driver, I charged us 100baht without typing the watch. The driver's eldest brother was a very good person and his English was not very good, but he sent us directly to Nap Park, a youth hotel booked in advance.
Upon entering the hotel, many foreign young people gathered in the lobby. Looking at the way they chatted, I felt really good. My classmates and I simply packed up our things. Although many people lived in a big room, we still thought this youth hotel was really good. If you travel by yourself and feel young, you must have such an experience anyway.
August 2 Bangkok Grand Palace, Sleeping Buddha Temple
早上,我们在考山路吃了早餐,西式的早餐,煎蛋,烤肠,吐司,70baht,虽然不错,但是还是想吃咱们的豆浆油条。我的胃口应该就是从那时起就被破坏了吧。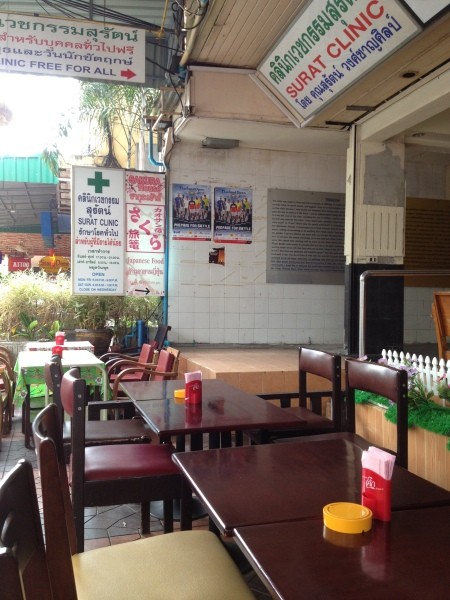 吃过早餐,买了去清迈的车票,考山路上很多travel agency,去清迈有专供为外国旅客的长途汽车,这是私人的,比政府的车要舒服很多,500baht,从下午6点到第二天早上6点,干净舒适。搞定了车票,我们出发去大皇宫啦。
From Kaoshan Road to the Grand Palace, a doodle car of 60baht is enough, and it takes more than ten minutes to get there. Tickets are 400baht, which should be about the same as the price of domestic scenic spots. All the major strategies mentioned pants that should be worn through the knees. Although I was wearing knee-length jumpsuits, I was stopped. The kind-hearted Thai aunt helped me untie my belt and kept pulling down my pants. What a "sorry" word. Entering the palace, it was resplendent and magnificent everywhere. I don't know why, as long as it is a holy place of Buddhism, it is so resplendent and magnificent. Think of the Potala Palace in our country and this grand palace, which are all golden. When we went, we coincided with an important Thai festival in what. Many people paid their respects in the palace. There are people everywhere ~ ~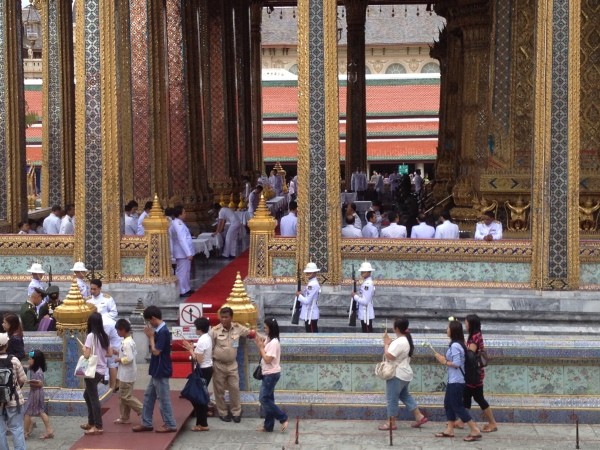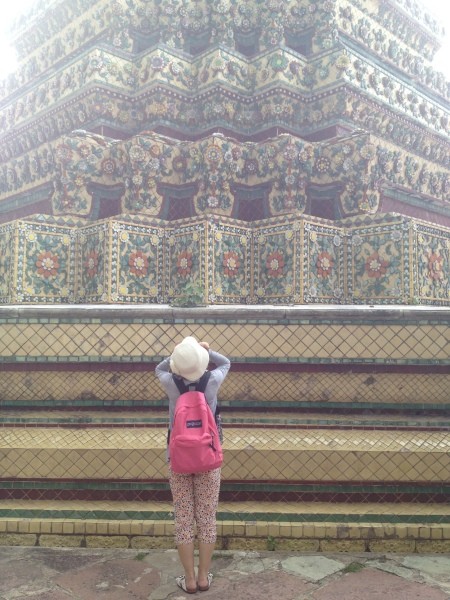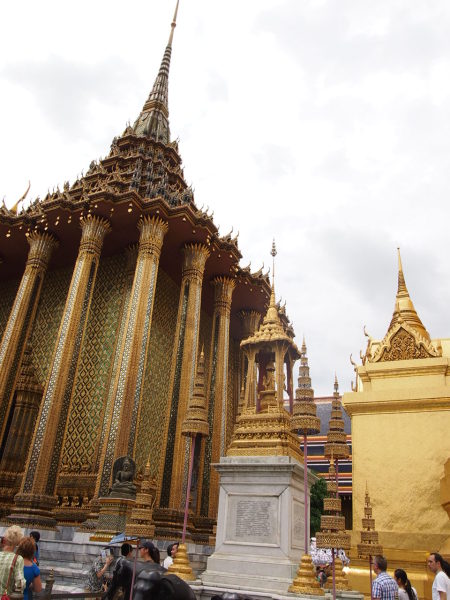 When the Grand Palace opened, it seemed that it was 3 pm. We went out after a stroll. After lunch, I asked the way and soon came to the Chao Phraya River. Some people said that they must take a boat on the Chao Phraya River, but due to time problems, I gave up. On one side of the river is the Sleeping Buddha Temple, and on the other side is the Zheng Wang Temple.
Tickets to the Sleeping Buddha Temple are 100baht, which is cheap. There is a super-large Buddha statue inside. You have to take off your shoes when you enter. You can also change a box of coins and put them into prayer containers one by one.
At 4 o'clock in the afternoon, we returned to Kaoshan Road, the real Kaoshan Road, Bikini on the streets, and foreigners on Slow Street.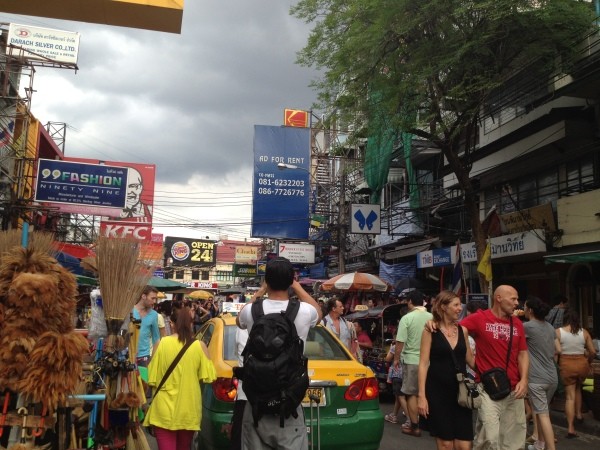 I got on the bus to Chiang Mai, and the first day was almost over. Almost all the cars were Europeans, only four Chinese. But is the meaning of traveling not to covet comfort, but to know more about this strange place? I took a double-decker bus and talked with the British nearby. I didn't expect to wake up again in Chiang Mai.
Arriving at Chiang Mai, people from guest house will send a car to the station to receive the old city, each with 40baht. The boss pulled us to his guest, lana guesthouse. If I remember correctly, the double room is 200baht, and it is next to Chiang Mai's largest temple. It is only 3 minutes' walk. However, we have booked the Deepjar backpacker in advance, and the RMB is only 30 per night, which is really cost-effective and very close. When we arrived at the hotel, we put down our luggage. As it was too early, the booked room was not available yet. We had to borrow the bathroom to take a shower and then carry our bags to visit Chiang Mai in the morning. The morning in Chiang Mai is really beautiful and quiet. Each family is a small house and a small courtyard. Green everywhere, flowers everywhere. The sky is blue and people cannot help looking up again and again.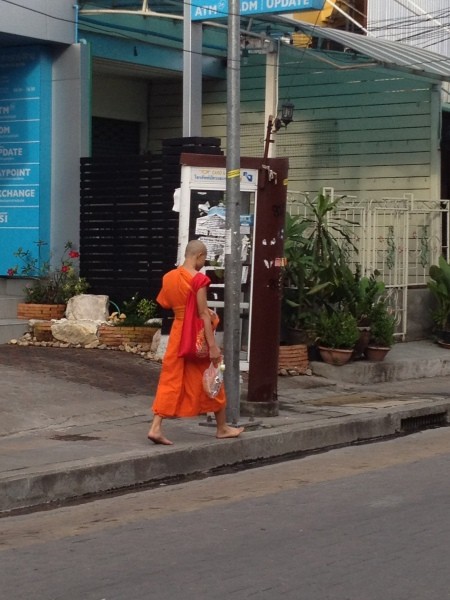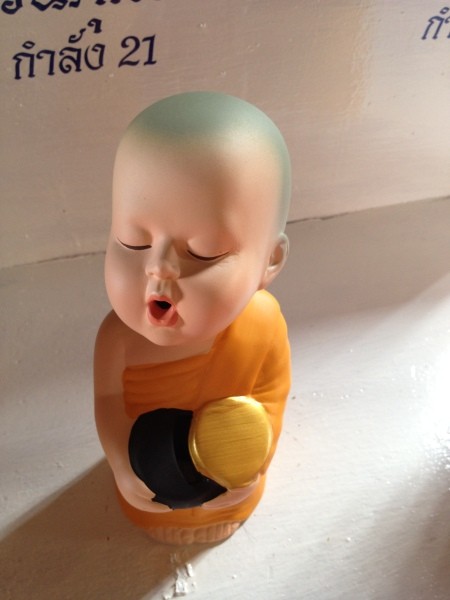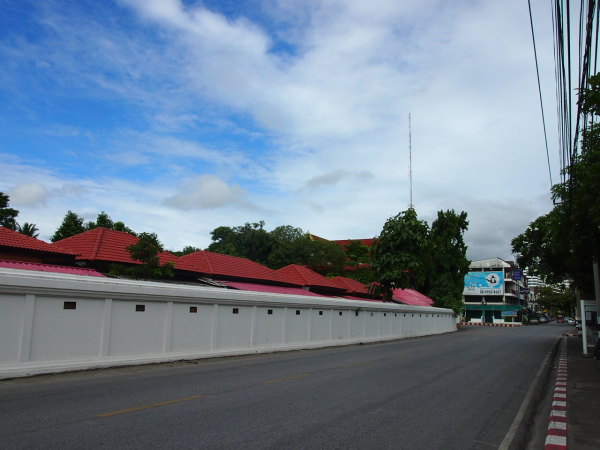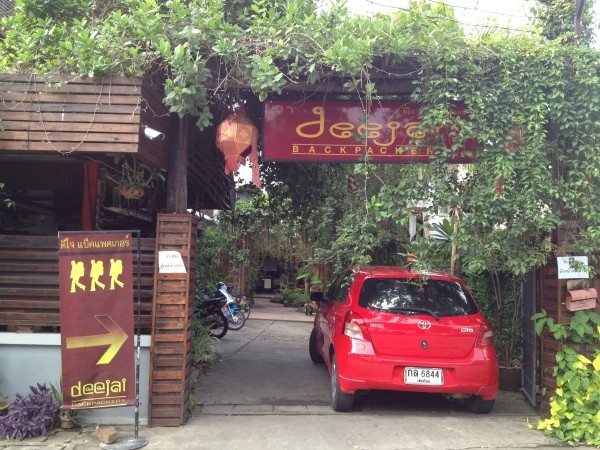 There are also travel agency everywhere in Chiang Mai. You can ride elephants with a group, traveling 700 ~ 1000baht a day, which is very cost-effective. You can pack a good buffet at noon. Or choose to see the long neck clan, trekking is also good. Even if what doesn't do it, living in Chiang Mai for a few days is very good to lead a slow-paced life. No wonder Teresa Teng likes this small town so much, and I love it so much. In Chiang Mai, people open the door very late but close the door very early. Many shops are closed at more than 8 pm. It is also good to have a chat with friends I met on the trip and have a fruitshake in guest house. Ps: On the road opposite Wat Phra Singh, there is an old woman's fruit shake shop, which is cheap and delicious.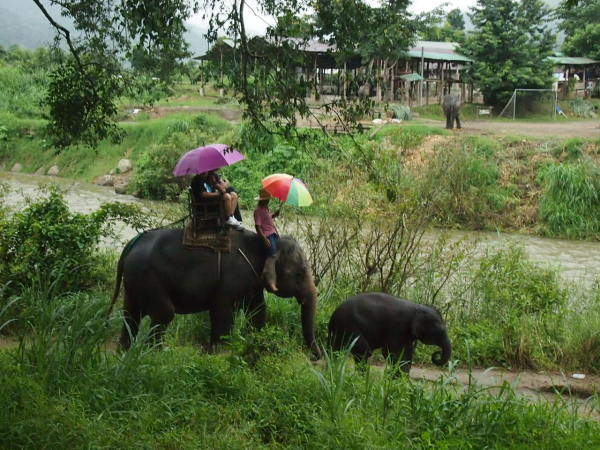 As we happened to catch the festival in Thailand, we didn't buy a ticket back to Bangkok, we had to take the government bus. It looked beautiful, but it was really cheating. Not only is the price 150baht higher, but it often stops for inspection in the middle of the night. On the morning of the 5th, we returned to Bangkok, and our feet were swollen from the ordeal that night. And the car was parked in a place we had no idea.
However, it really took no time to get it. My classmates and I wanted to find siam square, where Mario people went shopping in "Siam Love". I didn't think the place where the car stopped was quite close to there. It probably stopped at the subway station of Piyang Asia Pacific. However, shopping here is no different from that in China. It's just that you can deposit your luggage in the supermarket. We waited until 10 o'clock, checked our luggage and took skytrain to the Chaducha weekend market. It was too hot that day to go back without much serious shopping. If you like to visit small markets, you can try it. If you are not interested, you will not be able to do so. It was crowded and hot. Moreover, we even found the legendary four-sided Buddha, which Hong Kong stars often worship, in the center of Bangkok. The Buddha on all sides is really small, but the incense is very popular. And many Hong Kong people worship Buddha here. Buy a handful of incense and flowers, but 25baht, bye. If you don't believe in Buddhism and dare not be interested, there is no need to look for the place, because when you ask Bangkok people, most of them don't know what you are talking about what.
I really felt bored shopping, so I took a doodle car to Kaoshan Road again. I found the shop that bought Chiang Mai tickets before, and the clerk was very enthusiastic.
It is 130baht to go to the airport from Kaoshan Road. After buying the tickets, I really couldn't bear the heat wave and stayed with the shop assistants to chat. I also met a Korean boy who has lived in China for 9 years. Through him, I know that Westerners play in bars, many of which are full of flowers and intestines, so girls in the East must be careful ~
On the evening of August 5,
Our plane took off to Phuket Island ~ arrived at Phuket. It was already over 10 o'clock in the evening. We could only take a shuttle bus, 150 per person, and it took less than half an hour to reach the hotel. The hotel we booked is just by the beach, White Sand White Sand Hotel. There is a small swimming pool on the fourth floor of the hotel. After a good night's rest and a late sleep the next day, my classmates and I went shopping. In Phuket, the price of everything has increased a lot, and there is no more 40baht of rice. It took 300baht to visit and eat in India opposite. The sun is really strong at noon. It is recommended not to go out for a stroll. It is better to go shopping in Jiangxi. Girls can buy skin care products, which is really much cheaper than that in China. PS: If you have no money, you can go to a shop on the street of Bar Street to exchange money, where the exchange rate is the highest, 4.8.
The noisiest things on the street are those Thai boxing advertising cars, and boxing gloves are bouncing. We booked a ticket to Phi Phi Island for the next day, 1000baht for one person, with pick-up and lunch. In the evening, the bar street was very, very lively, but my classmates and two girls really did not dare to mix there, so we chose to go shopping and kill chickens. It was good to shout ~
On August 7, we set off for Phi Phi Island and met Mary, a super cute tour guide. He delivered water and fruit all the way. The service was quite considerate, but we could not swim and could not snorkel in the water. We are still regretting that we did not buy a beautiful Bikini, and we are even more regretful.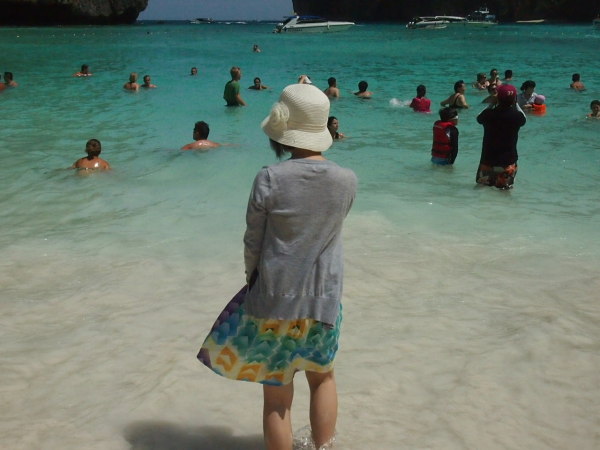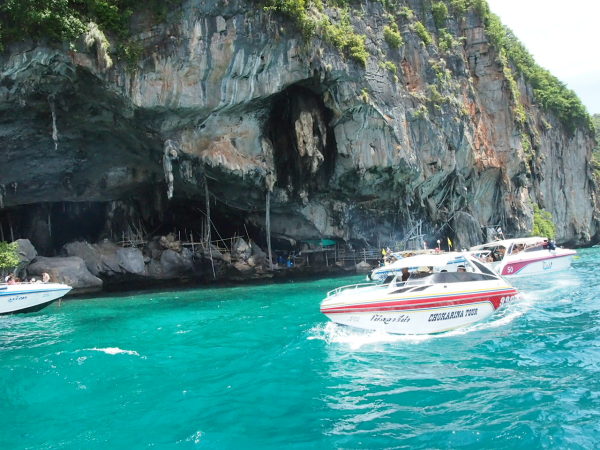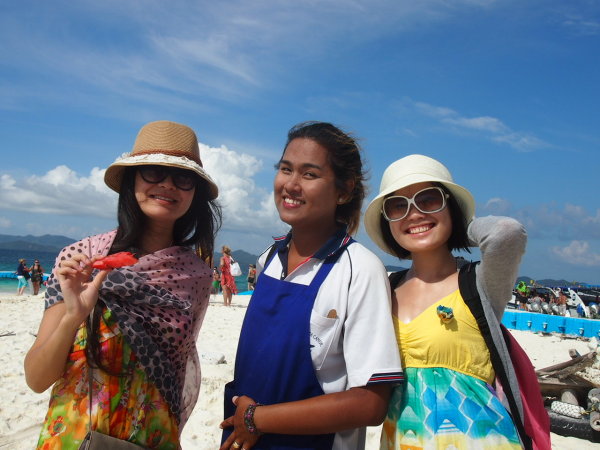 可爱的导游。
Phi Phi Island is so beautiful that Hainan and other things are weak. Back in Phuket, we spent another 100baht borrowing a hotel room to take a bath, because we were leaving this beautiful place for the last night at the airport. After 6 o'clock, there was no bus to go to the airport. It took 600baht to take a taxi. I felt that I was going to leave. 600baht was nothing.
The worst part of our trip to Bangkok was actually here. As we arrived at the airport in the early morning and had to fly back the next morning, we slept at the airport like real backpackers! ! ! ! ! It was a difficult night, not to repeat. I just saw foreign tourists sleeping on the ground everywhere and felt very fresh.
My semi-backpacking trip finally ended on August 8. I took all the transportation in what. I slept in the car, on the stools at the airport and in the youth hotel. Real travel does not care how comfortable it is, but how much it reaps. It depends on how much one has broadened one's horizon, and one's understanding of life is different from that of what. I love traveling, and I love this semi-backpack trip to Thailand.
PS: Finally, it was found that Chiang Mai was close to Myanmar and Phuket was close to Malaysia. It turned out that our route was so tortuous. It is suggested to enter Thailand from Qing Dynasty and leave Thailand from Bangkok or Phuket Island. Such a trip is reasonable.
Final expenses: travelling expenses 1500 + Phuket Island air ticket 775 + Chiang Mai fare 500baht + 650baht
Accommodation totaled 300 RMB
Exchange 1400 RMB before going abroad
Exchange 500 RMB at Phuket Island
Final cost (including visa) 5000
Think about it ~ backpackers ~ ~ ~ ~ ~ ~ ~ ~ ~ ~