Overview
It has been some time since I came back. I finally got rid of my laziness and began to record the dribs and drabs of my trip with my friends ~ ~ At the same time, I also hope it will be helpful to all my relatives.
Choose Chiang Mai to see a different Thai style. The island of Sumi is called heaven in numerous travel guides, but I prefer to call it a ferry that takes you back and forth between worldly, steadfast, fine happiness and transcendent selflessness.
——————————————-
1. Schedule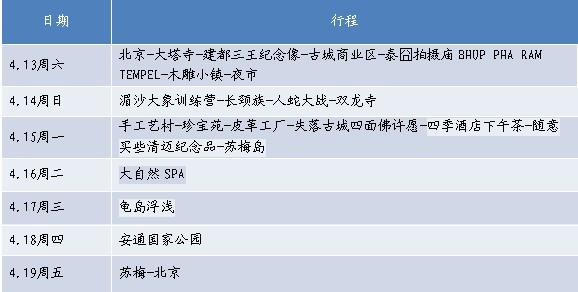 2. Full cost
The total cost of the two of us for 8 days and 6 nights is about 10,000 RMB.
3. Hotel Information
Chiang Mai: Le Meridien Hotel
Hotel Profile: The living environment is clean and tidy, the hotel is very quiet and the dining is convenient. Adhering to the elegant European tradition and integrating contemporary culture, Le Meridien Hotel has built an atmosphere rich in exquisite humanistic atmosphere, profound connotation and exciting atmosphere, so that everyone in it can enjoy every moment of good time and explore wonderful things in ordinary daily life.
[Su Mei: Le Sharang]
Hotel Profile: The hotel is located on the rustic Chawen Beach of Sumi Island. It is a private seaside villa resort, providing a unique relaxing and luxurious space. The name Sarann Hotel refers to a state of mind in which all worries are drifting away. Near the main dining and nightlife area of Sumi Island, the resort is only 20 minutes away from the airport. The resort absorbs beauty, quietness, convenience and comfort.
4. Flight Information
On the first day, Beijing flew directly to Chiang Mai.
Day 3 Chiang Mai-Sumi Island
The seventh day Su Mei-Beijing
5. Tips
Here is a tip to remind my relatives that the trip went smoothly.
Luggage:
Remind relatives to remember to buy some special covers for luggage case, otherwise the boxes will easily be broken or scratched during the check-in, and they will not be able to look directly at them once or twice.
Custom:
1. Thais respect the king and members of the royal family very much and do not talk about or discuss the royal family casually. When members of the royal family attend, it is best to pay attention to the actions of others and follow suit.
2. Thais regard the head as a sacred place, so don't touch other people's heads casually. It is especially taboo for outsiders to touch the heads of children (especially young monks).
3. Thais think their left hands and feet are not clean. The left hand can only be used to take some unclean things. In more formal occasions, both hands should be given. The feet are humble and cannot kick the door or point things with their feet. Never flush the sole of your foot at Buddha. When seated, do not tilt your feet and face the soles of your feet at others. Women's legs must be brought together.
4. Don't make too intimate moves in public, such as hugging and kissing. Naked sunbathing is only allowed on some beaches.
5. Do not wear sunglasses when talking with others. Gestures should be moderate. Do not point your fingers at each other. When you pass in front of others, you must bow. This is especially true when women pass in front of others.
6. Thais hold the Water Lantern Festival on December 15 every year in the Thai calendar. When watching the water lantern, they must pay attention. No matter how delicate and beautiful the water lantern is, they must never pick it up.
7. Take off your shoes when entering the temple. Your clothes should be neat and dignified. Do not wear shorts. Women should avoid touching monks. If they offer their belongings, they can ask men to do it on their behalf or put it directly on the table.
8. Thailand forbids gambling. Even hotel rooms cannot play cards or mahjong.
9. Thais love cleaning very much. Spitting and throwing things everywhere are considered to be very uneducated. Thais also attach great importance to the tidiness of toilets.
Sumi Island Tips:
There are many small travel agencies on Sumi Island. When signing up for a tour or buying tickets to sea, you can choose a travel agency close to the hotel. The hotels or travel agencies they stay in basically have motorcycle rental service, which costs 250-300 Thai baht a day and about 50 Thai baht for oil.
Some sections of Huandao Road in Sumei have relatively large slopes and some roads are not very smooth. Helmets must be worn when driving motorcycles. Vehicles must drive on the left and the speed must be limited to 40km/h.
Photographing the English or Thai signs of the hotel and showing them to the driver will reduce many unnecessary troubles for your travel and the distress caused by the lack of language.
There are no large shopping malls in Sumi Island. They are basically small shops or medium-sized shopping centers. There are also popular 7-11 convenience stores and small Lotus in Thailand, which are open 24 hours a day. Sunscreen, switch sockets, instant noodles and other daily necessities are easy to buy. There are many small souvenir shops downtown or near the beach.
Be sure to wear sunscreen before going out to sea, otherwise those friends who don't often bask in the sun in China will peel, especially their arms.
Diving is a must for visiting Sumi Island and its surrounding areas. Pay attention to safety during diving to avoid injury.
6 Tourism Key Words
Chiang Mai: Quiet and Living Coexist, Leisurely Emotional Appeal, Weekend Night Market Town Story, North Thailand Rose Teresa Teng Literary Tune
Slow the pace of life in ancient cities
Su Mei: Memories of Love Postcard-like Beauty Original Flavor Water Clear Sand White Honeymoon Holy Land Tourists Scarce Not Crowded Quiet Beautiful
Beyond imagination, the natural scenery of Coconut Island, the blue sea water,
——————————————-
Chiang Mai International Airport
Day 1-April 13, 2013, Saturday
I have been thinking about one time, I will take my camera, backpack and my best friend's hand on a trip. Forget the hustle and bustle of the city, forget everything around you, forget the nine to five every day, forget all considerations of gain and loss, just simply go to a place we all like with our best friends, happy life! Even for a short time!
We have targeted Southeast Asia, but we all have a little shadow over Southeast Asia. The crowd is not to mention that tour guides and shops alone are dark. We really want to have a free trip, but Europe and the United States are too expensive and far away, and Maldives is also expensive. After reading a large number of strategies and road books, we finally targeted two places in Thailand, Chiang Mai and Sumi Island.
Chiang Mai is such a fresh place that I have long been fascinated. Let time flow, drink tea slowly, bid farewell to the little Buddha of Thailand and buy some flowery skirts.
As for Sumi Island, it is also recommended to us by a friend who has been there. It is an island that has not been developed by too much tourism. It is the third largest island in Thailand. The accommodation conditions are also good. You can rent a car on the island and walk around. Looking at the photos, it was really good, so I decided with my best friend.
Needless to say, let's start to introduce our itinerary to you. There are still many beautiful pictures … In order not to seize the limelight of the scenery, we chose the photos and kept a low profile. We will not let the two female pig feet go. Let's enjoy the scenery to our heart's content!
We went to Chiang Mai on our first day and enjoyed breakfast on the plane. After several hours of flight to Chiang Mai, I felt that the Thai stewardess was really friendly, the service was really good, and the plane was quite comfortable. With the expectation of the journey, I don't feel tired at all.
After getting off the plane, I entered the customs smoothly and looked at the blue sky in Chiang Mai. I was in a good mood. ! ! Go and buy a local phone card. 249 Thai baht can be used for 7 days. 3G Internet access is very fast. It is enough to send a micro blog WeChat and check a map. Chiang Mai International Airport is located about 4 kilometers southwest of Chiang Mai City and covers an area of 3.05 square kilometers. The two-storey aviation hall covers an area of 16,470 square meters. There are international and domestic passenger arrival halls on the first floor and international passenger departure halls on the second floor. It takes about 15 minutes to get to Chiang Mai City by taxi or hotel shuttle bus from the airport. There is a direct flight from Bangkok to Chiang Mai every day, which takes one hour and costs about 1300 baht. Thai Airlines has flights from Bangkok to towns in northern Thailand such as Chiang Mai, Meihongsong, Nanbang, Sukhothai and Nanfu. In addition, you can also fly from Chiang Mai to the above places at a fare of about 300 baht. The airport departure tax for international flights is 250 Thai baht. The airport departure tax for domestic flights is 30 Thai baht.
The first thing is to go to the hotel to check in. The hotel in Chiang Mai is better than we thought before and is quite satisfactory. The hotel's fresh and comfortable environment.
On-site terrace for cool swimming
Chiang Mai
Quickly complete the check-in and start the trip to Chiang Mai. Chiang Mai has yellow-bodied Batu, three-wheeled rickshaws, doodle cars and taxis. There are not many bus routes, and Chiang Mai City has various bus routes. Doodle car market is usually 10 baht one way, which is much more convenient than buses. Chiang Mai's doodle car charges more than 300 baht a day, and the driver takes tourists to various scenic spots. There are relatively few taxis. There are many bicycle and motorcycle rental shops in Chiang Mai's old city. The daily rent is 30 baht and more than 200 baht respectively. The rental procedures are very simple. Chiang Mai's urban section is flat, and you can travel by bike on your own. You can travel all over Chiang Mai's scenic spots in a day or two.
The streets here are clean and tidy, and the people are hospitable. Perhaps because of their religious beliefs, their pace of work and life are very slow. Their manners make you feel leisurely and relaxed. If you smile at them and say hello, they will also smile back politely.
When playing here, there are people selling freshly squeezed juice and fruits with carts everywhere in the street. Girls can drink freshly squeezed juice instead of white water. Thai mango has endless taste and is on the market in large quantities from March to June. It is different from mango varieties in Central America and the West Indies. Durian comes on the market in May and August, and the most famous variety is golden pillow.
If you can't buy tickets to Chiang Mai's scenic spots because of the large number of people or other reasons, you can book all kinds of tickets, air tickets, car rental, scenic spot tickets, etc. through tour office, and their prices are the same as or may be a little higher than those of the ticket outlets.
Chiang Mai City
Take a doodle bus to Chiang Mai City, which is the capital of the Lannana Dynasty. We are deeply attracted by the eyeful of Thai buildings. The four corners of the city gate, the moat flowing around the city, and the high-footed wooden buildings in northern Thailand are all vivid in our mind.
Data Temple (Chiang Mai)
Chiang Mai is a Buddhist holy place with 38 temples, large and small, and special pilgrimage routes. The temples here are very quiet and deeper than other places. My friends and I both have religious beliefs. We chose the classic Great Pagoda Temple and Shuanglong Temple to visit. First of all, let's talk about the Great Pagoda Temple. Shuanglong Temple will be introduced later. The Great Pagoda Temple is the tallest and most important temple in northern Thailand, where major Buddhist activities are held every year. Here you can turn the tower with lotus flowers in your hand, worship, and pay for incense at will. If you also have religious beliefs, don't miss it!
The bronze statues of the three kings of Lana were built and the memorial statues of the three kings were built. The three kings have a high position in the hearts of the people of northern Thailand. There is a altar under their sculpture, which is filled with yellow flowers and tributes. Many people worship every day.
Chiang Mai Imperial Hotel
For lunch, my friends and I enjoyed a luxurious Chinese and Western buffet at Imperial Hotel. All kinds of strongly recommended food were not only attractive in color but also delicious in taste.
BHUP PHA RAM TEMPEL
It is very interesting to search for small handicrafts in Chiang Mai's commercial district. We bought many of them very cheaply and can bargain.
Lost in Thailand: BHUP PHA RAM TEMPEL
Woodcarving Town
The wood carving town is located 25 kilometers away from the suburb of Chiang Mai. There are large and small family handicraft workshops. The whole village is engaged in wood carving and can buy exquisite wood carvings at low prices, ranging from bookmarks to furniture, doors and windows. There are restaurants, hotels and even shipping companies to the world.
Chiang Mai Night Market
There are all kinds of clothes, food and drink in the night market. It's really a pity that you don't come to the night market when you come to Chiang Mai. You can bargain here. It's good and cheap. It's necessary to find a few handicrafts. Here are three famous hopes that can help you.
1. The "night bazzar" on ChangKhan Road to the east of the ancient city every night;
Night Bazaar is located on Chang Klang Rd. Near the glacier to the east of Chiang Mai's ancient city. There are various handicrafts, tourist souvenirs, massage shops, bars and local delicacies in the market. There are many high-end hotels such as Shangri-La and Amy around. Opening hours: around 17: 00-22: 00 daily.
2. The "Saterday Market" on WualaiRoad south of Chiang Mai Gate south of the ancient city on Saturday night; Saturday night market starts from the other side of the moat of Chiang Mai Gate at the south gate of the ancient city and extends obliquely along Wualai Road. Silverware used to be mainly sold here. Now the commodities are similar to those of Sunday night markets, but the scale is smaller than that of Sunday night markets and there are relatively few people. However, in the past two years, it has also been booming rapidly. Opening hours: approximately 16: 00-23: 00.
3. The famous "SundayMarket" around Tapeimen on Sunday night. It starts at the east gate of the ancient city (Tapeimen) and ends in front of Paxing Temple. The main Taoist length is about 1.1 kilometers. There are also stalls at several forks. Among them, there is a free singing and dancing performance at the end of the fork in front of Chedilong Temple. The night market mainly sells handicrafts in northern Thailand, which are sold at a lower price due to the market's price limit policy. There are also various local specialties in the market, as well as * *. Opening hours: approximately 16: 00-23: 00.
Night Market: Hand-woven Key Chain, Mobile Phone Bag, etc.
Night Market: Boys who sing in the middle of the street to make money are not very old. Walking in Chiang Mai's night market, there are vendors selling things on both sides and singers in the middle.
Night market: delicious roasted sausage,,, ha. There are also many roasted seafood here, such as oysters, round shellfish, scallops, shrimps, green mouth, etc. The chubby oyster meat and shellfish slowly overflow with delicious juice under the heat of the fire, accompanied by hissing barbecue sound.
Meisha Elephant Training Camp
Day 2-April 14, 2013, Sunday
In Meisha Elephant Training Camp, we especially experienced riding elephants, crossing the jungle and wading over mountains and rivers, which we often see on TV. We can ride here for 40 minutes and other places for only more than 10 minutes. Here, we remind you to remember to take umbrellas, otherwise it will be very sunny. If you think there is no charge for this, it is too naive, SAO Nian, ha ha! Elephant riding is probably THB 600/person
There are elephants with artistic temperament in the training camp, painting ing
It is said that the longer the neck, the higher the status of the women of the long neck race, which can only be seen in Meihongshun Town. In fact, their necks are no different from those of normal people, but their collarbones and shoulder bones sink due to the oppression of copper rings. Envy their long necks at the same time, my best friend and I are also very sigh with emotion, because they only get married, have children and die before taking off the copper ring.
This is the Shuanglong Temple mentioned earlier. It is located on the scenic Sutie Mountain near Chiang Mai City. It is the most famous Buddhist holy land in northern Thailand. The temple is full of gold and incense. It can also overlook Chiang Mai City. We took some panoramic photos here, and the effect was not bad.
You can't go to Shuanglong Temple with short skirts and shorts. Borrow a piece of cloth at the door 10ba. Visual inspection shows that the cloth is not too clean. Girls who are obsessed with cleanliness buy one for themselves and put it in their bags. They can use it next.
The Kongming lantern we bought at the roadside store has a special emotional appeal when we put Kongming lantern on the table at night to pray for blessings. It is still different to put Kongming lantern in a foreign country. I wonder if Thailand, which has many temples, will make a wish more effective.
The restaurant's unique singing and dancing performance
Handicraft village
Day 3-April 15, 2013, Monday
This is Thailand's largest handicraft village. The craftsmen here continue the unique skills handed down from generation to generation and create all kinds of Thai silk, wood carving, porcelain, lacquer ware and paper umbrellas. The handicrafts are dazzling and can be bought back to send to relatives and friends. If you want to be upscale, you can also go to Treasure Garden Jewelry. Chiang Mai's history is also a distribution center for Thai and Burmese jewelry trading. The jewelry here is genuine, of good quality and low price, and there may be some exciting styles. Ha ha
At lunch time, we had a court buffet. Girls who like to go through plays want to feel that the royal family used to eat what's relatives. It is a good choice to come here. There are many kinds.
It is said that it is the most spiritual to worship the four-sided Buddha from 6 to 7 pm… The procedure: worship starts from the front, carries candles to worship, turns left, then turns from right to back, turns around, presents a string of flowers on each side, and carries incense on 3 wick (the first wick is to worship Buddha, the second wick is to worship Buddha sutra, and the third wick is to worship monks). Then go to the side and scoop a small cup of holy water and pat it on your forehead, face and arms. Four-sided Buddhas should make the same wish ~ ~ Our wish has not yet come true, goo!
Afternoon tea at the Four Seasons Hotel is very famous in the local area and must be enjoyed when conditions permit. Small bourgeoisie, relax. It is necessary to have two close-ups.
Souvenirs
Before leaving, buy some souvenirs that cannot be bought in the night market at will. When you have time, you can go to the sweet house local product store, the juniper fragrant wood house. The juniper products sold by the exclusive agent here have health care effects. This store is well-known in the local area. Personally, I think it is most appropriate to give them to the elders. However, we didn't have enough time, so we bought some small handicrafts casually, which was a pity. The following figure shows a soap box made of coconut shells.
In the evening, I will go to Sumei and not be willing to say goodbye to Chiang Mai, a city with faith and enthusiasm……..
This small town is quiet and elegant. The air is clean and fresh. Breathing is like kissing a lover's cheek. Liking Chiang Mai has nothing to do with the stories of Teresa Teng and Lana Dynasties. Wandering in the ancient city feels simple and leisurely. What you enjoy when you stand in the Great Buddha Pagoda Temple in the morning or dusk is the peace and vicissitudes of life. Perhaps you may get nothing in the bustling night market, but you cannot but be moved by enthusiastic and simple merchants. If you are a child who loves animals, then in Chiang Mai you can deeply realize that what is kind and what is harmonious! Farewell to it is like farewell to an old friend, without too many words, just secretly nostalgic in my heart. This rose in northern Thailand, a good dream!
Sumei Airport
At the moment our small plane landed, all the guests in the cabin smiled and whispered. I opened my sleepy eyes and everything in front of me made me feel like I had passed away. Alighting from the coconut forest resort buildings on both sides of the plane makes people feel relaxed and happy. It seems that people forget to rush about the hardship of exhaustion. White sand. Beach. Coconut trees. Everyone's smiling brow and canthus are cheering: Su Mei is here! In order for relatives to see clearly, it was the Sumi Airport, which was filmed later during the day, with one word: Beauty!
There are two exit signs at the airport. Pay attention to the sign and don't make mistakes. You can ask the local people how to get to the area you want to go. This photo was also taken during the day.
There is a large golden Buddha statue built on a high platform near the tropical airport on Sumi Island. The Buddha faces the green hill and faces the boundless sea. It can be seen first from any angle near Sumi Island. In addition to the Golden Buddha, there are also sculpture groups with the theme of statues and fairy tales in Paya Temple. Tickets are free.
No matter how excited you are, don't forget to check into the hotel. Sumi Island has more than a dozen beaches, large and small. Each beach has many hotels for tourists to choose from. The most important thing is to choose a suitable beach. The nightlife of the most popular beaches of HAT CHAWENG and HAT LAMA may be to your liking, while the northern, western and southern coasts give you a quieter beach vacation experience. In Sumi Island, where accommodation prices are increasing, it is difficult to live in cheap backpacking inns. If you want to spend luxurious holidays, Sumi Island does not lack top resorts. Compared with the expensive accommodation price at Chawen Beach, the accommodation price at Lamay Beach will be more yuan. Among the northern beaches, Choeng Mon has world-class luxury resorts, while Meinan and Bang Po beaches can find suitable accommodation for backpackers. The accommodation on the western beach is quite cheap, while the southern beach is quiet and expensive.
Sumi Island
Day 4-April 16, 2013, Tuesday
Here, one must sleep until one wakes up naturally. Without the trouble of tour groups, one must wake up naturally. Sumi Island, located in the Gulf of Thailand, is the third largest island in the country and the largest of more than 80 tropical islands. Sumi Island has many beaches, clear water and white sand everywhere, and charming scenery. When you wake up, you can enjoy sunbathing lazily, listening to birds singing and enjoying the breeze while reading and drinking cool drinks on your balcony. Sumi Island is a suitable place for vacation. If you can't bring love, at least you must have love in your heart, so as not to waste this happy beauty.
It is also good to swim by the swimming pool, even the towels are so delicately arranged.
Pool guy. Oh,,, anthomaniac. Hey
After making a full-body spa, the largest spa store in Sumei can only accommodate 16 people, and all of them must be booked in advance. If you live in a five-star hotel, you can also ask the hotel for help, and if you are an ordinary hotel, you can also ask the local travel agency for help. These shops close at 10 o'clock in the evening. When they enter the shop, they will list the names and prices. Different from the domestic ones, they will not sell all kinds of hidden consumption. They are all one-time consumption. Su Mei Nature SPA2 hours (including fare back and forth) (full set) 2500 baht/person, Su Mei Nature SPA2.5 hours (including fare back and forth) contain 30 points of essential oil massage (full set) 2800 baht/person. In the realm of selflessness, should life be so beautiful? Smile! However, I would like to remind girls with sensitive skin that although they say essential oil is pure plant natural, I am not particularly recommended. There is also sauna, also must according to their physical condition and do better.
There are many car rental companies on Sumi Island. Apart from large international car rental companies, there are also local car rental companies, which are relatively cheap. However, local car rental companies are only allowed to travel on the island. If they take a bus ferry from Sumi Island to Surat Thani, they will be refused by the ferry companies. Therefore, it is suggested to choose large international car rental companies, such as Budget, Hertz, Avis, etc.
However, it should be noted that the local car rental company in Sumi Island needs to withhold the customer's passport until the car is returned. Must have a valid Chinese passport + official English or Thai translation; It is better to have a Chinese driver's license certified by the Thai Embassy and notarized in English or Thai. Duration: Within three months (stipulated by most insurance companies). The car we rent is about 2,000 Thai baht a day. It takes 40-60 minutes to take a tour of Sumi Island by taking the roundabout highway. If you are afraid of trouble, you can also hire an overseas driver.
The friendly people on both sides of the street will give you a more brilliant smile when you say hello to them and smile.
In the evening, Su Mei, a different kind of laziness
There are only three live seafood shops in Su Mei, which are delicious and pure.
Are you salivating? It's delicious and juicy.
Day 5-April 17, 2013, Wednesday
Turtle Island, a turtle-like island, is Thailand's most famous diving resort. Due to the clear sea water and rich underwater landscape, the markets around Tao Island are crowded with divers equipped with various professional equipment. Tao Island also has diving training classes suitable for students of different levels. Of course, diving takes a certain period of time to obtain qualification certificates. The price of obtaining PADI diving licenses at all levels is cheaper than elsewhere. If you only play casually, simple snorkeling with swimming goggles will also be quite interesting. It is worth noting that coral rocks under the sea are easy to scratch hands and feet and must be avoided. In addition, in order to maintain the ecological environment, the local government does not allow sea creatures such as starfish and shells to be caught from the sea without permission. Friends who are interested in these things must pay attention to them. Tao Dao speedboat swims about 1300 baht a day, including lunch. You can also take bread and throw it to the fish. It is very interesting to play with the tide and make fish. Crowds of fish surround us.
This is like an uncut diamond in the rough, bringing people the purest happiness. The water in Siam Bay is deep and clear, warm, low in salt, and has many kinds of fish, which seems to challenge anglers. Sharks, rays and barracuda are the most commonly caught in Siam Bay. It is also common to catch sailfish known as "aristocrats among fish". During the period from Christmas to New Year, the probability is higher, but the sailfish here are much smaller than those in the Andaman Sea.
Whose baby is this? It's so cute. Ha ha
You can talk to them at will and take photos of them. Everyone laughs so beautifully, so beautifully, so beautifully,
Antong National Marine Park
Day 6-April 18, 2013, Thursday
Antong National Ocean Park is made up of more than 40 small islands. You can enjoy the colorful coloured glaze sea, which is accompanied by flying fish. It is very beautiful.
There are many places to rent sailing boats, rafts and water sleds. You can experience all kinds of water sports according to your personal preferences. If there are more people in the same trade, it will be more lively. Sumi Island holds a famous international sailing competition every year, attracting sailing enthusiasts from all over the world to compete every year.
You can sit down and take a nap and say sweet words to your favorite person.
Dining at the national headquarters can climb the top to watch the wonders, which is the favorite of photography lovers! But be sure to pay attention to the ropes you need to climb to the top of the mountain.
Summary
Day 7-April 19, 2013, Friday
Early in the morning, I woke up in the sound of waves and birds. The morning dew outside the door made my heart feel cool. After grooming, I walked to the beach. To coconut trees. Blue sea and blue sky. Do the final tour, don't forget to pick up the camera and leave eternal memories.
"At the moment, the wind is still blowing. I think of hello's gentle days with you. I am not without a trace. I just think about how you are too strong to dream of you all the time." Charming islands always give people too many hallucinations. When I left, I found myself deeply in love with this place that can bring people laziness, purity and happiness.
After checking out at noon, we still had some time and went to the rubber specialty store to buy some souvenirs. Happy times are always short, and the first free trip also left many regrets. For example, Chiang Mai did not have enough shopping, and Sumi Island did not have enough seafood to eat. All right ~ We promised that we would come again next time. Let's keep the regrets until then and make up for them one by one.
Pattaya's colorful lights, Bangkok's bustling bustle, or Phuket's sky and sea, music and laughter are not as elegant as it is, its carefree, and its love for Chiang Mai-because it has many small town stories. Su Mei, on the other hand, has the craziest full moon PARTY on the most amorous beach, the best Thai SPA beside the most colorful flowers, and the most beautiful sunset and sunset glow under the bluest sky. She loves Su Mei-only for the fragrance and purity.