Bright White Temple in Chiang Lai-Ghost of Black House
The heart drifts with dreams-say go and travel.
In the ancient city of Chiang Mai, I reported a group to go to the White Temple and Black House in Chiang Rai. Because renting a motorcycle can only take one person, while we are three people, so we are relieved with the group. A person 700 Taizhu (140 yuan RMB) is in charge of a lunch, and the price is also cut down. Tell them the hotel address and the station wagon will pick you up directly at the hotel the next morning.
Starting at 7: 00 a.m. on February 5, it is about 3 hours' drive from Chiang Mai to Chiang Rai. Drive for more than an hour to visit a hot spring first. The small car in the figure below is our station wagon.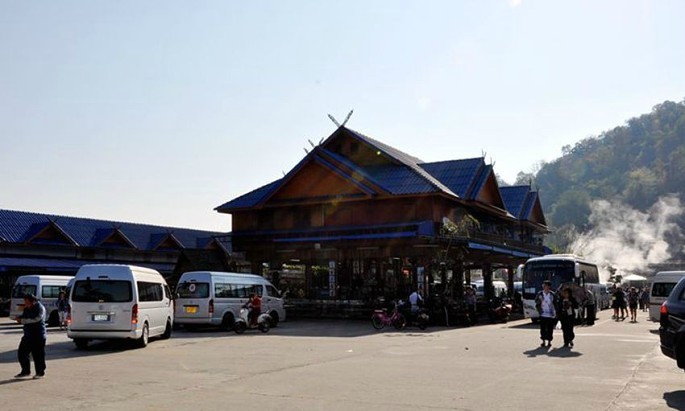 I saw two hot spring eyes in this place, and the others were all houses selling souvenirs. They are all newly built and not very old. There was no forced consumption, the tour guide only told everyone to move freely after returning to the bus.
In fact, the water from the hot spring passes through the cement tank, and no one cares how long you soak it. Figure below
下图是游客在温泉眼中煮鸡蛋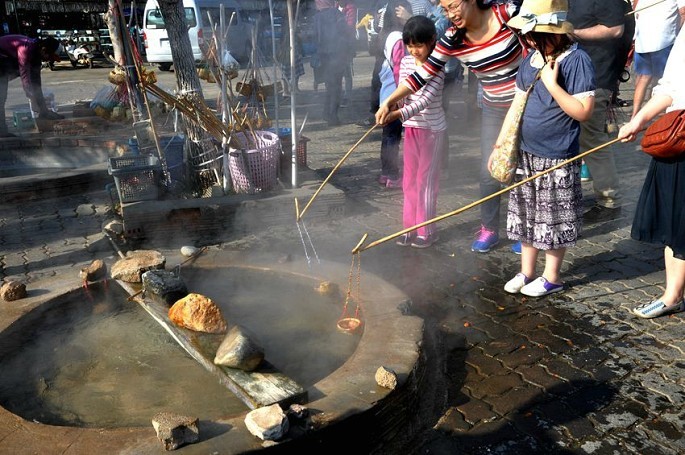 其实那就是一个带孩子玩的开心项目。你想开水都要煮个七、八分钟才能熟的鸡蛋。怎么可能在这样温度的水中煮几分钟鸡蛋就能熟?开心就好。
In fact, these eggs are cooked in advance and sold by a small seller of 20 Thai pearls and a small blue. Thailand's consumption is really inexpensive.
The following figure shows the elder sister selling eggs.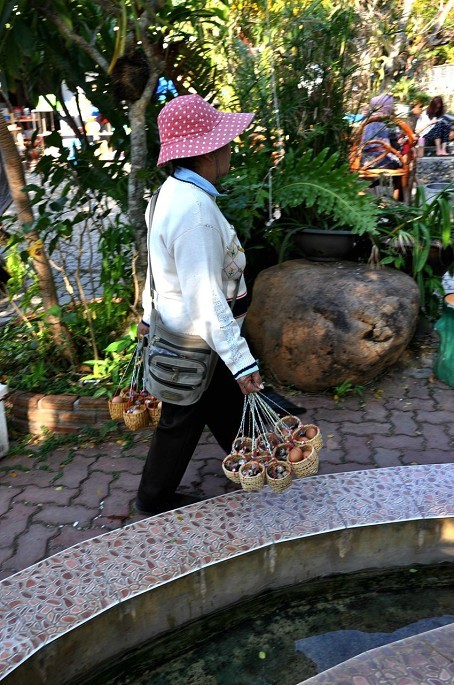 Continue to set out and turn off the road in about an hour. Everyone saw the White Temple at once. First, let's talk about my first feeling when I saw the White Temple. Vision is strongly impacted. When I saw such a silver-clad, glittering and translucent temple like a palace, I felt beautiful! Look at the following photo I took, does it feel too beautiful? I didn't say photography.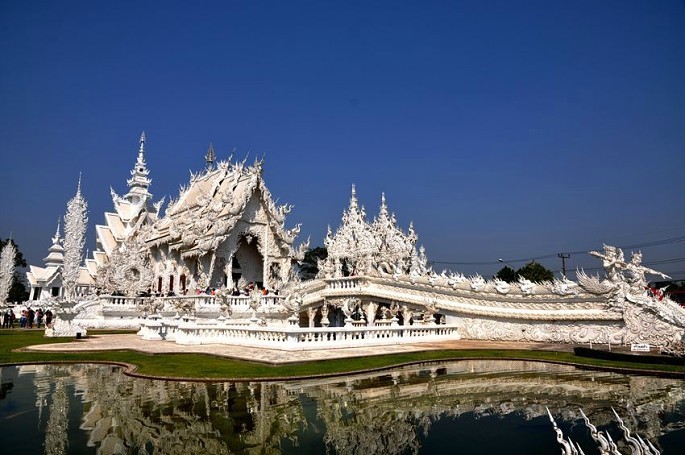 Look at a closer photo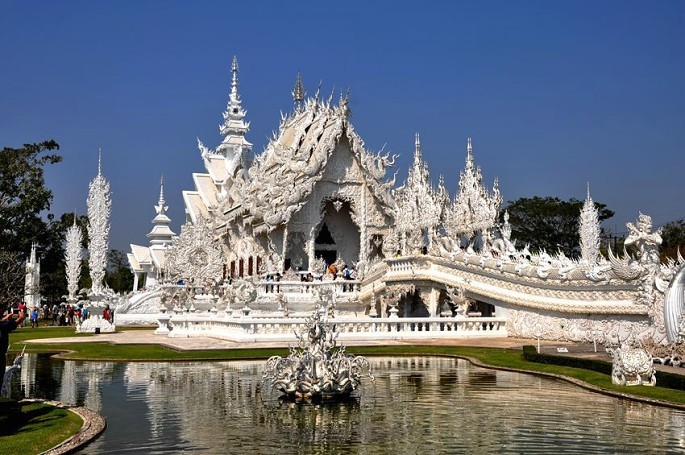 是不是真的很美呀?应该说很多人是知道了白庙才知道清莱或者到达清莱的。可以这样说:清莱的白庙,反过来说白庙的清莱。
Briefly talk about the White Temple, and then look at the photos I took. The White Temple was designed and built by CharlermchaiKositpipat, a well-known Thai artist (he is a painter). The exterior of this modern Buddhist temple is decorated with fragments of mirrors, reflecting dazzling silver light in the sun. Most temples in Thailand are resplendent and glittering. The White Temple is unique and unique for its pure white.
It has been 19 years since the White Temple, but it has never charged tourists a penny. Don't say to continue construction in 19 years, that is, the cost of maintenance and sanitation is a big expense. It can be seen that Mr. Chalinchai is not a person that can be described by big local tyrants.
This has long been charged in our China. In our China, a beach or a natural stone can be used to encircle the cash register!
Keep looking at the photos. The following picture shows the bridge entering the White Temple.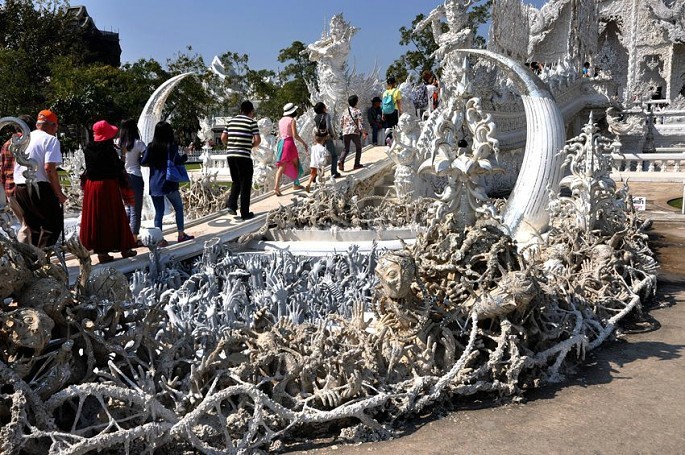 Beside the bridge are sculptures of many hands, representing people who go to hell. This should be the explanation. Figure below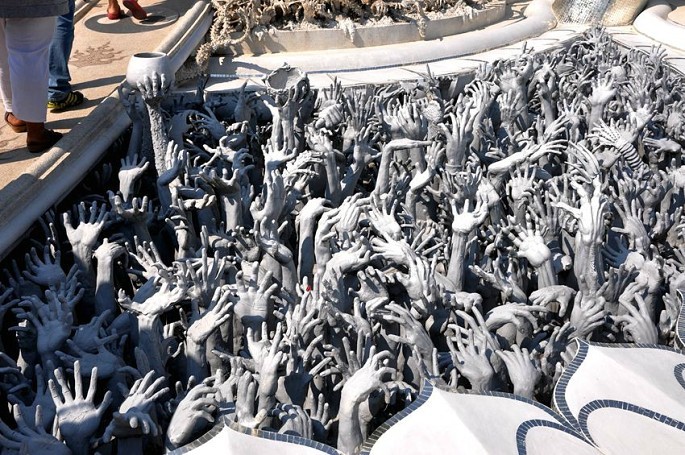 桥上有两尊雕塑,我也不知道叫什么名字。必定我不可能什么都知道。感觉好像应该是代表着搞审查的神像。就是有罪恶的人不让进入天堂的意思吧,起码是我这样理解啊。
The following image is saying: You drop, have sin drop, can't enter drop.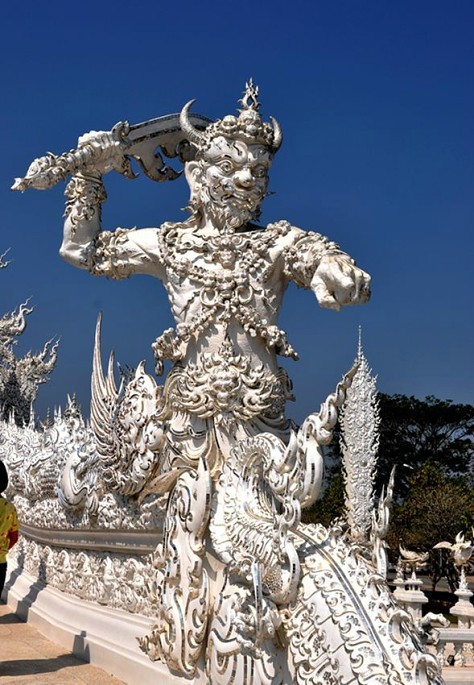 The following figure seems to be saying: OK, let's be merciful and you drop into hell.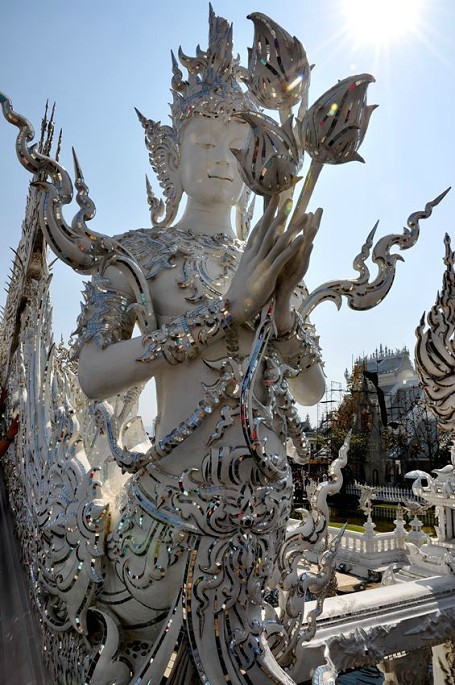 Have you heard Taiwanese singer Zheng Zhihua's "Sailor"? There is a sentence in it: "Saying insincere words and wearing a mask of hypocrisy". The reality of society is like lyrics. Many people say heaven is beautiful. But when you go to pay New Year's greetings to those who say heaven is beautiful, if you really say: I wish anyone a happy New Year and the whole family to go to heaven, the best place as soon as possible. I think you will be beaten. What do you mean by saying that it is very beautiful and you don't want to go?
My real idea is: the last place I want to go is a beautiful paradise that many people say! My favorite thing is money that many people regard as dirt! I know I am a poor smoker.
No more gossip. Before entering the main hall, the following figure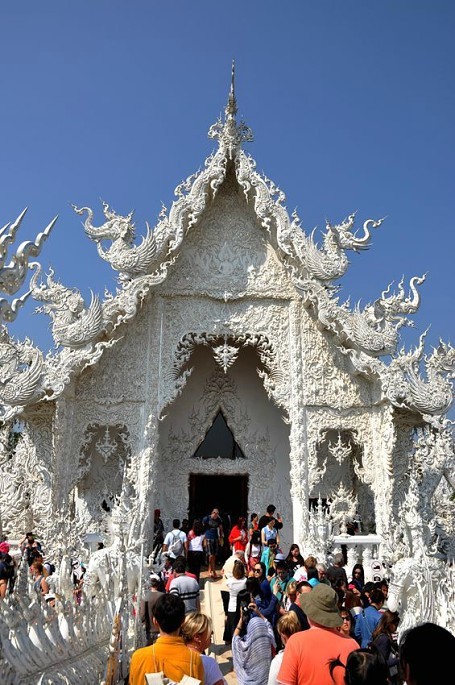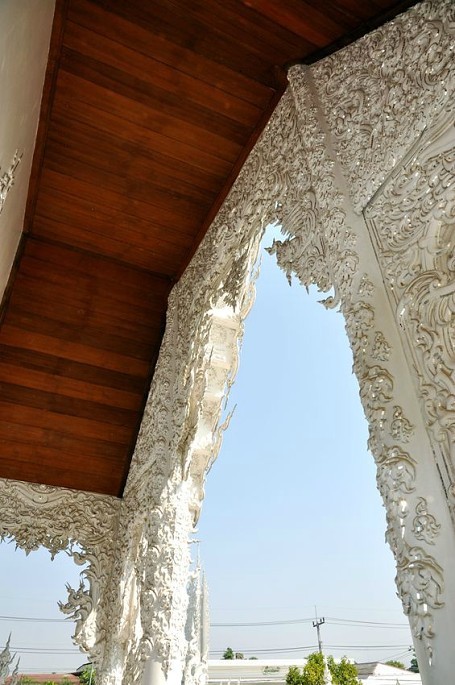 Photographs are not allowed in the main hall. In fact, there is a huge Buddha mural hand-painted by Khositphiphat. There were also painters on the scene who continued to process the auxiliary paintings beside the murals. No photos, so there are no photos.
The following picture shows coming out of another door.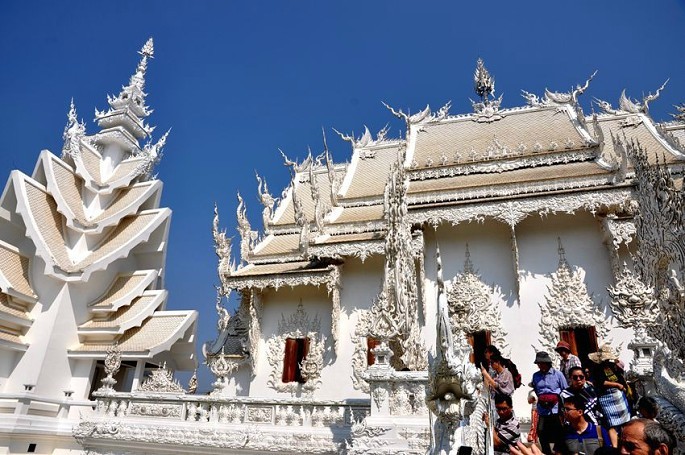 然后就进入院子,我也分不清楚东南西北,就接着看图片吧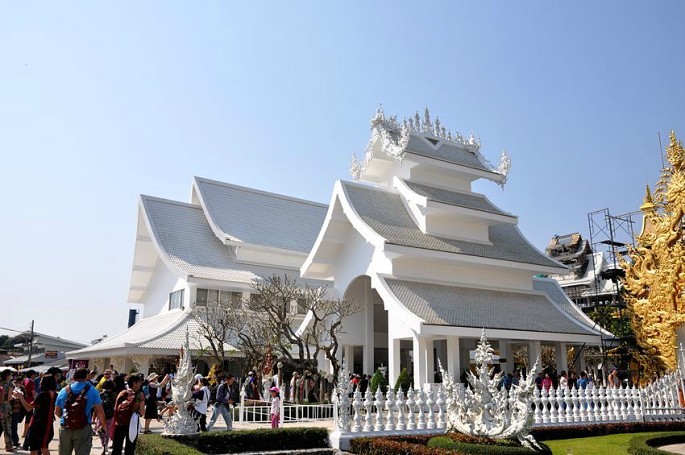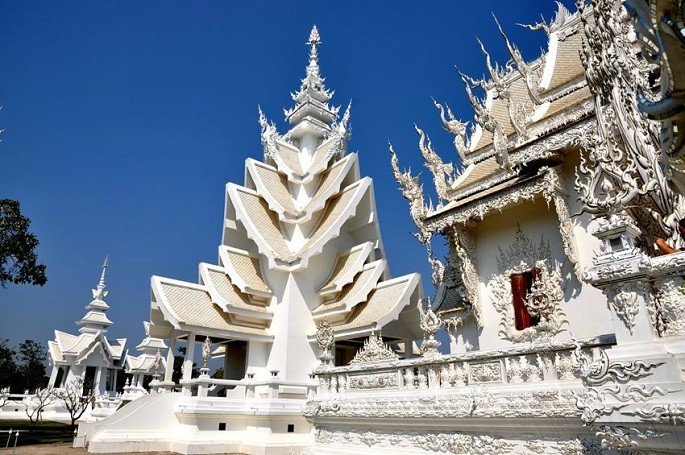 下图是窗户,山形窗边则装饰着Nagas(多头蛇和幽冥世界之神祇)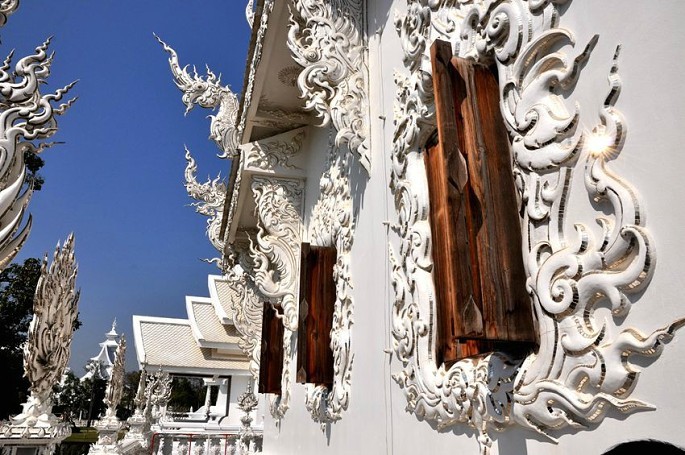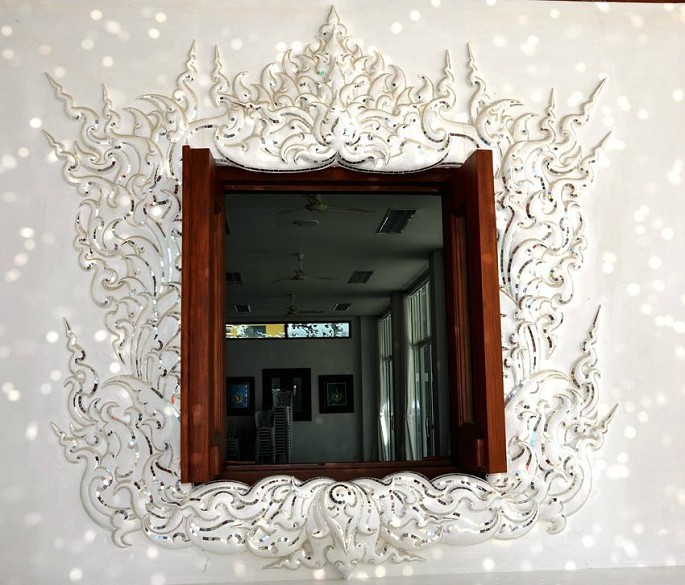 不过寺庙里也不是所有的东西都是白色的,下图这个我也不知道代表着什么。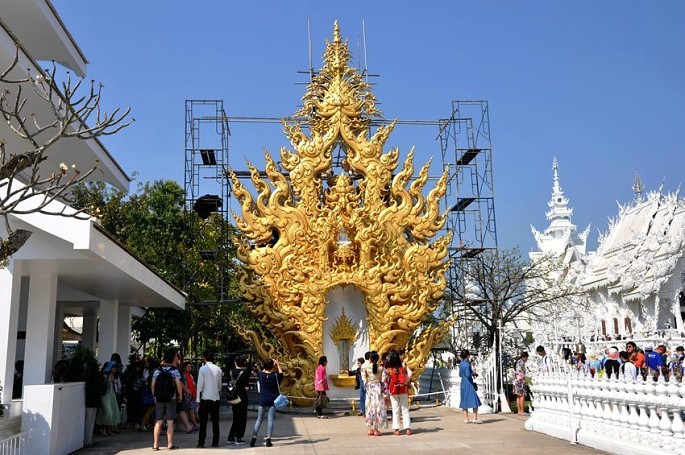 在它周边的建筑也很漂亮下图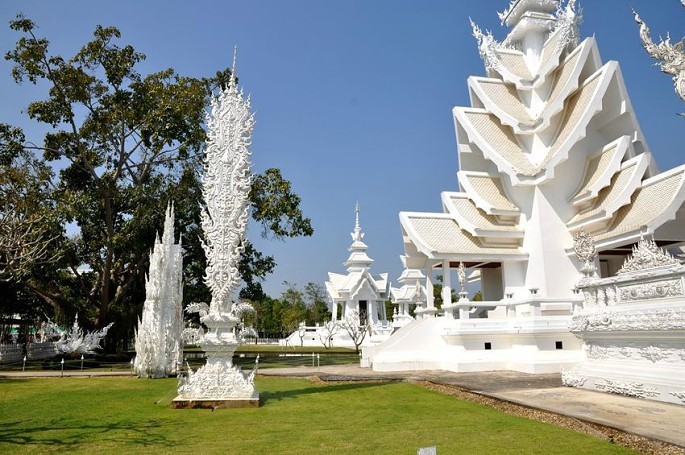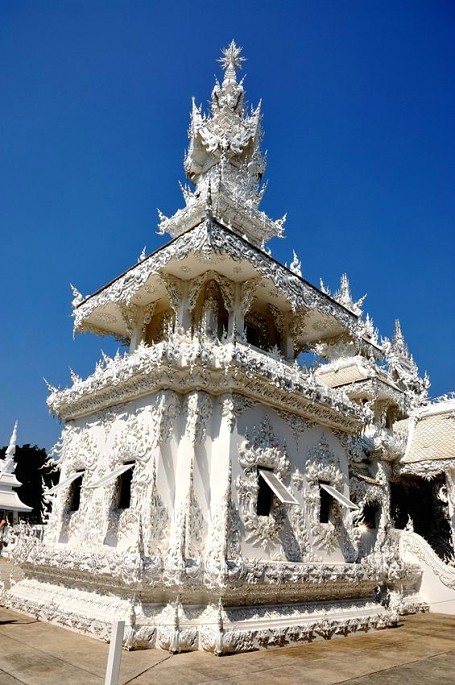 The following figure shows a part of the corridor in the courtyard.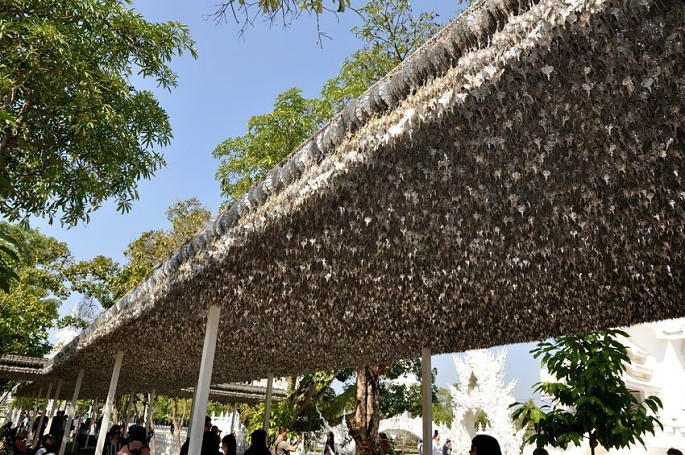 现在我们来看看在车上导游着重告诉大家的:"应该是世界上被拍照次数最多的TOILET厕所"。主人的设计也是独具匠心。一定要把只是卫生间的东西打造出一件艺术品。他成功了。下图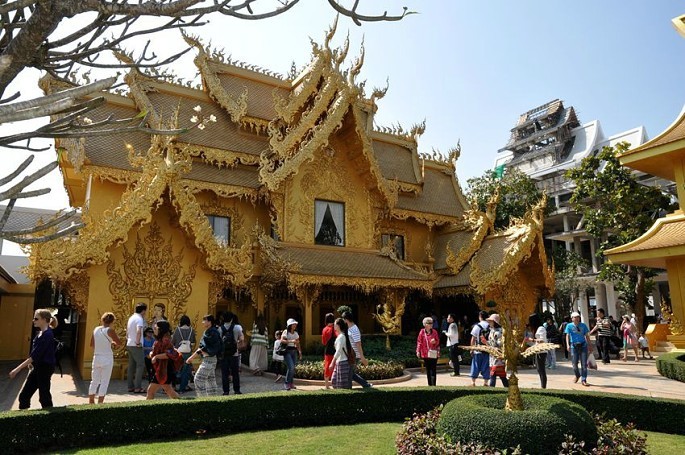 每个到过白庙的人几乎都会在这里拍照或留影,照的就是一件艺术品。看完这精美的建筑,无形中就给人一种欲望感,想进去看看里面是什么样子的。下图是里边,当然拍的是男士这边的啊。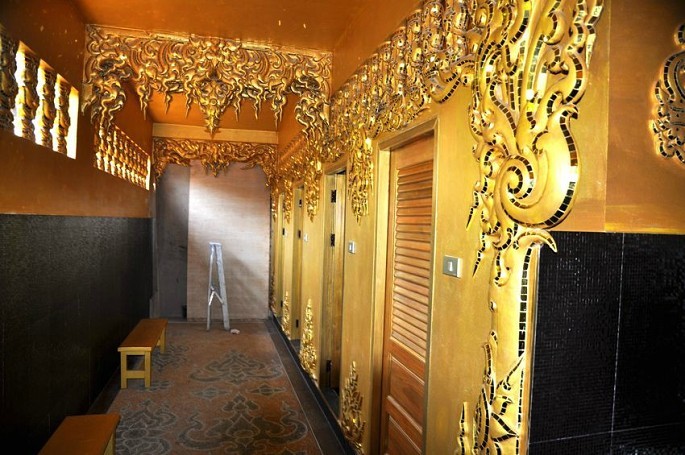 The lawn in front of the toilet in the following figure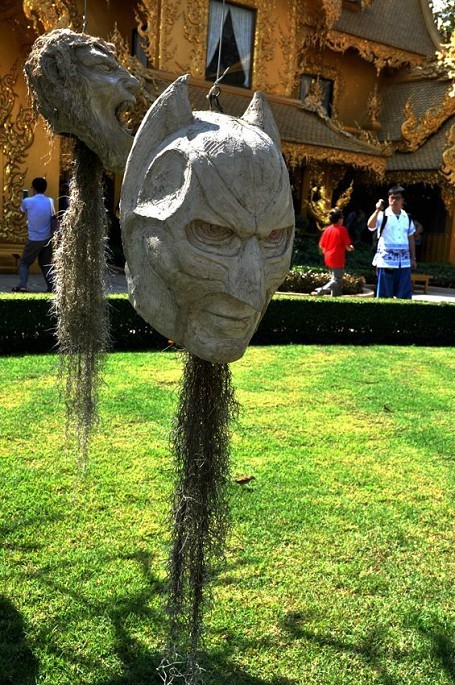 The following picture of White Temple taken from another angle after coming out,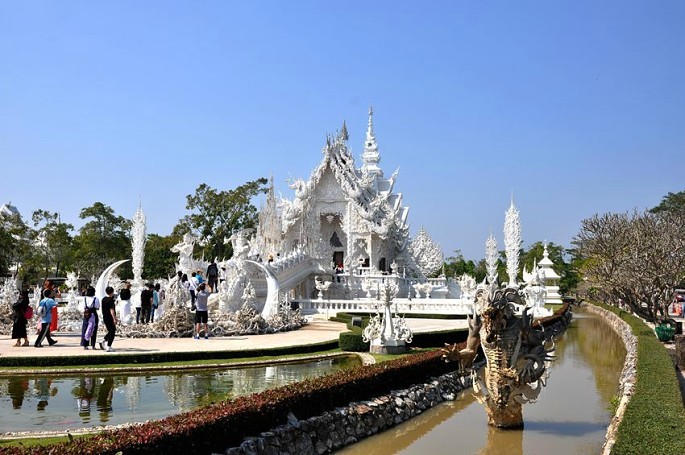 出来后到马路对面的餐厅去吃饭,就和我们大商场里的餐厅一样,有20几个摊位在经营,自己喜欢那家的就点那家的。用餐的基本全是我们自己的同胞。拥挤、插队、占座位。整个一个乱哄哄。非常的乱哄哄!
After dinner, continue to set off for the dark room. Turn off the highway in about an hour. Enter an alley. I saw the black house. There are no tickets and no charges here. Figure below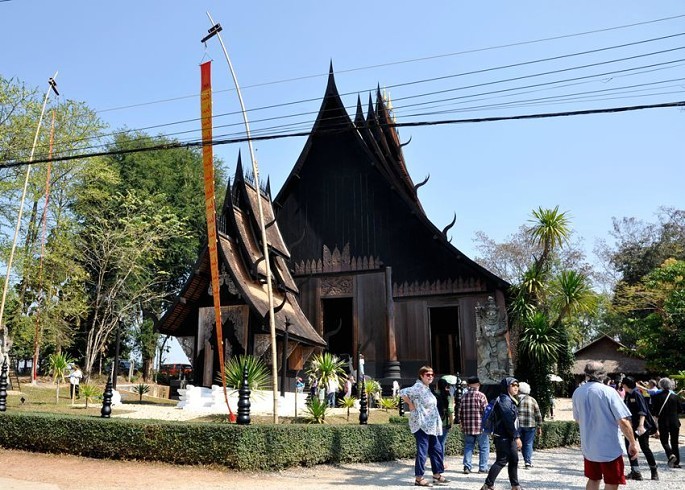 导游一再的纠正,叫黑屋,不叫黑庙。因为黑屋不是庙,并没有供奉着佛像。是由泰国著名艺术家ThawanDuchanee花费了36年时间设计并建造成的。更多人称呼这里为"黑屋博物馆"。而他的画作在当地相当著名且价值不菲。导游告诉我们黑屋的主人三年前已经过世了。他和白庙的主人是非常好的朋友。
The exterior of this black house is built of teak. They are all in black and dark brown tone. The tour guide told us that the house was painted with colored oil instead of black paint. There are many specimens of animals in the house. There is no entrance guard and you can enter or leave at will. It's where he keeps his antiques. It is also his private museum.
Follow my camera. The following figure shows the main house.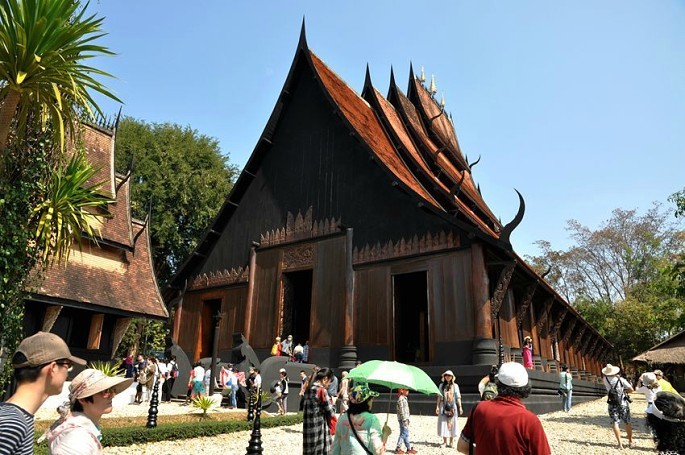 The following figure enters the main hall of the black house.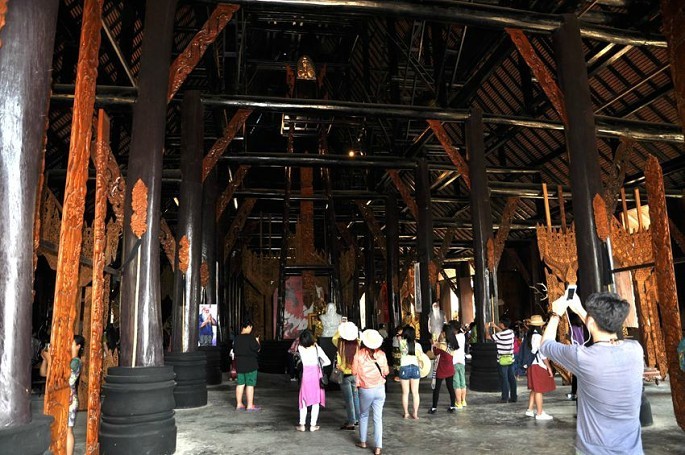 白庙和黑屋的主人他们不愧为成功的艺术家。真的是绝顶的聪明。他们建造的白庙和黑屋给世人留下了艺术瑰宝的同时也是给自己建造了永久的丰碑。他们会比"红岩"小说里的英雄人物"江姐"能让更多人知道。没有白庙和黑屋就不会有那么多人来清莱。
The following figure shows the statue of the black owner in the main hall.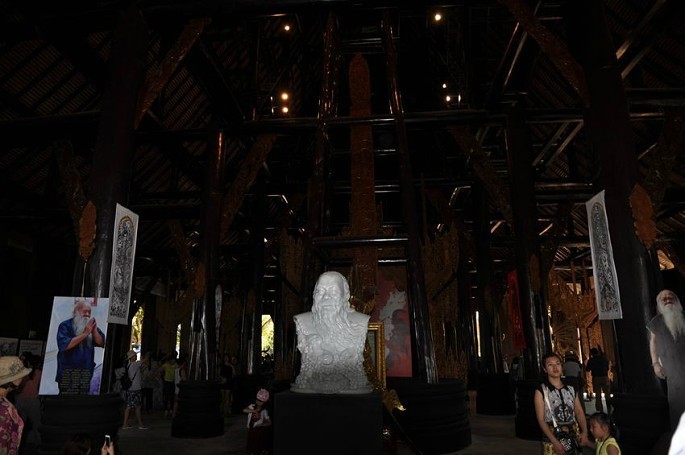 Below is the building in the courtyard behind the main hall.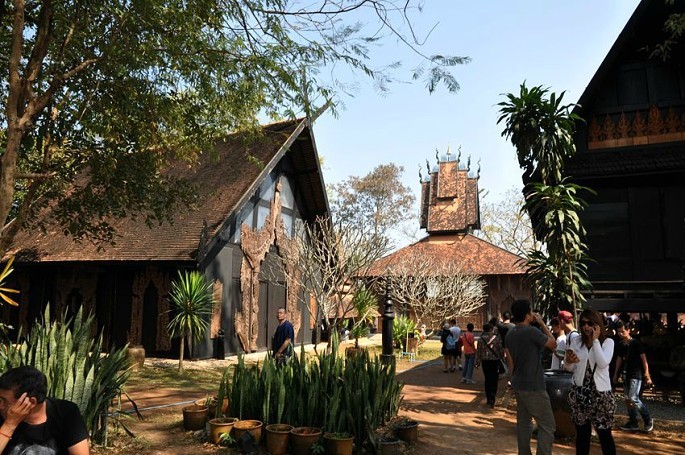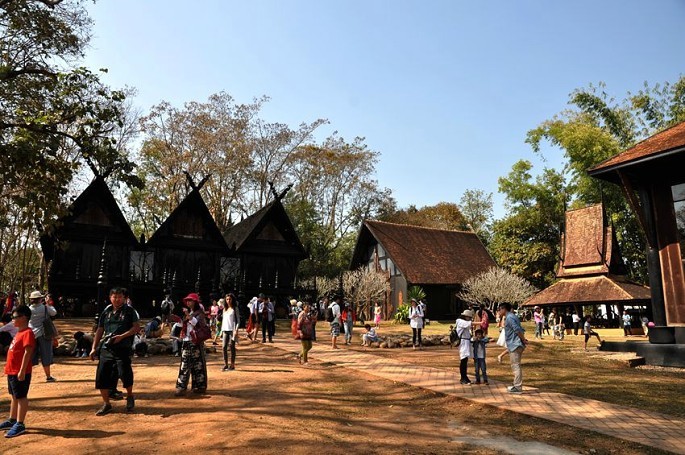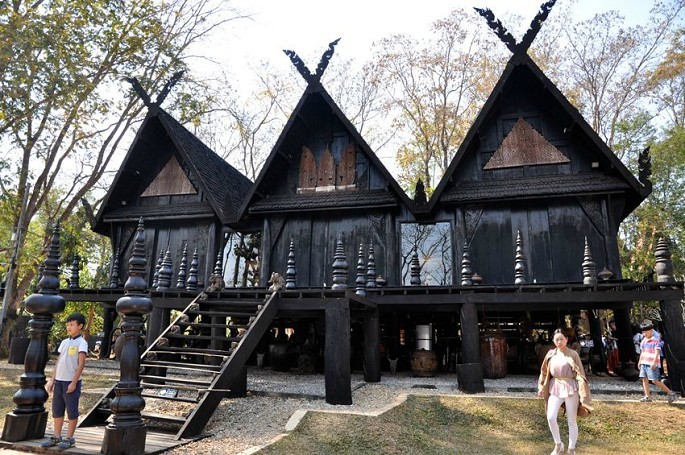 Next to these buildings is a thatched shed building with several rooms. Figure below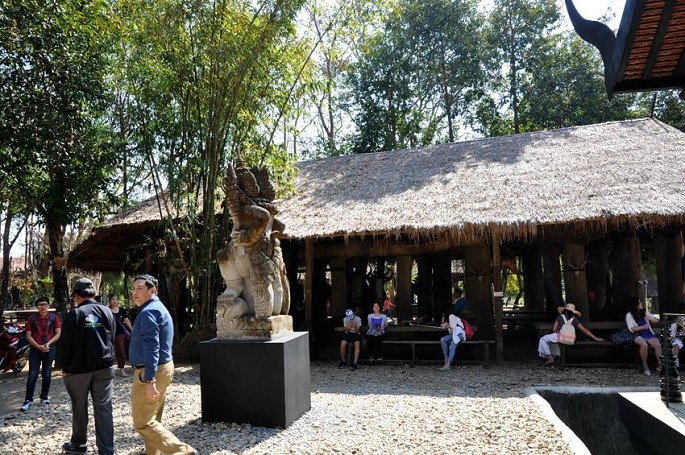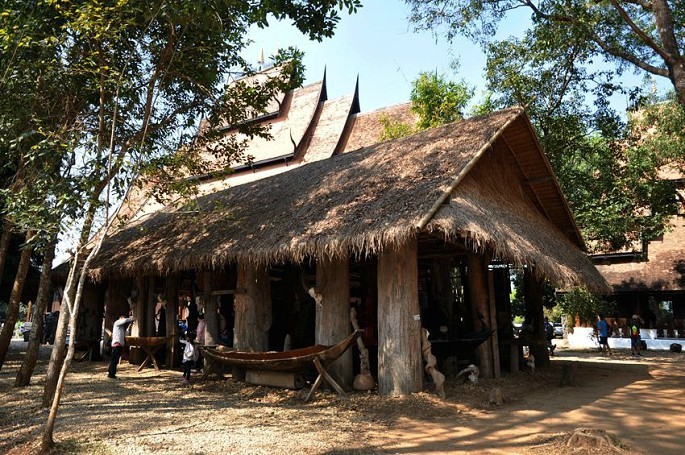 There are complete elephant bones, air-dried snake specimens, a large number of cow skulls and shells, and it is said that some items are even cultural relics collected for thousands of years. These collectibles are not simply placed, but are recreated and re-expressed with the eyes and techniques of artists' creation. Figure below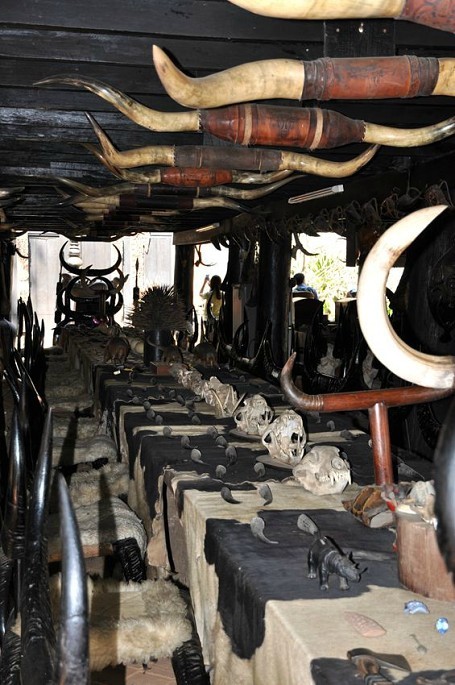 Of course, there are also a large number of killing tools used by human beings. Figure below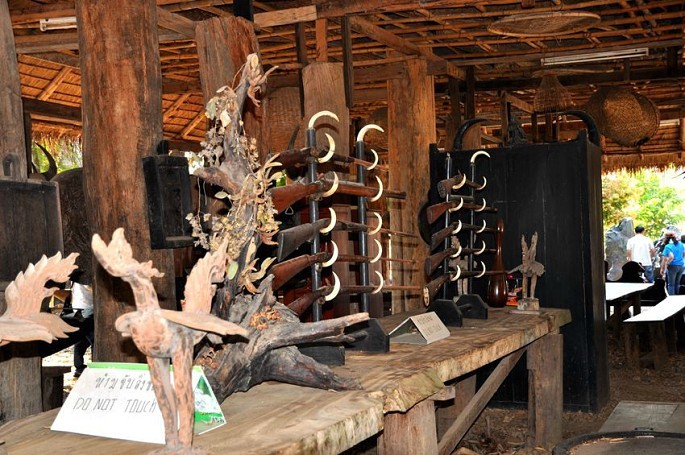 黑屋和白庙基本就是这个样子,文章写长了没有人愿意看,就到这里吧。
Another one was taken by the writer of this article beside the black house. Travel is very casual, so wear slippers.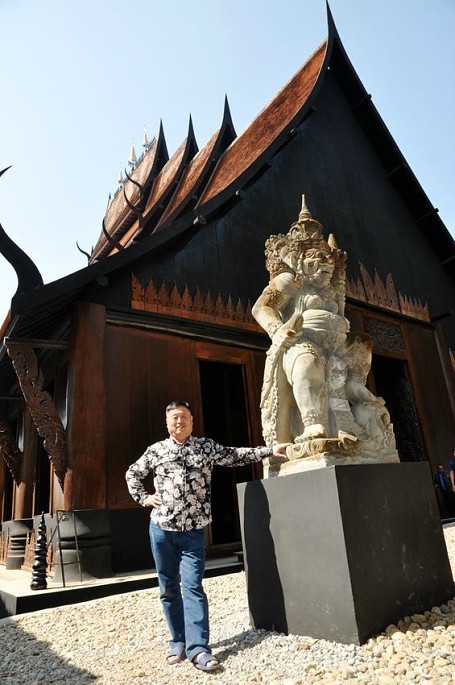 Thank you for enjoying your travel notes. You can also add my WeChat: Ceska4938 if you like to travel. Have a chance to start together. I have traveled to 18 countries, and my wish is to travel around the world for a week as long as I don't die! !
Please correct me if there are typos and sick sentences, and I will revise them. Thank you
30/04/2016
From: Christchurch NZ