Chiang Mai is located in a plateau basin with an altitude of 300 meters, surrounded by mountains, with cool climate, charming scenery, numerous historic sites, prosperous commerce and developed tourism. It is a famous summer resort in Southeast Asia. Chiang Mai is known all over the world as "Beauty and Rose". It is the political, economic, cultural and educational center in northern Thailand, the second largest city in Thailand, the largest city in northern Thailand and the capital of Chiang Mai. Since 1296, it has been the capital of Lana Dynasty (or "Nanzhang"). The old city is in Hexi and the new city is in Hedong. There are two bridges connecting them. Chiang Mai is famous for its handicrafts, including jewelry, silverware, pottery, wood carving, silk, etc. Industries include teak preliminary processing and sawing. Chiang Mai has developed transportation and is the terminal of the northern railway, 752 kilometers away from Bangkok, with an airport. There are about 200 temples in the city, including Qingmen Temple built in the 13th century. The Shuanglong Temple on Sutie Mountain on the outskirts of the city was built in the 16th century and is a holy place for Buddhists everywhere to worship.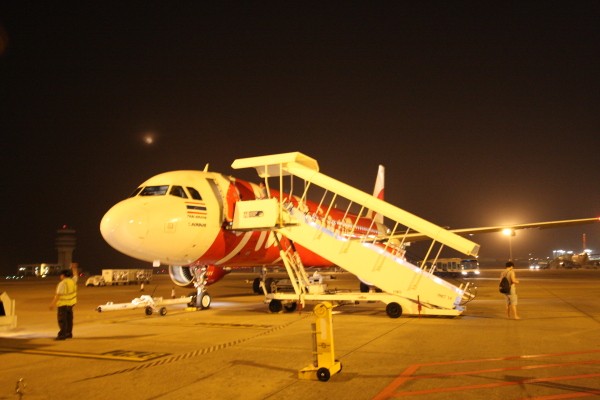 1. How to get there: It is strongly recommended to take a direct flight from Macau to Chiang Mai by AirAsia for self-help tours. Other domestic routes to Chiang Mai need to transfer via Bangkok or Kuala Lumpur. The Macao-Chiang Mai route was only opened on May 22, 2012. Beijing time took off at 20:45 and Thailand time arrived at 22:30 (Thailand time has an hour difference from Beijing time). If you buy it in advance, you can sometimes buy quite cheap air tickets, and you can also visit Macao by the way without applying for a Hong Kong and Macao pass. Why not?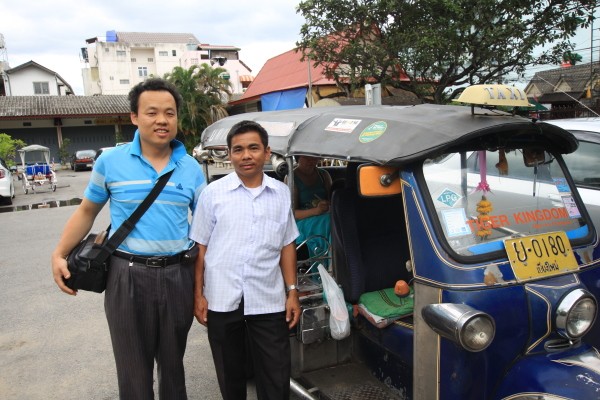 2, Chiang Mai's traffic
There are 8 modes of transportation to travel in Chiang Mai: (This is a photo of me and an enthusiastic doodle driver)
(1) Rent a bicycle at 50 baht a day. (Two items must be checked: whether the tire is full of gas and whether the brake is smart)
(2) Rental motorcycles, bargaining to 150 baht a day, even 100 plants a day.
(3) Rental a car for self-driving, with a counter-offer of 1,000 baht a day (with an international driver's license or a new Matai driver's license).
(4) Taxi package, about 400 baht a day.
(5) Take two cars and make a counter-offer to 20 baht once (no matter far or near).
(6) Take a beep car, make a watch or make a counter-offer, and cut the average bag to 200 baht a day.
(7) Taxis and watches (Chiang Mai taxis are still quite cheap but relatively few).
(8) Participating in local tour, such as riding elephants, rafting and other travel agencies can offer discounts.
In Chiang Mai, whether it is a doodle car, a taxi or a two-car car, they are very friendly and will never be forced to kill. However, taxis usually do not change, doodle cars usually have to tip, and tips cannot be given to coins.
3, Chiang Mai food:
It is not too much to say that Chiang Mai is "a place where taste buds bloom with passion". Moreover, Thais have special hobbies and like to make food colorful. It seems that only in this way can food be more delicious. In the night market, there are stalls selling banana bags and lotus leaf bags anywhere. In a banana bag or lotus leaf bag, the prepared purple rice or glutinous rice is sweetly mixed with various auxiliary materials, fresh and sweet. There is also Ruaam mit sold in plastic bags, which is cold and sweet and relieves summer heat. Of course, there are also all kinds of delicious snacks. Even the same river flour can be used in countless ways, which makes people feel that the stomach is not enough. As for all kinds of fresh, delicious and cheap tropical fruits that can be seen everywhere, I don't need to introduce them, just eat them.
Thousand-person hot pot (this is the one where we eat)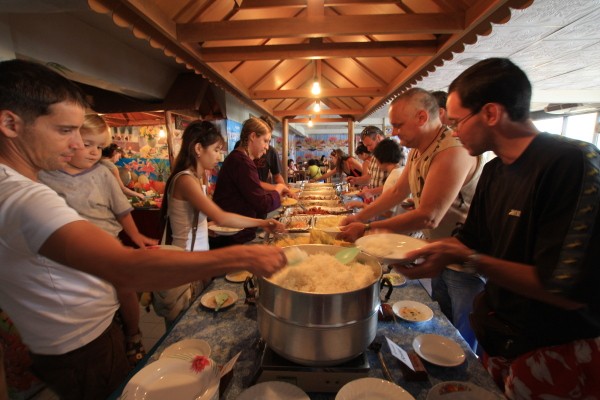 There are many similar hotpot restaurants in the north and northwest of Chiang Mai. According to the person's charge, the price ranges from 120 baht to 250 baht. Food is eaten casually and drinks are drunk casually. All kinds of fish and shrimps can be roasted and rinsed. All kinds of fruits, ice cream and desserts are eaten together by more than 1,000 people. The scene is spectacular. Some hotpot restaurants have local performances and various funny programs. The one we eat is relatively cheap. There is only a big TV, which is playing Thai TV series. It is a bit like an open-air cinema. The clerks are very enthusiastic, but only one of them can speak a little English, and the others all communicate in sign language. Here, it fully proves the strong practicability of "sign language + smile".
There are many bars with emotional appeal along the moat and Ping River in Chiang Mai. It is quite pleasant to sit by the river and drink wine and tea. What is even more petty is to go to the maeping hotel in Chiang Mai for afternoon tea, which is said to be Teresa Teng's favorite place.
4, Chiang Mai residence: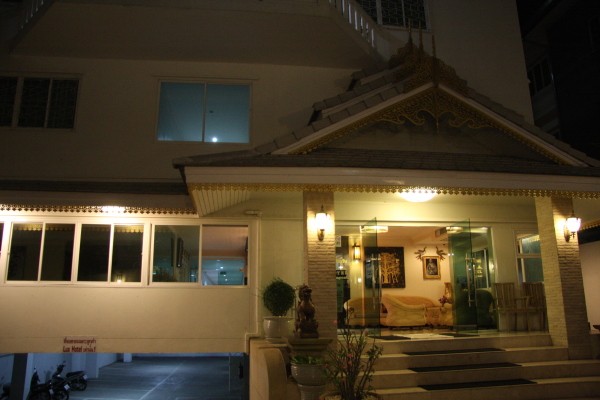 We have lived in three stores in Chiang Mai, each with its own characteristics. Generally speaking, they are clean enough and the price is medium in the local area. For the first two days, we stayed at Mandala House (Mandela Hotel). We booked it online at http://www.booking.com/. Three people with one bed, 1100 Thai baht for one night, including breakfast. The breakfast was very delicious. The waiter in the store could speak Chinese. The two houses in the back were both found while wandering in Chiang Mai City. One was the one in the photo, which was 1200 baht per night and could accommodate four people, like a suite with one room, two halls, one kitchen and one bathroom. The other one is cheaper, 350 baht standard room, and the location is also very good. In Chiang Mai, we even saw hotels similar to youth tours with 30 ~ 50 baht per person, which were also built with great emotional appeal. I heard that some were fully booked a month ago.
5, Chiang Mai's play:
Temple View:
There are more than 300 temples inside and outside Chiang Mai City. No matter how big or small, these temples have the power to calm people down. In the evening, I came to Chidilong Temple (also known as the Great Pagoda Temple and the Great Buddha Pagoda Temple), just as the monks were doing their late homework. Older monks read sutras, and their voices filled the air in the golden Buddhist temple, like sounds of nature chanting. The younger novice monks flashed their big eyes and looked around. From time to time, some people join in and take a scripture, so that they can chant sutras and worship Buddha together. Even if you don't know Thai, it doesn't matter. If you close your eyes and listen, or sit up and meditate, you can enter the realm of soul peace. In Chedilong Temple, there is also the activity of "chatting with monks". Within a fixed period of time, tourists can talk with monks, learn about the history of the temple and learn some Buddhist allusions.
Wat Chedi Luang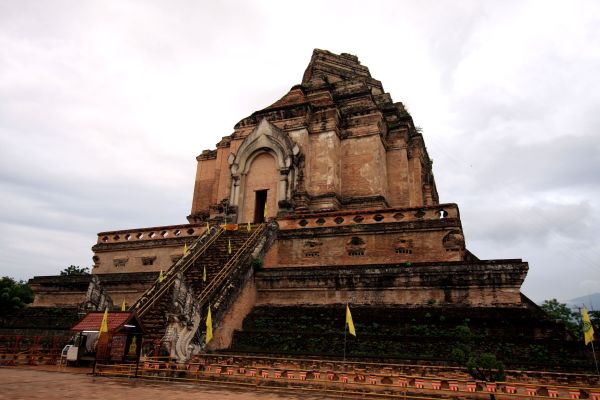 Chidilong Temple was founded in 1411 and is the most famous of the six temples in Chiang Mai. It is the most prestigious temple in Chiang Mai together with Pashin Temple. The tall Lana-style pagoda in the temple was built in 1441 and destroyed by an earthquake in the 16th century, but it is still the most magnificent building in the city. There are six elephant head statues on the south side of the tower, five of which are fakes that were later repaired with cement, and only the one made of bricks on the far right is the real one. Unfortunately, years of wind and sun have damaged the nose and ears. Walking around the square pagoda, there are two halls behind the square pagoda. In the glass cabinet in the middle of each hall sat a wax figure of an eminent monk in a gaze, with bright eyes and lifelike appearance. Great Pagoda: There is a grand square pagoda in the temple, which was built in the early 15th century and has been added several times since then, reaching 85.4 meters high. It is said that it can look thousands of miles away. In 1545, a major earthquake and wind disaster occurred in Chiang Mai. The spire of the pagoda collapsed overnight, revealing the golden Buddha statue inside the pagoda.
Wat Phra Singh (this photo was taken when we were visiting the weekend night market)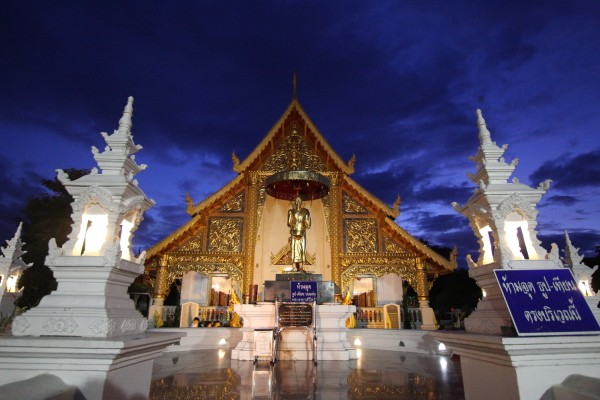 also translated Praxin Temple, alias Shuanglong Temple or Shariko Buddhist Temple, is the largest Buddhist temple in Chiang Mai and the most noble temple in Chiang Mai together with Chedilong Temple. Founded in 1345 by King Meng Lai, it was used to worship the ashes of his father. After many expansions, the existing scale was formed. Around the temple, there are pines and cypresses, towering ancient trees, and two huge dragons inlaid with stained glass sheets and fan-shaped colored glazed small ceramic tiles, each with seven dragon heads of different sizes, perched on both sides of the stone steps, with the dragon heads high and tilted, imposing. The dragon body, which is about 150 meters long, rises and falls along with the stone steps and extends to the gate of the Buddhist temple. The stone steps are stacked one after another, totaling 309 steps, which is very spectacular. In the middle of the temple is a 20-meter-high Shwedagon Pagoda, built in the 16th century. It is said that the pagoda contains the relics of Buddha Sakyamuni. At the top of the tower is a crystal lotus presented by the King of Thailand. There are four Buddha halls in the temple, east, west, north and south. They are connected by long corridors and form a square. Each hall is equipped with a golden Buddha. The main hall, Laigan Hall, houses three Buddha statues that are regarded as the most spiritual in northern Thailand. Little Tie: Every year from April 13 to 15, Pasin Temple is one of the main places for people to celebrate the Water Splashing Festival. Bronze Buddha Statues: The early Lanna-style bronze Buddha statues enshrined in the temple were invited from the neighboring city of Chiang Rai in 1400. The murals with Buddhist stories painted on the surrounding walls are lifelike, as well as exquisite wood carvings. They are considered as representative works of traditional art in northern Thailand and excellent Buddhist works of art.
Chiang Mai's large and small temples have their own characteristics, so they are not listed here. Whether you are interested in Buddhism or not, it is worth savoring carefully.
Elephant Riding: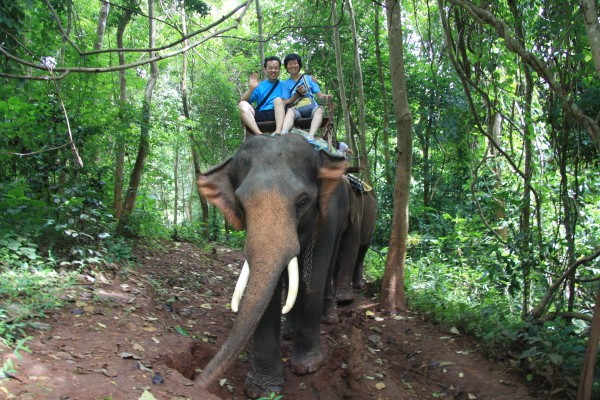 We reported a "jungle trio" at a travel agency in Chiang Mai, including elephant riding, rafting and mountain hiking. There are many travel agencies in Chiang Mai, and the tour items are generally the same. The quotations vary from high to low. It is necessary to compare them. Sign up on the first day, and there will be a car to pick up your hotel the next day, like a group of individual tourists. The several projects we have participated in are a combination of 12 or 3 people each time. Among these more than a dozen people, there are often Chinese people, and every time we meet Chinese people, we have a very happy conversation and are deeply impressed.
In Thailand, riding elephants is a must. The chair on the elephant's back is fixed. We sit on it directly. There is no safety belt on the chair. The elephant walks on the mountain road and fools. At first, we were worried that if the elephant lies down, our chair would become a slide. Soon, the super-cool feeling of passing through the leaves overcame that little fear. The elephant we were riding was the one above. The owner of the elephant (elephant slave) was very thin, his clothes were tattered, he had no shoes on, and his feet were cracked. However, his mental state was very good and he was very happy all the way. What he was holding was a wooden stick with an iron hook. When the elephant was disobedient, he beat it and pricked it. It felt very cruel. However, if you think about it carefully, the elephant's skin was so thick that the elephant could not feel it without a hook. The elephants we ride like to eat and often stop to eat grass. What's elephants will get a small stick. Later, it was found that there was still a small elephant in the team. Maybe we were riding a mother elephant.
The elephant rode around the hillside for an hour. After that, the staff developed the photos of each tourist they "secretly took". The elephant rolled up a photo with its nose and handed it to me. After taking a look, it was the above one. I don't know how the elephant distinguished this group of tourists. Anyway, we didn't see anyone making gestures.
Slide rope (Jungle Flight):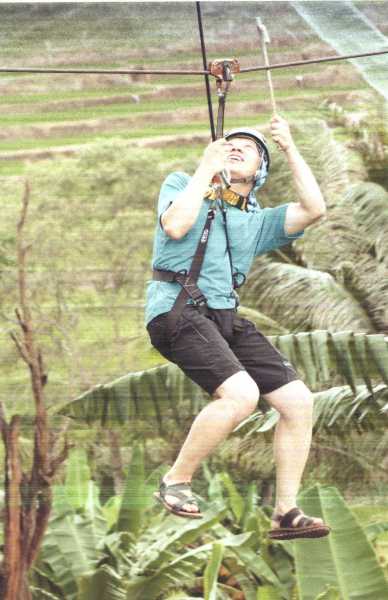 This photo was also "secretly taken" by the staff of "Jungle Sliding Rope".
Starting from Chiang Mai City, it takes one hour to drive to Baan Nam Khong, a mysterious village hidden in Doi Lungka, Thailand's fifth highest mountain at an altitude of 1200 meters. This will be the starting and ending point of Jungle Flight. According to their own website, the altitude of 1,000 meters makes Jungle Flight the company with the highest geographical location in Thailand's sliding rope project. The unique alpine and jungle climate keeps it at 18 ~ 28 degrees all the year round. November to February is the most pleasant season every year. The just-concluded rainy season irrigates a large area of green vegetation, showing the unique rich flavor of tropical rain forest everywhere. BNK is the most beautiful in March and April. All flower species bloom in turn. Tall and straight trees are also covered with green crowns to welcome the upcoming rainy season. Rain began to increase gradually in May, the climate was cool and the sky was as blue as wash. In the intermittent sunshine and rain, huge white clouds were suspended in the mountains, making it impossible to move one's eyes away….
The whole Jungle Flight is divided into two routes A and B according to the length of the route. More than 1/2 of the population in our family is physically weak, so we chose the shorter route A, which includes: flying over 24 platforms (50 kilometers per hour), 1 high-altitude suspension bridge, 1 air spiral ladder, 2 longest flight tracks (including extraordinary tracks 50 meters and 300 meters long from the ground), 3 high-altitude downturns (up to 40 meters above the ground), 35 meters climbing tree nets, etc. The skating coach is a handsome man, very professional, and will observe your ability and courage. When you descend at high altitude, they will adjust the length and speed of the descent according to your courage. My son was timid and reluctant when he first started playing. After experiencing the feeling of flying on the sliding rope, his interest became higher and higher. If he had known this earlier, it would have been better to quote a longer route B.
Tip: Jungle Flight cannot carry a backpack or a large camera. If you want to take a picture, you need to bring a small card player. Bag, large camera and what can be put in the locker they provide. There are also free bottled water and buffet lunch, which are very considerate.
Learn to cook: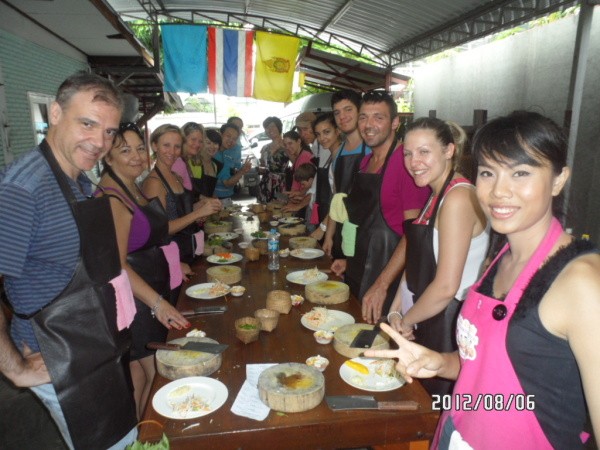 This is where I learned to cook Thai food in Asia science in Chiang Mai. Learning to cook Thai food in Chiang Mai is also a good experience. Many people take part in the study every day. You can find photos of students who come here every day to learn cooking on the website www.asiasecenic.com. I went there on August 6, and I can find more other photos of me on this website. What I attended was a half-day experience. I could learn to cook four categories and five dishes. After finishing, I could taste them on the spot or take my family to eat together. The tuition fee was 700B, but I saved the lunch money for a family of four. Ha ha.
6. Shopping in Chiang Mai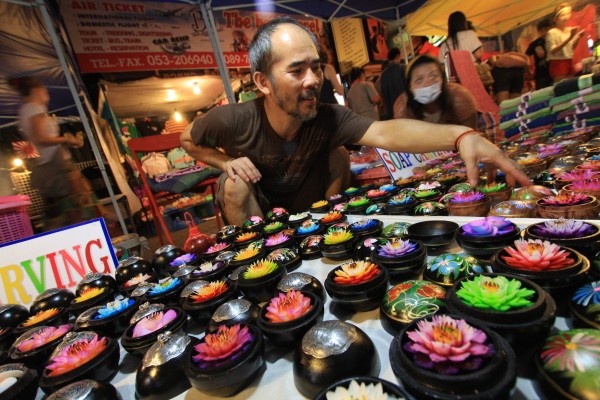 It is strongly recommended that this is the real fair in Chiang Mai. People in dozens of miles around are selling their own belongings and handicrafts at a price that may be only 1/3 of that of Night Bazaar. Even Chiang Mai locals were dispatched, with half of the tourists and half of the locals patronizing. The goods sold are really dazzling, with few similarities. From the beginning of Tapeimen to several blocks in the ancient city, there are a sea of people and the scale is very large. On that day, we went from 4: 00 p.m. to 11: 00 p.m. when the market opened, and we still had some fun. When we went to Chiang Mai this weekend night market, we must not miss it.
Seven, Chiang Mai's characteristic customs: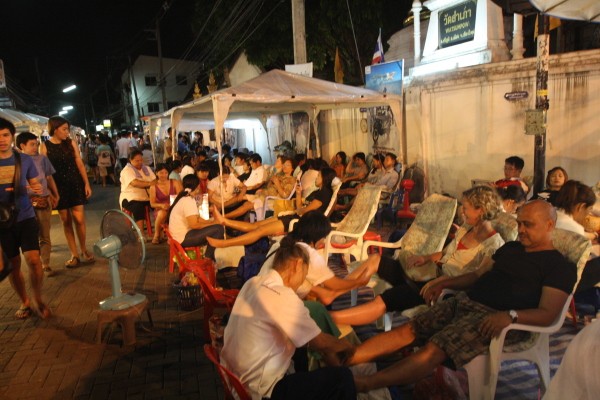 Massage: (Foot massage can be seen everywhere on the fork roads of Chiang Mai's streets) Is there any place in what more comfortable than doing massage here? All kinds of massage methods can be selected at will, from foot massage to traditional Thai massage, as well as hot sand massage, essential oil massage, hot oil physiotherapy, hydrotherapy, etc. Anyway, there are all kinds of massage and Spa technologies in the world. If you are tired from shopping, find a Spa and have a massage to ensure that the fatigue of the day will subside. In Chiang Mai, there are also many kinds of massage shops, some in high-end five-star hotels, some in affordable roadside shops, and the massage technicians are good. There is also the famous Chiang Mai Women's Prison, where female prisoners massage tourists, which is not encountered in other places. In Chiang Mai, this can be experienced every day. The price is not expensive either. The traditional Thai massage is only 150B per hour.
。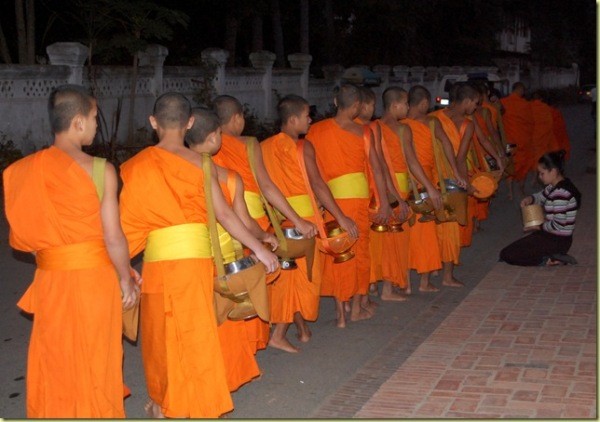 Early morning alms:
Sunday Walking Street (This is a stall selling craft wax)–In a materialistic and disturbing world, is what more peaceful than a devout heart? In Chiang Mai, every morning, people spontaneously come to the streets of the ancient city to give alms to monks who come to alms. Thailand has a very high proportion of people who believe in Buddhism, so people almost always greet each other in a folded way. Thailand believes in Mahayana Buddhism, and monks do not eat after noon, so they need to go out of the temple every morning to receive alms. Most of the local people cook their own meals at home and prepare the necessary items for alms to wait for the monks to arrive at their doorsteps. Many tourists also joined the charity team and could buy wrapped food and water from peddlers at the edge of the ancient city to show their hearts to the monks. Monks will line up and walk slowly. Sometimes the innocent and lovely little novice monks will walk in front. They carried their bowls to the front of the believers kneeling on the ground, took food, money and other items, then read a scripture for the believers, and then moved on. The process of giving alms in the morning is very short, but it will make people feel very peaceful. In the past few days in Chiang Mai, I got up three times in the morning and went to the river to watch alms, experiencing and feeling the peace. It is true to say that Chiang Mai is a rose in northern Thailand. This time I went to Thailand without going to the Grand Palace in Bangkok, the traditional route, Batia, the transvestite, or the islands in southern Thailand with super beautiful environment. I just stayed in Chiang Mai for several days. Even so, I felt that I did not stay enough. I will definitely go to Chiang Mai again.