Hokkaido is green and full of summer flowers. The mindful trip to Hokkaido began with the clear sun.
In order to make a perfect journey, I started searching for various strategies three months in advance. In the middle of the night when the child fell asleep, the hard-working Ma Ma was still clicking desperately on the computer, all for a perfect journey. Finally, the sky did not live up to me and gave me an unforgettable trip to Hokkaido summer flowers.
Hokkaido, like Kyoto, is a place to purify the mind. The purpose of this trip is to make the body and mind intoxicated in the sea of flowers and the gentle wind, so the accommodation should be as close to the nature as possible, and the food is mainly Hokkaido famous things. Don't ask for high school, don't ask for luxury, only pay attention to connotation. The satisfaction of travel does not lie in the high-end given by money, nor is it just a poor trip, but in unplanned surprises and meaningful luxury.
Travels:
I mainly refer to two articles, which are very detailed.
Http://www.yododo.com/blog/userBlogs.ydd? Mid=01367DD91483375BFF8080813679BB4F
Http://www.yododo.com/area/guide/012B43A3990842D2FF8080812B4032E3
Tickets:
Most of the travel notes have travel tickets (or just search). Hokkaido JR's homepage has a Chinese version, which can be checked by itself. With specific information on the train number, the time can be fully arranged. Of course, we still have to buy our own tickets according to our own itinerary. If you spend most of your time in Daoyang, use Fuliano Miying's travel ticket. If you want to go to other places, it is recommended to use JR5 day coupon or 7 day coupon. It also shows the train time. Trams in Japan are generally not delayed unless there are extremely special reasons (such as earthquakes, such as suicide?:). Hokkaido, after all, is not as prosperous and convenient as Tokyo, and the number of trams is not so frequent. Fuliano basically runs every hour, so checking the time information in advance can better save the play time.
Http://www.jrhokkaido.co.jp/
Because Hokkaido is sparsely populated, especially Fuliano Meiying's scenic spots are not all near JR Station, Twinklebus is a good half-day tour choice. There is a tour guide, there is shuttlebus, easy to play. Some people say that some scenic spots can only be viewed by car windows, which is boring. But there is no such perfect thing. Focus on choosing what you like to watch and go to it specially. Domestic driver's license cannot be rented in Japan, which requires special procedures and is very troublesome. And even if it is hard to find a parking place when driving in the flower season, let's not destroy Hokkaido's natural beauty.
Http://www.jrhokkaido.co.jp/travel/furano_sum2013/bus.html
Hotel:
All major domestic travel websites can be booked, while Japanese websites are more affordable and have Chinese versions. In fact, the official website of each hotel is the cheapest. It is suggested that Google will often have a more favorable price on the official website after looking at the hotel to be stayed on the following website (of course, it will be more convenient to book on the official website if you know Japanese).
Http://www.jalan.net/
Http://travel.rakuten.co.jp/
Schedule:
There are a few days of non-travel arrangements in between. The one in front of Day0 is another play. Remove 2 days of departure and return and enjoy 4 days. For your reference, the cost and arrangement of a single person: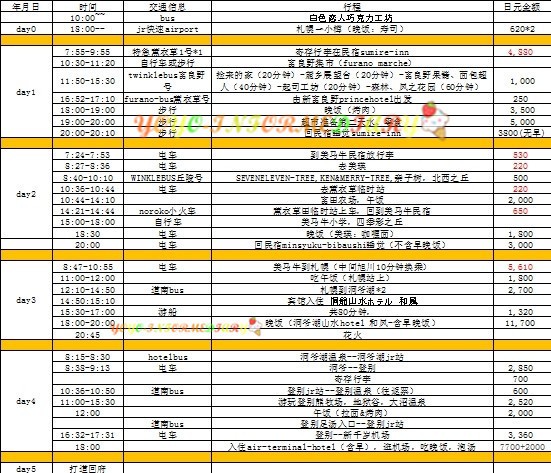 * In addition to the voucher fee:
1 Fuliano Meiying's 4-day tour ticket: 5400yen (the red part is fully included, and red is only a reference for children's shoes that do not buy tour tickets)
2 Airport to Sapporo: 1040yen (JR Express Airport)
3 White Lover: 600yen + 400bus (because I stayed in Sapporo for a long time, I bought Sapporo discount coupon)
Round trip air ticket: 4500CNY (Nagoya transit)
Home picked up: 300yen
6 Wind Garden: 500yen
Ready, let's enter Hokkaido together! !
DAY0 First Eye Hokkaido
Arrive at Nagoya Central Airport from 8: 40 to 12: 05.
Nagoya Airport is the first time to visit and is as lively as a department store. The cold at the domestic airport is in sharp contrast to the laughter here. Japan is very clean. Children can sit on the floor at will. It is really pitiful to think about the children in China surrounded by smog.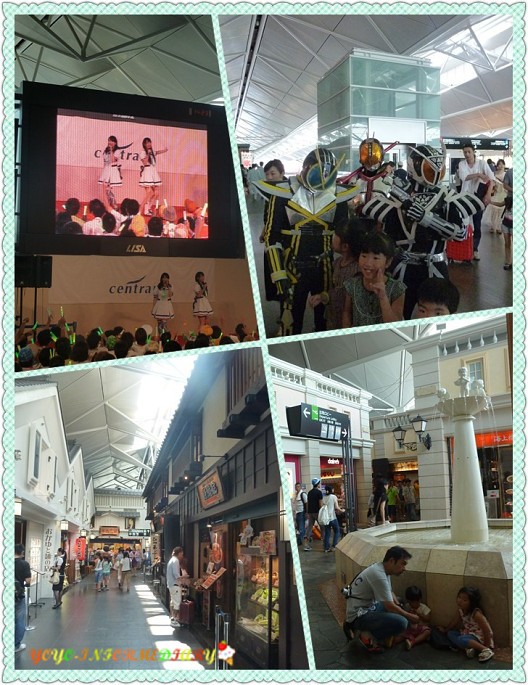 Lunch starts with Nagoya Weizeng Lamian Noodles. Lamian Noodles has many characteristics all over Japan. The soup is fresh, gluten and chewy, but of course the amount is not large. And handsome Lamian Noodles is the highlight.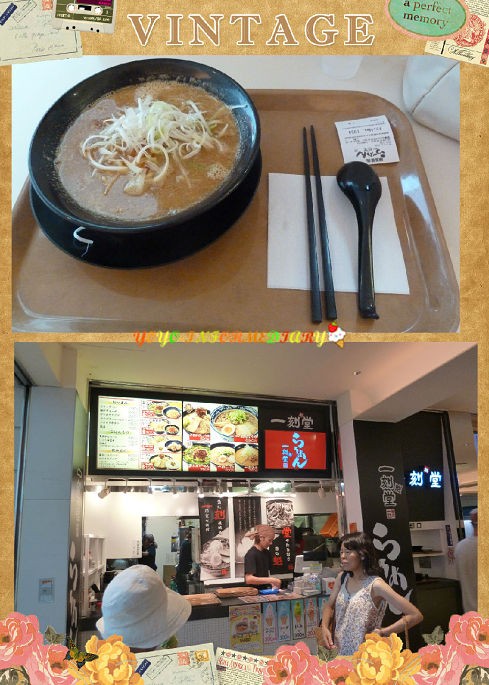 It is certainly not convenient to pull luggage around, but there are still 4 hours to go before the connecting flight at 16 o'clock. Looking around, I didn't find any place to check my luggage. Seeing that there were not many passengers in front of the check-in counter, I explained the situation to the check-in waiter with the mentality of trying. I didn't expect to check in for me very readily. I don't know whether there is no time limit for checking in domestic flights in Japan or whether the service spirit is perfect, but it does solve my problem. It feels great to move around lightly.
The airport viewing platform, which often appears in TV plays and looks at the plane going away, is the same at Narita Airport.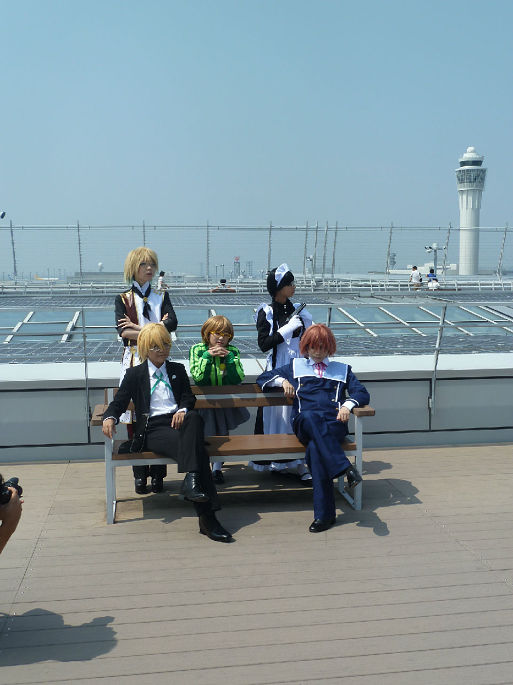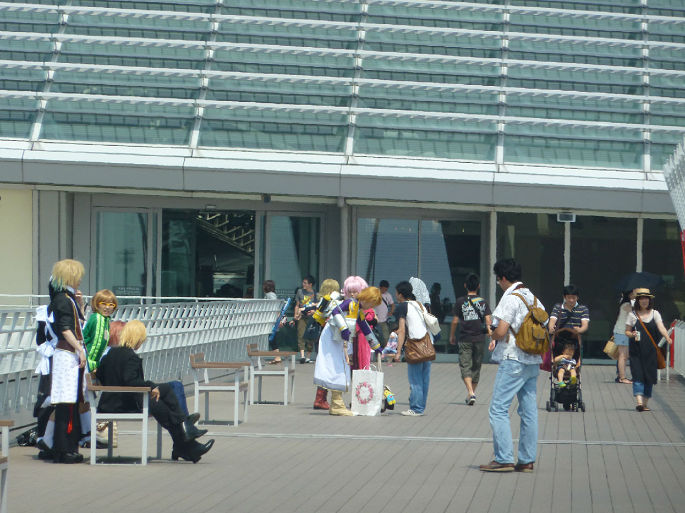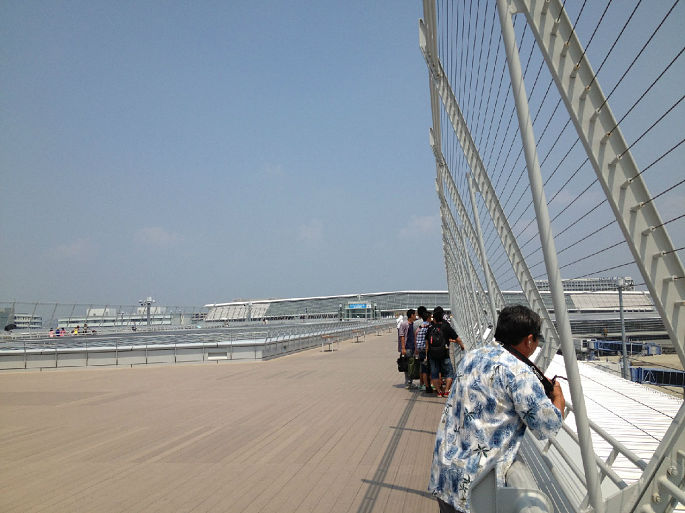 Eat another piece of "Buer Family" candy, like the "White Rabbit" when I was a child, which is mellow and sweet. After the security check, an amusement park for small basin friends was set up in the waiting hall, and humanized design can be seen everywhere in Japan. Not for profit, just to make tourists feel better at home.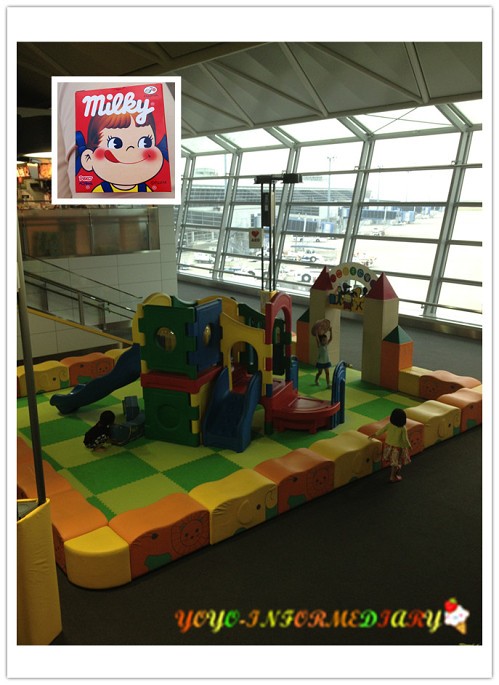 16:35-18:20 JL Domestic Line
From Nagoya to Sapporo, only 40% of the passengers on the plane started on time and arrived on time. In this way, the earth of Shishengchuan is under my feet. The sky is a little overcast, but it can't block the green. How long has it been since I saw a large area of thick green trees?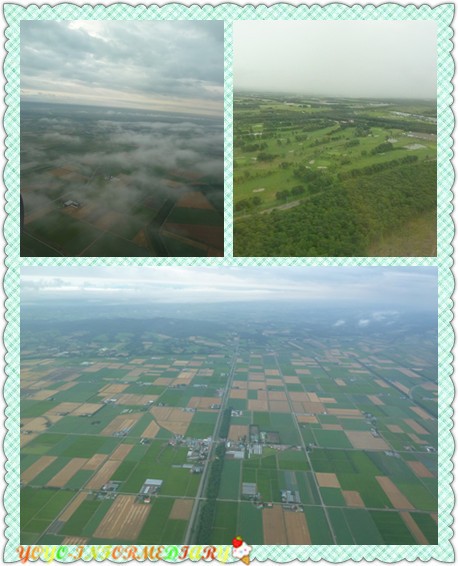 After taking out your luggage and going through customs, go straight to the right and take the elevator to B1. The "Foreign Tourists Service" counter can be found in the JR Sightseeing Case of B1, with Chinese service. You can also get some Hokkaido Road Travel Information Manual (with discount) and JR timetable. Of course, if you don't have time, you can take JR Express Airport to Sapporo Station and then take it. After dinner in the underground catering street of Sapporo Station, stay at Sapporo Poplar Hotel (www.aspen-hotel.co.jp). The hotel is 3 minutes away from the north entrance of Sapporo Station, which is especially convenient.
Every restaurant in Japan is very clean and sanitary, and the taste is almost the same, at least there will not be any particularly bad shops. Therefore, it is completely unnecessary to find famous shops with unfamiliar routes for dinner after solving fatigue, just look at the ShoppingWindow under the station.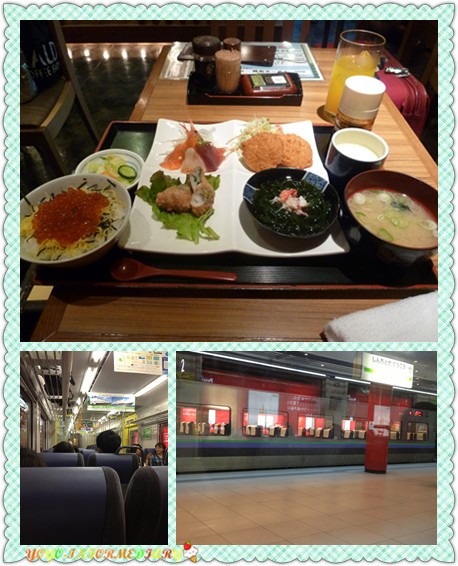 * If you fly directly from Shanghai to Sapporo, you can put down your luggage and stroll around Sapporo. It is a good choice to go to raccoon trail or Otaru at night. In addition to cosmetics recommendation raccoon trail drug store, discount season clothing recommendation airport outlet or Sapporo department store, gifts can be solved in the airport.
Because there is a short period of time during the non-travel period, raccoon dog path, Otaru, white lover and Sapporo University all take time to go, and another detailed introduction will be given separately.
DAY1 Meets Summer Flowers for the First Time–Twinklebus Tour
9:06-11:03
I got up a little late in the morning and was in a panic. Checkout was carrying his luggage and caught Lavender Express 3http://www.jrhokkaido.co.jp/travel/furano_sum2013/train.html in a hurry (lavender express 3http://www.jrhokkaido.co.jp/travel/furano_sum2013/train.html, there is also the time for small trains). This express train to Fuliano, which only runs during the lavender season, has a lavender body and does not need to change.
However, if you want to go to Fuliano at ordinary times, you need to take super kamui to Takagawa and then change to a normal train. Therefore, being able to get on the train unique to lavender season from the beginning of the journey indicates that the journey is full of luck. Japan's express trains all have designated seats and free seats, and there is an additional fee for the designated seats. While the free seats are queuing up to get on the bus, they can only stand without seats. Travel tickets can be reserved in advance, and there is no time in a hurry. Fortunately, in fact, in early August, I had already passed the flower appreciation boom and had seats all the way.
Fuliano is a small station, which is so crowded only in the flower season, while in this "off season" after the flower season, it is so quiet and safe.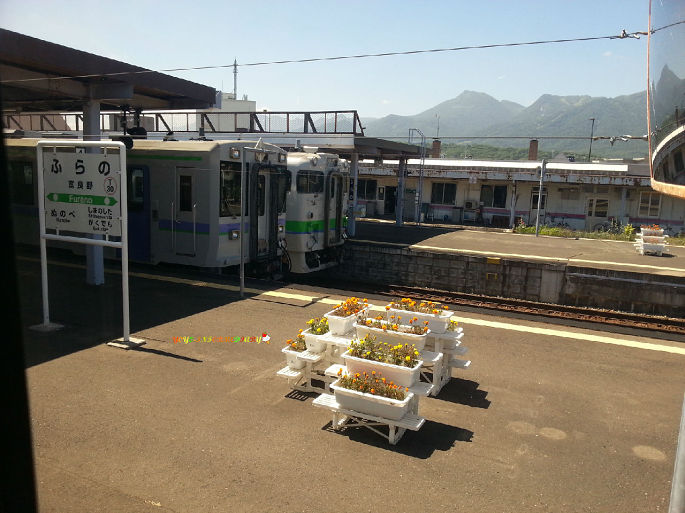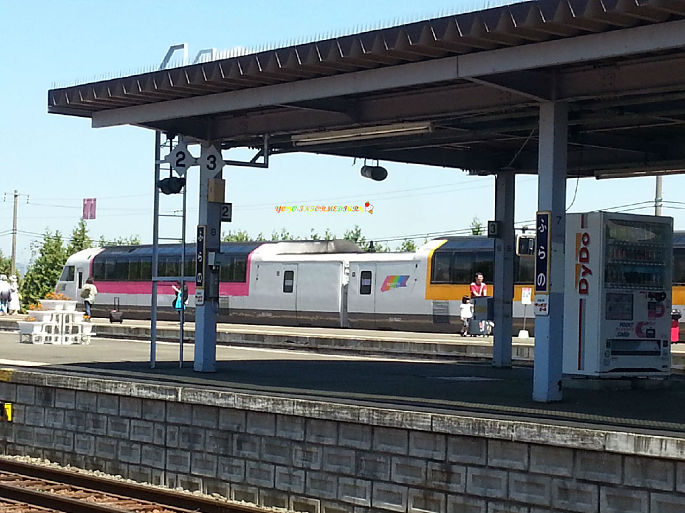 After leaving the station, go to the right for 5 minutes and go to the Sumiren Hotel (http://www4.plala.or.jp/furano-sumire/). Put down your luggage. Homestay is a bit old and should have a long history. The dripping bamboo bowls and flowers at the door are full of life interest and vitality in Ran Ran. The owner of the hotel is a cat lover and there are cat-related items everywhere. Several cats have lived with their owners for more than 10 years, and one is the real owner here as long as he wears diapers. Homestay is certainly no better than hotel, but you can make it your home. This is Japanese life. There is also a "big" supermarket opposite the hotel. In this peaceful and quiet town, it is very rare to have such a supermarket, but of course the supermarket closes very early.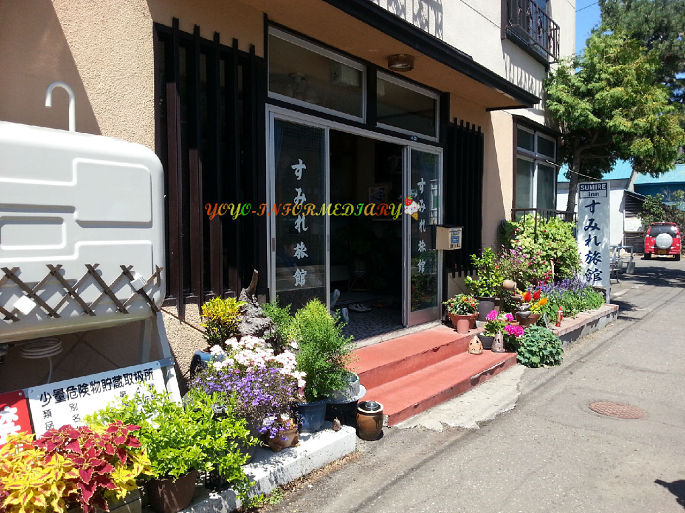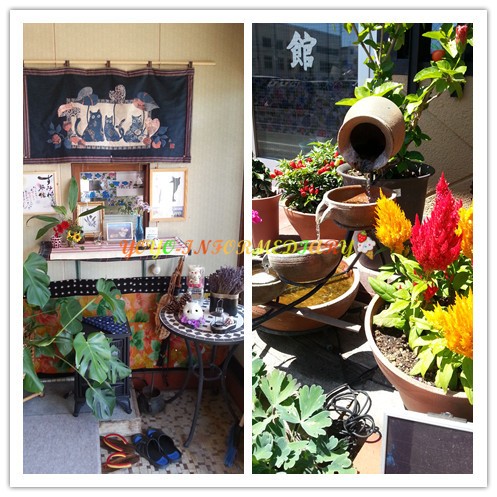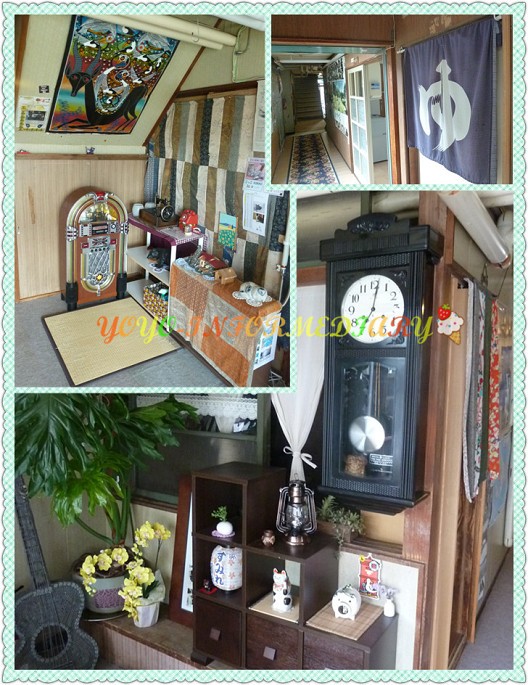 11:50-16:30 Twinklebus Lavender
There is too much time to go to Furano-marche. In fact, it is only a ten-minute walk from the hostel. So I put my luggage away and went straight back to the station to take Twinklebus. Tickets are booked in advance. Tickets can be bought at the ticketing windows of JR Hokkaido stations, Twinkle Plaza in the tourist center or travel agencies. JR tickets (including travel tickets) are required when buying tickets. If you can't buy tickets in advance, you can only try your luck on the day of the bus to see if there are still seats left.
Below is the sign of Fuliano on the way from the station to the hotel.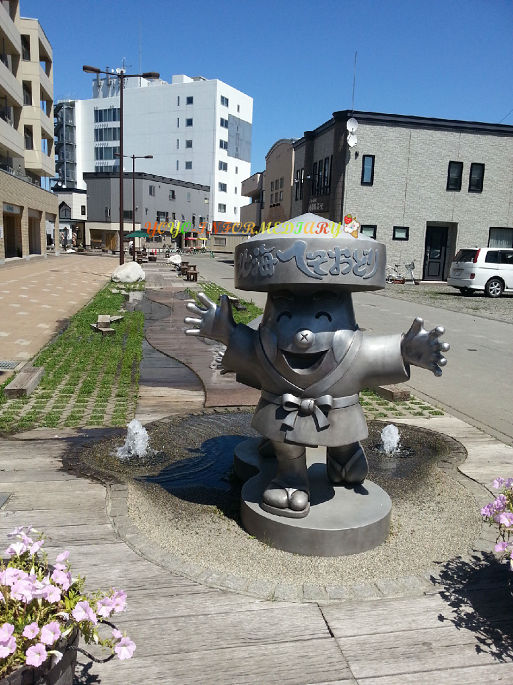 11: 50-12: 20 to pick up the house
Twinklebus does not have a Chinese tour guide as mentioned in the strategy. The beautiful GuideGirl simply counts which country the tourists come from, and then introduces the whole process in Japanese.
The first stop is "The Home Picked Up", which is the main scene of the final "Last Words" of the series "From the North" which began to be broadcast in 1981. The "From the North" describes the family growth story of Goro, the master who returned to his hometown Hokkaido from the big city Tokyo and lived in nature. The home picked up was a house built by Wulang for his lover Yukiko with the waste materials picked up, such as the bay window of the ski resort cable car and the front of the bus.
The design drawings and the rain and sunshine at the door.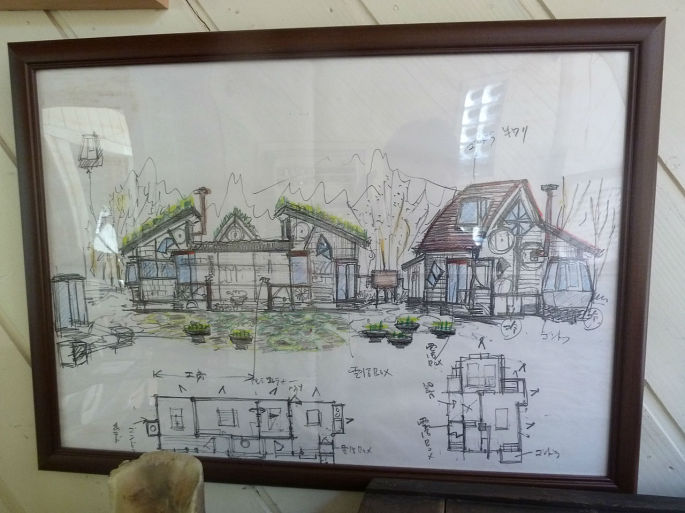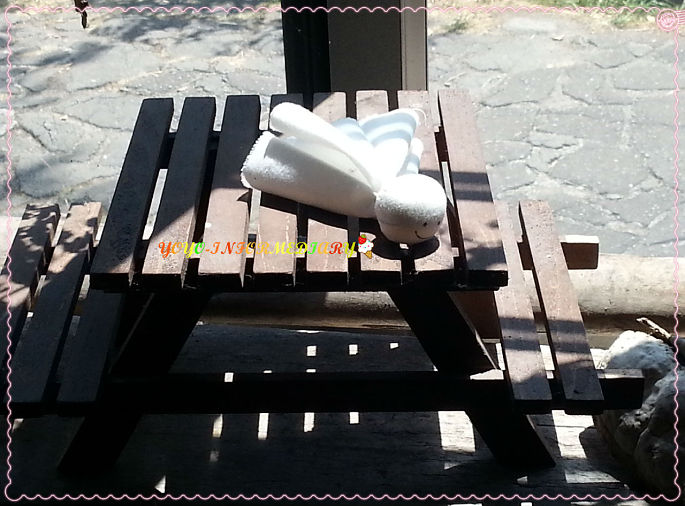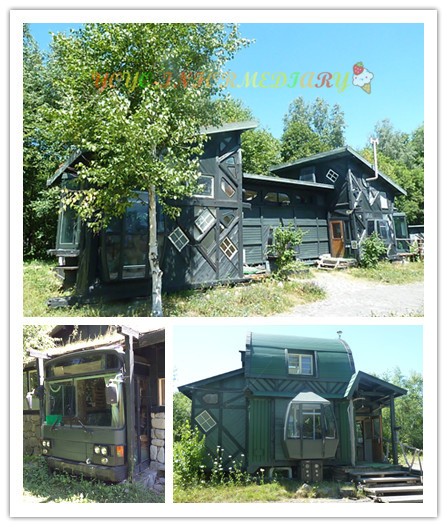 12:40-Luxiang Outlook Station
From Wulang's home to Luxiang Prospect Terrace, the car climbed all the way. Hokkaido is hilly. Between ups and downs, golden crops enjoy sunshine in luxury. From time to time, they will jump out of a straight young tree, as if watching this mysterious land.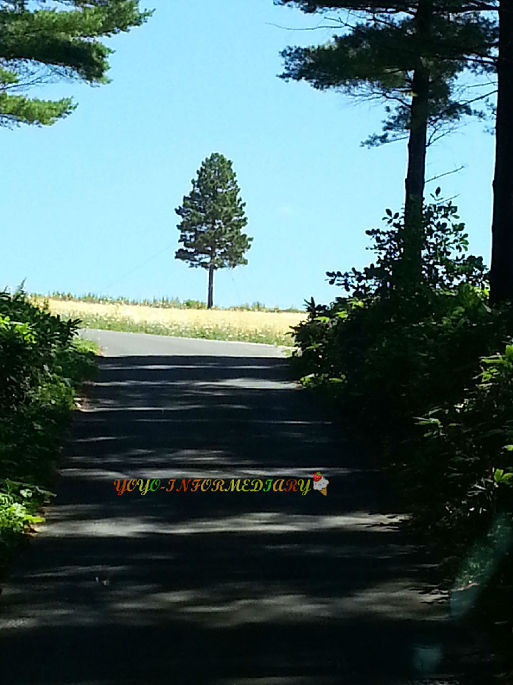 Luxiang Prospect Terrace is the first place to see summer flowers during Hokkaido's trip. Even a small sea of flowers on a small hillside is enough to make people excited. Here you can overlook the whole scenery of the foot area, one of the 100 scenic spots in Japan's rural areas, and it is also an excellent place to enjoy the night sky. Only in such a place is it closest to the sky.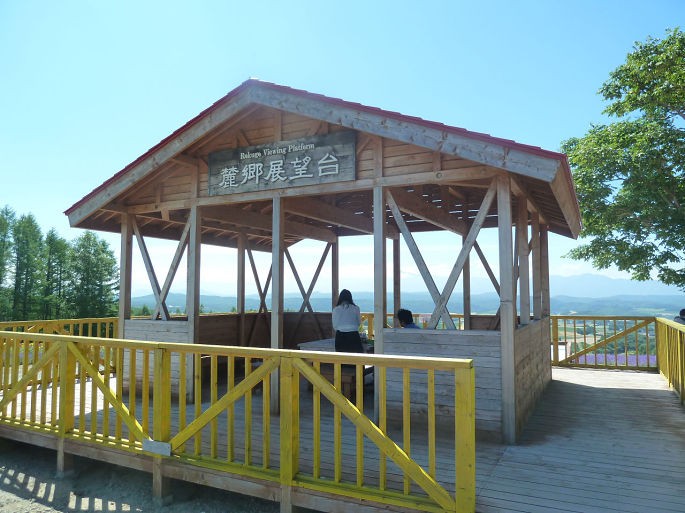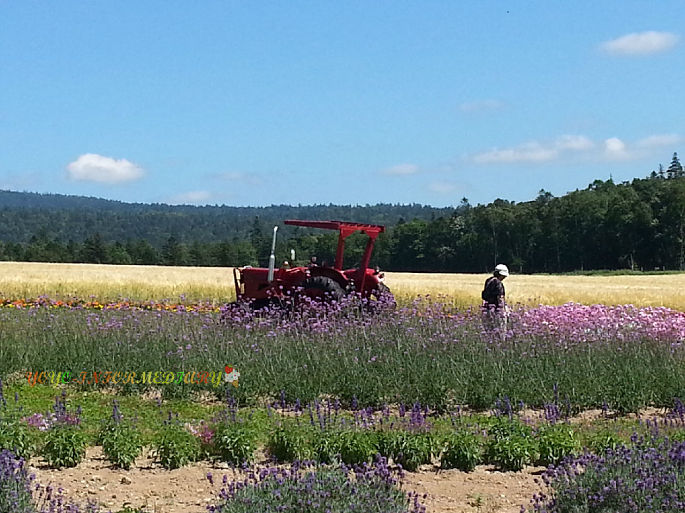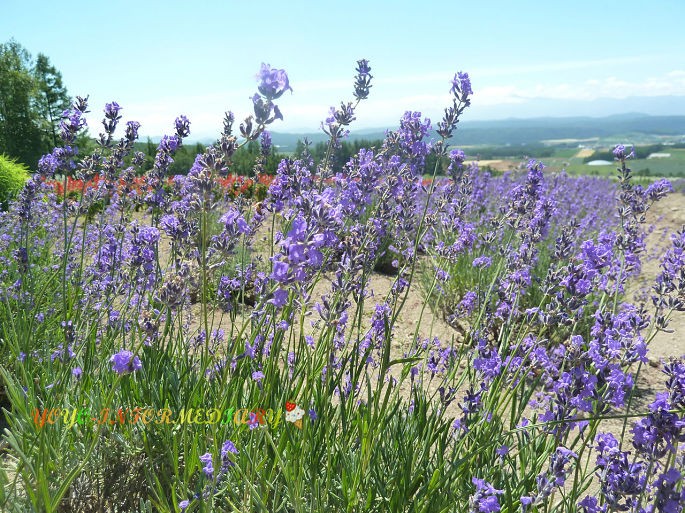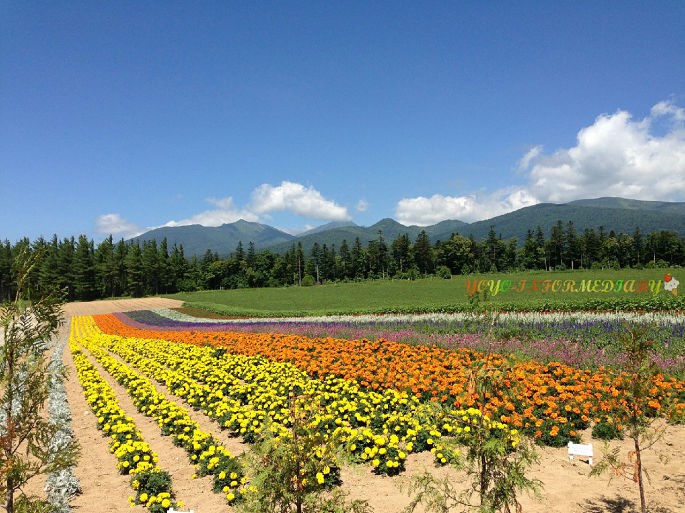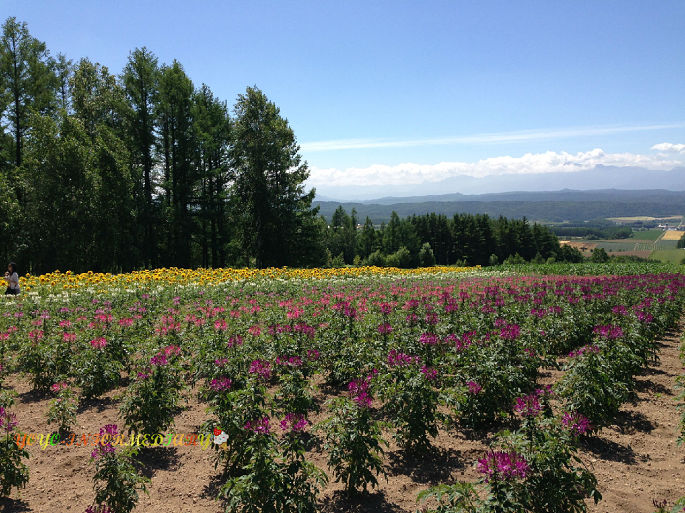 13:10-14:00
The roadside of the mountain path not far from Luxiang Prospect Terrace is Fuliano Jam Garden and Bread Superman Store. The jam in the jam garden can be tasted and is very delicious. There is also a short meal, Restaurant, which can solve lunch.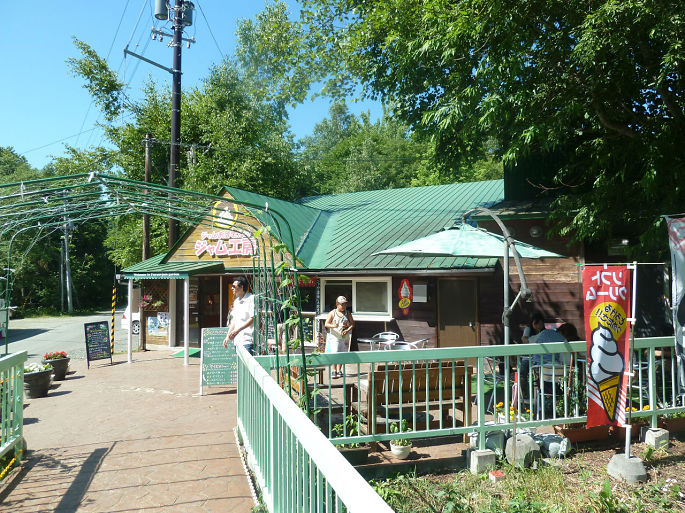 Bread Superman is, of course, children's favorite. There are all kinds of bread Superman related products and toy foods.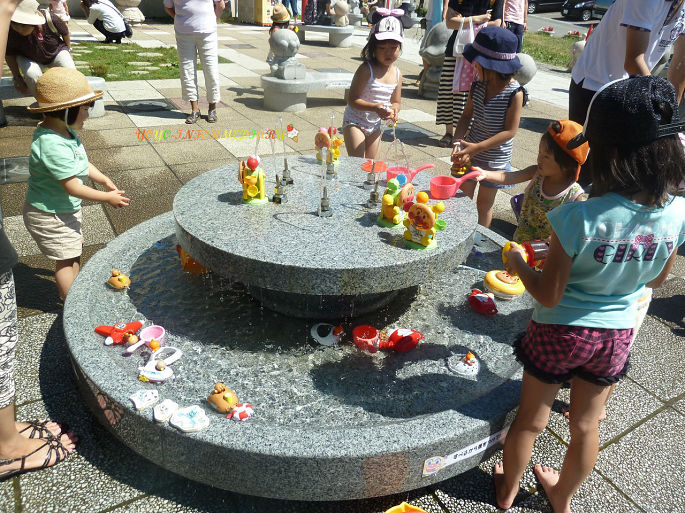 14: 10-15: 00 Fuliano Cheese Workshop
Visit the cheese making process and taste various flavors of cheese. Japanese food has always been delicious. However, it is a pity that I was unable to experience the fun of production in person, because it took 40 minutes and Bustour tourists had no time.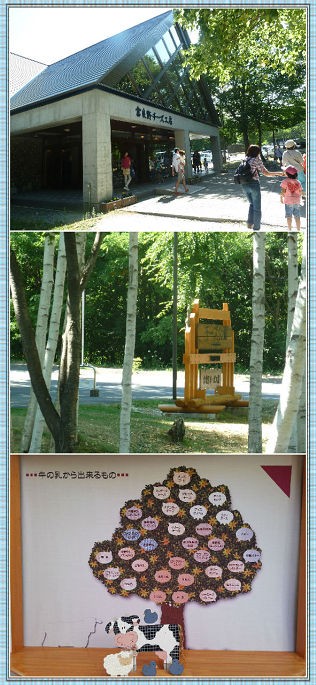 I couldn't experience the production process, so I had to satisfy my appetite with Fuliano milk and delicious ice cream.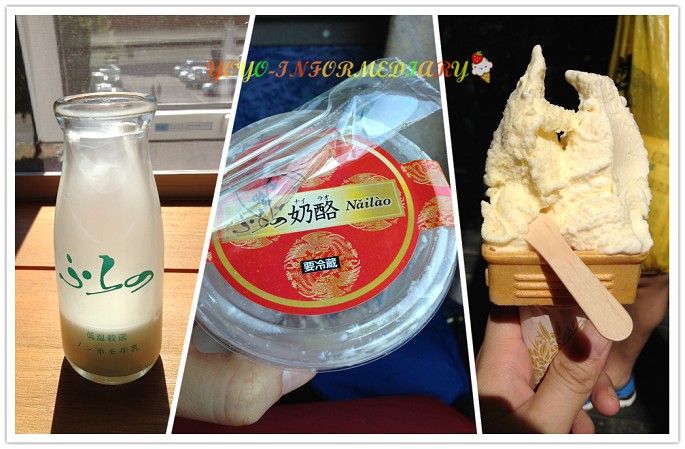 15: 00-16: 50 Wind Garden
Twinklebus's last stop is the garden of the wind. You can choose to move freely here. If you follow the car back, the time is a little tight.
The Garden of the Wind is the place where Satoshi Kuramoto's Japanese drama "was filmed." It is located next to the New Prince Hotel. Some introductions can be found on the official website of the New Prince Hotel. This area is planned in the form of a resort. There are not only hotels, but also "ningle terrace", which can shop in the forest, "garden of wind", which can enjoy a hundred flowers, "cable car", "golf course" which can swing freely, and "purple soup" which can relieve fatigue. Therefore, Hokkaido is a place worth visiting several times in a lifetime. There are too many places to play and see. Foreigners' free cable car ride with their passports has ended, and the arrangement for the departure was ruined. Finally, they only visited the fairy of the forest and the garden of the wind.
Each hut in the forest spirit is an independent handicraft workshop, selling wind chimes, wood products and other lovely items.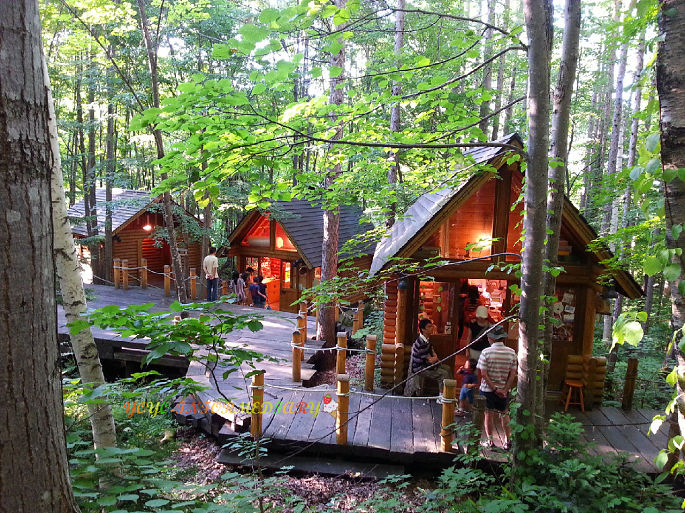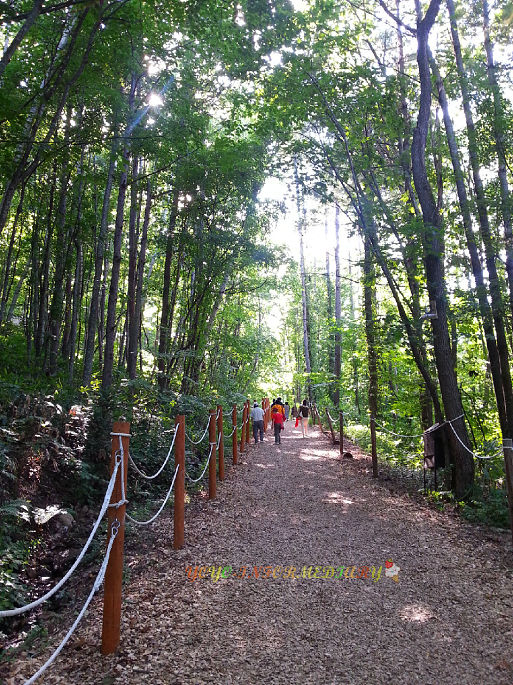 The last place to reach along the cork road is Mori Time Cafe. To have such a lazy life is probably a dream that I can't realize in my life and can only look up to.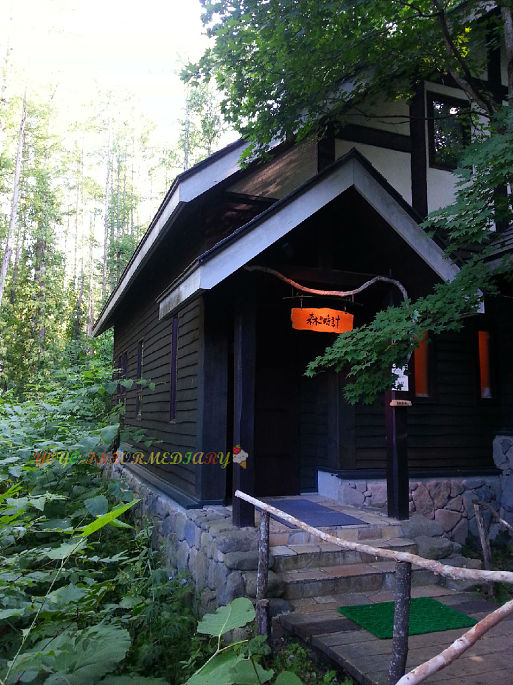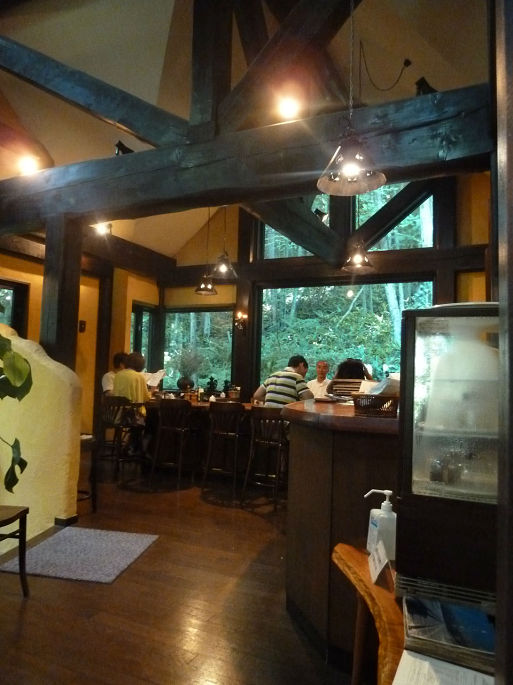 You can take shuttlebus free of charge with tickets to the wind garden, or walk for more than ten minutes to the entrance. This photo at the door is a bit retro. I don't even know I took it in how. The garden is at the innermost end of the path.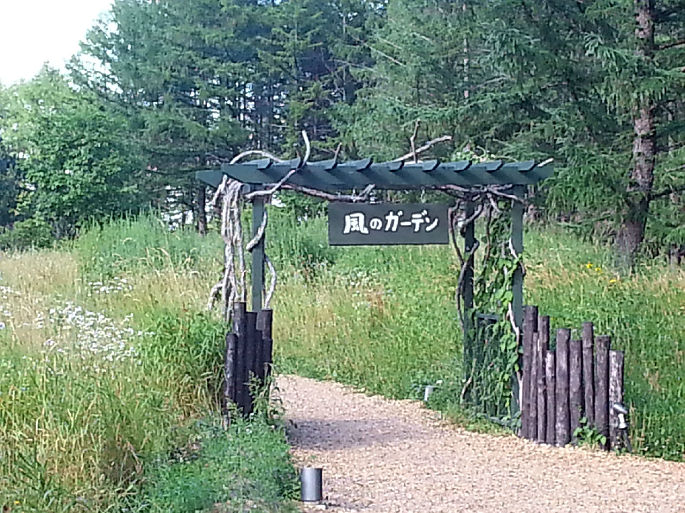 It may be that the flowering period has passed a little and it is not amazing to be in full bloom, but the colorful flowers that bloom quietly in peace have never become brilliant and are so pitiful. No one can say for sure how many kinds of flowers there are. If you have plenty of time, you can enjoy flowers at night.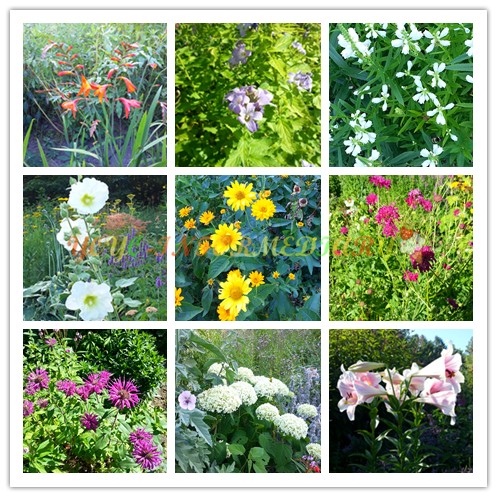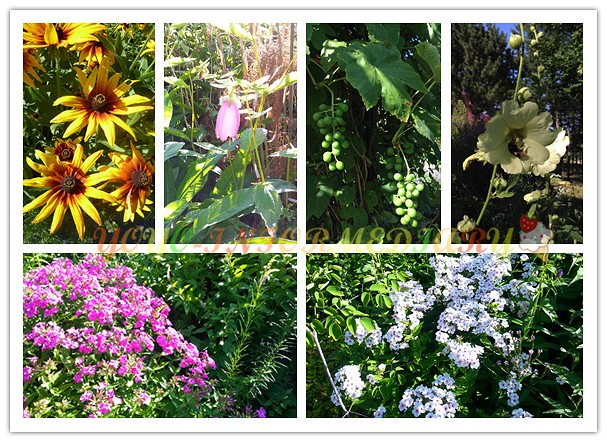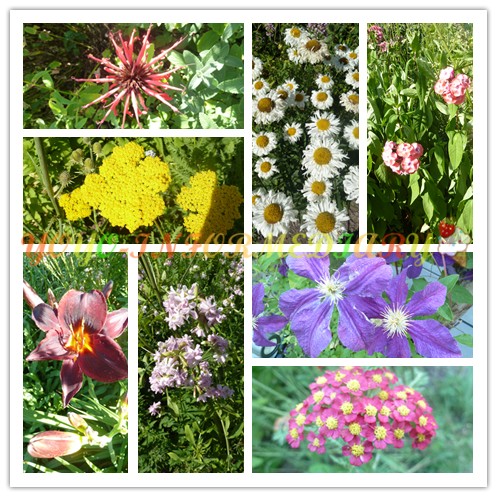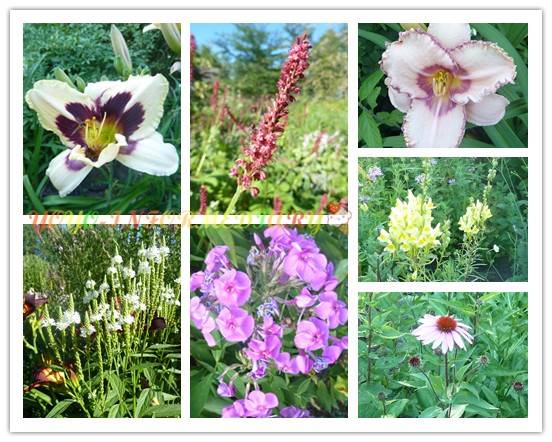 Dragonflies, butterflies and bees stop on flowers. No one can resist such beauty.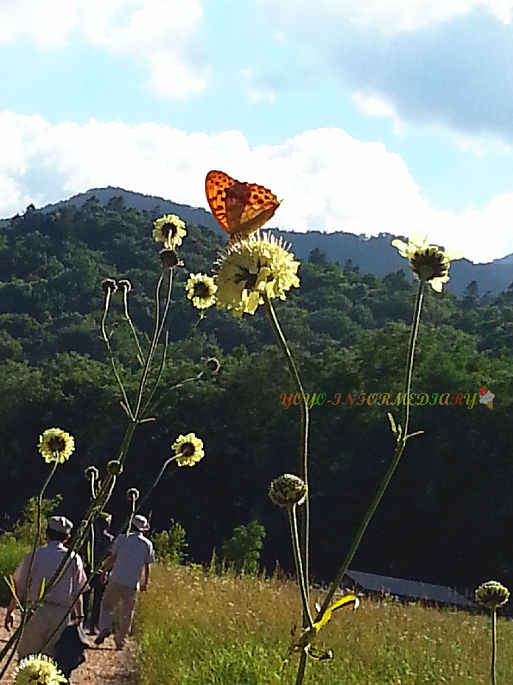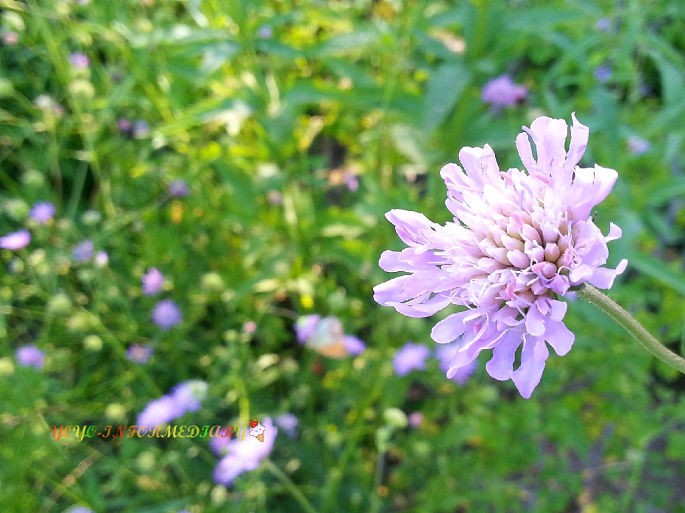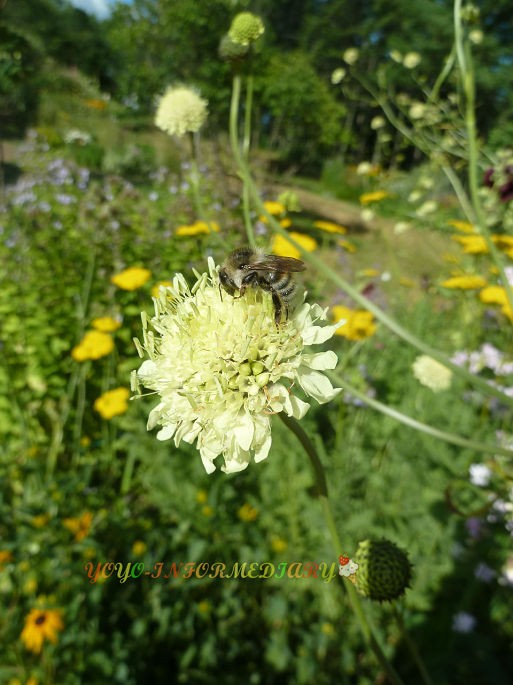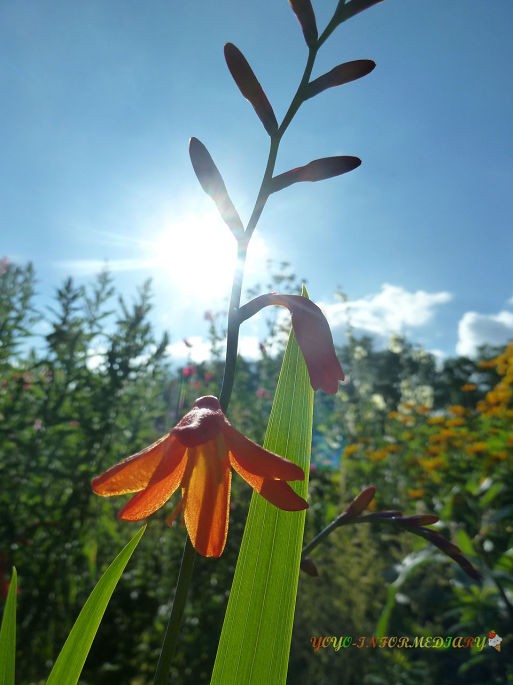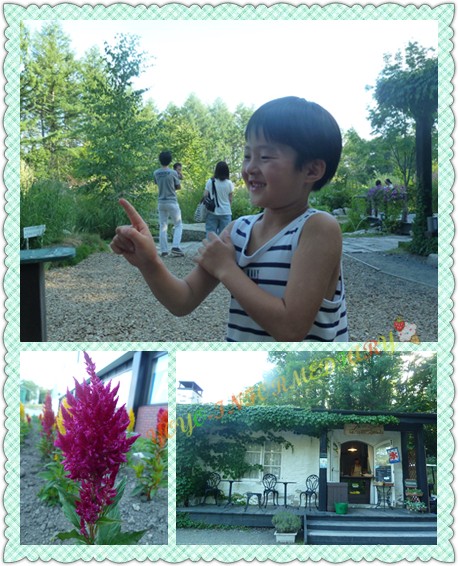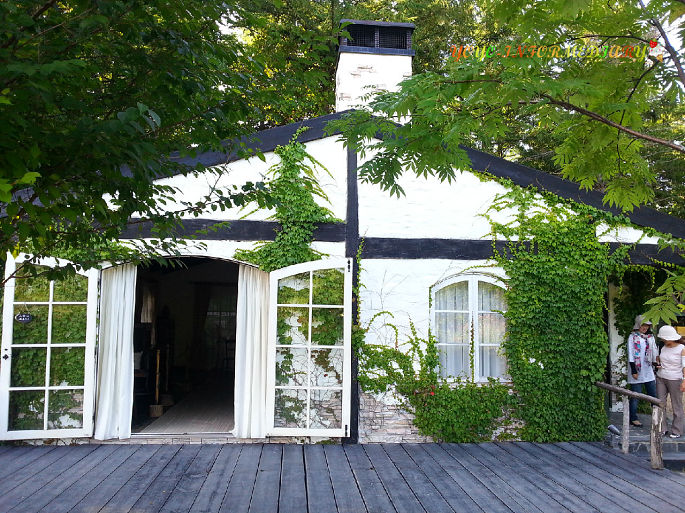 16:52-17:10 Return to Homestay
For these flowers, instead of returning with Twinklebus, I chose to take the last bus of Furano-bus Lavender (http://www.cbnet.co.jp/furanobus/lavender.html) at the gate of princehotel in New Fuliano. How extreme do the Japanese want lavender? The fare is 250 yen. If you can't make it, the hotel lobby can be called Taxi, about 1700yen10 minutes.
18:00-20:00 BBQ
I bought tomorrow's breakfast and some snacks at the supermarket opposite the hostel. Hokkaido's melon and peaches are very famous and expensive. However, this melon in the supermarket only needs 1999yen, so I really don't want to buy it. I'm sorry for it. Sweet juice refreshed the heart and lungs.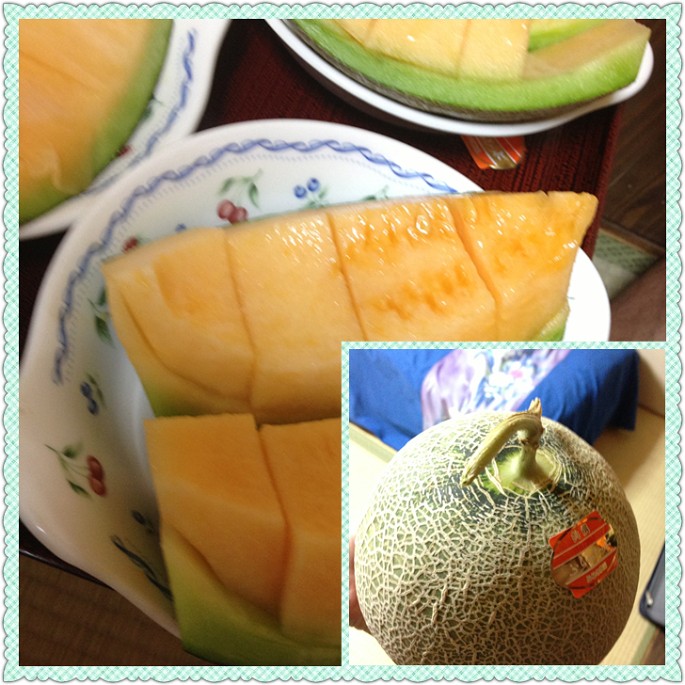 Fuliano's life will end at 5 pm and the road will be completely quiet. Silent night is more suitable for lying on tatami in large characters, staring at the moon and night sky, and listening to the words of stars.
Hokkaido has developed animal husbandry and is the only place in Japan where mutton can be eaten. The mutton here is called Genghis Khan. As a result, I just wandered on the road where there was no crowded people. Except for a drug makeup and several small restaurants, most of the houses were closed. It seems to have entered a simple country life. Walking around, I stopped at the gate of a barbecue shop called "Mangoo", probably attracted by its fragrance. When the curtain was uncovered, the guests were all local residents. There is no noise from the floating population.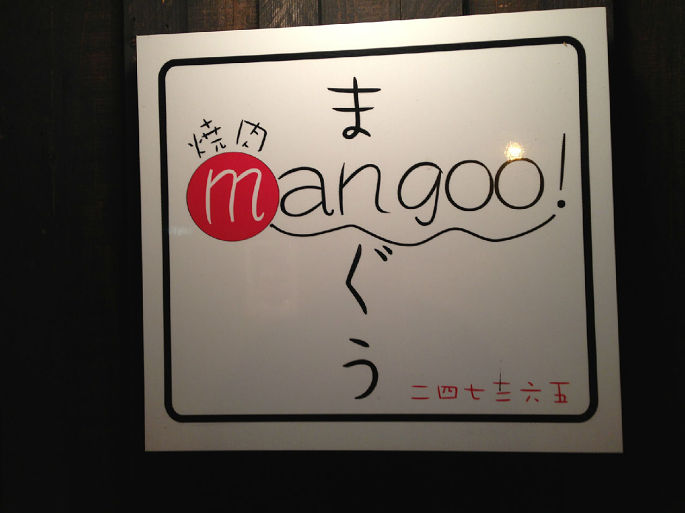 这肉已经堪比霜降牛肉了。北海道不愧为烤肉天堂。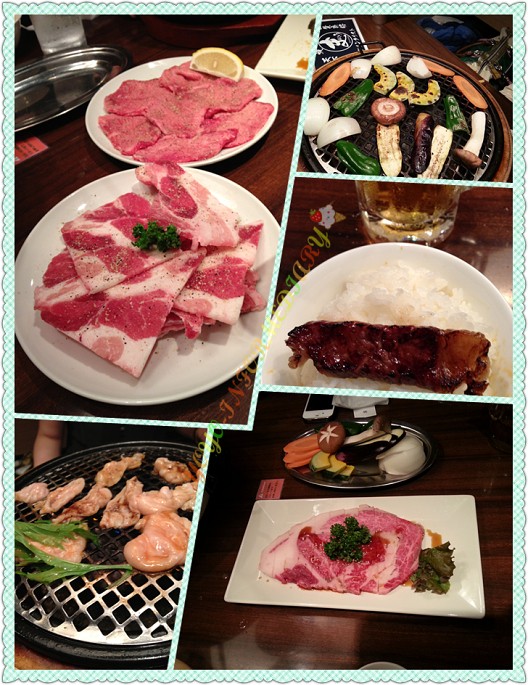 With white rice, it is perfect. Holding a full belly, I went back to the hostel to have a good sleep and looked forward to tomorrow's Futian Farm.