Every life should bloom like lotus petals, warm, tranquil, pure and holy. Noisy or complicated, if you have a peaceful heart, you can have wide eyes and a joyful soul, and everything can be beautiful. -Inscription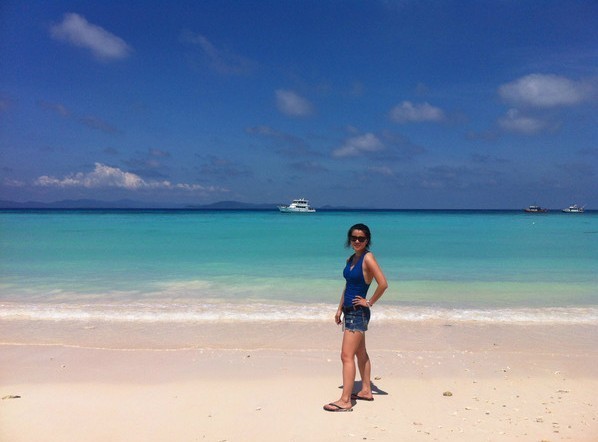 [Siam] Thailand is the full name of Thailand and is located in Southeast Asia. Laos and Cambodia are bounded to the east, Siam Bay and Malaysia are bounded to the south, and Myanmar and Andaman Sea are bounded to the west. Formerly known as Siam, on May 11, 1949, Thais changed "Siam" to "Thailand" after their own national name, mainly meaning "freedom", because Thailand was the only country in Southeast Asia at that time.
On the first day when I came back to work, I looked at the photos in Thailand in the afternoon, so the small universe in my heart began to churn again, unable to bear the surging in my heart, so I went home at night and began to record the whole trip experience and mood.
This trip is the first best friend trip that GC and I have been looking forward to for more than five months. I cherish it very much. After all, there are not many such opportunities. Until we were waiting for the flight on our return trip, we asked me, do you still remember that it was what that made us choose Thailand? I said there was no reason, you want to come, I'll do whatever you want. She said maybe it was because we had been to the "Thai Temple" before. In fact, many things do not need to have very complicated reasons. It is good to be simple, like and casual. I remember when I was in college, I saw a movie called "Kid return". There was a saying in it that if I didn't do many things now, I would never do them.
In fact, this is really the case. Many things need timing, opportunity and impulse. What you persisted in two years ago may not matter now, and the mood of chasing will fade. Work is endless, money is endless, there are always various reasons and excuses, but you only have so much time, time will not give you the chance to go backwards. If you have to wait until you have enough money, time, company and…… to do another thing, then by that time, it is estimated that you will probably not fulfill your wish.
Therefore, I would like to say that if you want to be a what, then you should practice it as soon as possible, because life is not long and youth is shorter. You can try more different experiences. You may feel that life is more colorful and worth it. Only when you are old can you feel that life was once so rich and have more memorable memories.
Do it, you are experiencing wealth that others cannot take away.
In the past five months, I have completed the 8-leg round-trip air tickets and 8-night hotel reservations by myself. We have learned some senior strategy travel notes in advance on the hornet's nest. Before leaving, I have completed the purchase and reservation of pick-up, equipment, telephone cards, other ticketing, etc. Without annual leave, I patched up 10 days of vacation. On October 25, after finishing surprisingly busy work, the two of us started our 10-day 8-day trip to Thailand.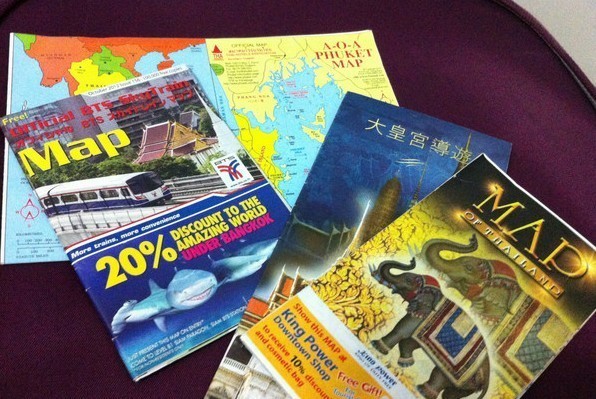 We have no group, no SLR, and no proficiency in foreign languages, but this does not delay us from looking at the world with passion, card players, maps, mobile phone positioning, and the English of three-legged cats.
I have to say that our itinerary is still in a hurry, and we can't completely follow our inclinations because of the hotel booked in advance and reluctant to change back. Time is short and we can't feel the subtleties of a city carefully. Therefore, it seems that the whole journey is not so easy and meticulous. This will also serve as experience and draw on improvements in the future. There are also things that have not been experienced, such as killing chickens by horses and riding elephants. Later, who told me in Patong that they would come again only if they had regrets. Such a beautiful place, I hope I can go again.
I think travel is like this, not to say that the local reality is used to confirm the stereotype in your mind, but that after your body arrives at that environment, your heart should also blend into it and feel the freshness and difference of that city. Because only being personally present is the most real, no matter where poor and rich, good and evil, beautiful and bad, there are different landscapes and cultures.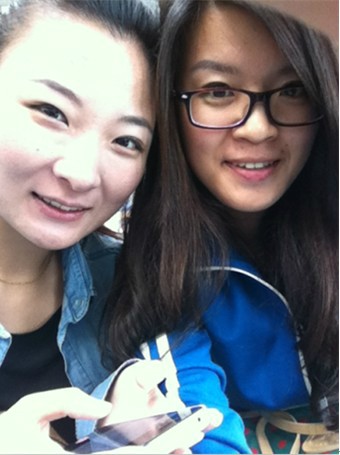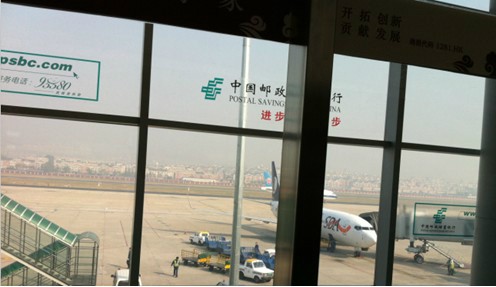 The big ash outside the window came to pick us up. After eating my mother's dumplings on the bus in the morning, we set off with the heart of flying and put aside our work and troubles.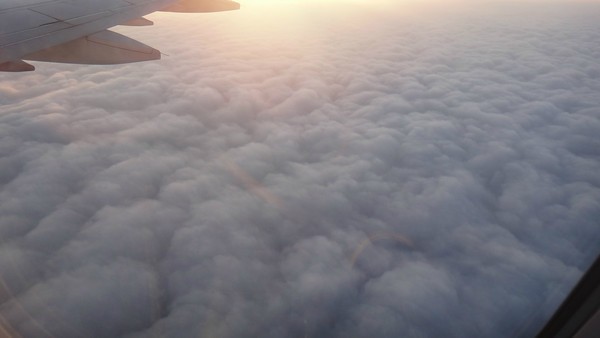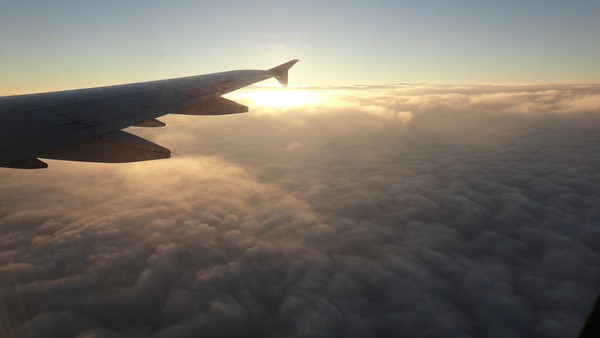 Wow, a lot of marshmallows ~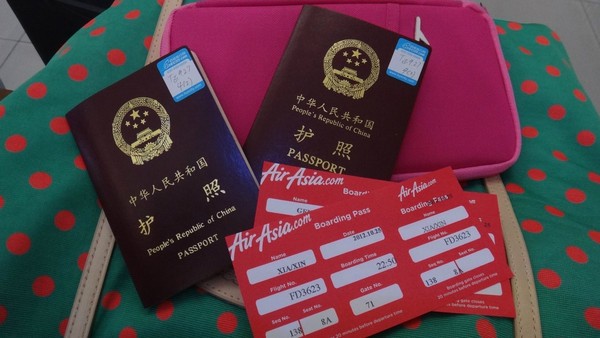 October 25, 2012 21:00 Shenzhen Baoan Airport
Let's take a picture of our passport and AirAsia air ticket ~ but during the security check, the staff confiscated the big sunscreen picked for me. It was very painful. The main pain was the heart of others ~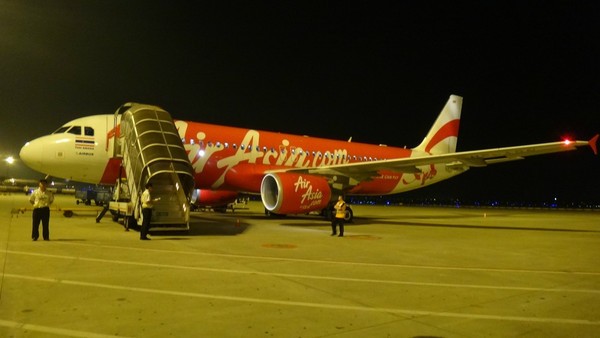 We didn't sit on the legendary "classical Cocacola", but we sat on the low-sugar Cocacola. Ha ha, let's have one too ~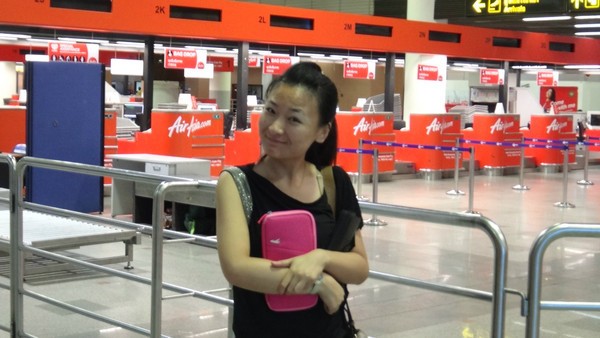 October 26, 2012: 1:30 Bangkok Langman International Airport
Since October 1, AirAsia's Bangkok route has stopped at Langman Airport. The major airports in Southeast Asia in the past are now slightly depressed.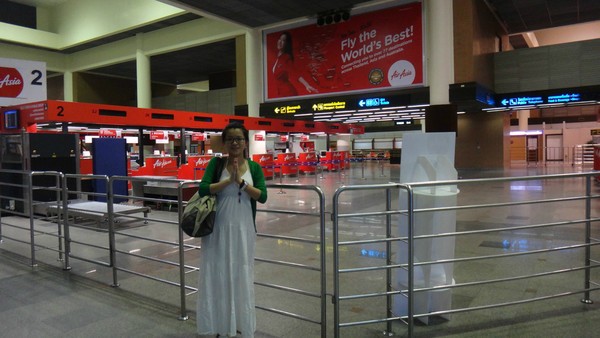 There is enough air conditioning in the airport. I still wonder if this is a city with a temperature of over 30 degrees. Then I went out the door and tried it. I felt the heat wave and changed my clothes in the airport toilet. The first photo taken by Thailand is from Savadhika ~
Scenery-Bangkok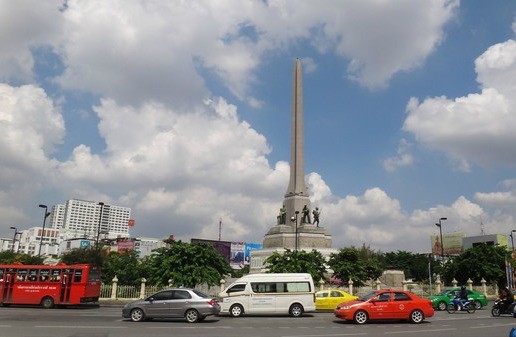 October 26, 2012, 10:00 Victory Monument.
This relic, a symbol of militarism, was built in June 1941 to commemorate Siam's defeat of France in the invasion of Indian Zhina, thus annexing the territories of northwestern Khmer and southern Laos. The obelisk in the center is not only a military sword, but also a masculine image. The five bronze statues around represent the army, navy, air force, police and civilian personnel.
In this photo, colorful taxis are also a feature of Thailand. I want to do a "color article", but I lack materials in my hurry. Let's do this first.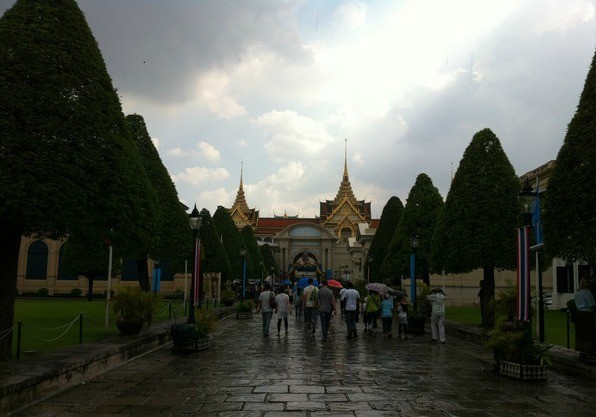 October 26, 2012 14:00 The Grand Palace
On our way to the Grand Palace, unfortunately it began to rain. We were in this rainy and cold season. Fortunately, however, the rain in Thailand came and went quickly. After arriving at the Grand Palace to buy tickets, the rain gradually cleared up. This is the sky with dark clouds at first.
Because we don't have a tour guide, nor have we touched a Mandarin Chinese tour guide, I have to use Baidu to popularize science for the basic situation.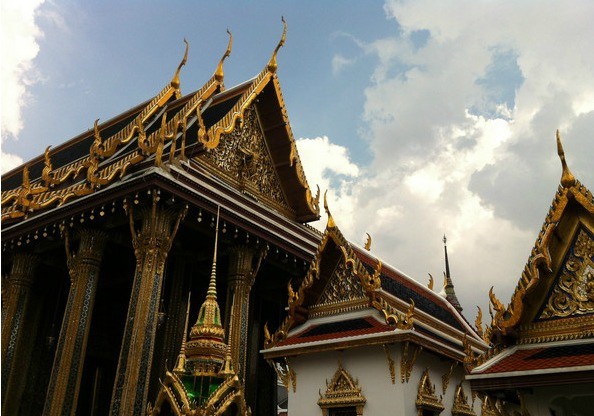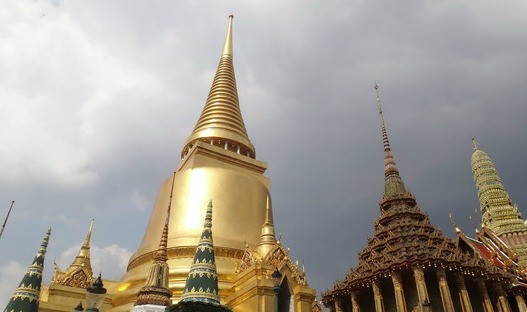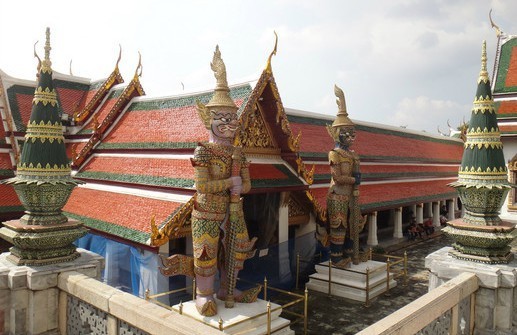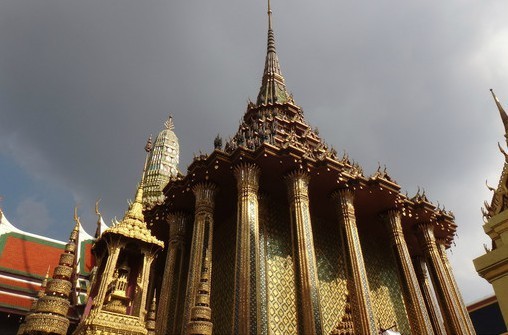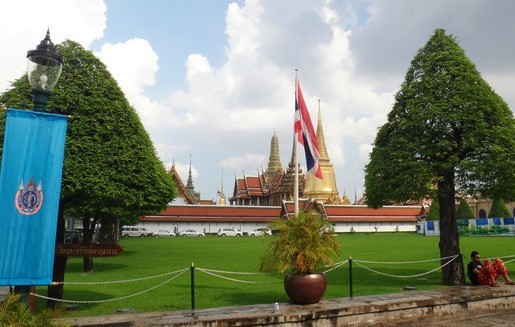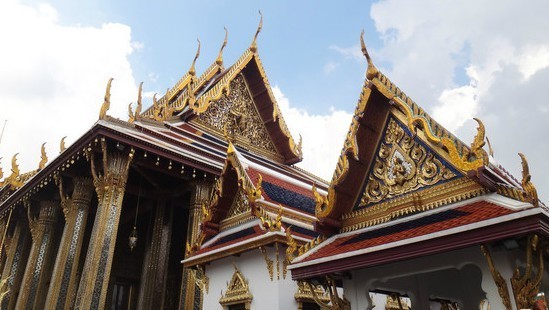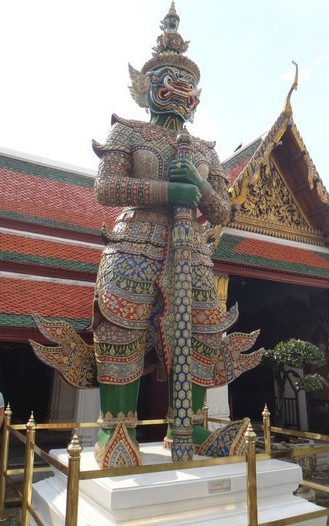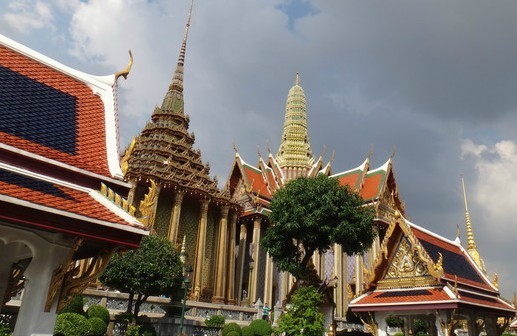 The Grand Palace is close to the Chao Phraya River and is a large-scale ancient building complex (28 buildings) in the center of Bangkok with a total area of 218,400 square meters. The Grand Palace was built in imitation of the old palace in the old capital city. After continuous expansion by generations of kings, the grand grand palace complex has finally been built. The Grand Palace is one of many royal palaces in Thailand. It is the most perfectly preserved, largest and most ethnic palace in all dynasties. The Bangkok Dynasty lived in the Grand Palace from Rama I to Rama VIII. The Grand Palace is a collection of Thai architecture, painting, sculpture and decoration arts. Its style has distinct Siamese architectural art characteristics and is deeply appreciated by tourists from all over the world. It is called the "Thai Art Encyclopedia".
There are four magnificent buildings in the Grand Palace, namely Hakri Maha Prasad, Dusit Maha Prasad, Amarin Winitchai Hall and Wat Phra Kaeo. The Grand Palace is now the Ministry of State. There is an oval square in front of the Grand Palace. It is flanked by luxuriant trees. It is surrounded by major universities, government offices, Thailand's National Museum, National Theatre, National Art Museum and Bangkok's Guardian Temple.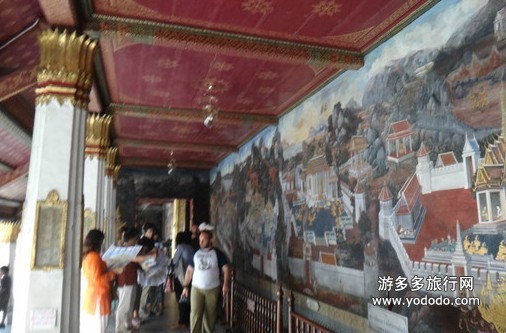 Corridor painting
There are 178 pictures and rhymes in the corridor around the whole Jade Buddha Temple, which were painted by Rama I and tell a fairy tale. Green monsters are bad and like to rob other people's wives. White monkeys are good and have divine power to help the king save the queen. Once they even used divine power to wrap up the whole city to avoid the invasion of bad people. The painting technique is quite lively and three-dimensional.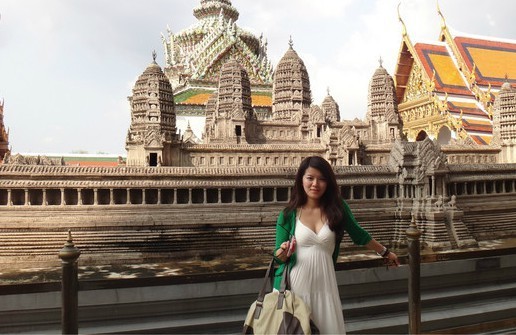 Sutra Depository
The legendary small Angkor Wat oh ~ this sutra cabinet honors a classic made of gold pieces, with square spires, eaves with special huge teeth, and hag queues at the four gates. In front of the Sutra Depository, there are some small pavilions displaying white elephants and national emblem representing each emperor. Angkor Wat Model: This model is located to the north of the Sutra Depository. It was ordered by Rama IV to be built according to Angkor Wat in Cambodia. It is small and lifelike.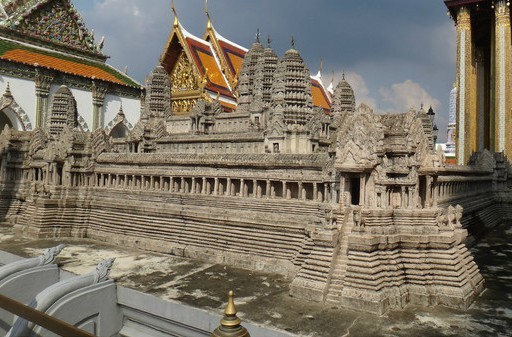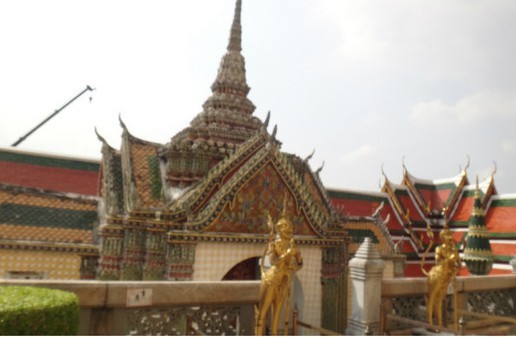 Immortal statue
There are a total of 7 pairs of immortal statues on the high platform, including the "lion fairy" with the upper body as a daughter's body and the lower half as a lion's body, the "Kinnaro" with the upper half as a man's body and the lower half as a bird's body, backed by one hand and held to the chest in one hand, and the bird god with a pair of bird wings holding a dagger in one hand and holding to the chest in the other.
This is blurred by me, 555 ~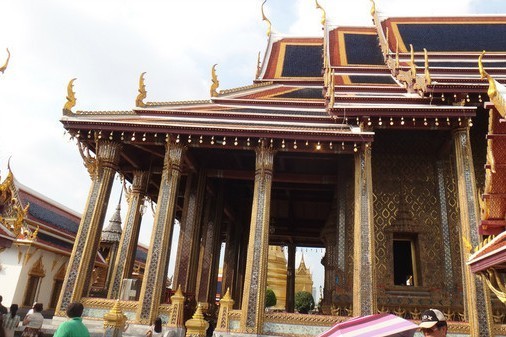 Jade Buddha Temple Wat Phra Keo
It is the most famous Buddhist temple in Thailand and one of Thailand's three national treasures. It is the golden relic pagoda of Thailand's Jade Buddha Temple. The Jade Buddha Temple, built in 1784, is part of Thailand's Grand Palace, accounting for about 1/4 of the area of the Grand Palace. The Jade Buddha Temple is a place where Thai royal families worship jade Buddha statues and hold religious ceremonies. It is named after the jade Buddha enshrined in the temple. There are Jade Buddha Hall, First King Hall, Buddha Bone Hall, Sutra Depository, Bell Tower and Urn Pagoda in the temple. The Jade Buddha Hall is the main building of the Jade Buddha Temple. The shrine in the middle of the hall honors the Jade Buddha, which Thailand regards as a national treasure. Jade Buddha is 66 cm high and 48 cm wide. It is carved from a whole piece of jasper. Every time the season changes, the Thai king personally changes clothes for the Jade Buddha to protect the peace of the country and the people. Whenever Thailand's cabinet changes, all cabinet members of the new government will be sworn in to the king at the Jade Buddha Temple. Every May, during the Farming Festival, the king also holds religious ceremonies here to pray for a good harvest.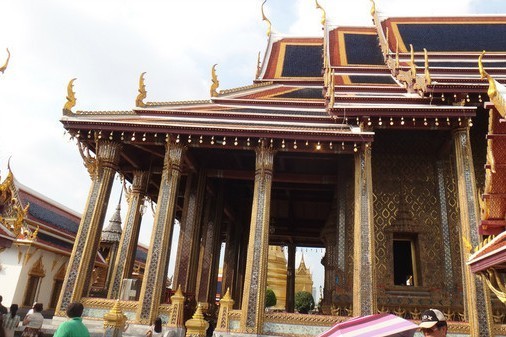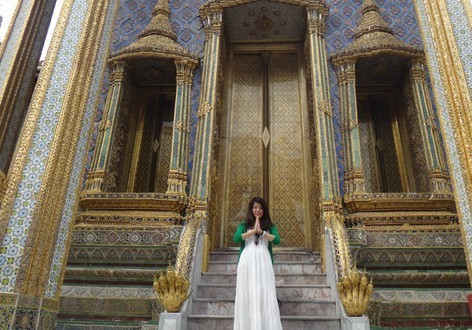 I like this kind of shooting with strong depth and atmosphere very much.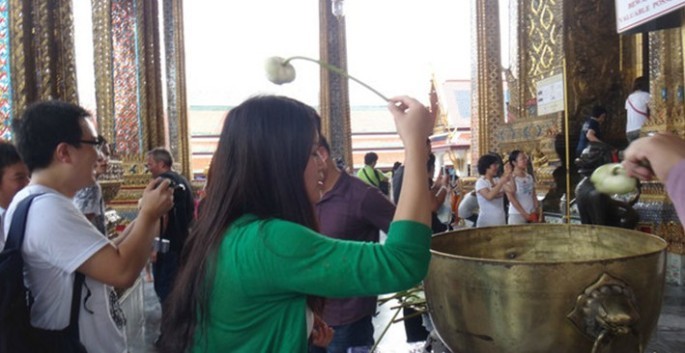 The baptism of holy water outside the main hall ~ I like that lotus very much. Later, I saw that some foreigners took it away. Can it be swollen like sauce?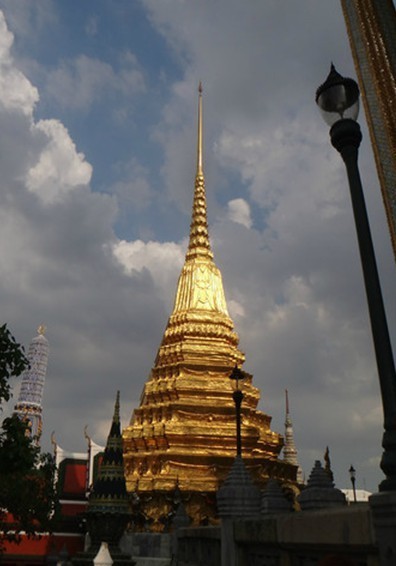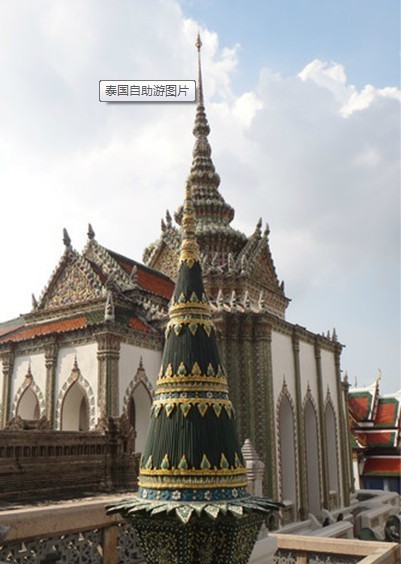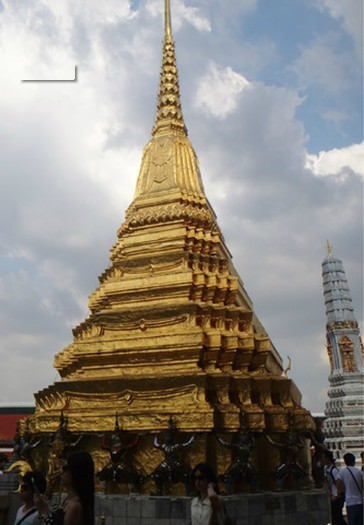 Prasart Phra Debidorn
It is in the shape of a cross. There is a Khmer Tower on the top of the temple. The temple is surrounded by 12-corner pillars, all of which are decorated with lotus flowers. It is regarded as a royal ancestral temple. The memorial images of Fang Chen Rama I to V are only opened on April 6 each year. There are two golden pagodas in front of the temple, which were built by Rama I in memory of his parents. There are 20 monkeys in the tower foundation.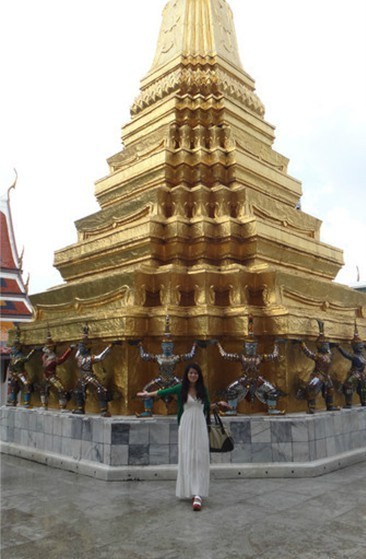 Kiss, you always cut off part of the main background without permission. Is this incomplete beauty what Kiss wants?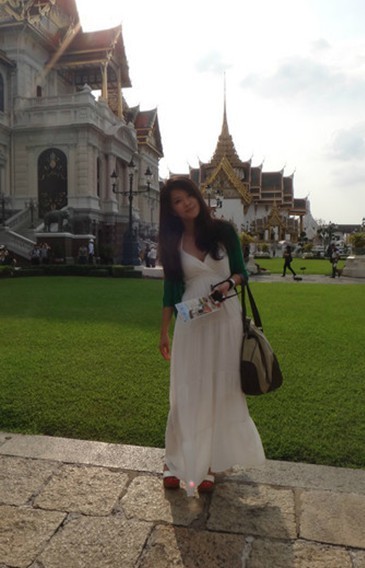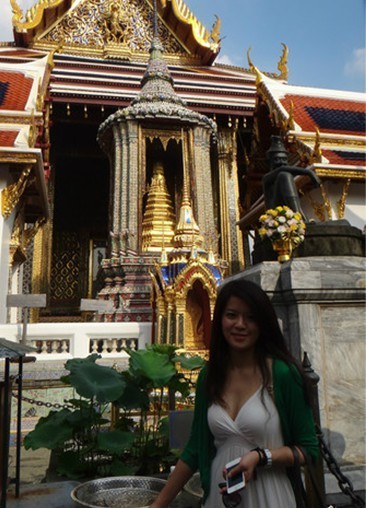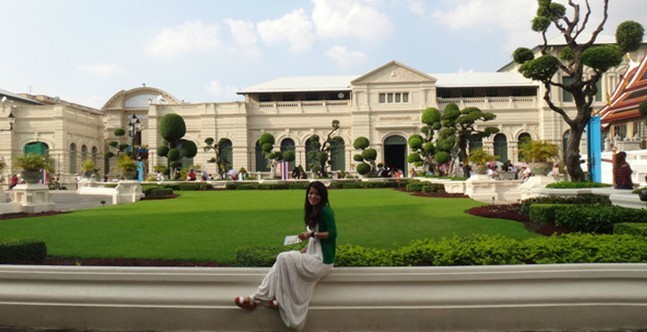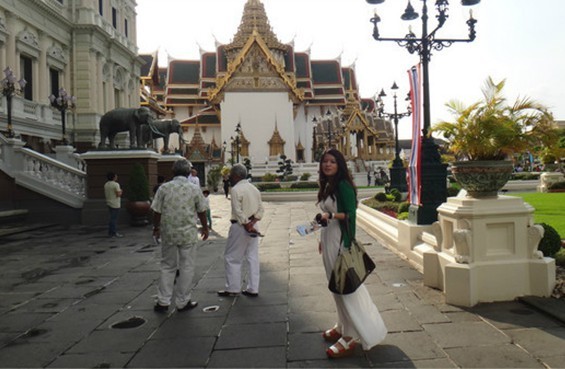 Wangjiatian Square outside the Grand Palace was once used as a royal square. Today, every Spring Ploughing Festival and Thai New Year, the king presides over the celebration ceremony here. Forgot to use the panoramic function to shoot, 55555……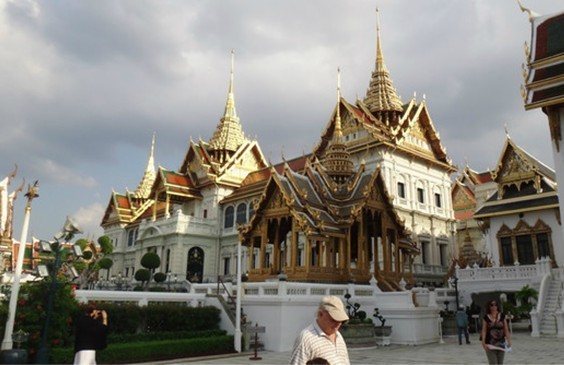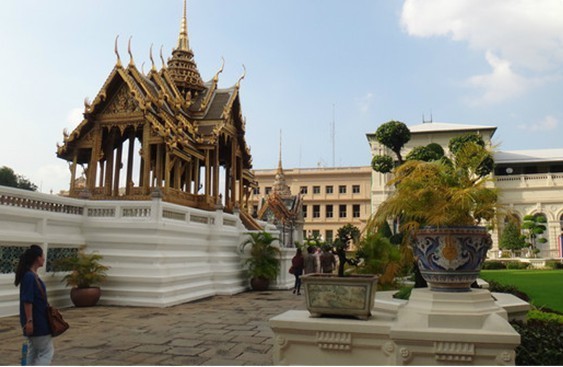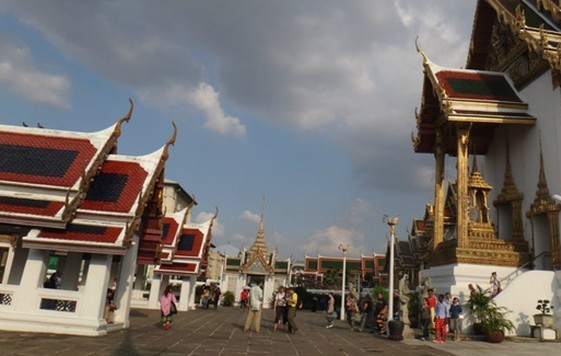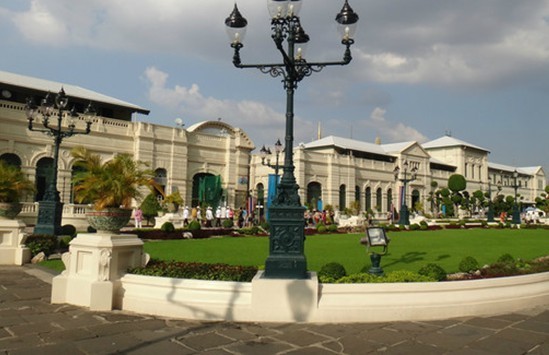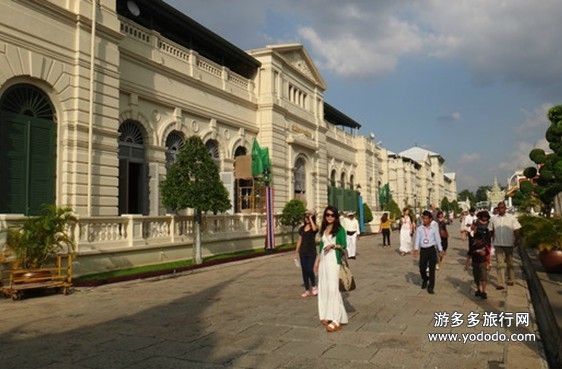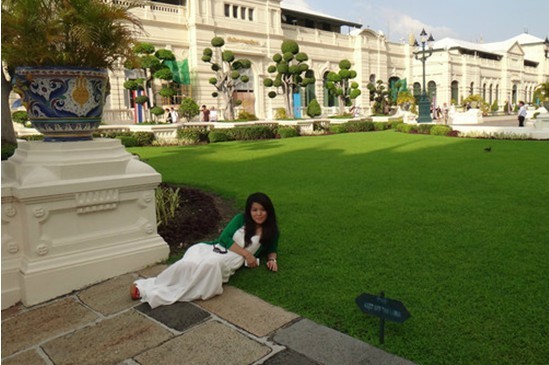 Colleagues said how I took this picture so obscene. . People just want to get close to nature ~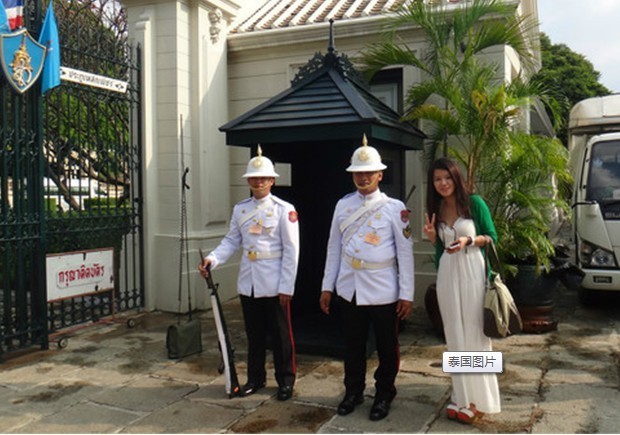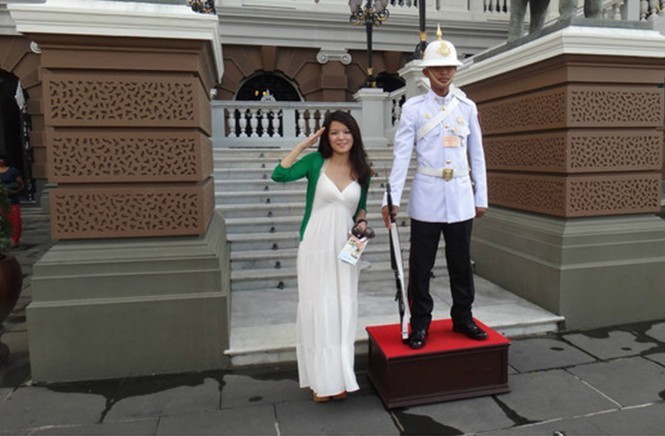 Take a photo with the soldiers on guard ~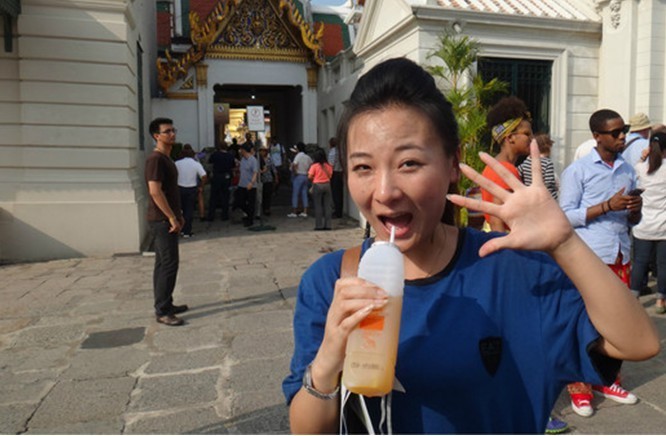 Thirsty, finally bought water, mango juice, you are still wearing my brother's clothes. Everyone should pay attention to the fact that you can't wear exposed clothes when you go to the grand palace. Someone was almost cut off outside. You can't wear cassock or something. Ha, ha, ha ~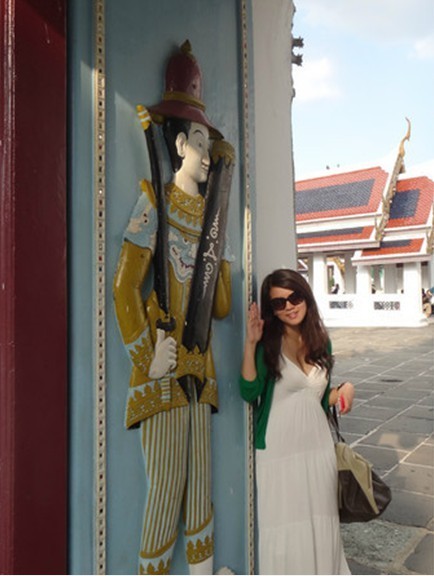 I was still shocked by the magnificent beauty of the Grand Palace. I was not dragged to the next scenic spot by my relatives, but I still refused to leave.
2012.10.26 16:00 Sleeping Buddha Temple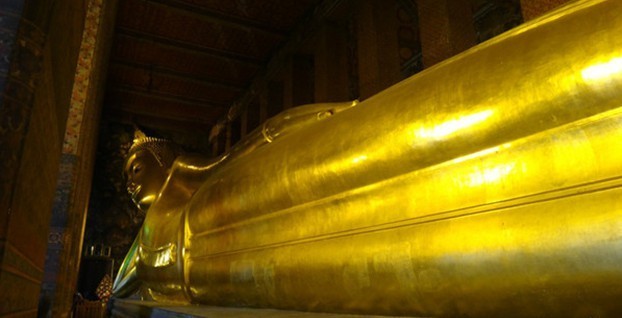 The reclining Buddha in the reclining Buddha temple is the largest reclining Buddha in the world, 46 meters long and 15 meters high. The sole of each foot is 5 meters long and engraved with 108 Buddha patterns. The posture of Buddha lying down expresses the posture of Buddha in his pursuit of nirvana. His right hand holds his head and his whole body lies on his side, leisurely on the Buddhist altar. The four walls of the temple are accompanied by giant murals depicting the life of Buddha. In the Sleeping Buddha Temple, there are many pagodas, with a total of nearly 100 pagodas, large and small. These pagodas are either plastered with gold foil or inlaid with colored porcelain, and the four large pagodas are especially spectacular. On the other hand, the stone tablets written on the corridor pillars, walls and card halls in the Sleeping Buddha Temple on the temple history, Buddhist history, prescriptions, literature and other aspects form another unique landscape in the Sleeping Buddha Temple, where many knowledge that has been difficult to find among the people can be found. Therefore, the Sleeping Buddha Temple has the name of "Thailand's first university".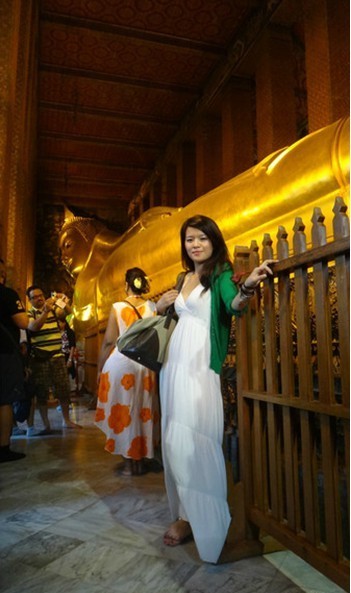 Barefoot, because I can't find a kiss, a foreign girl took it for me. Many places here need slippers to enter and visit, including the Jade Buddha Temple.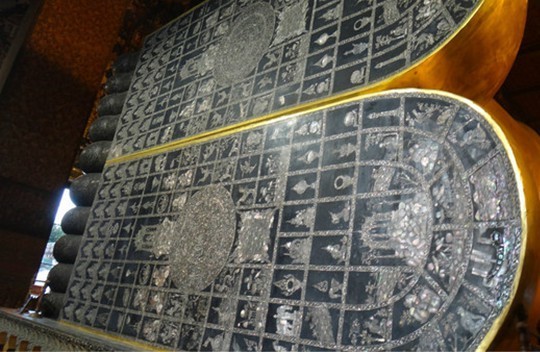 108 Buddha statues with different forms ~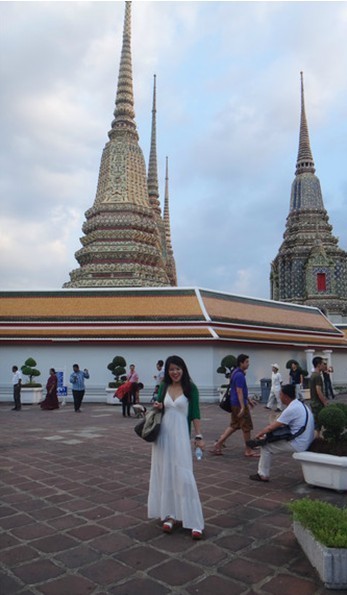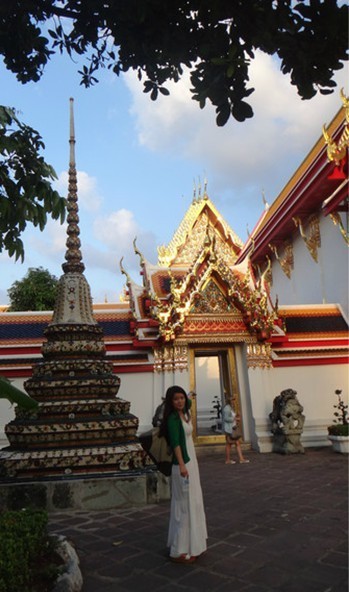 It was nearly 18 o'clock local time, and the sky was basically completely clear, but it was getting dark soon.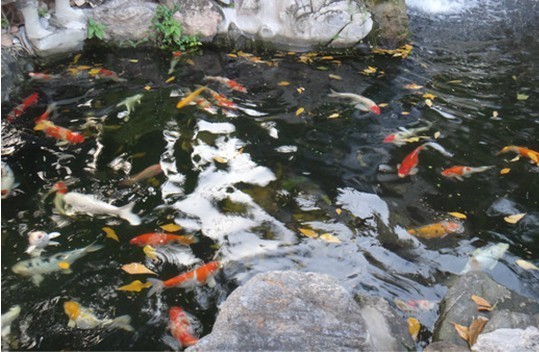 Pond of Sleeping Buddha Temple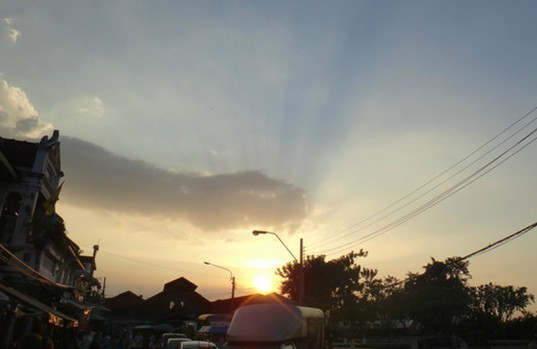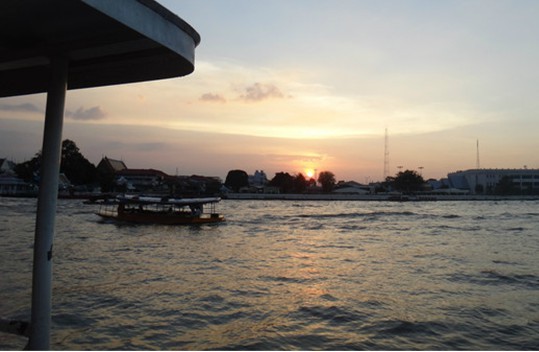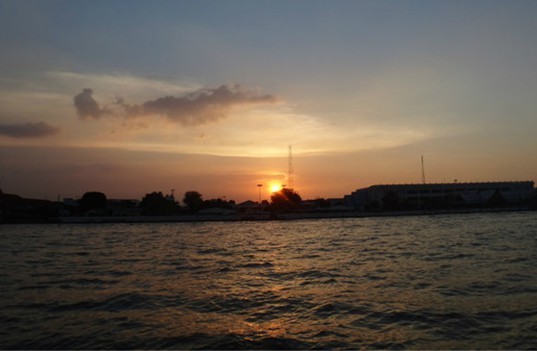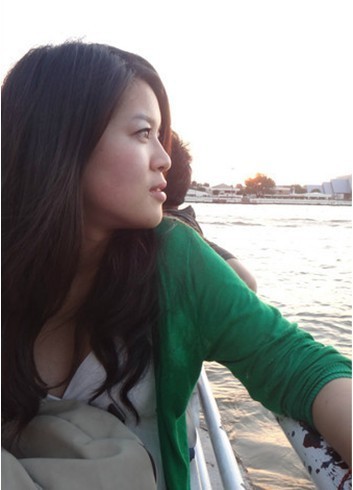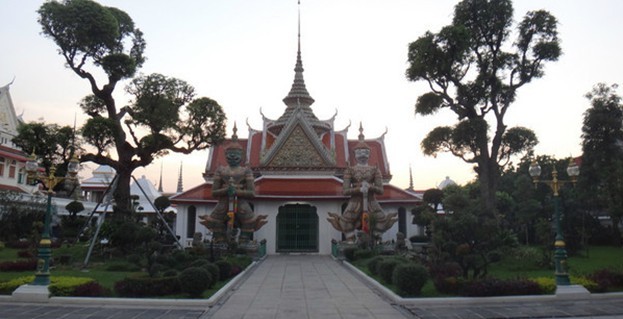 Get off the boat and walk to Zheng Wangdian, soon. The sky was gradually over, and when we came down from Zheng Wang Dian, we became the second of the last four tourists.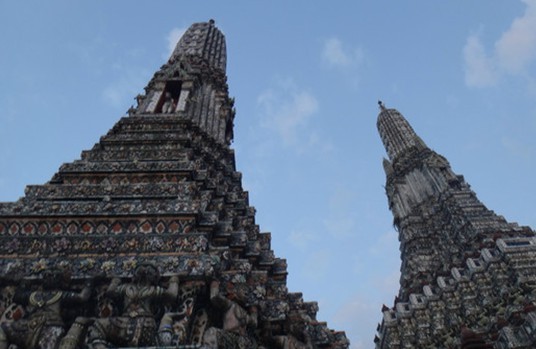 Zheng Wang Temple Wat Arun
Also known as Temple of the Dawn, it is a temple commemorating Zheng Zhao, the 41st generation king and national hero of Thailand. Founded in the Dacheng Dynasty, it was named Crown Temple at that time and later renamed Chang Temple. Dawn Temple is located in Tun Li Wu City, a twin city on the west bank of the Chao Phraya River in Thailand. It is a famous temple in Thailand and one of the royal temples in Thailand. The temple is related to Zheng Zhao, a Chinese national hero who led his army to expel Burmese enemies, save rivers and mountains, and founded the Tun Li Wu Dynasty.
Zheng Wang Temple was an ancient temple in the Dacheng Dynasty, called "Makha Temple". It is said that when Zheng Wang expelled the Burmese army, he went down the Chao Phraya River and passed through the temple of Zheng Wang Temple at dawn, so he ordered him to go ashore to worship in the temple. After Zheng Wang ascended to the throne, he ordered the temple to be rebuilt and renamed "Dawn Temple". Another way to say that this temple is called "Dawn Temple" is because the highest spire in the temple is 79 meters high, which makes people think that it is the first place to contact with sunshine every day, so it is given the name "Dawn Temple". The 79-meter-high "Paipan" pagoda in Zheng Wang Temple, Founded in 1842, Belonging to the Mahayana stupa style, The spire was decorated with complex carvings, Inlaid with various colored ceramic pieces, glass and shells, it is the largest Mahayana Tower in Thailand, surrounded by four accompanying towers, forming a group of huge and beautiful towers. Its scale is second only to that of the Grand Palace and the Jade Buddha Temple in Bangkok, and it has the laudatory name of "Thailand's Eiffel Tower", which is amazing.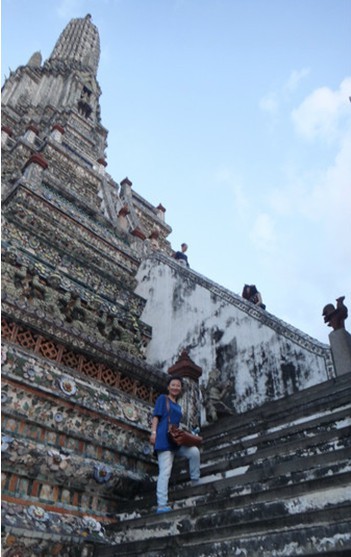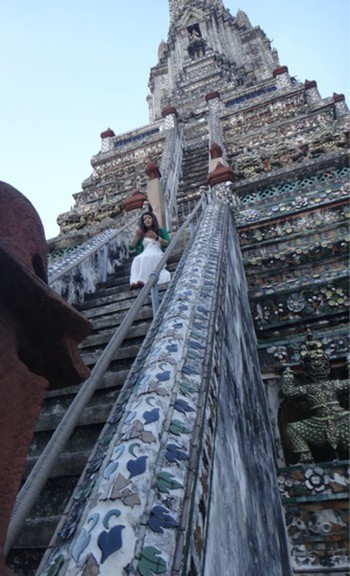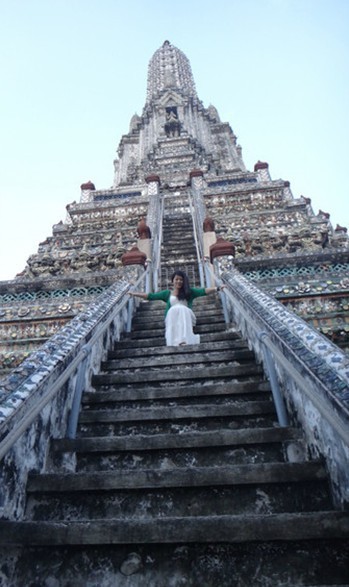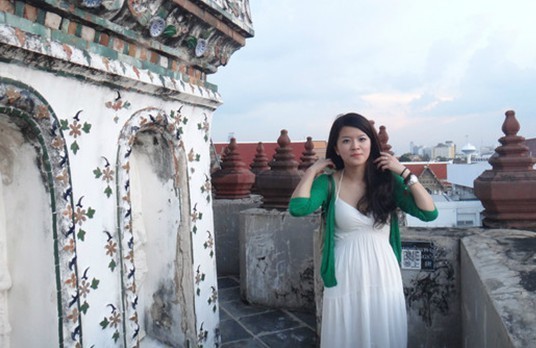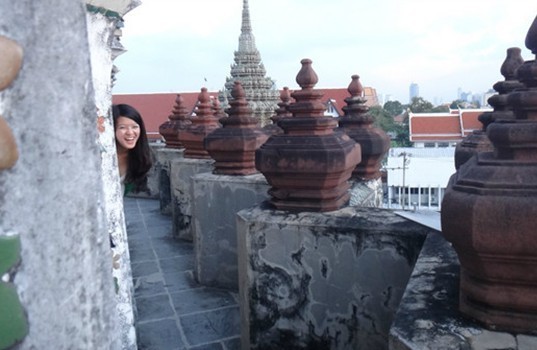 The effect of this one was chosen by me. I only showed my head but not my body. Wow, Kaka ~ ~
Looking at Bangkok from afar ~ ~ ~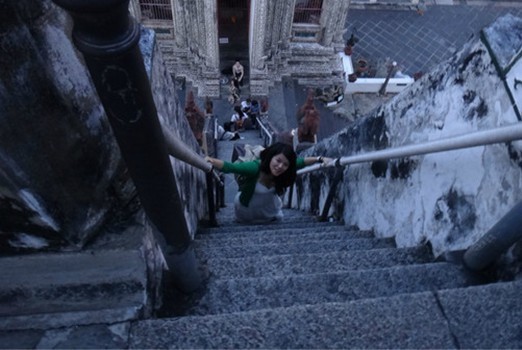 Scenery-Phuket
October 28, 2012 Patong Beach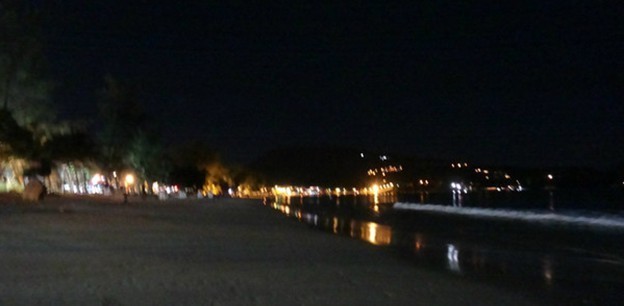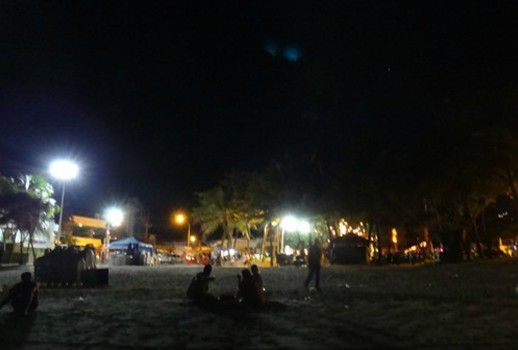 We have never seen Patong Beach during the day, but we have been there twice at night. After visiting Emperor, Bamboo and Kata later, I knew that the sea here would not give us more surprises.
The second time you go, there are big waves. Lying on the beach, listening to the sound of the waves will also make you feel empty and quiet.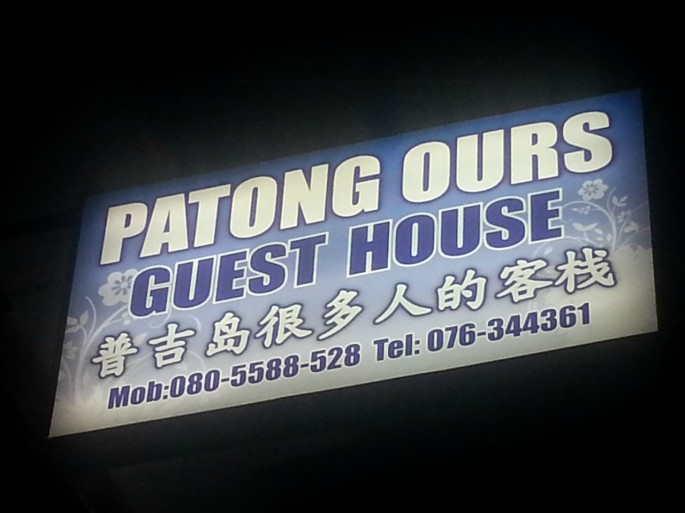 This is a small inn opened by Chinese. If there are no special requirements for travel and accommodation, it is strongly recommended to stay in this inn. It is of great help to people like us who are not good at English and cannot speak Thai. Accommodation + one-day tour can be done, and the price is really cheap, and the location of this inn is also excellent. Later, the accommodation article will be recommended in detail. He Da's microblog will be recommended to everyone: http://www.weibo.com/820528789
It is very lively here. Patong, a small city, has more than 200 hotels and inns. On both sides of the road are food and beverage stalls, small shops, travel agencies and tattoo shops. It is very rich and lively. The low wires are permeated with the remarkable features of Southeast Asian cities.
October 29, 2012 Racha Island, Emperor Island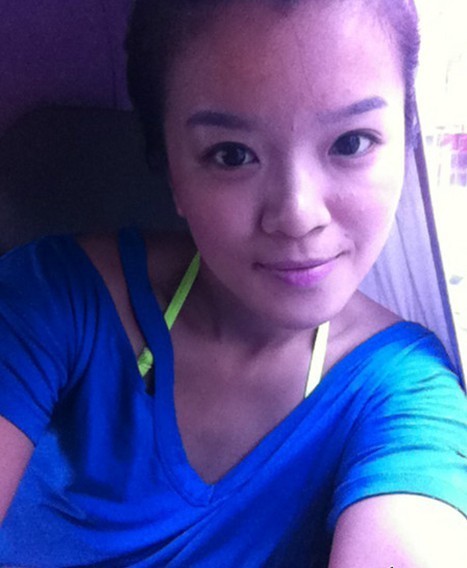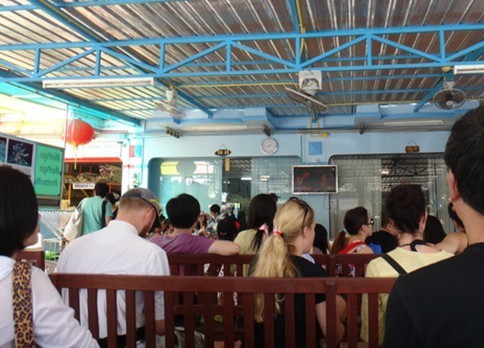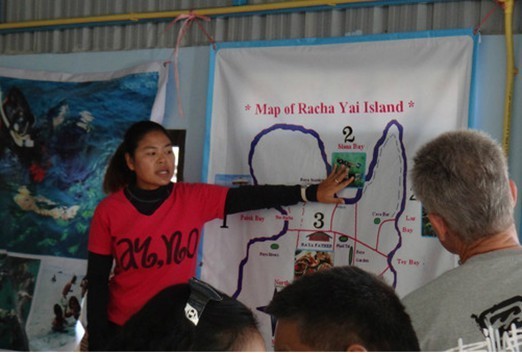 At the transfer station, the tour guide will introduce the itinerary and matters needing attention in skillful English. Each of us has a small label on our body and a colored wool rope on our hands. It's fun ~ The tour guides here are also very good and can speak fluent English ~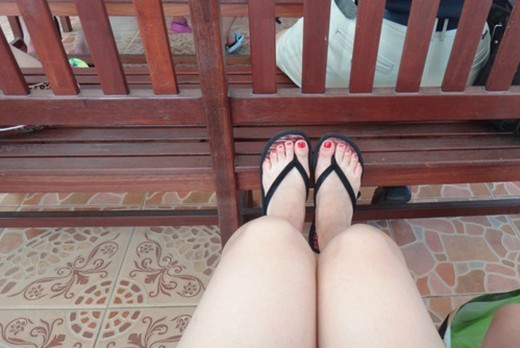 When I first left, it was not so dark. Now, the contrast is too great! Ha ha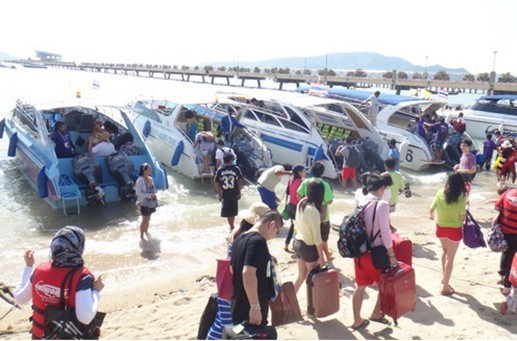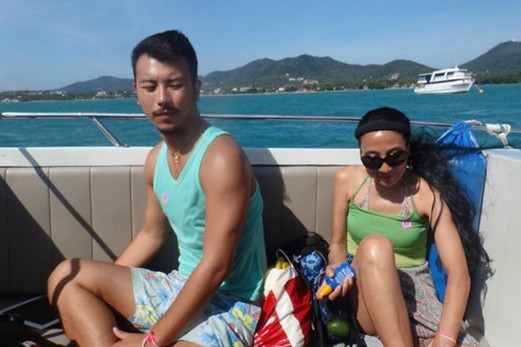 We have a car and make the bow together. The Beijing sister and brother who stayed in a hotel in the emperor are matched. The sister takes good care of the younger brother. Now it is quite fashionable.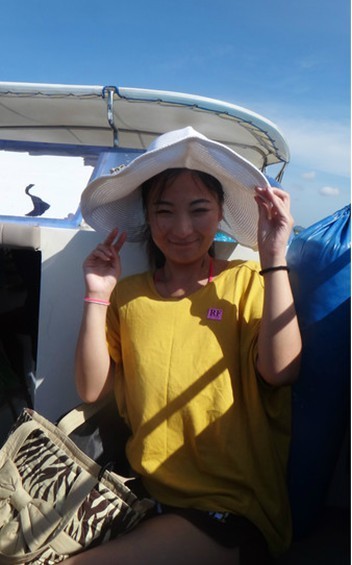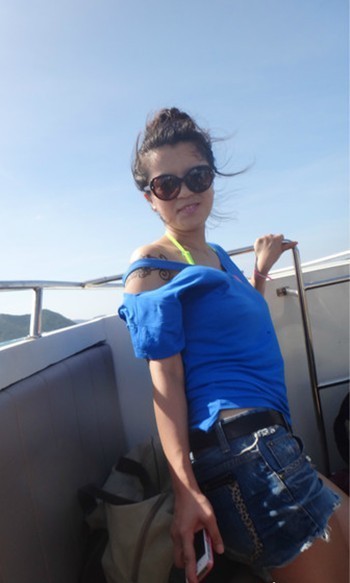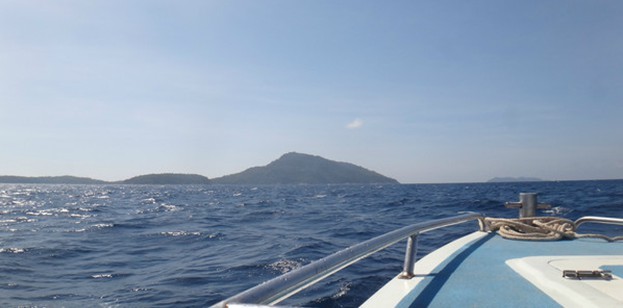 Sitting in the bow is simply too cool, with sunshine, waves, turbulence and super excitement, so that several speedboats and boats later took this position ~ tanned, tanned, came out to relax and be happy!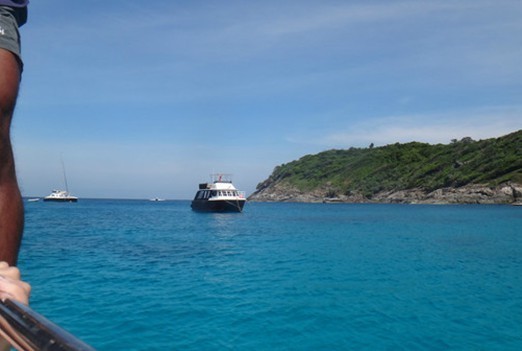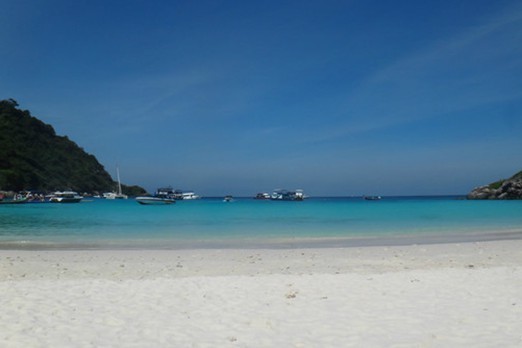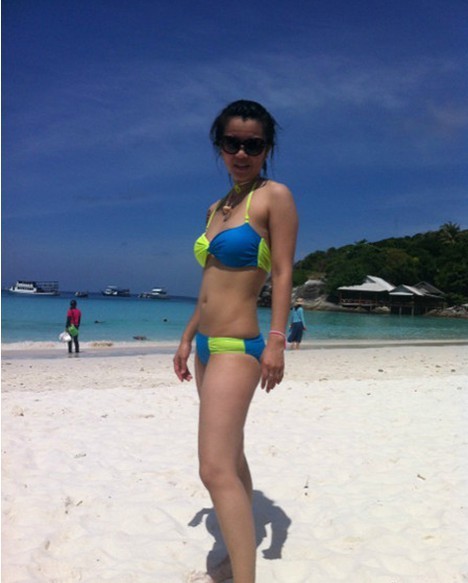 Thank you for taking a bikini photo with such a good angle ~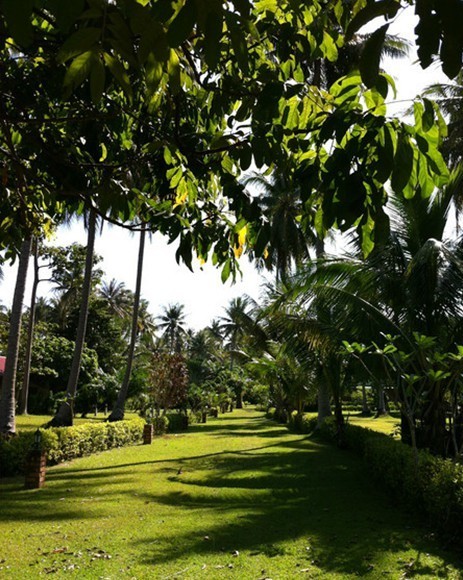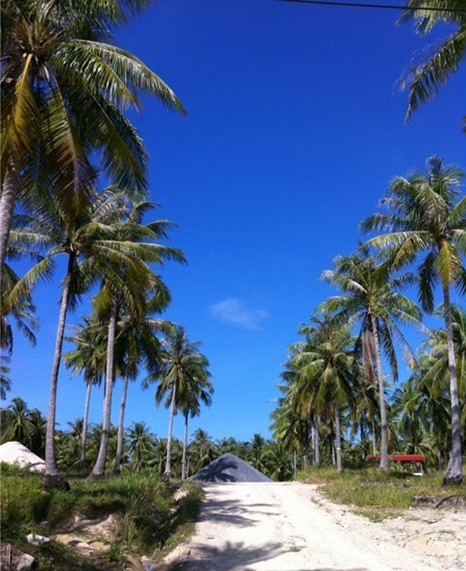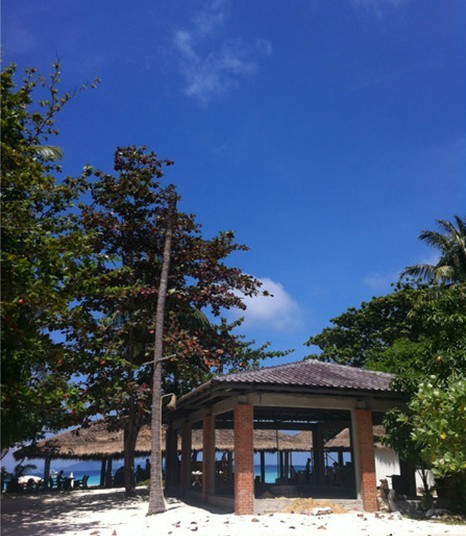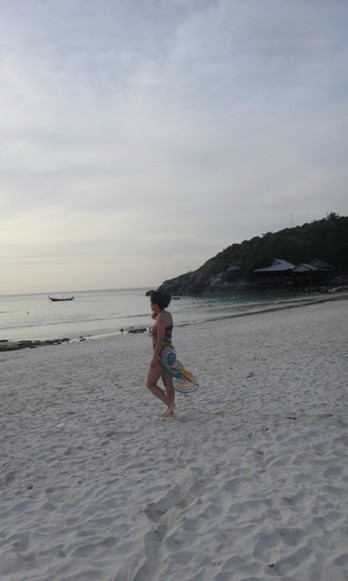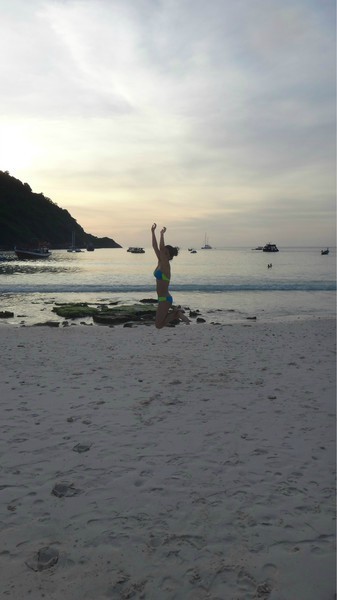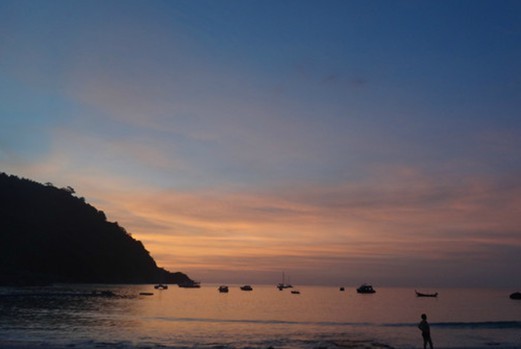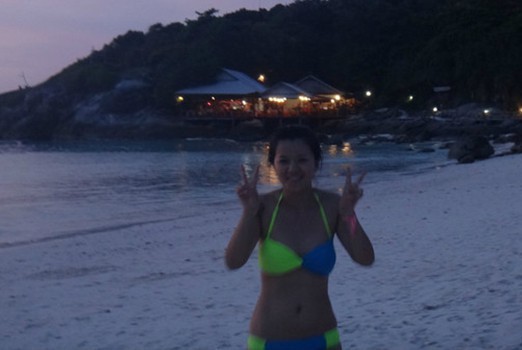 Behind me is the Cliff Restaurant where I will eat that night.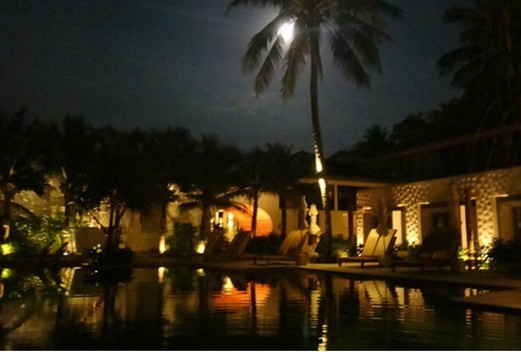 On the way back, I swam in a five-star hotel for a while. Thailand's boundless swimming pool was really well repaired.
What I want to say here is sharing and freedom. If I go back to China, such hotels must be heavily guarded and outsiders are not allowed to enter. However, here, you can come if you like. No one will check your identity and set restrictions. This is really a friendly country.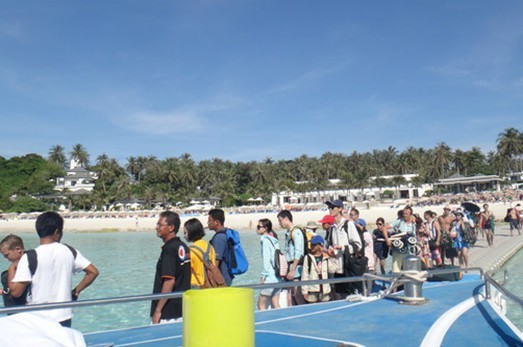 '
Two days passed quickly, and when it was time to leave Emperor Island, I was extremely reluctant to give up. I always hoped to come again ~
2012.10.30/31 Kata
There are not too many photos of Kata. We felt Kata and Karen on the evening of the 30th and during the day of the 31st respectively. The overall environment is much cleaner than Patong. The buildings are also of some grade. The streets are spacious and bright. No taxis can be found. Only scattered TukTuk cars are available. A Zi said that because it is quieter here, there are more rich people living there.
Kata and Karen's coastlines are connected and separated by a cliff. Karen's coast is relatively long. The sea here should be very good, but it rained that morning and we didn't get a beautiful beach when we went at noon.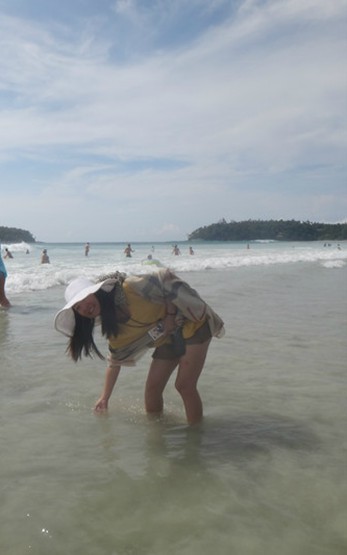 One-day tour to Phi Phi Island on November 1, 2012
Mahya Bay-Viking Cave-Monkey Beach-Ko Phae-Koh Young-AO TON SAI)
As my relatives thought that each island was the same and the time was a little short, she stubbornly went to Emperor Island for the second time while I stubbornly chose PP for a one-day tour.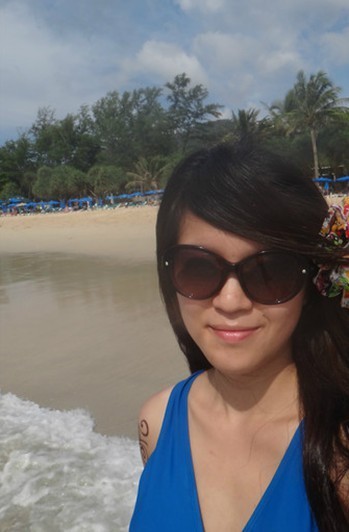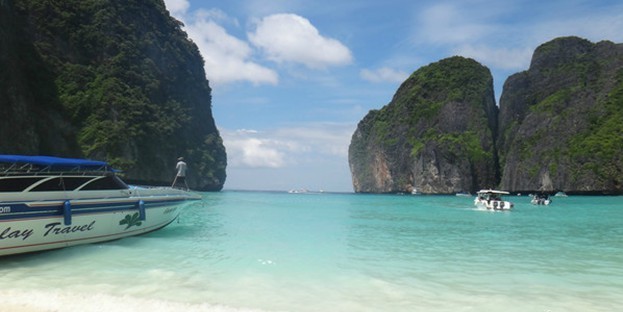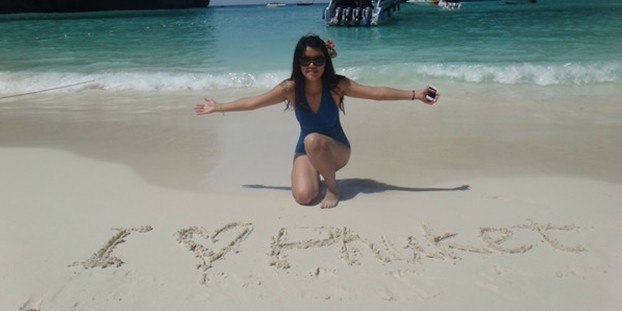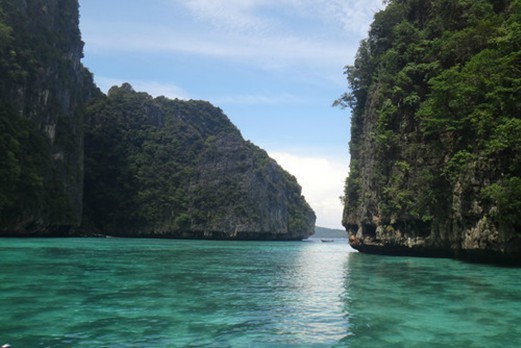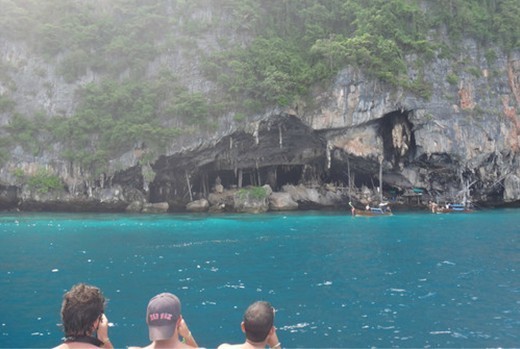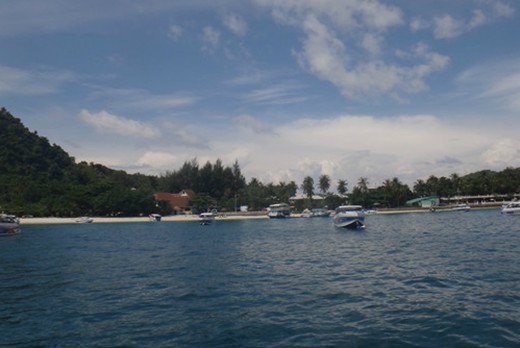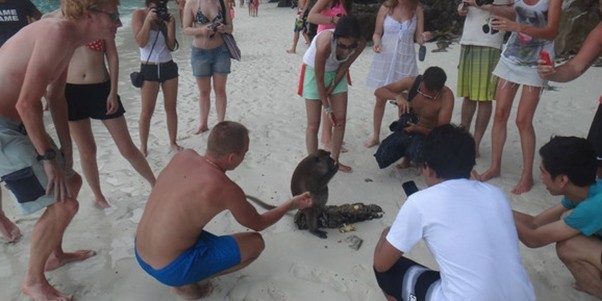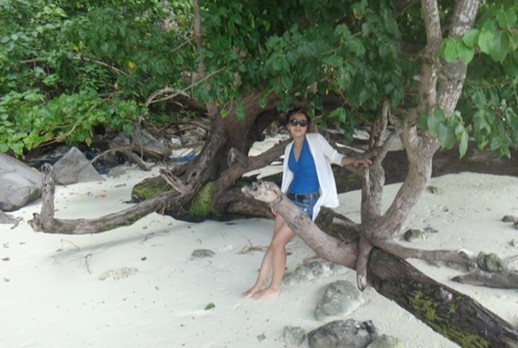 Monkey Island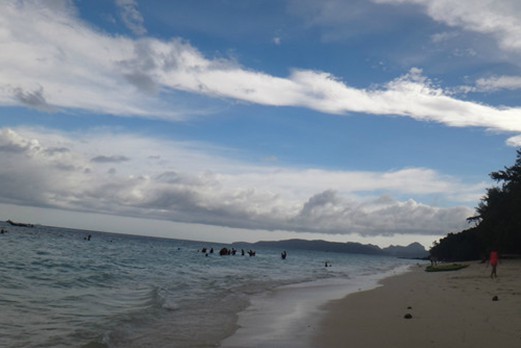 Bamboo Island is still very beautiful and worth visiting. Unfortunately, it rained again on the road, which still affected the overall effect.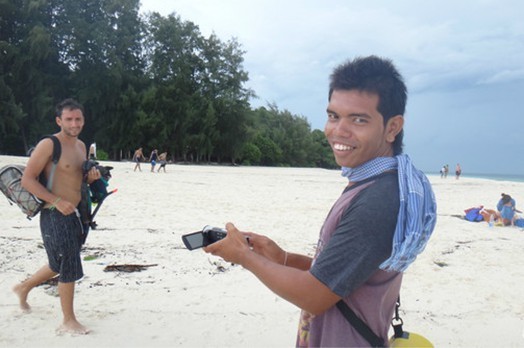 This is a young man who made a video for us. He looks very simple ~
Gourmet article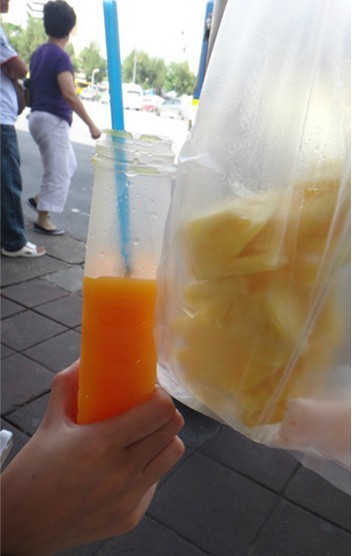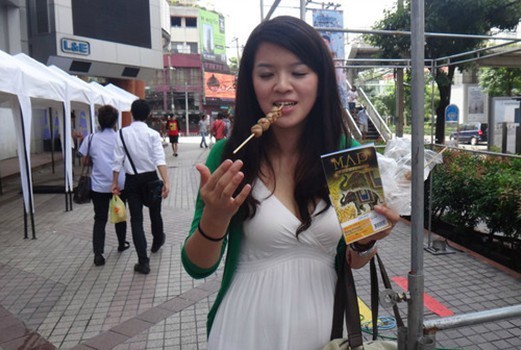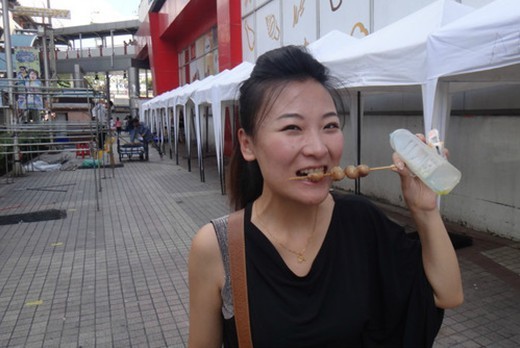 In order to save time, I tasted all kinds of pellets from Bangkok, which were painted with "Bangfen Island" garlic chili sauce. Ha, ha, ha ~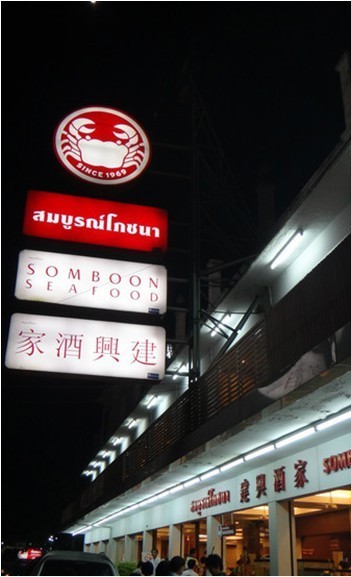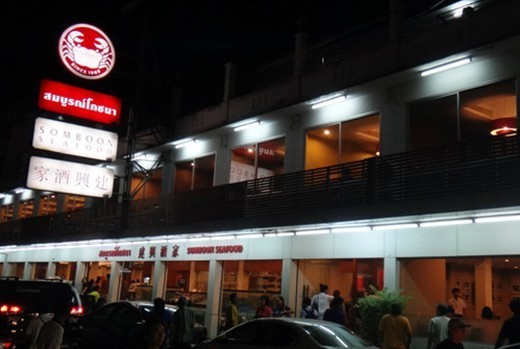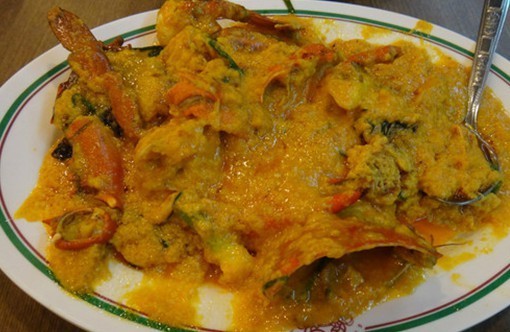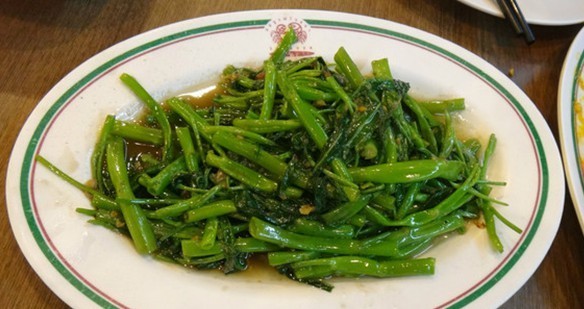 My relatives and I have the highest ordering rate on this trip, but curry crab and pineapple rice. Jianxing's curry crab tastes the best! Highly recommended!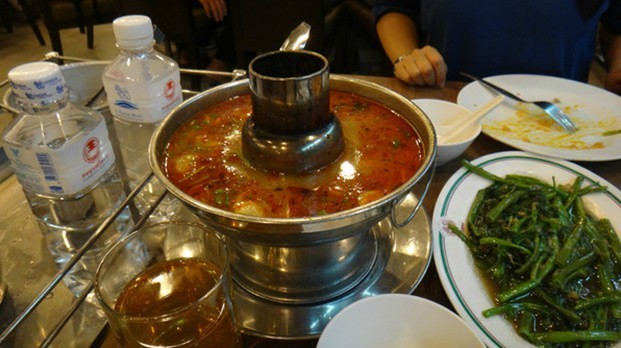 We ordered five dishes, but only three were served in the end. Why? We really dare not compliment the taste of Dongyingong Soup, and we have not dared to eat lime as auxiliary food since then.
On October 27, 2012, the weekend market stalls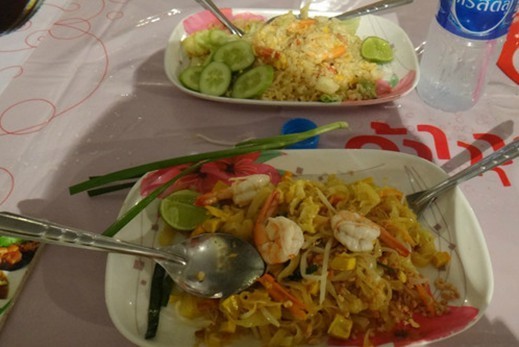 I have to catch a plane to Phuket later, and the dinner will be done at the food stalls in the market. A Thai fried noodles, a shrimp and egg fried rice, and mineral water will be given away when I check out. The Thai people are really bright ~ Savadhika ~
October 28, 2012 Burger King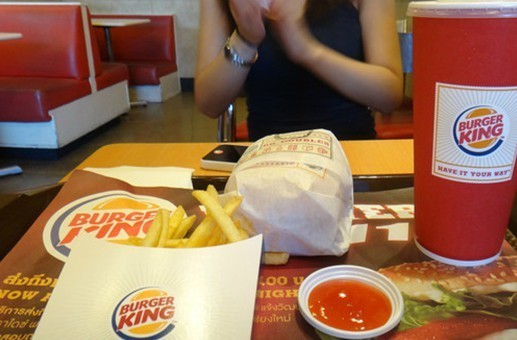 When we came to Jiangxi cold, we didn't open the door yet. We wanted to eat Burger King. While she and Chen Xiansen were on the phone, I took all kinds of selfies. .
Swensen's ice cream.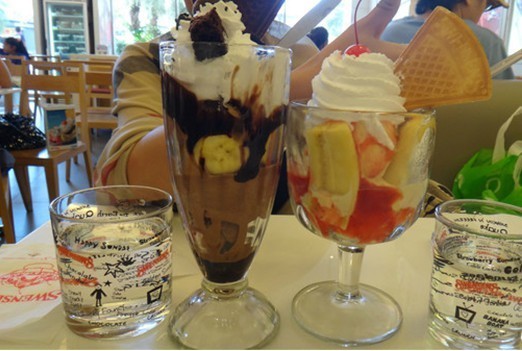 October 28, 2012 Mr.good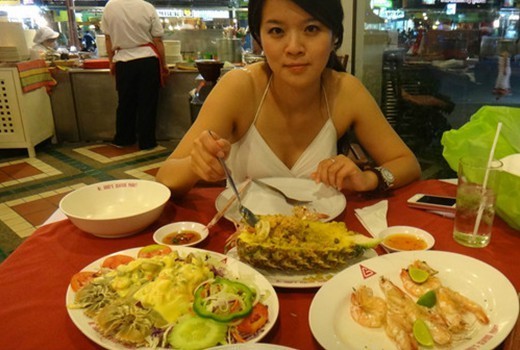 It was already very late after Simon's show. He chose Mr.good dinner, pineapple rice, skin shrimp and BBQ prawn. The taste was average and it was not recommended. At this time, I made a summary, and sometimes I couldn't believe all the strategies.
October 29, 2012 Emperor Island Cliff Restaurant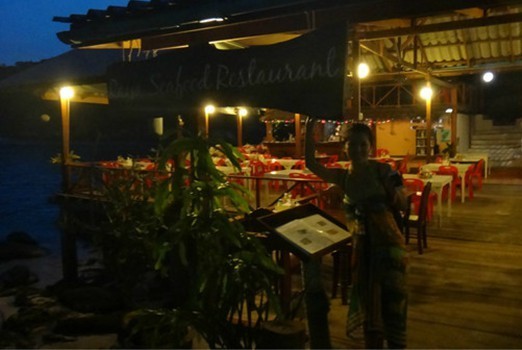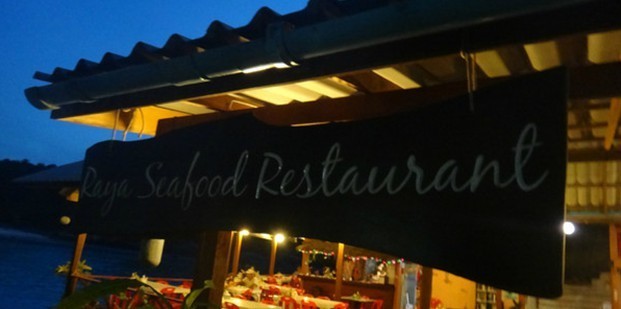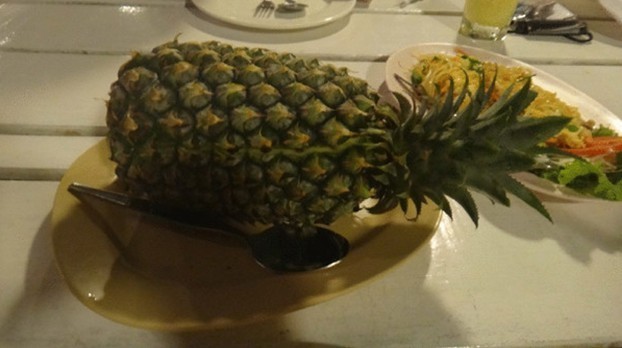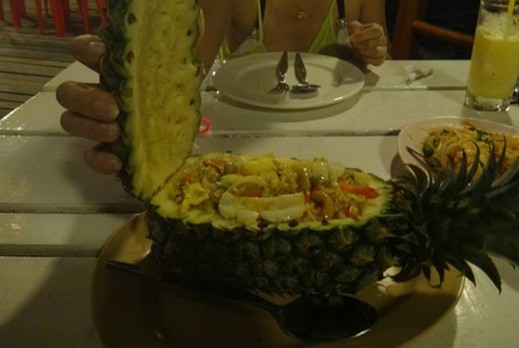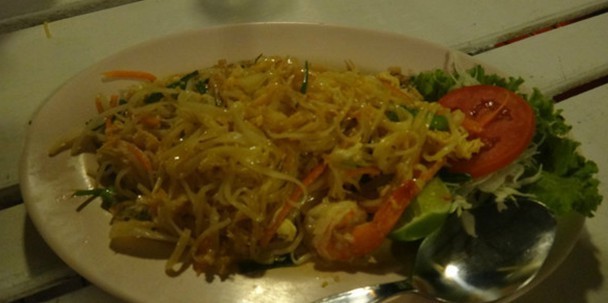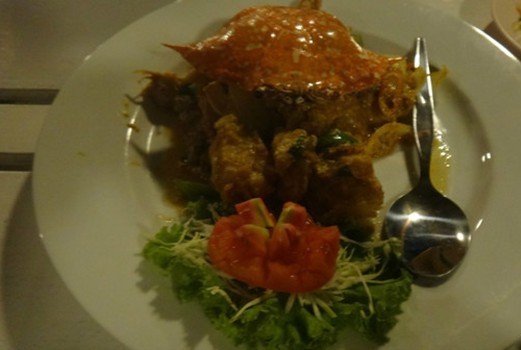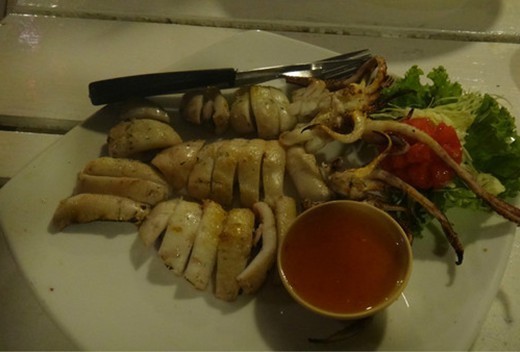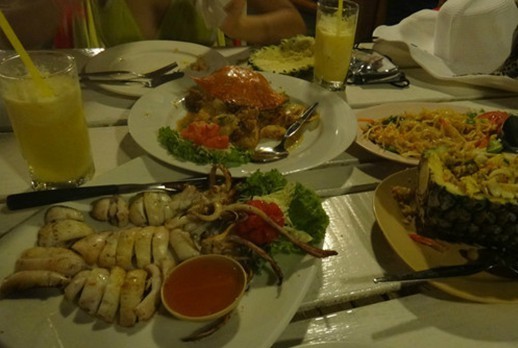 Let's have a picture of our family
It's good to watch the sea when eating here. When eating, I was itchy when I was bitten by mosquitoes. She brought me mosquito water, which was very considerate.
There are other foods that have not been recorded, 555 ~
Accommodation
Amari Don Muang Bangkok Hotel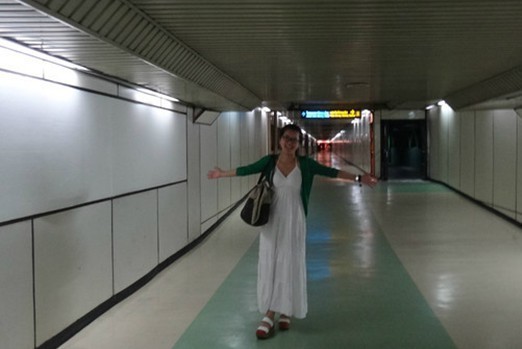 From the corridor of Langman Airport, check directly into the Langman Hotel in Bangkok, Amari. This one is too der and grinning ~
Here, I would like to praise the seamless links experienced during this trip, from Pudong Airport to Maglev, Subway and Bus. Link between Langman Airport and Hotel; During Phuket's one-day trip, the seamless connection of cars, boats, hotels and scenic spots provides tourists with great convenience, quickness and peace of mind.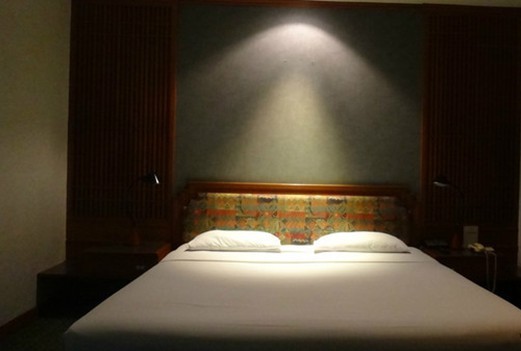 The room is simple and tidy.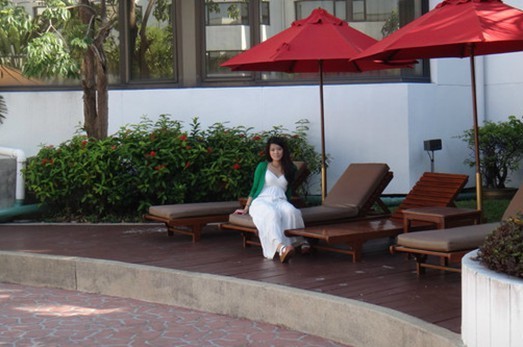 Before getting up early and checking out, I can't put all kinds of boast in the hotel garden, ha ha ~
Suneta Hostel Khaosan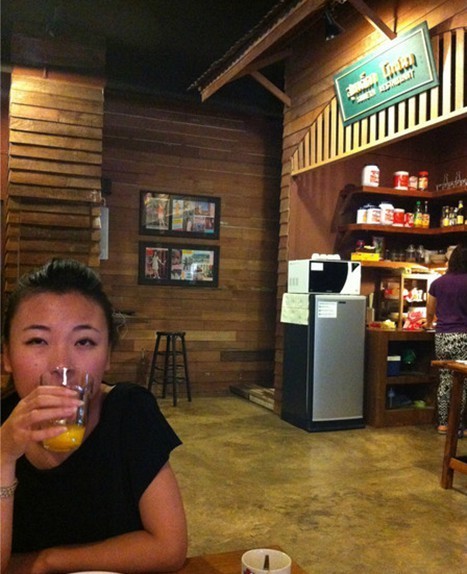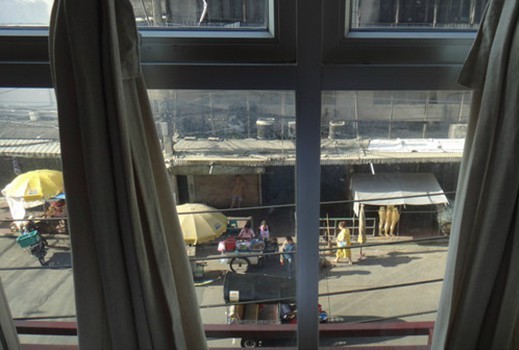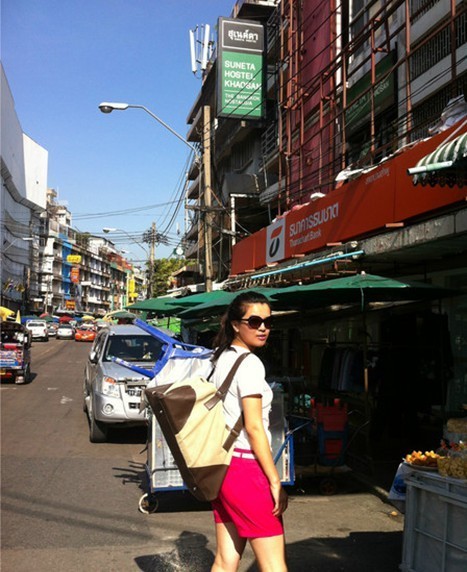 Since our luggage is stored at the airport, the contents of the bag are very heavy. Is it domineering for the smart parent to ask me to pack a shoulder bag and a backpack? Ha ha, but it is really much lighter ~ how can I grow so strong?
Patong Ours Guest House, a crowded inn on Phuket Island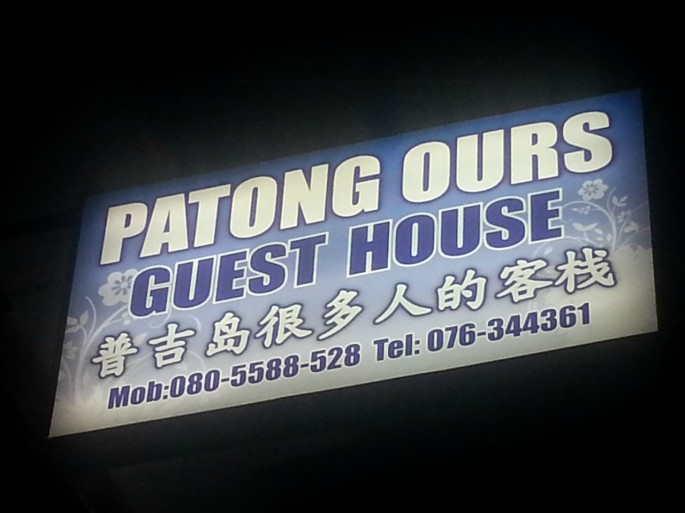 After arriving in Phuket at 23:30 on October 27, 2012, I saw a sign with our name and hotel name written on it at the pick-up place. I was worried about whether I could receive us before, and finally someone picked us up! The driver's eldest brother was very enthusiastic. He helped us carry our luggage and gave him a 20B tip.
Thailand's service attitude really has to be praised.
After arriving at the hotel, the owner of the store received him warmly and communicated all in Chinese. It was really great. After so many days in Bangkok, he didn't speak as much Chinese here for half an hour. Ha ha,.
Many people's inn microblogs on Phuket Island: http://www.weibo.com/678820528
Ban Raya Resort and Spa
There are three hotels on Emperor Island, each with a beach. We live relatively far away and cheaper, but we are already satisfied. Here are rows of cabins, each of which is a separate room. Going out is a large area of forest, as if in the primitive environment, relaxed and happy.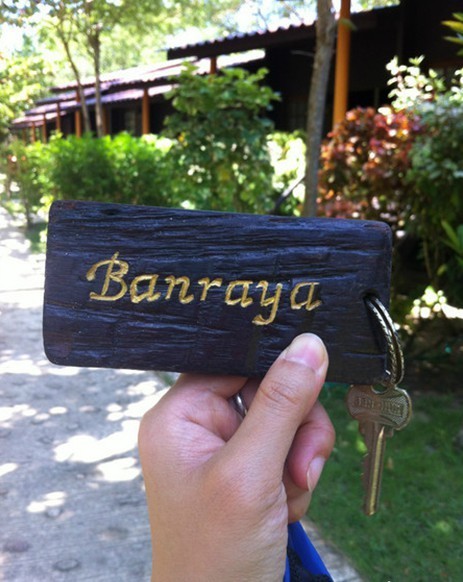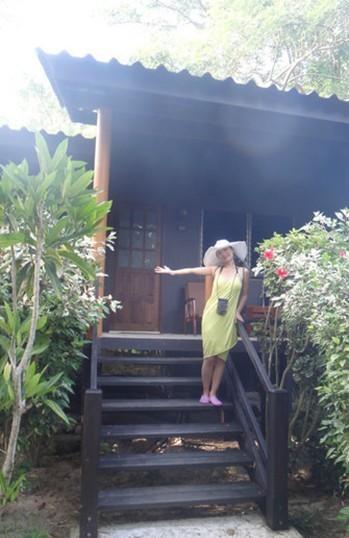 To be continued