In late October 2012, a person went to Sumei.
The plan was made in February. Xiao Huang, a young man from Hubei who met on the flight from Thailand to Shenzhen and studied for a master's degree in hotel management at a university in Phuket, Thailand, stopped at me when he passed Shenzhen on his way to Thailand and agreed to accompany me to Sumi Island for vacation when he had a holiday in October. AirAsia tickets booked in advance are very cheap, with less than 1,000 round trips. Since Sumi is not a popular route, the domestic air ticket from Bangkok to Sumi is quite expensive. Xiao Huang suggested to take a long-distance bus at that time. Anyway, it is not in a hurry to take a vacation.
In September, I booked a hotel on Agoda. It was not expensive either, less than 12 US dollars per room per day. Visa 320 yuan; Let Xiao Huang send me the Thai text of looking for the station and buying a bus and boat connection ticket to print it out. Everything is ready, just waiting for departure.
AirAsia is a cheap flight, which comes and goes night after night. Two and a half hours of voyage, take a nap to arrive. It is possible that mainland passengers will mainly take this flight. When broadcasting reminders during the voyage, they often do so in Chinese.
Starting from October 1, AirAsia will stop at Bangkok Longman Airport. This airport was responsible for all Bangkok international flights before the construction of Suwannabe International Airport. After the opening of Suwannabe International Airport, it became a special airport for domestic flights. With the continuous increase of international shipping, Suwannabe International Airport is overwhelmed, so international flights from Southeast Asia are arranged here again.
At 0.50 Thai time, the flight landed at Longman Airport. Since it turned out to be an international airport, Longman Airport is not small either. It feels like it will take 500 to 600 meters to get to the Immigration Department after coming out of the covered bridge. However, when I entered the arrival hall after going through the entry formalities, I felt that Suwannabe International Airport was of a large scale, which other airports in Asia could only match. There are few rows of chairs in the arrival hall of Longman Airport, which cannot be used for stopping at all. It seems that there is no shuttle bus like that inside Suwannabe International Airport that can take passengers to the airport bus hub. Seeing that it was already 1: 30, I thought I might as well take a taxi to the southern station to wait for the bus.
In fact, Xiao Huang has been talking about calling him all the time, but now in the middle of the night, I really don't want to wake him up from his sleep, so I grope for it myself.
At the TAXI information desk, I asked about 350 Thai baht to get to the southern station, and drove the ticket on the road. The strict management of taxis at the Thai airport is evident. Moreover, all the way to the meter pricing, completely unlike Shenzhen Airport taxis, long-distance meter only, short-distance refused to take or raise the price; The airport also does not manage taxis at all, let alone issue tickets uniformly.
The driver is a typical Thai with a dark face, and he looks fat and honest. He took the piece of paper I printed and pointed to the watch on his wrist and gesticulated. I understood that he was telling me that the bus to Sumi left at 5 o'clock. I would only smile and nod and say the two words "OK" and "Sank you". Who knows, when he arrived at the southern station more than half a minute later, the meter showed 570 Thai baht, and I don't know if he took a long detour (after seeing Xiao Huang, he said it was a detour, and it should not take 300 Thai baht). I gave the driver a ticket with a face value of 1,000, but gave me 340, so I quit. Originally, the fare had greatly exceeded the amount said by the airport, and I was given 90? A staff member at the station came to help the driver jabber and did not know what what was. At this time, he could not disturb Xiao Huang any more. I found out the mobile phone * * Xiao Huang's phone number, but it was not easy to dial around the roaming in China. Using my quick wits, I asked for the ticket and the ticket from the airport. In fact, I couldn't say a word, but only looked for it with my eyes. After finding the ticket and ticket, the driver may see that I have the intention of complaining and has to give me another 100 ticket. This little round declared victory with my persistence!
The station staff helped me carry my luggage to buy my ticket. Thankfully, I met a young man who could speak Chinese at the ticket office (later he told me that he was of Thai Chinese origin). Although his attitude and help were impeccable, he helped me buy a mobile phone card, told me that there was no water on the bus, and he would stop for dinner on the road, etc., he still seemed to lie in ambush me because he could not understand my language. What I wanted was a bus and boat ticket, and what he promised was 950 Thai baht, but when I got to my destination, I still paid another 150 Thai baht for the ticket.
The Thai Chinese guy told me to leave at 4 o'clock and arrive at Sumi at 2 pm. At this time, it was only over 2 o'clock. I took out my mobile phone and repeatedly fiddled with it while waiting for the bus, but I still couldn't call it out. It seems that I still need to buy a Thai mobile phone card. The Thai Chinese guy helped me buy a mobile phone card, which is only 49 Thai baht, less than RMB 10 yuan. There is 15 Thai baht in it and you can make a 7-minute phone call. From the small matter of buying a mobile phone card with such a little money, we can see that the humanization of Thailand's service industry is not aimed at the so-called social benefits and profits, but at the needs of the people. Moreover, the bottom line for recharging is very low, 60 Thai baht is enough, which is only 12 yuan. Not only that, there is no monthly fee for mobile phone calls, so you can make as many calls as you charge. However, I was sad to find that if I didn't get through, as long as there was a tone, I would deduct the fee according to the normal tariff, which was depressing!
Not long after the Thai Chinese helped me toss up my mobile phone card, the driver called the waiting passengers to get on the bus. It was only 3 o'clock in the morning. A small CMB was full of 15 people, apparently because there were enough passengers, waiting was just a waste of everyone's time, and sitting there waiting for the bus to doze off and couldn't fight. From this, I can't help but lament the flexibility and people-oriented nature of other people's service industry.
The bus was on the way, and the sleeping gods also patronized it. It was really time to sleep, bumping and bumping just to sleep.
Along the way, I stopped to refuel, went to the bathroom and had breakfast. I arrived at Suratani, the ferry terminal leading to Sumi Island, at just 12 o'clock. The driver helped me carry my luggage to buy the ticket, pointing to the departure time. Bibi rowed to tell me to catch the 12 o'clock flight, but obviously there was no 12 o'clock flight and I didn't board the ship until 13 o'clock.
The ship leaves at 1: 30 p.m. And arrives at Sumi Island at 3: 00 p.m. As soon as I got off the boat, Thai women selling hotel taxis came up. Seeing that the local people boarded a pickup truck-like car one after another, it was estimated that it was a bus on the island. However, due to the lack of language, they did not dare to try and could only find a taxi with the printed hotel address. A black Thai woman was holding a printed taxi price list and map in her hand, gesticulating the direction and pointing to the price column of 600. I understood that the hotel wanted 600 Thai baht, which seemed to be the highest price, because the hotel was on the other side of the island and had to go around the island for half a week. She nodded but did not agree to take it, because I still wanted to walk on the dock. As I was about to walk out of the dock, a uniformed taxi stopped in front of me and also took out the price list and map. The driver of the motorcycle pointed to the 300 column. I saw that it was half cheaper than the taxi, and I could watch the scenery along the way in all directions, nod "OK" and make a deal.
Find out the scarf, tie yourself up into Arabs, hit the road, let's go!
Sumi Island is very small on the map, but it is not small when walking. It took 40 minutes for the fast-moving motorcycle to reach the hotel. In fact, it cannot be called a hotel. At best, it is just a warm inn.
I called Xiao Huang and asked him when he would arrive. Only then did I know that he had brought a female classmate who was a volunteer teacher in Phuket. Since I didn't know that the fast ferry only had three trips during the day and the latest was 4 o'clock, I might not be able to catch it. I had to catch the slow ferry at night and could not arrive until 6 o'clock the next morning.
Well, I thought there would be no language barrier when I arrived in Sumi, but I had to wait until tomorrow morning! I have to be self-reliant tonight!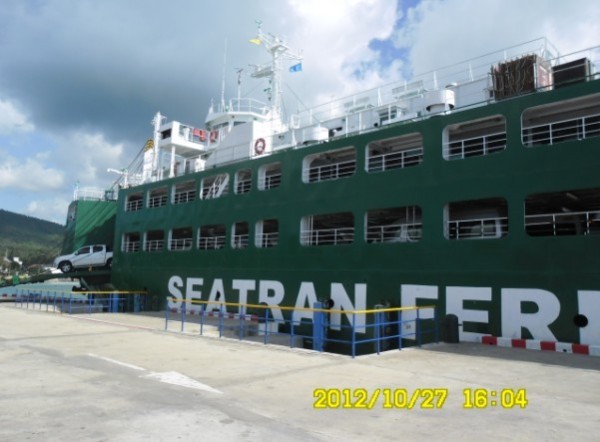 Ro-Ro ships between Sumi Island and Surat Thani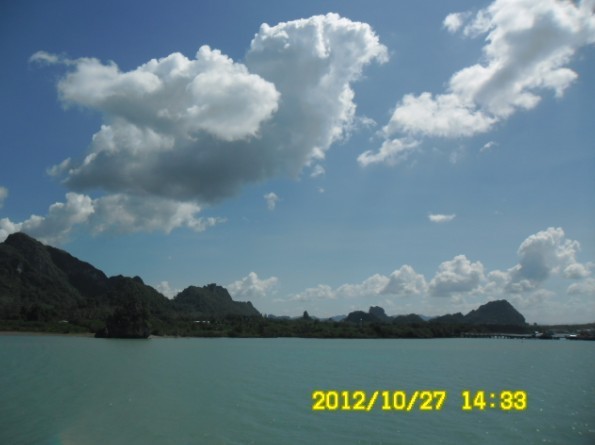 Blue sky, white clouds, blue sea, green mountains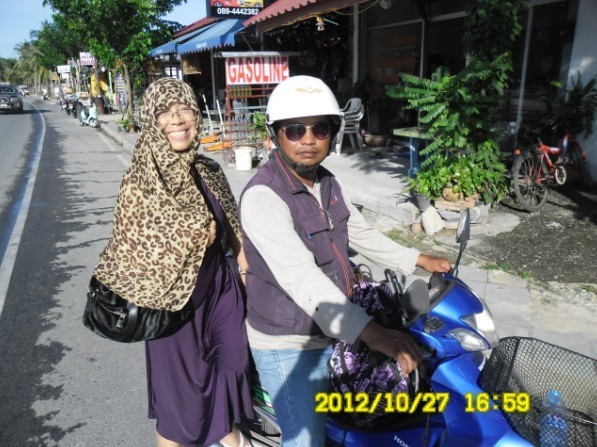 Bind myself up as an Arab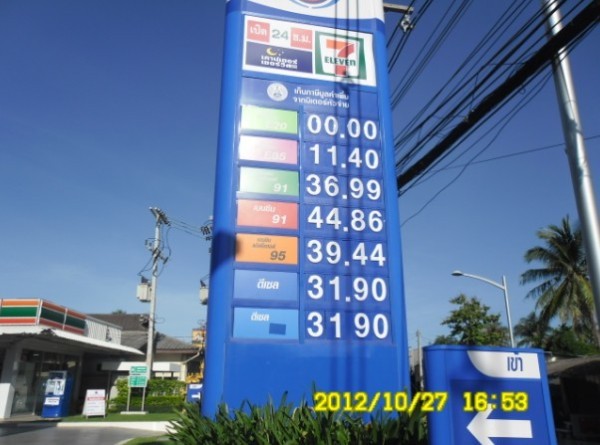 Such a transparent oil price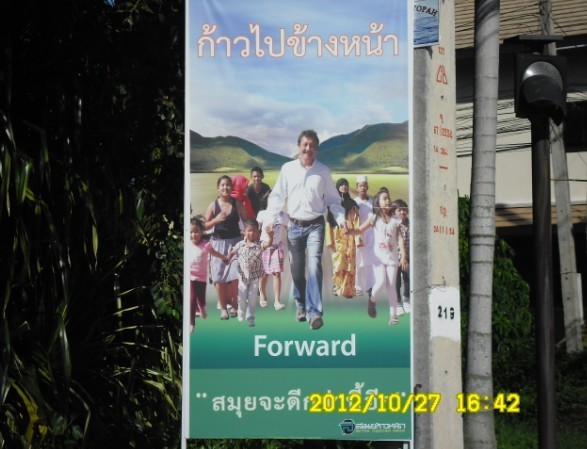 A kind of billboard that can be seen everywhere on the roundabout highway.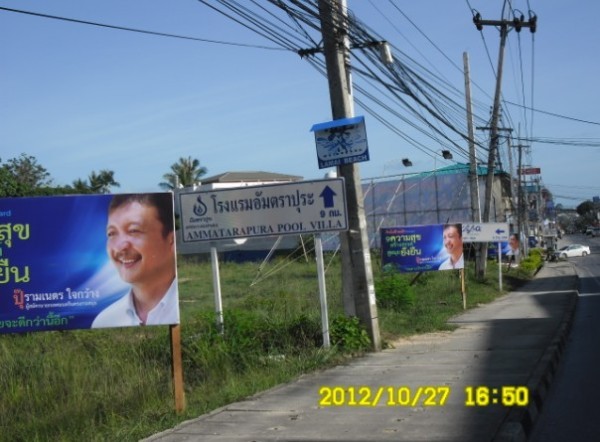 A kind of billboard that can be seen everywhere on the roundabout highway.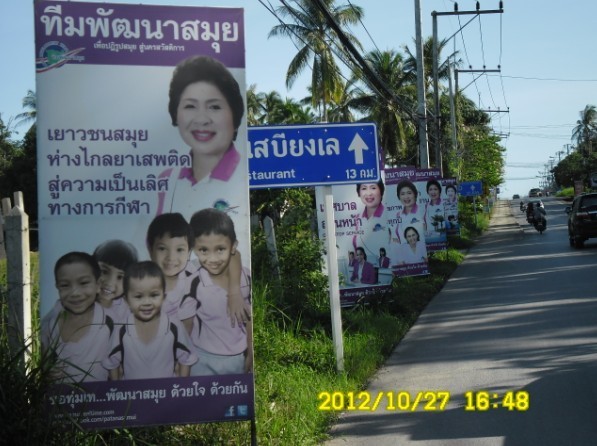 A kind of billboard that can be seen everywhere on the roundabout highway.
(to be continued)