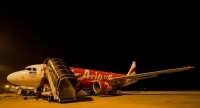 The airplane of this color, see unexpectedly have familiar with and kind feeling.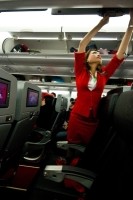 Sister is very reserved, still do not lose charm.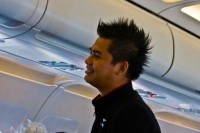 He has a good figure and a good work ethic.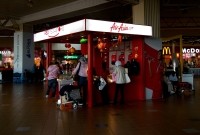 I also ordered a phone card along with my ticket online and picked it up at the airasia shop at the airport after I got off the plane.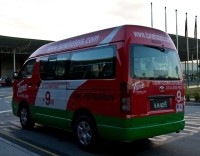 Shuttle bus to airasia hotel.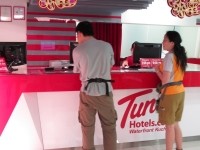 This is the airasia hotel in dongma kuching, a budget hotel chain.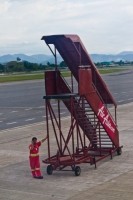 Special equipment is very much, visible have scale quite.
I use my camera to record my footprints.
Please follow my footsteps and travel for 50 days.
During these 50 days, I wandered in Thailand, Myanmar and Cambodia, of which I walked alone in Cambodia for 20 days.
Day 1 Thursday, May 19, 2011 Nanjing-Shenzhen-Bangkok
I started with AirAsia because I bought 7 air tickets for AirAsia. I have to talk about AirAsia.
Today is my eighth trip to AirAsia. Last February, Malaysia, Singapore and Brunei were all AirAsia. I am really a staunch supporter and have a special liking. AirAsia's big red, straight, and colourful, chiseled refreshing eye-catching, low but punctual fares, service charges but reasonable. I think it can be called a stimulant for travelers.
Add a few more photos taken last year to complete the industrial chain of AirAsia. I didn't mean to advertise for AirAsia, but I finished my trip on May 8 and took China Eastern Airlines back to Nanjing from Shenzhen. The flight at 5: 40 p.m. Was delayed again and again and didn't get home until 1: 00 p.m. You said, can I not make comparisons?