At the end of March 2008, I went to Koh Samui for a vacation and took more than 1K pp. This is a more beautiful place than Pattaya on Phuket Island.
Sumi Island, located in the Gulf of Thailand, consists of 80 tropical islands and is Thailand's third largest island. In the past 10 years, it has developed from an unknown island to a well-known resort on the Thai border. One of the main reasons is that it is pure and natural. Sumi Island was originally a royal holiday beach and was opened to the public in 2002. It claims to be the closest place to heaven. Sumi Island has many beaches in Shanghai, with clear water and white sand everywhere. The scenery is charming. The busiest and longest beaches are Chawen Lamai, which are located in the eastern part of the island. Chawen Beach stretches for 6 kilometers. This crescent-shaped beach environment is very beautiful and is also the place with the largest number of hotels and various entertainment facilities on the island. Lamai Beach is located to the south of Chawen and has many recreational facilities. You can dive, dive, canoe and sail to sea on Sumi Island.
At present, there is only free travel in China. The scenery is super beautiful and the feeling is super cool. The space relationship can only post some photos, and the text is as detailed as possible, hoping to be helpful to the friends who want to go.
Day 1 (Beijing-Bangkok-Sumi):
Thai Airlines will fly to Bangkok at 8: 30. Gate 6 of Terminal 3 will enter the building. Thai Airlines check in in Area E. Cosmetics including toothpaste must be checked in. Flight TG675, Airbus 300, asked the check-in lady for a window seat (A, K by the window). Beijing-Bangkok round trip: 4,880 yuan. Thai Airlines elder sister, the service is quite good, always asking: Tea or coffee? Some more coffee? An entry card and a departure card were issued and filled in in English.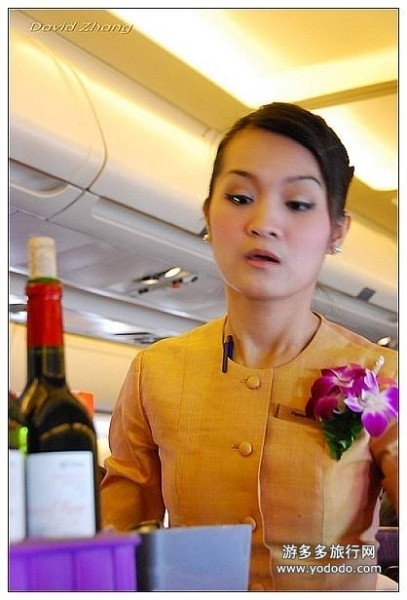 The two little dolls, not from the same family, came to know each other.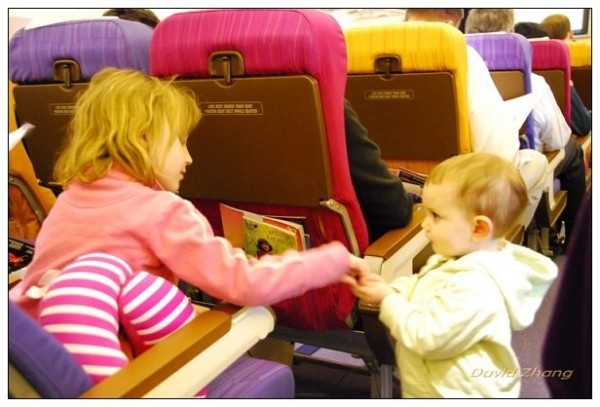 Landing at 13 o'clock Bangkok time, take car ferry to the terminal and follow the signs to the immigration office. The office received the entry card, nailed the departure card to the passport and picked up the luggage. At Tourist Police opposite Gate 3 on the 2nd floor, enter the door and borrow a SIM card for free from the desk on the left. Come out and turn right at Family Make to buy 90 prepaid cards of this TureMore card and ask the salesperson to charge them. To the 4th floor domestic departure, check in, check-security check-waiting.
Boeing717-200. While waiting for the airport, I made a phone call to my home with my newly borrowed card. More than an hour later, I can see the Golden Buddha Temple and Thousand-Handed Guanyin below.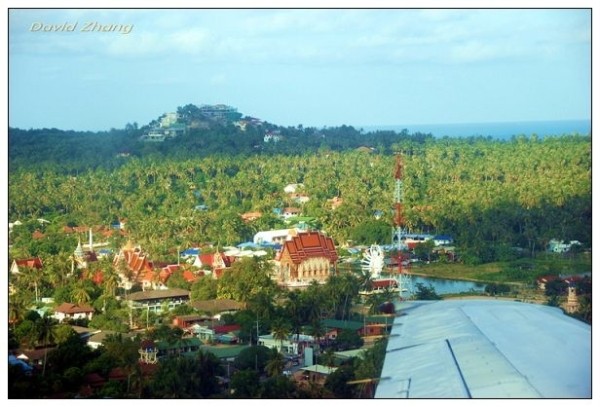 Sumi Airport is open, like a thatched hut in the countryside, with primitive beauty. Hua car ferry took passengers to the arrival hall to pick up their luggage. The scheduled resort Arayaburi Resort is located in ChoengMon Beach, Samrong Bay/Chunmeng Beach, north of Sumei, 5km from the airport and 7km from Chaweng. General double room reservation quotation 55 US dollars. No deposit was received. Our rooms are not seview house, but very quiet. The room covers an area of 41 square meters and has 24Hr hot water bath shower/water heater/hair dryer/tea set/TV/air conditioner/telephone/refrigerator/safe/electric mosquito-repellent incense/wardrobe. There are two bottles of free water every day, but I still like to drink my own tea or free Nestle coffee on the table.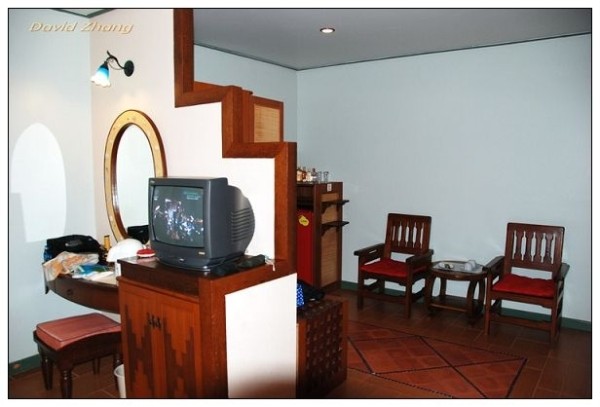 Change into a short suit and make boiling water. Go out first. Not far behind our cottage, a swimming pool suddenly appeared by the sea. Two rows of reclining chairs, sunshades and a blue water beside the swimming pool make people want to jump in immediately. The shape of the pool is also very lovely.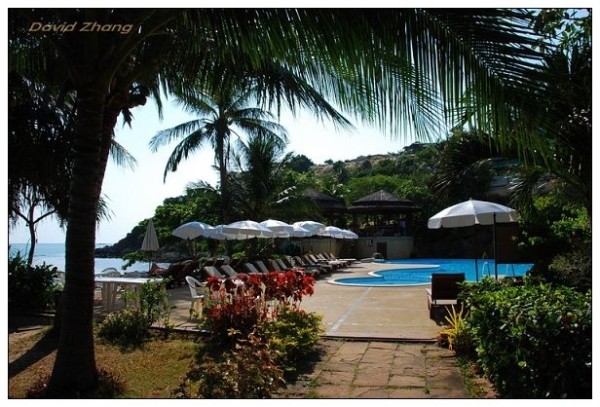 The next day (renting a motorcycle to go shopping):
At 9 o'clock, I went to the restaurant for breakfast, eating western food buffet and enjoying the beautiful scenery of the beach below. The weather is fine and the scenery is beautiful. Foreigners came out to bask in the sun very early.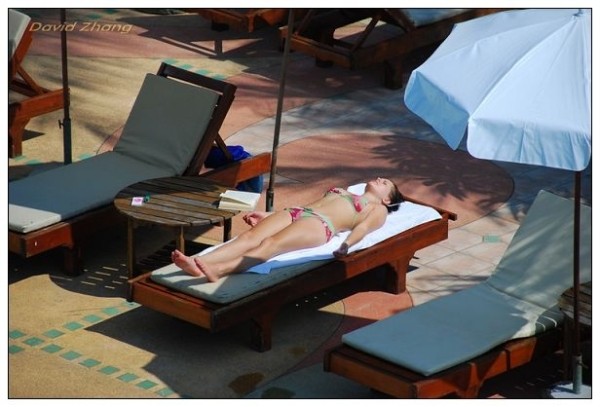 I rented an automatic motorcycle at the door, 200B (B is Thai baht, read "ba", at that time 1 ¥ = 4.45 B), added 50B of oil, and the person who added the oil said it was not enough and 50B was needed. I didn't listen to her, but later it was proved that I didn't add it right. At first, I'm not used to walking on the left. Drive slowly, up to 40 miles.
Pass the Golden Buddha Temple Wat Plai Laem and go in and have a look. The small temple is surrounded by water and has a good scenery.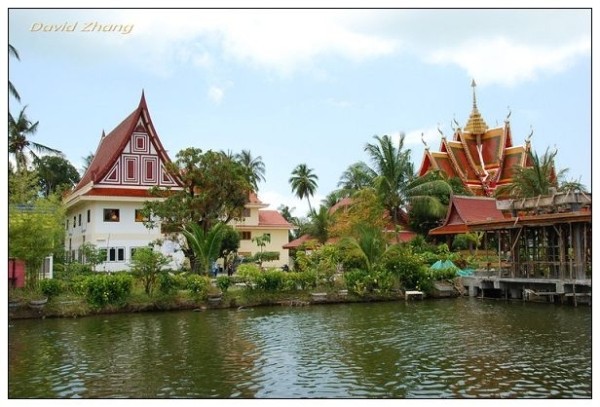 Chavin Beach
Go on, go to Chaweng Beach and have a look at Chawn Beach. The sand is quite white, not as fine as Lamai Beach's Lamai Beach, and the water is not as good as Arayaburi's. Take a few PP photos. I accidentally took a topless picture of a beautiful girl.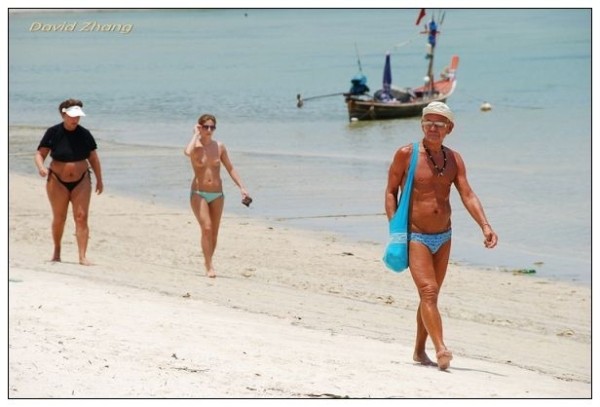 On the way, I asked N people and found the Tesco Lotus Lotus Supermarket mentioned on the Internet. NIVEA SPF50 + + + had sold out of sunscreen, so I had to sell a 160B of unknown brand. I also bought two green awns 16B, which the local people like to eat, and a bag of bread slices for snorkeling to feed the fish tomorrow. There is an MK Thai hot pot at the gate of Lotus. I went in and asked for a seafood platter 353B and a vegetable platter 114B. Iced tea is free of charge. The shrimp dumplings on the left side of the plate are good. Inside are shrimps one by one. Shrimp is very fresh, and the laver roll is also full of shrimp.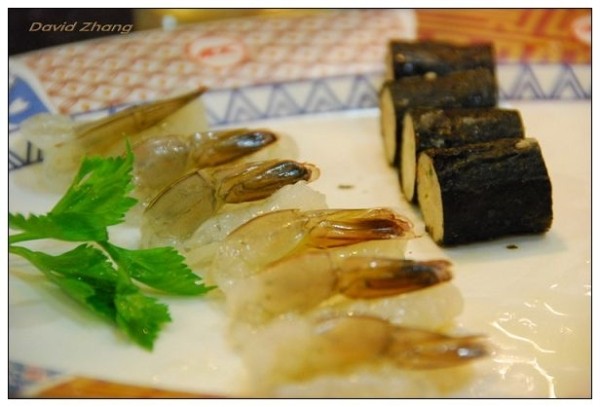 Puya Temple
Come out and go north to Wat PhraYai, a 12-meter-high Buddha for Meditation, on Ko Fan, Fangdao, northeast of Borphut Beach, Pope Beach.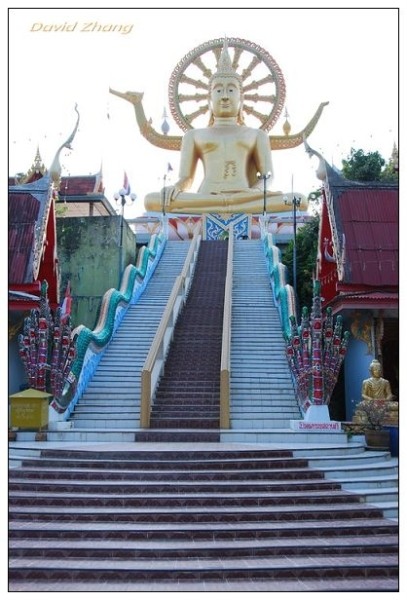 The Giant Buddha is a good place to photograph the sunset. It's still early to get here. Buy a coconut to quench thirst, watch the monks chant sutras for a while, and take some silhouettes for LP. The sun is about to set and the water gradually changes from golden yellow to red.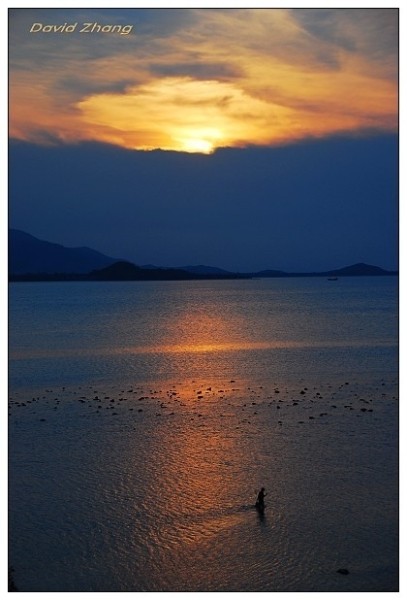 Someone in the water is carrying a bucket and does not know how to make what. It is called returning from sunset. We went back after filming. Return the car, change bathing suits, swim, eat mangoes and sleep.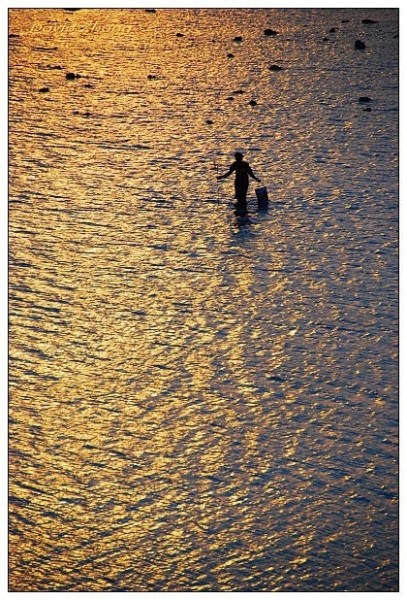 Day 3 (Koh Tao/Nangyuan Island snorkeling):
Tao Island, 1800B/person, including brunch and other expenses, booked the day before. There is a car picking up in front of Lobby at 8 o'clock in the morning. After breakfast at the dock, the speedboat set out from BoPhut Pier, Pope dock. There were 35 tourists, almost all Westerners, with freezers, free Coke, Sprite and mineral water on board. An hour and a half later, the ship arrived at Nanyuan Island. The sea is so clear that the coral reefs at the bottom can be clearly seen.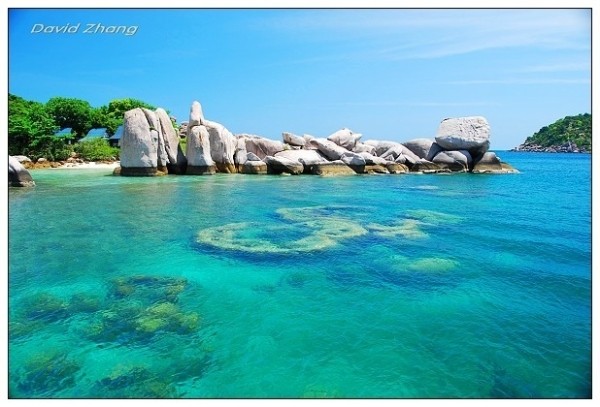 The sea is dark blue in the distance. A white fine sand beach connects the three islets together, and the blue-green sea water looks like paint in a color palette.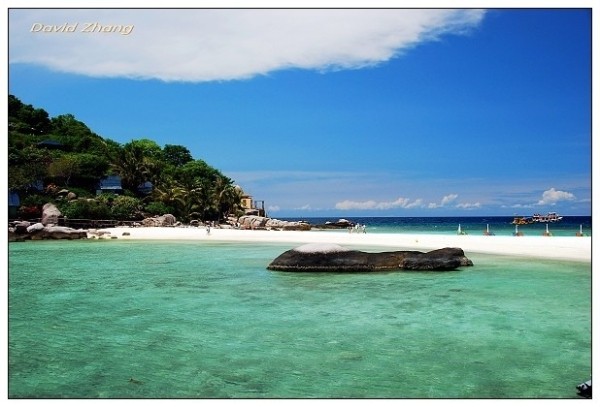 Each person has a set of snorkeling gear-face mirror and breathing tube to dive in a repulse bay covered with white sand. I didn't teach snorkeling methods. Fortunately, I did my homework a few days ago and watched "snorkeling techniques". Foreign MM are quite daring. They don't wear life jackets, and I don't wear them either because the water is not deep. White sand, clear water and blue sky make people intoxicated.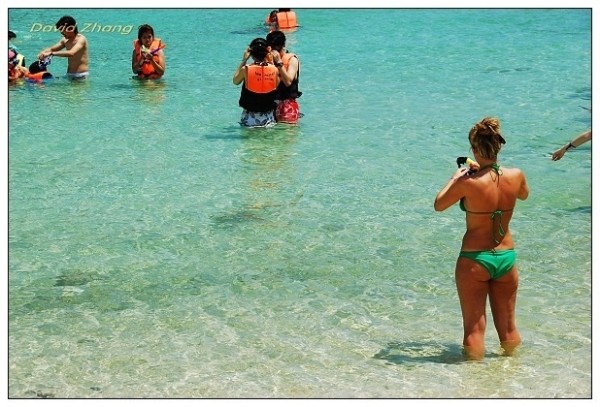 After lunch, take a boat to Lemon Bey, Lemon Beach, snorkeling. The water here is relatively deep, 7 or 8 meters. There are many fish, but it is difficult to catch them. The fins have pricked my hands.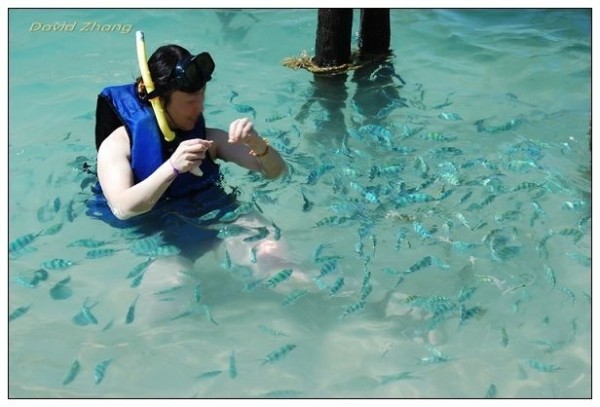 I have to go back and look at the scenery of Tao Island. One word: beauty! Back to Sumui at 4:30, there is a car to the hotel. After taking a bath, go to a small couple restaurant not far away: chicken fried rice 70B, salad rice noodles 60B, mango shake40B, Chang brand beer 40B.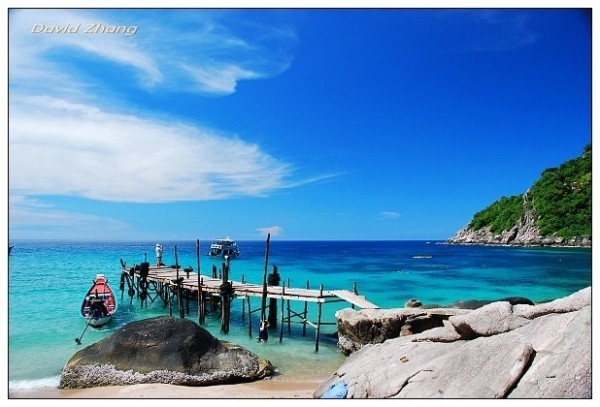 Day 4 (Car Rental Tour around the Island):
I rented an automatic Honda CITY in Lobby the night before, 1200B/day. Don't look at the driver's license or deposit, only remember the room number. After breakfast, pick up the car at Lobby. Take a look at the map route, circle the place you want to go, and it will take 4, 50KM to make a turn. Because of the experience of riding a motorcycle the day before yesterday, I soon became familiar with the right rudder and the left. There were picturesque landscapes all the way.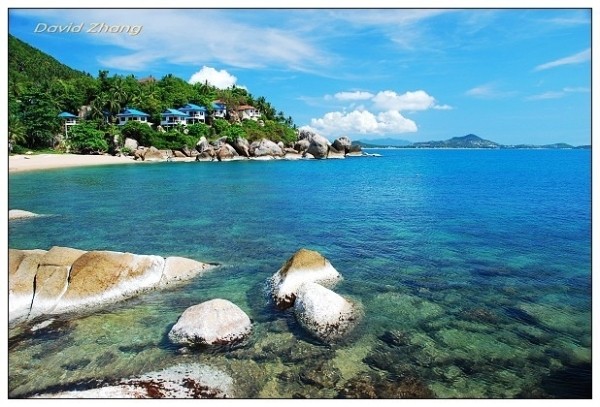 There is also a quiet resort village, seview house, looking out of the window, the scenery is pleasant.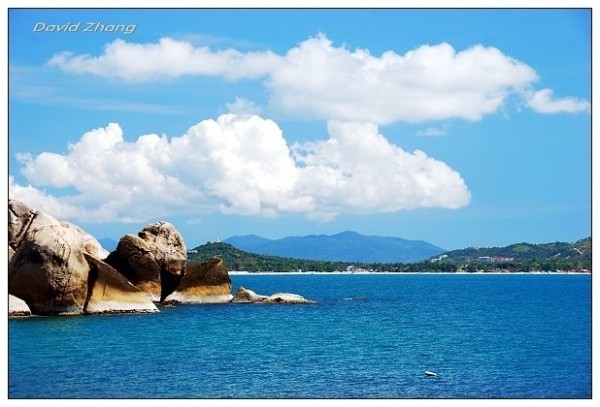 Come to Lamai Beach, Lamai Beach, which is quiet, sandy and fine. There is a legend that a Thai mainland girl fell in love with a young man on Sumi Island. The girl's grandparents came to attend the wedding. The boat capsized and died, turning into rocks to witness the girl's marriage. This is the famous grandfather and grandmother stone HinTa/HinYai. Nature's uncanny workmanship has created this appearance of a Gong Shi (back) and a Po Shi (front).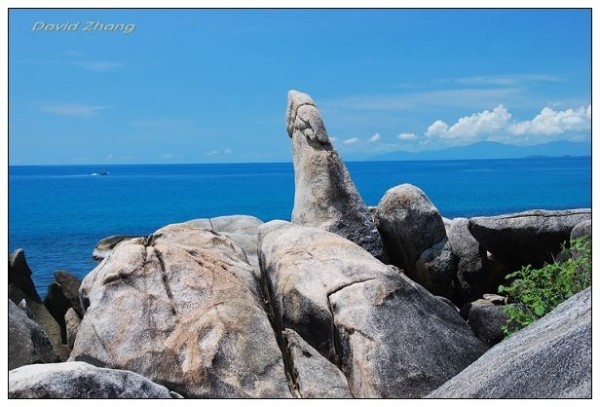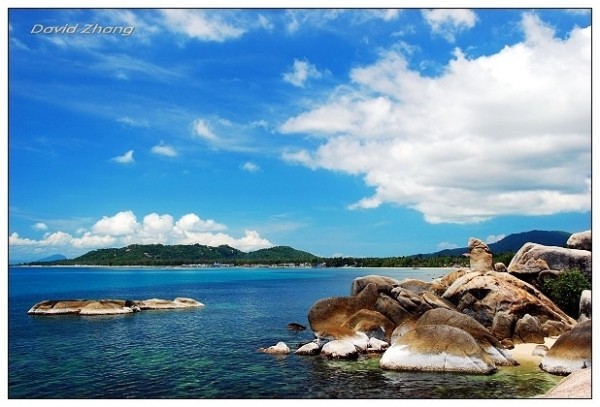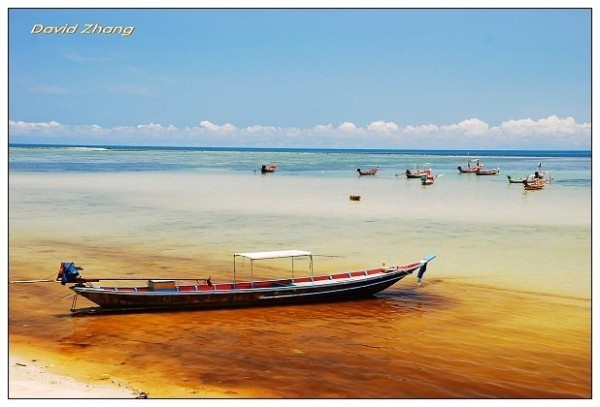 I ate and drank at a seafood restaurant called Big John Seafood, which is said to be quite good. I drove north along Highway 4169 to Hin Lad Falls, where I turned right at the intersection with Highway 4172, and rode Elephant Trekking. This was another elephant and tourist following me. When the elephant disobeys, the elephant driver uses a slingshot to crash the elephant.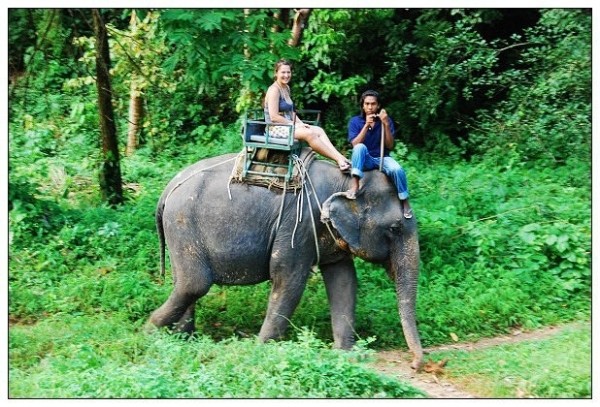 Then go straight to Chaweng nightlife. Elephant riding is in Natun Nathon on the west side of the island, while Chaweng is on the east side of the island. 500B of oil was added on the road (actually 400B was enough), and it was dark at Chawen. Seafood restaurants are everywhere.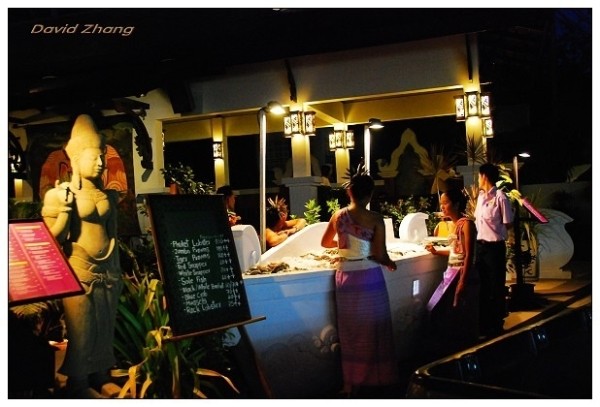 It is said that Haagen-Dazs here is much cheaper than that in China. He is just tired and has a rest. A little girl across the street who came to eat Haagen-Dazs with Grandpa looked like a doll (originally a doll).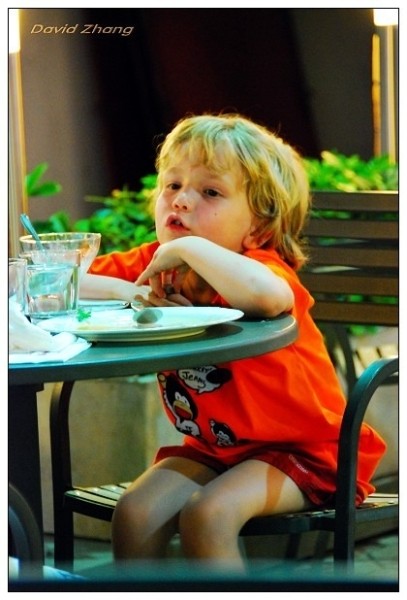 I went shopping and bought Nivea's SPF50 sunscreen 265B at SaverMart. Then I watched the Caberet Show at Star Club. The transvestite show did not require tickets, but only ordered a drink, but the drink was twice as expensive as outside. After reading it, it was more than 11 o'clock, and I took several photos with the transvestite. Each person received a 20B tip. It was over 12 o'clock when I came back. On the way to ask the way, I met a young man who could speak Chinese. He taught himself Chinese for 4 years and had never been to China.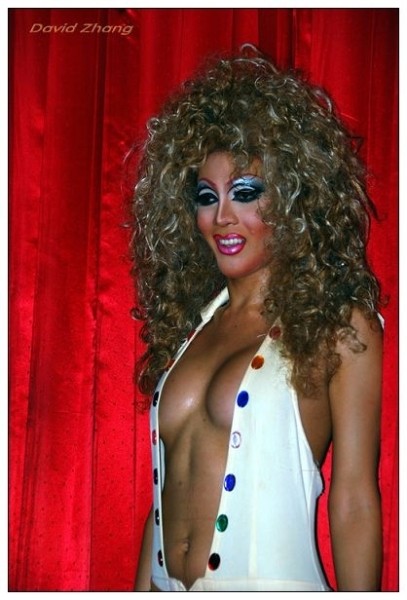 The fifth day (hotel leisure in the morning and shopping in Chawen in the afternoon):
Wake up naturally. After eating free breakfast, I returned my car keys, changed my swimsuit and put on sunscreen, took my cup to the seaside to blow the sea breeze, and lay under the coconut tree to wonder if the coconut would fall and hit me. The tree was full of piles of coconut. I wonder if I can eat it. Su Mei is also called Coconut Island. Tens of thousands of residents on the island mainly rely on coconut cultivation and now travel.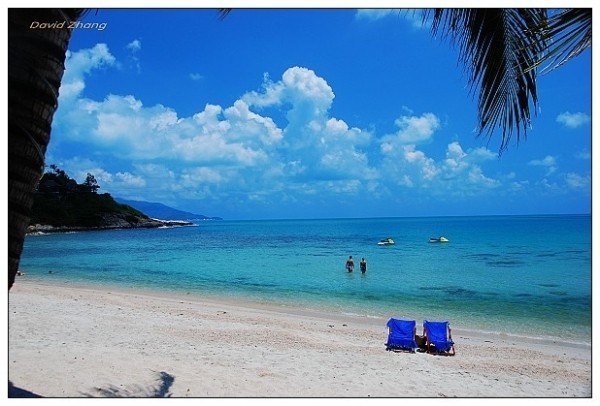 Foreigners are not afraid of the sun, we just hide in the shade of trees. Wearing traditional swimsuits in China is like a monster there, so only silhouettes are taken.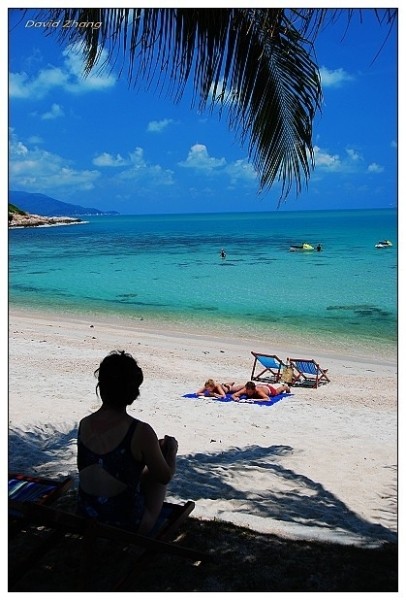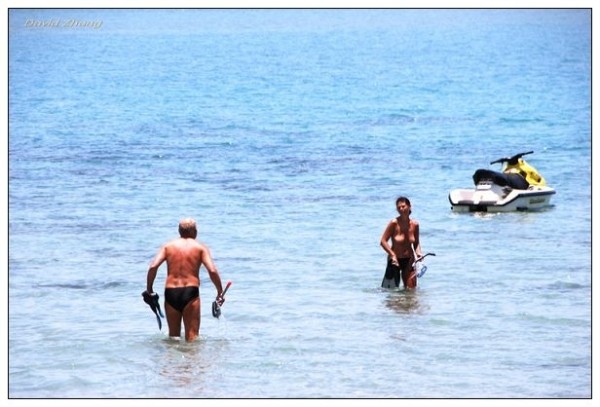 A little girl wore braids like Xinjiang girls. There are several small shops on Chavin Street that specialize in braiding. This girl probably combed it there.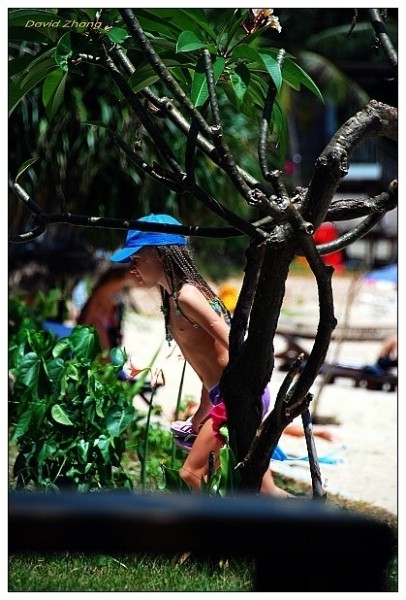 Chawan Street
In the afternoon, I went out to Chawen Street to buy a pair of sandals (mine is broken) 300B, and I bought a banana coconut chocolate 35B at the Indian cake stall outside Starbucks.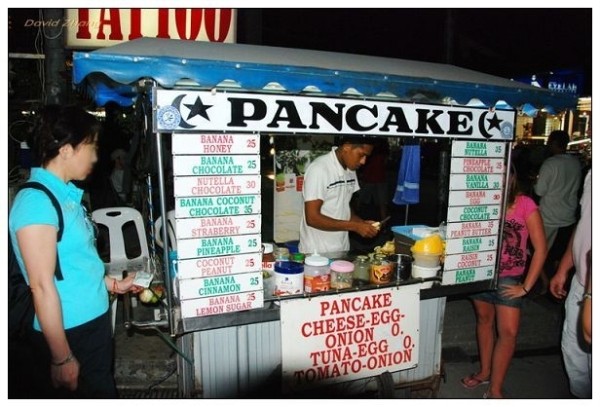 Back to the hotel, I sat on the couch at the door and ate fruit. I bought mango and snakeskin fruit in the free market yesterday when I rented a car to travel around the island, both of which were 50B/kg. At that time, I didn't know snakeskin fruit. Seeing that its skin and core are like litchi, sweet and sour, I called it Thai litchi.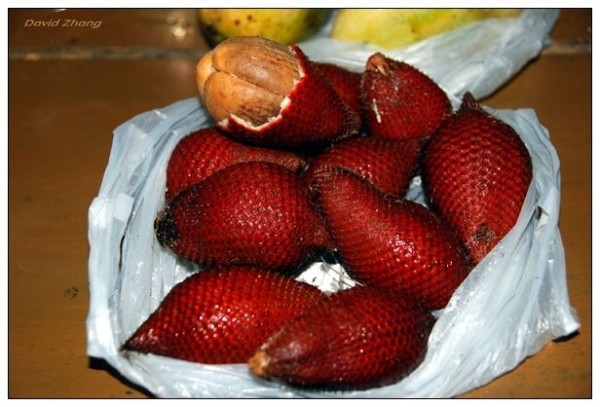 Antong National Marine Park
Day 6 (Angthong National Marine Park):
Angthong's one-day tour booked at Looby yesterday was 1700B/person, including two meals and everything else, pick-up and drop-off. Depart at 7:00 to MaeNam Pier, Meinan Pier, and have breakfast on the Pier. 8: 10 Departure leaves the dock. It takes about an hour to sail, which is closer than Tao Island. This Speed Boat is smaller than the one to Tao Island, with a total of 14 tourists. A young Russian couple sat in the stern. The speedboat left white waves on the sea.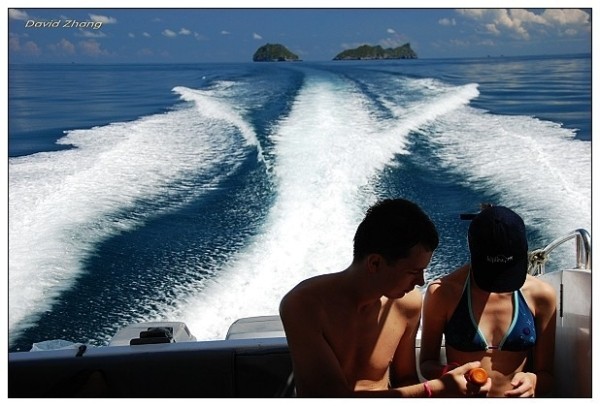 To Anton Ocean Park, which is made up of several small islands. First, I went to Koh Wao Island for snorkeling. The water was quite deep and was 5 or 6 meters. Visibility was good and the bottom could be seen. The waves were not big. Jump directly from the ship. There were many fish. I held the bread in my hand and the fish pecked at it. My last piece of bread was snatched away by a big gray fish one foot long. I didn't pay attention. I was afraid it would bite me, so I let go.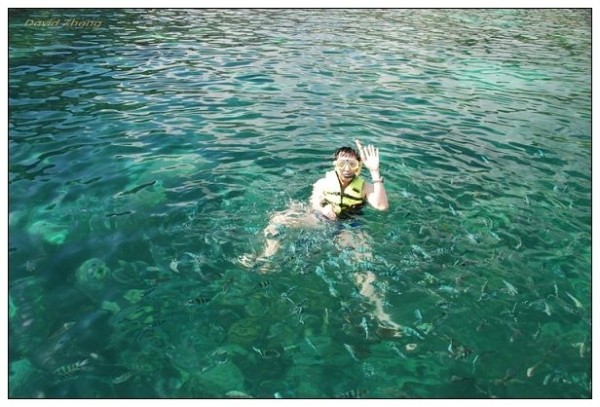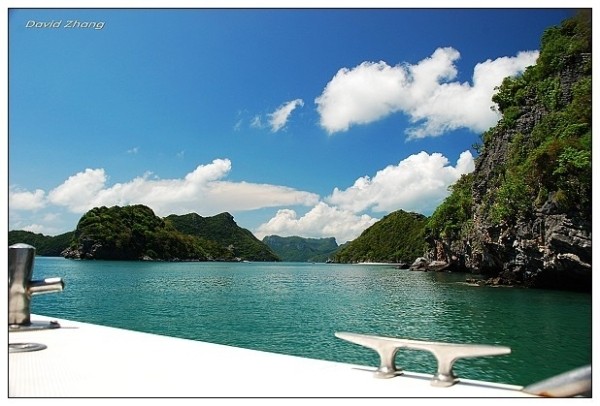 Tourists take photos on board and listen to the tour guide's explanation.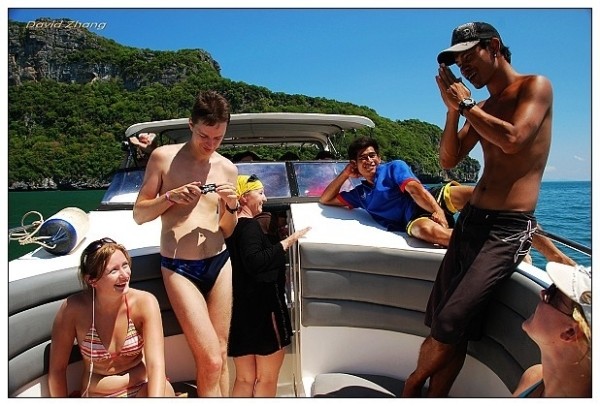 On the island, after visiting the small lake on the top of the mountain called Talay Nai, I went to Sleeping Cow Island for lunch. The scenery here is more beautiful. After eating, sit on the grass for a while or lie on the grass and look up at the tall coconut trees.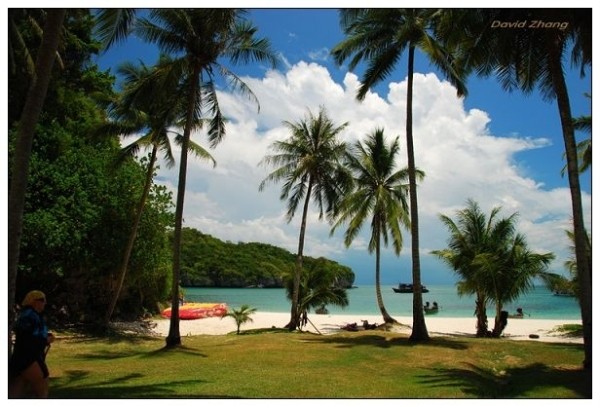 In the afternoon, I rowed a double boat Kayaking. Put on sunscreen, put on life jacket, put on glasses and mineral water, and start out. I can't bring my camera, so I don't have any photos. Kayaking came back to move freely. There were volleyball nets and balls on the beach. We played for a while to see if LP's posture was quite professional.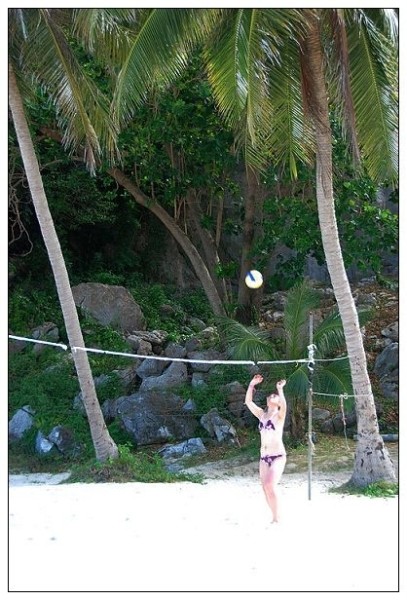 I can't bear to leave this beautiful island.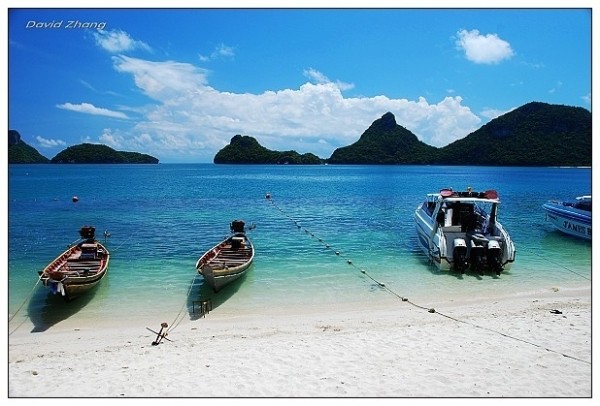 Go to the hotel at 4 o'clock, wash and rinse, and then walk around the seaside. Then go to the mom-and-pop shop to eat Thai rice, traditional chicken rice noodles + winter yin gong + steamed rice + lemon shake + XingHa beer, totaling 235B. Look at the sunset glow again. Arayaburi is also very beautiful in the evening.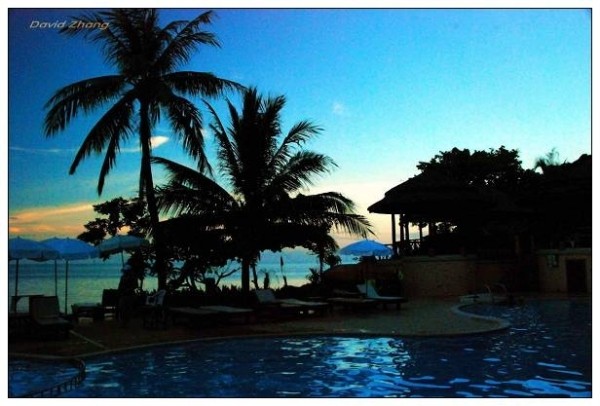 Day 7 (Hotel Leisure):
On the last day in Sumi, I plan to stay at the seaside for one day. Naturally wake up and eat breakfast, eat more, and have Seafood early in the afternoon. Then go back to the house to change swimsuits, put on sunscreen, take the cold water from the refrigerator, and let's go to bask in the sun.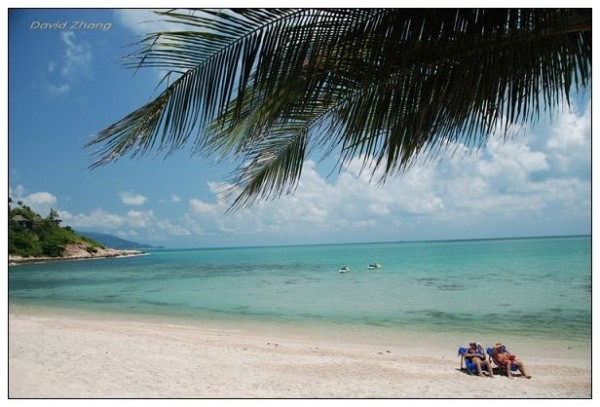 Move a reclining chair and lie in the shade of a tree. LP went to Rome a few days ago and put on a bikini as the Romans did. It was pleasant! From time to time, I will swim in the sea. It takes 500B/10 minutes to ride a motorboat, which is similar to Nandaihe and more expensive than Chawengui (500B/15 minutes). LP always thinks I am too fast and urges me to go back before the time.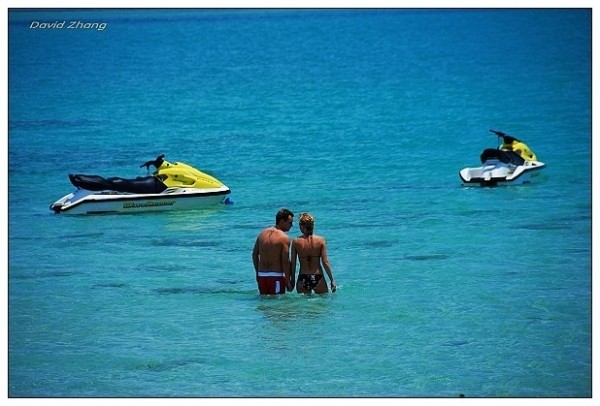 Thai Massage, let's also have one. Finger massage is 400B/1 hour, which is more expensive than Chawen. But it's quite comfortable.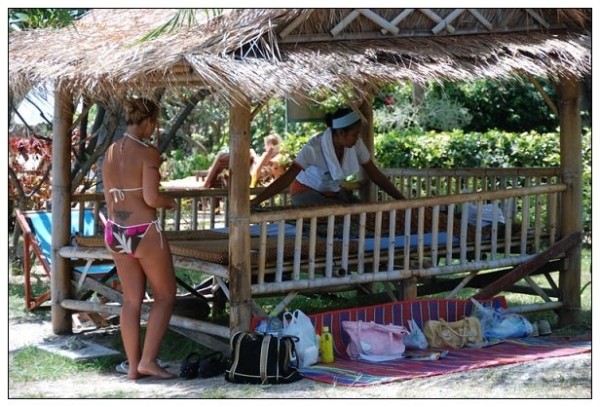 After the massage, go back to the house to take a bath and then eat in a restaurant like a greenhouse. I asked for the famous Pineapple Rice 165B and Dong Yin Gong Tang Tom Yam Ghong 165B. The rice was very good, with a lot of seafood in it, and the soup was much better than that of mom-and-pop shops. The soup was full of shrimps.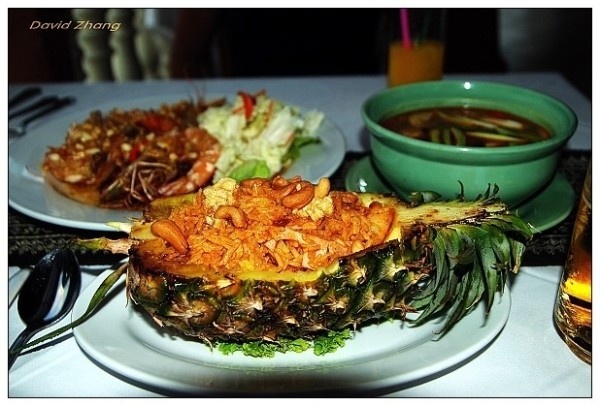 Tiger Prawns(Pan-fried Tamarind Sauce) 475B。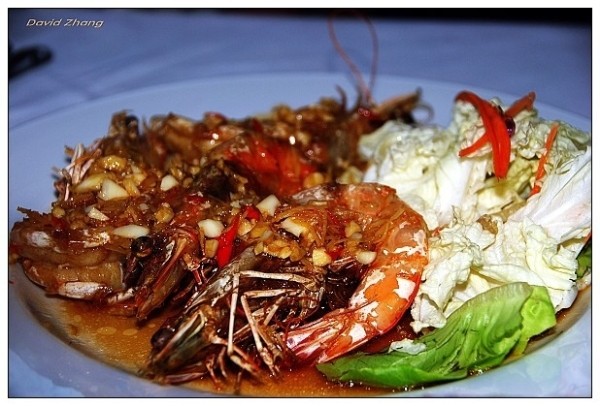 Fish with Lemon & Garlic Sauce 345B, pour your own garlic juice and squeeze a little lemon juice on the fish.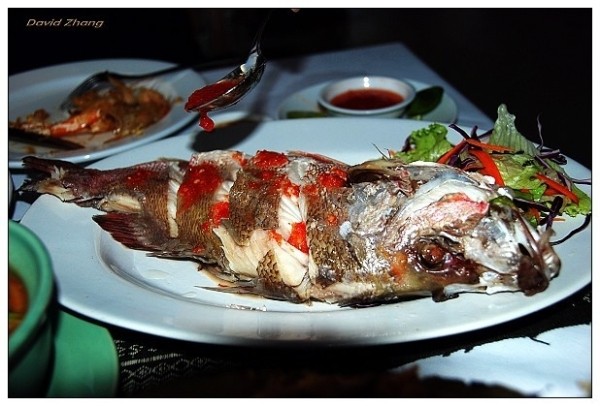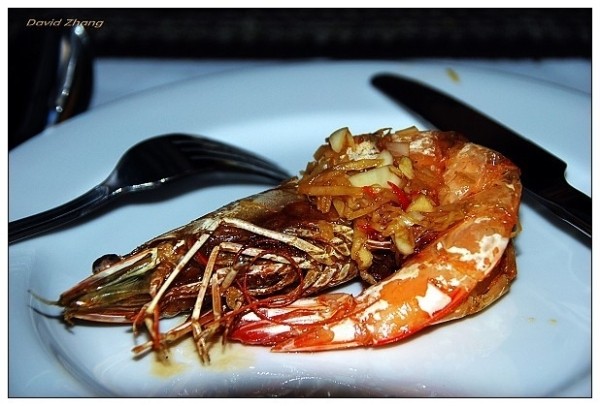 After eating, it is getting dark. Go to the seaside and take another look at the sea of Sumei. Our plane may be passing through the sky tomorrow morning. Go back to the room and call the front desk to tell you to check out at 4: 15 tomorrow morning. I ate all the fruits I bought before going to bed and drank all the beer I bought at 7-11 yesterday.
Day 8 (Bangkok):
Check out before dawn. There is a car to send it to Sumi Airport in more than ten minutes. The earliest flight PG100 to Bangkok takes off at 6: 00. When the young lady asked if she would transfer to Bangkok to leave the country immediately, I told her that she would not leave until tomorrow, so I pasted the luggage pick-up slip in Bangkok on the travel itinerary. Sumi Airport is a private airport. If there is an exit fee for direct exit, my Bangkok-Beijing air ticket includes all the fees. There is free breakfast at the airport, coffee, drinks and Internet access are free, while eating, waiting for boarding. This Bangkok Airlines plane is not as good as the Boeing717 when it arrived. It is an AT7 propeller plane.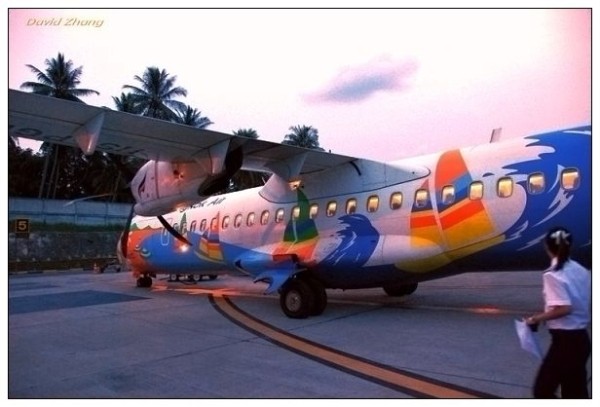 The plane had another breakfast and ate too much. Landing at the garden-like Bangkok airport in 1 hour and 15 minutes. After picking up the luggage, go to Tourist Police to return the SIM card, and then go to Left Baggage not far from it to check the luggage 100B/day/piece. Go downstairs to gate 8 on the first floor, buy a ticket 150B, take the Airport Express Airport Bus AE2 to SanamLuang Sanan Rouen (RoyalGrounds Palace Square) and get off. It is not too far south to the Grand Palace. On the way, there was a Thai who was very talkative. He asked where he came from, said it was cold in beijing and hot here… Finally, he asked if he would go to what Temple. He knew this trick online and ran directly to Grand Palace. The grand palace is still very imposing.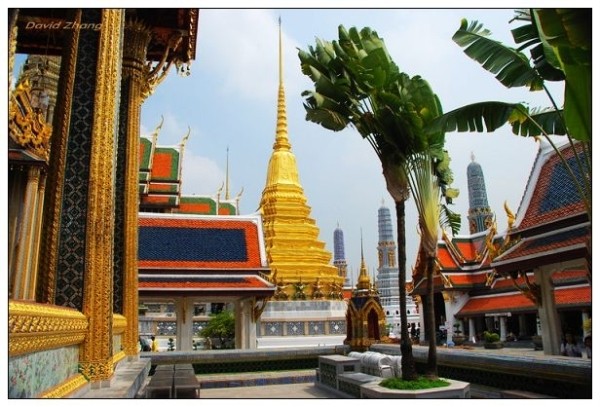 Fare 250B includes Jade Buddha Temple Wat Phra Kaew. Can rent a voice tour guide, 200B/2 hours. There are many Chinese tourists in Bangkok. The Grand Palace and the Jade Buddha Temple are also very famous and resplendent. They are places that tourists must go. If there are many photos on the Internet, they will not post them much.
This is a monk from the Jade Buddha Temple: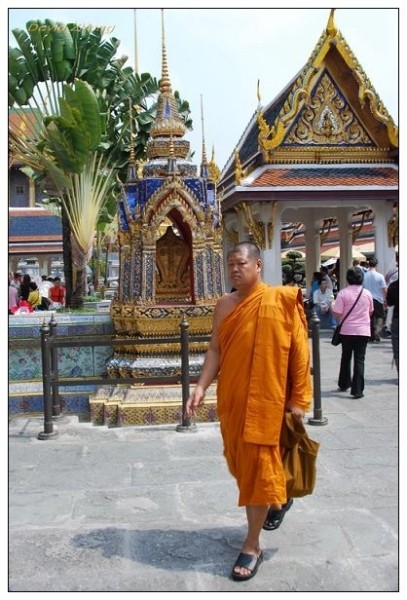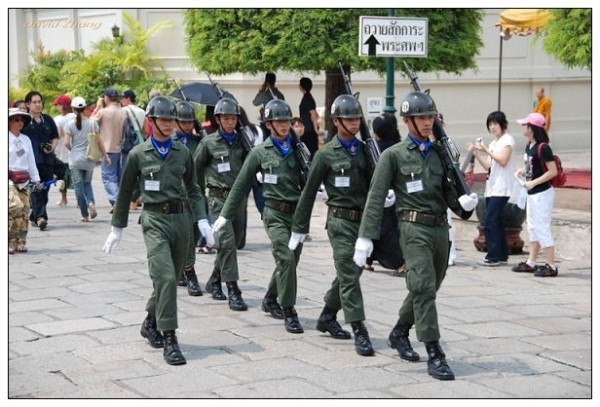 There are many greenhouses in the Palace Square opposite the Grand Palace, and many monks, some of whom are shaving their heads in the street.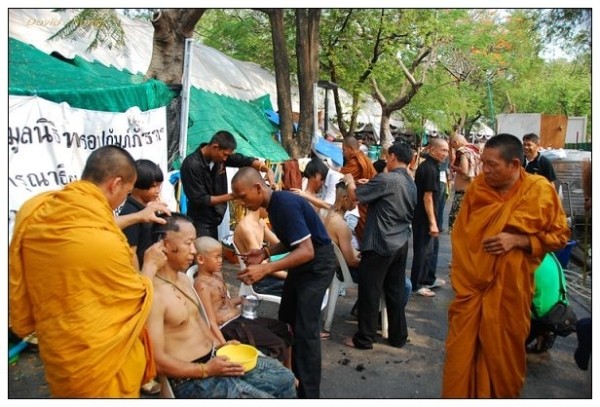 The overseas Chinese newspaper De Shan Tang is distributing meals and ice water is also distributed free of charge. Might be delicious? The line is quite long.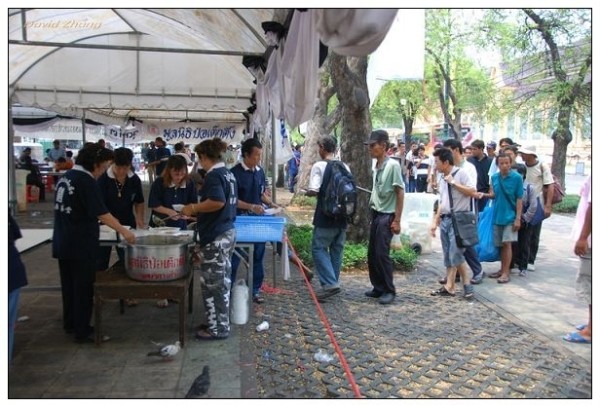 Taxis are all crowns. You should choose those with the overhead light marked TAXI-METER. Otherwise, you will not type the watch. You will start at 35B/2KM and will not change every 440.2 meters B in the future. There is also a kind of TukTuk Taxi, similar to the motorcycle in Beijing, which is more expensive than the taxi and costs exorbitant prices. It is not recommended to take it. There are many buses to the commercial center on Rajdamnoen Street, which is parallel to the south of the famous umbrella road Khaosan Rd. It is very cheap, so I decided to take a bus around. There are 15, 47, 79, 532 routes to MBK and Siam Square; There are 15, 79 routes to Siam Paragon; 2,79,511 to Central World Plaza; There is no. 15 to Patpong Papon Night Market. There is no name of the station along the line on the stop sign. You can only ask the conductor where to get off. Small public or Mercedes. We take Route 79 to SiamSquare with a fare of 14B. The conductor does not understand English but can understand the station name.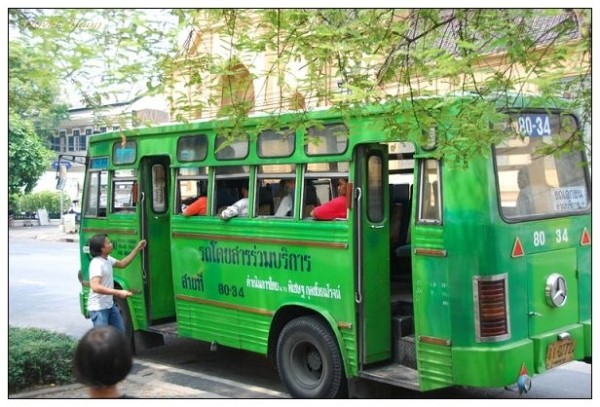 I bought two clothes in SiamCenter, which are not expensive. Livis and Lee's jeans are half cheaper than those in China. Siam Paragon Shopping Mall is quite large, and underwear such as Walker, Diane Finn, Morgan and Elle are more than half cheaper than those in China. Central is connected to two other major shopping malls. It is ZEN to the south and Isetan to the north. Shanghai is called Isetan. Opposite Isetan is Big C, who sells dried mangoes in durian pond in the supermarket on the second floor. These shopping malls have the sign of "Tourist VAT Refund" and can refund tax at the airport, but they need to buy 2000B in the same one and buy 5000B in total. They need to fill in the tax refund form at the shopping malls, stamp and inspect the goods at the VAT tax refund office before going to the airport for boarding passes, check in and refund 7% at the tax refund counter after leaving the country for inspection, with a handling fee of 100 baht.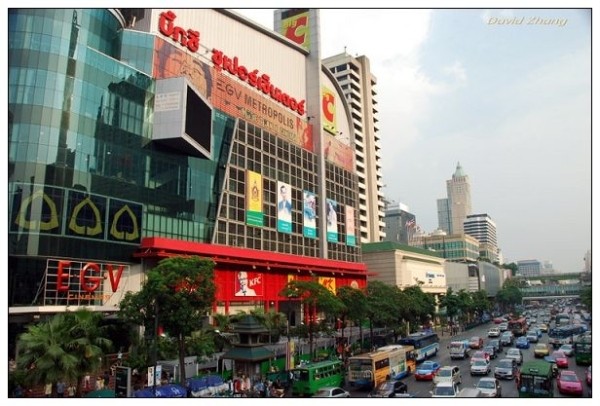 BigC goes out and turns right to the interchange. There is an airport bus AE3 at the gate of Family Market opposite the road. It takes more than an hour to get to the airport 100B/person without taking the high speed. After arriving at the airport, return the SIM card to Tourist Police on the second floor, and then pay the check-in fee to Left Bagage to pick up the luggage. Then go to the International Departure on the fourth floor, find the check-in counter of TG674 as Area F and the terminal as C1A according to the digital display board, check in in Area F to change the boarding pass and check in the luggage, queue up for the immigration office to leave the country, go through security check and go to duty-free shops for shopping. There is a dragon river in the hall of duty-free shops. It seems that dragons are not unique to China.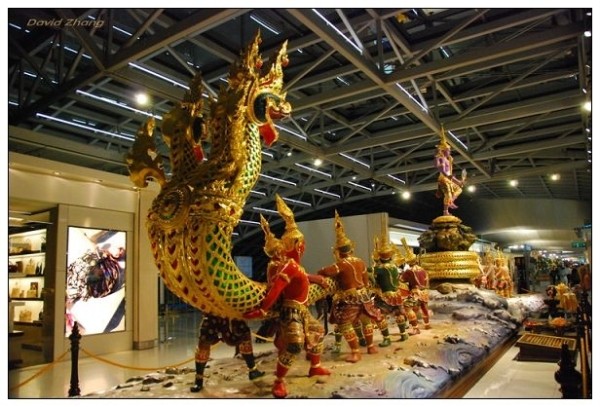 I bought a bunch of L 'Or é al and Clinique cosmetics. There are Olay, Lancome, etc., most of which are about half cheaper than those in China. L 'Or é al Facial Cleanser 95B; Day Cream + Eye Cream + Night Cream 1470B; Whitening and Moisturizing Day Cream 250B; L 'Or é al Mascara 2 + Eyebrow Pencil 630B; Two-step promotion-Super Concentrated Firmer Gel + Anti-wrinkle Cream 465B; 4 pieces of anti-wrinkle and skin tightening cloth mask 700B; Clinique Moisturizing Mask 6 pieces with 1700B; Clinique 3-Step Skin Care-Facial Cleanser + Toner + Moisturizer 770B. Duty-free shops are too large and scattered to finish in three hours. It's time to board the plane before you finish shopping. The flight at 0.35 Bangkok time also delivered a supper at 3: 30 in the middle of the night. I really can't get used to it. Beijing time 6:10 landing. Pick up your luggage and take the airport bus home. I have experienced a lot in these 8 days, and I think it is quite a long time. The overall feeling is that it is too valuable.