Sometimes, I really can't think of which time is happier to start or return from the trip: the former is full of longing, but a little uneasy; The latter is full of harvest, but there are always some regrets.
From July 10 to July 18, 2016, I am free to travel in Thailand.
My Travel Footprints: Bangkok Langman Airport-Big City-Bangkok-Chew Lan Lake in Suladani, Southern Peninsula-Kosso National Park in Panya Prefecture-Mangrove Bay in Panya Bay-Cabayan Island in Lalang Prefecture-Bangkok
Travel Expenses: Visa 210 yuan
Shijiazhuang to Guangzhou Roundtrip Train Ticket 460 yuan
Roundtrip air ticket from Guangzhou to Bangkok by AirAsia: 1100 yuan.
Thailand spends 5,000 Thai baht (about RMB 1000 yuan)
US $20, or RMB 130 yuan, was actually converted into Thai baht 680 baht.
Total RMB 2,900 Yuan
How is it? It is enough to save money. This is the superiority of Buddhism and modern civilized social system. Buses in Bangkok are free. Prices are cheap. Beside Chunpengfu Railway Station, a piece of roasted chicken sprayed with fragrance is only 10Bhat, or RMB 2 yuan. Chewing freely, I feel that I have taken great advantage of the Thai people!
When I was planning this trip, Leaving aside the popular routes for Chinese tourists, Neither went to Chiang Mai, Nor did they go to Phuket Island or Pattaya, where the Chinese are crowded, Instead, facing the map, I turned my eyes to the central part of the southern peninsula, a triangular area located in Suladani Prefecture, Panya Prefecture and Lalang Prefecture. There are two sides of the sea, with dense forests, wind and wind, rain and rain. I am free to wander and explore in that area, achieving a perfect integration of travelers and beautiful Thailand. During the five days there, I did not meet a Chinese compatriot! I can only speak English and Thai.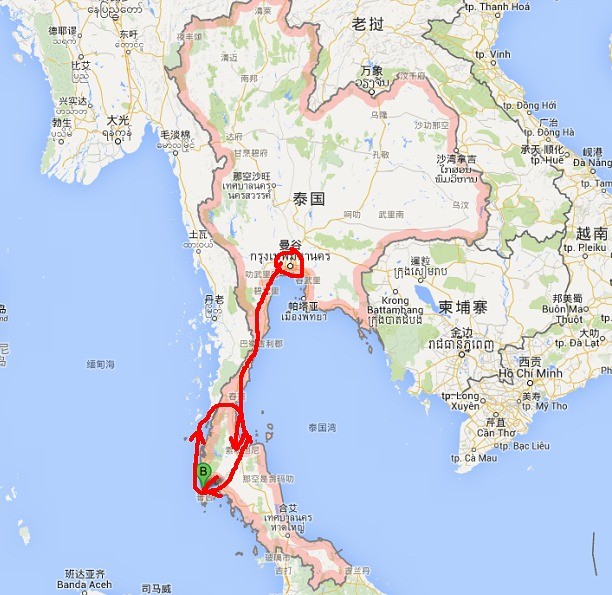 Walking on the land of Thailand, people are not only intoxicated, but also changing: Buddha has such great charisma to people's hearts! People, unexpectedly can be so kind! Women can be so beautiful! Life can be so simple! The island can be so charming!
It must be mentioned that it is not enough to rely solely on one's courage and intelligence to travel in such a region where one is not familiar with language and journey. It is the kind and enthusiastic ordinary Thai people who have extended a helping hand to me, either guiding the way or hitchhiking. Their trust and friendly eyes on me are the driving force behind my journey!
The plane, the station, the pagoda, the Buddha, the curry rice, the river, the lake, the mountain, the jungle, the bay, the island and the cabin are all deep in the memory. When people return home, their hearts and souls remain in Thailand. A thousand words turn into one sentence: I love you, Thailand! Silver Diti is as bad as Zha! (Thai: Nice to meet you)