8 November
People got up at 4 o'clock in the morning, and people always came and went outside the curtain. I'm still in bed-I didn't sleep well last night. The sleeper car did not turn off the lights at night. I was not used to it and woke up almost once an hour or so. Later, I talked to Leo about the car not turning off the lights. He asked: Why do you have to turn off the lights? And reminded me to wear blindfolds when going out. Say: This is experience!
I remember, I will wear blindfolds when I go out in the future.
Leo is an Australian from England. I have fallen in love with Chiang Mai since I first came to Chiang Mai 23 years ago. I came to Chiang Mai to provide for my old age after retiring 2 years ago. Love Chiang Mai is a mess, is a real Chiang Mai "fan". He told me again and again that the longer he stayed in Chiang Mai, the more he would love this place.
The train was supposed to arrive in Chiang Mai at 6: 00, but it was one and a half hours late. However, being late has the advantage of being late, giving me the opportunity to enjoy the beautiful morning in the suburbs of Chiang Mai on the bus.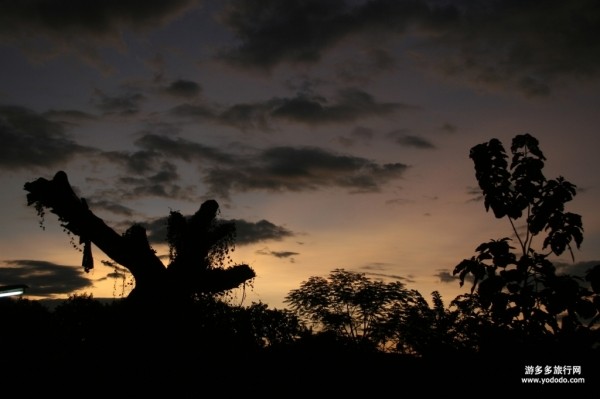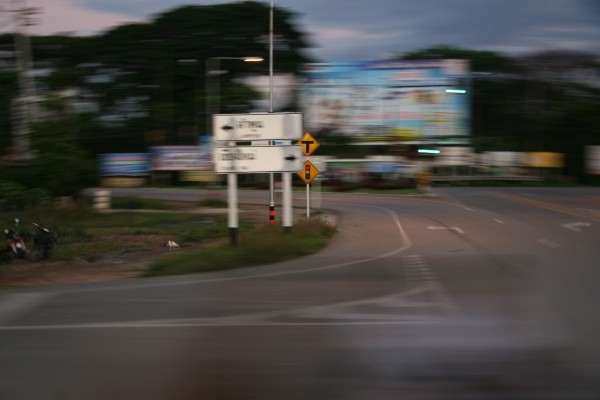 * Scenery along the way There are two main modes of public transportation in Chiang Mai City. One is to take a pickup truck. 20B per person in the urban area. The disadvantage is that you may have to wait. If there are few people on the bus, the driver always has to wait for a few more guests before leaving. And the driver may detour to take each passenger to the place he wants to go. The second is TUK-TUK. We need to bargain. From the railway station to the old city of Chiang Mai 60B. Generally, it is about 40B in Chiang Mai. It will be more expensive at night or on holidays.
Chiang Mai Railway Station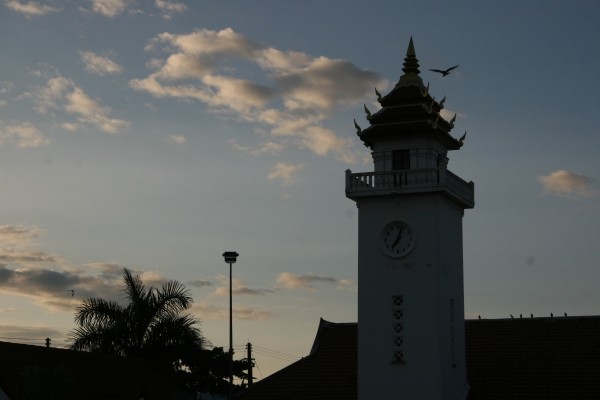 × Chiang Mai Railway Station
We took a pickup truck with Leo to get off at Pratu Chiang Mai in the old city of Chiang Mai and walked to Julie's guest house recommended by him. However, it was full and the hotel looked crowded, so we decided to go to Phai Thai Guest House, which we had seen online before.
According to the map found on the Internet, we went the wrong way and walked into a winding alley. The alley is beautiful in the morning, but our backpack is too heavy. It is better to find guest house as the positive solution first. However, it is difficult to find people to ask the way in the street in the morning. When I saw a man, I ran all the way to ask, "Where is Phai Thai?"
Finally, through a worse muddy road, I reached Phai Thai. His courtyard is indeed very tasty!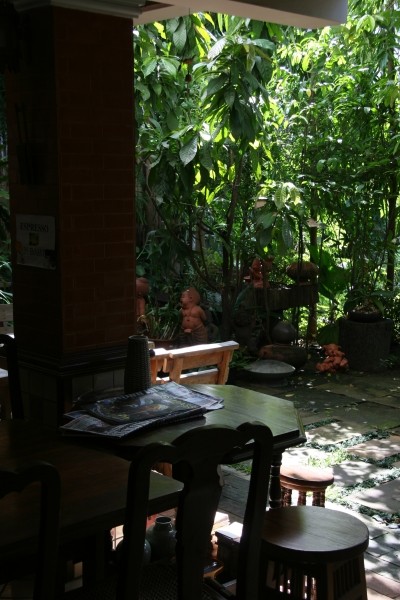 The courtyard of × Phai Tai received us exactly the Thai MM with a high bun mentioned on the Internet, but I think why is she so Japanese? (Later, I finally asked her gossip: Are you Thai? She said yes. Also asked me if I think she looks like a hybrid? I am very embarrassed.)
There are 500B and 300B fan rooms for two people. I ordered the 500B. It's very clean. I like it very much. After taking a bath, I went out to look for food.
Chiang Mai Gate Market
Before departure, I was busy with my work. Chiang Mai didn't do a good job in strategy and couldn't find the north when I went out. Dangling to the Chiang Mai Gate Market, a comprehensive market near Pratu Chiang Mai. It's so lively. What has everything to eat and use. Hungry, I jumped up like a hungry tiger.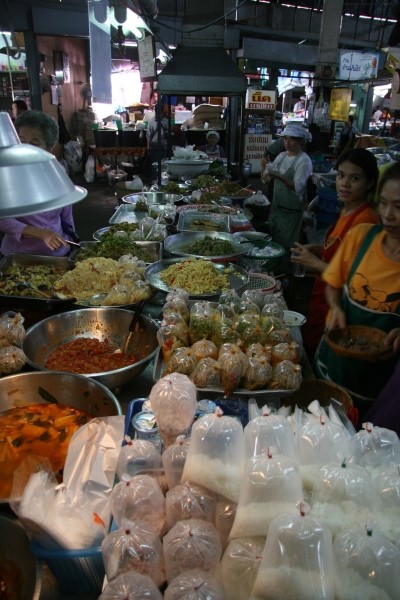 I ate Chiang Mai's famous spicy pork sausage (which is said to be the food that Chiang Mai people miss most when they move to other areas. It is delicious, not only spicy but also full of fragrant thatched flavor), delicious roasted pork liver and a bowl of rice flour. Finally, there was a cup of Thai milk tea. Finally Yuan Shen returned to his experience. Finally, I can enjoy seeing the street view.
Wandering around the streets. Pan Soi, an advanced temple. A monk is watching Thai historical plays on DVD. He introduced that he was telling the story of someone (forgetting his name, sweat ~ ~ ~) and warmly invited us to watch it together. Well, Thai historical drama, I. . . Worried that I can't understand it. . . Thank him politely and go to the hall to worship. Come out.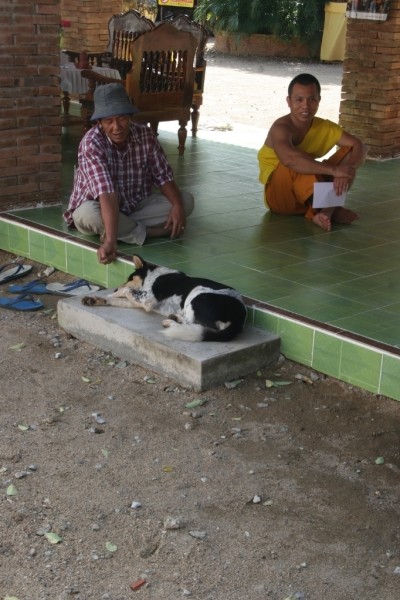 X Monks Watching DVD TV Series
I went to another temple and later learned that it was the famous Wat Chedi Luang. French activities are taking place inside. I didn't dare to enter the main hall and looked around. When I came out, I saw a banner that said (to the effect): "We will feel disappointed when you come here, visit and leave. I hope you can communicate with us, 1. About Buddhism 2. About Thai culture 3. About monk life 4. Anything… every afternoon, x ~ x (I can't remember, but I didn't take it)" a little moved and curious. But when I think about my "bulk" English, I suddenly have some stage fright. Finally left. In retrospect, there are some regrets.
Slowly, it was noon and it became hot. Moreover, the symptoms of not sleeping well last night also began to be obvious, with dizziness and brain swelling. Fortunately, the old city was not large, so I hurried back to Phai Thai, threw myself into bed and went to bed. . .
This sleep is very sweet. . .
Wake up, two o'clock in the afternoon. Before going out, I made a plan: the first priority is to rent a "car". The original plan was to rent bicycles, because Thailand drives on the left, and we are not very good at driving motorcycles, so we feel that bicycles are safer. Second, we need to make a map that works better. Many places in Chiang Mai provide free maps, Phai Thai does, but after reading a few of them, they are not useful (maybe I didn't find them? If you see any useful free maps, please tell me…) , so-decided to spend money on bleeding-buy one!
As a result, as soon as I went out, I changed my plan and decided to rent a motorcycle. The kind of motorcycle that does not shift gears here looks good to ride and is not expensive. . . For convenience, I rented a motorcycle in the small shop near the north of Phai Thai. It is best to rent a car with insurance for 150B/day (including insurance)! However, this family has few cars, old ones and broken helmets. If you want to rent a better one, don't come to this house. I am a little lazy, hee hee. . . But the car is still in good condition.
It was much more convenient to rent a motorcycle, so I went to the Book zone outside the old city mentioned on LP to buy a map!
Before I came to Chiang Mai, I thought the prosperous area of Chiang Mai was in the old city. I found out only after I left the city-otherwise! I'm afraid the busiest area in Chiang Mai is the area west of Meiping River outside the east gate of the old city. High-end hotels gather here, bars line up, and shops that buy clothes and silver ornaments are even more numerous. And they all look good! Of course, consumption is also slightly higher. However, for me, I still prefer to live in the old city and be quiet.
I bought two maps in Book Zone. Later, it proved that Nancy Chandler's version of the map recommended by LP was the best. Recommendation. It's a little expensive. Sell 190B in Book Zone.
I went back to the city for a stroll and ate a delicious "sausage" (I didn't know it should be called what) 1B in the alley. Seeing that it was getting late, I decided to go to dinner first and then catch Saturday Street.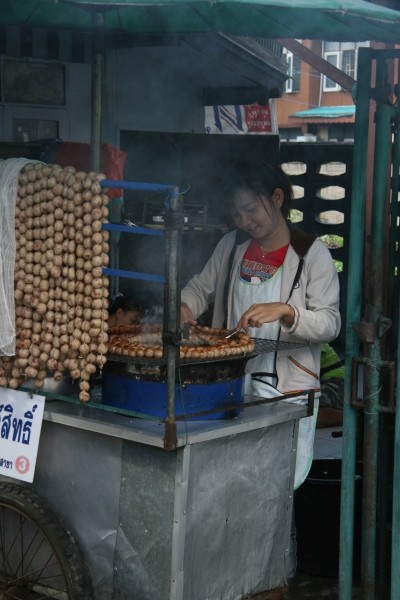 Lemon Leaf
I want to drink Tom Yam for dinner, but I don't know where to eat. I happened to meet a gentleman from Taiwan in Si Phen Restaurant (he is said to have been traveling in Thailand for 8 months) and he recommended us to go to Lemon Leaf. Lemon Leaf is opposite a large shopping mall outside the northeast corner of the old city. Looking at the map seems a little far away, but riding a motorcycle in the past is still not a matter. I ordered Tom Yam and a curry steamed fish, which felt mediocre and a little light. Maybe it's not to my taste.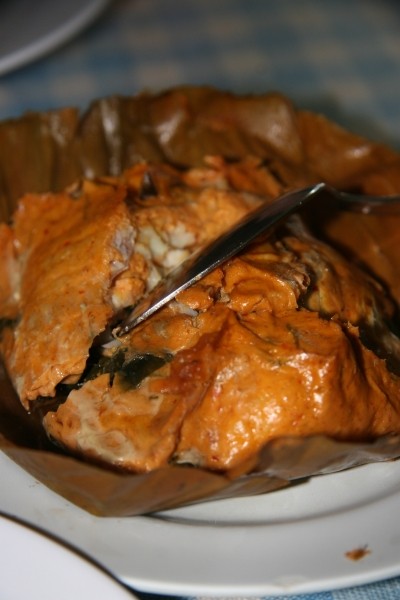 × Steamed Fish with Curry
Saturday Walking Street
One of the reasons why you must come to Chiang Mai on the 7th is also because of Saturday Street. It is said that the public praise is good, only on Saturday. Outside the city, the south gate of the old city (Phatu Chiang Mai) goes out and is not far south along Th Wualai.
What a long street! They were all surrounded and changed to walking. Although it was still early, the vendors had already set up stalls and started shouting. Eat, use, play, everything. I looked at such a long street and said "good pervert" with duplicity while rushing in!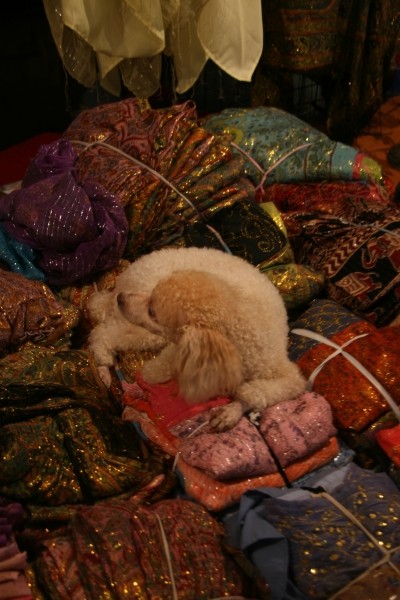 X night market stalls, shopping. . .
Go, go. . .
Go, go. . .
. . .
. . .
Finally, the things here are really cheaper, and there are many silver shops on both sides. And some foods may not be seen in other night markets. Such as that kind of test-tube sorbet. However, the quality of the clothes is inferior to that of Sunday Market.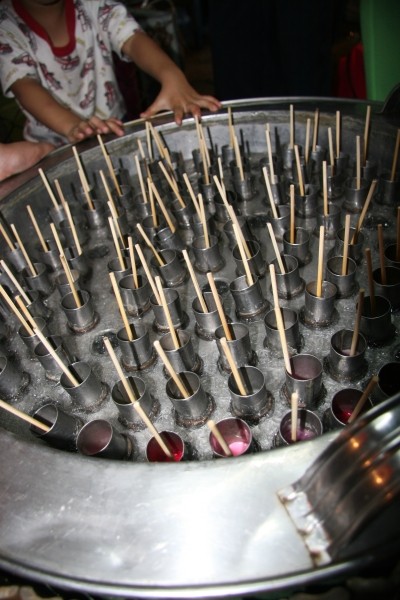 X test-tube sorbet