The Different Charm of Dongba Garden
March 2, 2011 is destined to be an unusual day. This is the last day of our Thai experience tour, and it is also an unforgettable day for 46 couples attending Thai weddings.
Dongba Garden is located in the suburb of Pattaya and covers a wide area. The garden is the best place to display Thailand's national culture with small bridges, flowing water, pavilions, birds and flowers, and picturesque scenery.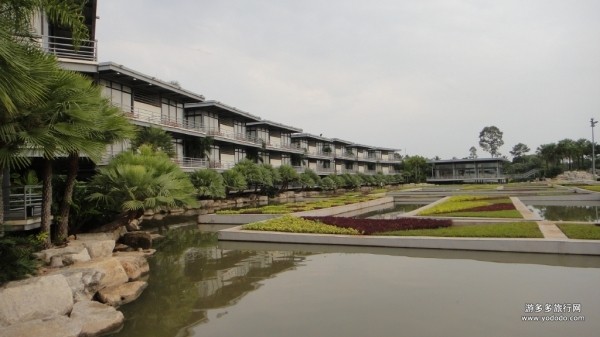 The "Thai Group Wedding" jointly organized by Thailand's National Tourism Administration and China Photography Association was held in this place.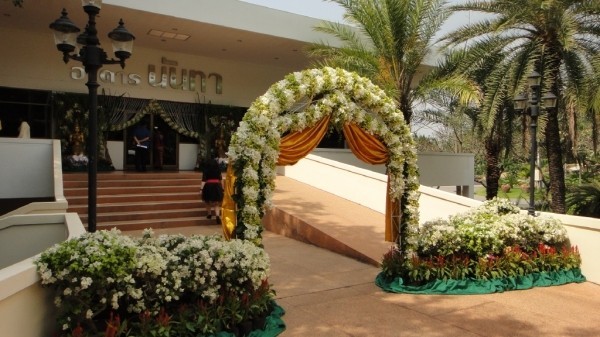 We were also invited to attend this grand ceremony. Of course, we have to be very formal in dress. (This is Ha Mei dressed up to attend. I'm really afraid these high heels will twist her feet.)
The 46 couples from all over the country were all beaming and dressed in Thai wedding costumes. The groom is natural and unrestrained and handsome, the bride is graceful and graceful, with pearls around her head and lotus steps around her feet. A few of us took cameras to shoot in the crowd. We could shoot as we wanted. We had the demeanor of a reporter and were really addicted to reporters.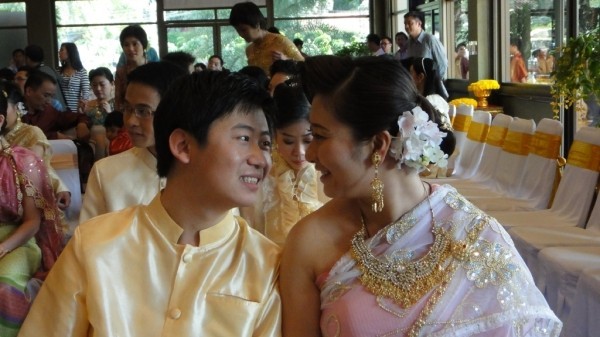 The wedding procedure is very cumbersome but quite grand. Under the guidance of the beautiful hostess, 46 couples worshipped the land and tasted cakes. Nine eminent monks came, and the newcomer listened to the monks singing their blessings, folding his hands and making a silent wish. The harmony of eminent monks singing sutras is very beautiful. Although I didn't understand them singing some what, I could feel peace and calm in the sutras. The venerable monk sprinkled holy water to bless the people. His kind face and kind smile infected everyone attending the wedding.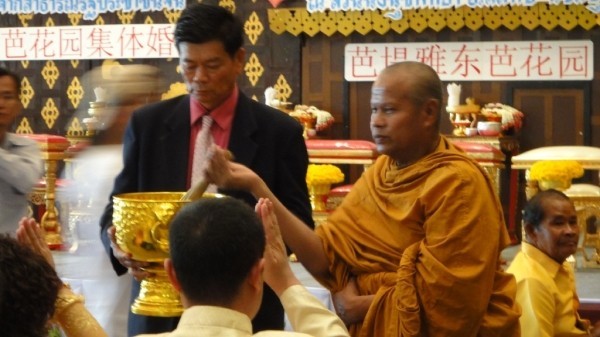 Thailand's Ministry of Tourism and Sports Changchun Peng also came to the wedding.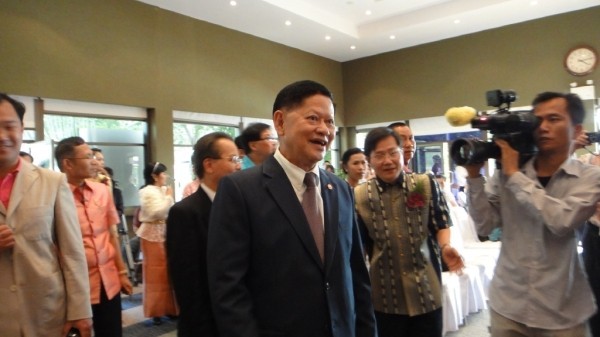 Minister Chunpeng said that more than 1.12 million Chinese tourists came to Thailand last year and they hoped to attract 1.5 million Chinese tourists to Thailand this year. He wished the Thai and Chinese people a long history of friendship and also wished the new people "a good union for a hundred years" in Chinese. His speech won warm applause from the audience. Samson, deputy director of Thailand's National Tourism Administration, told reporters that Thailand has rich tourism resources, various hotels and a variety of delicacies, which will attract more Chinese newcomers to Thailand for weddings and honeymoons. This collective wedding is the beginning of Thailand's development of China's wedding tourism market. In the future, they will also hold weddings in popular tourist destinations such as Phuket, Sumi Island and Chiang Mai, and may even hold weddings in local villages.
The distinguished guests put wreaths on the new people, dotted their foreheads, put double happiness yarn knots on their heads, and sprinkled water to bless them. The wreath of the new couple is gorgeous and luxurious, and the smile of the new couple is happy and intoxicating. At this moment, I was tempted. I want to hold my son's wedding in Dongba Garden. I want all lovers in the world to enjoy this happiness and blessing.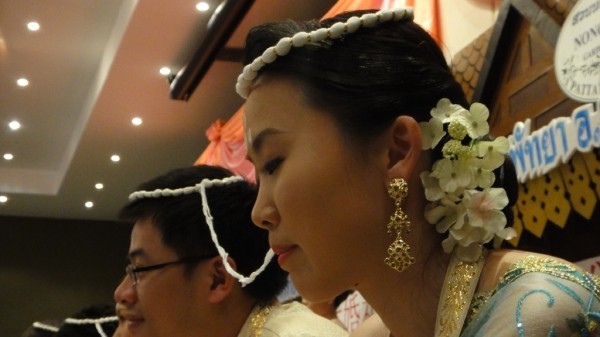 The grand and peaceful wedding was over, and the new people took the blessings of the Thai people to a new life. In the far back, Dongba Garden is flowing with faint lingering charm and faint fragrance. I also send my best wishes to them from the bottom of my heart: remember this wonderful moment and cherish the happiness in my hands!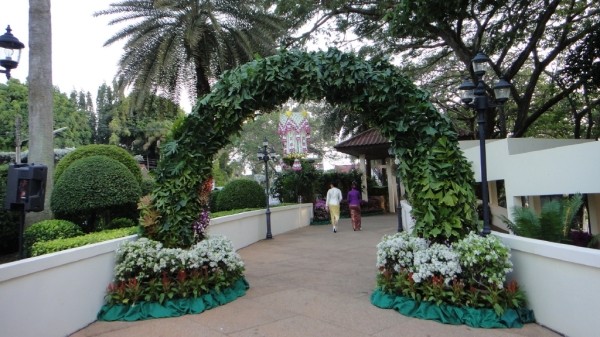 The week-long experience tour brought me into contact with Thailand from all angles, and every angle brought me surprises. I don't know whether Thailand should be compared to a charming girl, a charming bride, or a charming woman or a charming queen. Thailand is like a beautiful and amorous "witch", full of charming spirits and strong temptations at all ages. This group of travel notes is far from describing Thailand's amorous feelings, elegant demeanour, scenery, charm and charm, so I have the character "different". I only hope that these books can lift the mysterious veil of Thailand, reveal a corner of absolute beauty, and let more people know that Thailand likes Thailand.