1. Overview
2. Attractions
3. Schedule
4. Public transport
5. Hotel Introduction
6. Food Culture
7. Shopping Guide
8. Recreational activities
9. Cost budget
10. Other
1. Overview
Sumi Island is located in the western part of the Gulf of Thailand in southern Thailand and is Thailand's third largest island. It is about 80 kilometers away from the nearest mainland Surat, surrounded by 80 large and small islands, but most of them are uninhabited. It covers an area of 247 square kilometers.
As a world-class seaside resort, there are many water sports, including diving, diving, canoeing, rowing and sailing.
In addition, there are coconut gardens, small fishing villages and monkeys that pick coconuts.
3. Attractions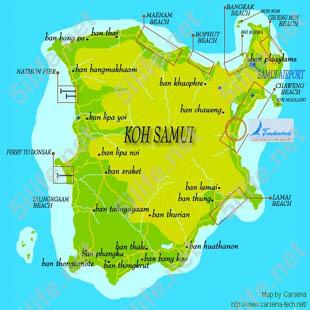 3.1 CHAWENO Beach
Chaveon Beach on the east coast of Sumi Island is a 7-kilometer-long crescent beach. It is also the longest, busiest and most famous beach on Sumi Island. It is also a tourist distribution center and nightlife center.
The white sand and the green sea on the beach set each other off and the scenery is charming. Water recreation facilities include sailing boats, water motorcycles and diving equipment.
This beach is occupied by hotels and resorts. There are restaurants, diving schools, bars, shopping centers, etc.
At Christy's Babaret, there is a free transvestite show at 11 o'clock every night, which is the most famous transvestite show on Sumi Island. In Taeng Corner Bar, there are two free transvestite watches at 10:30 and 11:30 every night. This is the earliest and oldest transvestite performance bar on Sumi Island. Of course, the performance standard here cannot be compared with that in Pattaya and other places.
3.2 LAMAI BEACH
Lamai Beach on the east coast of Sumi Island is only two kilometers long, but it is also one of the favorite beaches for tourists. The sea water here is pure and transparent, close to Yelin and banana garden. The surrounding environment is quiet and has a primitive taste.
Because the sea water here is clear, it is very suitable for swimming and sea sports.
The most famous landscape is the grandfather-grandmother stone, also known as Hin Ta and Hin Yai, which are all formed of natural rocks. The shape is similar to the reproductive organs of men and women, so it is called grandfather-grandmother stone. Grandfather's plaster stands high on the rock, while Grandmother's stone is as far away as 100 meters away, hidden in the choppy sea, which can only be clearly seen when the tide ebbs. Due to the numerous boulders scattered around, this is also a frequent place for sunbathing tourists.
There is a museum, a bazaar, some fitness centers and a diving shop.
In the evening, bars, restaurants and entertainment places will emit tempting lights to attract tourists.
3.3 Bobu Beach
Bobu Beach is located on the north coast of Sumi Island. The beach is only 2 kilometers long, but the water is clear and the sand is white and the scenery is beautiful. This is the oldest settlement on the island and used to be a small fishing village. In addition, it is also the best place to enjoy the sunset. Find a seaside restaurant to enjoy the sunset while tasting delicious food.
Walking west from Pobu Beach is Mae Nam, a village rarely visited by tourists. At the end of the village is a series of boulders made up of small bays, which is an ideal snorkeling place with few tourists.
Giant Buddha Beach
3.4 Giant Buddha Beach
Giant Buddha Beach is located on the northern coast of Sumi Island. The sea water is mild and sunny, suitable for swimming and playing.
The Giant Buddha Beach is named after a 12-meter-high Buddha statue on a nearby island, which is a maritime landmark on Sumi Island and is also part of Paya Temple.
Paya Temple
3.5 Paya Temple
Paya Temple is located on an island beside the beach of Giant Buddha and is a landmark on Sumi Island. There is a 12-meter-high golden Buddha statue in the temple, which is magnificent. You can see this tall Buddha statue first when you approach Sumi Island from any angle. Through donations, a road has been reclaimed from the sea, which is directly connected to the Giant Buddha Beach and can be driven to Paya Temple.
In addition to the Golden Buddha, there are also sculpture groups with the theme of statues and fairy tales in the temple. Around the temple is a market selling some shellfish handicrafts.
Natong Town
3.6 Natong Town
Natong Town is one of the best places to watch the sunset on Sumi Island. It is also the only lively town on Sumi Island. Almost all government agencies are concentrated here, such as government offices, immigration offices, police stations, banks, * *, etc. It is also the island's commercial center and busiest dock, where you can take a boat to the surrounding islands and the nearest land-Sulat.
Highway 4169
3.7 Highway 4169
There are elephant, monkey, snake, cockfighting and Thai folk dance performances. Three games a day at 10: 00, 12: 00 and 16: 00.
3.4 Tao Dao
Because it looks like a turtle, it is also called Ghost Island. The area is about 21 square kilometers. The island perches on a coral reef. Most of the island is mountainous and only 30% of the land is flat. It has the best waters in Thailand.
Due to its high visibility, lush and beautiful corals, rich marine life and excellent diving environment, it is a famous diving and snorkeling resort in Thailand. There are more than 40 diving companies to choose from on Sumi Island and Tao Island, with prices ranging from 800 Thai baht/time to 5,500 Thai baht/10 times. A four-day professional diving license requires about 8,000 Thai baht.
Nanyuan Island
3.5 Hoh Nang Yuan)
Nanyuan Island is located in the Gulf of Thailand, near Sumi Island, to the northwest of Turtle Island. It takes about 10-15 minutes to pass by boat from the west coast of Turtle Island.
Nanyuan Island consists of three small islands, which are characterized by a distinctive "herringbone" beach that connects the three small islands. Different from the bustling Sairee Beach to the west of Turtle Island, there is peace like Xanadu. The only resort on the island, all rooms have balconies and invincible sea views.
Nanyuan Island is a private island of Thais. The conditions for entering the island are harsh. If you do not intend to stay on the island, each person has to pay a fee of 100 Thai baht. No one is allowed to bring plastic products or cans on the island to prevent pollution. What's more, if the conditions on the island do not permit, they have the right to refuse you to go to the island, even if you have already arrived at the door. However, it is such an island that everyone who comes here is reluctant to part with it and is willing to plunge into this simple and simple paradise.
The reefs around the South Garden are composed of tufted corals, hard corals, antler-shaped coral fields and soft corals with different shapes and colors on the rocks. The South Garden has a cave under the sea floor to the north. It takes two minutes to reach the famous diving place by boat from GreenRock, WitheRock, BigRock and NangYuangCave and thisChumponPinnacle. The sea water in Nanyuan Island is clear and light. Colorful tropical fish, colorful corals and sea sunflowers are clearly visible in the green pine sea water. The fish here will not make a detour because of your arrival.
People who have been there say that the nights on Nanyuan Island only belong to those who like quiet romance. Under the starry night, sitting in front of the dining table on the water trestle, lit a small oil lamp and ate a sumptuous and delicious seafood dinner while drinking beer. Not far away, the stars of lights meandered up the path, which was an unspeakable enjoyment. Coral, sea urchin and sea cucumber can be seen everywhere in Nanyuan. Many corals are alive. From time to time, various small fish rob them and some unknown small animals appear beside them from time to time.
We went to Nanyuan with a long tail boat, 200BH for an adult and free for children. 100BH on the island, half price for children.
Antong National Park
3.6 Anton National Park
Take a canoe to Anton National Park and then snorkel in the water, but most of the corals here are dead.
If you climb the mountain to the foot of the mountain on the other side, you can find that there is a colony of sea urchins. Many sea urchins can be easily seen in the shallow sea water, as well as a fish with a long and pointed mouth and devil fish.
3.7 Down Island
Crocodile Island
3.8 Crocodile Island
Located near the airport in the northeast of Sumi Island, the farm can watch the traditional Thai crocodile training performance. There are two performances a day, at 14: 00 and 16: 30 respectively.
Hinda Falls
3.8 Hinda Falls
Sinra Falls is located at the end of Highway 4172 on the west coast. Naban Falls is divided into two parts, both located a few kilometers north of Highway 4169 in the south-central part. These are the two most famous and spectacular waterfalls on Sumi Island. If you want to see what makes it different, you'd better choose the rainy season.
3. Schedule
Day 1: Aircraft
Day 2: Chaveon Beach (Night: Chaveon Beach)
Water sports, transvestite shows, dinners
Day 3: Lamay Beach (Night: Lamay Beach)
Sunbathing, grandfather and grandmother stone, SPA
Day 4: Tao Island, Nan Yuan Island (Su: Nan Yuan Island)
Diving
Day 5: Crocodile Island, Hinda Falls, Highway 4169, Paya Temple, Natong (Su: near the airport)
Humanistic landscape
Day 6: Return
4. Public transport
According to the ticket, you can get breakfast, free tea on board, and bread. After arriving in Nanyuan, you can feed small fish.
If it is the same as our trip, Thai Airlines will take over from Manan Airlines. When changing boarding passes at the Capital Airport, I must tell the staff that I want to do combined luggage transportation. Otherwise, as we are nervous about changing planes, we will have to run at the Thai airport. Although Sumi Airport is small, international luggage and domestic luggage are not taken in one place. Turn left for international luggage.
5. Hotel Introduction
5.1 Chavon Beach
5.1. 1 Baan Chaweng Beach Resort & Spa) 3
Address: 90/1 Moo 2, Tambon Bophut, Chaven Beach
Reservation website: http://www.baanchawengbeachresort.com/
5.1. 2 A 'L Resort 200 Moo 2, Chaweng Beach, Bophut District, Koh Samui, Suratthani 84320, Thailand
The price of sea view room is lower than that of garden view room.
Reservation website: http://www.alsresortsamui.com/
5.1. 3 The Kala Hotel) 4.5 795.00 good
Address: 210/8 Moo 4, South Chaven Beach
All rooms are sea view rooms.
Bedclothes: natural mattress, green cotton, handmade curtains;
Bath Products: Coconut Oil Products;
Breakfast time: 6.30 am-10: 30 pm (a la cart)
Dinner: Private Dinner on Rock;
SPA: Agarin SPA;
Hotel Website:
Deluxe Room
5.2 Lamay Beach
5.2. 1 Montra Hotel) 3
Address: 142/13 Moo 4 Maret, Lamay Beach
Number of rooms: 9
Room Type Introduction:
Standard Suite: 24 square meters, courtyard view, 779.00 (agoda, 4.1, without Tax)
Hotel Website: http://www.montrasamui.com/
5.2. 2 Samui Cliff View Resort & Spa good
Address: 211 Moo 4, T. Maret, Lamay Beach
5.3 That
5.3. 1 Viva Vacation Resort 3
Address: 19/4 Moo 3 Lipa Noi, Natun, Sumi Island
Reservation website: http://www.vivavacationresort.com/
5.4 Nanyuan Island
Dave Resort on Southern Rim Island
5.4 Near the airport
5.4. 1 Charlies Hut Home Stay)
Address: 9/26 Banbangrak, Moo4, T. Bophut Koh Samui, Suratthani 84320
Destination Beach Resort
9/34 Moo 5 Bophut,
Http://www.latestays.com/
Http://www.agoda.com/
Http://www.wego.cn/hotels/thailand/koh-samui/baan-chaweng-beach-resort-spa-294765
The hotel was booked at SWADEE and Aisarooms. Aisarooms responded very slowly, but it was finally booked. Agoda's information feedback was quick, but unfortunately there was no room. SWADEE maps and hotel pictures are the most practical.
Chavin Beach: A 'L RESORT
The location is excellent. Going out is a medium-sized supermarket. It is very close to Shuangsheng ice cream, boots and other places. In short, it is convenient to live and shop. The cheapest room we live in. The room is very small. The swimming pool is not big either. The garden is also simple. Rice congee and pickles for breakfast are good. It is a good price/performance ratio. The beach in front of the hotel is good, with fine sand and clear water.
Charm Churee Villa: Because he has a private bay, Jansom Bay, where he can snorkel.
But it is far from Jansom Bay. Actually, sensi went snorkeling near jansom bay. On the first day we took the wrong road. Around a big circle. When I came back, I found that I could walk directly from the path beside rooms 310 and 324 and 325. It is about 5 or 6 minutes to walk through the forest path, which is very convenient.
There are fish schools on the bank of Jansom Bay, which are a little frightening. Swim a little further, coral is very beautiful. 100BH per person, children don't need money.
Tao Dao: SENSI Paradise
SENSI Paradise surprises us. One by one, high-rise buildings are distributed on the hillside, with pavilions everywhere and soft couches to rest on. The children of the same trade said that this place is like a maze. I can't find anyone I want to go to. All five of our families live in the cheapest rooms. Recommended 310 and 324.324 balcony landscape is very good, 310 room is large, the location is private. The hotel service is very good and the staff are kind and polite. SENSI's feeling is different from that of many star hotels I have stayed in before. It is very relaxed and comfortable. Gardens are not deliberately carved, but they can be savored everywhere. There will be a handling fee of 2.5% if the credit card is used to settle the bill.
Cheap: Charlie's Hut Home Stay
Charlie's Hut Home Stay. We came back from Tao Island on the afternoon of the 6th day, so we found a cheap hotel on SWADEE. No mainland Chinese have ever lived here. The shopkeeper is a retired old couple from Bangkok with good temperament. The hotel covers a large area and is a large manor with prosperous flowers and plants. The old couple are hospitable and English is very good. My husband had a great time chatting with them. We have five families, but we have been given a row of seven rooms to live in. One room at 800BH per night. Free delivery the next morning. The room was clean and delicate, and I can see that it was decorated with my mind. In short, it is very kind and comfortable. It is located in a remote place. It takes about 10-15 minutes to drive to Chawen Beach.
NangYuan Dive Resort is the only hotel on Nanyuan Island. Its furniture and decoration are mainly made of wood or bamboo. It takes the natural wind route. Its facilities are not luxurious but very comfortable, and it is integrated with the surrounding scenery. The cost of one night is about 270 yuan RMB. It is recommended to stay in Junior Executive Room K9 on the mid-level mountain. The balcony has an invincible sea view. The balcony is facing the herringbone beach. The scenery is beautiful and the price is about RMB 860 yuan.
Http://www.nangyuan.com/en/gallery.html
6. Food Culture
There are various buffets on the island, both Chinese and Western. There are also rich varieties of tropical fruits.
Su Mei ate once in will wait, and mango shake was the best. For the other two nights, I walked along the beach to my left hand and ate at a restaurant called Happy Hour. It's cheaper than will wait and tastes good. Eating is a Thai soft couch. Children play with sand when they eat well. Adults lie down and chat. It is really comfortable.
Tao Island, two nights at Yang Restaurant. On the phone, they can take care of the pick-up. Because we have a large number of people, it is free. Yang Restaurant's environment is normal, on the side of the road, but it tastes good and the price is cheap.
Don't miss Su Mei's Shuangsheng ice cream, especially their new green mango, which has green rice inside and tastes refreshing. It's delicious.
7. Shopping Guide
The path leading to Grandpa and Grandma Stone from Lamay Beach is a shopping street, where coconut products are worth buying.
Centra world
Cosmetics are cheaper than those in China.
After each shopping, you have to ask for the shopping receipt, and then fill in the tax refund form at the store service desk. If you shop in a store for 2,000 Thai baht in a single day, you can apply for a tax refund of 7%. This Thailand can apply for a 7% tax refund at the airport if it is over 5,000 Thai baht. It must go to the customs to stamp the luggage before changing the boarding pass for inspection, and then go to VAT Refund for refund. There is a handling fee of 100 Thai baht. Therefore, it is better to fill in the same passport number for all tax refund forms.
Su Mei strongly recommends, hot club. It's on the street of Chavin. Come out of A 'L and go to the right. It takes about 6 or 7 minutes across the road. Two floors, the T-shirt upstairs is worth buying. Children's 99BH and adults' 140-160BH. Cotton is very soft and the pattern is generous and appropriate. There are also salons and beach skirts. The price is not bad than that bought on the beach, but the color is much better and the quality is good. Salon tied it with a thin hemp rope, which is also a good gift.
8. Recreational activities
8.1 Thai Massage
Thai massage, oil-free about 250B, oil is about 350B.
9. Cost budget
The currency used in Thailand is the Thai baht. The exchange ratio of US dollars is × ×: × ×. There are several ATM machines with UnionPay logo on the streets of Sumeichawen that can directly take Thai baht at a handling fee of RBM10 yuan each time. The exchange rate is better than what we exchanged in Beijing. And he won't leave work. Debit cards with UnionPay are strongly recommended.
Lamay Beach is cheaper than Chaveon Beach,
9. Other
Mobile is recommended for mobile phones.