This trip is a rest in a pure sense, no mood, no thoughts, pure relaxation and forget, so do not want to mention any emotional fragments, just to share practical information and comments!
1) schedule: we stayed at Absolute Sea Pearl Resort on padang beach, which is a hotel for Resort members. This time, I took advantage of my friend's light to make the trip and also enjoyed the private tour guide service here. Simply put, a local Chinese tour guide will arrange the tour itinerary. As long as you choose the desired daily itinerary and pay the money, everything will be fine. Our final choice is day 1: FantaSea carnival and show; Day two: phuket half-day tour around the island; Day 3: diving and sightseeing at pipi island. All three included a meal, and we were given a price of 6,250 baht per person. Other than that, we just sunbathe on the beach, go shopping, eat… Also, the taxi fare from the airport to padang beach is about 550-600 baht (phuket's taxi industry is a monopoly and expensive, with a one-way trip in padang costing 200 baht).
2) padang beach: from the map, padang beach is located on the southwest coast of phuket island. It is known as "the busiest beach". The coast is dotted with bars, restaurants, stalls and countless small shops and supermarkets. If you live in padang beach, you don't need to take too many clothes and daily necessities, because there is everything! From bikinis, slippers and sun hats to the local "SARONG SARONG ", it's okay to forget your contact lens solution! However, due to the hubbub and convenience, padang beach made me feel too noisy and chaotic. I was very disappointed on the first day, but I gradually got used to walking to the beach a few steps away in the hustle and bustle, and the enthusiasm of padang gradually became lovely. That's for another day. Bar street is very famous, we picked any one to experience, a bottle of beer is about 200-250 baht. Can't give you any more information without going to the special "show"! Ha ha.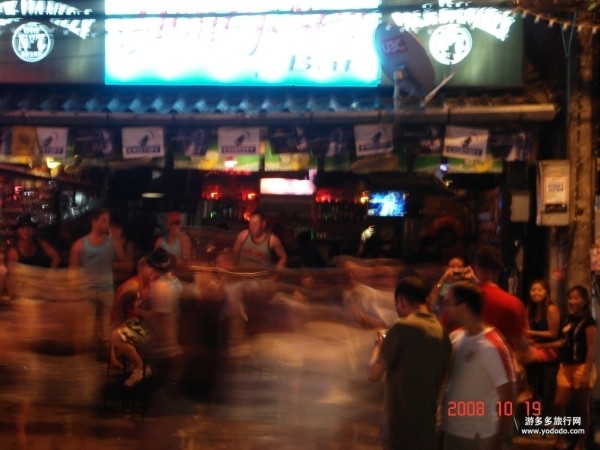 In particular, the temperature in phuket is usually hot and humid, but not stifling, generally the highest around 32 degrees, there are occasional showers, but most of the time is very short.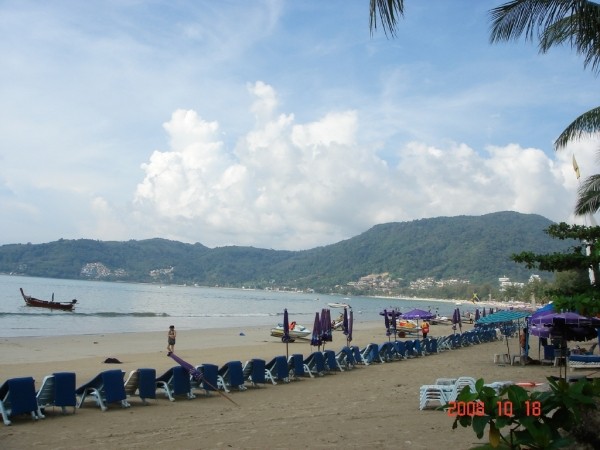 3) food: many people like Thai food, while in padang, there are more seafood restaurants that feel a little Chinese, as well as Italian restaurants. The Seafood was delicious, and I tried two: Patong Seafood along the beach (black pepper crab, grilled black tiger shrimp, and steamed pomfret. Relatively expensive, about 200-250 yuan per person, it is said to be the oldest restaurant in phuket); And Mr. Good Seafood on rat-u-thit road, a main road parallel to the beach. The price is relatively civilian, but the average person also wants 100-120 yuan). Feeling in phuket prices are not cheap! But you can still treat yourself to a treat. It's worth a treat! Italian restaurants are all over the floor. At noon on the day I arrived in phuket, I went to a restaurant called Da Mario, which is said to be an Italian chef. However, I do not know whether the environment is too natural, actually a lot of ants on the table! Later, even in our bread basket, I had to hurry to eat away… To experience the local atmosphere, we went to a Buffet restaurant called BBQ Buffet (just next to Da Mario) for dinner on the recommendation of our guide. At 119 baht a person, they serve a variety of marinated pork, chicken, beef, and (but smaller) shrimp, as well as a variety of green vegetables. The way of BBQ is very interesting, the middle of the iron pot is raised, under the hot charcoal, you can barbecue; The sides are low enough for rinsing (but not very comfortable, to be honest, because the fillet in the middle always slips into the soup), and it's a bit hectic. Anyway, this is cheap enough! I had a good time talking with my boss. Finally, he even sent us a plate of huge shrimp.
4) FantaSea: when first heard, she thought it was just a traditional performance. The arrangement is very thoughtful, after the registration, a special car to the hotel to pick us up at 6 PM on time. FantaSea is located in Kamala (kamara beach) in the north of phuket island. There are strict procedures for ticket change and security check at the entrance, but you can understand the whole process even if you don't understand the local language. There is no need to worry.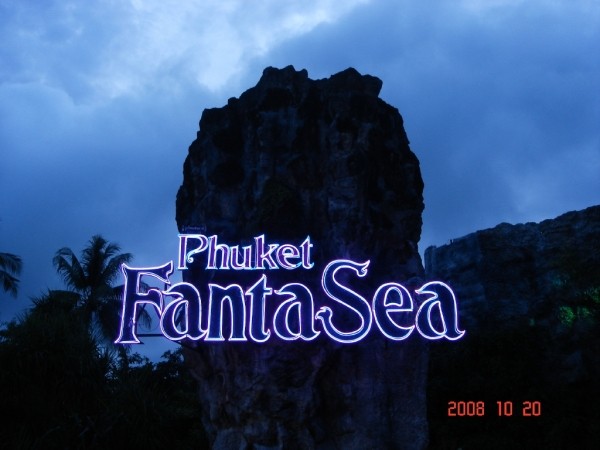 Enter the entrance, in front of you is an amusement park full of music and lights! Along the way, there are all shops selling plush toys and local special products. The price is a buy it now price. The same goods in each shop are also priced according to the standard price, which saves trouble. But they are generally more expensive than other places on the island. A medium-sized elephant doll costs 250 baht (about 50 yuan). There are also open-air singing and dancing performances in the amusement park. You can also take photos with the elephant God walking in the crowd. In addition, there is a small game park, which can exchange 200 baht for a ticket and play 5 games. I'm good at darts. I won two elephants. Ha ha. Enter the cafeteria with * * and have a good meal before the show! However, the contents of the buffet are relatively general. It is worth mentioning that there are white gourd ribs soup, salmon sashimi and fish ball soup.
Finally, it's time to watch the performance (9 p.m.) and enter the elephant thread. In the corridor, tourists can take photos with the lovely baby elephant (500 baht), and it's said that there is only chance to take photos with the tiger in Thailand! At the beginning of the performance, in the melodious folk music, two groups of elephants passed through the middle of the theater solemnly. The riders raised their torches and sat on the gorgeous elephant chair. It was amazing and everyone could not help applauding warmly. The next two hours of performance is about the distance between the Chinese rules and the Chinese rules. We have seen too many grand performances in China. Maybe we will be moved a little bit. But it's worth seeing because of the serious performance of the actors and the help of the elephants. (it should be reminded that mobile phones and cameras are not allowed for the performance, which needs to be deposited before the performance; however, the theater is well managed and convenient to retrieve.)
5) During the tour around the island, we mainly have three projects: the Kalong beach viewing platform, elephant riding, and the Yuyue temple. The sea of Kalong beach is suitable for surfing. The waves are windy and few people swim. The nearby scenic spot overlooks the whole southwest of Phuket Island. The three bays are clearly visible. The open view is refreshing. The breeze blows, and it doesn't feel hot.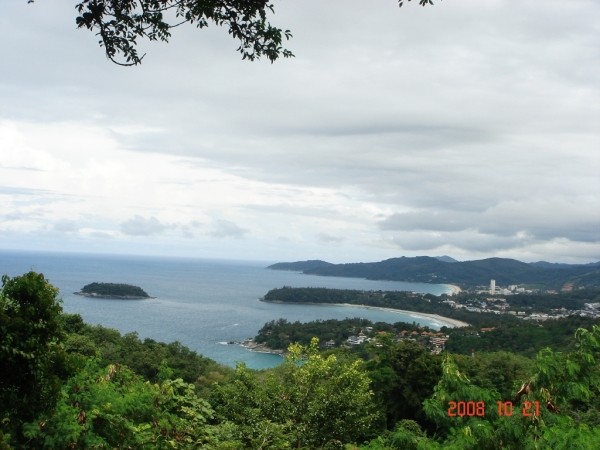 The place where we ride elephants is an elephant Garden (usually arranged by travel agencies, I think it's almost the same The elephant I rode is called Nicky. It's said that it's the biggest one in the whole garden! The trainer was small but smart. He stopped in the open area to take a picture for us. Later, he saw the picture and thought it was pretty good. Later, we gave him 50 baht for consumption according to the guide's reminder. He was very happy. Sitting on Nicky's broad back, you can feel his thick dark gray skin. It moves slowly step by step, and we move forward and backward with the rhythm, as if taking a very slow roller coaster. There are some steep slopes along the way. I really pinched a sweat for Nicky. I hope it has always been taken good care of and live a happy life with its trainer…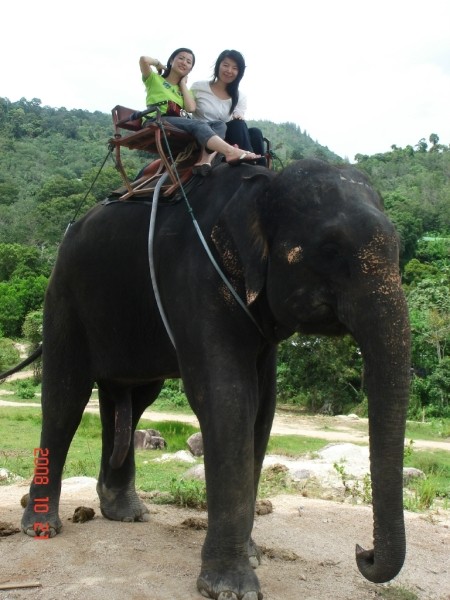 After lunch, I went to yuechai temple, the oldest temple on Phuket Island, and offered the Buddhist relics, which was very sacred. When I first visited a temple in Thailand, I couldn't help but feel the peace and simple atmosphere. In Thailand, temples are places of faith, not commercial places. All incense money is voluntary. Incense and lotus, including gold foil for Buddha statues, are taken consciously, which is quite different from that in China. Take off your shoes when you enter the temple. Keep your clothes clean and tidy. Don't make noise. People quietly worship Buddha, or pray, or sit in silence. The power of faith flows in the building with the breeze through the window lattice, which is moving.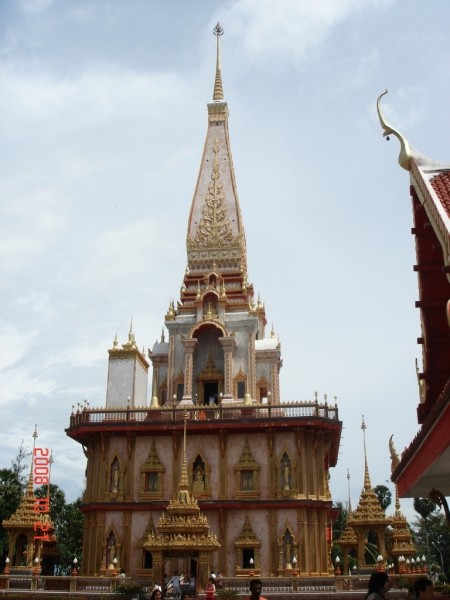 6) Phi Phi Island: I specially arranged a whole day trip to Phi Phi island. Afterwards, I thought it was the most unforgettable and happy day in the whole journey. We got on the bus at 7:00 in the morning and were sent to the ferry of a yacht and speedboat. There were free drinks and baked coconut pancakes from Thailand when we waited for the boat. It was delicious! Soon, the leader of the day introduced the schedule of the day to us: take a 1-hour speedboat to Phi Phi island for the first snorkeling in the shallow sea; arrive at Phi Phi island for a 1-hour stroll and lunch buffet; then start to Phi Phi island for the second snorkeling and swimming, and enjoy the special scenery along the way; start to return at about 3:30, and return to Dudu in an hour Mouth. I'm not very good at swimming. I'm not very interested at first. After putting on the snorkeling equipment clumsily, I began to try snorkeling for the first time in my life. Just in the water, I felt a lot of slippery little things scurrying around me. I adjusted my breath and looked closely. I almost cried out. The water was full of colorful tropical fish! And all kinds of corals are at your feet! As I got used to it, I began to enjoy the underwater world: the tropical fish, big and small, are colorful, and the biggest one is about a foot long. It's really like the character in "the story of the sea"! It's a pity that we didn't see Nemo, but there are sunflowers, umbrella like, branch like or round coral. There are also many sea urchins. It's a pity that I can't shoot underwater. There is a fellow Australian. He is very happy to shoot with a special underwater camera. How envious he is! I focused on this magical silent world, filled with wonder and joy.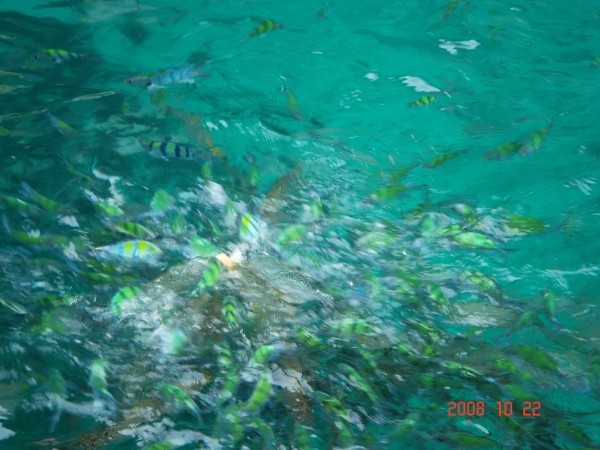 The beach of Phi Phi island is thinner and whiter than that of Padang. It is said that it's all coral sand. All the hotels and facilities on the island were rebuilt after the 2004 tsunami. I also prayed silently for the victims of that tragedy… All return to prosperity, people value the life in front of them more, live real, warm, natural, no regrets… In the waters near Little Phi Phi Island, you can also see the famous scenery: under the green water is the white sand, the cliff rises abruptly from the sea, and the green trees are dotted on the dark gray cliff. Thailand's traditional wooden boats travel on the sea, crossing the calm sea like cutting silk, silent… According to the guide, the attraction appeared in many films, including the famous Jurassic Park.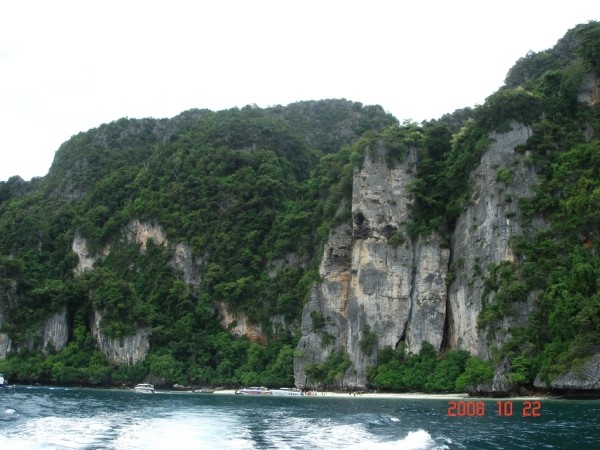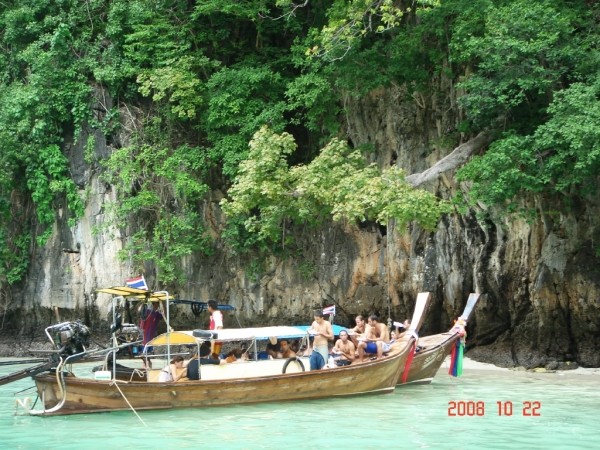 7) Shopping: the final itinerary is always for shopping. What we plan to bring back from Thailand include: all kinds of tropical dried fruits, preserved meat and loose egg rolls with authentic fragrance, fragrance and essential oil made of Thai spices, as well as the word-of-mouth products in boots drugstore. At first, I bought many mangoes, durian and pineapple in the supermarket in Phuket. Later, I found that there are many in the supermarket, but we bought them cheaply, a package of 40 baht. We recommend that's Siam specialty store on the first floor of the shopping mall in Patong (Carrefour). The whole floor is full of Thai handicrafts. I have everything I want to buy! And the quality is more reliable. We bought a lot of aromatherapy and essential oil soap there. It's nice to bring it back to our friends! In the small supermarket next to ocean Plaza on Patong beach, there is a small shop specializing in authentic forest products and dried fruits. The owner is Chinese, so it's not easy to bargain, because we have no other choice, and her price is still cheaper than the airport, so we bought some. As for the BOOTS drugstore, the recommended Triple C mask and body scrub are recommended. We went to the anniversary store just now. A box of 2 pieces of mask is only 129 baht, which is cheaper than Watsons. In addition, you can buy a beautiful sarong as soon as you arrive in Phuket. It's also unique to wrap it outside when you wear a swimsuit. Moreover, you can roam freely on the beach, which is very convenient and beautiful for taking photos. We have successfully bargained to 120 yuan a piece (cotton), which is the cheapest price we have heard. It's still normal about 150 yuan. If Tess's texture is about twice as expensive. Finally, I would like to remind you that Phuket fruit is super cheap and delicious. We buy several kinds of processed fruits (papaya, grapefruit, pineapple honey, etc.) from the supermarket every day. They are basically 15 baht (3 yuan) per box (large box) This makes us have a rich fruit feast after dinner every night. It's quite happy. Don't miss it! I'd like to write here and hope it will help you in your future trip to Phuket!