After returning from Thailand for more than ten days, I finally have time to calm down and sort out the strategy. This is a pure strategy. I hope I can help my friends who will go in the future.
The trip lasted for ten days, actually nine days. On September 1, Wuhan Tianhe Airport flew to Bangkok Langman, and on the morning of September 10, Langman flew to Tianhe Airport.
The average cost is 5000 yuan, excluding shopping.
The air ticket was purchased three months in advance, and AirAsia flew directly, plus 20kg of luggage, with a round-trip air ticket of 1300 yuan per capita.
Telephone cards are bought in advance in China. Universal Taobao is cheaper than buying it in Thailand. Happy cards have 1.5 G traffic in 7 days. Of course, after 7 days, the traffic is gone, and there are still 100 plants that can be used to make phone calls. Mobile phones have poor signals and may only receive 2G networks. All Netcom or Unicom can connect to 4G networks.
Regarding currency exchange: Before we went, we exchanged 5,000 RMB Thai baht at BOC at an exchange rate of about 5.06. When we bought food on the plane, we felt that it was calculated at an exchange rate of 4.5. The window for changing money at the airport is about 4.7, so it is suggested that it is more cost-effective to exchange some Thai baht appropriately in China. If you shop 711, you can pay Alipay, but I haven't used it. Some restaurants in Chiang Mai and Pai District offer WeChat payment. Duty-free shop shopping card is very cost-effective, directly according to the exchange rate of the day, and there is no handling fee.
In Thailand, ATM machines with UnionPay logo can directly take Thai baht, which can be seen everywhere in the streets. Generally speaking, it is very convenient.
Visa: You can apply for a visa in advance when you go to Thailand. You can find a merchant to handle it on Taobao. The price is around 248. Generally, you only need to determine which consular area you are in and then prepare two 2-inch white registration photos. It is easy to handle, usually 7-10 days. You can also choose to fly to landing visa after Thailand. Now the cost in landing visa is 2,000 plants, and it may take an hour or two to queue up when your character is not good. Therefore, it is suggested to do a good job in advance.
This trip is:
Bangkok – Chiang Mai – Pai District- Koh Samet – Pattaya – Bangkok
Accommodation: You Duoduo, Huamanlou, Chiang Mai, You Duoduo Inn and Tai Mei Manor in Pai District are both good, and you can also have friendly Chinese service. Other places can be booked on AGODA or Booking. AGODA can be paid with Alipay, which is more convenient. After the decision is made, you can print a copy as a voucher to facilitate your check-in, mainly with English and Thai addresses on it. It will also be more convenient to find a place to take a taxi. I used agoda. Before I went, my mobile phone got on and off the APP and I could go to Thailand for direct navigation and positioning.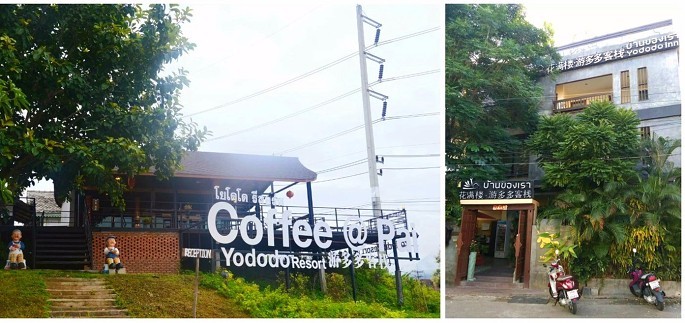 Tips: Accommodation in Thailand is calculated by people, so the standard room can only accommodate two people. I will see such information as extra beds when booking. Personally, I think it is better to add beds when the odd number requires extra beds. The three of us in our party are either looking for three people or standard rooms with extra beds.
Tipping: To add, Thailand is a country that pays attention to tipping, so when someone helps to carry boxes or check out, they can give some tips appropriately, usually 20 plants. Giving coins is said to be an act of despising people, but living in youth tours can be ignored. My stay in Bangkok is a hostel and I don't want tips. If the taxi driver's service is very good, he can also give some tips, but usually there are fractions of the taxi, so he can not change the change, and some drivers are not very good at the service and are not willing to change the change.
Transportation:
Bangkok: Bangkok is a city with heavy traffic, so there are frequent traffic jams.
Langman Airport to the city center: The airport bus is actually similar to the bus. There are two routes A1 and A2.
A1: Langman Airport-Mochit2 (North Bus Station). You can change to Tiantie at Mochit to go to the city center. This is also the bus stop from Bangkok to Chiang Mai.
A2: Langman Airport-Victory Monument. Victory Monument is in the city center. The fare is 30.
Attached is Bangkok Traffic Transfer Map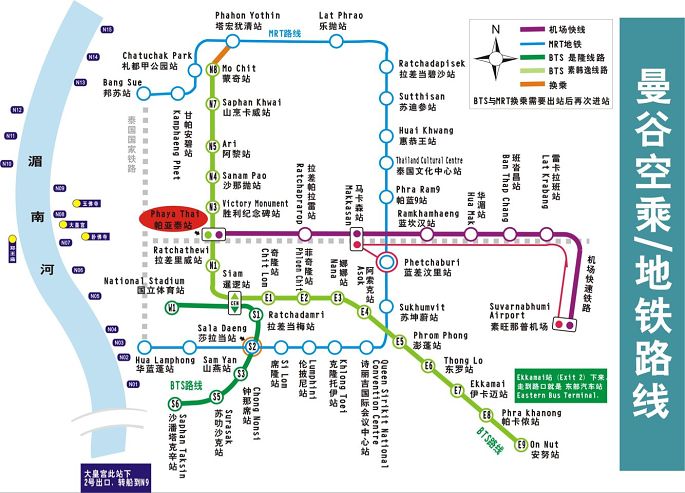 Bangkok Tiantie is relatively expensive. Once I took three stops at 28 Thai baht, which felt more expensive than that in China. However, if the day is earlier and you have to go to several places, it is recommended that you buy one-day pass, with a package of 140 baht per day, which can be used indefinitely on the same day, but only BTS, dark green and light green lines in the above picture. This is more cost-effective and will not cause traffic jams.
BTS rail transit includes the northern bus station (mo chit) and the eastern bus station (Ekkami). Mo Chit is heading for Chiang Mai, and this is also the stop for the Chaduzha Weekend Market. Ekkami goes to Pattaya by car for 2 hours and the fare is 108 Thai baht. Siam Siam Business Circle is also on the rail transit line, and shopping is also very convenient. Saphan Taksin is the last stop of the dark green line. You can go to the Riverside Night Market at Exit 2 over there. There are free ships to pick up and drop off at night, which runs every half hour. Just see many people queuing up. There is also a kind of boat with 20 plants, don't take the wrong seat!
Riverside Night Market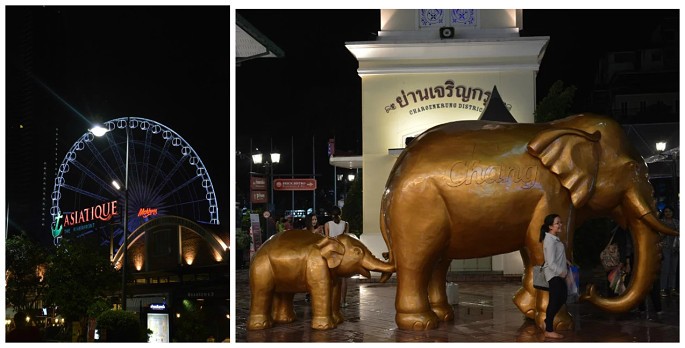 When there is traffic jam, the car will jump the watch if it cannot move.
There is also the Tutu car, this may be a bit of a random asking price, depending on the character, remember to ask more and cut the price by the way!
Chinatown is not far from Peng Railway Station in South China. You may as well walk there when you have enough time. The railway station provided storage service. At that time, we had 100 suitcases a day, which was quite convenient.
South China Peng Railway Station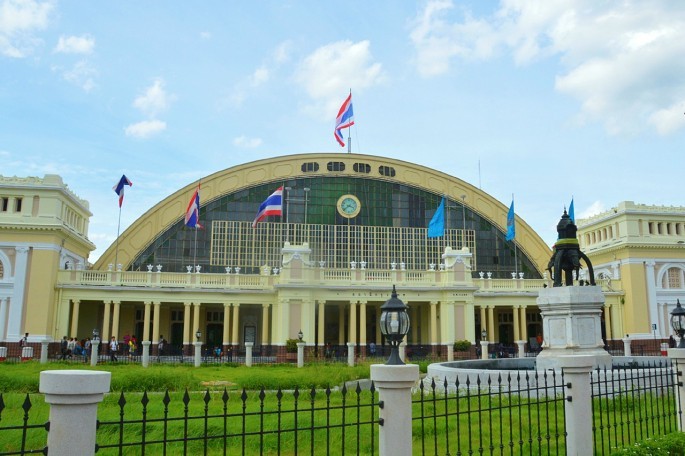 Bangkok to Chiang Mai train:
If you stay in Bangkok for a few more days and then go to Chiang Mai, it will be too late to buy a train ticket after you arrive in Bangkok. You can buy it in advance on Universal Taobao in a hurry. You can send it to the hotel you stay in. If it is early enough, you can even send it to China and also mail it. Is the handling fee is relatively high, a person about 30. If they are all girls, they can also choose women's and children's carriages without extra charge, which is very good!
Never try to buy tickets on Thailand's official website. Of course, there may be changes in the future.
I have tried the so-called strategy on the Internet, and the latest one is probably several months ago. It is said that you can register yourself and pay for it. After practice, I found that now I can only choose the time and train number you need on the official website, then fill in the email box, passport information and seat grade of the passengers, and then there is no next step. The next day I received the other party's email in my email, which is probably a payment link. The result shows whether a person wants a handling fee of 200 or 300 plants, excluding the 3% handling fee paid by credit card, which is simply more expensive than Taobao!
Chiang Mai Railway Station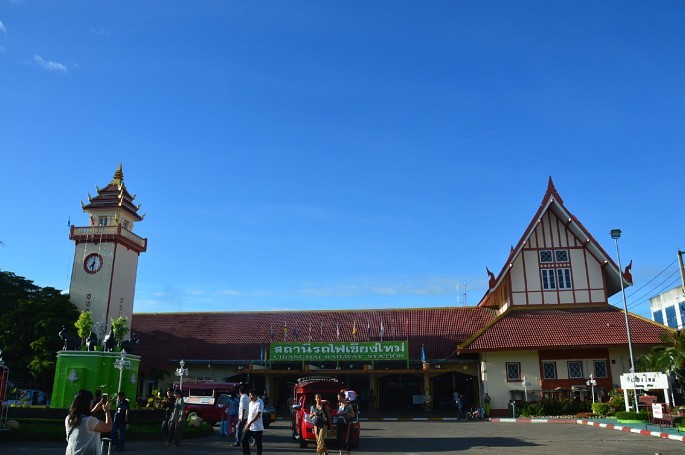 Chiang Mai Transportation:
Chiang Mai has the largest number of two cars. There are basically 20 cars per person in the ancient city and 30 cars around the ancient city. The railway station and bus station are a little far away from the ancient city, which is more expensive. The three of us have a total of 150 plants from the railway station to the Huamanlou Tour Duoduo Inn in Chiang Mai.
Sometimes if it is difficult for the driver to find the bus address and the language is not very good for communication, he can make a phone call and let the driver speak Thai to the other party. He has tried several times. This is the most convenient and effective method!
For those who can ride motorcycles, renting a car is a very good choice. I have seen the online price before, about 200 plants a day. However, it should be noted that Thailand is driving on the left.
Chiang Mai to Pai District:
There is an aya service on the right side of Chiang Mai Railway Station Square, which can provide minibuses to Pai District. It runs every hour and can arrive in three hours. There is a 15-minute rest on the road and the fare is 150. Before, I saw WeChat paying attention to Aya Service's public number on the Internet. I can book the minibus at the back on the first day and choose where to get on the bus. They will pick it up directly at the hotel. The return trip can also be sent to Chiang Mai Railway Station, Chiang Mai Bus Station or Chiang Mai Ancient City. However, I am not very good in character. I made a reservation on the first day, but I didn't come to pick it up the next day, saying there was no order. Therefore, if you take the train to Chiang Mai, it is suggested to book tickets in advance.
There is also one of the most awesome ways, riding a motorcycle to Pai District. It is said that there are 762 turns. I can only worship my friends who go by bike!
People who are carsick suggest to prepare some carsickness medicine. Otherwise, you may vomit and vomit to Pai District!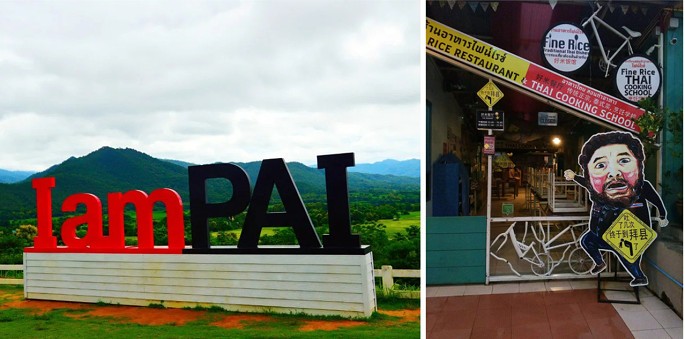 You can also choose to ride a motorcycle or charter a car in Pai District County. There are also many travel agencies in the town that provide one-day and half-day tours.
Chiang Mai to Koh Samet:
You can buy a ticket to Luo Yong at Window 6 of Chiang Mai Bus Station. However, if the best bus needs to be bought in advance, you can also turn to Universal Taobao to book tickets and print them out directly as electronic tickets, or download electronic orders to the station and ask them to help print them. You will also be told how many platforms to get on the bus. Someone will ask you and tell you at the waiting position.
Sunset glow at Chiang Mai bus station, planes flying in the sky!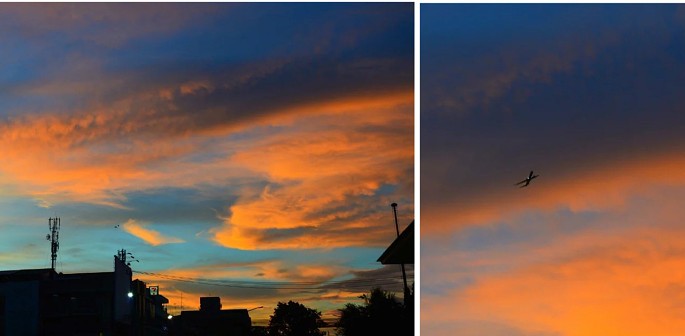 NCA buses provide food and drinks, and you can take them with you without buying food. According to my experience, everyone will provide a box of juice, a bottle of spring water, a can of Pepsi, a box of lunch and a box of sandwiches. It was distributed in two time periods. Chiang Mai-This bus to Luo Yong will pass through Pattaya, and it is also very convenient to go to Pattaya.
Luo Yong – Koh Samet Island
After arriving at the bus station in Luo Yong, you can choose to take a taxi or a two-car bus to the bus terminal. I have seen the strategy on the Internet. It costs 500 cars per bus, which is still quite expensive. Some Chinese still take this bus. We share 500 cars with our compatriots to the bus terminal, 100 cars per person.
There are said to be two docks on the other side of the Banpei dock. One is the big ship dock and the other is the speedboat dock. We should have been sent to the speedboat dock. Finally, we chose to take the speedboat to the island, and then the big boat returned. A total of 350 plants were sent to the beach of the hotel. Moreover, there was no need to buy tickets to the island. Koh Samet Island itself is a national forest park with 200 tickets. The speedboats are all sent to Owangduan Beach, where you can avoid tour groups. The sea water is also excellent. There are 100 large ships to and from the island. Tickets are needed to get to the island. Living on Diamond Beach is relatively suitable for taking large ships.
Aowangduan Beach
Transportation on Koh Samet Island:
Koh Samet Island is not big, you can rent motorcycles, and even have two or four sightseeing battery cars. The price is much higher than that of other places. It is calculated by the hour. Of course, there is enough time, and it is also good to walk. It takes us half an hour to walk from Aowangduan to Diamond Beach.
There are many two cars on the island, which is their TAX. The more people there are, the more cost-effective they will be.
Flame Show, also known as Fire Dance Show
It is a project that cannot be missed on Sammy Island. It is said that there are several beaches, but the most famous one is Diamond Beach, which can be found by navigation in Ploy Bar and Google Maps. It is most convenient to have dinner and watch the show there, but the food is really bad and expensive. In fact, you can walk over to 8 o'clock and watch it.
Fire Dance Show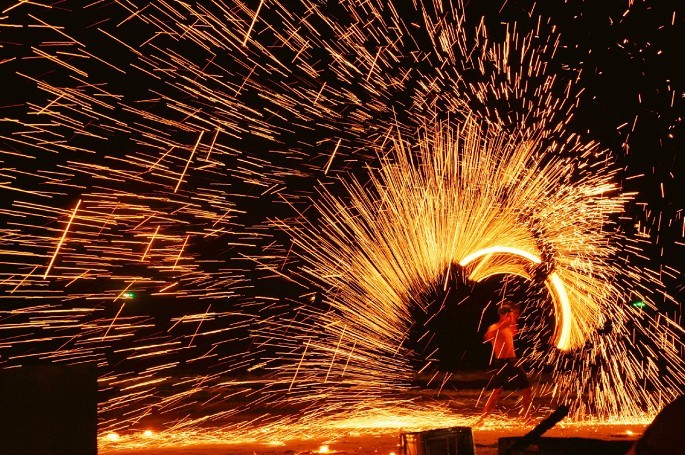 When you get off the boat and come out of the dock, you will see a 711. There is a minibus at the door. You can take a minibus to Pattaya or Bangkok. No matter you go to Pattaya or Bangkok, there are 200 plants. Bangkok should be sent to the station. Pattaya can ask the other party to send it to the hotel you stay in, and it will be sent to the other party even if it is difficult to find it.
Pattaya:
In Pattaya, we have two goals, the transvestite show and the pedestrian street. We suggest booking tickets on Taobao on the first day, like the Tiffany transvestite show we ordered. If we buy it directly at the show, we need 2,000 Thai baht and 85 RMB on Taobao. The transvestite show cannot be photographed. It is very strict and cannot be lucky. After the program, you can take a photo with the transvestite, 100 Thai baht. Watch the show and send a glass of juice.
The show was not very far from the pedestrian street, and I passed by when I took the bus, so I decided to go there. However, many red-light districts in Pattaya at night were full of lights, the girls were fine, and the men were hooked up sometime. It's not very messy either. Even a large family of tour groups came out. It's good to have a look.

Pattaya to Bangkok Transportation:
You can take a bus to bus terminal, Take the bus to Pattaya, Personally, I feel that Pattaya, a two-car car, is the most expensive, It's also a bit of a wild asking price, However, on the road, I saw that many local people can try to stop the two cars. Looking at the map, I probably know the direction. I should be able to get there on the straight road. It will be much cheaper. It is also a good experience. We tried it once and it was very good. We got off the bus farthest and last. The driver also took us to the station.
Pattaya has quite a number of buses to the eastern bus station in Bangkok. The ticket window has written about the bus station in the northern part of Mo Chit or the bus station in the eastern part of Ekkami. The number of buses to the eastern part is the largest, while the number to the northern part is relatively small. We are to Ekkami, 108.
Eat!
First of all, the price is not expensive in other places except Koh Samet Island. The three of us spend 300-450 plants each time. Bangkok is slightly more expensive. Chiang Mai and Pattaya in Pai District do not have more than 400 plants.
Bangkok went to Watergate and ate the famous Watergate chicken rice. Although the queue was very long, it was also fast, cheap and delicious. Mainly to eat chicken rice, chicken oil rice and all kinds of chicken, pork is also very delicious! Soup is served when meals are ordered.
Watergate Chicken Rice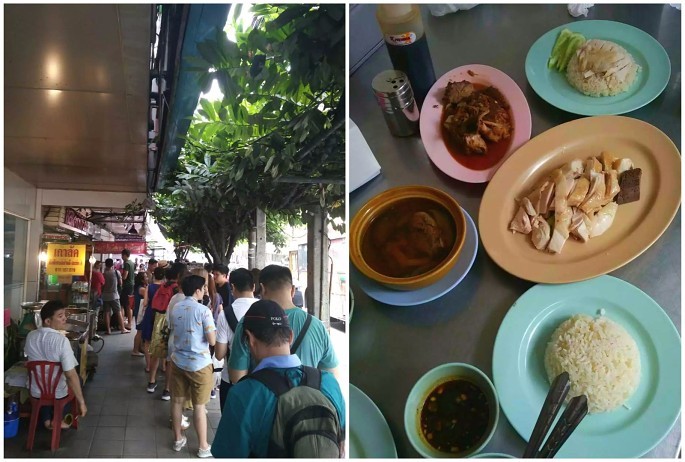 It is still very convenient to order food in Thailand. There will be Thai and English, and even some restaurants have Chinese. Generally, the food can be served with chicken, pork, beef or seafood. The price is generally 45 Thai baht, because we are not used to seafood. Chicken is the most, and one dish is about 50-80 plants.
In Thailand, you have the opportunity to try Xiadongyingong Soup, Green Papaya Salad, Fried River Powder, Pineapple Seafood Fried Rice, Mango Glutinous Rice, Thai North Curry Noodles and various mixed dishes of chicken, pork and seafood. Only what can be seen on the menu. I don't necessarily have the specific name. Delicious food is the most important. Night markets also have a lot of food and cannot be missed. Red curry is spicy, yellow curry and green curry taste lighter, fresh flavor is the main! Some dishes have sweet taste. You can ask when ordering. If you are not used to eating, you can not have sweet taste.


7-11: I really don't know that I can go to the 7-11 convenience store when eating what in Thailand. Although the store is not large, I still eat a lot of drinks of various flavors, yogurt, potato chips and seaweed, and various snacks. There are also lunches, hamburgers, milk tea and coffee, especially when transferring to other places, which is the right place to eat, you can go shopping! In Thailand, 711 blossoms everywhere, and I go shopping every day. Sometimes it is also good to buy some back to my room for midnight snack.
Shopping and tax refund:
In boots and some shopping malls with "Refund for Tourist" signs or signs, yellow tax refund forms are issued at the tax refund counter with receipts and passports after shopping for more than 2,000 Thai baht. Most of the goods in duty-free shops are duty-free, and a small part also need tax refund. When you go to the airport, you can see the customs tax refund office written in Chinese. You can affix a seal and sign it. After passing the security check, there will be a tax refund window to collect the money. Now there is no handling fee for tax refund. It was said that there was a handling fee of 100 plants before.
Finally, I would like to say that it is not a problem to go to Thai language at all. As long as you can speak a little English and bring your smile, I believe there will be a pleasant journey!
Other Travel Notes Links in Thailand: Pai District Little Fresh and Slow Life!
Chiang Mai. Roses in Northern Thailand
Thai Food Post: "Thai Delicious", Thai Food Not to Be Missed!