Golf is really a luxurious sport for me, Because of his work relationship, I learned one or two golf postures on the high platform. I watched the coach swing the ball gracefully and gently, and then rose to the sky. A beautiful fox line fell down. I learned it like a model. Ha ha, the basic posture is the posture of digging the ground. I wish I could suck up a few pits on the ground. This luxurious activity is not the sport I played, but can only enjoy the view from afar.
This time in Thailand, we visited a total of three golf courses. The blue sky and green space made courses with different difficulties according to the situation, which opened my eyes. Every golf course, you will see a large piece of empty green space head on. The green lawn is gorgeous and makes you unable to bear to step down.
According to the introduction, a golf course requires 24-hour professional maintenance. The maintenance and management of lawns need to be very proficient. These employees have received professional training, how to trim, how to maintain in rainy days, how to maintain in the sun, different seasons and different climates have different maintenance methods, because the magnificence of this lawn is not any shoes you wear can enter, you need sneakers to enter the lawn.
Thailand also has many golf courses. Because of their real price, considerate service quality and natural and beautiful scenery, it attracts golfers from different countries. Perhaps you will meet some famous golfers here. The most luxurious golf players in Thailand are the Koreans and Japanese brought by Southeast Asia, who are enjoying a comfortable life here.
The court is easy and difficult, You can choose the venue according to your level. The average course is 7100 yards long, 18 holes long and 72 par. Some of these courses are made of high-quality sand to form bunkers, while others are covered with grass to form a small hillside with the original terrain. Various trees are planted along the road, with clear lakes and circuitous routes to let the ball play hide-and-seek with you. You will constantly challenge your technology for the changeable geography. It is said that it takes five hours to play a good game. In case of rainy days, as long as you start, no matter how much you play, the game will be cancelled.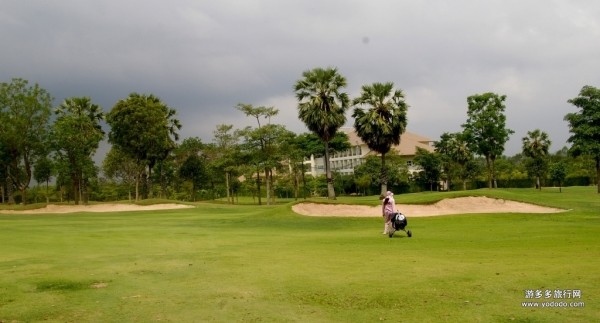 After watching Khao Kheow Country Club and Thailand Golf Club these days, golf lovers can fly to Thailand to enjoy the natural and unrestrained swing on the blue sky, white clouds and green lawn, and enjoy the freedom to breathe with nature. This should be a paradise for golf lovers in Thailand.