D1: Chengdu AIR Shanghai (Pudong) AIR Osaka's 9: 50 a.m. Flight to Pudong, Shanghai, delayed to Shanghai at about 12: 15. At Shuangliu Airport, I received an overseas tip from 300 yuan per person. After getting off the plane to listen to the leader's greetings for a while, he turned to carry his luggage. 13:30 after all transfer formalities are completed. I bought a postcard at Pudong Airport at RMB 2. At 4: 00 p.m., the border inspection formalities will be started, which is very strict. It will take a long time to compare the photos with myself. The plane took off at 17:15 on time. Arrive at Osaka's Kansai Airport at 20:15 p.m. (Tokyo time). On the plane, the "Foreigner Entry Record Form" will be filled in. There are many entry procedures at the airport and fingerprints will be extracted, which will take about 30 minutes. Night stay at Kansai JAL Hotel is not bad. Spending on the same day: RMB 302 TIPS: 1. According to international practice, overseas drivers and tour guides need to pay tips of RMB 50 per day for group tours. 2. Take care of yourself for dinner on the first day. There is a lot of food near the 2nd floor of Kansai JAL Hotel. If you don't have enough on the plane, you can choose to go to the small shop to eat. There are also small supermarkets and vending machines outside the hotel, which are very convenient. Tel: 072-455-1111 Website: www.nikkokix.com 3, Osaka Kansai International Airport has foreign currency exchange points and tram ticket vending points. Buy a ticket from here and you can reach any place in Japan where there is an electric bus. Take the airport express train "Haruka" to Kyoto for 75 minutes and Osaka for 51 minutes. You can also take the "Kobe Airport-Kansai Airport Harbor High Speed Boat" to Kobe Airport. In addition, there are a total of 22 lines leading directly to Kansai Airport. Japan's public transportation is very developed and there is no need to worry about not having a car. Tel: Airport Bus 072-461-1374 Website: www.kate.co.jp (Time Comprehensive Guide) D2: Osaka BUS Kyoto BUS Changhua took a bus to Osaka City after breakfast in the hotel. It was built by Toyotomi Hideyoshi in 1583. It has Tianshou Pavilion and many * * publicity materials and photos! After visiting at 10: 00, take a bus to "Xinzhai Bridge" Street, Osaka's largest shopping area, with many boutiques and specialty stores. I bought two eye drops (498 yen). Lunch was self-care, went to the "pine house" and ate Japanese fast food. (420 yen) Get on the bus at 12: 00 noon to Osaka Station and take Shinkansen (3500 yen) to Kyoto. After visiting Kyoto Station, I visited the world cultural heritage "Qingshui Temple". There is a street at the gate of Qingshui Temple called Bandao. On both sides are ancient and unsophisticated harmony buildings and small shops, which are great. I bought a small sumo doll, two boxes of Kyoto cards and Kyoto maps, totaling 2260 yen. Leave Qingshui Temple at 15:30 and go to Changhua City, Aichi Prefecture, Nagoya. It's about two hours' drive. Night stay at Nagoya AU Hotel, dinner at the hotel, the hotel also provides free and style bath. After dinner, I visited the small Changhua City, which was clean, tidy and peaceful. I called my family (100 yen) and bought a room of Coke (120 yen) at the vending machine. The sound insulation effect of the hotel windows is very good. Not far from the outside is the often slippery station. You can't hear any sound when you close the windows. Spending on the day: 6,898 yen, equivalent to RMB 503 TIPS: Osaka: 1. The surrounding area around Osaka Station of JR Railway is called Mei Tian, which is the largest and most prosperous area in western Japan. Railway transfer stations extending in all directions, hotels, department stores, large-scale commercial facilities and gathering places of entertainment streets. Four kilometers south from Meitian is centered on Nanbo, which is called the "south" of Osaka and corresponds to the north and south of Meitian. They are all representative tourist and shopping mecca in Osaka. It takes about 7 minutes from Xinzhai Bridge to Meitian by subway Yutang Tendon Line, and about 9 minutes (230 yen) to Nanbo. The transportation is convenient. 2. In Osaka City, foreign tourists are especially served. If you buy a ticket for a 2-day subway and bus tour (with a fare of 2700 yen), you can not only change it to subway and bus at will, but also enter the main sightseeing facilities, such as Meitian Space Building, Osaka City, Tongtian Pavilion and Tianwang Temple Zoo, free of charge within 2 days. Osaka Visitor Information Consultation Center: Mei Tian: Osaka North District Mei Tian 3-1 JR Osaka Station 1 Floor Yutangjin Exit Telephone 06-6345-2189 Nanbo: Osaka Central District Nanbo 5-1-60 Nanhai Waiting Building 1 Floor Telephone 06-6631-9100 3, Osaka City Sightseeing Place: A. Osaka City: Osaka City is a symbol of Osaka. Founded in 1583 by Toyotomi Hideyoshi, it was rebuilt in Tokugawa in Edo period and rebuilt in Tianshou Pavilion after World War II. It is now the first choice for Osaka citizens to have leisure and recreation. In the center of the inner city of Osaka stands Tianshou Pavilion, the main building of Osaka City, inlaid with copper and gold, majestic and majestic. Opening time: 9: 00AM-5: 00PM Visit fee: 600 yen for adults/free for secondary school students or below/discount for groups b. Tongtian Pavilion: It is a registered world cultural heritage in Japan. It is one of Japan's landmark buildings and is also famous for sightseeing. The first generation of Tongtian Pavilion was built in imitation of the Eiffel Tower and the Arc de Triomphe. The tower is 103 meters high, including lightning rods. Business hours: 9:00AM-9:00PM Visit fee: 600 yen for adults/500 yen for college students/400 yen for middle and high school students/300 yen for children/group discount c. Sun Tower: Sun Tower is the symbol of the 1970 Osaka World Expo Theme Pavilion and became the World Expo Memorial Park after the World Expo. The tower is 65 meters high and has three colors representing the future, present and past. It is also called the symbol of Osaka with Osaka City and Tongtian Pavilion. D. Meitian Blue Sky Building: It is a skyscraper in Xinmeitian City, Shibei District, Osaka. The height is 173 meters. It is the first connected super high-rise building in China. The two super high-rise buildings are connected by 2-storey structures. Overlooking Osaka City from the 170-meter-high building outlook platform, it is one of the 100 choices for Japanese sunset. Business Hours: 10:00-22:30 (Final Admission: 22:00) Admission Fee to Outlook Table: Visit Fee: 700 Yen for Adults/500 Yen for Secondary and Senior Students/300 Yen for Primary School Students/100 Yen for over 3 Years Old/Group Discount 4. Matsuya: Matsuya is a fast food chain in Japan. The cheapest Japanese fast food is 400 yen and the expensive one is 700 yen, which is relatively affordable compared with Japan's high consumption level. If you want to eat what, go directly to the ticket vending machine to buy it, and then take the ticket to the store staff. Later we also saw Matsuya Store in Tokyo. Strongly recommended! ! Kyoto: 1. Kyoto is located in the west-central part of Honshu Island, Japan, and is adjacent to Osaka Prefecture to the south. Kyoto, Nara and Kamakura are also called Japan's three ancient capitals. Kyoto enjoys the laudatory name of "learning capital" and has more than 20 institutions of higher learning. Kyoto University is famous both at home and abroad. Most Japanese Nobel Prize winners graduated from Kyoto University. Kyoto is Japan's "cradle of religion and culture" and is known as the "ancient capital of a thousand years". Nearly 15% of Japan's important cultural property can be found in Kyoto. 2. Kyoto Station.
Kyoto Railway Station is located on Shinkansen. It is the passenger flow center of Osaka-Kobe region (Tokyo, Osaka, Kobe) and the starting point of Kyoto's sightseeing. The station has a 60-meter central square without walls, a 45-meter air passage connecting the two buildings in the west and a 171-step huge sound box staircase. Chinese National Geographic once commented that Kyoto Station is "a combination of modernity and tradition"-not only a gathering center for large-scale activities, a panoramic viewing point for ancient cities, a place for city leisure friends, but also a Shopping Mall and an air city. Architect Hiroshi Hara (http://zh.wikipedia.org/wiki/% E5% 8E% 9F% E5% BB% A3% E5% 8F% B8) uses square as the basic unit and is a long rectangular building in space. The interior of the station is unique and looks like a just visiting through a hole like a canyon. The surroundings of the roof garden had to be closed due to safety needs. The designer treated it into a glass wall. Through the glass, the busy scene of the station Shinkansen could be seen to the south and the peaceful scene of the ancient city could be seen to the north. The above-mentioned Osaka Meitian Blue Sky Building is also his design work.
3. Qingshui Temple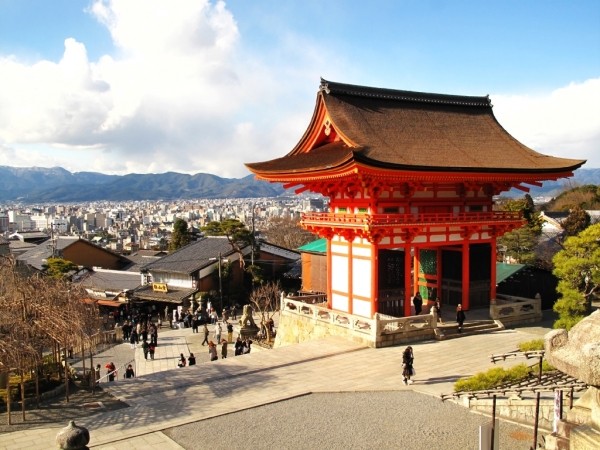 清水寺是京都最古老的寺院,它与金阁寺(鹿苑寺),岚山等是京都最为著名的名胜古迹,被列为日本国宝建筑之一。主要供奉千手观音,千手观音每隔33年才开放参观,最近开放的一次是2000年。寺内最有名的清水舞台,离地五十公尺高却只靠139根木柱支撑,而且未用一根钉子。参观清水寺时,一路拾阶而上,除了参拜诸神,凭栏远望,更可将京都市景尽收眼底。   交通:京都车站下车,乘坐206路汽车在五条坂下车,然后徒步约10分钟或者在河原町乘坐207路汽车在清水道下车,然后徒步约10分钟。   参观时间:6:00AM—6:00PM(夏季延时到6:30PM)   票价成人:300日元儿童:200日元   网站:http://www.kiyomizudera.or.jp/  4、京都其他观光地:鹿苑寺金阁、秋大原三千院、仁和寺五重塔、平安神功、二条城、岚山公园、京都御所等   长滑:   1、日本的都、道、府、县是平行的一级行政区,日本全国分为1都(东京都)、1道(北海道)、2府(大阪府、京都府) 和43个县(省),每个都、道、府、县下设若干个市、町(相当于中国的镇)、村。县比市大一级,这和中国不一样。第二天我们夜宿的宾馆在长滑市,隶属于爱知县。   2、HotelAU MATSUSAKA  地址:爱知县常滑市新开町3丁目174-1  电话:0596-36-1600  网址:http://www.hotel-au.jp/tokoname/index.htm     D3:长滑BUS箱根   早上7:40出发,前往箱根,车程4小时。午餐是日式的,做得挺美。在饭馆外买了一盒桔子(300日元)。12:00上车前往箱根的大涌谷,在这里可以眺望富士山。下山在大涌谷小店购买了箱根地图和两盒富士山糖果,共计1230日元。随后下山参观了芦之湖。因下雪,没有能上到富士山,通往富士山的公路在一禾木便封闭了。遗憾!听说要上到五禾木,就可以看到火山石了。之后自费参加忍野八海(3500日元)夜宿山梨县石和甲斐温泉酒店。酒店房间是日式榻榻米,酒店内还有原汁原味的温泉。晚餐吃了生鱼片3000日元,打电话给家人70日元。   当日花费:4600日元,折合人民币¥336
TIPS: 1. Tai Chung Valley: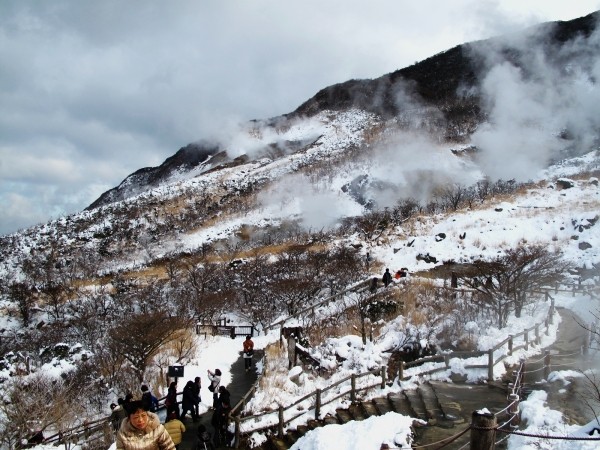 Taichung Valley is a volcanic relic hundreds of thousands of years ago in Hakone, at the foot of Mount Fuji in Japan. It is the most famous tourist attraction in Hakone, Fuji. Up to now, there are still many places where thick white smoke is rising and gray and turbid hot spring water is emitted. The whole valley is also filled with pungent sulfur smell. There is a special product in Dayong Valley-black eggs. Black eggs are cooked in hot springs, and the yolk is more delicious than other eggs. Shops that buy black eggs can be seen everywhere in Dayong Valley. 500 yen a bag, a bag of 5. Locals call this egg "black jade son". The most wonderful thing is the saying that "every time you eat it, you can prolong your life by seven years". This "black jade son" is now on sale. The hot black eggs for longevity are as fresh as the eggs just laid by chickens. Don't heat it, eat it now. In the first-line shops near the foot of the mountain, there are rich and exquisite displays of the "Dayong Valley" theme commodities, mainly real estate specialty foods and souvenirs, many of which are black or have long-lived product introductions. Old people or salespeople wearing traditional clothes are carefully packaging the sold commodities. Website: http://www.owakudani.com/modules/mw_top/2, Luzhi Lake: Luzhi Lake is the core area of Hakone tourism and is located in the west of Hakone Town. The lake covers an area of 690 hectares, is 723 meters deep and has a length of 17.5 kilometers around it. It was a volcanic lake formed by volcanic activity more than 4,000 years ago. On the north bank of the lake, there are two quiet and beautiful towns-Hujiri and Taoyuantai, where tourists can take a sightseeing boat to visit the lake and the mountains. Tourists can choose pirate ships, foreign ships and catamaran passenger ships of Izu Hakone Railway (Izu Hakone Ship) of "Hakone Sightseeing Ship". 3. Nenye Bahai: Located between Shanzhong Lake and Hekou Lake. Because there are eight clear springs scattered at random, the "Eight Seas of Enduring the Wild" is named and famous everywhere. Eight seas mean eight ponds, which are designated national natural scenic spots in Nanye region. Snow water from Mount Fuji flows through the strata and filters into clear light spring water, which is then poured out from eight places in Nenye. The average water temperature is about 13 degrees Celsius, and the water quality is clear and sweet. In 1985, it was selected as "Japan's Famous Water Selection". Neno Bahai Photo: http://blog.66wz.com/batch.download.php? Aid=404058 4, Mount Fuji: Mount Fuji has 4 mountaineering routes, namely Yoshida Mouth, Xuzoukou, Yudianchang Mouth and Fuji Palace Mouth. Mountain huts are built along each road and are open to the public during the mountaineering season. Each road is divided into an upper mountain road and a lower mountain road. Among them, Yoshida Mouth and Xuzoukou are the same above Octamu, so it is necessary to pay attention to the road signs when descending from Yoshida Mouth and Octamu. Yoshida has the longest history, so the number of mountaineers is the largest, and the number of roadside mountain huts and commercial facilities is also the largest. Shinjuku took the central line to Dayue and changed to Fuji Express. After getting off at Hekou Lake, Shinjuku changed to a mountaineering bus. Shinjuku Xikou directly takes the mountaineering bus to Hekou Lake. There is a large forest between Wuhe and Liuhe. Take the Donghai Road Line and change to the Yudianchang Line in Guofu Tianjin. Get off at Yudianchang and change to the mountaineering bus in the direction of the entrance. Take Oda to get off at Xinsongtian and change to the mountaineering bus in the direction of the entrance. The entrance of Yudianchang is the most difficult route. When you go down the mountain, you can run along the big sand and gravel slope and observe Baoyong Mountain from the side. Take Donghai Road Line and change to Yudianchang Line in Guofu Tianjin. Get off at Yudianchang and change to the mountaineering bus in the direction of Yudianchang entrance. Fuji Palace is full of rocks, mainly tourists from Kansai and Nagoya. Take the Tokaido Line to get off at New Fuji and change to the mountaineering bus in the direction of Fuji Miyagi, or take the Tokaido Line to get off at Mishima and change to the mountaineering bus in the direction of Fuji Miyagi. To reach Jianfeng, the highest peak of Mount Fuji at an altitude of 3,776 meters, one must pass on horseback. The slope here is very high and both sides are sandy slopes with cliffs. Due to the changeable weather on the top of the mountain, not everyone has a chance to reach it. Therefore, reaching the top of each mountain entrance is considered a success. It takes about 40 minutes to walk around the mountain top fire mouth. Fuji City website: http://www.city.fuji.shizuoka.jp/4, Shihe Jiafei Hot Spring Tel: 055-263-7911 Address: 391-2 Hirai, Shihe Town, Diqi City, Yamanashi County Website: www.kairesort.com D4: Hakone BUS Tokyo After breakfast at the hotel, take a bus to Tokyo at 8: 00, about two hours' drive. Arrive at Shinjuku, Tokyo, at 10:00 a.m. First, I visited the Palace Square and the Double Bridge. The Palace Square is very beautiful. It is recommended! Then I went to a duty-free shop. I didn't buy anything from what, so I went to the street to make a movie alone. I ate Japanese hot pot at 12 o'clock, generally. Then the tour guide showed us around a street in Shinjuku's famous Kabukicho. I opened my eyes! Recommended! ! Then take a bus and then go to the 202-meter-high Metropolitan Hall Building, overlooking the panoramic view of Tokyo. This international metropolis has finally completely appeared in front of my eyes. Recommend! At 16: 00, I took a bus to Akihabara Tokyo Yongshan Electric Appliance, a world-famous electric appliance street. I took care of my own dinner, went to a fast food restaurant similar to Matsuya, and ordered Lamian Noodles for 530 yen. Evening night in Tokyo, Shoot Zhang APA. I went to Harmony Hot Spring again, which was comfortable! I drank two bottles of milk for 440 yen. Spending on the day: 970 yen, equivalent to RMB 71
D5: Tokyo took a bus to Asakusa Temple at 8: 00 and passed the Asahi Beer Building, a gourd sign. I bought many small souvenirs at Asakusa Temple, 700 yen. Then the soldiers divided into two routes, one went to Disney and the other went to Ginza. I went to Ginza at my own expense, 3000 yen. After visiting Ginza and the surrounding streets for nearly 5 hours, it was enjoyable! Lunch at a fast food restaurant like a pine house was 420 yen for Lamian Noodles. I bought 735 yen for postcards and 390 yen for oranges in the shop. At 17: 30, I took a bus to a hotel near Haneda Airport and passed Rainbow Bridge on my way. Two radiation-proof electronic stickers were ordered through home delivery for 2,000 yen. Dinner is at the hotel. Spending on the same day: 7,525 yen, equivalent to RMB 550 TIPS: 1, Huangju and Erzhong Bridge: located in Chiyoda District, Tokyo. Edo City, the 265-year-old residence city of the Edo Tokugawa family, was established by the Meiji Restoration and later renamed the Imperial Residence. Part of the territory is open to the public as a park. The double bridge in front of Huangju is quite famous. Transportation: Exit 2 of "Double Bridge Front" Station (G10) on Tokyo Metro Chiyoda Line and Exit B6 of "Hibiya" on Duying Metro Mita Line take about 5 minutes to walk. Or exit 3 of "Sakurada Gate" station (Y17) on Tokyo subway Yurakucho line is about 8 minutes' walk. Tel: 03-3213-0095 2, Kabukicho: This is also the leading world of flowers in Shinjuku, which is called "the city that never sleeps". Transportation: Xiwu Shinjuku Station on Xiwu Shinjuku Line takes about 3 minutes to walk/Exit B10-13 of Shinjuku Station (M08) on Marunouchi Line of Tokyo Metro takes about 5 minutes to walk/JR Shinjuku Station takes about 8 minutes to walk/Shinjuku Station on Oda Express Line of Jingwang Line takes about 10 minutes to walk 3. Tokyo Metropolitan Hall: This is a landmark building in Tokyo. There is a Tokyo Sightseeing Information Center on the first floor of the first hall, led by sightseeing volunteers. Transportation: Exit A4 of "Dutingqian" Station (E28) on the Edo Line of Duying Metro is about 10 minutes' walk to the west entrance of/JR "Shinjuku" Station. Tel: 03-5321-1111 Website: www.metro.tokyo.jp Tokyo Metropolitan Hall Outlook Room Business Hours: 9:30-23:00 (30 minutes before entering the hall) Tel: 03-5320-78904, Asakusa Temple: It is said that this is the oldest temple in Tokyo built in 628. Now it has become a symbol of ordinary citizen culture. The "Leimen" with huge lanterns is the logo of Asakusa Temple. Transportation: It takes about 5 minutes to walk at the gate of "Asakusa" Station on Dongwu Isaki Line/8 minutes to walk at Exit 1 of "Asakusa" Station (G19) on Tokyo Metro Ginza Line/10 minutes to walk at Exits A4 and A5 of "Asakusa" Station (A18) on Duying Metro Asakusa Line. Business hours: 6:00-17:00 (open at 6:30 from October to March) Tel: 03-3842-01815, Asahi Beer Corporation: It consists of a 22-storey corporation building that embodies large beer cups and Super Dry Hall marked by huge gold artistic shapes. Transportation: Tokyo Metro Ginza Line "Asakusa" Station (G19) takes about 8 minutes to walk/Duying Metro Asakusa Line "Asakusa" Station (A18) and "My Wife Bridge" Station (A19) takes about 5 minutes to walk. Website: www.asahibeer.co.jp 6, Akihabara Electric Game Animation Street: Large electric appliance shops selling computer supplies, office automation appliances, household appliances and game-related commodities, as well as shops selling small accessories and parts, are lined up with electric appliance streets with the richest variety and intelligence in Japan. Transportation: JR "Akihabara" Station Electric Appliance Street is within walking distance to Exit 3 of "Akihabara" Station (H15) on Tokyo Metro Hibiya Line, and Exits 1 and 2 of "Moguangding" Station (G14) on Tokyo Metro Ginza Line are about 5 minutes' walking distance. 7. Ginza 4 Dingmu Intersection: It is the intersection of Central Road and Qinghai Road. There are bell towers and optoelectronics with Ginza logo, Japan's leading time-honored Ginza Mitsukoshi Department Store, etc. Famous shops are the most attractive features here and the first choice for wandering. Transportation: Exit A1-10 of Tokyo Metro Ginza Line "Ginza" Station (G09) is about 1 minute walk to Exit B1 of Tokyo Metro Hibiya Line "Ginza" Station (H08)/Exit C3 and 4 of Tokyo Metro Marunouchi Line "Ginza" Station (M16) about 3 minutes walk/JR "Yurakucho" Station or Tokyo Metro Hibiya Line or Asakusa Line "East Ginza" Station (H09), A11) A1 and 2 about 8 minutes walk. Tel: 03-3546-6525 Website: www.chuo-kanko.or.jp (Telephone Number and Website of Central District Tourism Association) 8. SONY Building: The building has a display hall where you can try out the latest products of Sony, a world-famous Japanese electrical appliance manufacturer, as well as grocery stores, restaurants and squares for various activities. It is a landmark building in Ginza. Transportation: Tokyo Metro Ginza Line, Hibiya Line, Marunouchi Line "Ginza" Station (G9), (H08), (M16) Exit B9 is within walking distance. Telephone: 03-3573-2371 Website: www.sonybuilding.jp D6: Haneda Airport AIR Beijing AIR Chengdu spent the whole day at the airport and on the plane today. It takes 3.5 hours to return to Beijing from Haneda, Tokyo, and 2.5 hours to return to Chengdu from Beijing. After a whole day's ordeal, it was already 12: 30 a.m. When I finally got home. I bought a bottle of water at Tokyo's Haneda Airport for 130 yen (my mother lost the red outdoor kettle that accompanied me for more than two years, crying!) , and then in the duty-free shop tooth bar (rarity! 800 yen) and magnet bracelet (1500 yen). Spending on the day: 2,340 yen, equivalent to 170 yen. TIPS: 1. Haneda Airport: Haneda Airport is located in Daejeon District, Japan. Its terminal building is called "BIG BIRD". The airport has three terminals. From May this year, all international flights from China and South Korea will enter and leave Hong Kong from here and will no longer fly to Narita Airport. There is a commemorative postmark at the entrance of the international terminal, and there are many pamphlets introducing Tokyo, which are freely available. Transportation: Tokyo Monorail Station "Haneda Airport Building 1" or "Haneda Airport Building 2" and Beijing-Binhai Express Airport Line "Haneda Airport" can get off. Tel: Haneda Airport Terminal Building Comprehensive Guide 03-5757-8111 Website: www.tokyo-airport-bldg.co.jp/6-Day Total Cost: RMB 1932 (Another Tour Fee: RMB 4760) My overall feeling is that although Japan is small, the society is harmonious and peaceful, with little ideological preaching, clean, polite and green. Finish!