I have been back from Thailand for a long time and have always forgotten to write travel notes. Today, I accidentally opened the photos taken in Phuket last year and suddenly had an impulse to travel to Thailand again. Unfortunately, I can't take any action. Ha ha ~
Before traveling, I had been posting on the Internet to find a companion to travel, but I didn't meet the right one at the right time, so I decided to go to Thailand alone with my bag on my back ~
Here are some preparations before going out.
Ticket ~ I booked a round-trip air ticket for Asian Airlines Guangzhou-Bangkok-Phuket-Bangkok-Guangzhou, with a total of only 500RMB including tax. Why is it so cheap? Because I bought the free ticket for Asian Airlines. Ha ha, that more than 500 is just tax, but now Asian Airlines seems to have no air ticket in 0 yuan. In short, it is luck.
Visa ~ it is best for everyone to find a travel agency before going * *, now it seems to be about 280
Hotel: If you are traveling for the first time, you'd better give the hotel for the first night first. The hotel behind you can find it slowly after you arrive. Don't think of the local decision. I made this mistake. I will tell you the following travel notes.
Luggage: Personally, I don't think it is necessary to take too many clothes. I just have a pair of slippers, a few T-blood pieces, a few short jeans, and I got on the plane in slippers. I can buy sunscreen in Thailand. I remember that Nivea's 50 + sunscreen seems to be only over 250 Thai baht, which should be cheaper than the domestic ones.
OK, that's all the preparation work, and I won't talk about it either.
Oh, by the way, there is also a question of changing money.
The Bank of China does not have much Thai baht, But also to call to make an appointment first, Not necessarily, So let's give you a tip to save money. If you have Huaxia Bank there, go there to do a card and deposit the money. When you go to Thailand, you can go directly to the ATM with UnionPay logo to withdraw money. The exchange rate is high, about 1: 4.7. Moreover, Huaxia Bank does not charge handling fees for the first time every day. It is not cost-effective to exchange RMB for Thai baht, which is generally about 1: 3.9.
DAY1, Bangkok
The arrival hall of Bangkok Airport is on the second floor, so travelers who want to go to Kaoshan Road can go directly to the first floor and take the Airport Express to 150B Kaoshan Road. Before I set out, I booked a single room on the Internet about 600B, The hotel has a nice environment, It is very close to Kaoshan Road, There are many restaurants on the roadside downstairs. It was quiet at night, I forgot to call what's name ~ I am lazy personally, Rest at the hotel, Instead of going to downtown Bangkok, It's too hot outside, I'd rather freeze the air conditioner in my room, After the rest, In the evening, go to the small travel agency outside the hotel and book the bus ticket to the airport the next day. Then I went to Kaoshan to wait for an Indonesian girl. We made an online appointment to go to the bar together in the evening. There are good and bad things about traveling alone. The bad thing is that a person is a little boring, The good thing is that you can meet many friends. However, if you meet a male foreigner who comes to strike up a conversation at a bar, There is no need to classify it as a friend. Most of them go hunting ~ Ha ha, the Indonesian girl and I met an American boy Jack in a bar. Later he told us that he was sitting next to us on purpose, waiting for us to say HI first. Ha ha, it seems that there are many ways to strike up a conversation ~ In short, we had a good time that night.
Bangkok is only a temporary stop for me, so I won't make much introduction.
DAY2, Phuket
Get up early in the morning, Pack up your parcels, Check out at the front desk, Then wait for the bus to come to the airport at the hotel. The bus there is the van we call here. They pick up different guests from different hotels. Then they will be sent to the airport together. I originally expected it to be 2 hours in advance. Who knows the racing car? I almost missed the plane. Funny thing is, when I was stuck in traffic, the driver asked me what time the plane was. I told him that he was going to miss the plane. He looked more anxious than me. Ha ha, the Thais were still relatively simple. After getting off the bus, I ran to the counter to jump the queue at a speed of 100 meters. Ha ha. Fortunately, the flight was a little late, so I could change my boarding pass ~ and then rushed to the security check to board the plane, so don't take a bus to the airport at least 3 hours in advance next time like me.
An hour later, I finally arrived at my destination, Phuket.
Since I thought of Phuket before I went to the hotel, So I didn't book a hotel first, Only when I got off the plane did I find out that After that, I didn't know where to go ~ so I booked a hotel near Patong Beach at the airport travel agency. 700B, Later facts proved that such a decision was wrong. First of all, this hotel is very hard to find. The cab driver left me on the side of the patong road, Then I was carrying a heavy backpack one by one. I started my first day of Phuket in the big sun. Sun, hungry and tired, the people in Phuket are more powerful. They ask them how to get to the hotel. They know and will not tell you unless you take his taxi. Later, they finally met a warm-hearted little Indian boy who took me to the hotel and gave him a tip. He didn't want it, saying it was just help. It seems that there are still good people.
When I arrived at the hotel and entered the room, I began to regret it. The conditions in this room were very simple, the air conditioner was loud, and there was a mouldy smell. Later, when I went out to eat, I walked around the outside, only to find that the prices of other hotels outside were the same as here, the conditions were better than here, and there was a free wireless network. Therefore, poor travelers should make a good route first and go there to look for a hotel. They don't have to book a good hotel first, because they don't know how the hotel's facilities are ~
After a rest at the hotel, In the evening, I went to the street of the legendary Phuket bar. At bangla road, It's like this, There are many transvestites there who go to the bar street to take photos with others to earn extra money after performing. I secretly took some photos of transvestites. Ha ha ha, but then again, those transvestites are very beautiful, with good skin and good figure. If I don't know in advance that they are transvestites, I can't see the men at all. As a woman, I am extremely jealous, hey hey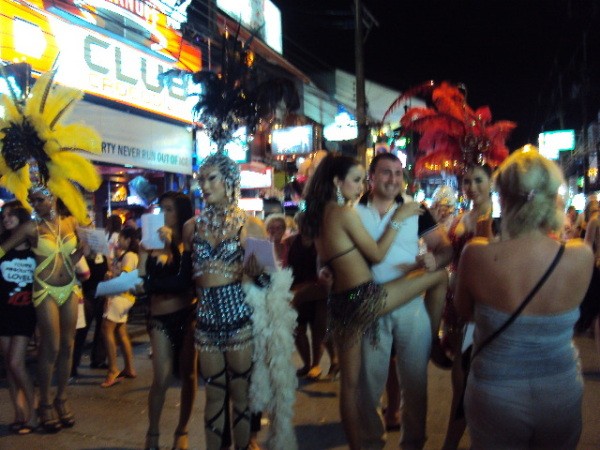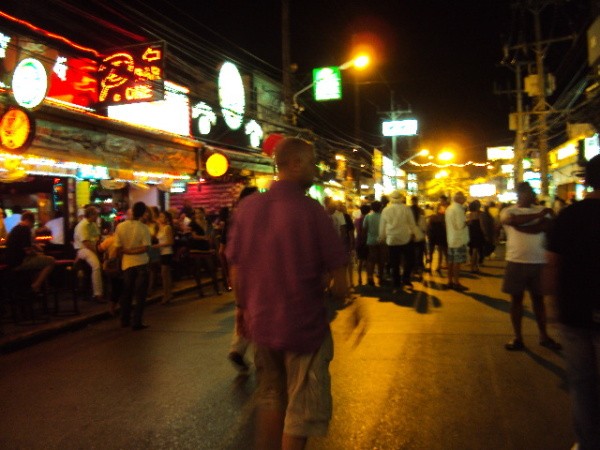 This is Phuket's Bar Street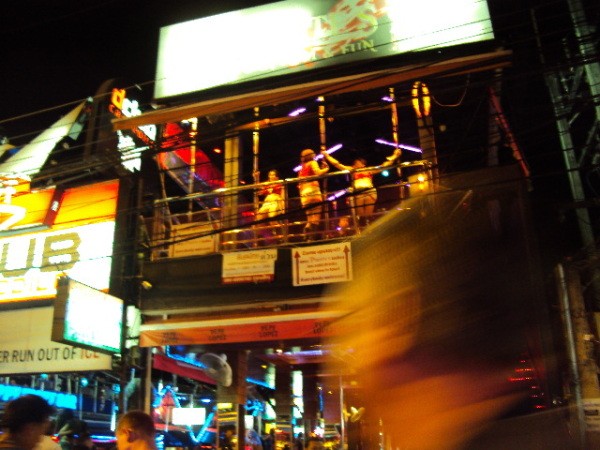 This is a stage set up in a bar. Girls dance on it to attract tourists.
After half a day's shopping, I wanted to go back, but I thought that traveling was to relax, so I ran to the bar named CLUB and ordered a bottle of beer. Who knew it was this unintentional sitting that changed my later trip.