D1:
Get up at 4: 50, Beijing customs clearance is faster in the morning, so there is no need to arrive two hours in advance. An hour and a half is enough. The flight from Beijing to Hong Kong may be too early, half of the seats are empty. When I arrived in Hong Kong, I found that it was very convenient to transfer flights. I didn't need to take out my luggage. Moreover, the boarding gate of the next flight was not far away. It took only 15 minutes to get to the boarding gate and waited another hour later.
On the plane from Hong Kong to Bangkok, next to me was a Japanese boy working in Shenzhen, the same age as me. Both of them used English, Japanese and Chinese. We had a good chat.
At Bangkok Airport, on the second floor, after picking up the luggage and arriving at the lobby, there is a place selling calling cards near Exit 7, which can be bought for 99 or 300 yuan. Then go down to the first floor, come out and go to the place with a pile of chairs on the left and wait for the white shuttle bus (free). It is about 15 minutes' drive to the bus terminal, where there are cars to all parts of Bangkok. (around Taxi 400B) At the same time, there is also an airport express line that can transfer to BTS in the urban area.
After staying in the hotel at night, I went to a famous civilian restaurant nearby to eat seafood. Most of them are sour and spicy. On the first day, I caught up with a rainy day. It was not very convenient to walk ~ ~ Interestingly, the door of the bus was usually not closed to facilitate passengers to get on and off the bus. However, I think it is still more dangerous, but their buses are usually pulled over, and even if they are thrown out, there will not be too much danger. Their long-distance buses are plastered with advertisements outside. When sitting inside, they feel dark inside during the day and cannot see clearly the situation outside.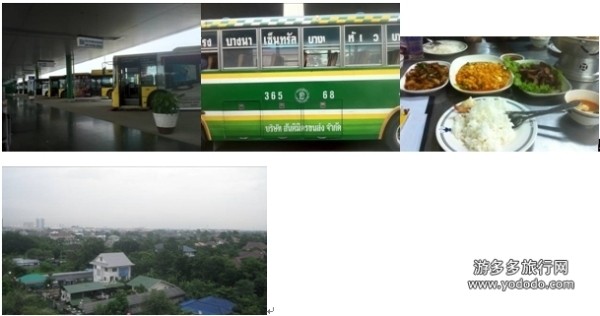 D2:
I woke up at 6 o'clock and suddenly decided not to go to Chiang Mai, because I felt too tired to take 14 hours to travel. Moreover, it is mainly temples and mountains. Of course, mountains are not as good as China's. Later, I learned from the travelers I met on the road that AirAsia was more cost-effective and suggested that AirAsia should fly from Bangkok to Chiang Mai or Phuket.
I went to the city, ate pig's hoof rice and pig's hoof noodles on the roadside, and then took the subway from the Central Railway Station (a bit like the Chinese Railway Station in the 1970s) to Chatuchak Park, because it was a weekend and there was also a weekend market. After a casual stroll, I felt nothing special, hot and crowded. Then I took bus no 3 (asked from the service station, but when I got on the bus, I found it was free) to arrive at northern bus terminal, bought a long-distance ticket to leave at 6: 45 p.m., then returned to mo chit subway station, took the subway to arrive at the four-sided Buddha station, stroll around, and looked at it. The people who worshipped in the rain were surrounded by shopping malls, only a little bit in the middle was a Buddha statue. Along Tianjie, I stroll to the legendary MBK (Fair Price Shopping Mall). I feel like a great beauty, but the stalls are not classified.
Then I began to put the bag I had put on my classmates' back and started to set out.
I feel that Thailand's long-distance buses are still quite luxurious. I also give water, bread, coffee and blankets. On the way to the rest stop, you can also enjoy fruit juice and snacks with tickets. (This is what the enthusiastic salesman Xiaoge told me)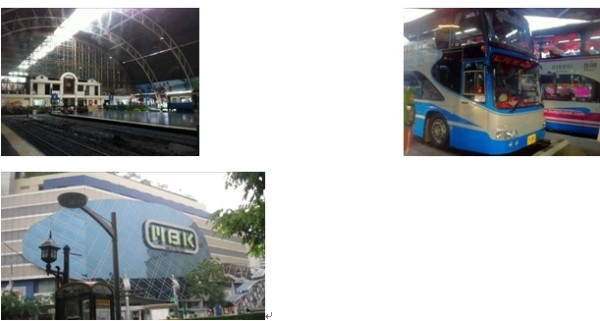 D3
I arrived in Phuket Town at 6 o'clock in the morning. As soon as I got off the bus, I was pushed up by the driver of the doodle car and insisted on pulling me away. I had no plan to realize it. I just wanted to find a place where I could surf the Internet and book a hotel. As a result, he said that he would take me one by one and live whichever was suitable. . . Then uncle is so persistent, I will help him. The uniform price is 450 to Petong, which is more expensive than Bangkok. (In fact, the bus goes back and forth between Phuket and Patong, 20B, every half hour, and stops on call.)
When I got to the first one, I saw it well. The 1000B room was quite large and clean, with floor-to-ceiling windows. OK, that's it. Pay, wash. I started to book a residence on PP Island, but I encountered a problem. WIFI was not stable and I didn't make a reservation for half a day. I was very angry. Then I found that there was not enough money. I went out to find an ATM to withdraw money. As soon as I went out, I saw transvestites soliciting customers on the left and right sides. . . I took the money back and met a Shanghai couple at the front desk. They were talking to the hotel owner about the price of a one-day tour. I might as well take a one-day tour with them, and I will not live on PP Island. Anyway, I will live there as well as live in Big PP. We will pay the money first and see the weather tomorrow. If it is good, we can go to sea. If the weather is bad, the boss will refund the money.
Pray for good weather tomorrow.
At noon, the three of them looked for a place to eat together. Since they had not visited before, we didn't know where to eat well and had a McDonald's nearby. Then as soon as I got to the beach, there were strong winds and waves, followed by rain. . . . . I cry. . . . They decided to take a bus to Phuket Town to find durian. . I decided to go back to the hotel and rest.
As a result, I returned to the hotel and found that WIFI was stable. . . However, since it has been decided, forget it.
One-day tour of Phi Phi Island tomorrow and one-day tour of 007 Island the day after tomorrow. Then they left, and I planned to move to Kata when I came back the day after tomorrow (this plan was under good weather)
The weather is fine outside, pack up and go to the seaside! It was quite a long time to go to the seaside and stroll around the beach. Then find a suitable place to spread things and lie down. Blowing the sea breeze and listening to the sound of the waves, this feeling is also a long time ago ~ ~
In the evening, I returned to the hotel, checked the hotel on KATA Beach, and found a–KATA Beach Center Hotel with swimming pool and high cost performance. Prepare to move to KATA after returning from 007 Island.
When I get to eat, I go to the streets to look for food myself. Walking along the north, there will be many alleys, which have many traditional massage and thai food. According to your preferences. I chose a more traditional restaurant, a coconut, a pineapple paella, and ate well (200B)
After eating, I went to the seaside to play with the water, which happened to be the time of high tide. After playing enough, go back to take a bath and continue to stroll around the legendary colorful street, just a five-minute walk. Enough shopping, enough watching, go back to sleep ~ ~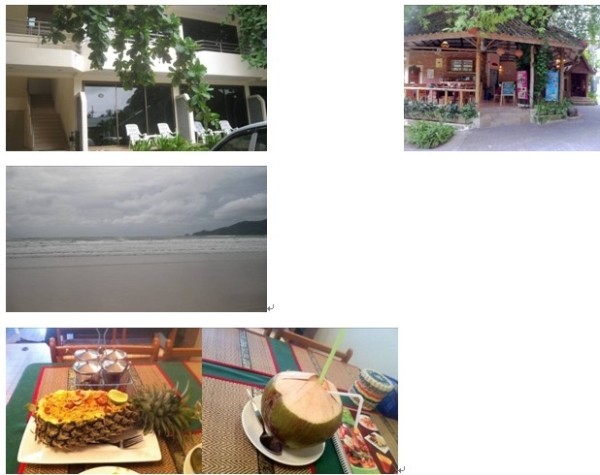 D4
At 7:45 on time, The car drove into the hotel yard, Pick us up, Then to the dock south of Phuket Town, Take a speedboat for an hour and a half to Maya Bay. Before departure, the staff will take a picture of you. When you come back, they will make a picture frame without your consent. If you don't buy it then, you may feel uncomfortable (200B). Therefore, if you don't think you need it, you can say you don't take a picture when taking the picture. There were similar situations during the play.
Note: If you feel afraid of sun or seasickness, you'd better sit in the middle and rear of the boat.
After that, I went to Bird's Nest Cave, Monkey Island, Small PP, Egg Island and other places. Egg Island can snorkel or enjoy lying on a chair.
Among them, there is a small bay before going to Egg Island, which will give you half an hour to snorkel here. It is very good! ! ! All kinds of fish are surrounded around you, even within easy reach.
The ship has water, fruit and snorkeling equipment. Including lunch, is usually a buffet.
Patong has few fruit stalls. . . At present, I have found one, behind the big shopping mall. Also, I went to the big supermarket.
At the end of the trip, the Thai tour guide will come to ask for tips. You can choose not to give them. If you give them, 20B will be fine, because the smallest note is 20.
(Thai tour guides have also found the rule, knowing that East Asian people do not have the habit of tipping, so they will not put small pots in front of you.)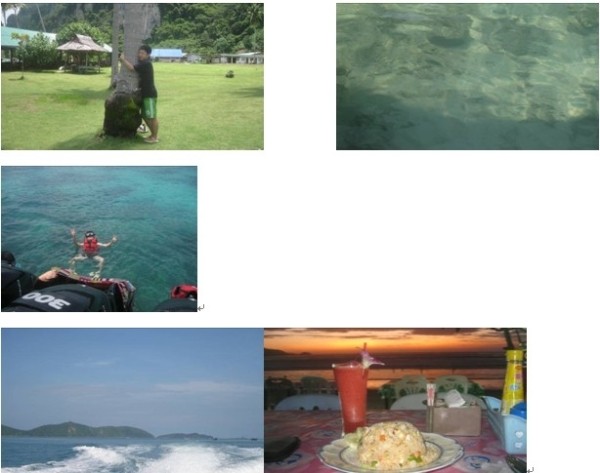 D5:
At about ten o'clock, the car came to pick us up and started phang Nga bey's journey. Generally speaking, in general, especially for the Chinese, there are many mountains and floods. These strange stones and stalactite caves are not unusual. At first, I looked at a temple, then I took a long tail boat to 007 Island for about 30 minutes, and then I turned to phang Nga bey. Originally, there were mountains above, but due to the corrosion of the sea water, there were only those passages below, which could be attached to the body or put my feet in the water to play. After that, I will go to a village for lunch (in fact, it is already 3 o'clock in the afternoon…) After eating, we will return home. It is suggested that if you must take part in this trip, you can choose to take part on the last day of your trip, because it is very close to the airport. . . After that, go directly to the airport.
I told the tour guide that I was going to Phuket Town to buy my ticket to Bangkok. Then she told the driver to put me down at Tesco at the junction of Phuket and Patong. I found a motorcycle and agreed on the price (100B) to go to the station. I bought the ticket and agreed on the price. First, I was sent to Patong to pick up my luggage and then to Kata beach center hotel (400B), which was booked in advance.
Kata Beach looks more like a small European town, with few Asian faces except for the local businessmen. This hotel is located at a quiet corner in a noisy situation. There is a swimming pool in the courtyard. The room is very suitable for honeymoon. It is a bit wasteful to give me a master to live in. The boss is a European (sounds like a German accent). He is very enthusiastic and sits in a formal restaurant downstairs to chat (hotel restaurant). Chicken fried noodles for dinner at roadside food stalls.
Note: If you come to Kata, recommend this store, with stable network, warm room and reasonable price (180RMB)
If the formation has been booked, it is better to buy the tickets when I arrive in Phuket Town, and then I will do more trouble at the back of the province. My schedule is always changing, so I didn't buy them at the beginning.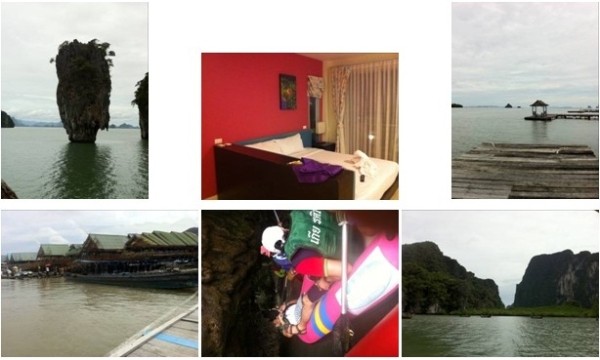 D6:
Have breakfast in the morning, put your luggage at the front desk, then go out to the beach and buy a beach blanket (150B) first. The price here is 400 for the other party, and you have to stick to about 150 or even lower. I went to the beach, found a suitable place, rented a pair of chairs, 100B a day, and I put things in one of the chairs.
The relatively shallow sea area here is very wide. Students who like swimming can enjoy it here. There are also waves and surfing.
I can't surf, just swam for a while, then put on sunscreen and began to enjoy the sunshine.
Rest until evening, take your luggage and go to Karon, which is not far from Karon. I walked for half an hour to the Little Mermaid Hotel. The one I ordered was the cheapest, 100RMB a day, but it was OK. For single tourists, it was also a good choice. It was only more than 100 meters away from Karon Beach, and the door was a restaurant and bar. In the evening, I went to have a Thai massage, found a quiet bar for a drink and chatted with my boss.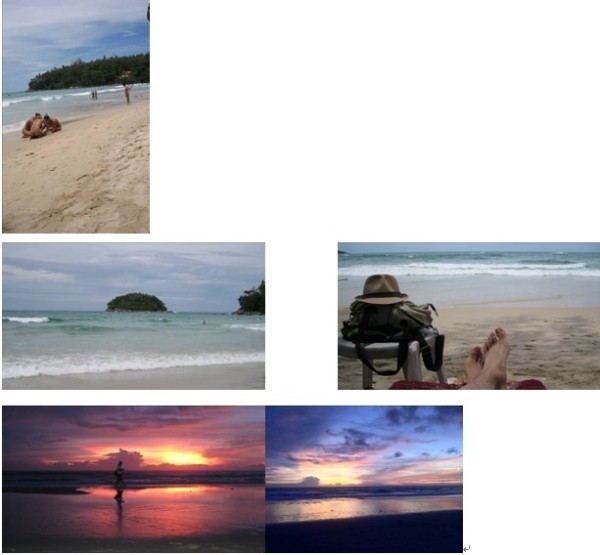 D7:
After getting up, I took a blanket to the beach for more than an hour, then took a bath, packed up and started my return trip. After lunch, I can wait for bus on the street and go to Phuket Town every 15 minutes (30B). When you get to the bus station on the west side of the town, there is still some distance from the bus station. You can choose to continue to find bus or take doodle and choose freely. You can also go to the nearby shopping mall for shopping. Find a cafe for coffee.
I still feel good about kata and karon, There was no noise, The beaches are full of people lying in the sun (almost all of them are Europeans and Americans, and Asians hardly bask in the sun, so there are few Asian faces on these two beaches). There are many bikini beauties with great bodies (mostly in Eastern Europe and Russia). Friends who like to enjoy them can lie on chairs, look at the sea, blow the wind and look at the beauties, and also enjoy them very much.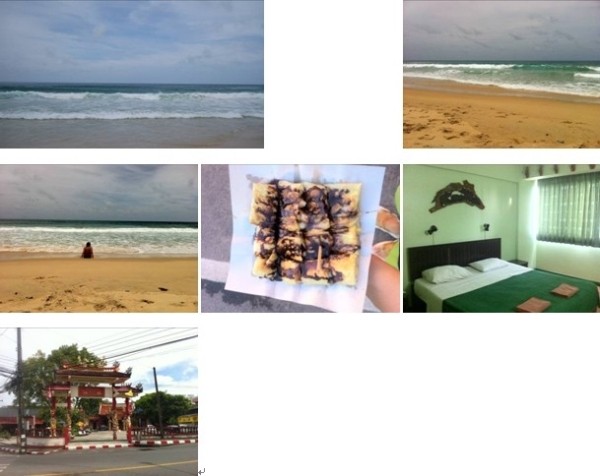 D8:
After arriving at the Northeast Passenger Station, put your things in your residence, take BTS to Saphan Central Wharf, and choose the orange boat (30B) to N9 Station. After landing, turn right about 200 meters and you will see a lot of people on the left. That is the Grand Palace. Girls can wear long skirts while boys must wear trousers. 400B tickets, after buying, enter the tour.
It will take about an hour to finish the visit. There is a City God Temple about 200 meters to the right of the door. Its main entrance has to go around to the north. There are city pillars and ancient drama performances.
After that, go south. There will be an entrance on the right hand side about 400 meters. This is the Sleeping Buddha Temple. The buildings inside are very beautiful. I like them very much. The colorful towers look out of order at first sight, but in fact the overall feeling is great.
After reading it all, I walked east along the road and went all the way down to Chinatown, which is basically a long-term store and has no meaning. Go further until you reach the railway station, and you can take the subway back to your residence.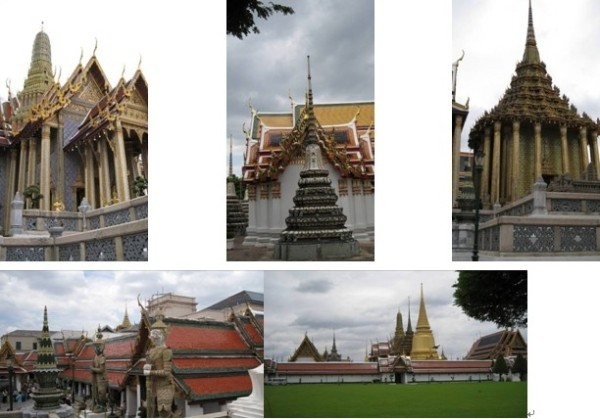 D9:
Fly to Hong Kong early in the morning, then go shopping downtown, and when you have enough, return to the airport and continue to fly to Beijing.
Feelings:
Thais are hospitable and warm and always smile at you. Love is clean. Although some places look very old and the ground is very dark, it is not mud or soil. Monks usually walk barefoot.
Thais are relatively inefficient in doing things, and some things are slow to confirm. In addition, the distance from Phuket to Sumi Island is only 450KM, which actually takes 9 hours! ! ! And it was a daytime car, which is why I didn't go to Sumi Island. I wasted all day here.
Almost all the household appliances and cars here are Japanese. They are also right-hand vehicles. It is very convenient for Japanese manufacturers to export them directly here. Moreover, the Japanese government has sponsorship for Thailand's expressways and subways, so Thailand encourages the purchase of Japanese goods.
The three beaches still like KATA best. In fact, Karon is also good. Patong is only suitable for staying for one night when he first went there, or when he took part in a one-day tour a few days ago. If you just go to enjoy the beach, Patong is not suitable.
Shopping in Bangkok can go to the four-sided Buddha area, but MBK there is not recommended. Although it is very famous, the cost performance of things is not as good as that of even Yaxiu. If you want to buy some common people's things, it is suggested to go to Chatuchak Weekend Fair on the weekend, which is the size of 6 football fields in what. If you are tired of buying, you can rest in the park behind. You can take the subway or BTS to (mo chit)